ADB Finances First Wind Power and Battery Storage Project in Thailand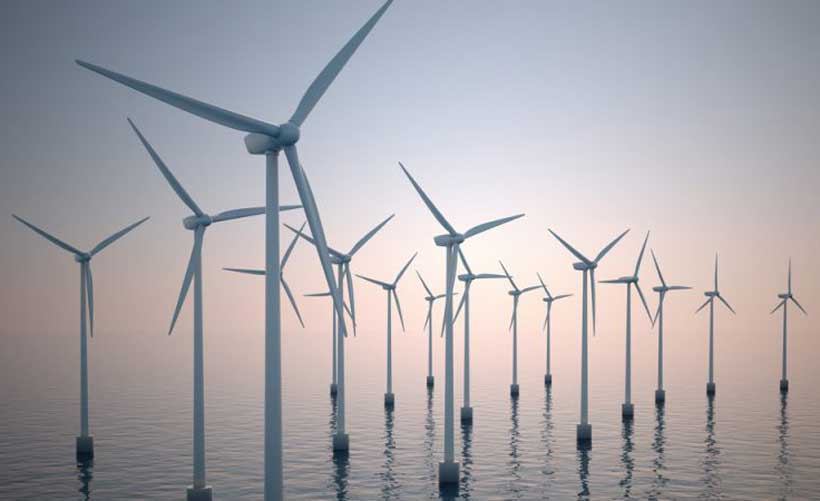 The Asian Development Bank (ADB) has signed a THB235.55 million ($7.2 million equivalent) loan with Lomligor Company Limited (Lomligor), a subsidiary of BCPG Public Company Limited (BCPG), to finance a 10-megawatt (MW) wind power plant in southern Thailand. The project utilizes an integrated 1.88-megawatt-hour (MWh) pilot battery energy storage system to increase the amount of renewable energy delivered to the grid.
The Southern Thailand Wind Power and Battery Energy Storage Project is the first private sector initiative in Thailand to integrate utility-scale wind power generation with a battery energy storage system. The battery system will allow energy to be stored when the wind turbines generate more power than the grid is able to absorb, which will help ensure the stability and reliability of the renewable energy source.
"This project contributes to Thailand's Power Development Plan targets for clean energy and also demonstrates the potential of integrated renewables and batteries to provide clean energy for southern Thailand," said Infrastructure Finance Division Director for Southeast Asia, East Asia, and the Pacific at ADB's Private Sector Operations Department Jackie B. Surtani. "This will enhance the resilience of the region's electricity grid, provide energy security for communities, and support economic growth across the country."
"Lomligor is the first wind power plant in Thailand to adopt energy storage system technology as the solution to the intermittency of wind power," said BCPG President Bundit Sapianchai. "This will help enhance energy management efficiency and the resilience of energy grids. We are grateful to ADB for acknowledging the initiative of Lomligor Project in applying energy storage system technology to energy production and providing BCPG with such significant financial support including Clean Technology Fund (CTF) mobilization for the project."
The project will help increase the supply of renewable energy to Thailand's domestic grid. It is expected to generate at least 14,870 MWh of electricity per year while reducing 6,364 tons of annual carbon dioxide emissions in the country beginning in 2020.
As part of ADB's blended finance offering for the project, ADB will administer a $4.75 million concessional loan provided by CTF. The concessional loan was critical in overcoming some of the project's bankability challenges and supports the scaling up and replication of battery storage projects in Southeast Asia. CTF is one of two trust funds comprising the Climate Investment Funds, established in 2008 to provide financing for climate-related development efforts. Kasikornbank PCL is also supporting the project with a THB235.55 million ($7.2 million equivalent) loan.
BCPG is a leading renewable energy company in Thailand with 507.5 MW of total installed capacity in operation and a further 415.0 MW under development. BCPG focuses on investments in renewable energy, including solar, geothermal, wind, hydro, biogas, and biomass.
World Bank: META 2 to Modernize the Energy and Mining Sectors in Brazil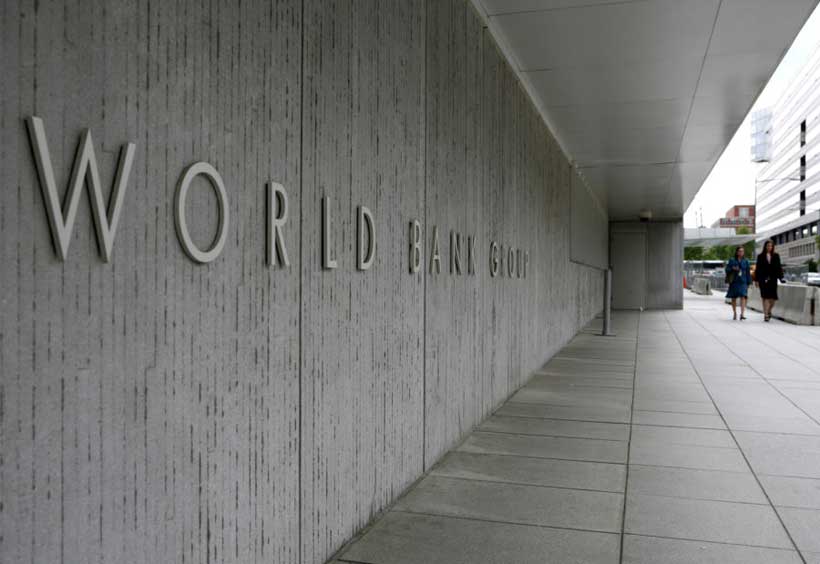 The World Bank Board of Directors approved today a US$38 million loan for the Energy and Mineral Sectors Strengthening Project II (META 2). Under the program, various Brazilian public institutions and sectoral agencies will be offered technical assistance activities varying from studies, training, methodologies, databases and IT equipment.
Brazil's energy and mining sectors are among the largest in the developing world and are key to the country's growth. However, both still face challenges to realize their full development potential and promote environmental sustainability and social inclusion. The project will allow the production of more reliable power, at lower prices, and the economic benefits of growing more efficient, resilient and competitive energy and mining sectors.
"The energy and mining sectors are among the main drivers of the Brazilian economy as they form the basis for the sustainability of the industrial and commercial sectors, in addition to leading to the provision of services that are essential for the quality of life of citizens. This project is a continuation of long-term collaboration with the World Bank. This new phase will promote changes to support the sustainable extraction and processing of minerals and metals to meet the needs of the global supply chain for inputs and new technologies. In energy, working together will make it possible to increase the efficiency and resilience of markets in Brazil," said Bento Costa Lima Leite, Brazil Minister of Mining and Energy.
In Brazil, the electricity, oil and gas and mining and mineral processing sectors represent approximately 3, 13 and 4 percent, respectively, of the country's Gross Domestic Product (GDP). These sectors, though, stand at different stages of development. The power sector is one of the most sophisticated in Latin America, but it is facing a number of challenges with respect to supply security, affordability and increasing its resilience to climate change. In the natural gas sector, Brazil has started adopting various measures under a new program aimed at establishing an open, dynamic and competitive natural gas market.This has significant potential to enhance energy security and to reduce industrial energy costs, but still needs to solve regulatory and governance issues. The mining sector requires modernization to achieve sustainable practices and a new strategy underpinned by sustainability.
"META's first phase provided technical assistance to strengthen the capacity of key public institutions to increase the sector's contributions towards a lower carbon growth path that is environmentally and socially sustainable," says Paloma Anós Casero, World Bank Director for Brazil. "This second stage aims at increasing efficiency, long term infrastructure adequacy and climate resilience in both sectors, allowing them to grow in a more efficient and competitive way."
Among the outcomes supported by the Project are:
Increase efficiency, long term infrastructure adequacy and climate resilience in the energy and mining sectors;
Institutional strengthening of energy and mining institutions to establish and implement strategies, policies and regulation; and
Implementation support, monitoring and evaluation, knowledge sharing and dissemination.
This fixed spread loan from the International Bank for Reconstruction and Development (IBRD) to the Ministry of Energy is guaranteed by the Federative Republic of Brazil and has a final maturity of 20 years, with a 19.5 year grace period.
Energy Transition at the Heart of Africa's COVID-19 Response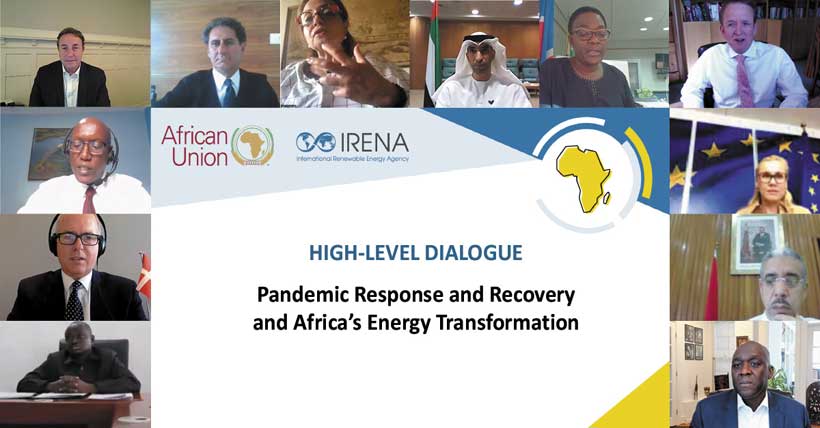 The African Union Commission (AUC) and the International Renewable Energy Agency (IRENA) held a virtual high-level dialogue to discuss Africa's needs in responding to the COVID-19 crisis and the role of the energy transition in the post-pandemic recovery.
The dialogue brought together a number of ministers and high-level participants from Africa, Europe, the GCC and the European Union, as well as Vice Presidents of the World Bank and African Development Bank (AfDB), the UNDP Administrator, the Director-General of IRENA as well as representatives of the Africa Renewable Energy Initiative (AREI), and Sustainable Energy for All (SEforALL).
During the two-hour virtual event led by H.E. Dr. Amani Abou-Zeid, Commissioner for Infrastructure and Energy, African Union Commission, and IRENA Director-General, Francesco La Camera, participants highlighted that energy potential in Africa can turn the COVID-19 crisis into an opportunity for the continent and its population. They agreed that energy transition is critical to both the response to the crisis and to the post-pandemic recovery.
AU Commissioner Amani Abou-Zeid remarked that: "The energy sector cannot sit back and only react, it has to join in the fight as well while at the same time positioning itself to play a pivotal role in the recovery after the crisis. Through this forum, we hope to share the actions taken by various countries and organisations and the results they have had. This will provide lessons that will be instrumental in shaping the response and preparing for recovery."
She highlighted the measures that the AU had taken including conducting wide consultations with regional and global stakeholders and developing an emergency, resilience and recovery action plan, which was adopted by the Bureau of African energy ministers on 12th May 2020.
On his part, IRENA Director-General Francesco La Camera hailed the collaboration with the African Union noting that their commitment to work together in the wake of the pandemic was starting to yield results with the high-level dialogue as a milestone. He noted that: "Accelerating the energy transformation can help Africa respond to COVID-19, while allowing the continent to meet its medium and long-term objectives of a decarbonised, just and prosperous society. IRENA will continue to work closely with the African Union and partners to create pathways for accelerated renewable energy deployment in Africa, to bolster resilience in the face of the current pandemic while building a future of health, wealth and opportunity for millions of people across the continent."
Emphasising the role of renewables, UNDP Administrator, Mr. Achim Steiner said: "The impact of COVID-19 on African economies is a major setback. Rapid policy responses across the continent have helped to mitigate the health crisis but socio-economic impacts could erode development gains of recent years. Expanding access to electricity through a bold expansion of 'on-grid' and 'off-grid' renewable energy is a major opportunity in the context of national stimulus and recovery programmes. They are economic, fast, shovel ready options to address energy poverty and accelerate Africa's transition towards a clean energy economy of the 21st century."
Participants observed that the adverse impacts of the pandemic are stretching the African energy sector's capabilities thin. Unless urgent measures are taken to preserve the sector and prepare it for the post-pandemic recovery, the energy situation could impede the continent's ability to cope with the crisis and economic downturn, ministers noted. Speakers agreed that it is imperative that the COVID-19 pandemic does not dampen efforts to increase energy access and clean cooking solutions which remain a major challenge in Africa. Today, around 548 million people still live without access to electricity and 894 million people lack clean cooking solutions.
The immediate priority for the African continent is to save lives, bring the health emergency under control and alleviate associated economic hardship. However, the recovery measures adopted should also address long-term development and create resilient economies. Utilising the locally available renewable energy resources that Africa is richly endowed with can alleviate immediate energy challenges, while creating jobs, advancing industrial development and promoting human welfare. It is estimated that renewable energy deployment could create an additional 2 million green jobs in Africa.
The meeting took place following an agreement between the two organisations to strengthen cooperation to combat the pandemic and pursue Africa's development goals.
IRENA and ESCAP Step up Joint Efforts to Support Asia-Pacific's Crisis Response
The United Nations Economic and Social Commission for Asia and the Pacific (ESCAP) and the International Renewable Energy Agency (IRENA) will work together to improve access to sustainable energy, bolstering the Asia-Pacific region's response to the COVID-19 pandemic. The two organisations will offer recommendations to governments in the region positioning the energy transition as an integral part of the immediate response to the crisis and medium to long-term recovery efforts.

Asia-Pacific, home to half of the world's population, is largely dependent on fossil fuels. Diesel, for instance, fuels the majority of the region's off-grid electricity needs. According to ESCAP, 200 million people in the Asia Pacific region live without electricity and 1.2 billion people without access to clean cooking fuel. Joint efforts will focus on developing sustainable energy policies that are closely integrated with health and industrial development policies to bolster recovery efforts and rebuild economies.

"The pandemic is an opportunity for us to rethink our economic growth path that has come at a heavy cost to the people and planet," said Armida Salsiah Alisjahbana, United Nations Under-Secretary-General and Executive Secretary of ESCAP. "To bring about a fundamental shift for the energy transition, we need to adopt the motto of 'no more business as usual' for all stakeholders. Policymakers should not lose sight of the looming climate crisis, but rather design economic stimulus packages with social inclusion and environmental sustainability built into every decision in particular sustainable energy development."

"We are living in truly unprecedented times, calling for decisive and cooperative action among the international community to save lives and support livelihoods all over the world," said IRENA Director-General Francesco La Camera. "The Asia-Pacific region faces unique energy challenges that undermine the ability of governments to respond to this crisis and build economic resilience. Renewables can underpin these efforts and therefore can play an instrumental role in both the response and the recovery."

With national budgets strained by immediate COVID-19 needs, short to medium-term energy access investment may represent less of a priority for governments. However, underinvestment in this area could severely impact the capacity of rural health centres to support front-line health workers and provide essential services to COVID-19 patients. When a vaccine does become available, the provision of cold storage and refrigerated transport across large areas will be critical. Decentralized renewable energy technologies such as solar will be key for large-scale immunization efforts in developing countries.
Furthermore, slow progress in mainstreaming clean cooking solutions may expose millions of people to the dangerous combination of particulates and COVID-19. Scientists are already investigating links between air pollution and higher levels of coronavirus mortality, with preliminary results showing a probable correlation between the two.
Renewables can be deployed rapidly and are therefore well-placed to support immediate crisis response efforts including electrification of public health value chains. In the medium to long-term, renewables-based energy systems can also be an engine of sustainable growth. Renewable energy costs in many parts of the world now outcompete traditional energy sources, presenting cost saving opportunities for governments and consumers while boosting energy security, building energy independence and supporting climate-related nationally determined contributions.
According to IRENA's recently launched Global Renewables Outlook report, renewables can supply more than half of all power needs in Southeast Asia alone by 2030, boosting the regional economy by more than 4.4 per cent and growing jobs by close to 50 per cent in the process. In a recent COVID-19 policy report for Asia and the Pacific, ESCAP identified renewable energy as one of the main sectors to include in stimulus packages.

During the 10th IRENA Assembly last January, ESCAP and IRENA signed a Memorandum of Understanding to work together to increase the uptake of renewable energy in the Asia-Pacific region, support the implementation of the Paris Agreement, and contribute to the achievement of SDG7 by 2030.