Workers and COVID-19: Access to healthcare, now 'a matter of life and death'
The spread of COVID-19 in developing countries has exposed gaps in social protection coverage which could compromise recovery plans, expose millions of people to poverty and affect global readiness to cope with similar crises, according to two policy briefs issued Thursday by the International Labour Organization (ILO).
The report on Social protection responses to the COVID-19 pandemic in developing countries, describes social protection as "an indispensable mechanism for delivering support to individuals during the crisis". It looks at response measures introduced in some countries, such as the removal of financial barriers to quality health care, and protecting incomes and jobs, among other interventions.
The ability to access affordable, quality, healthcare has become "a matter of life and death", the UN labour agency brief says.
Coronavirus, one deadly threat among others
It cautions policy makers against a singular focus on COVID-19, which could reduce the ability of health systems to respond to other conditions that kill people daily. According to its data, 55 per cent of the world's population – 4 billion people – lack social insurance or social assistance. Only 20 per cent of unemployed people are covered by unemployment benefits.
The second brief – Sickness benefits during sick leave and quarantine: Country responses and policy considerations in the context of COVID-19 – warns that gaps in sickness benefit coverage, results in anxious workers being forced to go to work when they are ill, or should self-quarantine, increasing the risk of infecting others. The related income loss increases the risk of poverty for workers and their families.
It calls for urgent, short-term measures to close the coverage gaps – which, in turn, would bring about support for public health, poverty prevention and promotion of the human rights to health and social security.
Extend sickness benefits to all
It proposes extending sickness benefit coverage to everyone, as well as increasing benefit levels to ensure they provide income security, speeding benefit delivery and expanding the scope of benefits to include prevention, diagnosis and treatment.
"The COVID-19 crisis is a wake-up call", said Shahra Razavi, Director of the ILO Social Protection Department. It has shown that a lack of social protection not only affects the poor but also exposes the vulnerability of those who have been "getting by relatively well," she said, as medical charges and income loss, can easily destroy decades of family savings.
Putting robust social protection systems in place can be a huge challenge, says ILO development economist Jayati Ghosh.
Vicious circle of loss
While the need for social protection has never been more evident, these large demands on public fiscal resources come just as most developing countries are facing rapid declines in export and tourism revenues, and capital outflows.
While most developed countries are instituting large fiscal stimulus packages, this is much more difficult for developing countries. Their estimated financing needs are around $2.5 trillion, she says, while the immediately required increase in health spending, is projected to reach between $160 billion and $500 billion.
IMF reserves, debt forgiveness
One way to achieve this goal is through a large new issue of Special Drawing Rights by the International Monetary Fund – reserve assets created to supplement countries' official foreign exchange reserves.
She also says a halt to all debt repayments (both principal and interest) would be required for one year or until debt restructuring packages are worked out. This is essential because as much as $1.6 trillion of developing country external debt is due to be repaid in 2020, with a further $1.1 trillion due in 2021.
UN: Paraguay violated indigenous rights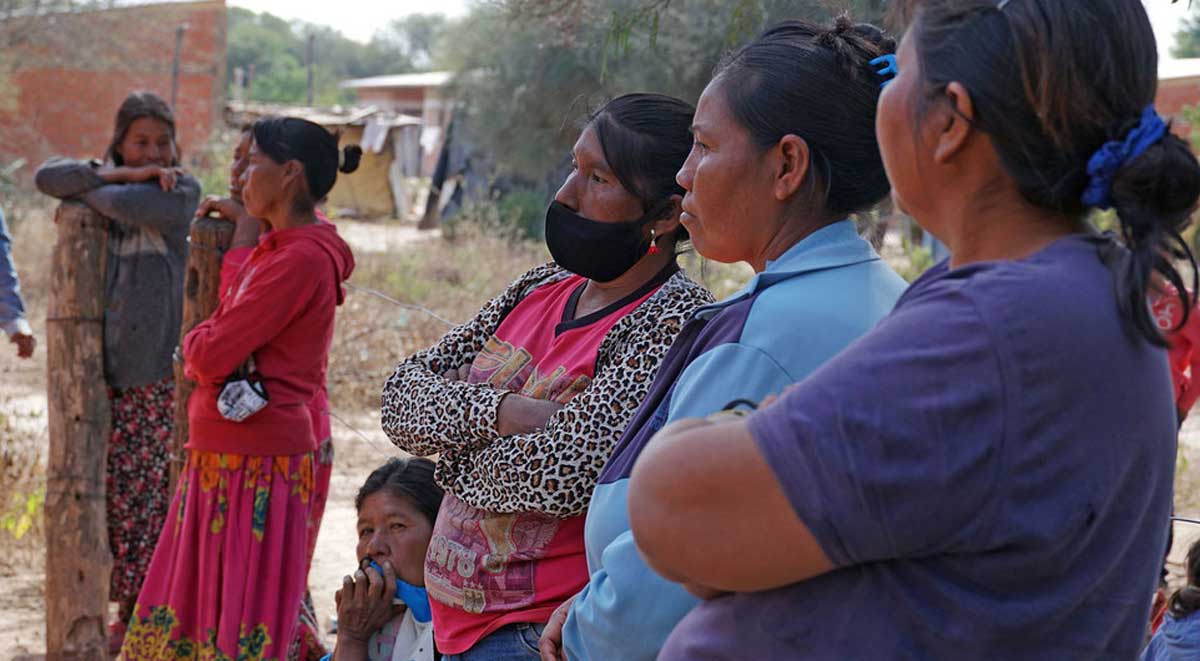 Paraguay's failure to prevent the toxic contamination of indigenous people's traditional lands by commercial farming violates their rights and their sense of "home", the UN Human Rights Committee said in a landmark ruling on Wednesday.
The Committee, which is made up of 18 independent experts from across the world, monitors countries' adherence to the International Covenant on Civil and Political Rights.
Lands represent 'home'
The decision on Paraguay (in Spanish) marked the first time it has affirmed that for indigenous people, "home" should be understood in the context of their special relationship with their territories, including their livestock, crops and way of life.
"For indigenous peoples, their lands represent their home, culture and community. Serious environmental damages have severe impacts on indigenous people's family life, tradition, identity and even lead to the disappearance of their community. It dramatically harms the existence of the culture of the group as a whole," said Committee member Hélène Tigroudja. 
The decision stems from a complaint filed more than a decade ago on behalf of some 201 Ava Guarani people of the Campo Agua'e indigenous community, located in Curuguaty district in eastern Paraguay.
The area where they live is surrounded by large commercial farms which produce genetically modified soybeans through fumigation, a process which involves the use of banned pesticides.
Traditional life affected
Fumigation occurred continuously for more than 10 years and affected the indigenous community's whole way of life, including killing livestock, contaminating waterways and harming people's health.
The damage also had severe intangible repercussions, according to the UN committee. The disappearance of natural resources needed for hunting, fishing and foraging resulted in the loss of traditional knowledge. For example, ceremonial baptisms no longer take place as necessary materials no longer exist.
"By halting such ceremonies, children are denied a rite crucial to strengthening their cultural identity," the Committee said.  "Most alarmingly, the indigenous community structure is being eroded and disintegrated as families are forced to leave their land." 
Toxic exposure
The indigenous community brought the case to the Human Rights Committee after a lengthy and unsatisfactory administrative and judicial process in Paraguay's courts.
"More than 12 years after the victims filed their criminal complaint regarding the fumigation with toxic agrochemicals, to which they have continued to be exposed throughout this period, the investigations have not progressed in any meaningful way and the State party has not justified the delay," the Committee said in its decision.
Recommendations, reparations
Members found Paraguay did not adequately monitor the fumigation and failed to prevent contamination, adding "this failure in its duty to provide protection made it possible for the large-scale, illegal fumigation to continue for many years, destroying all components of the indigenous people's family life and home."
The Committee recommended that Paraguay complete the criminal and administrative proceedings against all parties responsible and make full reparation to the victims.
The authorities are also urged to take all necessary measures, in close consultation with the indigenous community, to repair the environmental damage, and to work to prevent similar violations from occurring in the future.
Vaccination, Jobs, and Social Assistance are All Key to Reducing Poverty in Central Asia
As the pace of economic recovery picks up, countries in Central Asia have an opportunity to return to pre-pandemic levels of poverty reduction – if they put in place the right policies. This was the overall message shared by World Bank economists today at a regional online event "Overcoming the Pandemic and Ending Poverty in Central Asia".
In the early 2000s, Central Asian countries were among the world's best performers in poverty reduction. Starting in 2009, however, the pace of progress began to slow and even stagnated in some of the countries. The COVID-19 pandemic impacted a region already struggling to generate inclusive growth and end extreme poverty. Now in the second year of the pandemic, poverty rates in Central Asia are falling again, but with high inflation and low vaccination rates, the poor and the most vulnerable continue to suffer from food insecurity, uncertainty, and limited employment opportunities, especially for women.
"Central Asia is recovering from the first shocks of the pandemic, albeit in uneven ways," said Will Seitz, World Bank Senior Economist in Central Asia. "Migration and remittances, key drivers of poverty reduction in the Kyrgyz Republic, Tajikistan, and Uzbekistan, are quickly returning to 2019 levels. Labor markets are also recovering, and work disruptions are much less common. However, the region is yet to get on a stable poverty reduction path."
Among policy priorities to reduce poverty, the World Bank is focused on three key areas: widespread vaccination, increasing employment and wages, and strengthening social assistance programs to support the most vulnerable. To support labor market recovery, the World Bank economists outlined short-term and medium-term measures, including the need to invest in green jobs and encouraging the creation and growth of firms.
It was also stressed that employment alone will not address all drivers of poverty, and strong safety nets are essential to protect the most vulnerable. Compared with other middle-income countries, Central Asian governments typically provide smaller shares of their populations with social assistance.
"Along with ensuring fair, broad access to effective and safe COVID-19 vaccines, Central Asian countries need to urgently address vaccination hesitancy, as it threatens to slow down the recovery," said Tatiana Proskuryakova, World Bank Regional Director for Central Asia. "For every million people vaccinated, global GDP recovers on average nearly $8 billion. We are expecting advanced economies with relatively high vaccination rates to demonstrate much better growth rates than developing economies with low vaccination rates."
Among the main reasons behind vaccine hesitancy in Central Asian countries are worries about vaccine contraindication and safety. While people with pre-existing health conditions in other countries are usually prioritized for vaccination, in the Central Asia region they are more likely to be hesitant to get vaccinated. Providing the public with accurate information on the safety of vaccines and encouraging people with pre-existing health conditions to be vaccinated may help address hesitancy issues.
Why Traders Should Never Miss Forex Trading Investment Opportunities
Trading forex is a great opportunity to make money if you know how to do it right. Some of the top forex traders are often asked about tactics and tricks they use that have helped them to make great profits. Investment opportunities can be fully used only when you know how to turn such opportunities into profit.
What does it take to turn investment opportunities into trading profits? Here are some things which you can do to make a difference and have helped several people in making profits in the long run.
A Strong Trading Plan:
Ask any successful trader and you will be told that a trading plan is of utmost importance. One needs to plan quite systematically before trading or when one starts trading. This trading plan usually has a strategy which is followed with great caution. This trading strategy should also be tested, and adjustments made accordingly. If everything goes well, the strategy can be repeated whenever any opportunity comes along.
Managing Risk:
Capital management is an essential part of forex trading success. If any trader doesn't know how to manage risks, the trader will not be able to make it long. No matter how lucrative the investment opportunities seem to be, a trader should not trade money which the person cannot afford to lose. It is extremely important to ensure that the risks are sensible because that will keep him going.
The Importance of Being a patient Trader:
If you wish to earn in the long run, you need to be patient. It does take time to develop any currency trading plan. It also takes time to develop different skills. Thus, any trader needs to wait for the right opportunities. If a trader hurries or rushes, the decision can be wrong which will affect trading.
The Mind has to be Clear:
Experts reveal that success and failure often depend on the mindset of the individual. If the trading psychology of the trader is not as it should be, profitability will become a distant dream. However, the sad part is that most traders do not consider this as a fundamental truth. There are many expert traders who do meditation or yoga so that they ensure that they have a healthy mind.
Disciplined Actions:
To be successful in any sphere of life, one needs to be disciplined and exercise caution. For a successful trading career, a trader should be consistent and should be learning regularly so that mistakes can be avoided. If a trader lacks discipline, it may lead to trading errors which will result in losses in the future.
Trading Journal Can Help:
There are many experts who suggest the use of trading journals. Such smart traders work as record keepers which helps them in future. For example, when they win a trade, they have everything recorded in the journal. Thus, they are aware how they are winning and why they are winning. Thus, this way they are aware of the strategies that can help them in winning trades and the strategies which can cause them losses.
If any trader can take note of all details such as different conditions for entry and exit, it helps in trades and targets.
Overtrading Can be Risky
At times traders are tempted to overtrade with the hope of making more profits. However, experts believe that overtrading should be avoided because it leads to trading mistakes and errors. Thus, traders need to ensure that they are patient and do not do things that will make it risky.
Thus, investment decisions should be made wisely and cautiously.