Putin's Policy on Coronavirus
Until now, I had respected the independent IntelliNews site, and also RT, for their reporting on important geostrategic issues, but their reporting on May 12th regarding Russian leader Vladimir Putin's coronavirus-19 policies made some allegations which falsely suggest a similarity between his policies and the American President's policies on coronavrus-19.
The key document is dated May 11th and is titled "Meeting on sanitary and epidemiological situation". Unfortunately, it was not linked to either in the RT report or in the IntelliNews report.
On May 11th, RT headlined "Paid holidays end May 12, Russia to start gradually easing coronavirus quarantine measures – Putin" and reported that, "'Starting from tomorrow, May 12, the joint non-working period for the whole country and for all the sectors of its economy ends,' Putin said during a televised speech on Monday. … The conclusion of the 'holiday' period allows Russia's regional authorities to begin lifting Covid-related restrictions. This process will not be fast, Putin said, and all anti-coronavirus precautionary measures will remain in place. Any mass gatherings will remain banned across the country as well." Nothing was said in that report regarding whether Putin prioritizes the public's health or instead the nation's economy. The general impression was that he is more concerned about protecting the economy.
On May 11th, the IntelliNews site bannered "Putin eases Russia's coronavirus lockdown restrictions", and sub-headed "Putin has eased the lockdown restrictions a little, but the change has more to do with restarting Russia's stalled economy than with the population's frustration at being kept indoors." This report noted that "Companies will increasingly have to choose between sacking workers or going bust. The big employers have been the focus of the Kremlin's economic aid programmes, but the SMEs [Small and Medium-sized Enterprises] have largely fallen through the cracks." Nothing was cited there to back up that assertion regarding his being more concerned to protect large than small firms.
Here are some highlights of the actual document, starting with its opening:
Vladimir Putin held a meeting, via videoconference, on the sanitary and epidemiological situation and new measures to support the country's population and the national economy.
May 11, 2020
You are aware of my position, it hasn't changed. The key priority for us is people's lives, health and safety.
The period of non-working days announced earlier expires today, May 11. Overall, it lasted for more than six weeks, beginning March 30.
This extraordinary measure enabled us to slow the epidemic, giving us the time we needed to substantially improve readiness of the entire healthcare system in case the epidemiological situation took a turn for the worse.
The number of specialised hospital beds equipped for treating severe cases was increased from 29,000 to 130,000, and we have built up equipment and supplies reserves, including a reserve capacity of ventilators, which has critical importance for us. Thank God, of course, that so far we have had to use only a small fraction of this stand-by capacity.
What matters the most is that every region is ready and has everything it needs to help people that might suffer from severe complications, and offer them specialised medical services, including intensive care. Let me emphasise that almost everyone who needs this care is receiving it.
Another very important thing is that the doctors now know much more about this disease than at the outset of the epidemic. They have gained first-hand experience as well as learned best practices from their foreign colleagues. Newly developed treatment methods rely on effective medicines, and we have been expanding their production.
Foreign experience showed that it was the failure to make the necessary preparations as well as an overwhelmed healthcare system that were the main causes of a high mortality rate, making it impossible to save those who could be saved. Let me reiterate that we are now able to provide this kind of assistance. It would not be an exaggeration to say that measures taken in advance helped us save many thousands of lives. …
Social workers are now carrying an extra workload and higher risks. Therefore, I think we need to introduce extra pay on a national level for the three months between April 15 and July 15. I would like to make it clear that the pay that was already allocated for April will reach people regardless.
Doctors at social institutions will receive an extra 40,000 rubles for a two-week shift. Those who are working directly with coronavirus patients will receive 60,000 rubles.
Social workers, teachers, mid-level medical and administrative staff will receive 25,000 rubles and if they are dealing with infected patients – 35,000 rubles. Junior medical staff will receive 15,000 and 20,000 rubles, respectively. Maintenance staff will receive 10,000 and 15,000 rubles, respectively. …
Of course, like before, all government bodies and municipal authorities will continue working, as well as facilities with a continuous production cycle, medical institutions, pharmacies, financial bodies, grocery stores and stores selling essential products.
Additionally, starting May 12, wherever possible, it is necessary to create conditions for resuming the operations of backbone industries, which include construction, industrial production, agriculture, communications, energy production and extraction of mineral resources.
These industries involve a significant number of workers and working there means the income and wellbeing of their families. It is also important that these operations do not involve direct contact with consumers – so it is possible to resume operation with low risk. Naturally, all sanitary regulations must be complied with. …
First of all, families with children. They always have a lot of things to take care of, but now if a family loses its income it is very difficult. All the more so if one of the parents, or worse, both of them, have lost their jobs. Unfortunately, this is happening in some cases.
As you know additional benefits are being specified for families entitled to maternity capital in the amount of 5,000 rubles a month per child under 3. The family will be getting this monthly amount for three months from April through June.
In addition, families with parents who lost their jobs are entitled to 3,000 rubles a month for each underage child. These benefits will also be paid for three months.
Next. We have made a decision that families with an income per person below the subsistence minimum can apply for benefits for children aged 3 to 7, inclusive, starting June 1 rather than July 1 as originally specified.
I draw you attention to the fact that these benefits are calculated, as I said in the Address, from the beginning of the year. Thus, a family who applies in June will get all the benefit it is entitled to in the first half of the year. On average (let me stress – on average) this can add up to 33,000 rubles per child, and a family like this will be getting regular benefit payments every month. The national average is 5,500 rubles per child per month.
However, I believe that this not really enough these days. Many more families with children need direct support from the state. The favourable macroeconomic conditions we have created in recent years for the progress of the economy, the rehabilitation of the banking and financial system in the country and the reserves we have accumulated allow us to take more decisions on supporting people.
In this connection I suggest, first of all, that the minimum child allowance be increased from 3,375 rubles to 6,751 rubles [per month]. This benefit is to be paid to non-working citizens, including students. As a rule, these are young parents and young mothers. It is important that we support them.
Second, I mentioned additional payments for children under 3 years old in the families that are eligible for maternity capital. But many families are not eligible because their children were born before January 1, 2020 when the new parameters for receiving maternity capital, including for the first child, were approved.
In light of this, I suggest that 5,000-ruble monthly payments be approved for such families. Moreover, they should receive this amount not only in May and June, but also for April, that is, retroactively. In this way, all families in Russia with children under 3 years old will receive 5,000 rubles a month.
And last, one more child support measure: from June 1, families will receive a one-off payment of 10,000 rubles per child aged between 3 and 16 years.
I would like to point out that this is not the time for people to waste a lot of personal time collecting all kinds of certificates and statements. Therefore, we have taken the only fair decision, as I see it, that no formal criteria are adopted for this one-off payment. The only condition is that assistance must be provided to everyone who needs it.
As I said, every family in Russia with children between 3 and 15 years inclusively will be able to submit a request for this one-off assistance starting tomorrow, online via the Gosuslgi [Public Services] Portal or through the Pension Fund, and receive 10,000 rubles per child starting June 1.
Overall, in accordance with the decisions we took today and our previous decisions, assistance will be provided to 27 million Russian children, from babies to schoolchildren. I believe that this is what state priorities should be like, especially now that we must above all take care of our elderly people and support families with children.
Colleagues,
As you know, we hold meetings with the participation of the business community on supporting and developing key economic sectors almost every week. Moving forward, we will definitely keep this process in place for devising targeted solutions and fine-tuning earlier decisions. We will discuss developments in agriculture, textiles, communications and the IT sector.
However today I wanted to draw your attention to one urgent and system-wide problem. According to the latest official figures, the number of unemployed people in Russia has reached 1.4 million, having doubled compared to early April.
This is quite a challenging situation that requires comprehensive efforts to stabilise employment and support those who have lost their jobs. I ask the Government to draft resolutions to this effect. We will discuss them at a separate meeting that will take place before the end of May. …
Consequently, there is no question that measures to support the economy, and primarily those designed to keep companies on a sustainable footing, will have to be carried out. We need to maintain jobs, professional teams, business infrastructure and capacities so as to avoid any further sharp fall in employment, while enabling business owners to restore their teams, expand operations and get the economy back on track.
Let me remind you that we have offered direct government subsidies to small and medium-sized businesses, as well as socially-oriented NGOs in the affected sectors, so that they can pay their employees salaries for April and May. The key requirement for receiving this support is to keep at least 90 percent of their employees on the payroll compared to April 1. This measure could potentially cover 4 million workers.
At the same time businesses need to understand their prospects; they need to see the horizon of the unfolding situation so they can make decisions, as I said, with a planning horizon rather than just for the next month or two.
So, we have a number of other measures.
First. I suggest that a special employment support loan programme be launched effective June 1. All businesses in the affected industries as well as socially-oriented NGOs should be eligible for it. This measure could potentially sustain 7 million jobs.
Loan volumes will be calculated based on a formula of one minimum wage per employee per month for a period of six months. The loan maturity date will be April 1, 2021.
It is crucial that these loans are accessible to businesses while banks should be interested in working with this programme. The final interest rate for the borrower will be a preferential 2 percent rate. Everything above this will be subsidised by the state. The interest will not need to be paid monthly, it will be compounded. In addition, 85 percent of the loan will be guaranteed by the state.
And the key is that if the company keeps 90 or more percent of its current jobs, after the loan matures, it will be completely written off as will the interest on it. These costs will be covered by the state.
If the number of jobs is kept to least at 80 percent, half of the loan and compounded interest will be written off.
Such loan could be used with some flexibly for paying wages and, for example, to refinance earlier no-interest, so-called "wage loan." As you know, we are already using this employment support tool.
However, even with all the freedom to manoeuvre for businesses and other organisations, I must instruct the Government to ensure control over the basic premise: businesses must spend the funds primarily to pay wages. Any schemes like "paper jobs" or jobs with wages below minimum wage are to be excluded, totally excluded. I ask you to strictly monitor this.
And of course, along with the loan, businesses will have to co-finance wages with their own funds.
What I want to stress here is that we have supported and will continue to support businesses, but those who care about their employees are the priority. Once again, the point of providing government support is to motivate businesses to retain jobs and maintain wages.
Second, affected industries have already been granted tax and social insurance contribution deferrals for six months and will be able to pay it back in instalments over the course of a year – as business representatives asked me to do at one of the meetings. However, to simply postpone tax payments is apparently not enough right now.
Therefore, I propose cancelling these payments for the second quarter of this year, except for VAT. This measure will apply to private entrepreneurs, small and medium-sized businesses in the listed industries and socially-oriented NGOs.
Once again, to be clear, in this case, taxes and social contributions for the second quarter will not just be deferred, they will be cancelled – for April, May and June, the months that businesses find themselves in a difficult situation and are still experiencing hardships. More than 1.5 million companies will be able to benefit from this measure.
Third, last year, in four regions – Moscow, Tatarstan, the Moscow Region and the Kaluga Region – self-employed citizens, including those providing transport services, rental property owners, tutors, babysitters, etc., got an opportunity to do their businesses officially, rather than in a so-called grey area and pay income tax at a reduced rate of 4 or 6 percent. Some 340,000 people used this opportunity last year.
These people trusted the government and believed the guarantees for secure and civilised work. So, I think this aspiration should be supported and even encouraged. I propose tax rebates for taxes paid by the self-employed for the 2019 fiscal year in full.
The fourth proposal is related. Currently, people can register as self-employed in 23 regions. The number of officially registered self-employed workers is now over 650,000. I propose providing all self-employed citizens with a tax credit in the amount of one minimum wage they could use to pay taxes this year, thus retaining their own income.
Fifth, we also need to lower the fiscal burden on the self-employed in the most heavily affected sectors. I suggest that this year they be given a tax deduction in the amount of one minimum wage from their insurance payments, which will come as additional support to them at this difficult time.
And finally, the sixth measure. Government agencies providing microfinancing support for the self-employed, family enterprises and small businesses have been established and are working efficiently in all Russian regions.
I suggest that additional capitalisation be provided to small but efficient regional development institutions without delay and that 12 billion rubles be allocated for this purpose. These funds have been earmarked for the national project on small and medium-sized businesses for the next few years. I believe that this financial resource must be used now, in 2020. …
Clearly, Putin's approach is socialistic, not at all capitalistic, as Trump's is in America.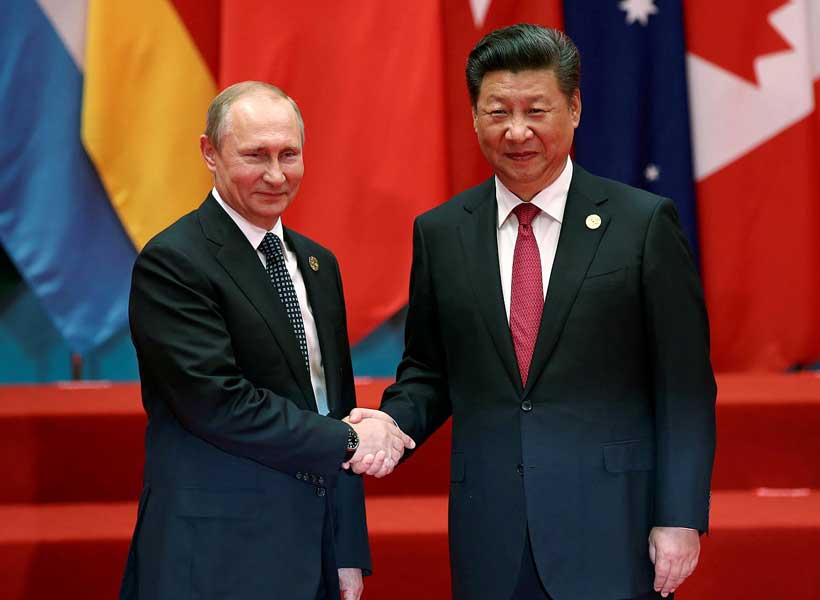 Cooperation between Russia and China has deep historical roots, and its earliest manifestations can be found already during the Chinese civil war. It seems that both countries should be most united by their communist ideology, but the ambitions of their leaders and the willingness to be the first and the most powerful was in fact the dominating force. Relations between these nations have seen times of flourishing, as well as times of military conflict.
The relationship between both countries are currently presented as friendly, but it is difficult to call them truly friendly. Even in the past, relations between the USSR and China were based on each nation's calculations and attempts to play the leading role, and it doesn't seem like something has changed at the present, although China has become a "smarter" and resource-wise richer player than Russia.
We will now look at the "similarities" between China and Russia, the ways they are cooperating and future prospects for both of them.
Russia is a semi-presidential federative republic, while China is a socialist nation ruled by the secretary general of its Communist Party.
Already we can see formal differences, but if we dive deeper both countries essentially feel like Siamese twins. There are more than one party in Russia, but only one party decides everything that takes places in the country – United Russia. Russia isn't even attempting to hide the aim of establishing the said party, which is to support the course taken by Russian President Vladimir Putin.
China, too, has nine parties, but only one of them is allowed to rule and it is the Communist Party of China which answers to the secretary general who is also the president of the state.
Therefore, there is a single ruling party both in Russia and China, and this party is responsible for implementing and executing whatever the president wishes, meaning that both countries are ruled by a rather narrow circle of people. Forecasting election results in Russia and China is as difficult as being able to tell that the day after Monday is Tuesday. To write this piece, I spent a lot of time reading about the history of China and Russia and the current events taking place in these countries, and for this reason I figured that we also have to look at the meaning of the word "totalitarianism".
Totalitarianism is a political system in which a country is governed without the participation of its people and decisions are made without the agreement of the majority of the people; in a totalitarian regime the most important social, economic and political affairs are controlled by the state. It is a type of dictatorship where the regime restricts its people in all of the imaginable aspects of life.
Notable characteristics:
Power is held by a small group of people – a clique;
Opposition is suppressed and general terror is a tool for governing the state;
All aspects of life are subordinate to the interests of the state and the dominating ideology;
The public is mobilized using a personality cult of the leader, mass movements, propaganda and other similar means;
Aggressive and expansionist foreign policy;
Total control over public life.
Are China and Russia truly totalitarian states? Formally, no, but if we look at the essence of it we see a completely different picture. We will look at all of the signs of totalitarianism in China and Russia, but we will not delve too deep into events and occurrences that most of us are already familiar with.
Can we say that the majority of Russian and Chinese citizens are engaged in decision making? Formally, sort of, because elections do take place in these countries, but can we really call them "elections"? It would be impossible to list all the video footage or articles that reveal how polling stations operate in order to provide the required election results. Therefore, we can say that the general public is involved in making decisions, it's just that the results are always determined by those in power.
The last paragraph brings us to the first point: power is held by a small group of people – a clique. Both nations are ruled by presidents who appoint whoever they wish and dismiss whoever they wish. This is power held by a small group of people. The next point – suppressing the opposition and using general terror to govern the state. Media outlets have written enough about suppressing the opposition in both countries, and everyone has seen at least a video or two on this topic. To stop their political opponents and any events organized by them Russia and China use not only their police forces, but the army as well. From time to time, information appears that an opposition activist has been murdered in either of the countries, and these murders are never solved. We will not even begin talking about criminal cases and administrative arrests of opposition activists. We can say that the point in question is completely true. Regarding all of the aspects of life being subordinate to the state and ideology – is there anyone who isn't convinced by this? If Russia is engaged in restricting and "teaching" its citizens quite inconspicuously, China has no time for ceremony – the Communist Party of China has published new guidelines on improving the "moral quality" of its citizens, and this touches upon all of the imaginable aspects of one's private life – from organizing wedding ceremonies to dressing appropriately.3 Is the public in Russia and China mobilized using the cult of personality, mass movements, propaganda and other means? We can look at 9 May celebrations in Russia and all of the surrounding rhetoric, and the events dedicated to the anniversary of founding the People's Republic of China. I'm sorry, but it feels like I'm watching some Stalin and Hitler era montage but in a more modern fashion, and instead of Stalin and Hitler there are some new faces. What is left? Of course, aggressive and expansionist foreign policy. China has been very active in the South China Sea for many years now, which has aggravated tensions among the armed forces of its neighbors – Brunei, Malaysia, the Philippines, Taiwan and Vietnam.
China is continuing to physically seize, artificially build and arm islands far from its shores. And in the recent years China has been particularly aggressive towards Taiwan, which the regime sees as being rightfully theirs. China is also willing to impose sanctions against those nations who intend to sell arms to Taiwan.
However, when it comes to armed aggression China pales in comparison to Russia, which isn't shy to use armed aggression against its close and far neighbors in order to reach its goals. Russia's aggression goes hand in hand with its nihilism. I am sure I don't have to remind you about the events in Georgia, Ukraine and previously in Chechnya as well. Russia will use every opportunity to show everyone its great weaponry, and this also includes directly or covertly engaging in different military conflicts.
Maybe some of you will disagree, but as I see it China and Russia currently are totalitarian states in their essence.
History has shown us that up to a certain point even two totalitarian countries are able to cooperate. Let's remember the "friendship" between Nazi Germany and the USSR, but let's also not forget what this friendship resulted in.
It is also true that the economic sanctions imposed against Russia have pushed it to be more friendly with China, but it seems that China will come out as the winner of this relationship.
According to data from the Chinese Ministry of Commerce, in 2018 the Chinese economy received 56.6 million USD in direct investments from Russia (+ 137.4%), meaning that by the end of 2018 the amount of direct investments from Russia reached 1,066.9 million USD.
In 2018, the Russian economy received 720 million USD in direct investments from China, resulting in a total of 10,960 million USD in direct investments from China by the end of 2018.
The main spheres of Chinese investments in Russia are energy, agriculture and forestry, construction and construction materials, trade, light industry, textiles, household electric goods, services, etc.
The main spheres of Russian investments in China are production, construction and transportation.5 We can see from the amount of investments that in this "friendship" China has far exceeded Russia. We also cannot ignore the fact that China has launched more large-scale investment projects in other nations than Russia has.
It should be noted that China's procurement of military equipment has allowed Russian armaments programs to exist. Russia sold modern armaments to China, despite the concerns that China will be able to "copy" the received armaments and then improve them. But the need for money was much greater to worry about such things. As a result, in early 2020 it was concluded that China has surpassed Russia in producing and selling armaments.
If we look at the ways Russia and China are attempting to shape public opinion in the long term, we can see some differences. Russia tries to do this using publications, demonstrative activities and attempts for its compatriots to become citizens of their country of residence while maintaining their cultural identity in order to establish an intellectual, economic and spiritually-cultural resource in global politics. China, in addition to all of this, has established Confucius Institutes that are subordinate to the Chinese Ministry of Education. There are a total of 5,418 Confucius Institutes or classes around the world. These institutes, named after the most known Chinese philosopher, have drawn sharp criticism globally for its foreign policy views – ones that avoid discussing human rights or believe that Taiwan or Tibet are inseparable parts of China. These institutes have been accused of espionage and restricting academic freedom.
"The Confucius Institutes are an attractive brand for our culture to spread abroad," representative of the Communist Party's Politburo Li Changchun said in 2011. "They have always been an important investment in expanding our soft power. The brand name "Confucius" is quite attractive. By using language tuition as a cover, everything looks logical and acceptable from the outside." The leadership of the Communist Party calls these institutes a crucial part of its propaganda toolset abroad, and it is estimated that over the past 12 years China has spent roughly two billion USD on them. The constitution of these institutes9 stipulates that their leadership, personnel, guidelines, tuition materials and most of their funding is ensured by the Hanban institution which is under the Chinese Ministry of Education.
Both Russian and Chinese citizens either buy or rent property abroad. Russians do this so they have somewhere to go in case the necessity arises.
Chinese citizens and companies slowly rent or purchase large swathes of land in in the Russian Far East. There is no precise estimate of the amount of land handed over to the Chinese, but it is said it could range between 1–1.5 billion hectares.
What can we conclude from all of this? China and Russia are, in essence, totalitarian states with bloated ambitions. If Russia tries to reach its ambitions in an openly aggressive and shameless manner, then China is doing the same with caution and thought. If Russia often uses military means to reach its goals, China will most likely use financial ones. If Russia attempts to fulfill its ambitions arrogantly, then China achieves the same result with seeming kindness and humility.
Which country has gotten closer to its goal? I believe it is definitely not Russia. In addition, just as the USSR, Russia too believes it is better than China. But for those observing from the sidelines, it is evident that in many areas China has far succeeded Russia and is now even acquiring Russian land.
This brings us back to history – what happens when two totalitarian states share a border? One of them eventually disappears. For now, it seems that China has done everything in its power to stay on the world map.
COVID-19 Presents Both Opportunities and Threats to Russia's Foreign Policy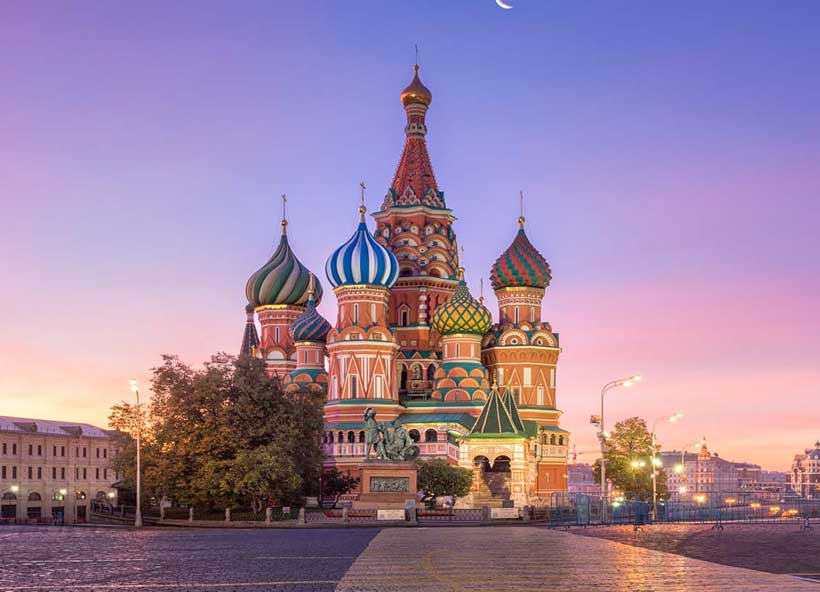 Like every major global crisis, the coronavirus pandemic both generates additional risks, challenges and threats to every state's foreign policy and opens up new opportunities and prospects. Russia is no exception in this. The specific nature of Russia's case lies, we believe, in its opportunities being mostly tactical and situational, while the threats it faces are strategic and systemic. The balance of opportunities and threats depends on many variables but primarily on how Russia ultimately copes with COVID-19 compared to other states, particularly its international opponents. Any comparative advantage that Moscow has in fighting the virus, be it the numbers infected and lost to COVID-19 or the relative scale of economic losses will somehow expand Moscow's range of opportunities in the post-virus world. Any failure will increase foreign policy threats and curtail opportunities. Let us compile a preliminary list of these opportunities and threats.
Opportunities
Confirming Russia's Perspective of the World
Over recent years, Russia's leadership has insistently advanced its own "Westphalian" picture of international relations, emphasizing the priority of national states and the importance of sovereignty, questioning the stability of Western solidarity and the effectiveness of Western multilateral diplomacy. Thus far, the epidemiological crisis is bearing out the Russian perspective: the crisis is bolstering national states, demonstrating the helplessness of international organizations and generating doubts as to whether the West does, indeed, follow its own declared values and principles. This development both opens up a huge number of additional opportunities for Russia's domestic and foreign propaganda and justifies the Kremlin's ambition to be one of the principal architects of the post-crisis world order.
The Possibility of the West Adjusting its International Priorities
The global pandemic that has delivered a particularly grievous (at the moment!) blow to the leading western states may well result in them revising their hierarchy of external threats and, accordingly, adjusting their system of foreign political priorities. In recent years, the established idea of Russia has come to be that of the "main problem" in global politics and the "main threat' to the interests of the West, while COVID-19 is rapidly eroding this. Such a mental shift is unlikely to result immediately in practical positive shifts in Moscow's relations with its western partners, but we do believe that it will open up opportunities for a "mini-reset" of these relations. At the very least, we might expect increasing pressure from the West on Moscow, as well as further escalation of the confrontation, to be averted.
The Expanding Global "Power Vacuum"
Proposals for curbing international commitments were popular in developed states, primarily the US, long before the COVID-19 pandemic. The pandemic will, however, apparently be a powerful catalyst to such sentiments, which will have an increased effect on foreign political practices. This development will manifest itself, in particular, in a possible curtailing of bilateral and multilateral financial and economic aid programmes for the global South and in reduced military and political commitments to developing partner states. The expanding "power vacuum" in the Middle East, Africa, South Asia and the post-Soviet space can create additional opportunities for Russia's foreign policy.
Threats
Russia's Global Economic Standing Deteriorating
The experience of the last global financial and economic crisis in 2008–2009 allows us to conjecture that, in the new upheaval, Russia will be hit harder than other countries. The prospects of even a partial recovery of global oil prices are dubious, accumulated financial reserves will be shrinking rapidly, the timeframe for Russia's economy returning to the global average growth rate will be revised, and the threat of Russia being pushed on to the periphery of the global economy will remain. Accordingly, there is an emerging threat of Russia's defence and foreign policy resource base shrinking, and that includes support for Russia's allies and partners, funding for international organizations, and Russia's participation in cost-intensive multilateral initiatives (such as implementing the Paris Climate Agreement). If the country's current socio-economic model remains unchanged in the post-crisis world, the consequences for the "national brand" will be no less significant.
The Rise of Isolationism in Russia
Russian society's initial reaction to Moscow's efforts to assist several foreign states (from Italy to Venezuela) was mixed. In general, however, the pandemic is certainly boosting isolationist sentiments and reducing public support for an active and energetic foreign policy. Previously, the public saw demonstration of Russia's presence in the Middle East, Africa, and Latin America as an affirmation of it as a "superpower", which was perceived in a solely positive light. Now, this presence is, with increasing frequency, viewed as an unfounded waste of shrinking resources. It may be concluded that, given the pandemic, the so-called "Crimean consensus" is becoming entirely ineffective, and it is becoming harder and harder to justify Russia's foreign policy in the eyes of the country's population.
The Harsh Bipolarity of the Post-Virus World
The COVID-19 pandemic has evidently accelerated the shaping of the new US-China bipolarity. The recently-launched electoral campaign in the US is marked by Trump and Biden outdoing each other in demonstrating their harsh attitude toward Beijing. The confrontation between the two states is undermining the effectiveness of the UN Security Council, the WHO, G20 and other international organizations. The emerging rigid bipolarity carries systemic risks for all participants in global relations; Russia, additionally, faces other specific threats. The growing asymmetry between the Moscow and Beijing potentials is becoming increasingly visible and cooperation with China's real or potential opponents (such as India, Vietnam or even Japan) more and more problematic.
P.S.
"Never waste a good crisis": this paradoxical adage credited to Winston Churchill is relevant today as never before. Neither Russia nor other states should waste the systemic global crisis triggered by the coronavirus pandemic. A crisis does not give anyone grounds for crossing out their past mistakes or forgetting their past achievements. Yet a crisis is not just a convenient pretext but also a solid reason for shaking up one's old foreign political "wardrobe." Close scrutiny is certain to reveal things that are moth-eaten, no longer fit, or are simply no longer fashionable.
From our partner RIAC
Chechnya: The ethno political flashpoint plaguing a former Super power
Authors: Subhranil Ghosh & Sayantan Bandyopadhyay*
Chechnya is a minuscule North Caucasian landmass of around 17000 square kilometres which comprises a small fraction of Russia's territory and, with about 850,000 people, about a quarter of Russia's population. The land which was earlier known for its lush valleys and stony mountains has turned into a fore post of secessionist activities. With the Wahabi brand of radical Islam gaining a firm footing in the region, violent Islamic revolts are fairly commonplace. It must also be noted that this area is also marked by high unemployment, pervasive poverty, and rapid population growth as well as Moscow's indifference to these issues, reflected in its low economic assistance. These factors have led to a high incidence of corruption, kidnappings and assassinations in the region, with crime as the only source of livelihood for countless people.
The local people were hostile towards the Russians much before the first Chechen war due to historical reasons along with the implementation of short-sighted policies over a period of time. Going back in history, North Caucasus was annexed by Peter the Great in 1722 in his campaign to incorporate all the Muslim territories into the Russian empire to create a huge territory for Russia. In 1908, there was an attempt made by the mountainous tribes of Dagestan and Chechnya for liberation and establish a theocratic Sovereign state, which was brutally suppressed by Tsarist forces. As a matter of fact, after the Bolshevik Revolution, Soviet authorities made little effort to integrate them into the allegedly communist mainstream society, and their sense of an ethno religious identity was kept intact. There were attempts in 1917, by North Caucasian mountainous leaders to proclaim Independence. Understandably, this was unacceptable to the new Communist regime and the region was swiftly incorporated into the Union of Soviet Socialistic Republics. The people were promised a large amount in the newly formed Chechen-Ingush Autonomous Soviet Socialistic Republic in 1934. During the Second World War, Chechen separatists allegedly collaborated with the German forces to defeat the Russians. After the battle of Stalingrad when the Wehrmacht was routed, Chechens were punished by deporting them to Kazakhstan in 1944. There were unconfirmed reports claiming that of the 618000 deportees, over 200,000 died as a result of this exercise. What needs to be understood is that Joseph Stalin forged a mini-empire out of the Soviet Union comprising of multi-ethnic nation-states with separatist tendencies. It was only in 1957 that the Soviet premier Nikita Khrushchev while de-Stalinizing Soviet polity and society, allowed the deportees to return to their homeland by restoring the status of the Chechno-Ingush Republic. However, the sense of historical injustice and alienation lingered on in the collective memory and consciousness of the Chechen people.
"Not in pouring more troops into the Jungle, but in winning the hearts and minds of the people." This is cited as a solution to crises related to terrorism and Insurgency by scholars. The Russians have been fighting a protracted war in Chechnya with no end in sight. The causes of the conflict beg analysis as well as why Chechnya is deemed as so important by the Russians.
The crisis in Chechnya is one of the biggest challenges that Post-Communist Russia has had to face. The roots of the crisis can be identified in the expansionist designs of Imperial Russia under the Romanovs. Indeed the North Caucasus region represented the bloodiest venue of Tsarist Imperialist expansion. From 1818 to 1856, the most brutal policies were pursued in order to crush the stiff resistance. Thousands of non-combatants were killed; the stratagem of scorched earth was implemented to starve the guerrillas into submission and people were deported en masse to Siberia, with many dying on the way. More than a million people fled or were expelled from their homelands, settling in Turkey and elsewhere in the Middle East.
Incidentally, the Communist Regime effectuated even harsher policies. The seeds of social animus vis-à-vis Moscow had been planted in the period of 1943-44, when entire nationalities were accused of collaborating with the Nazis, loaded on to trucks and were shipped off to labour camps in Central Asia. Some 206,000 deportees died on this journey; those not expelled died on the spot as a result of disease, starvation and exposure to the harsh Caucasian weather..
In so far as this bloody chapter in the history of Chechnya is concerned, the causes of the conflict are substantial. However, there are a number of other reasons which have aggravated the hostility in the post-cold war era. One of the fundamental catalysts is inherent in the very character of the Russian Federation. The geopolitical vision and national character of the Russian Federation possess distinctive continuities from those of Imperial Russia and that of the erstwhile Soviet Union. The most important continuity is the peculiar similarity between the time immediately preceding the 1917 revolution and the establishment of the Commonwealth of Independent States. This is the cause of the erosion of the legitimacy of authority in the eyes of the governed.
When this point is probed further it is revealed that centralized oppression meted out by Moscow from the days of Stalin has only increased. As a result, the separatists do not leave any stone unturned, when it comes to the negation of authority. To complicate this situation, Russia even now, is, in reality, a mini-empire, not a voluntary federation. The artificial multi-ethnic republics, which were fashioned through Soviet machinations, have experienced acute disenfranchisement and marginalization under centuries of corrupt and oppressive centralized rule. The Russian state has not been able to rectify its historical blunders and in fact, it goes on repeating them. While it has awarded some concessions to the restive minorities of Georgia, it displays little, if any, restraint in dealing with Chechen "terrorists." The wave of bombings that took place in Russian cities in 1999 – a key casus belli for Russia – is attributed to Chechens, a debatable conclusion given the Chechen's steadfast denials and more importantly, Moscow's failure to produce a shred of evidence.
The grievances of the Chechens have found expression under the banner of Political Islam. Moscow has gauged, and quite rightly, that Political Islam will be the vocabulary of dissent and the Chechens will employ it to the fullest extent. The Islamic ideology is an important source of identity effectively mobilizing resistance against the non-Muslim rule in the Caucasus.
The Geo-economic and Geo-strategic significance of the North Caucasus region necessitates that Moscow holds on to this hornet's nest. The Dagestan region commands 70% of Russia's Caspian Sea coast and the region houses Russia's only all-weather port on the Caspian. Thus the losses in fishing and commerce would be substantial. Even more critical is the oil pipeline carrying oil from Baku, Azerbaijan's capital to global markets, which passes through Dagestan before crossing Chechnya into Russia's Black Sea port of Novorossiysk. The ensuing loss, in case this pipeline did not operate optimally, to Moscow would amount to millions of dollars. Chechen instability has threatened to completely cut off this oil supply. As the South Caucasus represents Russia's near-abroad, the political brass in Kremlin worries that upheaval in the North would accelerate the shift in trade from the traditional north-south axis to a new east-west axis, resulting in even closer links between the South Caucasus and the West. The respect that Russia commands in the region would almost certainly erode in the event of a loss of control over the North Caucasus. Since optics play an extremely important role in modern-day statecraft, Russian Weakness could trigger a reorientation of the foreign policies of Armenia, Georgia and Azerbaijan. Their equations with the west and Iran and Turkey could significantly jeopardize Russia's strategic position in Eurasia.
However, the two biggest dangers to the Federation could be facilitated by the North Caucasus' push for more leeway. This might lead to the loss of more non-Russian territories or to a debilitating reconfiguration for Moscow. Secondly, the proliferation of tensions from Chechnya to Dagestan could prompt roughly one million Russians to depart the region, putting massive economic pressures as Southern Russia would be overwhelmed by refugees. Finally, Moscow's inability to protect ethnic Russians, even within their own country would further downgrade her legitimacy in the eyes of her citizens.
Now we come to the three explanations provided by Russia as to why it is militarily interfering in these regions. Firstly, Russia claims that this is a totally internal problem as Chechnya considered as an integral part of the Russian Federation. Hence, Russia has all the rights to control, suppress and determine the fate of any irredentist movement originating there. Secondly, the Russian constitution must be adhered to by the provinces of Dagestan and Chechnya too. Thirdly, Russian territory extends up to borders of the North Caucasus and therefore the Russian army is compelled to protect Chechnya's borders.
Now the process of why "Chechens never forgive Blood" and how do these blood relations affect the relations between various people needs to be understood. This is evident in the persistence of three key phenomena, which are also interlocking, that of clan identity, honour and the custom of blood revenge. Chechnya is a clan society and there are roughly 150 teips or tribes. These Teips are subdivided into Gars (several branches) and patronymic families (Neykes). There is a particular issue associated with the concept of Blood Revenge, when someone from one's Neykes (family) has been killed. These families are subdivided into related families spanning up to seven generations (Shchin-nakhs) which are subdivided into nuclear families (dozals). The gars and nekyes in which members still have personalized knowledge of one another have collective identities which play a huge role in preserving the harmony within these familial units which are linked patriarchically. Male honour is directly connected with three characteristics which are courage, honour and generosity. The male is supposed to safeguard the family's women and provide for his close relatives and keeps them safe. Male honour is also linked to his ability to avenge any wrong committed to him, his clan or his clan's women. The offences are in the nature of verbal humiliation, rape, physical injury or death. An offended male individual can avenge his blood feud by washing off the wrong done with the blood of the perpetrator or that of the perpetrator's family. This blood feud is a strange vicious cycle as the offender transforms into offended after the first retaliation and the cycle of hostilities can last for decades if not centuries. If one cannot retaliate after the attack then the individual risks losing all honour, prestige of his and his tribe.
In this war of hatred, Russia has unleashed ruthless terror in which thousands of Chechens have died so the concept of Blood Revenge is now a national objective and in almost every family someone has died whose death needs to be avenged. Chechens fear death through humiliation they can't avenge indicated by the responses even of more than 60% of the respondents in mid-1991 wanting to remain within USSR. But the Russian offensive operations carried out through so much brutality have removed any scope for the Chechens to be apolitical. Moreover, the inability of the avengers to locate the exact perpetrator of the crime and punish them as per customs of Blood Revenge has created a bigger problem as they have categorised the entire Russian army and the Russian state as their enemy. So anonymity has widened the spectrum of Revenge.
This blood Revenge has played a huge role in ensuring Insurgency has a steady supply of recruits. The more people are killed by indiscriminate violence by Russian troops, the more people get committed to eradicating the Russians in general. Most of the recruits were also from the mountains where this custom was widely prevalent. The Russian military has been compelled to send Russian paramilitary forces for counter-insurgency operations in Chechnya since the second Chechen war. The forces are mostly composed of Chechens leading to a process of Chechenization. This counterinsurgency force Kadyrovtsy was also driven by the same logic of Blood Revenge leading to a classic civil war-like situation in Chechnya. This helped Russia in two ways, as they don't have to deploy ethnic Russians to fight wars and hence no protest by Russian mothers for killing their sons through conscription and secondly Chechens will be fighting a classic civil war with no end in sight. The intra Chechen hostilities tore through the social fabric of Chechnya, leading to a close in hostilities. This shows how the concept of Blood feud can be utilized for strategic expediency.
One thing is certain, Russian persistence with a military solution to a political problem has destabilized the situation to such extent, that there is no cause for cheer in the foreseeable future. Russian economic recovery, which was absolutely crucial to the health of the Federation, has been stalled by this most expensive conflict, both in terms of human and material costs. Even more importantly, the Russian apathy towards accommodation of different ethnic identities is breathing new life into the conflict. At this rate, the old lessons of History have not been internalized by the Russian administration. Russian withdrawals of troops and the peace agreement are viewed as tantamount to recognition of Chechnya's independence and internal sovereignty, de facto if not de jure, and there is a clear expectation that the postponement of the final decision on status will allow the Russian side to gradually accommodate itself to the reality of the situation. The political brass of the republic has completely refused to participate in the political institutions of the Russian Federation. The republic has also sought to expand its regional and international linkages in order to garner recognition from the International community at large. Genuine independence, and the hope for membership in international organizations, is, however, dependent on formal recognition by the international community, and are unlikely to be forthcoming absent Russian acquiescence. This is, of course, is in the context of the Treaty on Peace and the Principles of Mutual Relations between the Russian Federation and the Chechen Republic of Ichkeria, signed in May 1997, acknowledged the "centuries-long antagonism" between the two sides, and committed both to the renunciation of force "forever" in resolving disputed issues and to building relations in accordance with "generally recognized principles and norms of international law," a formula that each party could interpret in its own way." The document was intended to serve as the basis for additional treaties and agreements on the whole complex of mutual relations. Two intergovernmental agreements signed at the same time sought to lay the foundation for future economic cooperation and, as the Chechen side hoped, for addressing the economic reconstruction of Chechnya. As of the completion of this manuscript, however, no significant progress has been made on resolving the underlying conflict and continuing intra-elite struggles in both capitals make the prospects for reconciliation dim. While the Russian State has emerged victorious out of the second Chechen war, there are no efforts at mitigating hostilities and the region has been effectively turned into a fourth world colony. Such an approach is imprudent as the region is still volatile and conflagrations may snowball into another crisis. Moscow has to adopt a more lenient stance if the peace is to be sustained, otherwise this problem can have larger geopolitical ramifications for the region at large.
* Sayantan Bandyopadhyay, is a 2nd year post-graduate student pursuing Political Science with specialization in International Relations at the Department of International Relations, Jadavpur University. His areas of interest are primarily India's foreign policy, India's defense Policy, Public Administration, International Organizations and the nuances of India's domestic political and societal discourse with special emphasis on Castes and Reservations. He was a member of the Youth Parliament delegation from Jadavpur University which became the national champions in 12th National Youth Parliament competition organized by the Ministry of Parliamentary Affairs, GOI. He has also been a delegate to the prestigious Policy Bootcamp 2019 by Vision India Foundation. Twitter Id-Sayantanb21