Coronavirus Pandemic Worries BRICS
On April 28, Foreign Minister Sergey Lavrov held an extraordinary meeting of BRICS Ministers of Foreign Affairs (Brazil, Russia, India, China and South Africa) via videoconference as part of important events planned this year after Russia took over the chair-ship from Brazil.
The BRICS Foreign Affairs Ministers who took part in the meeting included Dr. Subrahmanyam Jaishankar represented India; Ernesto Araújo Foreign Affairs Minister of Brazil; Wang Yi, State Councilor and Foreign Minister of China and Ms. Grace Naledi Pandor, Minister of International Relations and Cooperation of the Republic of South Africa.
The ministers reviewed the impact of the current global crisis provoked by the outbreak of COVID-19 on the system of international relations and agreed that there is no alternative to using both bilateral and multilateral forms of cooperation, unite behind efforts without any hidden agenda, in finding a collective response to the challenges and threats posed by the coronavirus pandemic.
The meeting exchanged in-depth views on possible joint measures on how to contain COVID-19 and deal with the financial, trade, economic and social consequences of the pandemic. They discussed important issues related to developing a five-way cooperation, including the calendar of events for Russia's BRICS Chairmanship in 2020.
"We believe that it should become a very good reinforcement for our countries' economies when they're coming out of the crisis stage and resume economic operations," Lavrov noted after the meeting.
The international community should unite to ensure the most positive outcome of efforts in tackling the crisis, but acknowledged that such efforts are being undermined by sanctions imposed on some countries, and suggested that the sanctions should be lifted or removed.
In the opening speech, Lavrov emphasized the priority in dealing with the COVID-19 outbreak, protect people's lives and health as well as the global economy. "The need to uphold multilateral principles and rely on international law in formulating solutions to current cross-border threats is an urgent challenge. We are convinced that it is very important to strengthen the solidarity of BRICS countries," he said.
The BRICS heads of state adopted a decision a couple of years ago to expand cooperation in the fight against infections and the joint production and use of vaccines, according to Lavrov, and suggested "BRICS has to accelerate the implementation of this initiative."
Cooperation on countering infectious diseases has long been a priority for BRICS. For instance, the final declaration of the 2015 BRICS summit in Ufa, Russia, contains instructions by the leaders to jointly work on managing the risk of disease outbreaks, including the current new coronavirus.
"We are concerned about growing and diversifying global threats posed by communicable and non-communicable diseases. They have a negative impact on economic and social development, especially in developing and in the least developed countries," the 2015 BRICS declaration adopted in Ufa, Russia. It was the Seventh BRICS Summit, held under the theme "BRICS Partnership – a Powerful Factor of Global Development" under the chair-ship of Russia.
That declaration further stated: "In this context, we commend the efforts made by the BRICS countries to contribute to enhanced international cooperation to support the efforts of countries to achieve their health goals, including the implementation of universal and equitable access to health services, and ensure affordable, good-quality service delivery while taking into account different national circumstances, policies, priorities and capabilities."
Chinese Foreign Minister Wang Yi echoed Sergey Lavrov's call for unity and solidarity. In an official statement released by the ministry, Wang said that the BRICS should "stand firm by multilateralism, by the UN-centered international system" and "champion the approach of consultation and cooperation."
"Through joint efforts, we will safeguard the legitimate rights and interests and space for development not just for ourselves but also for all other emerging market and developing countries," Wang Yi said.
With its rapid spread in many parts of the world, COVID-19 has put lives and health of people around the world under grave threat, seriously disrupted the global economy, and posed severe challenges to BRICS, the minister said, while acknowledging further that "as representatives of major emerging countries with global influence, BRICS countries must act in the interest of the well-being of humankind, and stand by justice and equity."
Wang Yi, however, proposed the following:
First, uphold multilateralism and improve global governance. The sudden onslaught of COVID-19 reminds again that BRICS interests are, closely entwined and the future. A challenge that respects no border and makes no distinction of ethnicity has only made global governance more important, not less, building a community with a shared future for mankind.
China's strategic assessment is that COVID-19 will not change the theme of the times which remains peace and development; it will not cut short the historical trend toward multi-polarity and globalization, and still less will it deter humankind from its firm pursuit of civilization and progress.
In a time of crisis, BRICS must stand firm by multilateralism, by the UN-centered international system, and by the purposes and principles of the UN Charter. BRICS needs to sustain coordination in the UN, the G20 and other multilateral frameworks to keep up secure and smooth functioning of global industrial and supply chains, and defend the multilateral trading regime with the WTO as the cornerstone.
BRICS should continue to work for making development the centerpiece of the global macro policy agenda, and expedite the delivery of the 2030 Agenda for Sustainable Development.
Second, BRICS should come together in the spirit of partnership to combat COVID-19. Under the personal leadership and direction of President Xi Jinping, the Chinese government and people have fought a people's war against COVID-19. China has acted according to the principle of shoring up confidence, strengthening unity, ensuring science-based control and taking targeted measures.
As the virus hits more countries around the world, China is doing everything it can to help those in need. In spite of substantial demand at home and growing pressures to meet foreign orders, China has provided a large amount of medical supplies to fellow BRICS countries, and facilitated the purchase of such supplies through commercial channels.
Going forward, China is ready to step up the sharing of information and experience with BRICS countries and conduct joint research and development of drugs and vaccines, respecting each other's sovereignty and national conditions.
Third, BRICS should uphold unity and coordination to forge a powerful synergy. President Xi Jinping stated that the virus is a common enemy of humanity and can be defeated. Living in a global village, no one could stay safe when others' houses catch fire.
Likewise, in fighting COVID-19, victory can only be secured when the virus is brought under control in all countries. China has been a strong force behind international anti-epidemic cooperation because its own experience has made it fully empathetic with other peoples suffering from similar difficulties.
As countries battle the disease in light of their own situations, China called for mutual understanding and respect for these efforts, and sharing and learning from each other's experiences. The global community should never be distracted in its collaborative response by finger-pointing or the blame game, allow new tensions and divisions to be created as a result of politicization or stigmatization.
In view of the weaknesses and inadequacies exposed during this crisis, BRICS needs to enhance global public health governance, make it a higher priority on the international agenda, and work together to build a community of health for all.
Fourth, China will work with all BRICS members to support Russia's Chairmanship. China also supports Russia's initiative to formulate a Strategy for BRICS Economic Partnership 2025.
On his part, Indian Foreign Affairs Minister Dr. Subrahmanyam Jaishankar noted that BRICS, which brings together almost 42 percent of global population, with impressive growth, investment and trade share, has an important role to play in shaping the global economic and political architecture.
He highlighted the initiatives and various decisive steps taken early by India. For example, India is providing pharma assistance to nearly 85 countries, including many countries in Africa, on a grant basis, to support their response to the pandemic. This has been widely welcomed.
He further emphasized that the pandemic is not only posing a great risk to the health and well-being of humanity but is also severely impacting global economy and output by disruption of global trade and supply chains. Economic activity across sectors has been negatively impacted leading to loss of jobs and livelihoods.
He emphasized the need to provide support to businesses, especially small and medium scale enterprises, and the efficacy of traditional medicine systems to strengthen immunity be recognized and that BRICS should support these efforts.
Jaishankar emphasized the current challenge that underlines the need for reform of multilateral systems and that a reformed multilateralism was the way forward. He referred to the centrality of development and growth in the global agenda. India reaffirmed its support for Russian BRICS Chair-ship in 2020 and under the theme "BRICS Partnership for Global Stability, Shared Security and Innovative Growth."
The BRICS member countries (Brazil, Russia, India, China and South Africa) collectively represent about 26% of the world's geographical area and are home to 3.6 billion people, about 42% of the world's population and with a combined nominal GDP of $16.6 trillion.
Sirius Focuses on Talents and Success of Russian Youth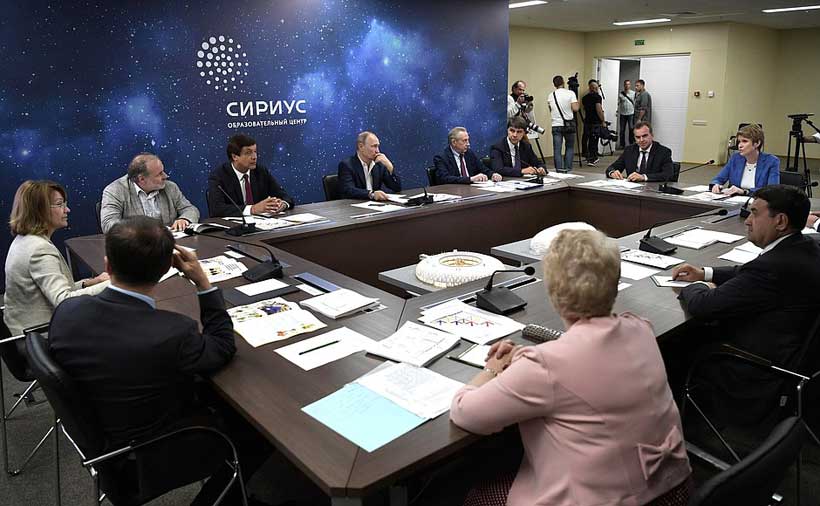 Russia's youth is Russia's future. Russia has been building its youth and offering them diverse opportunities and support. "Within this historically short period of time, Sirius Educational Centre has become, without exaggeration, Russia's true asset," President Vladimir Putin unreservedly noted via videoconference meeting with the Talent and Success Foundation Board of Trustees.
Since its establishment in 2015 on the initiative of the President Putin, the Sirius Educational Centre has cloaked a number of successes, most particularly with talents training to growing generation of teenagers. Every year, the Talent and Success Foundation Board of Trustees, traditionally, meet to discuss and review the current work and outline prospects for its further development.
As Sirius turned five years last September, it has become, without exaggeration, Russia's true asset. It was one-of-a-kind educational center set up at the Olympic facilities. This Olympic legacy (this was a decision we made in due time – to establish this center as part of the Olympic legacy) benefits children. Sirius helps gifted schoolchildren, primarily from the regions, including small towns and even remote villages, to set high goals for themselves and get off to a strong start in life.
Today, the participants in the Sirius programs study at the country's top universities and get government grants and fellowships. By the way, this support is offered via Sirius. Some of them have already signed future work contracts and even work at the largest, successful domestic companies.
Apparently, such remarkable successes and achievements of Sirius students have been made possible by an unparalleled training format, at an intensive pace and in an environment with talented peers and truly excellent star tutors. Sirius is at present the world's only educational center where teaching is conducted by world-class scientists, outstanding educators, athletes, coaches and musicians.
"But I would like to underscore that we have always regarded Sirius not as a closed elite club for the chosen but rather as an open national platform for working with talents which concentrates the best technology and expertise for unlocking human capabilities, in our case those of a young person, a teenager or a child, of course. Such practices are widely replicated, and change the system of working with the youth across Russia," argues Putin with the Board of Trustees.
Putin further pointed to its unique talent and civil patriotism, by all means be preserved and multiply human potential. "To do this, we must build up our education today and establish effective mechanisms for children's development throughout the country for them to discover their talent and soar to new athletic, artistic and scientific heights. We must create the conditions for the children to succeed here, at home, in their native land, in Russia," suggested Putin.
In this regard, it is crucial that Sirius continues to expand its orbit. Its roadmaps even extend beyond the coming decade, the whole 21st century. Sirius necessarily turn into a magnet for everyone who is ready to become a trailblazer and ensure a true technological breakthrough, for Russian scientists, for engineers at high-tech companies and, of course, for Sirius students. All that matters for them.
Their living and working space should also reflect the improving climate in general, it must reflect the sense of a new time, the beat of life, and must be designed with account of advanced trends in urban design, architecture and city development. Obviously, the very best solutions should be used for preserving the environment and expanding opportunities for the people.
And, of course, effective management mechanisms that will allow for taking prompt decisions, implementing Sirius's development projects and engaging research universities, scientific centers and companies from across the country. Sirius is expanding the horizon of experience and creativity and offering opportunities to talented children. These projects would not be possible without the support of the powerful people with strategic thinking and love for the country and its future.
Soon or later, the State Duma will push a new provision of the Constitution of the Russian Federation and grant Sirius Educational Centre the status of a federal territory, which entails economic independence for Sirius and a direct communication mechanism with both the President and the Government of Russia. As Putin has assured, all decisions must come into effect as early as next year, in 2021.
Russia: Highlights of the XII BRICS Summit
On November 17, under Russia's BRICS Chairmanship, Vladimir Putin hosted the 12th BRICS Summit via videoconference. The leaders of Brazil, India, China and South Africa participated to discuss the state and prospects of cooperation within BRICS, discussed the global stability and security, and most importantly exchanged views on joint efforts to halt the spread of coronavirus pandemic.
As the Chair of BRICS 2020, President Vladimir Putin reviewed BRICS activities since Russia took over from Brazil, highlighted achievements and set the challenges for the future of BRICS. During the Russia's Chairmanship the BRICS, Russia has held 130 events, including some 25 ministerial meetings, many of them online.
Within the context of the current global health situation, Putin pointed to the subject of medical cooperation among BRICS, and reminded the Ufa Declaration which was adopted five years ago included an agreement to work together to prevent the spread of infectious diseases.
Pursuant to that agreement, the BRICS countries created an early warning system for infectious disease outbreaks, which could be used during the COVID-19 pandemic. The BRICS countries promptly responded to the disease outbreak and took practical measures to combat the pandemic.
He said that the Russian Direct Investment Fund (RDIF) has signed agreements with Indian and Brazilian partners on clinical tests of the Sputnik V vaccine and with pharmaceutical companies in China and India on the production of this vaccine not only for own use, but also for third countries. There are Russian vaccines, and they are effective and safe. The next task is to launch large-scale production. It is very important to join forces for the large-scale manufacturing of this product for public use.
Besides this, it important to accelerate the establishment of the BRICS Vaccine Research and Development Centre, as agreed at the Johannesburg summit two years ago at the initiative of South African.
Due to the pandemic, many countries have taken emergency measures to support national industries, finance and the social sphere, to revive their economies and return them to a trajectory of sustainable growth. This is the goal of the Strategy for BRICS Economic Partnership for the period until 2025, prepared for this summit.
The New Development Bank is in great demand in the current situation. The Bank has reserved $10 billion to combat the pandemic, while its overall portfolio of investment projects now exceeds $20 billion. As many as 62 large projects are being implemented in the BRICS countries. Incidentally, a regional branch of the bank will soon open in Moscow to implement lending programs across the Eurasian space. The BRICS countries have a special insurance tool in case of a crisis in the financial markets: the BRICS Contingent Reserve Arrangement, with a $100 billion fund.
The BRICS Interbank Cooperation Mechanism is important in the parties' cooperation on credit and investment policy. This year, they have agreed on the rules and principles of responsible financing of development institutions within its framework.
The five countries are enhancing cooperation in science, technology, and innovation. Intensive contacts have been underway between our academic and scientific centers. Their coverage is truly impressive – from ocean and polar research to astronomy and artificial intelligence. Experts from the five countries carry out joint energy research: reports have been prepared on the projected development of the fuel and energy sectors in the BRICS countries until 2040.
Putin further highlighted the challenging global and regional security environment. International terrorism and drug trafficking continue to pose serious threats, and cybercrime has greatly expanded its reach.
"We are witnessing dangerous destabilizing trends in the Middle East and North Africa. The armed conflicts in Libya and Yemen are continuing. There is still a lot to be done to bring about a political settlement in Syria, and the risks of escalation persist in Iraq, Lebanon, Afghanistan, and in the Persian Gulf," he told the gathering.
It is highly satisfying that the BRICS countries have been closely coordinating their efforts on current international and regional matters. A policy document, the BRICS Counter-Terrorism Strategy, drafted for the summit. The BRICS countries are expanding their cooperation on combating drug trafficking and corruption, as well as on international information security.
During the meeting, the leaders of the BRICS member countries heard reports from other speakers who have overseen the work on each track of the association's activity.
Secretary of the Russian Security Council Nikolai Patrushev spoke about cooperation in the coronavirus pandemic response, in combating terrorism and cybercrime.
President of the New Development Bank Marcos Troyjo cited the financial institution's performance data and plans for next year.
President of the Russian Chamber of Commerce and Industry Sergei Katyrin spoke about the Business Council events, while Chairman of VEB RF Igor Shuvalov covered the BRICS Interbank Cooperation Mechanism.
The report by Chair of the Board of Directors of Global Rus Trade Anna Nesterova addressed the establishment of the BRICS Women's Business Alliance.
President of Brazil Jair Bolsonaro, Prime Minister of India Narendra Modi, President of China Xi Jinping and President of South Africa Cyril Ramaphosa, during the meeting, exchanged views on the state and prospects of the five-sided cooperation.
The 12th BRICS Summit Moscow Declaration was adopted which reflects the five countries' consolidated approach to the further development of the association, as well as the Strategy for the BRICS Economic Partnership until 2025 and the BRICS Anti-Terrorism Strategy.
"India, China, South Africa and Brazil commend Russian BRICS Chairmanship in 2020 and express their gratitude to the government and people of Russia for holding the XII BRICS Summit," the adopted document says. Besides that, Brazil, Russia, China and South Africa extended full support to India for its BRICS Chairmanship in 2021 and the holding of the 13th BRICS Summit.
Exchange of Information and Communication Key to Boosting Russian-African Partnership
On November 5 to 6, Moscow hosted the Second Russia-Africa Public Forum organized jointly by the World Association of Foreign Alumni of Russian Universities and African Business Initiative Union.
It was held within the framework of Russia's strategy for the development and strengthening of trade, economic, social and cultural relations with the countries of the African continent, as well as building a stronger institutional foundation for Russian-African cooperation.
Since its creation in October 2018, it has become a platform for discussing ways of interaction between Russia and African countries on a wide range of issues, with special attention to the development of socio-cultural, humanitarian, trade and economic cooperation.
This month, prominent political and public officials, representatives of academic circles, the business community, and student and youth organizations were brought to the forum, which organizers believe provides a platform to exchange views on current issues of developing multifaceted relations between Russia and African countries.
Greeting the participants, Foreign Minister Sergey Lavrov reiterated that Russian-African cooperation, which is rooted in the period of the joint struggle against colonialism, is based on the principles of equality and mutual respect.
"Russia's relations with African countries have always been friendly and multifaceted. However, it is necessary to adjust them to modern realities. We proceed from the assumption that the impetus of the Russia-Africa Summit held in Sochi in October 2019 can help us take our interaction to a fundamentally new level," he stressed with optimism.
Lavrov said: "I believe that our public and the academic community can do a great deal to help choose methods of boosting Russian-African partnership. There is no doubt that the forum will provide a useful platform for developing innovative ideas and proposals in this sphere, and that it will help the Russian public learn more and understand better the needs of Africa, which is a geographically remote but spiritually close continent."
The two-day forum focused on the modernization of education in the context of globalization and the scientific and technological revolutions.
It reviewed the strategy of economic cooperation in modern conditions, the development and implementation of new effective institutions and mechanisms of interaction.
It discussed, at length, the problems of international cultural cooperation in the context of modern threats and challenges.
It looked at the ever-growing role of public organizations in various aspects of society's life and the interaction in the field of healthcare as one of the most pressing issues of the Russian-African dialogue. There were plenary sessions.
Plenary Session 1: Russia – Africa: Dialogue of Civil Societies as the Main Driver of the Future World Order and Sustainable Development.
Plenary session 2: Youth of Russia and Africa: a path towards rapprochement
Plenary session 3: Graduates of Russia as a unique human capital. Export of Russian education to Africa. Personnel training: what kind of specialists does the African continent need today?
Panel session 4: Business and Civil Society Institutions. Innovative technologies of Russian companies for the benefit of sustainable development of the African continent.
Panel session 5: Africa: pressing health issues. Public health and welfare. Pandemic shock.
Speakers and participants have, however, acknowledged the significance of the public forum and stressed that it would be impossible to elevate the entire range of relations between Russia and African countries to an entirely new level unless the public at large takes the most energetic part in these efforts.
It is hard to overestimate the role of this in strengthening friendship, trust and mutual understanding between the two parties without adequate and consistent exchange of information. It is necessary to maximize the potential of public, cultural and business diplomacy using the basic instrument of the media, according to the Chairman of the Board of the Valdai International Discussion Club's Development and Support Foundation Andrei Bystritsky, speaking at the plenary meeting of the Second Russia-Africa Public Forum.
"On the one hand, the Russian public knows little about Africa. And I guess people in Africa know little about Russia," he noted, and explained that Russia and Africa need to communicate more. Creating necessary conditions for conversation is important, as communication is the foundation of development, and will help strengthen the mutually beneficial ties between Russia and Africa.
As already known, Africa is an important partner for Russia. This fact was highly re-echoed throughout the forum. Speakers and participants explicitly expressed the need to strengthen relations in various fields. Further, most of the issues and diverse opinions expressed there have to improve the current level of relationship. Russia and Africa have to make that mutual desire, in practical terms, to step up cooperation in all areas including social spheres.
In this connection, it requires complete understanding, support for new initiatives and, commitment to expand friendly relations with Africa. These efforts directed not only at consolidating cooperation with the African countries but also at resolving key African problems such as overcoming social inequality and the involvement of young Africans in sustainable economic development.
Despite the challenges, Moscow plans to boost its presence on the continent in the coming years and, as outlined in the Russia-Africa Summit declaration, both Russia and Africa have to begin pursuing targeted goals, continue encouraging exchanges between Russia and African countries.