US Percentage of World's Coronavirus Cases Is Declining, but the libertarian policies remain catastrophic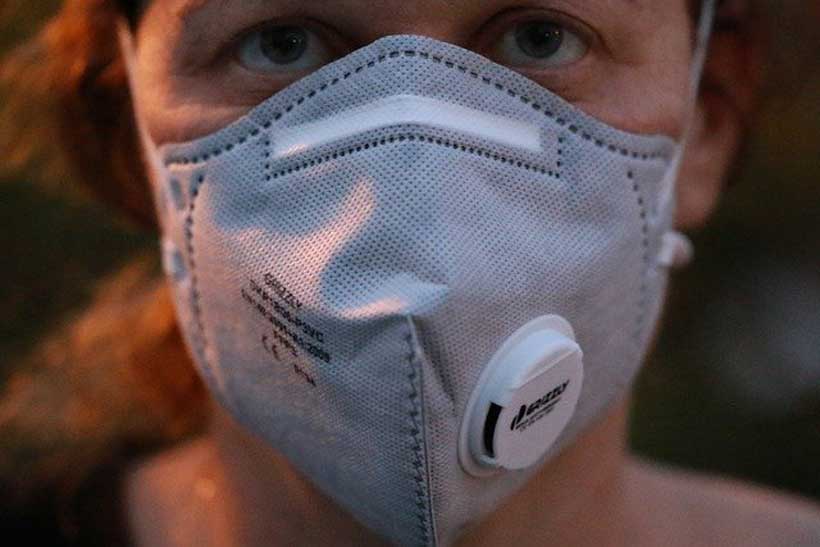 At the start of the day on May 2nd, the U.S. had 4.2% of the world's population and 33.3%, or one-third, of all coronavirus-19 cases.
At the start of the day on May 10th, the U.S. had 32.9% of cases. The decline from 33.3% to 32.9% is .4% down, or a decline of slightly over 1% of the 33.9%, in 8 days. It's virtually certain never to go down to the 4.2% of global coronavirus cases which would match America's 4.2% of the global population.
America will therefore probably, for a long time to come, have a larger number of coronavirus-19 cases than any other country. America has, furthermore, been adding new cases at around 20 to 30 thousand per day since around April 1st and therefore still continues rising, but as the virus spreads and takes hold in more and more countries, America's percentage of the global total is probably now declining, from the peak of one-third (33.3%), which it had reached on May 2nd.
The libertarian Mises Institute headlined on May 7th, "How Many Lives Will Politicians Sacrifice in the Name of Fighting COVID-19?" and argued for do-nothing governmental policy, and for relaxation of the "lockdowns" that are in place. Mike Whitney at the libertarian Unz Review headlined on May 4th, "Sweden Is the Model" and wrote that "Herd immunity is the only path that is currently available." This means there should be no "lockdowns." He asserted that "After 6 weeks of this nonsense, many people are getting fed-up and demanding that the lockdowns be ended":
As we said in last week's column, the lockdowns must be lifted gradually, that is crucial.
"You have to step down the ladder one rung at a time", says Senior Swedish epidemiologist and former Chief Scientist of the European Center for Disease Prevention and Control, Johan Giesecke. In other words, slowly ease up on the restrictions and gradually allow people to get back to work. That is the best way forward.
Sweden has, indeed, taken a remarkably libertarian approach to dealing with Covid-19. As I wrote on April 22nd under the headline "Why Post-Coronavirus America Will Have Massive Poverty", comparing Sweden's policies versus the more socialistic Denmark's policies on this:
The daily number of Denmark's new Covid-19 cases peaked on April 7th, and has been declining since that time. Its neighbor Sweden peaked on April 8th. Sweden's emergency legislation is less strict about lockdowns, but relies more on individual discretion. However, since Sweden, like Denmark, is a democratic socialist country, individuals needn't worry about paying medical bills, nor about being paid while on sick-leave. So, employees aren't desperate to return to their places of work, such as in America; and, therefore, these countries don't spread the infection as readily as in the U.S. and are thus far less likely to have recurring peaks and delayed terminations of the coronavirus crisis. (By contrast: in America, where losing one's job can mean losing one's health care, even sick employees may be inclined to stay on the job and perhaps infect customers.) And there are no corporate bailouts in either Denmark's or Sweden's legislation. Denmark's Finance Minister, the Social Democrat (or democratic socialist) Nicolai Wammen was interviewed for 15 minutes on March 27th, by Christiane Amanpour, and he explained Denmark's emergency law, which was overwhelmingly bottom-up, not top-down (such as America's is).
Here, therefore, is the actual performance [number of cases per million population], thus far, of both of those two countries:
DENMARK = 1,329 peaked April 7th
SWEDEN = 1,517 peaked April 8th
Both of them are reasonably comparable to Germany, UK, Turkey, and Iran, but not as good as S. Korea, and not nearly as good as the two best, China and Japan.
As of the start of the day on May 10th, those numbers are:
DENMARK = 1,782 (up 34%)
SWEDEN = 2,567 (up 69%)
Consequently, as more time passes, Denmark's policy is considerably more effective at keeping down the number of cases than is Sweden's.
Furthermore: whereas Sweden had tested only 14,704 persons per million (which is a very low percentage), Denmark had tested 53,345 per million (which is an extremely high percentage), and this fact likewise indicates that whereas Sweden, which has been reducing its socialism and increasing its libertarianism, is pursuing a remarkably libertarian approach to Covid-19, Denmark, which remains socialistic, is pursuing a remarkably socialist approach. And Denmark's approach is increasingly better than Sweden's in terms of keeping down the percentage of Covid-19 cases.
As regards the economies of those two countries: The unemployment rate in Denmark at the end of March 2020 was 4.1% and that was 170,000 unemployed; and as of May 5th there are 180,000 unemployed Danes; so, Denmark's productivity hasn't been much affected yet by Covid 19.
By contrast: Reuters headlined on April 14th, "Swedish unemployment rate could reach 10% by summer – Labour Board", and reported that "Unemployment in Sweden could reach 10% in the coming months if the current wave of lay-offs due to the outbreak of the novel coronavirus continues, the Labour Board said. … Unemployment was 7.4% in February, but many companies have since shut down and sent workers home due to supply chain problems and measures to prevent the spread of the virus." On May 7th, the Wall Street Journal bannered "Sweden Has Avoided a Coronavirus Lockdown. Its Economy Is Hurting Anyway."
Consequently, the newly libertarian Sweden's coronavirus policies, as compared to the still-socialistic Denmark's, are actually a disaster — like America's are (though America, being more libertarian than Sweden, is doing even worse).
In other words: the supposed either-or choice (trade-off) that the libertarian U.S. regime and its propagandists assert, between either controlling the epidemic (continuing the "lockdowns" etc.) or else preventing economic collapse ("reopening the businesses" etc.), is fraudulent. The exact opposite is the actual case: in order to minimize the economic damage, controlling the epidemic is basic — whatever is sound policy for the public's health is also sound economic policy. (America's libertarian President takes on faith the opposite viewpoint; and, so, on May 10th, the Washington Post reported that, "Trump has expressed confidence that lifting public health restrictions will jump-start the economy." The only basis for accepting libertarianism is faith, because the empirical evidence disproves it — and not only on this matter.)
What, then, is the situation regarding the three major countries that are doing the most effective job of keeping down the percentage of their population that's Covid-19 infected: China (58 cases per million), South Korea (211) , and Japan (123)? (Note those stunningly low numbers — and each one of those countries is well past its peak of daily new cases, which the libertarian countries are not.)
America's propaganda organizations blame China for the coronavirus-19 and criticize anyone who publicly advocates China's model on this, but as more time passes and the U.S. regime's accusations against China continue to be 'documented' only by half-truths and outright lies, a public need increases that what China's policies actually have been regarding controlling this epidemic become accurately understood. On May 9th, the South China Morning Post bannered "Coronavirus response: China's military may have filled the gap left by the US but it's only temporary, experts say", and ignored even touching upon what China's policy is and has been regarding coronavirus. On May 8th, they headlined "Coronavirus: China to revive special 'off-budget bonds' as pandemic stokes debt dilemma" and said little more than that the Government's debts were increasing due to the virus: "'Off-budget doesn't mean it can be excluded from the overall debt level,' said David Wang, head of China economics at Credit Suisse." How that money is being spent is not discussed, other than "increasing the limit for local governments to issue bonds for infrastructure spending." To the extent that there is specifically a coronavirus policy-response, rather than merely a continuation or amplification of pre-existing economic policies, that's not mentioned. There are merely 'filler' statements, such as "The central government has not announced how the proceeds from the special treasury bonds will be used, but analysts warn they will be wasted if funneled to projects that do not make economic sense." Whatever China's specific coronavirus-19 policy-responses are is non-public information.
Back on 28 March 2017, the America-based SupChina site headlined "How Does Healthcare In The U.S. Compare With China's?" and reported that "More than 97 percent of people in China use public health insurance systems" and patients who had experienced both America's and China's said that "receiving treatment in the U.S. is less efficient" but "that sometimes patients in China simply can't see a doctor without the help of a scalper." At least a reasonable assumption would be that China is more socialistic in its coronavirus policies than are the vast majority of other countries, which have dramatically worse coronavirus results.
South Korea has done remarkably little coronavirus-19 testing, but remarkably much coronavirus contact tracing (if that can even be effectively done with such little testing). So, the situation there isn't much clearer than it is in China.
Japan has, apparently, been socialistic in its policy-response but relying far more on the public's voluntary compliance than on law-enforcement in order to reduce to a minimum the number of coronavirus cases. Of course, in a country such as the U.S. and throughout Latin America — lands where the government is widely distrusted — any compliance whatsoever relies necessarily upon law-enforcement, and so the Japanese method would almost certainly not work.
All three of those countries are, of course, culturally Asian; so, their vastly superior handling of the coronavirus maybe isn't due ONLY to their being more socialistic than the U.S. and other failing countries are. They are all non-Western nations.
As of May 10th, two countries that have approximately half the population-size of the smallest of those three (which is the 52 million population in South Korea) also have stunningly low Covid-19 infection-rates and seem likewise to have passed the peak in the number of their daily new cases: Taiwan has a population of 25 million, and has only 18 cases per million; Venezuela has 30 million and only 14 cases per million. Both nations also have socialized the healthcare function and (like all of the countries mentioned here except U.S.) 100% of the people there have health insurance. (It's a right, not a privilege, in all of the countries except America.) As regards the percentage of people who have been tested for Covid-19, that percentage is 2,819 per million in Taiwan, and 18,012 per million in Venezuela. (For a few comparisons: it's 1,676/M in Japan, 54,873/M in Denmark, 14,704/M in Sweden, and 28,452/M in U.S. So: the percentage who have been tested seems not to correlate with a nation's success or failure in dealing with Covid-19.)
The indications, thus far, are that the libertarian approach (which is exemplified especially in today's U.S., UK, and most of Latin America) is catastrophic, and that whatever may have been its alleged benefits in a pre-Covid-19 world, only intensification of its propaganda (such as by the 'news'-media in those more-libertarian countries) can continue it into the post-Covid-19 world. Libertarianism is, now, more clearly than ever before, a failed model.
Why would that be? Perhaps it's because, in reality, the only people who have more liberty under libertarianism are the controlling owners of corporations, the wealthiest 1% (who fund the politicians and the media), whereas everybody else has less actual liberty, and more insecurity, under libertarianism — the fact is, libertarianism is liberty ONLY for the richest, and the opposite for everybody else: it is aristocracy, instead of democracy. It's for only the big-corporate owners, and especially for the international-corporate owners.
The economic future for the world, and especially for the U.S., is bad, and not only because of this plague. On April 14th, I headlined "Why at Least America Will Be in Another Great Depression", and explained it there in one way; on May 1st, The Saker headlined "The Saker interviews Michael Hudson about the current economic crisis", and Hudson explained it there in another way — these are different sides of the same phenomenon, but our analyses are the same (except that he is more optimistic than I: he said "The current depression is the worst since the 1930s," whereas I expect it to be the worst ever). My article was simply focusing on the way that the coronavirus-crisis is going to expedite what I expect to be the biggest economic crash in world history. Hudson said that "We are at the end of the 75-year upswing that began in 1945 when the war ended." I agree with that, too, and have elsewhere identified 26 July 1945 as the commencement of this pillaging by the Deep State, via its millions of employees and other agents. This will be the ultimate near-term catastrophe of libertarianism, otherwise called "neoliberalism," and in international affairs this pillaging is called "neoconservatism" and "imperialism." America therefore stands now at the precipice, facing a grim new world, and that is how we got here. Coronavirus merely expedites the fall off this cliff. But the ascent to such an extremely bad end started, actually, on 26 July 1945. That's when the fateful decision was made, from which the post-WW-II world became irrevocably shaped — the foundation was laid at that time, for America's Deep State (America's billionaires, not the CIA and not the think tanks, but themselves, who actually pull the strings behind the curtain) to take over the country and almost the entire world, and for an even worse Depression than the one that FDR had inherited from Herbert Hoover. America's taxpayers now pay around half of global military expenditures, and the bill for its billionaires to use their government so as to grab and hold control over that vast American empire is now coming due. Nothing like this has ever existed before. And Covid-19 simply expedites the coming American free-fall.
Fakhrizadeh's Assassination Could Endangers Biden's Diplomacy
The international political situation heats up, especially in the Middle East, after the killing of Iran's leading nuclear scientist, Mohsen Fakhrizadeh. Apart from Mohsen, several other Iranian nuclear scientists have also been killed in the past decade.
Mohsen was attacked in eastern Tehran on Friday (27/11). He was ambushed by an armed group and the target of a Nissan car explosion before a gun battle broke out. He was rushed to the hospital, but his life could not be helped.
Iranian political and military officials have blamed Israel and US as the masterminds behind Mohsen's assassination and attack. Iran's Supreme Leader, Ayatollah Ali Khamenei, called for retaliation for Mohsen's death. Iranian President Hassan Rouhani also said he would retaliate and appoint Israel as the mastermind behind the attack.
Iran and Hezbollah are currently said to be targeting Israelis and Jews around the world. Places owned by Israel and Jews will be the main targets of their retaliation for Mohsen's death. Israel is also raising its guard. The Israeli government is reportedly on standby and is tightening the security of its embassies around the world. Jewish communities around the world are also asked to be on high alert. The Israeli military has also increased its vigilance along the country's borders.
What is interesting is that the US secretly deployed the USS Nimitz aircraft carrier to the Arabian Gulf region last Wednesday. Although US Navy Fifth Fleet Spokesperson, Rebecca Rebarich, denied the movement of the fleet was unrelated to Mohsen's assassination, the international public interpreted the aircraft carrier in order to anticipate the escalation of threats that might arise after the murder case.
There is not much information about Mohsen. Mohsen is the head of the research and innovation organization at the Iranian Ministry of Defense. He's the main figure behind Iran's secret nuclear development.
In April 2018, PM Netanyahu mentioned Mohsen's name when uncovering a nuclear file which he said had been smuggled by Israeli agents from Iran. He named Mohsen as the head of a secret nuclear project called the Amad Project.
In its 2011 report, the UN nuclear weapons watchdog also identified Mohsen as the mastermind behind Iran's nuclear technology. He was considered to have the ability to do so and at that time it was suspected that he still had an important role in these activities.
Mohsen's assassination is certain to provoke a new confrontation between Iran and its enemies, including the United States and Israel, in the final weeks of Donald Trump's presidency.
Mohsen's assassination is considered as the culmination of the US and Israel's strategic plan to sabotage Iran's nuclear program. In fact, various parties consider Mohsen's killing to be the culmination of Israel's long-term plan.
Mohsen has long been the target of several Israeli prime ministers as well as several directors of the Mossad spy agency. This murder was also predicted to aim at uprooting Iran as a country of nuclear knowledge.
However, some international observers have speculated that the main purpose of the assassination was actually to obstruct the US administration in the era of President-elect Joe Biden who will dialogue to find a diplomatic solution to end the conflict with Iran.
What's more, President Biden has expressed his intention to re-enter the 2015 nuclear deal with Tehran, which has been largely devastated since President Donald Trump left the deal in 2018.
Statement from Amos Yadlin, former head of Israel's military intelligence and head of the Institute for National Security Studies (INSS). Amos said whoever makes the decision to assassinate Mohsen should know that there are still 55 days left in which the White House has someone who sees the Iranian threat as they do. In fact, Amos says Biden is a different story. Amos' statement certainly points to President Trump who is still in power in the White House.
Biden's victory: An Opportunity for Transatlantic Reconciliation after Trump and Brexit?
Joe Biden's victory Last November came at a critical point during the Brexit negotiations between The European Union and the United Kingdom. There has been a lot of speculation as to whether a change in the American presidency will substantially affect the talks between Europe and Britain. Realistically speaking, the effect the Democrats' victory in the US will have, at least on Brexit talks before the end of this year, will be minimal.
On a positive note, now that Donald Trump has been defeated, this leaves very little room for the UK to use the threat of a quicker and better deal with the US to try to subdue the EU and make them accept a more pro British agenda. The UK has no longer the US is an alternative to fall back onto if no deal is the result of the negotiations by December 31st.
Since the 2016 British referendum, the decision to leave the EU was enthusiastically greeted by Donald Trump. In very simplistic terms, Trump saw The British "Yes" vote as an act that vaguely resembled his campaign slogan "Let's Make America Great Again." The long standing, more loyal foreign policy ally of the US in Europe, was slowly showing signs to move away from the multilateralism Donald Trump greatly despised.
Ever since the outcome of the Brexit referendum became official, Donald Trump voiced his strong support for the UK to pursue a hard Brexit, and even enticed the British government with the prospect of a robust trade deal between the US and the UK, to convince the UK to drop out of the EU without a deal. In reality, none of those big American promises ever materialised. From 2016 to 2020, Donald Trump did absolutely nothing to support the UK. Biden's victory last November, makes any past promises made by Trump impossible to fulfil.
Biden will, in principle, follow a diametrically opposed foreign policy to Trump's. He sees the EU, and not the UK, ask the key actor that will help him advance American interests in the European continent. While there have been mutual expressions of willingness to strengthen the relationship between the Americans and the British, Joe Biden has always been skeptical of Brexit, and has made it clear from the start that one of his priorities in foreign policy will be to rebuild the relationship with the EU rather than pursuing a trade deal with the UK.
Ideally, should the UK try to have some sort of leverage to negotiate with the incoming American administration, they need to aim to strike a workable deal between with the EU before the end of this year. That, however, seems unlikely to happen. From an American perspective, it is highly probable that the Biden's administration will not prioritise any UK-US trade deal in the foreseeable future. There is a strong possibility that Joe Biden will focus on domestic and close neighbours (Canada and Mexico) Issues during his first year in the presidency.
While this is understandable, considering the legacy of the Trump, Biden also has to be careful enough to avoid the temptation to play hardball with the UK because of Brexit. If he does, this could prove to be a fatal mistake with long lasting consequences, specially in a moment when the West is struggling with its own internal weaknesses and the rise of external threats to its unity.
One aspect that both Europe and the US have to acknowledge is that the importance of the UK goes beyond striking a trade deal with the EU. Looking at the rise of more geographically widespread authoritarian and antidemocratic pressures from central, Eastern Europe, China and Russia, the UK is still plays an important role on the continent's security. Talks on further cooperation on how the EU and the UK will cooperate on foreign and security policy once the transition period ends on 31st of December 2020 have not yet been held. The UK, unfortunately, is likely to remain a crucial partner on such topics especially due to its role as a prominent and active member of NATO, and therefore, talks on this issues should not be left unaddressed.
The UK is aware of its importance militarily, and this explains the £24.1 billion investment announced by the UK Prime Minister, Boris Johnson, this year. This is the largest investment since the end of the Cold War and it aims to modernise the armed forces, as well as to expand the Royal Navy to turn it into the largest fleet in Europe.
This move will enhance the UK's status as Europe's leading military power. The UK has also been among the first respondents to recent security crisis in Ukraine and Belarus. Not engaging with the UK altogether in security and foreign policy issues may prove to be detrimental in the long run for the security in the EU, especially considering the rising tensions and instability in the Ring of Fire, from Belarus to Ukraine, Kyrgyzstan and Nagorno-Karabakh.
The EU's Common Security and Defence Policy (CSDP) and the Common Foreign and Security Policy (CFSP) allow for intergovernmental cooperation, this means that states can pursue their own policies and coordinate them only when they align with the EU's. The CSDP also allows EU member states to intervene when NATO as an alliance chooses not to. To date, there are 17 of such interventions, in all of these, the UK has been the biggest contributor.
Security is an area of opportunity for Europe and the US, Biden could potentially push for the Europeans to grant the UK an observer role in the Political and Security Committee, or the Foreign Policy Council to advance a common security and foreign policy for the region that wouldn't only benefit Europe, but also the US interests in the wider European area.
Recently, the UK has been an advocate of what is called a "Global Britain" that echoes the times of the great British Empire's prominence as a global player. How this will be achieved is still unclear. This grand strategy may fare impossible under current economic and political conditions in the UK and in the world, as well as with the uncertainty surrounding the future relationship of the UK with its neighbours after Brexit.
Anything can happen, the UK could pursue a close, special relationship with Europe where cooperation is prioritised, or there could be a more profound break between the two, where the UK sets its own agenda against the EU's. For decades, the terms Europe and the EU have been used interchangeably. Now that one of the major European players is out of the organisation, both sides have not yet worked out how the future relationship will be. If it continues to be antagonistic this could send the whole continent into a spiral of chaos, reduced capabilities an increased volatility.
Exit the Clowns: Post-Trump America
As America emerges from the election in grindingly slow fashion, with the soon-to-be-ex-President constantly tweeting frivolous accusations of voter fraud and threats about legal action, it is worthwhile to take stock currently as to just where America sits and what it faces over the next two months before the official Biden inauguration (and yes, there will indeed be a Biden inauguration, have no doubt about that). The following is simply a list of points that should continue to be considered and analyzed as the United States moves away from this four-year experiment with political nihilism:
Perhaps the only thing even remotely positive to emerge from the global pandemic known as COVID-19 is the fact that it clearly allowed the United States to get over some of its traditional political institutional inertia when it comes to encouraging and motivating voter participation. While America has always had mechanisms to allow absentee voting for those overseas and regulations permitting early voting in every single state, these tools have always been extremely minor when compared to the overall voter turnout. America has by and large always been a "turn out on election day" people. This year was clearly different, where the Biden-Harris team literally emphasized early voting for two main reasons: first, to get people to stay motivated even in the face of increasingly disturbing pandemic numbers and cases of new infections all across the country; second, to countermand the varied strategies local Republican officials in the modern day have come to constantly use to depress voter turnout amongst registered Democrats on election day (like voter ID initiatives that are confusing and/or outright illegal). This strategy, in the end, will be seen as crucially important to the Biden-Harris victory as it was the counting of early voting in the wee hours of election day that turned the tide in key states like Michigan, Pennsylvania, and Georgia while solidifying crucial leads in places like Arizona and Nevada. Eventually, this pandemic must end. So, it will be fascinating to see if the United States treats all the ways it gave voters the chance to vote in 2020 as a one-off never to be repeated or as a new approach to democratic participation that becomes a cherished new political tradition.
In my adult lifetime, most people in America celebrated breaking the 50% barrier when it came to voter turnout. This is a depressingly low number when it represents the oldest and most stable democracy in the world. 2020 saw eligible voter turnout at about the 65% level. To be sure, this is still not earth-shattering. But it is without doubt a significant increase for a population that tends to always find reasons to not participate, rather than finding inspiration to get out and vote. The physical numbers overall – over 80 million for Biden-Harris and roughly 75 million for Trump-Pence – reveal a true divide in American society that is likely to remain long after Trump's departure from the White House. Which is entirely appropriate when you consider the fact that there is no such thing as Trumpism. The wave of voter dissatisfaction with Washington DC, that portion of the population that is largely white and non-affluent and feeling disenfranchised by elites, this phenomenon began long before Trump ever made a decision to run for President back in 2014. What Trump did, brilliantly it must be said, was position himself to become the figurehead of this dissatisfaction, tapping into the anger and frustration and elevating his own persona as its leader. The fact that some astute political experts are now even using the term "Trumpism" is a perfect analogy to how Trump has spent most of his business career: catching the tail-end of trends and using deft PR and brand management expertise to usurp the trend entirely. This is why people on the Left of the political spectrum in America need to be vigilant about what the 2020 election truly means. It is a worthy achievement to have won the Presidency, but most current analyses show something of a slight regression in the House of Representatives (so that Democrats' control has slightly dwindled) and the Senate is going to remain in control of Republicans. This means the classic adage of cutting the head off the snake is irrelevant: this hydra has many heads and getting rid of the symbolic alpha head is not going to reduce the passion of the other side. In fact, given the advanced age of Biden making it unlikely that he can pursue a legitimate second term in 2024, it is far more likely America will see a resurgence of radically right conservatism by the next electoral cycle to make sure there is no President Harris taking over after one term of Biden.
There are definitely voter trends that emerged new from 2020 that will be analyzed for years to come in terms of their long-term impact on future elections. First, it is clear the Republican cliché that only the extreme coasts of America are liberal and all the rest is conservative is dead. Nevada, Arizona, Michigan, Wisconsin, and Georgia all going blue prove that beyond a shadow of a doubt. Efforts made in the major urban cities of Michigan, Pennsylvania, Nevada, and Georgia show that ethnic minority turnout is not just becoming increasingly important, but it literally decides the fate of these given states for future elections. Not every data point, however, spelled positivity for liberals in 2020. The delivery of Florida for Trump but Arizona for Biden shows there is a sharpening divide between the political leanings of Cuban Latinx in FLA and Mexican Latinx in AZ. Also, while it was once considered a crucial part of Democrats' presidential strategies and then became a critical "purple" state that could go either way, it seems clear that Ohio is now de facto a part of the Deep South politically, leaning solidly red with no real strategy to unhook it from Republican devotion. Finally, it will be interesting to see if the relatively unimportant states of Maine and Nebraska lead the way to a new proportional approach to electoral college votes. Both of these states actually saw a single vote out of their overall low electoral college vote counts split off and go against the overall will of the state. One EC vote in Nebraska went to Biden while the rest went to Trump. In Maine, the reverse happened: one went to Trump while the rest went to Biden. After the uproar in 2016, where Clinton defeated Trump in the popular vote by a secure margin but actually lost the electoral college handily, it would be interesting to see if Maine and Nebraska represent a new way to adapt the electoral college without actually getting rid of it.
Good-bye to the Nihilist CEO as President trend. One of the things I was most interested in seeing in the 2020 election was a reversal of the "Nihilist CEO" trend. I call it this because it basically came to be the overriding zeitgeist of the Trump presidency. Initially, Trump was interested in simply governing as a conservative President, but with a real agenda and goals. As mentioned before with the term "Trumpism," this more traditional approach did not sit well with the radical conservatives that felt responsible for putting him in office. For them, 'draining the swamp' was not a process of replacing liberals with conservatives: it meant literally and figuratively razing the Washington DC establishment to the ground and salting over the earth so that nothing could ever politically grow again. This is why so many Trump appointments to the Cabinet and to major agencies were given to people who had literally spent their professional careers working against those very agencies. So, we had anti-environmentalists in charge of the EPA; an Education secretary who wanted to dismantle public education; energy appointments wedded to fossil fuels and wholly disinterested in new energy resources. The list goes on and on. In each case, what became obvious, was that those who were the most fervent for Trump were de facto anarchists about Washington, so deep-rooted was their hatred for DC. With Biden's clear victory and his own long career in politics, it is obvious this approach will get jettisoned to the wayside. It is a return to expertise. A return to experience and traditionalism. The Trump clowns are exiting. Time will tell if they are simply replaced by Biden clowns or by true experts looking to work hard for the nation.
Ironic justice: the Electoral College Vote Count. Finally, it is deeply ironic that, in the end, the electoral college vote for Biden vs. Trump in 2020 will almost be a perfect inverse mirror of Trump vs. Clinton in 2016. Trump may have lost the popular vote in 2016, but he was always adamant that his electoral college win (304 to 227) was so "lopsided" that it meant he was sent to the White House with a decided mandate. Well, when all the votes are finally counted and verified in 2020, the electoral count will most likely be Biden 303 to Trump 228. This is why his claims of election fraud or malfeasance are so empty and ridiculous. Not only did Trump once again lose the popular vote (by a wider margin this time), he lost the electoral college vote by the same margin he claimed brought him so much political legitimacy in 2016. Ironic justice, indeed.