'Urgency to act' for sustainable development, greater than ever as pandemic continues
As COVID-19 upends lives and livelihoods across the planet, the UN on Monday held a wide-ranging policy discussion stressing a range of multilateral solutions to ease the pandemic, while also getting back on track towards achieving the 17 Sustainable Development Goals (SDGs).
"Our commitment to achieving the SDGs has not changed, but the urgency to act has", said Mona Juul, President of the Economic and Social Council (ECOSOC), as discussion over the topic, "Joining Forces: Effective Policy Solutions for Covid-19 Response", got underway online.
She maintained that while working towards breakthroughs that will help the world overcome the health emergency, including a vaccine, "we are only beginning to realize the true scale of the social and economic crisis that lies ahead of us".
Nearly half the global workforce is in immediate danger of being unemployed, while other global goals are being reversed, such as the increase in global poverty for the first time since 1998, with some regions slipping back to levels last seen 30 years ago.
Malaria mortality levels threaten to revert to those of 20 years ago and violence against women and girls "has become a shadow pandemic, with the number of victims increasing to the hundreds of millions worldwide', she bemoaned.
"These are incomprehensible setbacks to our hard-won development gains", stressed the ECOSOC chief, but "we must ask ourselves: how can we find solid footing in the new evolving normal?"
'Build back better'
And although this virus impacts everyone, it has not been an equalizer, but instead has exposed and compounded inequalities in societies.
"These disparities should be our catalyst, and our call to build back better", she said, maintaining that national responses be shaped by human rights and that country-specific global action take special situations into account.
Ms. Juul maintained that the pandemic has "put a spotlight on the need to strengthen multilateral cooperation, governance, and above, all global solidarity".
Noting that "we are currently tossing and turning through dangerous waters", the ECOSOC president pointed to the SDGs as "our chart to see us through the storm".
"Now is truly the time to fulfil our promise of leaving no one behind", she concluded.
SDGs 'clear compass'
Deputy Secretary-General Amina J. Mohammed told the meeting that lives and livelihoods everywhere depend on the UN's ability to support Governments in tackling this "unprecedented health, humanitarian and socio-economic crisis".
Calling the SDGs "a clear compass" to direct us, she cited the 2030 Agenda, the Paris Agreement on Climate Change and the Addis Ababa Action Agenda on Financing for Development, as the world's chart.
"We will need to keep in mind dual imperatives: to respond urgently to stem the impact of the pandemic, while helping Governments and people respond in a way that recovers better, more resilient, future", flagged the deputy UN chief.
And while we are all in this together, she underscored the "immediate priority" of addressing the needs of the most vulnerable countries and communities who risk being left behind.
When allocating resources close attention will be paid to the needs of conflict- and disaster-affected countries, least developed countries, landlocked developing countries and small island developing States, according to Ms. Mohammed.
Emerging stronger
Turning to the UN's COVID-19 Response and Recovery Fund to catalyze joint action on the ground for the most vulnerable countries and communities, Ms. Mohammed spelled out: "We estimated billions and are receiving millions".
In closing, she offered the UN's "full commitment" in supporting Governments and ensuring that "lives are saved, livelihoods are restored, financial resources are mobilized, and that the global economy and the people we serve can emerge stronger from this crisis".
Other key voices
Describing the coronavirus pandemic as "a human crisis of historic magnitude", Liu Zhenmin, who heads up the UN Department of Economic and Social Affairs (DESA) said it had "destabilized global economic growth" and led the world into a major global recession that threatens all the SDGs.
The DESA chief stressed the need to build on lessons learned throughout the crisis to accelerate progress during the Decade of Action and delivery for sustainable development" and to turn the tide against inequality.
The Director of the Internatioal Labour Organztion (ILO), Guy Ryder, maintained that an effective response to COVID19, which protects the most vulnerable first, requires global solidarity and multilateral action, with international coordination on health, social and economic policy.
Meanwhile, UN High Commissioner for Human Rights Michelle Bachelet maintained that human rights were at the core of the COVID-19 crisis and encouraged vocal support to step up efforts to leave no one behind.
Qu Dongyu, Head of the Food and Agriculture Organization (FAO) emphasized the impact of that the pandemic is having on food security and nutrition, pushing for effective policy solutions for the global pandemic response.
The Executive Secretary for the UN Economic and Social Commission for Asia and the Pacific (ESCAP), Armida Salsiah Alisjahbana, encouraged a coordinated and coherent global response to the adverse social, economic and financial impact of the pandemic.
And Director-General of the World Health Organization, Tedros Adhanom Ghebreyesus, also weighed into the discussion: "There can be no going back to business as usual", he spelled out.
Strong Producer Organizations Key to a Vibrant Farming Sector
Scaling up agricultural production among small farmers through clustering and organizing them into cooperatives and various types of producers' organizations, and forging partnerships with agribusiness firms can help raise their incomes and subsequently spur the socio-economic transformation of the Philippine countryside.
A report titled "Realizing Scale in Smallholder-Based Agriculture: Policy Options for the Philippines" – launched jointly by the World Bank and the Department of Agriculture (DA) – said that there are rich lessons in the country and abroad for these clustering and consolidation of activities on-farm and along the value chain to succeed and transform the agricultural sector.
One notable example of this approach, the report said, is the Philippine Rural Development Project (PRDP), which is currently implemented by the DA. The PRDP clusters or organizes producers into enterprises that take a business-oriented approach to farming and fishing, supported through complementary investments in infrastructure such as farm-to-market roads, irrigation, post-harvest facilities, and cold storage.
"To succeed, efforts at clustering and consolidation needs to be voluntary, built on trust and confidence, and collaborative relationships among stakeholders—whether they are farmers, communities, municipalities, other local government units, or small and larger agribusiness enterprises," said Ndiame Diop, World Bank Country Director Brunei, Malaysia, Thailand, and the Philippines.
"Where different approaches to clustering land management are not feasible, support for the mechanization of farming and post-harvest operations may be an alternative or complementary strategy for smallholder-based systems to increase farmer productivity and incomes, both on and off the farm," Diop said.
Philippine agriculture is dominated by small farmers and fishers who operate independently, mostly using traditional production practices and earning low incomes. A typical farmer earns an average of P100,000 pesos each year, well below the poverty line (based on 2015 PSA figures).
Average farm size declined from three hectares (ha) per family per holding in the 1980s to only 0.9 ha per family per holding in 2012. These increasingly smaller farms are often split into more fragmented blocks. The country has some 5.56 million farms, totaling 7.2 million hectares, of which more than half (57 percent) are one ha or less, 32 percent are one to three ha, 9 percent are three to seven ha, and only two percent are seven ha or larger.
Agriculture Secretary William Dar has highlighted that using modern technology, schemes like block farming, trust farming, and contract farming can make farming more efficient and profitable for farmers and their partners in agribusiness ventures. With higher and better-quality production, linking agriculture to the domestic and global manufacturing sectors and accessing markets become easier, he said.
"Finding opportunities for clustering and consolidation of small and medium-sized farms as well as partnerships with agribusiness enterprises – to bring about economies of scale (and lower per-unit cost of production), particularly for crops that require mechanization and extensive use of technology – is part of the 'new thinking' of the Department of Agriculture," said Secretary Dar.
"We want to collectively empower farmers, fisherfolk, and the private sector to increase agricultural productivity and profitability, taking into account sustainability and resilience," the DA chief added.
Global experience shows that forcing collaboration among farmers and agribusiness enterprises through decree or subsidies (top-down approach) usually does not work but those that emerge from farmers' bottoms up collective initiatives yield good results.
The report says that the country can explore various arrangements based on global experiences, including:
Realizing scale in primary production. In the Philippines, perhaps the most promising areas to pursue clustering can be among selected irrigation schemes where water user associations are already well established; and within Agrarian Reform Communities supported by the Department of Agrarian Reform.
Supporting market-oriented producer organizations. Encouraging the growth of cooperatives and producer organizations. In the East Asia region, Japan, South Korea, and Taiwan have had especially rich experiences promoting farmer groups or cooperatives.
Fostering contract farming, productive alliances, or other linkages between farmers groups and agricultural enterprises. These are well understood in the Philippines and can be scaled up.
Elsewhere in the region, contract farming has become increasingly common in some value chains, including value chains for specialized rice varieties or rice production systems.
Renewable electricity growth is accelerating faster than ever worldwide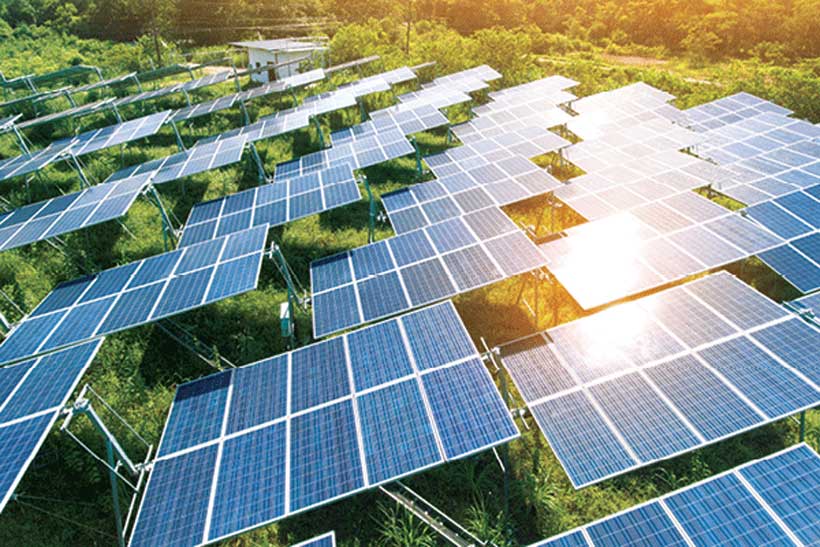 The growth of the world's capacity to generate electricity from solar panels, wind turbines and other renewable technologies is on course to accelerate over the coming years, with 2021 expected to set a fresh all-time record for new installations, the IEA says in a new report.
Despite rising costs for key materials used to make solar panels and wind turbines, additions of new renewable power capacity this year are forecast to rise to 290 gigawatts (GW) in 2021, surpassing the previous all-time high set last year, according to the latest edition of the IEA's annual Renewables Market Report.
By 2026, global renewable electricity capacity is forecast to rise more than 60% from 2020 levels to over 4 800 GW – equivalent to the current total global power capacity of fossil fuels and nuclear combined. Renewables are set to account for almost 95% of the increase in global power capacity through 2026, with solar PV alone providing more than half. The amount of renewable capacity added over the period of 2021 to 2026 is expected to be 50% higher than from 2015 to 2020. This is driven by stronger support from government policies and more ambitious clean energy goals announced before and during the COP26 Climate Change Conference.
"This year's record renewable electricity additions of 290 gigawatts are yet another sign that a new global energy economy is emerging," said IEA Executive Director Fatih Birol. "The high commodity and energy prices we are seeing today pose new challenges for the renewable industry, but elevated fossil fuel prices also make renewables even more competitive."
The growth of renewables is forecast to increase in all regions compared with the 2015-2020 period. China remains the global leader in the volume of capacity additions: it is expected to reach 1200 GW of total wind and solar capacity in 2026 – four years earlier than its current target of 2030. India is set to come top in terms of the rate of growth, doubling new installations compared with 2015-2020. Deployments in Europe and the United States are also on track to speed up significantly from the previous five years. These four markets together account for 80% of renewable capacity expansion worldwide.
"The growth of renewables in India is outstanding, supporting the government's newly announced goal of reaching 500 GW of renewable power capacity by 2030 and highlighting India's broader potential to accelerate its clean energy transition," said Dr Birol. "China continues to demonstrate its clean energy strengths, with the expansion of renewables suggesting the country could well achieve a peak in its CO2 emissions well before 2030."
Solar PV remains the powerhouse of growth in renewable electricity, with its capacity additions forecast to increase by 17% in 2021 to a new record of almost 160 GW. In the same time frame, onshore wind additions are set to be almost one-quarter higher on average than during the 2015-20 period. Total offshore wind capacity is forecast to more than triple by 2026.
The IEA report expects this record growth for renewables to take place despite today's high commodity and transport prices. However, should commodity prices remain high through the end of next year, the cost of wind investments would go back up to levels last seen in 2015 and three years of cost reductions for solar PV would be erased.
Despite rising prices limiting growth, global biofuel demand in 2021 is forecast to surpass 2019 levels, rebounding from last year's huge decline caused by the pandemic. Demand for biofuels is set to grow strongly to 2026, with Asia accounting for almost 30% of new production. India is expected to rise to become the third largest market for ethanol worldwide, behind the United States and Brazil.
Governments can further accelerate the growth of renewables by addressing key barriers, such as permitting and grid integration challenges, social acceptance issues, inconsistent policy approaches, and insufficient remuneration. High financing costs in the developing world are also a major obstacle. In the report's accelerated case, which assumes some of these hurdles are overcome, average annual renewable capacity additions are one-quarter higher in the period to 2026 than is forecast in the main case.
However, even this faster deployment would still fall well short of what would be needed in a global pathway to net zero emissions by mid-century. That would require renewable power capacity additions over the period 2021-26 to average almost double the rate of the report's main case. It would also mean growth in biofuels demand averaging four times higher than in the main case, and renewable heat demand almost three times higher.
Rights experts call for end to violence against women in Tigray conflict
Experts appointed by the UN Human Rights Council have called for urgent action to end violence against women and girls caught in the Tigray conflict in northern Ethiopia.
In a statement issued on Friday, they expressed grave concern about the widespread sexual and gender-based violence attributed to Ethiopian, Eritrean, Tigray and Amhara forces, as well as allied militia.
These incidents constitute some of the most egregious violations of human rights and humanitarian law, according to the experts.
'A deliberate strategy'
"They appear to have been used as part of a deliberate strategy to terrorize, degrade and humiliate the victims and the ethnic minority group that they belong to with acquiescence of the State and non-State actors' parties to the conflict," they said.
"These brutal acts have devastating physical and psychological impacts on the victims, which are exacerbated by the lack of access to assistance, support and redress for survivors."
The UN continues to voice alarm over the war in Tigray, which began just over a year ago. Last month, the UN Human Rights High Commissioner, Michelle Bachelet, noted that the conflict has been marked by "extreme brutality".
Cases under-reported
The rights experts said although the exact prevalence of gender-based violence is unknown, estimates are shocking.
From November 2020 through June of this year, some 2,204 survivors reported sexual violence to health facilities across the Tigray region.
Furthermore, one of the one-stop centres reported that the majority of victims, or 90 per cent, were underage girls, and estimated that visits have quadrupled since the conflict began.
However, the experts said these figures are an underestimation of the true extent of gender-based violence being committed. Cases are severely under-reported due to fear, stigma and inability to access health or support centres.
"Despite the humanitarian situation, proper access to facilities is vital to ensure adequate care, for instance for women and girls at risk of developing life-threatening infections, or to allow for abortion for women and girls who become pregnant as a result of rape," they stressed.
Displaced women vulnerable
The experts reported that the violence occurred in both rural and urban areas, in the victims' homes or in places where they were sheltering.
In some cases, women and girls were raped because of their perceived or actual political affiliation, to pressure them to reveal the whereabouts of their male relatives, or as acts of revenge.
"Internally displaced women and girls in Ethiopia, and Eritrean refugee women and girls living in the Tigray region, have been particularly exposed to sexual violence. Eritrean women and girls, specifically, have been seriously affected by the conflict and doubly victimized," the experts said.
"In addition to the grave consequences of sexual violence, most victims have also been harmed in other ways by the conflict including by having close relatives killed."
Respect and protect
The UN experts reminded parties to the conflict of their duty to respect and protect human rights, and to prevent violations in any territory under their control.
They also urged the sides to implement recommendations contained in a joint report by the Ethiopian Human Rights Office and its UN counterpart.
Those recommendations include taking immediate measures to protect women and girls from rape and other forms of gender-based violence, providing redress to victims, facilitating immediate access to health care, and ensuring independent and impartial investigation of all incidences of sexual violence.
Role of UN experts
The 14 experts who issued the statement receive their mandates from the UN Human Rights Council, which is based in Geneva.
They monitor specific country situations or thematic issues, such as violence against women, discrimination against women and girls, and the rights of internally displaced persons.
The experts are independent of the UN and serve in their individual capacity. As such, they are not UN staff, nor are they paid by the Organization.