On the page the novelist-poet questions in Kiran Bhat's seminal work: We of the Forsaken World
The passionate outsider is people. Male people, female people, the displaced, dispossessed who live within the boundaries and structures of psychological extremes.
In a broken world of country made up of leaving our sorrows behind, painters and poets who turn into novelists everything is either temporal or temporary.We have lived in a normative depressive age for centuries with automatic thoughts of cognitive semantics, highly nuanced disordered thinking, personality disorder, dysfunctional world beliefs and we have been indoctrinated by journalists and television evangelists of the like that the world has never seen, propaganda, by war, by silent protest, art and culture and the emotive language of film. That most dramatic of all the arts. When it comes to, We of the Forsaken World the novel is mapped into sections.It teaches us by all possible dimensions, by theorisations of the elements of what drives both the tribe and the individual from the asphalt jungle of the city, to the rural countryside, to the ergonomics of the digital divide, and, by any means necessary, yes, we can look at the context in which race matters, for is it not race that matters tantamount to anything else in society. We must look at inter-faith matters with authenticity, what qualifies us to conceptualisation, anti-racialisation, the technique and style of has always been versions of the catharsis of anti-black racism, the false enchantment of ultra-democracy on the diaspora, uncommodified racism, and that yesterday's powers are in co-existence with the science of the instrumentalist, the race of sustained commitment, unity and solidarity in defiance, the use of resources, and the under-representation of the Non-European, the African.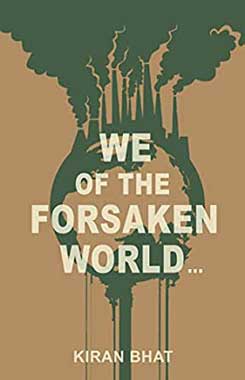 As it stands, the Non-European, the African is colour blind to their own potential, order, structure and shape. Ultimately, the discourse must transcend race, the elite and the establishment. The discussion must devise implementation. The complex debate must give rise to vigour and understanding our mentality, how vulnerable and conditioned our understanding of the psyche and intellect is of the marginalised, conditioned and disadvantaged tribe cast out of society because they do not conform to the norms and values of what and who a fixed and inter-dependant society thinks is relevant and socially, politically important. The elite are the wealthy, the educated, the prosperous, the intellectual, but how did they become part of the elite if they didn't inherit their wealth, or education, or their prosperity, or their intellect. I believe it is through the clarity of the mind, the practice of perfecting the subtle nuances in the brain. All we are, are but segments of text in the ultra-nationalism of what I call the "tribalsystem". What is the tribal system, what is it based upon, who created it, a philosopher or theologian? There is a social expectation on both genders, racial prejudice that exists between younger and older women. Labyrinths dominated by men thinking with anti-colonial non-racialism and racial prejudice.
During apartheid South Africa words such as "boycott', "socialist", "the order", "non-collaboration", "refusal to organise communities" were espoused and a door was opened into the psyche of a divided nation, highly politicised, and the aftermath of that has been xenophobia. The design and principles of Kiran Bhat's book is the writing of an intellectual. It invents criteria. Presented as a language model to bridge situation, conflict, class, knowledge, distinction. It is the story of a poet, an open door, a master revival act, social justice around the issues of poverty, disadvantages, rise in crime and unemployment amongst university graduates as well as school leavers. This conception of the world is filled with highly multifunctional characters with political, inter-cultural, religion, social, territory, nationality, and borders as the new vocabulary, the curriculum is at work deliberately, predominantly where the interplay between the apparatus and the appraisal is connected now meets the contextual. With comparison comes language, with a new dispensation comes a new curriculum, a new government, a new cabinet, new leaders, new debate, discussion, reasoning, different expertise set into motion.
Kiran Bhat is a young lion who has the background of a poet. His ideas put forward in this book are phenomenally socio-forward-thinking. As he struggles for recognition and searching for grace, concept and narrative, style and technique and legacies of the past with their transitional figures of prophecy, realism and modernism, at the end of the day he finds himself standing in the gap of both philosopher and theologian. We think that the fixed and variant sociological ideas of a society transitioning itself into an ultra-democracy wills itself against the grain of neo-conceptualisation. For myself, I think that we live with three identities in a leading European discourse, the metamorphosis of the working classes to the Black elite in Africa, and the Black working-class individuals exist in their own pool of thought. We have to look at the social identity in the context of experimental identity and the complex identity of the co-dependent, inter-dependent and non-active participant as individuals, build their identity as such on the premise of an ultra-democratic nation built upon socialisation, social cohesion, and the integrational.
What is uppermost for me are the internal portraits of the mind which are not that nothing is played out in the scenarios of that, that have been exposed to being very powerfully overt before being rejected completely by the medical fraternity and the scientific community. What propels nature versus nurture? The brain, interpersonal relationships, social participation and interaction, social skills, the advances made in technology, artificial intelligence, the information communication technology, sexuality and exposure to the spoiled identity, the identity which does not conform, and that the agendas of consistent stigma, labelling and discrimination attaches itself to. How to we detach from alienation religions, factions, conflict situations that may lead to war and civil unrest, isolation from your peers, family and contemporaries and society due to illness, abandonment and neglect, rejecting that early and astute renaissance state of denial, denial, denial.
We must now look to past diplomatic studies, diplomatic treatises, modern diplomatic lessons in authenticity, reconciliation and negotiation as we navigate the treacherous waters of the world that we ae living in today. Understanding corruption at the highest level of government, making mental health awareness programmes mandatory for all age groups in society to prevent the cycle of depression and the narrative of mental illness and maladaptive behaviour, phasing history back into the curriculum so that all children can understand the group dynamic of the nuclear family, their heritage, culture, tradition and social inclusion into modern society. For us to sustain life and youth, we need the renewal and vigour of both not to diminish in the face of all the problems and challenges that the world faces today.
We live in a social world that has an internal point of reference and an external locus point of control. The people in that world are oftentimes ambiguous and leave us with contradictory impressions. The conception of the world around us is what we make of it. If you only take one thing away from this nexus of this book, the interplay, the roleplaying, the flux of the nature of a digitised community advancing towards a macro-economic dystopia think of the world becoming more inter-connected, people from all walks of life inter-relating to each other on the spiritual level, with a novel understanding of each other's cognitive, emotional and verbal reasoning. In the future we will correspond with technology in much the same way a man like Nikola Tesla did. It will become child's play.
This is me. The voices are inside my head. Calling me. Speaking in ancient tongues. They talk and talk and talk. The damage is done. The damage is done. I wanted a child while I was still young. They think of science in masculine terms. The humanities and creative writing in feminine terms. There's a gap for you. There's an excursion into the remembering mind. The shaking woman's interesting double life. I think of the anatomy of my loneliness. How everything in life is a mystery. I am waiting for sleep to take control of my aching limbs, my physical form. I invest the past into insomnia, for no fight is worth it. What are we fighting for anyway? He's not here, they're not here. No one can hurt me now. Marilyn, the hunter. Diana, the hunted. I want to live before planting love. Your fingers feel like ice slipping to the bones of me. They thread my bones to my being. Give hope to my flesh. Now I just want to live, but there are days when I am tired of wanting to live. The washing flutters in the breeze, men and women have been kind to me, and I have a lust for the gulf between us, how I've imagined you my entire life. Country of Adam's rib, country of blood, stone and wine. Her teeth bite into my pose. There's my unbearable sadness. Watching you satisfies me. I go all cold sometimes. The tiredness, the energy. In a perfect world you would have been free. You would have set me free. Your womb fashioned me. So, I write for the passionate outsider. The woman was displaced. The female dispossessed who lives from one day to the next in psychological extremes. I am that woman displaced like Jean Rhys. I am the dispossessed female. And the woman that I love, whose womb fashioned me is my mother's.
I think of all the time we have wasted sibling. All the love that is gone. My loneliness grows like plant sap. Like water in wild places. All the fight has left me as I chase the sea. I wake, I chase the sea. Rabbit is gone. Don't tell me about your secrets. Don't tell me about your love, sibling. Leave me like you have always left me. Leave me standing here by the bright lights of this city by the sea. I always wanted your love. You were always high on life. The extrovert with friends. You erased me from your life so effortlessly. From your kingdom. I think we have said it all. The love is gone. Gone from your world. Gone from my life. They say I have a death wish. I'm hungry for it. The ghost of my spirit is hungry for it. It is cold here. Winter is coming on strong on this radar. This illusion sticks around like the Seine. I wish I was a ghost dropping off this radar. I feel sick. You make me sick. I lost the proof. I think of all that I have sacrificed. Think of myself as a crime and a victim. Sibling, you've found love. We're passed the object of forgiveness. Nothing I can do about it. You're the daughter of the Czech Republic. Let me take you to the low of the city. I am wearing my glasses. Keeping my attitude. I think of your German boyfriend with his artistic fingers, sensitive face. How again someone else replaces me in your life. Bipolar takes all. Bipolar thinks that love is evil, that love means war. My mother never brought me sanitary napkins in the hospital. Never brought me clothing to wear. I walked around like a zombie. When she came, she spoke to the other patients there at the hospital. Looking for a friend in a stranger. She left me alone. Standing there. I was her mirror image.So bulimia and anorexia nervosa found me.
She holds all the power, all the cards. The woman who ate everything. I never had your heart. This takes some time to explain. Let me understand you. Let me understand this. Out of reach, you're always keeping busy. I'll always be the same. When I was in love, I was in love with my own shadow. My heart's bruised. I think all the time of how close to death I was. The renal unit at the Livingstone Hospital. My life is the diary of a volunteer. On the imagined wings of a bird in flight, I come to you. This message comes to you. This love letter comes to you, my mother. Theories have long since disappeared. The image of the soul. The twin image of our soul has vanished. Nothing gets better here on this side of the world. I don't see myself in the mirror anymore. It is only my pride, your ego that lends itself to a new philosophy of the advanced world. I'd like to leave the world random. But I no longer want to examine the past, aftermath, aftershock, shielding the echo of the shadow, my bruised shadow. We have nothing to say to each other anymore. Only the visions remain. The words are all gone now. You grow out of it. No, not bipolar. The vision you had of yourself in high school. Where you would be five years down the line, a decade. It is just me giving up my consciousness for another. You grow out of the authentic. It is coming back to me. The collect calls I made home from the hospital. Abandoned there. Younger, I was arrogant. Life was so easy, comfortable, and happy. Not anymore. I wish I could say I have achieved my personal goals, fulfilled all my wildest dreams. What am I holding onto? The self that is a soulless misanthrope. The universe is amplified. Birdsong in the air. The leaf falls. It is just gravity.
And because of the violence against me, I have zero tolerance for violence. And because of the mental cruelty against me, I have zero tolerance for mental cruelty. They have defeated me. The family, the cousins, the aunts and the uncles. I am done looking for love in a home that puts me up against the wall. I am lethargic now. Not wanting to talk. Not wanting to talk to anyone. I am on my own now. Alone. All I have is loneliness. That's the kind I am. The voices say, Petya Dubarova, to stop talking so much and to become a good listener, an effective listener, an efficient communicator. Revealing the purpose and value of others as God sees fit, as I connect with the universe. To transcend the negative, the voice tells me Petya, I also have to transcend the pain of the universe, the loneliness of the universe. I have to remember birth, rebirth, saturation. I have to move on from one phase of personal growth to the next level. From maturity and the confidence of maturity, to death. But it is difficult and tiring to be forgiving of myself, to be grounded in self-love and the world around me dearly, or, for life. And then there's this nourishing sense of spirituality that strengthens me daily. I am a stranger waiting for the train worshiping sharp objects eating eggs, chicken and soup. I live in a dark house born of green figs in September on a Sunday afternoon. A dark house born of a writer in a cage sheltered and protected by the light from all the activities of harm. While watching the first snow of a June winter, with the falling snow the road inside finds bipolar me again. High on life. Low on life. Numb on life. Dead to life. And then I realise I am never going to see uncle Rabbit again.
Ever. He died on a Thursday evening of a heart attack in a hospital room while I exhaled a pose. While I overcame my evolution at home typing out my third novel. I have the fear of love, of falling in love on my side, of sexual intimacy, of being made to feel vulnerable in front of another person. I am crashing. I am crashing into the waves chasing the sea of Petya Dubarova, and there will always be those who lecture me. I think the world, and my siblings have made me toxic. And I remember the day my sibling's girlfriend showed me her tattoo. He must have a thing for a girl with tattoos. I don't know. We aren't close anymore. What happened in my own father's life is happening now in my own. The estrangement from the middle earth of the inner family, of the immediate family. I make cinnamon toast or eat peanut butter straight from the jar with a butter knife, and I try not to think of writing confessional poetry, or, the fact that I'm not loved by siblings, or, cousin, or, aunt, or, uncle, or, distant relative. I show them my rewards like arrows. Only I see the columns of light in my arrows. Yes, I'm done. I'm done. I'm going nowhere. I'm going everywhere. Jagged little pill in my mouth. Rush of water down my elated throat. I really wanted to see her tattoo. Why, oh, why am I so surprised that she gladly showed it to me. Bipolar has made me frightened of everything. Of landing on the ash heap like other people's sorrows. I think of my own sorrows. I'm left thinking of how important it is to keep correspondence, journals and copies of your work. I think of my own father and mother living out this kind of perfect life.
My mother had a spacious house, they had two cars, and she had to raise three children. Two daughters and a son. She didn't teach me to have that. To invest my life in children. To invest my life in sons and daughters. I know my roots and they go deep like a ninja-warrior. Now I find myself living vicariously through Dorothy Parker, and Maya Angelou. I think of the mute wind. I think of the constant rain at my window. I think of what I see when I see wildflowers. Cemeteries, ghosts, the apparitions, the voices in my head, hallucinations. There are days when I am just writing to get by. I keep telling myself it is not hopeless. All is not hopeless. That this life is what I have been given. My siblings think they know it all about bipolar. Even more than me. I can't understand a word that they possess about mental illness. They give it to me, not as a gift, but as something to control. I think of the difficulties of my father. The difficulties of a young mother having to accept a manic-depressive husband. Nobody caught me when I fell. Contradictions keep me busy for a while. I try too hard in relationships. I was a teenage runaway falling away to the waterfront of hospitalisation. The perspective was clear. The view of my life settled. I had the beauty of language. It gave me interconnectedness. The relationship I wanted. I was on a sailing boat that caught the wind. On my way. On my way. Then the mania would come, or, the clinical depression, or, the attempt to take my own life, or, the suicidal thought, and I would be derailed again from the perfect life that I had lived before. I would be abandoned and forgotten by my mother.
I would be abandoned and forgotten by my siblings, by relatives who told me that they wished they could be of more assistance, but they had their own problems, or, uncles and aunts would just ignore me. With the onset of mental illness in adolescence, my life became more complicated over the years. I became a hunting and gathering woman of current trends forecasting for a blog that I wrote, ephemera from my paternal grandfather's life, and phenomenology. I became this rather complex vessel (never studied further, never had the sunny road of the marrying life, or, those sons and daughters, and strange, I had always been madly in love with children my entire life), and in the end it was language that accepted me, not family, not siblings that had looked up to me once when I had the normal life, the kind of life accepted by family. There would be all this ignorance and sham surrounding my mental illness. I became known as the storyteller, I would make up stories, and this would do the rounds. So, I am threatened and cajoled, told in no uncertain terms by my sister that I am not living. She never phones home to speak to our father, elderly and infirm now. Weak and limiting and limited, and I tell myself that what matters most is recovery. Coming out of that despair and hardship and release of relapse. Now I think back to the early days of the initial treatment of my bipolar, the hospitalisation of my bipolar when I became something of a pill popping zombie, then an insomniac, and then there was this return to normality, to home-life, but also terrifying ignorance in the family, also terrifying ignorance around the sufferer, and stigma.
The discrimination of living with the bloom and smoke of mental illness. I keep telling myself pain births creativity. That it is the motivation for pursuing God. Must be more Eckhart Tolle, or Gary Zukav than me I suppose. In the hospital people may want to be your friend. But outside, you become like strangers again. You return to a kind of semblance of your previous life. You find people don't want to know you anymore. Release from hospital always brings me back to writing, to my childhood. To the swimming pool in Gelvandale where I was baptised, to a picnic in Port Alfred. Yes, I found baptism and God. And sometimes, just sometimes, the writing annoys me, or, I get annoyed with myself, and sad, as if my work is almost incomplete. Almost as if I am not living up to my own expectations. And every time upon my release from the hospital after my meds have been adjusted, I have to open a new door, learn to live a new life again. It's difficult, but I have endured this. I have survived. I remember that I have strategies, goals and actions. As my father did before me. I hate it that I blame him. I hate it when I say something that hurts him, and I see him wince as if I have slapped him very hard across the face. I mean, I am used to embarrassment, and humiliation, and people unfriending me with a kind of energetic efficiency. I have to work on self-love daily. I pray daily. I try to be kind but it is like making an anonymous donation. And every year I promise myself more self-love, more personal growth, more prayer and meditation, more reading, and I make an action plan out of it for the next six months. To the lighthouse.
To the lighthouse I go. There are days when I talk and talk and talk. There are also days when I cannot meet your gaze. When people's faces look different to me in the morning light. When I'm afraid of Virginia Woolf. Society allows many things to happen to you when you are mentally ill. I'm always putting my trust in people, and being let down badly. Balance is everything. All I can think of is that I am a novelist now studying the craft of writing with every narrative that I write. That I am a poet. And a bipolar life can be as healing as rain with a savage kind of violence. At least that's the way that I see it. Bipolar itself, there's still so much that we don't know. What I hear most often from other people who live with bipolar, is this. That I wasn't always bipolar. I wasn't always like this. I didn't need to take a sleeping pill to sleep. Maybe there was a traumatic incident in your childhood, or, long term abuse, or, you were never loved by a parental figure, or, there was a kind of stress or burnout that you couldn't deal with. I've been there. Uncle Rabbit is gone. I'm still here. I still get to live life with purpose and meaning and truth on my own terms, and there are days when I feel like a tragic figure caught in a storm. There are days when I want the world to see me. There are days when I don't want the world to see me, because I don't think that they'd understand me, but there are also days when life is infinitely more beautiful. There is an image that I manufacture every so often in my mind whenever I feel like it. I see the picture of a little girl, and she is loved. Bipolar is not on the scene yet. Her life is not derailed yet. She is eating watermelon on the beach. The sun is going down. She is laughing with her boy cousins. Smiling for the camera. Smiling for all the world to see.
The YCCC and How It Changed the Future of South Africa
This was the pre-apartheid education that we received when we were still at school. I was 13, 14 years of age at the time of the promulgation of the Group Areas Act in Port Elizabeth, South Africa, which then led to the forced removals and people literally being 'dumped' in the Northern Areas of Port Elizabeth. Dr Neville Alexander came to Port Elizabeth on two occasions. The YCCC-organisation (Yu Chi Chan Club) was primarily based on guerrilla warfare as is expounded by the leader of the Chinese Communist Party Mao Se Tung. It elucidates in his long walk to freedom, as well as his account in the new democracy as is expounded by his books and writings. These ideologies played a key role in formulating policy in the fight of guerrilla warfare against the Nationalist Party government. It is imperative to mention that the textbook for the organisation was Guerrilla Warfare by Che Guevara which was slavishly followed by discussions in the organisation. Other books included Partisan Warfare by Lenin, as well as Das Kapital by Karl Marx.
This took a lot of preparation and in-depth discussion groups took place based on these classic writers. It was imperative that these books were simplified and applied to the unique situation in South Africa. Dr Alexander and Ali Fataar, the then banned member of the executive of the NUM (New Unity Movement) came to Port Elizabeth to do exploratory work in creating fertile political groundwork for establishing the NEUM (Non-European Unity Movement) groupings. They visited areas like Korsten, Schauderville at night where they held underground discussion groups on the non-collaboration and the 'Ten-Point Programme' which at that early stage were very important and relevant documents. These were lengthy discussion groups which took place throughout the night. However, it crystallised into a solid branch of the NEUM (Non-European Unity Movement), Korsten branch. Further exploratory work was conducted in the area before these two stalwarts could return to Cape Town.
As a young student (16 years of age) we had the opportunity of meeting with people of the calibre of Dr Alexander at a very early stage in our political careers. This took place while we attended the CPSU (Cape Peninsula Students Union) group at our residence in Lloyd Street, Cape Town. This group grew rapidly as more and more progressive students became interested in the finer progressive political ideologies of the CPSU. We met regularly every fortnight and the discussions took place until the early hours of the morning. The topics included Bantu Education, Coloured Education, Bush University, Students Representative Council issues and the like. We also organised regular meetings on camping trips on Table Mountain where extensive politicisation took place on advanced political ideologies such as capitalism, imperialism and world ideologies of the day. We became acutely aware that our home got the attention of the security police. However, this did not deter us from becoming acutely aware of the intrusion of capitalism and imperialism and the like. It was at a very young age that I became involved in student politics which has its origin in political activity.
The forced removals, the Group Areas Act, the political upheaval caused havoc amongst particularly the young who were influenced by teachers who belonged to the Anti-CAD (Anti-Coloured Affairs Department) and the TLSA (Teachers League of South Africa). The city was ablaze with political activity which in a short space of time demonstrated deep into the youth. This needless to say was influenced by political youth in the Western Cape. What was affecting the students in the Western Cape was, alas, also affecting the students in the Cape, particularly Gqeberha. At times, the situation became extremely volatile and out of control. Organisations like the NUM (National Unity Movement), Anti-CAD (Anti-Coloured Affairs Department), TLSA (Teachers League of South Africa) reigned supreme. It was also apparent that the ratepayer's organisations which were formed to fight against the rapid erosion of management committees.
Many public meetings were held with F.A. Landman and Dennis Brutus (vice-chairman), who were at pains to point out the disadvantages of the Group Areas Act. Many groups were formed which included the ANC, the PAC, the Unity Movement and allied groups were mobilised. It became apparent that the Group Areas Act was not going to go through a very easy passage. The organisations were not unified in their actions and this gave the opposition deep inroads into progressive thinkers. As a student group at the University College of the Western Cape we were invited to SOYA (Society of Young Africa) meetings in the Mowbray Minor Hall on a Sunday afternoon. For the first time we witnessed serious altercations among the members of the NEUM (Non-European Unity Movement), and this included Dr Neville Alexander and Dr Kenny Abrahams.
The topic of discussion was on Angola and the chairlady of the meeting Miss Wilcox clearly did not understand her mandate. Dr Neville Alexander and Dr Kenny Abrahams tackled her on the political aspects of FRELIMO Liberation Front of Mozambique). It appeared that two factions had now developed in the meeting. It was really a fisticuffs kind of thing. It appeared as if Dr Alexander and Dr Abrahams were at loggerheads with the present discussion leaders of the main group. The matter came to a head when the chairperson asked Dr Alexander and Dr Abrahams to leave the meeting. However, before that could take place Dr Abrahams announced to the meeting that all those who believed in democracy would leave the meeting. I was one of the Western Cape students who felt urged to leave the meeting with Alexander and Abrahams, which we did and met again at No. 2 Swiss Road in Lansdowne for a follow-up meeting. Officially, at this meeting there was information about the YCCC (Yu Chi Chan Club). Dr Alexander and Dr Abrahams felt no animosity which the meeting gave them as they left.
Dr Alexander was described as a dark horse by my father. As with all leaders, the maverick visionaries and profound thinkers, brilliant intellectuals, and having the primitive wonders of both wisdom and intelligence, for these men ahead of their time their faith was shared only by their comrades in the struggle. These stalwarts have taught me that it is the tendency of every man, woman and child of every race, of every faith to embrace every other man, woman and child of every race, and of every other faith. Indeed, it is rare. Indeed, it is exceptional when it happens. Language is a bridge. The language is not of love, but of respect. It is the flesh and blood of mother tongue language that divides us. It is respect that conquers self-pity, arrogance and narcissism. There is no one identity. Yet there is one moral code. Multiculturalism has changed the order of history, moral ambiguity, cast a spell on the doctrines and phenomena of religion. In humanity, in this human world, these leaders have taught us purpose on earth, the awareness of self, lack of ego and the finding of our identity in existential relativism, pedagogical and counterfeit phenomenology. Multiply achievement and you get the candy shop of the poetic horrors of over-abundance, the romantic weariness of decay and the complex strength of popularity.
Truth and the third wave of the pandemic: To be vaccinated or not to be vaccinated
I have endured the worst possible case scenario. Being locked up in a mental institution for six months while in my late teens, early twenties. Even though I was of sound body, mind and soul. I am 42 years old now and I haven't come all the way back from that experience. Everyone wrote me off when I returned home to Port Elizabeth as Gqeberha was known in those days but worse was to follow. Inhumane treatment from those closest to me, rejection from society. I was taught that I had a mental disability and would never be able to work again, hold down a steady job or earn a monthly income. I was told in no uncertain terms that I had to now live on the fringes of society since I would be unable to make a positive contribution to society. For twenty years this continued. I had to all intents and purposes not only given up on myself, my personal success, development of my potential and fulfillment and engagement in a relationship that would lead ultimately to my future happiness. The goal of marriage and having a child, bringing children into the world and raising a family was not only put into the distant past, I thought that it would always be non-existent for me.
I would spend my time listening to sad music, love songs on the radio and wonder why it was not me caught up in the scenario of having a relationship with the opposite sex. I sank even further into the pit of the hell in f despair and hardship. I virtually had lost control over my life, received a disability grant which I did not spend on anything which I personally needed. Family considered me to be the proverbial black sheep of the family. When I got angry at the way I was treated I was certified. My rights were taken away from me. I was verbally, mentally and emotionally abused. I did everything in my power to be loved and accepted by both my maternal and paternal family which is why I believe so strongly today in dismantling the stigma that surrounds issues concerning mental illness and depression mania, euphoria and elation (however mild or all-consuming it might be). At this late stage of my life I have become an advocate for mental wellness. To stop the fight and curb the alienation and isolation of sufferers of mental illness. I want people from all walks of life to realise that people with mental illnesses can enrich our lives and can make a positive contribution to society.
I myself have always sought solace in writing. I have found it to be an instrument for change and therapeutic as well.
I have firsthand knowledge and experience of being called anything from schizophrenic to being diagnosed with bipolar mood disorder and because of the heavy psychotropic medication I have taken over the years I have had a host of illnesses presenting themselves. Chronic fatigue syndrome, insomnia, an underactive thyroid, chronic kidney disease, gout and heart disease. These diseases manifested themselves early on in my life before the onset of middle age when they would be more prevalent in someone who would be prone to these sorts of illnesses because of not living a healthy lifestyle.
I take each day as it comes now and live in the moment. I have my good days. I have my bad days. I have a mean temper and constantly have to watch what I eat, watch what I say and how I react to people who treat me as him I am a second class citizen because of everything I have been through in my life. Truth be told I always knew I was different. The depression started in childhood for me. I was always an overachiever. I would come home in the afternoons after school but no one ever helped me with my homework, told me either that they were proud of me or believed in me or loved me for that matter.
Everyday I am a work in progress. It is tough dealing with moodswing but that is the currency I deal in and the territory that borders my sense of self-control.
I have been called many names. None of them pretty or lovely. I have had zero support from my immediate family and my estranged family has complete written me off and washed their hands off of me thinking there is nothing they can do for me. This has been very hurtful and even has made made me feel quite suicidal over the years and in my hour if need, my hours of silence, pain and collective trauma I turned to God, prayer and meditation in my hour of need. At the time of the outbreak of the pandemic I got corona and was admitted to the psych ward at Provincial Hospital here in Gqeberha. I had no medical aid and was once again at the mercy of the system but I survived hell and that harrowing experience again to live to tell the tale of how to overcome the impossible, to live and to learn, to remain humble and kind even in the face of adversity and cruelty.
Loneliness, abject poverty, homelessness can either kill you or make you realise that you are powerful beyond measure and I have realised that I am powerful beyond measure.