In the Era of COVID-19, Russia's Strategic Politics of Aid Takes the Stage in Africa
With coronavirus rapidly spreading among the population of 148 million, Russia took the third position in the world. According to the official data provided on May 11, Russia had an aggregate total of 221,344 COVID-19 cases. The United Kingdom and Italy earlier reported 219,183 and 219,070 cases, respectively. Spain comes in second with 224,390 coronavirus cases, and the United States ranked first with nearly 1.4 million cases.
That is a huge gap compared to over 50,000 cases among 1.3 billion population of Africa, at a first glance, and readily offered an understandable story. South Africa and Maghreb region are the hardest hit and worse affected with the coronavirus in Africa. As expected, the pandemic places diverse impact on the global economies and the society, recommended measures have been taken in a bid to prevent the coronavirus spread.
According to the United Nations Economic Commission for Africa (UNECA) report, Africa still behind European countries when it comes to the COVID-19 outbreak and is far from seeing its peak. While Africa has only reported more than 50,000 confirmed cases of the novel coronavirus early May, the UNECA-released report "COVID-19 in Africa: Protecting Lives and Economies" said "anywhere between 300,000 and 3.3 million African people could lose their lives as a direct result of COVID-19, depending on the intervention measures taken to stop the spread."
According to the Regional Office for Africa of the World Health Organization (WHO), the hardest hit are South Africa and mostly Maghreb countries of Algeria, Egypt, Morocco and Tunisia. These Maghreb countries have strengthened information controls, instead of upholding transparency during the health crisis, but generally reported to have more than 5,000 infections, while in Tunisia, there are 1,018 patients and 43 people have died. In sub-Saharan West Africa, Ghana and Nigeria are also among the top ten African countries affected the pandemic.
While Russia, for a time, appeared to escape a serious coronavirus outbreak, the situation there has changed drastically during these two months of April and May, – passing Germany and France to become the third most-infected country in the world, according to The Moscow Times. Russia now has the fastest rate of new cases in Europe, and second-fastest rate of new cases in the world behind the United States.
In an important part, Russian health workers are still reporting a shortage on protective equipment. With the picture getting highly scary, Russian President Vladimir Putin worries about any slightest missteps when, in one of his live television speeches, he warned: "We cannot jump ahead of ourselves. Any carelessness or haste may cause a setback."
Despite its internal difficulties, Russia has been offering coronavirus assistance to a number of Africa countries. Russia is using it bilateral and multilateral mechanisms in addressing these requests filed by African countries since March after the coronavirus pandemic had spread to the continent that consists of 54 countries. However, Lesotho and Comoros are free from the coronavirus.
Russian Foreign Ministry said a number of African countries have requested Moscow's assistance in combating the coronavirus. "A number of countries on the African continent have requested Russia's assistance in combating COVID-19. African nations need a wide range of medical equipment, including ventilators, as well as testing systems, individual protective gear, disinfectants and consumables. These requests are carefully studied and the situation in a particular country is taken into account," it reported, adding that coronavirus spread rates were relatively low in African countries, with the exception of Algeria, Egypt, Morocco and South Africa.
"However, this issue is causing serious concern to many countries on the continent. The social and economic situations in many of these countries are complicated, while high population density, poor healthcare systems, various crises and conflicts, transparent borders and uncontrolled migration can lead to a sharp rise in cases and unpredictable consequences," the statement said.
According to the Russian Foreign Ministry, the pandemic may negatively affect African countries' ability to carry out major tasks to overcome poverty, ensure sustainable development and implement integration projects. Russia had been assisting African countries in responding to natural disasters and the spread of infectious diseases, including the Ebola fever. "We will do what we can to help the continent combat the coronavirus pandemic, using bilateral mechanisms and those of international organizations," the ministry said, noting that "when making decisions, we will take a whole set of factors into account, including Russia's coronavirus spread rate."
Understandably, wholesale provision of coronavirus assistance is, absolutely and practically, impossible to Africa. Therefore, in the shadow of COVID-19, Russia is strategically choosing for its coronavirus aid destinations inside Africa, experts argued. Historically, Russia has had a high preference for the Maghreb region and southern African countries. Thus, in the months of April and May, aid was delivered to Algeria, Egypt, Morocco and Tunisia in North Africa. Ethiopia and Djibouti in eastern Africa. In southern Africa, the beneficiaries included Mozambique, South Africa and Zimbabwe, according to various media reports inside Africa.
On May 11, at the National Institute of Biomedical Research (NIBI) of the Democratic Republic of Congo (DRC), more than 28 thousand units of laboratory supplies and 8 thousand units of personal protective equipment including protective clothing, respirators, reusable full-face masks with a set of filters and gloves were delivered. According to the Ministry of Foreign Affairs media report, the cargo was sent by Russia's Rospotrebnadzor.

The delivery event was attended by the DRC Minister of Health, Dr Eteni Longondo, Advisers to the President, P. Muanda Congo and S. SialSial, as well as the Director of the National Institute of Biomedical Research (NIBI), Professor J.M. Muyembe Tampam and Russian Ambassador Aleksey L. Sentebov.
According to WHO, Congo confirmed its first case of coronavirus mid-March, and as of May 5, there were only 264 confirmed cases and 11 deaths in a country of some 80 million people. Therefore, the Russia's assistance provided is extremely timely, since epidemics of coronavirus, Ebola, Cholera and Measles broke out, at the same time, in the country. In difficult sanitary and epidemiological conditions, DR Congo is experiencing a sharp shortage of equipment, tests, medicines, vaccines, and there are not enough masks, gloves, and disinfectants.
In this regard, the Congolese are looking forward to the arrival of two mobile laboratories at the end of May this year, which, due to their versatility, can be used to combat the spread of a number of especially dangerous infections, including COVID-19. Russia plans to train Congolese personnel in these microbiological complexes.

In addition, as part of the provision of gratuitous anti-epidemic assistance, Rospotrebnadzor plans to send modern laboratory equipment, diagnostic preparations, vaccines against BVE, cholera, plague and measles, test systems for the detection of Ebola, dengue fever, malaria, cholera and coronavirus to Kinshasa.

Russian-Congolese health contacts are quite extensive and are backed by an agreement signed between the Federal Service for Supervision of Consumer Rights Protection and Humanitarian Affairs and the DRC on the sidelines of the Russia-Africa summit in October 2019 in Sochi. Over the course of several years, Russian virologists have repeatedly visited this country in order to identify its urgent needs, held meetings with local specialists and, in the most difficult period of the global spread of coronavirus in the Republic of Congo.
Russia's Sputnik News, under the headline, "Tunisia Asks Russia for Respirators, Masks, Medical Equipment Amid Pandemic" quoted the Tunisian Ambassador to the Russian Federation, Tarak ben Salem who said: "This request for assistance is a part of friendly relations between Tunisia and Russia. Tunisia, like many other countries, is facing an unprecedented health and economic crisis. We need respirators, masks and medical equipment that will help provide services in public hospitals."
"Tunisia, a country close to Italy, appreciated the assistance provided by Russia to this neighboring friendly country," Salem explained and added "Tunisia hopes for a step forward from Russia, which has promised to consider our request. This can only confirm the quality of friendly and fraternal relations between our countries and our peoples."
Nevertheless, Russia is also exploring the opportunities in Tunisia, and as part of its geopolitical expansion and influence in Maghreb region. According to the ambassador, Russia has pledged to look into Tunisia's request.
The United States had granted $500,000 in health assistance to address the coronavirus outbreak in Djibouti. Shortly thereafter, the Russian Foreign Ministry also posted to its official website that Russia had delivered humanitarian assistance to Djibouti in East Africa. Late April, Russian humanitarian aid to the Ministry of Health of the Republic of Djibouti was delivered and was described as part of a joint project with the World Health Organization. It was financed by the Russian Government to enhance Djibouti's potential in the field of medical emergency readiness and response.
"This humanitarian action comes in response to an official request from the Djiboutian authorities in view of the serious deterioration in the sanitary and epidemiological situation in the country caused by heavy floods and the spread of the novel COVID-19 infection. A consignment of humanitarian aid weighing a total of 13.5 tons and consisting of more than 20 multi-purpose medical modules to fight dangerous infectious diseases was delivered to Djibouti's seaport. The shipment included tents and components to build two medical units for rendering skilled assistance to over 200,000 people," according to report of the Russian Ministry of Foreign Affairs.
The report indicated that "the ceremony was attended by Russian Ambassador to Djibouti Mikhail Golovanov, WHO Representative Dr Ahmed Zouiten and Djiboutian Minister of Health Mohamed Warsama Dirieh. The Djiboutian leadership expressed its sincere appreciation to the Russian side for the assistance amid such a complicated epidemiological situation."
Djibouti has seen a rapid spike in coronavirus cases with the Horn of Africa nation, as the population largely ignores measures imposed by authorities. As a tiny country, it shares borders with Somalia in the south, Ethiopia in the south and west, Eritrea in the north and the Red Sea. Djibouti is a multi-ethnic, with a population about one million, but strategically important country that hosts the United States and French military bases, has recorded 1,116 positive coronavirus cases — small on a global scale. Only two (2) people have died to date, according to the report from the Ministry of Health.
With its burgeoning commercial hub, it serves strategically as the site for various foreign military bases. The hosting of foreign military bases is an important part of Djibouti's economy. The United States pays $63 million a year to rent Camp Lemonnier, France and Japan each pay about $30 million a year and China pays $20 million a year. The lease payments added up to more than 5% of Djibouti's GDP of $2.3 billion in 2018.
China has, in recent times, stepped up its military presence in Africa, with ongoing plans to secure an even greater military presence in Djibouti specifically. China's presence in Djibouti is tied to strategic ports to ensure the security of Chinese assets. Djibouti's strategic location makes the country prime for an increased military presence.
Undoubtedly, Russia has shown interest in strengthening its ties with the country. Russians believe it could take steps to overcome the impasses in the disputes between Ethiopia and Eritrea, between Ethiopia and Djibouti, as well as international support for Somalia's efforts to restore its statehood in the Horn of Africa. It has proposed an elaborate plan from maintaining peace and security to promoting socioeconomic development in the Horn of Africa and that includes Djibouti.
Over the past few years, Foreign Minister Sergey Lavrov has had extensive discussions on investment in high technology and transport logistics in Djibouti and Eritrea, both neighboring countries in the region.
It is worth to note that Russia and Algeria has friendly sustainable relations. A Russian cargo aircraft has delivered personal protective equipment to help tackle the novel coronavirus pandemic in Algeria. Algeria's Minister of Health, Population and Hospital Reform Abderrahmane Benbouzid and Russian Ambassador Igor Belyaev were at the air base of Boufarik, Blida (50-km south of Algiers), to take delivery of the cargo, Algeria Press Service reported April 30.
According to the information made available, the Russia's humanitarian aid, consists of medical protective equipment was purchased by the Rosoboronexport, the State Arms Exporter, it was done upon the Russian government's instructions in order to fight the coronavirus pandemic. "Among the medical items delivered to Algeria are infrared thermometers, suits, medical masks and other goods, needed by the friendly nation of Algeria and its healthcare sector," the media said. Cooperation in fighting COVID-19 strengthens the humanitarian aspect of Russian-Algerian relations.
Given this global scenario of COVID-19, it becomes a conduit to play some game cards. For instance, Russia's pursuit of playing a bigger role in global political realm is grounded on the consequences Russia faced in the aftermath of the collapse of USSR. That was followed by a huge political chaos and instability of its socio-economic space. However, Russia cling to it as the new game changer and now plays the catch-up. Russia seems to have neglected the potential opportunities in Africa, according to PunsaraAmarasinghe, a former research fellow at the Faculty of Law, Higher School of Economics in Moscow, and now a PhD candidate in international law from the Sant'Anna School of Advanced Studies in Pisa, Italy.
"Perhaps, Russia needs a lot more of efforts to revive old ties in African countries, to engage in a large scale investments and energy. Humanitarian assistance could be a strategic mechanism, the lack of Russian soft power in African states is another main trouble that continues to hinder Russia's realization of its policy projects," Amarasinghe wrote in his emailed discussion.
He further compares how Britain, France and even India are performing with the use of their soft power in African space, added finally that "Russia still has the opportunities, Moscow only needs to address more on African states beyond arms trade and offering assistance, but covering much important issues such as education, energy politics and investment. These have to be taken in practical terms, not just mere rhetoric."
On April 29, Russian International Affairs Council (RIAC), a powerful autonomous Russian NGO that focuses on foreign policy, held an online conference under theme "The Future of Africa in the Context of Energy Crisis and COVID-19 Pandemic" – with participation of foreign policy experts on Africa. Chairing the online discussions, Igor Ivanov, former Russian Foreign Affairs Minister and now RIAC President, made an opening speech. He pointed out that Russia's task in Africa following the pandemic is to present a strategy and define priorities with the countries of the continent, built on the decisions of the first Russia-Africa Summit, held in Sochi in October 2019.
On the development of cooperation between Russia and African countries, Igor Ivanov strongly reminded that "Russia's task is to prevent a rollback in relations with African countries. It is necessary to use the momentum set by the first Russia-Africa Summit. First of all, it is necessary for Russia to define explicitly its priorities: why are we returning to Africa? Just to make money, strengthen our international presence, help African countries or to participate in the formation of the new world order together with the African countries? Some general statements of a fundamental nature were made at the first Summit, now it is necessary to move from general statements to specificity."
The speakers presented scenarios of the development of the COVID-19 coronavirus pandemic on the continent, the impact of the coronavirus on various industries, the economic and social development of African countries. Experts discussed the role of integration associations on the continent, the existing and the expected problems in the work of humanitarian missions and programs supervised by international organizations.
For many African countries, it is the time to reflect on African countries' responses to COVID-19. It is time to take the opportunity it offers to catalyze action on structural deficits. The current predicament triggers long-term shifts toward universal access to health and education. It is time to think of improving communities with the necessary infrastructure. Although it has abundant natural resources, Africa remains the world's poorest and least developed continent, the result of a variety of causes include corrupt governments, and worse with poor development policies. It is time to prioritize and focus on sustainable development.
With its 1.3 billion people, Africa accounts for about 16% of the world's human population. Africa, comprising 54 countries, is the world's second largest and second-most populous continent after Asia. As the coronavirus spreads around the world, many foreign eyes, such as the United States and Canada, Europe, China, Russia and the Gulf States, are still on Africa.
Significantly, the global pandemic has exposed the weaknesses in Africa's health system, adversely affected its economic sectors, it is therefore necessary for African leaders, the African Union (AU), Regional organization and African partners be reminded of issues relating to sustainable economic development and subsequent integration. It sets further as a reminder to highlight and prioritize the significance of these in the context of tasks set out by the UN 2030 Agenda for Sustainable Development and the African Union's Agenda 2063.
Africa: A Rising Star in the New Economic Order
The African continent has been on top of the agenda of the policymakers in all periods. From the historical aspect, the conflict of interests was emerged in the era of colonization, when the global powers did not hesitate to conquer various parts of Africa for valuable resources such as gold, ivory, salt, and more. They all wanted these resources because they needed them for manufacturing. As time went on, Africans wanted to design their destiny by themselves, so today's 54 African states emerged mainly starting from the middle of the 20th century. In modern times, however, with the sovereignty of African countries, the rules have changed so that familiar and new powers came not to conquer their lands but to invest in their markets.
Why is Africa so important?
In the global dimension, the resource-rich African continent is one of the fastest-growing consumer markets since household consumption has risen even faster than its GDP in the past years. Furthermore, the average annual gross domestic product growth has consistently surpassed the world average. Numerically, on the potential market of 1.35 billion people, since 2010, at a compound rate, consumer expenditure has increased 3.9 % annually and reached US$1.4 trillion in 2015. This figure's expected level is US$2.1 trillion by 2025 and US$2.5 trillion by the end of 2030.
On the other hand, a massive increase in the continent's youthful age segment in a rapidly growing population creates a suitable environment for industrial development. The median age on the continent is 19.7, while this number is 37.4 in China, 38.1 in the U.S., 42.9 in the EU, and 30.6 globally. Moreover, the significant youth factor enables the faster spread of access to the internet and mobile phones. Besides the traditional spheres, apparently, the digital industry's future is bright as well in Africa.
Africa's significance partly lies in its geographical position, and thus the potentials it creates. The African ports are the vital gateways for domestic and worldwide export and import operations. Albeit currently, the African economies' exports are mainly commodity-based; in the long run, monoculture economies will diversify as they will grow. So, the ports will play an essential role in ensuring the sustainability of the more robust, resilient, and diverse economic dynamics in the continent's economies through the exports and imports of industrial products and other manufactured goods. Additionally, these ports will not solely serve African economies; it will substantially contribute to the global supply chain systems as modern transportation facilities.
The traditional and new players in Africa
Africa is very attractive for investors with respect to the positive trends and opportunities in economic growth. The EY's 9th edition of the Africa Attractiveness report published in September 2019, denotes the African continent in the first place in the world according to the 2018 FDI (Foreign Direct Investment) to GDP data.
According to UNCTAD's World Investment Report 2020, the top 5 investors in the African continent are respectively the Netherlands (US$79 billion), France (US$53 billion), the United Kingdom (US$49 billion), the United States (US$48 billion) and China (US$46 billion). Interestingly, while other countries in the list lessened their direct investments between 2014 and 2018, only the Netherlands (US$20 billion) and China (US$14 billion) have increased their investments in Africa.
The flow of investments is engrossingly intricate. The US has been warning countries that some security risks might accompany technology developed by Chinese firms like Huawei and ZTE. Nonetheless, Huawei and ZTE built and laid fiber-optic and submarine cables off Africa's coasts. In this context, Chinese technological infrastructure constitutes the high-tech network's backbone in some states on the continent within the "Digital Silk Road." For instance, in Ethiopia, the direct investment in the tech sector was US$2.4 billion, while this figure was US$1.8 billion both in Niger and Zimbabwe. It seems China is in an advantageous position in Africa since it forms the "infrastructure of the future" by helping drive the growth of mobile phone and internet penetration, in contradistinction to the US.
Apart from the conventional forces, some new countries, such as Turkey and Russia, are eager to penetrate the African markets. Turkey's Africa initiative started in 2003. In 15 years, the number of Turkish embassies in Africa has significantly risen from 12 to 44, direct Turkish investments have skyrocketed from 100 million to US$6,5 billion, and Turkey's trade volume with the continental countries increased by six-fold, reaching US$17.5 billion. In addition, Turkey is the second-largest investor in Ethiopia with US$2.5 billion, and in recent years had increased its political influence on Northeastern Africa. 
Russia has a deep cooperation experience with the African states from the Soviet era. After the collapse of the USSR, successor Russia strived to perpetuate the relations but mostly failed due to a focus shift to its domestic affairs. Still, in this period, it preserved its political influence area to some extent in the specific regions of the African continent. However, bilateral relations were exposed to a radical renewal from the first Russia-Africa Summit in Sochi on October 23-24 in 2019.
In 2018, Russia's trade with African countries increased by more than 17% and exceeded US$20 billion. At the Sochi summit, Russian President Vladimir Putin stated his expectation for at least double the volume of trade in the next 4-5 years, which means a jump from US$20 billion to US$40 billion. Recently, on November 23, at an interactive webinar organized by the Federation Council of Russia, Chamber of Commerce and Industry of Russia, and Business Russia Association, Russian officials have once again demonstrated their intention to restore the historic relationships through cooperation in numerous spheres. 
The obstacles and constraints
Albeit Africa provides innumerable opportunities, it has some structural problems accompanied by some inter-state and intra-state conflicts and disputes. Terrorism and disintegration are still the foremost challenges for the continent. The Armed Conflict Location & Event Data Project, which monitors incidents of conflict around the world, found that there had been 21.600 incidents of armed conflict in Africa till November 2019. For the same period in 2018, that number was just 15.874. That represents a 36% increase.
Many nations on the African continent have performed poorly in maintaining stable economic growth rates and achieving appreciable economic development levels. This might be linked to a list of factors, political instability in the first instance since it dramatically diminishes the economy's productive and transactional capacities. It is estimated that there have been at least 100 successful coups in Africa in the past four decades, with more than twice the number of coup attempts. Consequently, there is an apparent correlation between the destabilization in the political theater and economic disbalance.
Most of Africa lags the rest of the world in coverage of crucial infrastructure classes, including energy, road and rail transportation, and water infrastructure. For instance, nearly 600 million people in sub-Saharan Africa lack access to grid electricity, accounting for over two-thirds of the global population without power. Additionally, the infrastructure notion plays an essential role in the region in terms of efficiency. For example, agriculture is Africa's largest economic sector, representing 15% of the continent's total GDP, or more than $100 billion annually. Experts estimate that sub-Saharan Africa alone requires additional annual investments of as much as $50 billion to make the agricultural system work better. It can be clearly seen that from the economic development aspect, closing this infrastructure gap is vital for the continent as it would raise the quality of life and stimulate the growth of the business sector.
What to expect?
In light of numerous indicators, the future of the African continent seems to be quite complicated. According to recent UN forecasts, the continent is expected to double its population by 2050. If the investment inflow would not go up, Africa will face a major demographical challenge. Otherwise, the intellectual capital and human resources will contribute to a tiger economy supported by continuous investments, and this factor will be a path to prosperity.
A major step was taken towards integration-related hurdles in March 2018 with the signing of The African Continental Free Trade Area (AfCFTA) agreement by 54 African states. Namely, it presents a tremendous opportunity for African states by bringing 30 million people out of extreme poverty and to raise the incomes of 68 million others who live on less than $5.50 per day. The agreement also comprises the simplification of the customs procedures that would drive $292 billion of the $450 billion in potential income gains. Also, customs procedures simplifications imply the development of the supply chain systems in the continent. The agreement's implementation can be an usher in the integrated development to enhance long-term sustainability in African countries.
It will undoubtedly be a long journey for the Africans to overcome all the issues. However, the emergence of a new generation with progressive thoughts might condition a different environment on the continent. The most crucial factors within the process will be innovation, discipline, and, foremost, patience. In that case, the sustainable and dynamic African economy will play an essential role in the global system. On the whole, still there are some positive signs to be optimistic about the future of Africa; as it says in the famous African proverb, "However long the night, the dawn will break."
Conflict In Northern Ethiopia: Pathways To Peace And Normalization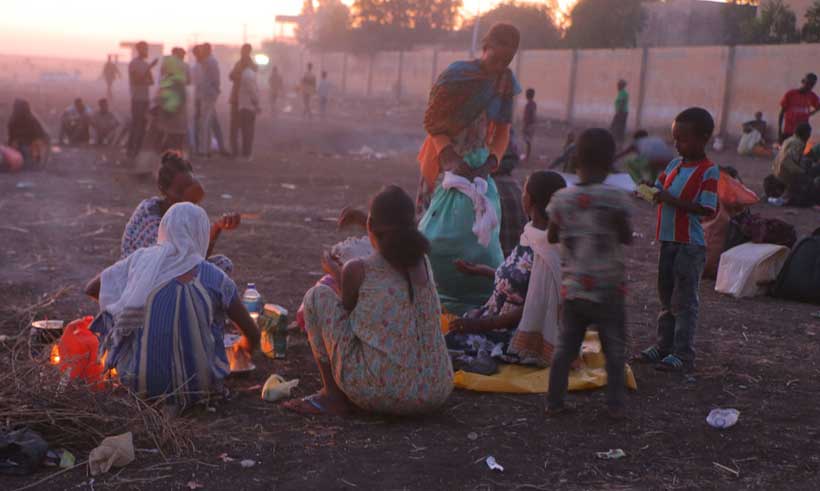 On 28 November, Ethiopian federal troops captured Mekelle, the capital of Tigray province in northern Ethiopia. For the first time in decades, the fighting involved formed military units after the Army's Northern Command had been attacked by forces loyal to the Tigray TPLF.The TPLF political group held power in Ethiopia for decades prior to the government of PM Abiy. The last major military engagement in the Horn of Africa Region was fought on the 1000-kmborder between Ethiopia and Eritrea in the border war 1998-2000over areas close to the current conflict theatre. The fighting claimed over 100,000 lives and caused massive deportations on both sides.
Although an all-out siege of Mekelle was avoided, the region contains much combustible material and security risks- hovering perilously near an inter-state conflict. This was underscored by the rocket attack last Saturday from Tigray against the airport area in Asmara in neighboring Eritrea- the third such strike since the conflict started three weeks before. In the last few years, the wider Horn of Africa and IGAD region had become a beacon of hope for increased stability and integration: this includes PM Abiy's award of the Nobel Peace Prize in 2019, political transition in Sudan after the fall of the Al-Bashir regime and peace deals with rebel groups earlier in 2020. The new conflict has once again exposed the weak state of multilateralism during the COVID-19 Pandemic, lack of consensus in the UN Security Council and the gulf between ambitions and realities in conflict prevention and conflict resolution.
All signs point to continued escalation risks in the conflict. Foreign observers agree that there is no quick end to the fighting. TPLF has apparently sidestepped the Army's assault and may still command a considerable arsenal, according to a new statement by the fugitive TPFL leader from near Mekelle. TPLFis poised to wage a guerilla campaign in the north, which has been its strength against previous central governments in Ethiopia. If the conflict spirals out of control and unrest affects other regions inside Ethiopia, there is a lot at stake: Ethiopia will be weakened as an eminent power in the region, spillover into neighboring states may occur.
Human Security, Protection Of Civilians And Economic Issues
Already before the conflict, the civilian population of northern Ethiopia was facing great challenges. The hostilities have further weakened human security in a region plagued by drought and food scarcity, experiencing climate change effects such as transboundary locust swarms. Refugee movements peaked last week in Sudan which has received some 43,000 arrivals from Tigray and increased the stress on its resources. UNHCR has appealed for about $150 mln USD in relief. Tigray also houses about 96,000 refugees from Eritrea in several camps. During the latest fighting, the killing of hundreds of civilians at Mai-Kadra on 9 November near the border between Tigray and Amhara regions of Ethiopia illustrated the lack of civilian protection and raised fears of more violence and retaliation. Ethiopian authorities have now stated they would establish humanitarian corridors after Tigray was effectively cut off from humanitarian aid for a month and the UN repeatedly urged humanitarian access.
The conflict is also deepening Ethiopia's economic trouble from the impact of the COVID-19 pandemic. with a projected decline from 1.9% in 2020 to zero in 2021, according to the IMF.Young peoplein particular struggle to find employment and have been recruited into provincial militias or political party militant groups. Despite its political differences and the expansion of a transport corridors with Djibouti and from Berbera Port in Somaliland, Tigray has long dominated the Ethiopian import business and its entrepreneurial class is quite established in Addis Ababa.
Vulnerable Neighboring States And Proxy Wars
Stability in northern Ethiopia is paramount for the regional neighbors, including Sudan and Somalia. They are in the middle of their own transitions and vulnerable to external shocks and political destabilization. Eastern Sudan saw tribal clashes and unrest in Kassala and Port Sudan cities in early 2020; Sudan still has many armed factions that might benefit from turmoil in northern Ethiopia. Ethiopian troop withdrawals from Somalia as a result from conflict in Tigray could additionally imperil the electoral calendar for Somalia and embolden Al-Shabaab terrorists. Continued and escalating violence could provoke more massive refugee flows and lead to an "African world war" scenario in the Horn Region, according to analysts. Across the Horn of Africa, the conduct of proxy wars by supporting domestic rebel groups in rival countries had been a pattern in the 20th century after de-colonization.
Just across the Tigray border, the authoritarian regime of Eritrea remains highly militarized. It remains a mercurial player with possible regional power ambitions in the new conflict. In 2018, President Afewerki and PM Abiy managed to form an understanding but neuralgic points along the border such as the disputed town of Badme persist in the absence of a demarcation line. Anecdotal information suggests that Eritrea allowed sophisticated weapons such as drones to be launched from its territory. It also sheltered Ethiopian military from TPLF forces while carrying out large sweeps for mobilization in Asmara which were reportedly extended to some refugee camps inside Ethiopia.
Unpredictable military moves in an area fraught with a history of tension can create misunderstandings and easily spark wider conflagrations. As a small state that has so far been unaffected by the violence, Djibouti prides itself of stability but remains potentially also at risk. The country is still nominally at war with Eritrea. Just after the Ethiopia-Eritrea border war, Djibouti hosted tripartite military talks under UNMEE UN-Mission auspices in the form of a Military Coordination Commission. For transparency and arms control in northern Ethiopia and its border regions, similar confidence building efforts could take place. This could manage further escalation potentials and discuss sensitive reform steps in the military and security posture of Tigray.
Geopolitics In The Red Sea Region And The Nile Basin
Although there is no evidence of any outside power interfering with the conflict in northern Ethiopia, extra-regional powers are by no means disinterested. These actors include Egypt which vigorously opposes the completion of Ethiopia's new "Grand Renaissance Dam" on the Blue Nile for fears of water security as well as the United Arab Emirates, Turkey and China. Russia is considering building a new naval base on the Red Sea in Sudan.
IGAD regional states have only recently started systematic information sharing and joint dialogue for the Red Sea Region among littoral states and some important neighbors. Consultative meetings were held with all IGAD members through an IGAD Task Force for the Red Sea and the Gulf of Aden, established in February 2019. It is in this complex geopolitical environment that Djibouti may have a role to play, as a realistic and trusted actor on the doorstep of the strategically important Babel-Mandeb Strait. Further up from Djibouti on the Red Sea along the Eritrean seacoast, the shipping lane is only about 150 km from Ethiopian territory and caries significant international traffic for Energy security in Europe. Interference or a surge in illegal migration across the Red Sea towards the Gulf States would have to be avoided at all costs. Nothing could illustrate better the sensitivity of Djibouti's strategic location than the concentrated military presence. There are no less than five foreign military bases in Djibouti. The US keeps its largest base in Africa there and China its largest overseas base, along with France, Italy and Japan.
The Way Forward In Conflict Resolution And Mediation
PM Abiy has so far refused outside mediation or negotiation with the TPLF faction, labelling the intervention a "law enforcement action" and an internal matter of Ethiopia. The designated panel of African Union mediators (three former heads of state from Liberia, Mozambique and South Africa) has not been allowed to engage after they arrived in Addis Ababa last week. Commentators have criticized the AU of being inconsistent and bowing to Ethiopian pressure, since the AU is headquartered in Addis Ababa. The EU has nominated Finland's Foreign Minister as an Envoy for the conflict, and both the EU and the UN already keep envoys for the Horn of Africa in Nairobi and in Addis Ababa. High-level coordination and cooperation are therefore well resourced. Once sufficient trust has been built for an Ethiopian-led process to bring the protagonists to the table, flanking support can be provided to an African Union mediation effort.
Despite the current challenges, an Ethiopian-led genuine dialogue and comprehensive normalization process can still gain traction. This would require a tailored set of confidence building measures (CBMs) to reassure the parties that a return to the battlefield is firmly excluded and a modicum of oversight internationally guaranteed. Incentives can be created for quick recovery, restoring trust in stability among neighboring states, and in justice and the rule of law as harbingers of reform which is a shared interest of all protagonists. Along the vectors of conflict risks outlines above, these initiatives can help open the door to national reconciliation and more comprehensive mediation processes around the time of the next Ethiopian general election in 2021.
Some analysts are proposing a basic3-Step Planto launch negotiations (including ceasefire, humanitarian access, mutual acceptance and national dialogue for a new dispensation of power in state and federal level relations as well as constitutional reform). In the Horn of Africa region, many leaders are cautious about formal 'power sharing' arrangements which showed their limits in situations such as South Sudan. Therefore, smaller discreet steps and targeted incentives run in parallel might be advisable in the short run to create a more conducive environment for broader mediated talks:
Provide expertise for an inventory of heavy and crew-served weapons and cantonment under mixed supervision, e.g. with International Observers.
Establish common principles for Security Sector Reform steps in affected areas, with focus on the regime and command and control over provincial militias / paramilitary units and police forces as well as training in Protection of Civilians; monitoring of military tribunals to ensure the conflict parties are seeing fair trials against worst offenders.
Launch rapid projects for connecting infrastructure and self-help reconstruction for returnees with the goal of normalizing conditions in Tigray province and on the borders;devise labor-intensive programs to benefit transport and trade corridors as outlined by the World Bank and African Development Bank in order to boost the region's economic potentials, create jobs and foster entrepreneurship.
Scientific and trade cooperation between China and Africa
China was crumbling into misery, degradation and despair, in the middle of that 109-year period (1840-1949) known as the era of semi-wild and semi-colonial China. As early as 1840, the year of the Opium War, declared by Britain on China to bring in the drugs that the Chinese refused, China's history had been one of rapid ruin.
The ruin was not only material, caused by the vampirism of colonial power that exploited the Middle Empire with weapons, forcing it to accept unjust treaties, burning Beijing palaces, beating and massacring the people with the British Sikh policemen, claiming huge "compensation payments" for wars waged against it. It was also spiritual ruin. None of the old values and traditions could curb that wave of destruction.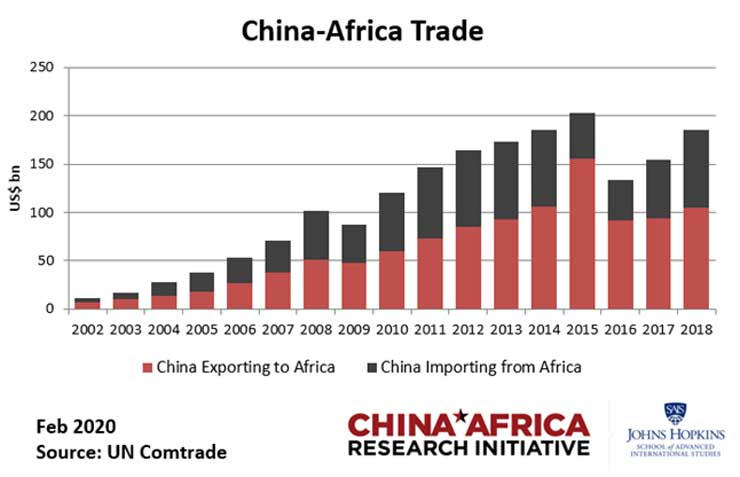 However, over the last seventy years, things have changed and the main contradiction between the pious sermons of Western democracy and the simultaneous indiscriminate exploitation of China has disappeared with the expulsion of Jiang Jieshi (Chiang Kai-shek). It has disappeared in all fields.
On December 6, 2019, during the 5th South Africa Science Forum (Pretoria, December 4-6, 2019), Chinese Ambassador Lin Songtian was invited to participate in the Forum parallel workshop,"China-Africa Scientific and Technological Cooperation: Impact and Prospects", and delivered the opening speech. The major media widely and proactively reported the diplomat's words, claiming that China's investment in Africa was second to none.
Ambassador Lin Songtian said that the Belt & Road Initiative proposed by Chinese President Xi Jinping had effectively promoted Africa's development. China's cooperation with Africa has always followed the principle of truthfulness and honesty, justice and mutual benefit. China has always been committed to achieving win-win cooperation and joint development with Africa. This stands in stark contrast to Western countries that pursue their own interests first and not those of equal and mutual benefit.
The United States, Japan and the EU are not involved in every large-scale infrastructure. Only China has invested and provided massive amounts of funds. Ethiopia, for example – once one of the poorest countries on the African continent – has become one of the fastest growing economies in the world after over ten years of development.
Several well-known scientists from the South African Republic participated in the Forum, maintaining that China – also a developing country – fully understands Africa's needs and its willingness to open the door to cooperation in the field of scientific and technological innovation on an encouraging basis.
The joint scientific research conducted by China and Africa is able to strongly promote the development of the African continent. Africa has missed the first three industrial revolutions and cannot miss the fourth. China has many useful experience gained with Africa to teach.
If China can create scientific and technological companies for training African entrepreneurs, the Black Continent will certainly be able to offer valuable candidates; with the hope that Africa will also achieve scientific, technological and managerial independence.
Some scholars have also pointed out that the survey conducted by Afrobarometer has shown that because China's aid and investment in Africa have promoted the building of infrastructure, Chinese products are high-quality and cheap, and that 63% of Africans believe that China has a positive influence on Africa. 15% of Africans have a negative attitude towards China because they know very little about it and are influenced by irresponsible news from the former colonial media criticising the People's Republic of China.
The imperialist drug dealers, the exploitative colonialists and the pimps of the past, in new guises, complain about the lack of democracy, only because they have seen their centuries-old banquetat the expense of the Chinese people precluded.
At the same time, Africa, as China's economic and trade partner, has brought huge mutual benefits. Africa has the 53 most important minerals on the planet and some rare strategic resources, but the rate of development and use of arable land is lower than 30%. Although China is the world's richest country for mineral resources, its per capita share is less than half of the world's level. Hence, together with the regular distribution of mineral resources, it is also necessary to establish greater China-Africa relations to broaden the trade channels for these resources.
Although the African market has a high rate of return, it also has a certain degree of risk, which requires foreign companies to have better conditions to withstand fluctuations in the African market.
The benefits of China's investment in Africa are indisputable. Nevertheless, the Belt & Road Initiative has always been questioned by Western countries.
Over and above the politically correct dispute over the Asian country's lack of democracy, the main controversy has focused opportunistically on whether China has increased its risks of debt to recipient countries and whether these projects have adequate environmental protection plans.
Some Western theories argue that China uses "debt trap diplomacy", a means of providing a large amount of loans that beneficiaries cannot repay, so as to influence developing countries' policies.
However, in reality, the external debt profile of the beneficiary countries is very varied. Before Africa was hit by the Covid-19 epidemic, the average debt of the ten largest beneficiary countries was 36.5% of China's total income, close to 37.2% of the rest of Africa. Moreover, the situation in each country is different: these ten countries include high debtors such as Zambia and other countries with very low debt such as Angola, Kenya and Nigeria.
The loan initiative has always been in the hands of African countries which – when the funds and blackmail of multinational financial institutions do not meet their needs – have the right to rely on China to build the necessary infrastructure.
Therefore, to a certain extent, the high demand for loans is adapted to the development needs of African countries, which would remain blocked by the inertia of the West and its financial institutions.
At present, the method for financing the building of infrastructure is relatively simple. In general, governments obtain preferential loans from the Export-Import Bank of China or the China Development Bank, with the hiring of Chinese building contractors.
Furthermore, the Chinese government and private companies are paying increasing attention to environmental protection. For example, in April 2019 the Chinese Ministry of Ecology and Environment published Guidelines on the promotion of works and a cooperation plan for environmental protection.
China has understood the importance of the eco-environmental issue in transforming the green economy and promoting the sustainable development goals developed by the United Nations, and has further improved and implemented a range of risk prevention policies and measures.
The Chinese government is also making greater efforts to regulate private companies' behaviours. The number of these companies is much higher than reported by the statistics of the Ministry of Commerce and almost all of them use their own capital. If the Chinese government can provide more funding channels for private companies, it will have more say in encouraging private companies to pay attention to social responsibility.
According to the International Energy Agency's report, in 2019 almost 70% of the world's energy-deficient population lived in Africa and energy development is a huge driving force for economic growth. This means that the energy market will become an important area of China-Africa economic cooperation.
In a situation in which sustainable development has become a global trend, China-Africa economic cooperation shall inevitably adapt: from traditional energy extraction to alternative energy development; from large loans to the development of human capital. The focus on sustainability will not only lead to short-term contractual relations, but also to long-term partnership.