The pandemic in the twenty-first century has now become the most determining force on the outcome of the 2020 American Presidential Elections. In this paper, I am going to analyze the impact of the pandemic on Mr. Trump's chances of getting re-elected. Does it undermine his chances or vice versa? This question may be answered based on three major factors: prevalence in digital campaigning, the candidates' view on China, and Mr. Trump's response to the coronavirus and economic recession.
Digital campaign
The coronavirus outbreak made running traditional campaigns problematic as since March neither Donald Trump nor his opponent Joe Biden made public speeches in front of their supporters. Unexpectedly, the importance of running digital campaigns through virtual platforms such as YouTube, Facebook, Twitter, and Instagram waxed. This circumstance would have a profound impact on Mr. Trump's re-election in November but in which way? Well, there is no one answer to this question.
In the 2016 presidential election, Facebook played a crucial role in determining the outcome of the elections. Trump campaign managers put many efforts into digital campaigning by creating 5.9 million ads on Facebook whereas Hillary Clinton's team made only 66 thousand ads. Though it spawned much debate about the manipulation of public opinion as some news distributed via microtargeting was proven to be false. The microtargeting itself was contentious from the privacy policy perspective as it was reported that some user data was shared with political consulting companies. Afterward, Facebook CEO Mark Zuckerberg was called to testify in Congress and confessed that Facebook was reluctant in checking the validity of spread information and protecting the privacy of user data that could cause public manipulation.
Due to the COVID-19 crisis, internet media consumption increased worldwide including the United States. The role of digital campaigning strengthened even more as quarantine rules do not allow big people gatherings in the context of a traditional campaign running. Meaning that social media and other digital network platforms gained more significance for the success of political campaigns. However, it seems history is repeating itself and the Democratic side is still far behind allocating sufficient time, human and strategy resources for prevalence in digital campaigning. On the contrary, Donald Trump's team is taking the internet more seriously having clear predominance over Mr. Biden's team, and here is why.
Firstly, from the contextual perspective, Mr. Trump's campaign is more digitally oriented. The vivid exemplification of this is the manager of the campaign himself: Brad Parscale. Mr. Parscale is versed in programming languages and possesses vast experience working with digital advertisements. Moreover, unlike the previous campaign, according to his own words, the availability of an information base makes the task for Mr. Parscale easier in 2020. This is pretty understandable as the whole government's intelligence machine is in the service of President and a candidate Trump.
Joe Biden, on the other hand, has only 25 people working for his digital campaign and himself preferring a more traditional way of running a campaign and not spending so much time on social media as Mr. Trump does. Even if Mr. Biden places a complete focus on digital campaigning, he is far behind Mr. Trump in the number of followers on all virtual platforms. For instance, on Twitter Donald Trump and Joe Biden have around 80 and 6 million followers respectively. This kind of huge gap is much telling about the virtual campaign possibilities of each candidate. It means more Americans unwittingly interact with Mr. Trump's politically biased tweets being deprived of reading both candidates' opinions and objectively evaluating them.
But what if Mr. Biden accumulates as many followers as Mr. Trump already has? Well, getting more popular on the internet to deliver a message is a very time-taking task and can last many months. Even in case, Mr. Biden's team succeeded in this, it still would not pave the way to a cordial change. The point is that Mr. Trump is more radical than Joe Biden; his ideas are more provocative in which he constantly blames someone, focuses on a certain segment of the American population, states his thoughts in an emotional manner, etc. Such politically incorrect but more concentrated on potential electorate expressions receive more likes, shares, and comments by spreading it across digital platforms. Mr. Biden's centrism and unity pledges which are quite abstract oppose his need of being more "shared" on social media. Ironically, attempting to appeal broader segments of the population, Mr. Biden gets full support of none of them. Although more radical progressive politicians such as Elizabeth Warren and Bernie Sanders whose ideas more ideologically concrete and segment-oriented, endorsed Mr. Biden, will this endorsement bring more support and popularity? It is unlikely until Mr. Biden nominates them as the running mate or publicly promises to appoint them to a certain post. Any radical leftist would like the idea of Bernie Sander being a Secretary of Labor.
Here we can argue that Donald Trump's political course, material, and digital opportunities, campaign orientation grant him more chances for victory in the virtual world. Accordingly, the coronavirus outbreak deliberately increased the strategic importance of the digital campaigning in which Mr. Trump far outweighs Joe Biden.
Views on China
The second big way how the coronavirus outbreak might affect the 2020 elections is the candidates' stances on China. The readers might doubt the importance of this criterion; however, there are two indicators based on which I make this argument. Firstly, both candidates' campaign managers considered this a sufficiently critical issue to include it in political advertisement. Inside the videos, Mr. Trump and Mr. Biden accuse each other of being too soft on China. Secondly, the Pew Research survey shows that 66 percent of Americans now have negative views of China against 26 percent in favor and 8 percent saying "don't know." The proportion is large enough to impact the outcome of the elections. Consequently, a candidate being more stubborn and stricter about China will have more chances for victory. But who has been tougher on China?
Amid the pandemic Mr. Trump's and Mr. Biden's claims on China seem more similar, however, by taking a short glance at history it is obvious that their approaches significantly differ.
Mr. Trump had negative views on China even before getting elected as the President by blaming it for taking advantage of the United States. After entering the office, President Trump took other measures against China. First of all, China was numerously mentioned as posing threat in plenty of spheres such as trade, artificial intelligence, military, geopolitics, soft-power, etc. in the National Security Strategy (NSS). It morphed Mr. Trump's campaign claims into prospective policy implementations in this direction. Secondly, Mr. Trump commenced a trade war against China putting high tariffs on Chinese imports. He criticized China on bypassing the rules of trade and damaging American farmers by creating an image of a President protecting the American people from China. In the times of rising negative views on China, it is useful for Mr. Trump.
On the contrary, in May 2019 Mr. Biden called the Chinese "not bad folks" and stated "they are not in competition for us" in response to Mr. Trump's concerns about China. And the administration of which Mr. Biden was Vice President, considered the relationship with China as the most important in the twenty-first century. Ultimately, Mr. Biden cannot boast about being tough on China and this is not only about himself but also his party's mainstream policy. Republicans have inherently been more negative on China and persisted in the importance of domination in great power competition counterweight to Democrats mostly preferring cooperation.
Recently in a democratic primary debate, Joe Biden said that Donald Trump did not hold China accountable and "rolled over the Chinese." However, this statement is not an appropriate one amid increased racism against Asian Americans. Considering the fact Mr. Biden's potential constituency is mostly racial, ethnic, religious, and sexual minorities, the statement puts his own "unifying leader" image at risk sidelining not only Asian Americans but also other minorities.
Economic impact and timely response to the coronavirus
The third most determining factors that might influence the elections in November are economic recession and measures taken to respond to the pandemic by President Trump. Many consider that Americans will understand how unprofessional and negligent the President when it comes to handling major crises. Political advertisements prepared by Mr. Biden's team showcases a high level of hope for hitting the President on this ground.
Notifying the reader that this section does not aim to answer the question of whether the response was proper or not, it only takes into a discussion how the actions taken by the President were perceived by Americans and this perception's possible influence on the upcoming elections.
In general, Americans are slightly more negative about the President's response to the pandemic (response in this paragraph is refers to measured taken to prevent the spread of the virus.) A large portion of people holding a negative view is young people, liberals, and ethnic minorities (Pew). As a rebuttal to this point, the majority of Protestants, white Catholics, and the elderly are confident in Mr. Trump's coronavirus response. At first look, it seems that the majority is not in favor of the President concerning the pandemic case, however, the groups not supporting Mr. Trump (mentioned above) is not the electorate which voted for him in 2016. Vice versa, people who voted for Donald Trump are the same White Christians and elderly Americans. Accordingly, the coronavirus crisis could not yet switch the positions of that segment of the American population on which Donald Trump focuses his political discourse.
The economic impact of the pandemic is more challenging though. More than half of Americans think Mr. Trump is not doing a good job in terms of addressing the economic needs of ordinary people. Slightly more than half of Americans think that he is good at aiding businesses facing financial difficulties. However, the monthly unemployment reports are very high and keep growing. Lowest in history of the United States unemployment rates with which Donald Trump was bragging is now obsolete. Severe consequences of economic recession are quite likely and, certainly, it will affect Mr. Trump's chances to get re-elected. The extent of its affection will go hand in hand with the size of damage to the US economy caused by the pandemic.
Undeniably, the economic impact of the pandemic hit the whole world and the long term impact is obscured so far. Among all the above-mentioned factors of the coronavirus impact, the economic part is ongoing and will shape public opinion within the process of handling the crisis. Because this is the matter of future, any attempts to formulate precise predictions over the impact of the recession on Mr. Trump's chances of getting re-elected are doomed to be imprecise.
Conclusion
In conclusion, I would argue that at this point, Mr. Trump's chances are not undermined by the pandemic. On the contrary, some powerful aspects of Mr. Trump's campaign such prevalence in digital networking are strengthened even to a greater extent. The Democratic side, on the other hand, seems to be giving less significance to digital campaigning as they were doing in 2016.
Trump's political course is also convenient for the current situation, as for the first time not only Americans but also the world started thinking of China as a country shutting transparency and honesty. American workers and manufacturers one more time got confident that China is posing threat on many grounds and Mr. Trump's China policy was correct. Even though Joe Biden now uses tough rhetoric against China and criticizes allegedly "soft President" on it, his statements are not convincing and do not reflect what he was saying a year before. In politics, a lie is not a big deal, but a radical change of the system of your beliefs is a different story.
In the end, the most complicated issue is the worsening economy that puts Mr. Trump's re-elections chances at high risk. If no preventive measures will be taken, the unemployed might vote for a change and a more socially-oriented Democratic President. Thus, much will depend on the direction in which the economy flows. Besides, the impact of COVID-19, for now, is harmless to Mr. Trump, vice versa at some point it is beneficial.
New Constitution in Chile: From a protected transition to an agonizing transition
A constituent process has been installed in Chile. On October 25, 2020, the date of plebiscite, the alternative "Apruebo" (78%) by a new political constitution, and the option of "Constitutional Convention" (79%), obtained the majority over the option of "Rejection" (22%) and on the "Joint Constitutional Convention" option (21%), respectively.
This is the current state of things. But let's go back a little bit about its origins.
In 1988 the Plebiscite took place that said NO to Pinochet, and which then led to the first presidential and parliamentary election, after 17 years of dictatorship. Pinochet accepts this plebiscite in large part, for fear of a popular rebellion, an issue that was akin to protests that would begin to occur moreively and progressively, from 1983 to 1986 in Chile (Délano, 1985; Delgado-Torres et al., 2018; Manzano, 2014, p. 80; Salazar Salvo, 2019) called "awakening" (Moulian, 2002, p. 261)- and for the attack on Pinochet (the so-called "Operation TWENTIETH Century") on September 7, 1986 (Equipo de prensa CHV, 2015; Holzapfel, 2006; Zalaquett, 2011).
And all this popular uprising occurred, even though the media of the time were trying to produce distortions in the perception of the veracity of the facts. Iconic is, for example, the protest that took place in an act broadcast on television about John Paul II's visit to Chile, where it is possible to contrast the social reality of the events produced at that time on camera, and the fully ukrainian journalistic narrative (TVN, 2015) With the Plebiscite of 1988, this would put an end to the right-wing military dictatorship or Pinochetist dictatorship..
The new regime or state of business would arise from a political negotiation (Departamento de prensa, TVN, 2018; Godoy, 1999; Kaltwasser, 2007) an "antisocialpact"» agreed between a sector of politicians who opponent Pinochet, on the one hand, and on the other, Pinochet and the pro-dictatorship political sectors. Pinochet leaves the political power of the executive, not without first sesuring him, of political-judicial immunity for the future and to his economic and political heritage which, and as such, should continue and be projected over time. Proof of the first, are the negotiations of the concerted government administrations to rescue him from trials in England (Agencia EFE, 2018; Guzmán, 2001; Huneeus, 2018; Portales, 2018)and the one who was never tried on national soil (Gárate, 2016) Thus it was said: "We have an unwritten covenant, but morally subscribed by all political forces, not to review the dictatorship"(Baby, 2011) To enable this, from an economic and political model that would have already been installed in dictatorship (Salazar Vergara & Pinto, 1999)"transition" (a term adopted by Pinochet himself in Chacarillas' speech in 1977), consisting of a process of administration protected by the continuators, is proposed. In short, Pinochet's political power would be abandoned, but the political and economic model flanked by the Political Constitution and related laws would not be touched.
Between 1990 and 2000, there is a phase that we could call a protected transition, somewhat in reference to the name that some gave of this period as "protected democracy" (Huneeus, 1997) Protected by Pinochet and political parties; protecting the model. All the measures taken of a police type in that period, and for the sake of this "protection", were aimed at disarcting the movements of armed insurgency. Just like the Dictatorship, through the DINA, and its "turn continuator", the CNI, did so with the self-styled "Revolutionary Left Movement"(MIR), and, in part, with the "Patriotic Front Manuel Rodríguez"" (FPMR),as well as the police during the transitional governments did so with the"Lautaro Youth Movement" or MAPU Lautaro, and any other focus of insurgency that was thus, asítambién la policía durante los gobierno stransicionales lo hicieron con el " (Labbé, 2019)
For their part, economic measures were geared towards the maximum economic opening of foreign capital. The Chilean economy was opened to the installation of foreign companies of all kinds in Chile, and Chilean companies with large economic conglomerates. It is the time of the Great Stores that trade with all kinds of goods and services, species of "Walmart", that allowed a constant flow of purchase and sale of goods, on all those destined for consumption, an issue that led to the consideration of Chile by the authors, as a "paradise of consumption" (Moulian, 2002) Outside of this, there was a strong export incentive but where only one sector of entrepreneurs (big company) enjoyed the benefits from this activity, of full liberalization of the economy based on an extractive economy where by which transnational corporations made use of domestic labour at low wages compared to the resulting benefits to enterprises, in addition, with serious environmental damage (Espectador, 2019)foreign contractors selling second-hand or obsolescent goods and services at the price of first-hand goods and services and state-of-the-art technology. Example of this, we have the purchase, by the administration of the government of Ricardo Lagos Escobar, of second-hand Spanish trains (Délano, 2008) the railway that united the capital Santiago with Chillán. Responsibilities are assumed for irregularities in the purchase and management of these goods (Sánchez, 2008)of influence by Ricardo Lagos Escobar for the purchase (Donoso, 2008)workers (Mostrador, 2011).
A social structure based on the acquisition of material wealth and their social ostentation would also have contributed, an irrepressible need of the popular classes to resemble the most affluent classes, there is an aspirationism or uprhithism (Ariztía, 2016; Contardo, 2013) As the most affluent classes lived looking at Europe, and then the U.S. as their image to imitate, this eventually irrigated the entire Chilean social structure. There was no "identity" (with all the enose that has been for the postmodernist academy this term). Chile, fertile province for the ideology and practices of remote nations.
Now, on the one hand, was politics based on the logic of political parties, under a system of indirect representation without the possibility of revocation of mandates or citizen trials for poor performance (Salazar, 2011, 2015) On the other hand, the practical attempt to monopolize politics by political parties in Chile and exercise unweighted dominance of it leads us to the phenomenon of the partidarquía (Carrasco Jiménez, 2016, 2020).
The Chilean partidarquía originated with the first post-Pinochet government, that is, in the government of Patricio Aylwin. The political blocs of Pinochet were clearly recognized, and the pro-dictator bloc. These blocs would continue more or less dominantly until the first luster of the 21st century, when the student movement of 2001 and pinochet's death in 2006 occur, turning points of the historical process in Chile.
Adherents to mass, incendiary and revolutionary protest socialism of the 1960s and 1970s began to enjoy the economic "goodness" of the model established by the dictatorship, and ceased to be (if ever really) critical of economic disadvantages. If their model worked for them, then it didn't matter then the gangsterism, the arrogance, the threats, the corruption of the administration as ways to preserve power in all its manifestations. Instead, they were installed as ways of doing things, all with the aim of extending their prebendas, privileges, and domains. What Pinochet's partisan bloc already perversely enjoyed, even before it became a bloc and simply being Pinochet's adherents during its regime, would also begin to taste its perverse fruits the bloc opposing it. Therefore, right or left, it was already the same when it comes to embodying the vices of the political and economic model.
Many exhibited uninhibitedly their corrupt and corrupting practices, exercising nepotism, the trafficking of influences, the undue pressures, participating in street television shows as celebrities, posing as movie or rock stars in banal and gossip-oriented magazines, some showing their pectoral (The Clinic, 2015)others notorious for their romances and confessions (Equipo FMDOS, 2016)an exhibitionist egolatry. It should come as no surprise, then, that the world of the show is interspersed with that of partisan politics (Sandoval, 2013). We understood that they were public servants, but figuration, flattery and power made them feel like land gods. Drunk with ego, they didn't know what was going on in real Chile, in the one of daily life.
The partidarquía was also built on political operators who did not belong to the dome, but lived off partisan clientelism. His entire social position, his "benefits", were secured by the party only by his belonging and devotion. Jobs were secured to people without professional instruction, or who, having it, were and are of paradigmatic mediocrity, along with accumulating, a whole "toolbox" of bad practices: deviations from public resources for personal interests (Bravo, 2019; Mostrador, 2019); obtaining professional qualifications to projects through bribery, threat and extortion (Arroyo, 2017; Espinoza Riquelme, 2020; Jara Herrera, 2020); the granting, with public funds, of professional services at a cost to friends and family without merit (Cooperativa.cl, 2017; Kelly, 2020; Pizarro & Sepúlveda, 2017). Thus a working culture was built based on this mediocrity, on the trafficking of influences based on political favor. That is, a corruption of practices, an issue that was permeating every labor organization.
This, in some way, was accompanied by a whole process of deep banalization, a "concertary aesthetic" (Oporto Valencia, 2015, p. 254)kind of "soma" as described by Huxley in Brave New World, anopium that was distributed by the political system prevailing post-pinochetist and transitional (1990-2000), whose effect produced some malaise of Chilean culture, and the evasion of the population to the social reality resulting from the model. Many "ingested" this drug, this alcohol, as an anesthetic ways of trying to subterranean (or "subterranean")»rape and its «trauma, non-human rights violation, real and concrete violation of the body, one of the political foundations of Pinochet's dictatorship, and element of the inherited model. So many others also consumed this "soma" so as not to hear. Pitifully led them to insult those who wanted to restart, with the necessary justice, their lives after the ageing, an issue that the political system threw under the carpet out of fear and cowardice (Deutsche Welle, 2018; Herceg, 2020) In this way they were "resentful", there was a boredom to listen to the issue of human rights, and in the most extreme cases, to mention that the unfinished work of the dictatorship lay in not having killed all those who were part of political dissent (Guzmán, 2001) This type of violence demonstrated, in our view, two things: (1) that the model installed by the dictatorship was more than just a "brick" and a Constitution; it was a structural complex, within which the economic and the political are elements, but that the way to configure them socially and historically, is what defined the model; (2) that the model produced the same effects as in dictatorship, also in "democracy", so that the people veded, were still veded.
This is how the questions that arose in everyday conversation, on the journey on public transport, in the opinion of the driver, the passengers, the clothesline, a cashier, in the mass chats, began to gather at a mouth where their waters were slowly growing. And the rumour of them did not stop, and it was timed by the stone on which the political parties had founded their building. This was decanting in a distrust of the "political class" and in a "crisis of representation" (Salazar, 2019).
It is not that the current Constitution, in itself, is "the" source of any possible corruption. Rather, the defect would be the type of relationship between the economic structure implemented in Chile and the established political-legal structure, a political-legal structure whose head, ceiling and support is the current Constitution. The result of the interaction and dynamics of both structures in Chile is a set of social and/or practical relationship modes that are distributed particularly throughout the social body. It would have to be the current social "celeste" in Chilean society, that is, "what are you willing to do to achieve the social objectives that the political-economic framework allows you",thatis, cost. And optimization would indicate, in a society like ours, that media matters more than ends. Therefore, political or class favor, which is but the "sale ofthe soul to the devil", venta del alma al diablo implies a means of obtaining social position, riches, recognition. But if these are conceived only individual means for purposes other than just individual ones, the way of social relations, perhaps they could change. This lacks, in my view, the current social model. Individualism of this kind only generates unsportsman proof competition: a heavenly desire, whatever the way it cost it.
All these critical points are sharpened by bordering a phase that we will call agonizing transition. The transition is beginning to dilute, because the political and economic model that was intended to be founded would have already progressed in its maturation sufficiently. The transition was simply the "snake egg" that enabled the process of "maturation" (Oporto Valencia, 2015) of a political and economic model that began to peck, the space for its culmination. And this was possible to perceive, because social problems became more acute and critical, and as a result, the social bubbling of this culmination begins to burst on the surface producing an ever-increasing social cracking. In other words, the more consolidation of the model, the greater the social cracking, and as a result, the student protests that were to come begin to take place.
Bibliographic references
Agencia EFE. (2018, agosto 16). Insulza dice que hoy defendería de nuevo el regreso de Pinochet desde Londres. EFE. https://www.efe.com/efe/america/politica/insulza-dice-que-hoy-defenderia-de-nuevo-el-regreso-pinochet-desde-londres/20000035-3782334
Ariztía, T. (2016). Clases medias y consumo: Tres claves de lectura desde la sociología. Polis (Santiago), 15(43), 435-459. https://doi.org/10.4067/S0718-65682016000100021
Arroyo, C. (2017, febrero 15). Denuncian que el Servicio de Evaluación Ambiental ha actuado ilegalmente en la tramitación de Dominga. Oceana Chile. https://chile.oceana.org/prensa/comunicados-de-prensa/denuncian-que-el-servicio-de-evaluacion-ambiental-ha-actuado
Baby, S. (2011). ¿Latinoamérica: Un desvío necesario? Baltasar Garzón, de Pinochet a Franco. Amnis. Revue de civilisationcontemporaineEuropes/Amériques, 2, Article 2. https://doi.org/10.4000/amnis.1485
Bravo, D. A. (2019, agosto 8). Informes desprolijos y 60 millones de pesos en viajes: Así fueron las últimas expediciones al extranjero de los concejales de Pudahuel. El Desconcierto. https://www.eldesconcierto.cl/2019/08/07/informes-desprolijos-y-60-millones-de-pesos-en-viajes-asi-fueron-las-ultimas-expediciones-al-extranjero-de-los-concejales-de-pudahuel/
Carrasco Jiménez, E. (2016, octubre 29). La abstención como un síntoma político. El Mostrador. http://www.elmostrador.cl/noticias/opinion/2016/11/18/la-abstencion-como-un-sintoma/
Carrasco Jiménez, E. (2020). Nueva Constitución en Chile o el desmantelamiento político-jurídico del modelo: A propósito del estallido social 18/O. Tirant lo Blanch. http://digital.casalini.it/9788413367644
Contardo, Ó. (2013). Siútico: Arribismo, abajismo y vida social en Chile. Planeta.
Cooperativa.cl. (2017, septiembre 7). Un tercio de los diputados chilenos pagó por informes plagiados. Cooperativa.cl. https://www.cooperativa.cl/noticias/pais/politica/camara-baja/un-tercio-de-los-diputados-chilenos-pago-por-informes-plagiados/2017-09-07/201039.html
Délano, M. (1985, septiembre 6). Seis muertos dejó la violenta jornada de protesta en Chile. El País. https://elpais.com/diario/1985/09/06/internacional/494805626_850215.html
Délano, M. (2008, diciembre 16). Chile pedirá explicaciones a España por la venta de trenes usados de Renfe. El País. https://elpais.com/internacional/2008/12/17/actualidad/1229468403_850215.html
Delgado-Torres, F., Maugard-Bravo, M., Delgado-Torres, F., &Maugard-Bravo, M. (2018). Movilización y organización popular en dictadura: Las jornadas de protesta nacional en Arica (1980-1986). Izquierdas, 39, 34-56. https://doi.org/10.4067/S0718-50492018000200034
Departamento de prensa, TVN. (2018, octubre 3). El Pacto con Pinochet. https://www.youtube.com/watch?v=Deqtd0ep1Lo
Deutsche Welle. (2018, septiembre 11). Chile: "De la tortura no se habla" | DW | 11.09.2018. DW.COM. https://www.dw.com/es/chile-de-la-tortura-no-se-habla/a-45435223
Donoso, M. (2008, agosto 21). Alianza divulga actas de EFE donde Ajenjo revela sus diálogos con Lagos. La Tercera. https://www.latercera.com/noticia/alianza-divulga-actas-de-efe-donde-ajenjo-revela-sus-dialogos-con-lagos/
Equipo de prensa CHV. (2015). Guerrilleros. La historia tras el fusil. Capítulo 1. Parte 1 [Documental]. ChileVisión. https://www.chilevision.cl/guerrilleros/capitulo-completo/guerrilleros-capitulo-1-26-agosto-parte-1
Equipo FMDOS. (2016, mayo 4). Descubre la confesión hot del senador Fulvio Rossi. FMDOS. https://www.fmdos.cl/noticias/descubre-la-confesion-hot-del-senador-fulvio-rossi/
Espectador, E. (2019, octubre 21). Comunidades afectadas por minería de Cerro Matoso recibirán $160.000 millones [Text]. elespectador.com. https://www.elespectador.com/noticias/judicial/comunidades-afectadas-por-mineria-de-cerro-matoso-recibiran-160000-millones/
Espinoza Riquelme, N. (2020, septiembre 7). Corrupción en Atacama: Por qué el CDE acusa de cohecho a Jaime Mulet y dos abogados ligados a la DC. BioBioChile – La Red de Prensa Más Grande de Chile. https://www.biobiochile.cl/noticias/nacional/chile/2020/09/07/corrupcion-en-atacama-por-que-el-cde-acusa-de-cohecho-a-jaime-mulet-y-dos-abogados-ligados-a-la-dc.shtml
Gárate, M. (2016). "¡Lo agarraron!" Representaciones del arresto de Augusto Pinochet en Londres y el despertar del exilio chileno en Europa (1998-2000). Nuevo Mundo Mundos Nuevos. Nouveaux mondes mondesnouveaux – Novo Mundo Mundos Novos – New world New worlds. https://doi.org/10.4000/nuevomundo.69482
Godoy, Ó. (1999). La transición chilena a la democracia: Pactada. Estudios Públicos, 74, 79-106. https://www.cepchile.cl/cep/estudios-publicos/n-61-a-la-90/estudios-publicos-n-74/la-transicion-chilena-a-la-democracia-pactada
Guzmán, P. (2001). El caso Pinochet [Documental; DVCam]. https://www.youtube.com/watch?v=KBcga3VFglI
Herceg, J. S. (2020). Los silencios de la tortura en Chile. Revista de ciencia política (Santiago), 40(1), 115-136. https://doi.org/10.4067/S0718-090X2020000100115
Holzapfel, M. (2006, septiembre 15). La mujer del atentado a Pinochet [Rebelión]. Chile. https://rebelion.org/la-mujer-del-atentado-a-pinochet/
Huneeus, C. (1997). La autodisolución de la «democracia protegida» en Chile. Revista Ciencia Política, 19, 61-86.
Huneeus, C. (2018, octubre 22). La detención de Pinochet en Londres y la democracia semi-soberana. CIPER Chile. https://www.ciperchile.cl/2018/10/22/la-detencion-de-pinochet-en-londres-y-la-democracia-semi-soberana/
Jara Herrera, R. (2020). Mal vecino [Documental; Digital]. Ricardo Jara Herrera.
Kaltwasser, C. R. (2007). Chile: Transición pactada y débil autodeterminación colectiva de la sociedad. Revista Mexicana de Sociología, 30.
Kelly, F. (2020, julio 30). Hoy formalizarán a Mario Morales por fraude al fisco, soborno y cohecho. Diario Chañarcillo. https://www.chanarcillo.cl/hoy-formalizaran-a-mario-morales-por-fraude-al-fisco-soborno-y-cohecho/
Labbé, D. (2019, enero 31). "En el período de Patricio Aylwin se torturaba a las personas para arrancarles confesiones". piensaChile. http://piensachile.com/2019/01/en-el-periodo-de-patricio-aylwin-se-torturaba-a-las-personas-para-arrancarles-confesiones/
Manzano, C. (2014). La Asamblea de la civilidad. Movilización social contra la dictadura en los 80. Londres38. https://www.londres38.cl/1934/articles-97495_recurso_1.pdf
Mostrador, E. (2011, abril 1). Empresa de Ferrocarriles del Estado registra pérdidas por $115.686 millones en 2010. El Mostrador. https://www.elmostrador.cl/mercados/2011/04/01/empresa-de-los-ferrocarriles-del-estado-registra-perdida-por-115-686-millones-en-2010-2/
Mostrador, E. (2019, agosto 30). Viajes injustificados: Contraloría objeta salidas al extranjero de alcaldes y concejales de 8 municipios. El Mostrador. https://www.elmostrador.cl/noticias/pais/2019/08/30/viajes-injustificados-contraloria-objeta-salidas-al-extranjero-de-alcaldes-y-concejales-de-8-municipios/
Moulian, T. (2002). Chile actual: Anatomía de un mito (3. ed., reimpr). LOM.
Oporto Valencia, L. (2015). Los perros andan sueltos: Imágenes del postfascismo. Usach.
Pizarro, G., & Sepúlveda, N. (2017, septiembre 7). Asesorías parlamentarias: Al menos 40 diputados pagaron por informes plagiados. CIPER Chile. https://www.ciperchile.cl/2017/09/07/asesorias-parlamentarias-al-menos-40-diputados-pagaron-por-informes-plagiados/
Portales, F. (2018, octubre 13). La Concertación defendió a Pinochet hace 20 años. Piensa Chile. https://piensachile.com/2018/10/la-concertacion-defendio-a-pinochet-hace-20-anos/
Salazar, G. (2011). En el nombre del poder popular constituyente: (Chile, siglo XXI). LOM Ediciones.
Salazar, G. (2015). Dispositivo Histórico para Asambleas Populares de base que se proponen desarrollar su Poder Constituyente. Ediciones CTIT. http://ctit.cl/documentos/dispositivo.pdf
Salazar, G. (2019, diciembre 19). Gabriel Salazar: «Tenemos que eliminar ya a esta clase política». Interferencia. https://interferencia.cl/articulos/gabriel-salazar-tenemos-que-eliminar-ya-esta-clase-politica
Salazar Salvo, M. (2019, octubre 19). El anterior gran estallido social en Santiago: Protestas y barricadas contra la dictadura. Interferencia. https://interferencia.cl/articulos/el-anterior-gran-estallido-social-en-santiago-protestas-y-barricadas-contra-la-dictadura
Salazar Vergara, G., & Pinto, J. (Eds.). (1999). Historia contemporánea de Chile (1. ed). LOM Ediciones.
Sánchez, J. (2008, septiembre 15). Jaime Rebolledo, CNTF :"Los responsables de la crisis de EFE son Ricardo Lagos y Luis Ajenjo". El Ciudadano. https://www.elciudadano.com/entrevistas/jaime-rebolledo-cntf-"los-responsables-de-la-crisis-de-efe-son-ricardo-lagos-y-luis-ajenjo"/09/15/
Sandoval, R. (2013, octubre 7). Los 100 rostros de la farándula y el espectáculo que se pasaron a la política, desde el regreso a la democracia. TheClinic Online. https://www.theclinic.cl/2013/10/07/los-100-rostros-de-la-farandula-y-el-espectaculo-que-se-pasaron-a-la-politica-desde-el-regreso-a-la-democracia/
TheClinic. (2015, agosto 6). La versión de Gustavo Hasbún por la foto pelo en pecho que circula en redes sociales. TheClinic. https://www.theclinic.cl/2015/08/06/la-version-de-gustavo-hasbun-por-la-foto-pelo-en-pecho-que-circula-en-redes-sociales/
TVN. (2015). Visita del Papa a Chile. Incidentes Parque O´Higgins. https://www.youtube.com/watch?v=NgSU3jdq2cY
Zalaquett, C. (2011). La frentista "Fabiola": Un relato en reversa del atentado a Pinochet* «Fabiola»: A reverse storyon Pinochet attack. 31.
Implications of the U.S. election on U.S.-China relations
The last four years have been one of the most tumultuous periods in modern China-U.S. relations. U.S. President Donald Trump has been the critical catalyst of this upheaval as he has oscillated between presenting China as a valued partner in international affairs, to it being a pariah that needs to be ever more constrained.
Such fluctuations have mounted in intensity as the Trump presidency has progressed. They have left observers uncertain as to whether or not this is a purposeful strategy of the leader of the world's most powerful country, or an indication of an untethered, badly conceived, and even short-sighted policy.
Such a wild approach has been no clearer than in their economic relationship. Here, the U.S. has strived to re-balance its trade relations with China, in particular, to reduce Beijing's long-standing trade surplus with Washington. The surplus has been argued by U.S. elites to have led to an unequal relationship, which a rising China exploits to challenge the U.S.'s economic supremacy. This divide has increasingly taken on a symbolic quality with it becoming representative of a rising China that is soon to surmount the U.S. in global affairs, and which U.S. elites now regard as the most pressing strategic threat to its global position.
In an attempt to pressure China into some kind of re-alignment, the U.S. President initiated a trade war in 2018 and ratcheted up tariffs on Chinese imports to the American market. By early 2020, these amounted to over $400 billion in tariffs, with China imposing its own retaliatory tariffs of $138 billion on its U.S. imports. Such steps have taken place amidst ongoing trade talks between the two sides and have been viewed as a negotiating tactic that has ultimately been detrimental to both countries' economies. In late 2020, the WTO said that U.S. tariffs violated international trade rules, undercutting their legitimacy, as well as the U.S. claims that China is undermining the U.S.-led "rules-based" international order.
Elsewhere, the two sides have also come into friction concerning China's territorial claims in the South China Sea, with the U.S. carrying out regular freedom of navigation operations in the area. The U.S. now also sends warships and military aircraft through the Taiwan Straits on a monthly basis (something innovated under President Trump), so as to deter China's historical claims on the island. In turn, Washington has urged its allies – Australia, Canada, France, and the United Kingdom – to act similarly, which has raised concerns in China of the country being strategically constrained in the region. Such a constraint could prevent Beijing from pursuing its foreign policy goal of claiming hegemony in East Asia.
Concerning the coronavirus pandemic, narratives emanating from the U.S. along with its Western allies have targeted China as being culpable for the outbreak. In a recent speech at the United Nations, President Trump openly claimed that China had knowingly unleased the Covid-19 "plague" on the world, which prompted a terse response from Beijing's officials that it is a cooperative, not a confrontational country that firmly has "no intention to fight either a cold war or a hot one with any country".
Such criticism has been increasingly mainstreamed in the last few months in the West with it acting as a stimulus for discussions on how to deal with China's rise. More critically, an October 2020 Pew survey showed that unfavorable opinions about China were at their highest ever level across the populations of Western Europe, the U.S., Canada, Australia, and South Korea.
All of these aspects of U.S.-China relations will present particular challenges regardless of the outcome of the U.S. election, in particular concerning growing global concerns over China's international ambitions. In this regard, Beijing will certainly need to redouble its diplomatic efforts to present the country as a responsible and benign international actor, through which others can benefit – in primarily – economic terms. That, by most accounts, China has the coronavirus largely under control means that it has been able to restart its economic activity, which gives Beijing the ability to kickstart and lead an international recovery. That most Western countries are still overwhelmed by the pandemic reinforces this capability and gives China the further chance to gain greater leverage and influence.
It also appears that it is now the U.S. that faces the greatest challenges to its international legitimacy, the consequences of which may have profound implications for its own global standing. This relates to the U.S. president's handling of the pandemic, which has to date led to its world-leading status of 210,000 deaths (which is set to double by the end of the year) and over 7.5 million infections. That the U.S. president himself has now become infected points to a leader but also a wider political system around him (including senior military leaders, senators, and most of his election campaign staff) that had a nonchalant, underprepared and irresponsible attitude to the major global health challenge of our time.
President Trump's infection also marks a major national security threat for the U.S. and the world. Given his age, obesity, and unhealthy diet, it is feasible that the leader of the world's most powerful country may become incapacitated from leading the U.S. in the next weeks. Crucially here, it has been widely reported that Trump will be unwilling to accept any negative outcome in the forthcoming election. Apart from suggesting that he would not leave office, he may try to rally supporters – potentially even violently – to protect his position. Crucially here, some of the medication he is taking to help him recover from Covid-19 has the potential to debilitate his mental capacities and overall judgment. This could impact his ability to recognize when he is incapable of leadership, but also spark irrational tweets and behavior that may destabilize the U.S. and even the world.
If the U.S. president were to die – either during or in the months after the election – in all likelihood the country would be thrown into a truly unprecedented constitutional crisis. With widely circulated claims among Republicans and Trump supporters that the election is rigged, if the Democrats were to win, we can expect lengthy legal battles, as well as a heightened potential for major civil unrest across the U.S. Either of these outcomes, would consume the U.S.'s domestic and international capabilities to act beyond its borders. They would also signal a sense of the U.S. political system (and democracy) as being illegitimate.
Such crises will only be to Beijing's advantage (among other U.S. competitors), especially given that China is in many ways returning – if not returned to – its pre-coronavirus economic activity. If U.S.-China relations do signify a contest for supremacy between the world's two foremost countries, Washington's handling of the coronavirus pandemic and its impact upon the U.S. presidential election could very well indicate the U.S.'s decline on the international stage, and essentially speed up China's path to global pre-eminence.
From our partner Tehran Times
The Battle for the Essence of the Democratic Party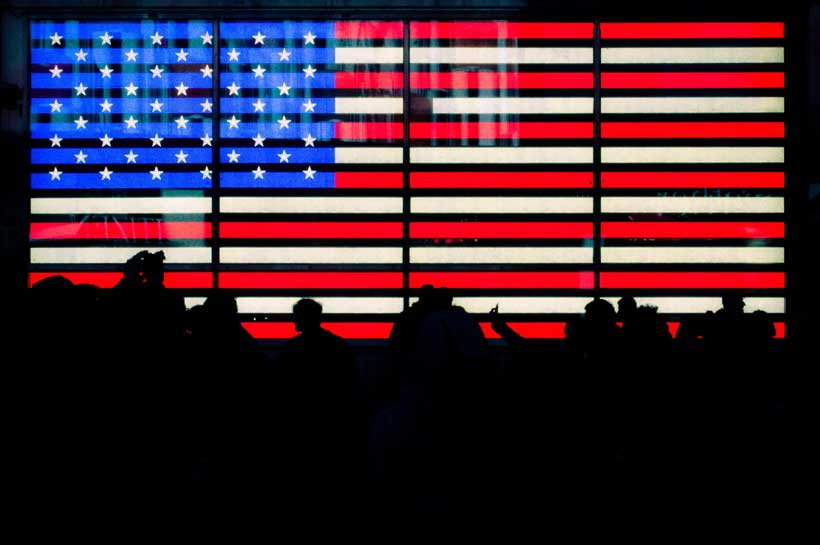 When President Trump fired defense secretary Mark Esper and cybersecurity chief Christopher Krebs just days after the elections, the President set a new integrity litmus test. He was clearly cleaning his circle of those who could stand up to him on the big stuff, such as not sending troops on the Black Lives Matters protesters or not pronouncing the elections rigged. In the meantime, Trump was showing the American public who he still considered loyal by not firing them by keeping the agency chiefs who stayed at least somewhere in the middle.
In the new Biden era, being fired by Trump will be considered the new badge of honor, an integrity stamp of a sort. Despite talk of firing FBI Director Christopher Wray and CIA Director Gina Haspel, Trump has not taken the decision, yet, and there surely must be a reason for it. To paraphrase Trump's infamous McCain quote, I like those who were fired by Trump, not those who were not fired by Trump. This is now the new integrity litmus test.
In May 2020, I was amidst my campaign for UN Special Rapporteur on freedom of speech as one of the top finalists, when in an interview on Bulgaria on Air I called the Trump Administration's and the US authorities' treatment of the media and the protestors during the Black Lives Matter crackdown "despicable". I was set on going after the Trump Administration and the US authorities if I had the chance to win the UN mandate on freedom of speech. And I had no plans for going easy on anyone.
There is something profoundly wrong with the US authorities, if instead of going after the crimes, they willingly choose to go after those that have a reaction against the crimes, outraged by crime impunity.
US agencies who "just don't get it" have to be defunded. And that brings us exactly to the discussion on the future of the heart, soul and essence of the Democratic Party.
The Democratic party has never been about appealing to the middle in order to be liked or about maintaining some kind of lowest common denominator to make sure that no one got offended. The Party has always been about equality and social justice, housing some of the most bad-ass status-quo shakers — not those that wanted to make sure that rich abusers stayed comfortable, racists were not inconvinienced, or abuse of military power for some illusive common good that served only those in power went unchecked. This is the party that offends and has offended throughout the decades to shake the status quo. This is why it is shameful that veterans in the Democratic Party have tried to shame Congresswoman Alexandria Ocasio-Cortez and others who have run and won their mandates on classical Democratic Party values.
Civil rights movement defenders in the black marches never said: "let's have a march but let's do it only on the pavement not to inconvinience cars". They took the whole street.
When I worked for Congressman Bill Delahunt, the Chairman of the House Sub-committee on International Organizations, Human Rights and Oversight, representing 10th congressional district of Massachusetts, some 14 years ago, we did not say that torture by the CIA and the CIA extrajudicial rendition flights were okay but not too much, in order to appeal to the center. We would say that torture is unacceptable, that America can do better than that.
Social justice and equality are uncomfortable. Rights are defended and guarded. They are never simply given. As an example from the other side of the aisle, when Republican President Eisenhower sent the troops on Little Rock to enforce black kids' right to attend school just like any other kid — what Brown vs Board of Education reaffirmed in order to end racial segregation exactly 30 years before the day I was born — Eisenhower did not aim for troops to only show up and waive at the crowds. The soldiers took the black kids by the hand and walked them straight in the school, in the face of hundreds of racist opponents — not trying to please them.
Defending rights takes grit and courage. And some US agencies will never really get it unless their budgets are cut and they are all actually pressed up against the wall — to change unwillingly, forcably and through the trivial but always effective use of financial pressure.
FBI Deputy Director David Bowdich's reaction to the Black Lives Matters protests at the time when I was running for UN Special Rapporteur on freedom of speech this year was that it is the protesters that should be arrested under an outdated rackateering law from the 1940s — not the murdering cops. A memo leaked to the New York Times showed that Mr Bowdich considered the social justice movement "a national crisis" comparable to 9/11. The hundreds of thousands of people mourning and marching across the country, unified by the simple thought that no life should be taken lighly, for nothing, were actually similar to terrorists in the eyes of the FBI who wanted to charge them as racketeers.
It is that kind of injustices and human rights infringements that I would have stood up against as UN Special Rapporteur on freedom of speech, as witnessed by the outrage and intentions, expressed in my May media appearances. I claimed back then that it is precisely in times of crises that rights are tested and defended. The United States is no exception. The US government is bound by international human rights law standards and no interpretation by second-rate lawyers loyal to the Trump Administration, comparing social justice protesters to racketeers and terrorists, can change that. International voices such as myself and others are here to make sure that US authorities do not forget their international human rights legal obligations.
America has a long way to go to recover from the damage that Trump and his cronies spread across the various US agencies have done to democratic principles and human rights. The Trump institutional capture of key agencies such as the FBI and the CIA, let alone DOJ, has lead the country into a downward spiral.
US authorities will not learn unless their actual day-to-day, functional survival is put on the line. People do not get it otherwise. This is why I fully support AOC and others in their defunding efforts, which are considered by many as controversial, extreme, out there and even dangerous, but in reality are simply the only effective way to fight institutionalized racism within the FBI, the police and other law enforcement agencies. "There is nothing radical about moral clarity", to repeat AOC's simple, yet powerful assertion. The comfortable, lowest common denominator parts of the Democratic Party need to wake up and realize that it is the Black Lives movement that got Joe Biden and the rest of the party across the finish line in November. And this precisely will be at the heart of the battle for the essence of the Democratic Party over the next four years.