Amid the ongoing coronavirus pandemic, all eyes, yet again, are on China, which many expect, equally enthusiastically and alarmingly, to become the world's largest economy over the next few decades. The economic growth, though, does not automatically root out all sources of disparity even if it shrinks the overall scope of inequality.
Being almost exactly in the middle on the Gini line between total inequality and full equality at 46.7, mainland Chinese wealth distribution is now more unequal than it has ever been in the nation's history. This figure is even more startling considering the fact that the country had a very low inequality level in the 1980s, so the Chinese population is fully aware of the problem and its severity. Historically, the peaks of economic disparity have coincided with major national events, especially the Great Famine in the late 1950s, the Cultural Revolution in the late 1960s and early 1970s, and the global integration that began in the late 1990s. Although the highly centralized and deeply bureaucratic nature of the Chinese government allows for the efficient implementation of inequality solutions, official poverty-reducing policies at such peaks had minimal effects.
In contemporary China, the state of inequality is essentially determined by regional differences and the countrywide urban-rural divide. Kanbur and Zhang [1] claim that the share of heavy industry in gross output values, the degree of decentralization, and the degree of openness are three main driving forces of inequality across regions. The urban-rural divide, on the other hand, is sustained by top-down regulations that affect basic human rights, such as health, housing, and mobility. One of such regulations is hukou, a system of household registration linked to social programs provided by the central government, which assigns social benefits based on the agricultural and non-agricultural residency status. As such, hukou has been a structural source of inequality since the establishment of the People's Republic of China in 1949, as urban residents receive benefits, ranging from retirement pensions to healthcare, that are unavailable to rural residents. Chan [2] asserts that to reduce rural poverty is to end hukou, which directly impedes with rural-to-urban migration, the main means of escaping poverty in rural areas. The internal migration, including the interprovincial one from the thinly populated and deprived Western regions to the densely populated and affluent East Coast, has intensely accelerated since the 1980s. Referred to as the 'floating population,' rural migrants tend to circulate in-between cities rather than settle, making them in a way statistically invisible. Yet their presence in the urban landscape critically influences workforce and housing markets. Given the unparalleled magnitude of the Chinese population, housing registration, obviously, needs to operate for practical purposes, but not in its current caste-system resembling form.
Furthermore, the government has to instill lawful procedures for assimilating rural emigrants, who, alongside their children, confront serious predicaments in the multidimensional process of urban societal integration. Having crossed 250 million by 2015, the Chinese migrant population is the largest in the world; however, due to official restrictions, especially hukou, the interprovincial migration in China is even more administratively challenging than the state-to-state migration in the United States. These restrictions equally impact children, both who stay behind in rural areas, the so called 'left-behind children,' and those who with their parents move to or are born in cities. Liang [3] suggests that further research on the internal migration be devoted to the mobility of minority groups, such as Muslims, and finding out if the importance of hukou is declining for the new generation of migrant workers. Even if this were true, the government is not free from providing additional ameliorating measures for migrants, for example, a cheaper, less complicated way of making remittances to countryside family members and other relatives and food stamps until the job acquisition.
Big companies, in turn, should offer educational enrichment programs to their urban and rural employees to meet the international employment competition. Despite its unchallenged advantage in sheer numbers, the Chinese workforce is relatively weak in terms of education levels, which in long run can create a human capital crisis in mainland China, as the upper secondary school attainment is a crucial ingredient for the country's continued economic growth. Khor and others [4] estimate that only less than 25% of the Chinese labor force have completed secondary education, a significantly lower figure than around 55% average across all G20 countries. The Ministry of Education pompously inflates official figures. Considering that China is gradually transitioning from an upper middle-income state to a developed economy and that this transition means supplanting low-wage, labor-intensive manufacturing with high-wage, high value-added industries that require knowledgeable cadres, the Ministry of Education is obliged to bring education programs and workplace demands in unison. Lamentably, the government routinely overlooks school attainment levels of its citizens, because service and manufacturing industries, the titans of national employment, hire staff based on discipline indicators and occupational skillsets rather than school performance.
The guiding principle of reforms must be making the Chinese education system more inclusive. Wu and Zhang [5] claim that recent expansions in this field have benefited urban women more than any other social group and that despite an overall increase in educational equality, the urban-rural contrast is ever stark; however, this is in line with the worldwide trend, which shows that educational inequality as a whole is declining with the continued economic growth, but the urban-rural divide permeates in face of modernization. To reduce this divide, the government must rescind educational policies that favor city students, starting with the elimination of standardized testing as an upper secondary school entrance requirement, which highly favors urban over rural students. Having completed superior middle schools and resources to private tutoring, urban students disproportionately beat their rural counterparts out, keeping the cycle of urban-rural divide in education spinning.
Beyond the education system, the government has to transform workplace structures, foremost by substituting danwei, a work unit with communist roots that in the form of 'organized dependency' maintains the state administrative hierarchy, with non-state labor unions or guilds. Xie, Lai, and Wu [6] assert that even if some of its original functions, such as housing and health subsidies, have declined with the rise of private sector, danwei continues to play a central role in the social stratification and occupation mobility in post-reform China, influencing earnings (salaries are low in mainland China) more than benefits — a reverse was true in pre-reform China. Not as interested in maximizing occupational profits as in maintaining ties with the ruling authority, danwei stratifies the contemporary Chinese society because of its more equal nature than the market justifies. That is why independent labor unions, which can provide not only similar benefits, such as a health coverage, but also guarantee adequate wages that the current work unit system compromises for the sake of social advantages, ought to overtake danwei.
Another factor hampering the national progress is the Great Firewall, the combination of legislative actions and technologies enforced by the government to regulate the Internet domestically. King, Pan, and Roberts [7] emphasize that as opposed to the popular assumption that any government-critical content is taken down, the Internet censors are actually oriented to the content with a collective action potential, notwithstanding with its underlying attitude towards the government. Yet history, in particular the Great Famine, has shown that the Chinese people, in accordance with the Confucian values, tend to blame not the ruling authority, but local officials for their problems. This, coupled with the fact that a common Chinese online user self-censors, demonstrates that the Internet censorship is an excessive administrative measure. This measure deters the info-communicational advancement of the mainland Chinese population, which lacks a unified intention for the regime change.
Abolishing hukou, danwei, and the Great Firewall schemes, as well as reforming the education system, requires a coordinated national effort between the central government and provincial leaders. The majority of regional officials, though, behave not as much in response to the countrywide market-preserving federalism as within the multidivisional-form structure of the Chinese economic sector. As the political status of a Chinese province directly correlates to its economic power, the post-Mao China witnessed political conformity being largely supplanted by the economic performance as a chief competence-related indicator. Li and Zhou [8] confirm that the local GDP growth rate is directly proportional to the official's turnover, which is nonlinear due to the effect of performance during tenure as a whole over a single year being more important. Besides promotion as an instrument of personnel control, the ruling government exercises termination, transition, and retirement, for example, successful Chinese officials, whose merits are almost exclusively measured in financial terms, receive honorary, albeit powerless, titles before their official retirements.
The economic performance endures as an effective political tool as long as the Chinese economy continues to grow; however, in light of 6% economic growth rate as the new normal and the ongoing trade war with the United States, securing successful operations of local officials principally through economic incentives seems myopic from the central government. This needs to complement its existing economic leverage in governing localities with more stable social factors, especially given that governors are inclined to artificially boosting financial figures of their provinces. This not only results in distorted reports on living conditions of people, but also in the national prevalence of the economic growth at all costs, which only exacerbates intra-regional inequalities in terms of education and employment prospects. Xie and Zhou [9] note that despite being comparable in both the total area and income distributions as well as the subordination of state/provincial officials to the federal/central government, USA, where a family structure combined with race and ethnicity significantly influences lifetime earnings of every person, has had a smaller rate increase in economic inequality over the last decade than PRC.
Evidently, the Chinese economy is neither laissez-faire nor Leninist, but rather a unique case. Oi [10] claims that the economic growth of China is embedded in the system in which local officials, acting as CEOs, treat local enterprises under administrative control as parts of a larger corporate whole. Accordingly, the national economic growth rests largely on the rural industry, which has experienced an upsurge following a few amendments to the Maoist system, especially de-collectivization of agricultural production and the fiscal reform that allows for the autonomy over any local surplus. To strengthen corporatism in their provinces, officials pursue one of three methods: misappropriating marked funds coming to local farmers from the central government; licensing non-bank credit institutions that avoid central regulations — a more legal way; and granting small loans from bureau funds. Having been long ignored by the central government because of its quintessential role in the Chinese economic expansion, local state corporatism is directly responsible for the accumulation of debts worth $5.8 trillion. This issue is especially problematic in light of the Chinese market leaning more and more towards privatization — a process catapulting a new type of corporate elite into prominence in the midst of this managerial revolution.
Whether the new corporate elite will push the country to approach the capitalist economy model established in free states is a critical question. Walder [11] notes that both economic assets and ties to the central government of this new elite are equivocal, so each sector — state-owned, privatized, transactional, and entrepreneurial — demands to be separately analyzed. Corporate networks mapped via interfirm webs can also point to China's course moving towards or away from being a state where wealth and political power are synonymous. Arguably, the new corporate elite will maintain close political ties with the ruling government. Alternatively, it can act as a political opposition by challenging the status quo whenever appropriate. The ruling party is absolutely creditable to a degree for the country's success, but being completely unrestrained, it will fail to perceive overstretched borders of its regulations, including the Great Firewall, as the established framework is self-damagingly hostile to change. The new corporate elite has a potential to become a powerful intermediate agent safeguarding the consolidation of the social contract between the Chinese people and state, and it should not miss this exciting chance. Still, where there is the elite, a clash with interests of people is inevitable, and China has yet to match its powerful economic status with a benevolent state image internationally.
Considering Chinese citizens' rising awareness of universal human rights violations in the country, especially with regard to family and religious domains, both of which an almost uninterrupted nature of the Chinese civilization has substantially burdened by its institutional emphasis on the former and a lack of such emphasis on the latter, the ruling party can no longer afford to ignore its obvious shortcomings in dealing with ethno-linguistic and religious minorities and novel family structures emerging out of the tension between persisting cultural customs and changing social behaviors in the contemporary Chinese society. Raymo and others [12] claim that the second demographic transition, which is characterized by a variety of living arrangements and a disconnection between marriage and procreation, is more conspicuous in the East than in the West. Traditionally, East Asian families are patriarchal, patrimonial, patrilineal, and patrilocal, but the global rise of the women's socioeconomic status has undermined this organization.
Although women in mainland China have advanced their social status over the last decade, they continue to be disadvantaged in terms of household labor, education, salaries, and leadership positions due to gender bias. For example, parents disproportionately put educational resources in sons at the expense of daughters, as they expect the former to materially support them in their old age and the latter to be taken care of by husbands' families. Men, on the other hand, face an extreme competition not only in employment, but also in the marriage market. Xie [13] notes that Chinese men find it increasingly difficult to marry partly because of the prevailing social hypergamy exacerbated by present economic pressures. In addition, men massively outnumber women as a result of a higher cultural and economic value assigned to them. Of course, a growing number of single, unemployed men has a socially disruptive potential, but being an authoritarian state with Confucian values, China would be resistant to the gang culture that has eroded Latin America.
Without taking demographic changes into account, the government cannot adequately address such issues as population aging, labor force shortages, public health care, family planning, and retirement arrangements. The rapid pace at which China has been modernizing since its global integration began in the late 90s only intensifies this challenge. Peng [14] states that as the age of first marriage has gone up to twenty-five, the birth rate has dwindled (Japan has the lowest in the Far East), more individuals prefer not to marry (childbearing outside wedlock is still very rare), and more couples choose to cohabitate. China is achieving its second demographic transition in a relatively compressed period of time.
It is ambiguous how official Family Planning Commission programs have influenced this transition.` For example, the One-Child Policy, which the government ended after 35 years, might not have caused a supposed fertility decline in the country given that Chinese families have been naturally leaning towards having two or less children since 1990s. Family policies in general apply differently to urban and rural areas. For instance, while the urban implementation of pensions has lifted an adult's traditional economic duty to provide for elderly parents, transforming the nature of monetary support from financial to symbolic, this duty remains in force in countryside. Xie and Zhu [15] emphasize that in cities compared to married sons married daughters give more money to their parents contrary to custom. This can be explained by the fact that over the last decade, women have outranked men in educational attainment, bolstering their job income.
Beyond adjusting its family policies to emerging social norms, the government has to offer an integration path for ostracized ethno-linguistic and religious groups. Gladney [16] claims that China, which is home to the largest Muslim minority in East Asia (around 20 million people), has so far failed in incorporating Muslims, whose self-preservation is at risk, in the national fabric in a way that is neither full accommodation nor complete separatism. Obviously, Islam and traditional Chinese beliefs have distinct worldviews. For example, Muslim Chinese evaluate development levels of majority-Muslim countries far more favorably than the Han Chinese do [17], but their co-existence over several centuries means that common ground can be found. Moreover, China's dependence on the Middle East as an oil supplier and an export market mandates for Muslims' acceptance in the Chinese 'leviathan.'
Like religious ones, ethno-linguistic minorities bear discrimination in China. Wu and He [18] state that despite of the regional distribution of ethnic minorities being relatively stable from 1982 to 2005, the Han-minority disparity in education and employment amplified in the same period. After it had started identifying all 55 minorities (around 10% of the national population), which are geographically isolated not just from the Han Chinese but each other, the communist party has taken a few steps to stimulate their socioeconomic mobility, such as granting college admission bonuses. However, the country's forceful economic transition has widened the gap instead of narrowing it, as the profit-driven private sector values economic efficiency over social equality. That is why the government must pass anti-discrimination laws that will subdue institutional prejudice against ethno-linguistic and religious minorities.
Finally, if the Chinese government makes a conscious decision to contain ever-expanding state machine or apparatus from permeating every aspect of citizens' daily lives, allowing the society to 'breath normally,' it will be able to competently respond to polit-economic and socio-cultural challenges that contemporary China is confronting, such as a slower economic growth rate and elevated ethnic tensions.
References:
[1]Kanbur, R. and Zhang, X. 2005. "Fifty Years of Regional Inequality in China: A Journey through Central Planning, Reform, and Openness." Review of Development Economics 9(1), pp. 87-106.
[2]Chan, K. W. 2013. "China: Internal Migration." The Encyclopedia of Global Human Migration.
[3]Liang, Z. 2016. "China's Great Migration and the Prospects of a More Integrated Society." Annual Review of Sociology 42, pp. 451-471.
[4]Khor, N., Pang, L., Liu, C., Chang, F., Mo, D., Loyalka, P., and Rozelle, S. 2016. "China's Looming Human Capital Crisis: Upper Secondary Educational Attainment Rates and the Middle-income Trap." The China Quarterly 228, pp. 905-926.
[5]Wu, X. and Zhang, Z. 2010. "Changes in Educational Inequality in China, 1990–2005: Evidence from the Population Census Data." Research in Sociology of Education 17, pp. 123-152.
[6]Xie, Y., Lai, Q., and Wu, X. 2009. "Danwei and Social Inequality in Contemporary Urban China." Research in the Sociology of Work 19, pp. 283-306.
[7]King, G., Pan, J., and Roberts, M.E. 2013. "How Censorship in China Allows Government Criticism but Silences Collective Expression." American Political Science Review 107(02), pp. 326-343.
[8]Li, H. and Zhou, L.A. 2005. "Political Turnover and Economic Performance: The Incentive Role of Personnel Control in China." Journal of Public Economics 89(9), pp.1743-1762.
[9]Xie, Y. and Zhou, X. 2014. "Income Inequality in Today's China." Proceedings of the National Academy of Sciences 111(19), pp. 6928-6933.
[10]Oi, Jean C. 1995. "The Role of the Local State in China's Transitional Economy." The China Quarterly 144, pp. 1132-1149.
[11]Walder, A. G. 2011. "From Control to Ownership: China's Managerial Revolution." Management and Organization Review 7(1), pp. 19-38.
[12]Raymo, J.M., Park, H., Xie, Y. and Yeung, W.J.J. 2015. "Marriage and Family in East Asia: Continuity and Change." Annual Review of Sociology 41, pp. 471-492.
[13]Xie, Y. 2014. "Gender and Family" in The Oxford Companion to the Economics of China, pp. 495-501. Oxford, UK: Oxford University Press.
[14]Peng, X. 2011. "China's Demographic History and Future Challenges." Science 333(6042), pp. 581-587.
[15]Xie, Y. and Zhu, H. 2009. "Do Sons or Daughters Give More Money to Parents in Urban China?" Journal of Marriage and Family 71, pp. 174-186.
[16]Gladney, D.C. 2003. "Islam in China: Accommodation or Separatism?" The China Quarterly 174, pp. 451-467.
[17]Lai, Q. and Mu, Z. 2016. "Universal, yet Local: The Religious Factor in Chinese Muslims' Perception of World Developmental Hierarchy." Chinese Journal of Sociology 2(4), pp. 524-546.
[18]Wu, X. and Gloria He. 2016. "Changing Ethnic Stratification in Contemporary China." Journal of Contemporary China 25(102), pp. 938-954.
From our partner RIAC
The Chinese Agitprop: Disinformation, Propaganda and Payrolls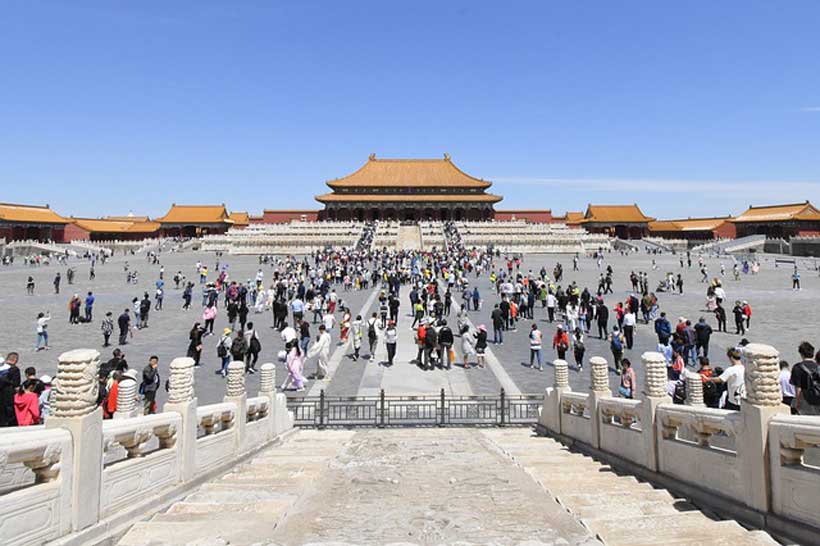 "If you repeat a lie often enough people will believe it and you will even believe it yourself". -Joseph Goebbels, Nazi Propagandist
Successful dictatorships had always trapped its subjects in an 'illusion of truth'. Those nations only showed their citizens what they were supposed to see, thus preventing any social unrest or exposure to an unpleasant reality. The primary abstracts of what is popularly known as Propaganda today can be found in the ancient Indian text of 'Arthashastra' and Chinese book 'The Art of War'. In the first half of the 20th century, the Russian Federation, Fascist Italy and Nazi Germany had separate departments within their governments for propaganda works. Even though these administrative units fell over time, their models are still emulated with various scientific up-gradations by the People's Republic of China (PRC).
Soon after the October revolution in Russia, the new dispensation started sending artists and dramatists to the countryside to romanticise the uprising and to glorify Bolsheviks. These activities were carried out by the Department of Agitation and Propaganda, popularly known as 'Agitprop'. This propaganda machinery kept the Russians unaware of the massive killings with the state's patronage, labour camps and death due to famines. After the establishment of PRC, multiple key initiatives were rolled out by the Chinese Communist Party (CCP) which deemed to fail. What came later was 'Cultural revolution' starting from 1966 and lasted until 1976. In the due period, a large number of citizens were indoctrinated; dissidents were labelled and executed as counter-revolutionaries and millions died due to famine. After opening up its market and becoming a manufacturing hub, China pulled millions of its citizens out of poverty and could later become the world's second-largest economy. But over-ambitious China had grand designs for its global posturing and creating a utopia through propaganda for their citizens.
To begin with, China has multiple internal issues to hide from the global community. Their persecutions of Uighur Muslims in Xinjiang province and cell rule in occupied Tibet are among the few issues. Forceful abortions in Uighur women, organ harvesting, imposition of Han culture and massive re-education centres in Xinjiang are condemned by the Human Rights organisations. But 'the great firewall' prevents the global community from knowing the gravity of human rights abuses in China. Laogai prison camps which are Chinese equivalent to the Soviet Gulag shelters millions of prisoners, kept under inhumane conditions. Any individual not following the CCP's axioms stands vulnerable to be named and shamed as anti-State.
China's grip over its media is also notoriously known. Their official newspaper 'People's Daily' gives a distorted world view for its citizens and CCP's tabloid 'Global Times' carries their propaganda and message to the world. Controlling media is hence an important part of China's 'Psychological Warfare' doctrine. Recently, China claimed that only 82,000 people in China got affected by COVID-19 pandemic. Major international health experts refuted this claim and predicted that thousands could have died in China due to the disease. Numbers will never come out to the public domain unless the CCP wants us to know the truth. China even refused to acknowledge that COVID-19 originated from their nation and accused America of bringing the virus strain to China. There were multiple reports of China exporting faulty PPE kits to the Corona affected countries. But this incident was severely downplayed by global media houses. That shows us the power of Chinese propaganda machinery where they have the resources to hide its entire negative aura and project themselves as a responsible emerging superpower.
Another important aspect is China using soft-power to further push its agenda. Confucius Institutes (CI) operated by the Chinese government is one among many strategies adopted by CCP to influence other nations. China's National Office for Teaching Chinese as a Foreign Language (NOCFL) has established 550 CIs in foreign universities and 1172 Confucius Classrooms in primary and secondary levels of foreign schools. CIs and CCs have a presence in around 162 countries globally. U.S Secretary of state Mike Pompeo recently called the Confucius Institute as "an entity advancing Beijing's global propaganda and malign influence campaign" on American campuses. He also stated that the students of the U.S should have access to Chinese language and culture free from manipulations. China is also using its money power to consolidate its position is western societies using academic and cultural institutions. American Education Department had recently asked Ivy League Universities to report undisclosed funds that they had received from China. Along with the Chinese Mandarin, lessons on Chinese history and polity are taught in these Confucius centres. Students are easy prey to propaganda and hence CCP has the game plan to brainwash them to create a positive image of China abroad. China had initially planned to open 1000 CIs globally by the end of 2020, calling it the Confucius revolution.
Recently, The Indian Express exposed the Chinese snooping of 10,000 influential Indian including the President, Prime Minister, Chief Ministers, Politicians, Academicians and people from all walks of life. CCP had assigned this task to a company named Zenhua Data Information Technology Co having close links with the government and PLA. There were even accusations of China collecting personal data from the users of PUBG and TikTok which lead to its ban in India along with other popular apps. TikTok contained contents that were unscientific and glorified violence but the parent company censored any references to contentious issues in China like the Tibet, Xinjiang, Communism or even 'Winnie the Pooh'. China had banned popular global social media portals including Facebook, Instagram, Twitter, Snapchat and Tumblr. China has developed clones to all these websites which their citizens can use, but the clones are highly monitored. By doing so, CCP restricts Chinese citizens from having any free interaction with the world outside China. But even when these global social media giants are blocked in China, the Chinese government uses them for their propaganda works. Recently, Twitter deleted 1,70,000 accounts linked to China for spreading disinformation. China also uses its Proxies in Pakistan to target their antagonist nations through hybrid warfare (or 5th Generation warfare). So, the Chinese master plan of using its apparatus to create disturbances in other countries while keeping their society intact needs to be identified.
CCP's fondness for Propaganda can be better understood by looking at China's international aspirations. In the emerging new world order China find itself at the centre of all economic activities hence materialising the ancient notion of it being the 'Middle Kingdom'. The Chinese government has a brutal history of crushing all dissidents. It is therefore important for the state to put its citizens in a pseudo-reality and also make the world believe that the internal affairs of China are all normal. CCP has been doing 'Donation Diplomacy' (some in the form of gifts) to make nations and social influencers to fall in line to the benefit of China. The U.S had even accused the Chinese government of sending students to their nation for espionage purpose. The Chinese had even launched 'Operation Fox hunt' for terminating Dissidents of CCP living abroad.
China's 'wolf warrior diplomats' work overtime to project their nation as the new Messiah for global stability. What they wish to conceal is the repression CCP does back home through enormous propaganda. The major problem with the PRC is that it doesn't work like a republic. Instead, it functions as a Multi-National Company (MNC) greedy for profit, exploitation of its workers and ruthless extraction of natural resources. In the due process the MNC spends millions of dollars for its image makeover through PR agencies. The rising dominance of China is a threat to global peace, the existence of its neighbouring countries and risks the very notion of reality with manipulations.
The Himalayan landscape: A hot bed of tensions between India and China
Although India and China are jointly working on modalities to end tensions arising out of the four-month-long face-off between the Indian Army and the Chinese People's Liberation Army (PLA) in eastern Ladakh, the fact remains that the relations between the two countries were never based on sufficient trust and mutual understanding necessary for a stable bilateral relationship.
It is worth remembering that following the 74-day Doklam standoff between the Indian and Chinese militaries, the two countries attempted to reset their relations, starting from an informal meeting between their leaders in Wuhan, China, in April 2018 and followed by meetings on the sidelines of the Shanghai Cooperation Organization (SCO) summit in Qingdao in June and the BRICS summit in July 2018.
The key outcomes of the meetings were discussions pertaining to partnership in economic projects and capacity-building in Afghanistan and setting up a hotline between their military headquarters to strengthen communication and build trust and mutual understanding to avoid any future Doklam-like situations.
While these discussions were yet to see results on the ground, Beijing's move to block New Delhi's attempts at seeking United Nations Security Council sanctions against Jaish-e-Mohammed (JeM) founder Masood Azhar, the alleged mastermind of attacks on India's Uri military base in 2016, and its announced sale of 48 high-end drones to Pakistan close on the heels of India's agreement with Russia to procure the S-400 missile system, pointed to the existing volatility in relations between India and China.
While unresolved territorial claims since India's independence shaped bilateral perceptions on peace, security and development, the more recent Doklam standoff in the high Himalayas raised a geopolitical question as to how both could reconcile their positions in 'overlapping peripheries'. China's heavy infrastructure building exercises in its neighborhood such as ports, railways, airports and interconnecting roads under the BRI corroborated the perception that the former was incessantly engaged in multiplying its influence in what the latter considers its strategic periphery. India's commitment to a strategic partnership with the US on the one hand and attempts at forging bilateral ties with China on the other also did not convince China that the strategic partnership between India and the US was not directed at undercutting Beijing's geopolitical influence.
The border clashes between India and China can no more be viewed merely as the Chinese attempts at redrawing the border between the two rather it is integral to China's larger claims over the Himalayan landscape.
Until the Belt and Road Initiatives (BRI) were launched by China, use of Chinese card by India's neighbors did not lead to Chinese interference in determining India's relations with its neighbors nor did it give rise to India-China standoff threatening India's predominance in the South Asian region. China maintained distance from the Indo-Pak dispute over the Kashmir issue by considering it as a bilateral problem as was evidenced from its neutrality during the Kargil War between India and Pakistan in 1999.
The Chinese footprint in the region became more pronounced with the launching of the BRI and Maritime Silk Route initiatives. Chinese economic engagements with the South Asian countries under these initiatives were viewed with suspicion in New Delhi. Indian strategic and foreign policy experts perceived a threat of 'encirclement' (Chinese strategy of encirclement has been conceptualized as 'String of Pearls' strategy by India's strategic and defence experts) in the growing Chinese engagement with the South Asian region although its stated objective was enhancing connectivity. There is no denying the fact that roads, railways, bridges, and ports can be used both for civil and military purposes.
Nepal's strategic ties with China have been affirmed by frequent bilateral visits between the countries to discuss the construction of trans-Himalayan multidimensional connectivity and Nepal's unflinching commitment to the one-China policy, which underlined that the Himalayan country would never allow any forces to make use of its soil for anti-China activities. A new great-game scenario characterizing geopolitical struggle for influence between India and China is more of a fact with reference to Nepal than Bhutan, which is not a part of the BRI. Close India-Bhutan strategic ties were also noticed in the small Himalayan country's refusal to the Chinese offer of a much larger portion of disputed territory in the north where Bhutan has higher economic stakes, in exchange for the relatively small plateau with limited domestic interests – Doklam – underlining the Bhutanese sensitivities to India's security stake in the plateau. Indian concerns as regards Chinese influence have prevented Bhutan from allowing China a diplomatic presence. However, India cannot take Bhutanese support for granted.
Former prime minister Jigme Thinley's suspicious move to court China and discuss with his Chinese counterpart issues allegedly pertaining to formal diplomatic presence and a land-swapping deal involving the strategically located areas in the tri-junction of India-Bhutan and China led India to withdraw subsidies on kerosene and cooking gas as a measure to pile up pressure on Bhutan to force it to change its stance. This was subsequently withdrawn, and the succeeding Prime Minister Tobgay Tshering maintained close relations with the Indian leadership by putting a pause on diplomatic overtures to Beijing. There are instances when Bhutan due to its geographical location between India and China – two large countries required stressing its independence despite the historical bonding with India. Bhutan's desire for independence was palpable not only when the then Bhutanese king declined to provide base to Indian troops during the Sino-India war in 1962, it was felt in certain quarters within Bhutan that India continued to discourage the small South Asian country from opening diplomatic relations with other countries especially China. Geopolitics of the Himalayan country suggests that while India would try to preserve its influence and prevent it from drifting towards China as happened during Thinley's regime, China would try to swing the change away from India's orbit. Meanwhile, Bhutan would make adept attempts at maintaining a fine balance to preserve its independence in the midst of two big powers. For New Delhi, the task would be to create enough trust and mutual stakes so that the country would not be swayed by Chinese overtures.

The Himalayan countries are not only small in size and population, but they have also had continuously looked for capital, investment and a reliable security provider. India and China have looked upon these states primarily from a strategic perspective given their prized strategic location in the Himalayas where both shared land frontiers and competed for influence through aid, investment and coercive measures as well.
Nepal clearly demonstrated its desire to overcome limitations imposed by its India-locked geography and diversify its relations with many significant state actors outside the South Asian region. The Nepal-China Trans-Himalayan Multidimensional Connectivity Network, including the Nepal-China cross-border railway, has been named in a list of projects under the BRI. China kept pouring massive economic capital into Tibet specifically targeting infrastructure projects that could facilitate connectivity, infrastructure and energy projects in Nepal. Nepal's commitment to the Chinese projects and its one-China policy can be inferred from the unequivocal support that the Nepalese Consulate in Lhasa lends to Beijing's claims to both Tibet and Taiwan.
During a visit to Beijing by Nepalese Prime Minister K P Sharma Oli in June 2018, the two sides sealed eight deals worth US$2.4 billion pertaining to connectivity, infrastructure and energy projects. The agreements included the targets to develop hydropower projects, cement plants and agri-food parks. The Chinese foray into Nepal looked promising and became more entrenched, and Beijing turned out be Kathmandu's largest source of foreign direct investment and its second-largest trading partner by the end of 2019. India, on the other hand, keep expressing the strategic concerns that Nepal must be cautious against opaque loans and financing conditions offered by China that were directed at spawning debt traps and seizing control of strategic assets.
The US has been witnessed making concerted efforts at cultivating the Himalayan countries Nepal and Bhutan in a bid to strengthen its Indo-Pacific strategy and build a resolute response to China's BRI as well as mitigate strategic concerns emanating from Beijing's connectivity projects. Nepal's inclusion in the US-led Indo-Pacific strategy was claimed by the US after Nepalese Foreign Minister Pradeep Gyawali and US Secretary of State Mike Pompeo met during the former's visit to Washington in December 2018. Later, two US representatives visited Nepal in order to discuss and pitch the strategy with the Himalayan state. However, the report of Nepal's inclusion drove China to enlist the Himalayan country's continued support for its BRI and the US sought clarifications from Nepal as to its stance on Indo-Pacific policy.
Meanwhile, India is focusing on ways and means to keep the Himalayan countries within its sphere of influence and seems poised to throw its weight behind the American Indo-Pacific strategies to counter Chinese influence, considering the fact that New Delhi has not been able to match Beijing's sway through connectivity and infrastructure.
India has been supplying significant aid and soft loans to Nepal with development as a priority as compared with China which has targeted at hard infrastructure and connectivity. Poor infrastructure on the Indian side has not only prevented both countries from strengthening bilateral connectivity, the Himalayan country has been unable to harness the full potential of transit facilities to third countries through India. India has failed to float a coherent strategy that could interlink infrastructure-building and regional connectivity with its emphasis on development. Its aid and investment in the neighborhood gravitate more toward soft areas such as housing and shelter, water and sanitation, livelihood, education, research and training, health care, industrial development, arts, culture and sports, with a thrust on "grassroots-level development" without similar emphasis on infrastructure-building and connectivity.
A Carnegie India research paper notes: "New Delhi has been slow in identifying, initiating, and implementing a coherent approach to connectivity in the South Asia and Indian Ocean region. Although India has identified countries such as Japan as key partners in formulating a response, there has been little progress on a plan of action." However, this lethargic response from India is bound to change as China and the US invigorate their efforts to enhance strategic influence under the BRI and the Indo-Pacific strategy respectively.
The spread of the pandemic Covid-19 across the globe from Chinese soil and China's surreptitious role in managing the public reporting of the pandemic ranging from its outbreak to total cases affected by and deaths resulted from is poised to place India in a favorable place in its neighborhood compared to China. The pandemic has not only strengthened the American resolve to tighten its strategic partnership with India, the latter, in this context, is poised to throw its weight behind the US and its allies strengthening the Indo-Pacific strategy spanning the Himalayan landscape as well to roll back Chinese influence in the region. However, China's entrenchment in the region through enhanced connectivity, infrastructure-building and loans would pose difficult challenges for the Indo-Pacific allies.
The South China Sea: What's Really at Issue
The South China Sea is basically China's export waterway to Africa and to Europe (among other markets), but in order for China's enemy (aspiring conqueror), America, to harm and weaken China maximally, and to use the United Nations assisting in that aggression, America and its allies have cast this vital trade-waterway as being instead basically just an area to be exploited for oil and gas, and minerals, and fishing. The American Government's aggression — its effort to strangulate China's international commerce — thus becomes ignored by the U.N., which is consequently handling the entire issue under its law which pertains to a nation's (China's) rights to exploit the natural resources of and under a given waterway.
The international legal issue, which is being applied, is therefore the 1982 U.N. Convention on Law of the Sea (UNCLOS). This treaty (law) has been ratified, or at least signed, by all countries except the United States, whose hold-out for 12 years had blocked the Convention even from coming into effect. Then, finally (when Guyana, on 16 November 1993, did, after so much delay, become the requisite 60th country to ratify the Convention, so as to bring it into actual effect), the U.S., on 29 July 1994, went through the mere formality of signing the Agreement, because Part XI of the Convention ("to authorize seabed exploration and mining and collect and distribute the seabed mining royalty") had, by this time, become modified, to the satisfaction of Exxon and other U.S. oil-and-gas corporations, so that U.S. President Bill Clinton had UNCLOS signed by the U.S. — but not sufficiently satisfied to have it ratified by the U.S., which nation therefore still remains the lone holdout amongst the 179 U.N. member nations that had been invited to join it. (Some countries are entirely landlocked.) So, ironically, the lone holdout-nation, U.S., is now militarily threatening China (one of the Convention's actual member-nations), for its allegedly violating that Convention, in regard to what is, in fact, China's essential exportation (and importation) waterway, even more important to China than its being a potential Chinese natural-resource asset.
Furthermore, China has long wanted to reduce much of its need to ship through the South China Sea, by means of building what for China would be equivalent to what the Panama Canal is for the U.S., but this new canal would be located in Thailand, which America conquered in its 1948 coup — the CIA's first. If built, this Thai Canal would significantly reduce China's costs of importing oil from Iran and Arabia, as well as its costs of exporting goods to India, and to Europe and Africa. Therefore, the U.S. regime is willing to pay whatever the cost might be in order to bribe Thai leaders to continue saying no to that canal-proposal. (But, will China ultimately outbid America? There is a tug-of-war in Thailand about whether to participate in China's proposal.)
The U.S. thus blocks China, both via the UNCLOS, and via China's main potential method of avoiding its need to rely so heavily upon its usage of the South China Sea — the Thai Canal.
This is consequently a good example of how the imperialistic U.S. Government, which is uniquely hostile toward the United Nations, nonetheless exploits the U.N., and yet still receives deferential treatment from it — so that the U.S. can actually use the U.N. as a tool to advance its own imperialistic objectives of conquering yet more territory, additional vassal-nations or 'allies'.
The U.N. is, furthermore, exceptionally proud of its achievement in having finally passed UNCLOS into international law. As it says, "'Possibly the most significant legal instrument of this century' is how the United Nations Secretary-General described the treaty after its signing."
None of this can be understood outside the context of international law itself, which is tragically corrupt, as a result of the following history, the backstory here:
Though the U.N. was invented and even named by America's President Franklin Delano Roosevelt (FDR), he died just before it started, and his successor Harry S. Truman shaped it by modifying FDR's plan, so that the U.N. would gradually fail, and, instead, the U.S. Government would itself emerge effectively as being the global government over all other governments — America's Government would become a global dictatorship over nations, instead of the U.N. coming into existence as the global democratic republic of nations (FDR's U.N.) that FDR had aimed for it to be, controlling international relations after World War II, in such a manner as to prevent a WW III.
We thus live in Truman's post-WW-II world, definitely not in FDR's.
After World War II (in which the U.S. and UK were allied with the U.S.S.R. against the fascist powers that had invaded countries which had not even been threatening them), America soon launched a string of coups and invasions — overthrowing and replacing governments that hadn't even posed any threat, at all, to America's national security — and the world thereby became increasingly accustomed to the fact that America's military and CIA are, in fact, the world's new invading military force, replacing Nazi Germany, Fascist Italy, and the Emperor's Japan, in that capacity, as international dictators. (That's something which FDR had been planning to prevent any nation from being.) The first four U.S. coups were against Thailand in 1948, Syria in 1949, Iran in 1953, and Guatemala in 1954; and each American coup replaced a moderate leader with a brutal fascist regime, crushing democracy there. (The U.S. takeover in Syria lasted only a few years.) America also engaged in numerous outright military invasions, many of them using hired proxy forces (U.S.-funded mercenaries), instead of using U.S. soldiers, as being the U.S. regime's "boots on the ground," to do the actual killing and dying. America thereby became the invading country throughout the world, which is what the fascist powers had been in World War II.
The post-WW-II America thus emerged as standing above international law, ever since the 1945 end of WW II. In effect, America's Government has internationally become the world's government — by force of arms. Other countries are subject to international law, but the U.S. is not. The U.S. has emerged as the international empire, taking over, and dominating, in more and more countries, until it now openly demands compliance from all countries, and even threatens Iraq's Government, that if Iraq tries to expel the U.S. occupying forces, the U.S. will permanently destroy Iraq.
America's imperialist fascism has become so bold, for so long, so that news-media don't even report it. If one lays a WW II ideological template over the world's nations today, then today's U.S. and its allies are much more fitting the mold and form of the Axis powers, than of the Allied powers; but, this time, instead of there being Germany and its allies as the imperialistic fascists, we today have America and its allies, as constituting the imperialistic fascist nations. America assumed this role gradually, first as that role was 'justified' supposedly as being an ideological contest between democracy versus communism (which, on the U.S. side, was merely an excuse, not an authentic explanation); but, then, increasingly, without any such ideological excuse, as being, simply, America's alleged 'superiority' (such as the recent U.S. President, Barack Obama, repeatedly asserted, that "The United States is and remains the one indispensable nation," which means that every other nation is "dispensable"; only America is not). It is now as flagrant with America as it had been with Hitler's Germany ("Deutschland über alles," etc.). The gloves have finally been taken off, by today's U.S. imperialist fascist regime. The U.S. even has the world's highest percentage of its own population being in prisons, a higher imprisonment-rate than that of any other country. This is very appropriate for the world's most totalitarian country. So, the dictatorship isn't only international — it is even intranational, inside the U.S. And it very much is in control over the nation's news media. It's a two-Party dictatorship.
When U.S. President FDR died as WW II was ending, his dream for the future was that America and its allies in WW II would create a democratic super-nation controlled by all nations, a United Nations that would have the military force throughout the world to enforce international laws, which would be made democratically by the U.N., through its Security Council and General Assembly. But, nowadays, instead, the U.S. and its allies are free to invade anywhere they wish, and — unlike what happened to the fascist leaders during WW II — the U.S.-and-allied leaders get away with it, and they aren't even charged by the International Court of Justice and the International Criminal Court. They stand above international law: precisely the sort of situation that FDR had aimed to prohibit.
For example, one of America's allies — and thus immune to international law — is Israel; and, on September 3rd, the international news site South Front headlined "Israeli Forces Rain Down Missiles on Syria", and reported that:
The Israeli Air Force conducted a second round of missiles strikes on Syria in less than a week.
Late on September 2, Israeli warplanes launched missiles at the T4 airport in the province of Homs. According to Syria's state media, the strikes were conducted from the direction of the US-controlled zone of al-Tanf on the Syrian-Iraqi border. Syrian pro-government sources claimed that a large part of the missiles was intercepted. …
The most recent previous Israeli strike on Syria took place on August 31 targeting the countryside of Damascus city and the province of Daraa.
Syria does not invade Israel, but Israel routinely invades Syria, and long has done so — and yet Israel's leader, Benjamin Netanyahu, is not being strung up and executed by an international criminal court, like the leaders of Germany and Japan were supposed to have been, after WW II. That Judgment at Nuremberg, and similar trials against some of Japan's leaders, were actually only victors' 'justice' against some of Germany's and Japan's leaders, but (at the time) the victorious Allies claimed it to be the start of international justice, and to be the enforcement of international law — even though the trials were held only against Germany's and Japan's leaders, but not also against Italy's. (Italy had signed with the Allies the Armistice of Cassabile surrendering on 8 September 1943, and this was part of that deal — Italy's Government wasn't quite as horrific as the other two, which held out till the bitter end.) These trials were prosecuting against "aggressive war": the charge was that the imperialistic fascists had invaded countries that hadn't invaded them — exactly what the U.S. and its allies constantly and now routinely do, after WW II (overthrowing and replacing governments that had not even so much as threatened the U.S. and its allies).
The U.S. and its allies are today's imperialistic fascists, and the U.N. can do nothing against them. The U.N. can do nothing against the leaders of America and its allies for doing what had been done by the leaders of Germany and Japan during WW II.
Hitler's and Hirohito's spirits thus now rule in the self-styled (but now only formally) 'democratic' countries, whose rulers reign with far nicer rhetoric — far more hypocrisy — than their 1930s fascist predecessors had done. And the U.N. is dead, because it became created by Harry S. Truman, instead of by FDR.
Consequently, let's consider, in more depth here, the example of China:
China is a communist country, but its communism is drastically changed from the time when Mao Tse Tung founded it, and its Marxism is unrecognizable, no longer a "dictatorship by the proletariat," but instead one-Party rule by a Party that anyone, of any economic class, is invited to join, and which is widely considered by the Chinese people to be a "democracy." (A far larger percentage of Chinese consider their Government to be a "democracy" than the percentage of Americans who consider America's Government to be a "democracy." Chinese don't consider the number of political parties to be any indication of whether the nation is a democracy as opposed to a dictatorship. They are correct in that. In fact: America's own Founders had aimed to be creating a nation which would have no parties at all.)
FDR made a clear distinction between a national democracy and an international democracy. He believed that international relations should be an international democracy of independent nations that deal with each other on a cooperative instead of coercive basis, and that international laws should govern this, coming from and being enforced by the United Nations. By contrast, national democracy was to be a choice that only the people within a given nation should determine, and the U.N. should have no relevance to, or control over, that. "Human rights" are individuals' rights, and are an internal matter within each nation, whereas the rights of nations are very different, and are the purview exclusively of the U.N., as FDR was planning it. This was how he planned for there to be a post-WW-II world which would have no World War III.
By contrast, today's U.S. regime claims, for example, the authority to dictate what countries should control which international waterways. This is clearly infringing on the U.N.'s area of authority; and, so, Truman's U.N. has no control over the matter, though it does have vague laws which pertain to it. Today's U.N.'s laws ignore one cardinal position — a cardinal geostrategic principle, the Westphalian principle — that FDR and the Soviet Union's dictator, Joseph Stalin, agreed upon and which Winston Churchill opposed: the view that each of the major world powers should be allowed to intervene in the internal affairs of a foreign nation only if that foreign nation is on its borders or at least nearby (which was undefined). This was the Westphalian system, but enhanced so as to be explicitly anti-imperialistic, because both FDR and Stalin believed that both World Wars had resulted from imperialism. Both leaders rejected imperialism but accepted that there exists a distinction between major and minor powers, such that the nearby surrounds of a major power need to be entirely nations that are allied with that major power, or, at least not hostile toward it — not allied with any major power that is hostile toward itself. In other words: both men rejected Churchill's demand that empires be allowed, which could extend beyond a major world power's own "neighborhood." Churchill wanted to continue the British Empire. Truman accepted Churchill's view, and rejected the view of both FDR and Stalin. Consequently, Truman and Churchill agreed together to move forward toward an all-encompassing U.S.-UK Empire. (Though, nominally, the Westphalian principle had already become a part of the U.N.'s subsequent Charter — because of FDR — as being Chapter 1, Article 2, Paragraph 7, it was ignored from the outset, and the U.N. organization itself became set up so as to hide the entire Charter from the public. The numerous deficiencies in the Charter — such as its failure to include any clause describing a process by which the Charter could be amended — thus have likewise been hidden from the public, and not debated, nor discussed; and, thereby, the U.S. and UK have been able to have their way: the system for future global dictatorship was thus born.)
Consequently, geostrategic issues were prohibited by the U.S. regime from being subjects of international law. Though international law allowed vague references to "aggressive war," simply because FDR's U.S. had already established the system to pursue and hang German and Japanese leaders for their having done that, the concept of "aggression" became smudged in international law, instead of defined; and, so, aggression is practically absent as a topic of international law as it currently exists. This is how the South China Sea issue came to be treated only as being an issue of natural-resource rights. The U.N.'s Charter is essentially irrelevant to what is the most important. (Even its Westphalian clause — which is only the original, weaker, empire-accepting, form of Westphalianism — is irrelevant, since it's ignored.)
China's ability to ship its products westward via the South China Sea is crucial to China's economy. Consequently, the imperialist fascist regime and its allies are trying to reduce that ability. Because this is Truman's, instead of FDR's, post-WW-II world, the existing relevant international laws lack sufficient clarity, and the U.S. and its allies can, under existing law, gradually choke-off China's exports.
Katherine Morton's 20 July 2016 article, "China's ambition in the South China Sea", in the journal International Affairs, argues that China's ambition in the South China Sea is primarily driven by China's thousands-of-years-old commercial policy, of being a maritime nation, a nation whose economy is based upon international trade. This is not imperialistic, but it instead concerns international rights that every nation ought to have. (Until 1912, China was ruled by imperialistic Emperors, but afterwards it was no longer imperialistic and has instead been defending itself against imperialistic powers.) Morton argues that China's objective is not any grand design to achieve maritime hegemony — such as the U.S. regime has, and such as England, Holland, Spain, Portugal, France, Italy, Germany, and Japan, previously had done. It's not imperial rule over countries that aren't in their own neighborhood. It's not conquest; it is instead self-defense. America and its allies do the coups, invasions, and international economic sanctions (economic blockades, even), but China does not. That, basically, is Morton's argument (though she doesn't put it in those clear terms). She says that China's "attention is primarily focused upon demonstrating political resolve to defend China's maritime periphery. Yet conclusive evidence that the Chinese leadership is intent upon dominating the South China Sea for the broader purpose of building a Sino‐centric maritime order in east Asia is difficult to find." (The obtuseness — if not self-contradictoriness — of her writing might be due to her desire not to offend the U.S. regime's own imperialistic sensibilities. Such a style is common amongst international-affairs scholars in the U.S.-and-allied world.)
However, the U.S. regime claims that China, instead of America, is the imperialistic power. The U.S. regime, as usual, claims to have the international right to enforce its will in international affairs anywhere on the planet. Sometimes, today's U.N.-based international laws are in favor of outcomes that the U.S. regime wants. Thus, we have the matter of the South China Sea, where the U.N. body, UNCLOS, ruled on 12 July 2016 that the only relevant question is which nation is the nearest to a given part of a waterway (so as to have the right to explore and exploit there). The international laws by today's U.N. ignore geostrategic issues, such as both FDR and Stalin wanted to include in them, but Churchill and Truman wanted international laws to ignore such matters so that UK and now U.S. could jointly pursue world-conquest. Since the UNCLOS ruling in 2016 opposed China's claims, by ignoring its major-power concerns about its self-defense, the U.S., under the hyper-aggressive ruler, Donald Trump, recently came out publicly committed to enforcing that 2016 ruling by the U.N. body. On September 1st, Reuters headlined "Special Report: Pentagon's latest salvo against China's growing might — Cold War bombers", and reported that:
On July 21, two U.S Air Force B-1B bombers took off from Guam and headed west over the Pacific Ocean to the hotly contested South China Sea. The sleek jets made a low-level pass over the aircraft carrier USS Ronald Reagan and its escorting fleet, which was exercising nearby in the Philippines Sea, according to images released by the U.S. military. The operation was part of the Trump administration's intensifying challenge to China's ruling Communist Party and its sweeping territorial claims over one of the world's most important strategic waterways. While senior Trump officials launch diplomatic and rhetorical broadsides at Beijing, the U.S. Defense Department is turning to the firepower of its heavily armed, long-range bombers as it seeks to counter Beijing's bid to control the seas off the Chinese coast. …
The U.S. Army also intends to spread forces through the first island chain and other outposts in the Western Pacific. It is planning a series of major exercises this year and next where troops would deploy to islands in the region, according to senior commanders and top Pentagon officials.
The U.S. regime is using, as its excuse, its backing the territorial claims of what it claims to be its 'allies' against China — such as Vietnam. Meanwhile, the regime is applying diplomacy and other means, in order to encourage those 'allies' to insist upon, and not to compromise or weaken, those claims. Vietnam quickly responded to America's active backing, by "Vietnam Threatens China with Litigation over the South China Sea".
What's at issue there is underwater oil-and-gas exploration-and-development rights of the various nations' corporations. If China truly does not place its corporations' commercial interests above the Chinese nation's self-defense interests, then it will sacrifice the former for the latter, and it will cede those other nations' rights to exploit that oil and gas, and will settle with its neighbors, for an agreement by all of America's 'allies' to support and endorse China's rights to traverse unimpeded through those waterways.
If the U.S. regime then would continue its heavy military fortifications surrounding China, then China would (in accord with its agreements that it will have reached with Vietnam and those other neighboring nations) be receiving, from those nations' endorsements of China's rights in that regard (for China's self-defense), and from those nations' public requests for U.S. forces to depart from their region, support for China's shipping rights, which would be at least as valuable to China as whatever the natural resources there are worth.
In regards to the 12 July 2016 ruling by UNCLOS, it concerned specifically the case between China and the Philippines, and it presented the Philippines' challenging China's claims, which claims were/are based on arguments such as (regarding "Scarborough Shoal") that "Since the Yuan Dynasty, the Chinese people have never stopped developing and exploiting Huangyan Island and its surrounding waters and the Chinese government has exercised effective management and jurisdiction over their activities all these years." The ruling replied to that assertion by saying, "The Tribunal's conclusions with respect to" that area are "independent of the question of sovereignty." But, whatever the ruling was based upon, what's relevant here is that the U.S. Government has no right to be sending its warships and other weapons into the South China Sea in order to 'enforce' UNCLOS's ruling. And whatever China's claims are or were in this matter, they cover(ed) a very large area, which encompasses almost all of the South China Sea — it encompasses the area that's within the "nine-dash line", which is shown here in green. Although UNCLOS (actually the U.N.-authorized body that administers it, the International Seabed Authority) is legitimately involved in this matter; the U.S. Government is the opposite: it is instead an international-law violator and has no right to be involved, at all, and is illegally throwing its weight around where it doesn't belong and should be expelled — and would be expelled if this were FDR's U.N., instead of Truman's U.N.
Another way that Truman's U.N. helps the U.S. regime geostrategically against China is the issue of Hong Kong — an internal Chinese matter, which wouldn't even be a U.N. concern if the U.N. had been created instead by the U.N.'s inventor, FDR. (Even the original, weaker, form of the Westphalian principle — the version that's in the U.N.'s Charter — would prohibit outside involvement in this matter.) As Reuters headlined on September 3rd, "U.N. experts decry Hong Kong security law in open letter to China". Any U.N. that gets involved in any nation's internal affairs, and in such things as 'human rights', should be simply dissolved, because it is advancing imperialism, instead of preventing it.
Basically, today's U.N. is just a talking-forum, a PR vehicle for its member-nations; but, actually, at the deepest level, it's a propaganda-agency for imperialism. That's what it was designed for.
If China can win the support of its neighbors in the region to kick America out, then the sacrifice of such assets as oil and gas there would be a relatively inconsequential price for China to pay. Unfortunately, today's U.N. must be eliminated and replaced by one that builds upon FDR's intentions, because today's U.N. — Truman's U.N. — is exactly the opposite.
America's having its weaponry and forces on and near China's borders is even worse than when in 1962 the Soviet Union placed its forces in Cuba — and nearly precipitated WW III. America has no right to be there. And today's U.N. has no justification to continue its existence — a replacement of it is direly needed.
Details of the existing U.N.'s deficiency in the present situation will here be summarily stated: UNCLOS asserts: "Every State has the right to establish the breadth of its territorial sea up to a limit not exceeding 12 nautical miles." That's the outermost limit of any coastal nation's "sovereignty." Furthermore: "Non-compliance by warships with the laws and regulations of the coastal State. If any warship does not comply with the laws and regulations of the coastal State concerning passage through the territorial sea and disregards any request for compliance therewith which is made to it, the coastal State may require it to leave the territorial sea immediately." But Truman's U.N. possesses no military force of its own and therefore that "coastal State" is provided no protection by today's U.N. Furthermore: UNCLOS even allows an enemy nation's naval vessels into that 12-mile limit, but "submarines and other underwater vehicles are required to navigate on the surface and to show their flag." There is no limit upon how near the shore an enemy's warships are allowed to come. Yet the U.S. violates UNCLOS routinely. What military force exists against its doing so? What legal tribunal exists that covers this? Furthermore: The agreement by FDR and Stalin, that any major world power needs to have some sort of right to veto or block any nearby nation from coordinating with any other major power that is hostile toward that given major world power, is entirely absent from the existing U.N. — existing international law. Consequently, for example: The U.S., under JFK in 1962, was acting in violation of the subsequent 1982 UNCLOS, when he ordered the Soviet military to depart from Cuba — that was beyond the 12-mile limit. Existing international law has to be replaced. It ignores essential geostrategic concerns to prohibit imperialism and to minimize any likelihood of a WW III. It needs to be replaced.
And that's not the only reason why the current system of international laws needs to be replaced. The existing international dictatorship, which is the U.S. regime, is even more conservative than is Truman's U.N. For example: As of October 2019, there are 37 "Treaties Pending in the Senate" (the U.S. Senate). These U.N.-backed treaties all are of a progressive nature, asserting the rights of workers and obligations of employers, etc.; and, in fact, the first three of these treaties deal specifically with workers' rights. The earliest of them, activated in 1949, is the "International Labor Organization Convention No. 87 Concerning Freedom of Association and Protection of the Right to Organize, adopted by the International Labor Conference at its 31st Session held at San Francisco, June 17 – July 10, 1948 (Treaty Doc.: Ex. S, 81st Cong., 1st Sess.); submitted to Senate August 27, 1949." President Truman could not get Republicans to back it, because they opposed workers' rights. They still do, and the Treaty still isn't joined by the U.S. regime. Indeed, as Roncevert Ganan Almond noted, in his 24 May 2017 article in support of "U.S. Ratification of the Law of the Sea Convention", "Even treaties that flow from American leadership, in areas like protecting rights for persons with disabilities, are rejected." They're always being rejected by Senate Republicans. (Truman, of course, was a Democrat; and, on most issues, the leadership of that Party is less conservative than is the leadership of the Republican Party.) Thus, though Truman's U.N. is conservative, it isn't as conservative as is the U.S. regime itself, which is even more conservative than Truman himself was. Physically, Hitler and Hirohito lost WW II; but, spiritually, they turned out to have won it. The reason is that FDR tragically died too early.
Author's note: first posted at Strategic Culture