A recent concern amongst some African intellectuals has manifested in the question; why is the West so enamored with Africa's poverty porn? There has been that proclivity. That fetish for distressing stories from Africa, which explains the unbalanced perspective about Africa in the Western media. The African writer-in-residence at an American university who has written so compellingly about malnourished children in a war-torn African country with distended bellies, twig-like limbs, visible ribs and rust-colored thinned hair has unlocked a treasure chest of grants and fellowships. Winning Pulitzer Prizes, gaining international acclaim and raising funds from cleverly presenting Africa's real and imagined misery has been the norm for some writers, photographers and NGOs from the continent, it is always about the commercialization of pain and grief. The symbolism of the Kevin Carter story impresses this fetish even further. The photographer had gone to South Sudan in March 1993, and had photographed a hunger-ravaged child in an open field, kneeling in the dirt, head bowed as if in prayer, while a vulture watched in the hope that she was soon going to be a corpse. That picture had captivated the world, not in the sense of what it represented in its stark presentation of humanity in its most hopeless of situations, but in a curious voyeuristic interest.
Africa must begin on a wrong foot in celebrated forgetfulness, when the stage was set for the Independence of many African countries, a shadowy and an even more sinister control of the continent's soul was tied to the goods that the West had to offer. As a consequence, Africa must sell its soul, the leaders must court the goodwill of the West and African writers must write stories that the West wants to read. Stories that must show Africa's misery.
There is a brand of Afrocentrism that is stuck in the racial insecurity that some African leaders and intellectuals feel when dealing with the West. That brand of Afrocentrism appears very resolute in its consideration of economic handouts even in the face of privation, but it fails when there is a personal benefit that is interfaced by condescending gestures, gestures made necessary by the leverage of power. Whoever controls the money controls the narrative. Suddenly tough-talking African government officials find themselves unable to negotiate IMF loans from a position of convenience, African countries find that they cannot give political and moral support for citizens who face racism in top international organizations. It is helplessness. The same helplessness Africa feels currently in the clutch of the Chinese state. For some of the African intellectuals, it has become a tradition to criticize the continent and institutions they helped undermine from the comfort of a Parisian café or in the coziness of a hotel room in Frankfurt. The continent has problems; yet it is the job of many African intellectuals and writers to exaggerate those problems and romanticize them. They know it is in high demand, such expectations of black misery.
The West must be purged of its sins; its conscience must be clear that Africa is settled when there are indications that no one cares. The Rwandan genocide was a case in point. Colonialism had aggravated ethnic mistrust between Hutus and Tutsis just as it had been in Nigeria, ethnic mistrust which had been a fallout of the colonial arrangement had fired up a civil war in Nigeria in 1967. Many African writers fed off the horror of both historical incidents. The United Nations Security Council that could have averted the Rwandan genocide, could only cite Chapter VII of the United Nations Charter when there was a legal challenge to the jurisdiction of the court it established for the prosecution of the Rwandan war criminals.
Africa has monsters. These were teething monsters fed with the lust for wealth and power. The spiritual gratification that must appease these African monsters now grown, must be exercised in the philanthropic and charity gestures that should show the world cares about Africa's pain and the economic emasculation of society by Africa's poor choices. What has not been noted is that in the beginning of things, Western colonialism of Africa started bitter wars of boundaries and political misgivings in territories marked in error and in the empowerment of power drunk bandits. Africa's monsters have run amok in dangerous, economically reckless regimes, expressed in an obscenely corrupt elite class and in mock institutions without merit. The corruption in Africa which started on a large scale with resource exploitation had the collusion of multinationals and African leaders. One instance was the Shell and Eni corruption scandal that involved employees of both companies and a former Nigerian president. Reuters reported in 2018,that the money involved in the scandal was 'more than the entire Nigerian healthcare budget for 2018.'
The African monsters of poverty, terrorism, famine and insecurity seem to grow in the light of their glorification, and the profiteers of misery feed off them. African leaders blame the consequences of their economic profligacy and lack of foresight on the West, but the continent is a legacy of a failed start. Could Africa have been better without a legacy of a failed start? In Nigeria, the weaponization of ethnicity for political advantage and to avoid political responsibilities started with a state with incongruent parts; a state which was the product of a colonial experiment.In South Africa, the psychology of the society is fractured in its engagement with the ghosts of Apartheid, and so violent crime became history's gift to the people.
Africa's monsters were created by colonialists, and they are nurtured by African leaders without vision; without a sense of nationalistic responsibility toward the states they govern. These African leaders in collusion with their marionette intellectuals have ruined the continent, and they keep ruining the continent in the dystopian narratives they help peddle to a willing Western audience who have closed their minds to the good that might come from the African continent. New narratives about inventors and young smart people trying to fill in the gaps in countries where the leadership has failed must be made known. Africa needs new set of leaders, and as much as it needs new narratives of victories out in the wild; Africa needs to know that it is not a hellish place, but a continent with peculiar challenges. Africa does not need thinkers who mock their own people in narratives that rob the black body of dignity, but thinkers who would explore the mystery of the continent in ways that can inspire the continent and bring the world to understand the mysteries and beauty of the continent.
China's vaccine diplomacy in Africa
China appears moving steadily to deliver on its pledge by offering manufactured vaccines aim at eradicating the coronavirus in Africa. Simultaneously, China is strengthening its health diplomacy with Africa, and experts describe it as an additional step to reassert further its geopolitical influence in the continent.
Undoubtedly, the Chinese Sinopharm vaccines are increasingly becoming popular among African countries. Deliveries have already been made in Egypt, Equatorial Guinea, Namibia, Senegal, Sierra Leone, Mozambique and Zimbabwe.
Chinese Foreign Ministry has indicated that China would help 19 African countries as part of its commitment to making vaccines global public goods. Foreign Ministry spokesperson, Wang Wenbin, said on February 22 that China would also support enterprises to export Covid-19 vaccines to African nations that urgently need, recognize, and have authorized the emergency use of Chinese vaccines.
The aid is a clear manifestation of the China-Africa traditional friendship, Wang Wenbin said, adding assertively "China will continue to provide support and assistance within its capacity and in accordance with the needs of Africa." Further to that, China welcomes and supports France and other European and American nations in providing vaccines to help Africa fight the pandemic.
In West African region, Sierra Leone became the latest African country to receive 200,000 coronavirus vaccine donation, and 201,600 pieces of disposable needles and syringes from the Chinese government. According to reports, the consignment arrived at the Lungi Airport on February 25, and was received by a high-powered government delegation.
Down in Southern Africa, Zimbabwe will buy an additional 1.2 million vaccine doses from China at a preferential price, President Emmerson Mnangagwa's spokesman said, after Beijing agreed to give more free doses to the southern African country. Zimbabwe has already begun vaccinations after receiving a donation of 200,000 doses from the China National Pharmaceutical Group (Sinopharm).
Chinese Ambassador Guo Shaochun said in a statement that his country had decided to double its donation of vaccines to 400,000 as part of its "solidarity and action" with Zimbabwe.

Mnangagwa's spokesman George Charamba said the government, which had already bought 600,000 doses from Sinopharm and would increase its purchases from China. "Zimbabwe is also procuring more vaccines from China at a preferential price. Zimbabwe is set to purchase another 1.2 million doses from China," Charamba wrote on Twitter.
It targets 10 million vaccinations as the country has been hit with increasing infections. More than two thirds of Zimbabwe's 35,910 coronavirus infections and 1,448 deaths have been recorded this year, according to a Reuters tally.

Separately, on February 24, neighboring Mozambique also received 200,000 doses of Sinopharm vaccine donated by China. The delivery of the first consignment, ferried to Mozambique by an aircraft of the Chinese People's Liberation Army, was witnessed by Prime Minister, Carlos Agostinho do Rosário, Minister of Health, Armindo Tiago, Chinese Ambassador Wang Hejun and other senior government officials.
Speaking at the delivery ceremony, held at the Maputo Air Base, Agostinho do Rosario thanked the government and the people of China for the donation of the first batch consists of 200,000 doses and the same number of syringes. "The swift delivery of the vaccine mirrors the determination and commitment of the leaders of both countries to ensure the well-being of the Mozambican people," the Prime Minister said, stressing that the government has adopted a vaccination strategy that attaches priority to high risk groups particularly health professionals on the front-line of the fight against Covid-19.
Chinese Ambassador Wang Hejun, however pledged to strengthen the cooperation between the two countries in the health field and reaffirmed his country's openness to assist Mozambique in acquiring more vaccines.
He said the Mozambican health system is currently under increasing pressure, but believed the first batch of the vaccine will certainly make an enormous difference. Mozambique is among the first African countries to receive the Chinese vaccines. Vaccines are currently available from two Chinese companies, Sinopharm and Sinovac Biotech.
The vaccine that arrived in Maputo was from Sinopharm. A major advantage of the Sinopharm vaccine is that it does not need to be stored at ultra-low temperatures. It can be kept at normal refrigeration temperatures of two to eight degrees Celsius.
Indeed, Indians are also speeding with donations to the African continent. The Indian government has promised to send Mozambique 100,000 doses of the vaccine developed by the Indian pharmaceutical industry. Still in the southern Africa, Namibian officials said Beijing would donate 100,000 doses vaccine while India promised a donation of 30,000 shots to Windhoek.
In order to sustain relations and as part of a "bilateral cooperation" efforts, Portugal plans to donate 5% its excess to a group of Portuguese-speaking African countries. With a population of just over 10 million people, Portugal is entitled to 35 million vaccine doses this year under an EU-coordinated purchasing scheme, mostly for double-dose inoculation, leaving it with millions of extra shots.
The 5% share would make up 1.75 million doses. The group of countries is comprised of Portugal's former African colonies of Angola, Mozambique, Cape Verde, Guinea Bissau, Equatorial Guinea, and Sao Tome and Principe.
Besides getting vaccines through the African Union, a number of African countries by bilateral agreements will purchase vaccines directly from China, Russia and India. For example, five (5) African countries (Algeria, Gabon, Ghana, Guinea and Tunisia) have registered the Sputnik V, which was developed by Russia's Gamaleya National Research Center for Epidemiology and Microbiology.
The African Union and Africa CDC for its ongoing vaccine readiness work through the African Vaccine Acquisition Task Team. The AU has secured vaccines through the COVAX facility for Africa. WHO has listed three (3) vaccines for emergency use, giving the green light for these vaccines to be rolled out through COVAX. The Group of Seven (7) leaders have committed US$4.3 billion to fund the equitable distribution of vaccines, diagnostics and treatments. European Union has also contributed an additional 500 million euros to COVAX.
The COVAX vaccine facility – which pools financial resources and spreads its bets across vaccine candidates – has handed over the first of 337 million doses it has allocated to around 130 countries for the first half of the year. COVAX receives around 90 percent of its funds from G-7 countries and the EU, but none from China, India or Russia.
By March 2, as reported by the GhanaWeb, the number of African countries to have received vaccine doses are the following:
South Africa – Johnson and Johnson (J&J)
Rwanda – Pfizer and Moderna (reportedly)
Egypt – Sinopharm
Morocco – AstraZeneca/Sinopharm
Seychelles – AstraZeneca/Sinopharm
Mauritius – AstraZeneca
Algeria – Sputnik V
Zimbabwe – Sinopharm
Sierra Leone – Sinopharm
Equatorial Guinea – Sinopharm
Senegal – Sinopharm
Ghana – AstraZeneca/Serum Institute of India (COVAX)
Ivory Coast – AstraZeneca (COVAX)
Guinea – Sputnik V (Experimental basis)
Mozambique – Sinopharm.
Dr. Tedros Adhanom Ghebreyesus, Director-General of the World Health Organization has acknowledged that the pandemic has struck at a time of rapid transformation for Africa. "We cannot and must not see health as a cost to be contained. Quite the opposite: health is an investment to be nurtured – an investment in productive population, and in sustainable and inclusive development," he explained.
According to Adhanom Ghebreyesus, it takes a whole-of-government, whole-of-society approach, and added that "many African countries have low levels of coverage of health services, and when health is at risk, everything is at risk."
Since April last year, World Health Organization and its partners have been working through the Access to COVID-19 Tools Accelerator for the equitable distribution of vaccines as global public goods. As already known, so far around 200 million doses of vaccine have been administered, but unfortunately most of them in the world's richest countries.
WHO declared the coronavirus outbreak a pandemic in March 2020. Since then, more than 110 million cases have now been reported to this organization, and almost 2.5 million people have lost their lives. The overall number of Covid-19 cases in Africa currently stands more than 3.8 million late February, according to the World Health Organization's (WHO) Regional Office for Africa.
Kenya's Peter Mathuki appointed as Head of EAC Secretariat
Kenya's Peter Mutuku Mathuki has been appointed to head the East African Community (EAC), the regional bloc that brings East African countries under one umbrella. Mathuki replaces Burundi's Liberat Mfumukeko, whose five-year term ended early 2021. The post is usually rotational for five years.
As Secretary-General of the regional bloc, his key tasks include regional development, increasing inter-regional trade and addressing investment possibilities for both potential internal and external investors.
According to his profile, Mathuki has worked as Executive Director at the East African Business Council, and consequently emerged as the top candidate for the new position. Over the years, he has been dealing with the corporate business sector, and believed to have sufficient experience and contacts useful to address incessant wrangles in the East African Community.
Mathuki previously served as a member of the East African Legislative Assembly, chairing the Committee on Legal Affairs and Good Governance as well as Accounts, Trade and Investment.

He has held political positions in Kenya and in international bodies including the International Labour Standards at the former International Confederation of Free Trade Unions (ICFTU-Africa), now ITUC-Africa, which he served as director. He was also a consultant for European Union programmes in Kenya.
Mathuki comes on board as the African continent implements the Africa Continental Free Trade Area (AFCFTA) agreement, where he has been involved in the creation of the nascent African Business Council. Trading under this AfCFTA began on January 1, 2021 and opens up more opportunities for both local African and foreign investors from around the world.
Mathuki was taken on as a rectification strategy by Kenya, following a low-key leadership by Mfumukeko. Under his term, countries routinely skipped summits and member states wrangled over tariffs and political accusations. His secretariat faced financial constraints as member states delayed remitting their membership dues and donors reduced funding following allegations of corruption.
The latest report from the East African Community Secretariat for this year shows, for example, that South Sudan is the most indebted member of the EAC. It owes US$24.6 million in funding towards the main budget even though it should pay up to US$32.4 million including this year's dues. It should also pay US$2.8 million to the Inter-University Council of East Africa and another US$345,000 to the Lake Victoria Fisheries Organization.

The main budget usually funds the operations of the EAC Secretariat, the East African Court of Justice, the East African Legislative Assembly and other bodies dealing with specified fields. The Secretary-General is the principal executive and accounting officer of the community as well as the secretary of the summit and serves for a fixed period of five years.
Many businesses and market players perceive the region as progressively stable for long-term beneficial business, investment and trade. With a combined population estimated at 173 million, the region is relatively large. The East African Community (EAC) is an intergovernmental organization composed of six countries in the Great Lakes region in Eastern Africa. The members are Burundi, Kenya, Rwanda, South Sudan, Tanzania and Uganda.
A Fault Line Named Farmajo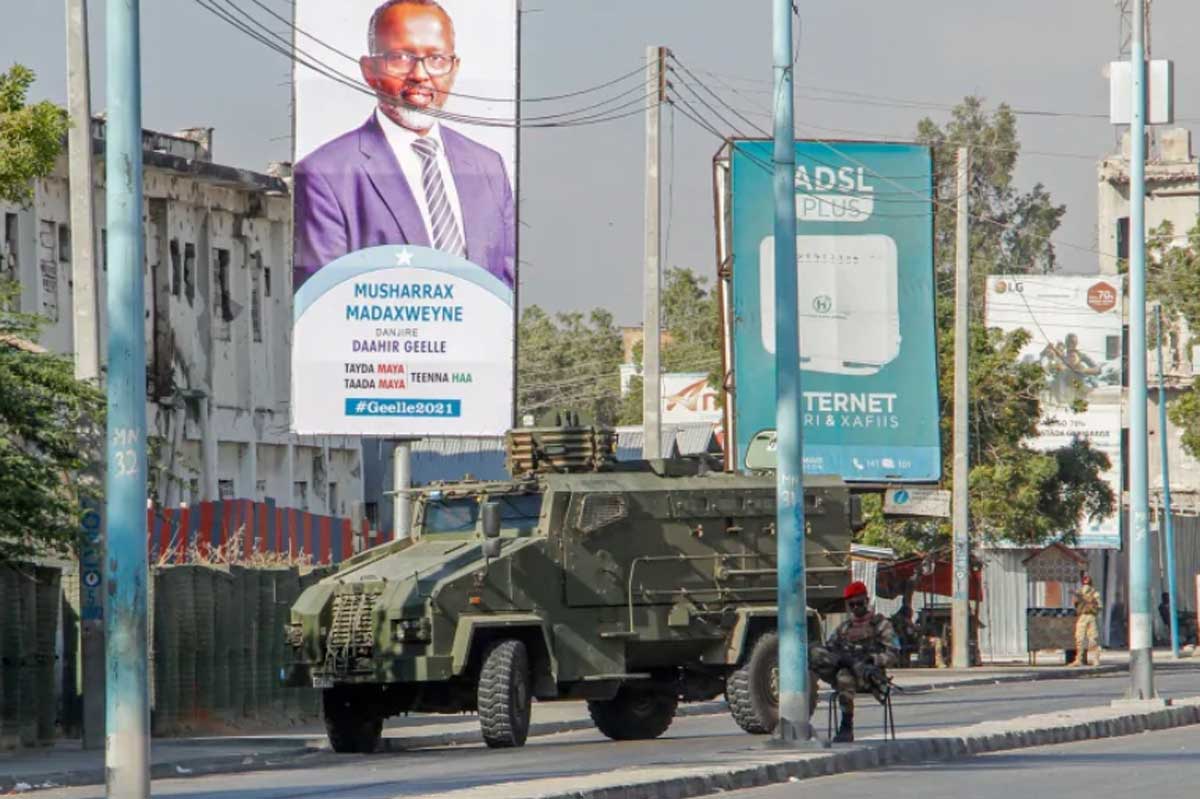 Somalia, a country of many political fault lines that indicate looming earthquakes of great magnitude, now has a new one- the Farmajo fault. Mohmed Abdullahi Farmajo is the malignantly polarizing president of Somalia.
Two of the Farmajo fault's severe foreshocks or preliminary shakers have occurred on Thursday 18 February and Friday 19 February. In the first one, government troops have attacked two former presidents and current candidates at a hotel where they were organizing to lead a peaceful march against Farmajo's illegally delayed election the next day.
The second one occurred on Friday when the government fired indiscriminately at a peacefully marching citizens led by Farmajo's former prime minister, former ministers and a few other candidates. An estimate of twenty people was reported dead or seriously injured.
That was the most callous act that any leader or ruler could have ordered at a time of high political volatility. It is the opinion of this author that that has ended Farmajo's political future. He severely wounded himself in his first reckless attack and committed suicide in his second.
Nature of the Violation
According to Article 19 of the U.N. Universal Declaration of Human Rights:
Everyone has the right to freedom of opinion and expression; this right includes freedom to hold opinions without interference and to seek, receive and impart information and ideas through any media and regardless of frontiers.
And, according to Article 20:
(1) Everyone has the right to freedom of peaceful assembly and association
(2) No one may be compelled to belong to an association.
These universal rights coupled with the freedoms expressed in Somalia's provisional constitution, affirm that those whose Friday march was violently aborted had the right to protest and chant 'Doorasho diid dooni meyno!' which means we don't want election refuser. No one should be bullied, violently attacked, injured, or killed for their verbal expressions of discontent.
What was witnessed in Mogadishu in that bloody protest was something not seen in a number of decades. The protesters were not those often seen in the streets of Mogadishu- IDPs and other poor women draped in the Somali flags who are stationed in street corners, under the baking sun, to get paid a few dollars at the end of the day, and children shouting slogans that they do not understand.
Any government that resorts to violence in order to silence its opposition, activists, or dissidents inevitably loses its legitimacy. So more often than not, such government's days become numbered.
Anyone who has been following my commentaries on Somalia knows that I neither support nor think the opposition (any one of the 14 presidential candidates) could help save this nation that is sinking deeply into quicksand of distrust, for that requires more than election. Yet, I—like many others who have no horse in this bloody race—am committed to defend their right to publicly and privately express their political views.
Spin Doctors of Halane
The aforementioned Friday violence occurred within a walking distance from Halane (Somalia's Green Zone) and key actors in that compound were well aware, at least for a few days before the event, that an anti-Farmajo protest would led by a coalition of presidential candidates who felt scorned and disenfranchised by the 'Madaxweynaha uu xiligiisu dhamaaday' or the President whose term has ended.
In reaction, the UN Assistance Mission in Somalia (UNSOM) @UNSOM offered this solution "The UN in #Somalia notes that the clashes in #Mogadishu underscore the urgent need for Federal Government and Federal Member State leaders to come together to reach political agreement on the implementation of the 17 September electoral model."
The U.S. Embassy in Somalia followed with a paraphrased version of the same statement from another planet. " We urge an end to all violence and remind all parties of their commitment to immediately conclude an FGS-FMS agreement on #election implementation."
Interestingly, the referenced 'electoral model' is at the heart of the presidential candidates' grievance. They were denied to be part of it. These statements on behalf of the U.N. and U.S. were adding insult to an injury. As a result, the coalition of presidential candidates reasserted their position of not considering Farmajo as a legal president and that they would continue protesting until he comes back to his senses.
In solidarity with the disenfranchised presidential candidates, both the leader of Puntland federal-state and Jubbaland federal-state (who were at odds with Farmajo for long) have declared said agreement null and void. The 19 February bloody event has killed 17 September agreement.
In a no hold barred televised speech, President Said Abdullahi Deni of Puntland said "We are not going to a conference with Farmajo…" He described Farmajo as a "dictator" who has been dividing the country, and warned against regression into a renewed civil war.
Recommendations
1) Allow the candidates and all others who want to march to do so freely, and all domestic and foreign stakeholders should support their right to do so
2) Farmajo must be pressured to step aside without being barred of participation in the election- a constitutional right that he cannot be denied
3) The 2009 precedent should not be followed. When then controversial president, Abdullahi Yusuf, was pressured to step aside, his Prime Minister, Nur Adde, was asked to lead the country while a new government was being formed in Djibouti. Nur Adde was not seen as partisan as the current Prime Minister, Mohamed Hussein Roble, who recently declared to unilaterally conduct elections without Puntland and Jubbaland
4) Since no official in the Executive or the Lower and the Upper House branches has a mandate to lead the country while stakeholders are negotiating the right model of election and implementing it, the Speaker of the Upper House, Abdi Hashi, should be entrusted with that responsibility for the following reasons:
a) He is a tower of patriotism among the current politicians
b) He is the oldest, most ethical, and indeed most credible member of the parliament
c) He is the only leader who has been playing by the rules
d) He is the only one who refrained from the cut-throat politics that kept all others in a state of hyper-paranoia
e) He is one of the Senators who represent Somaliland in the clan-based federal system
f) He represents one of the four 'major clans' in the so-called 4.5 system that never held the presidency, even transitionally
g) Once a new parliament is elected and a new president is elected or selected, Speaker Hashi clears the way for that new president
The Farmajo fault should not be underestimated. His prolonged stay could wholly tribalize the issue and subsequently make matters worse. Though the clan rhetoric has not been absent, so far the dichotomous divide between the political elite is not fueled by clan politics. Certain foreign actors possess more political leverage than the clans.