At the end of the third year of his presidency, Emmanuel Macron delivered his long-awaited policy speech on the country's defence and deterrence strategy. The long-awaited indeed: many have been expecting France to step up its nuclear role in recent years, including heading up the establishment of the EU Nuclear Forcete. Did the President deliver on these expectations? Yes and no.
From the get-go, Macron has been keen to play up the historical significance of his February 7 speech. The eighth president of the Fifth Republic noted that the last head of state to visit the École de Guerre in Paris was Charles de Gaulle himself, who delivered his famous speech on the creation of the Force de frappe, or the French Strategic Nuclear Forces (SNF), here on November 3, 1959.
The previous resident of the Élysée Palace, François Hollande, delivered his address on the nuclear deterrence at the Istres-Le Tubé Air Base on February 19, 2015, where one of the French Air Force's two nuclear squadrons was stationed at the time. Macron's predecessor gave a speech that was rather typical of the French nuclear policy, reminding his fellow countrymen that the world is still full of threats and that, despite the commitment to nuclear disarmament (someday, like other powers), it was vital to "keep the powder dry." The President reiterated the promise to not use nuclear weapons against those countries that had signed and honoured the Nuclear Non-Proliferation Treaty (NPT).
According to Hollande, the French Strategic Nuclear Forces contribute to the pan-European security, yet remain 'sovereign:' Paris will neither, as a matter of principle, be part of the NATO Nuclear Planning Group nor will it participate in the NATO's Nuclear Sharing [1]. Notwithstanding European solidarity and the special nuclear cooperation that France enjoys with the United Kingdom, Hollande stressed that, "our [France's] deterrence is our own; it is we who decide, we who evaluate our vital interests." It was France's rather unique attitude to defence policy issues, and to the independence of its Strategic Nuclear Forces in particular, that was partly to blame for the falling out between the United States and NATO during de Gaulle's presidency and that half a century later forced special provisions to be included in the Treaty of Lisbon [2].
But the Euro-optimists, who are eager to make the European Union a great nuclear power, have been unhappy with the Treaty of Lisbon for some time now. In 2016, For example, prominent Bundestag member and international politics expert Roderich Kiesewetter of the ruling Christian Democratic Union proposed using the joint European military budget to strengthen nuclear forces of the United Kingdom and France and to ensure the continent's nuclear deterrence potential independent of the United States, a proposal that was supported on the eastern flank of the European Union by Jarosław Kaczyński. These sentiments were further bolstered by the onset of the Ukrainian crisis and even more so by the election of Donald Trump, who has long been sceptical of NATO. The Brexit actually played into the hands of those calling for a more robust nuclear umbrella in Europe, as the United Kingdom always served as a key instrument of U.S. and NATO policies in the European Union, opposing 'separatist' attempts to build non-Atlantic security institutions. This is precisely what the French Supreme Commander-in-Chief advocated, albeit somewhat cautiously, in his 2020 address.
Thermonuclear Assets
What does France have to offer to Europe? According to conservative estimates, the third largest nuclear arsenal in the world after that of Russia and the U.S., no less, with almost 300 warheads (the actual number is not known: Hollande mentioned 300 in 2015, while Macron stated "under 300" five years later). This figure is conservative because numbers given for China vary wildly depending on individual preferences and the degree of Sinophobia of whoever is making estimates. It should be noted that in 2019 the respected Bulletin of the Atomic Scientists stated that the Chinese nuclear arsenal included "about 290 warheads." There is no need of a pack of tarot cards to reveal that France and China are in the second group of states in terms of the number of nuclear warheads in their possessions, way behind the United States and Russia and far outstripping other countries.
The French Strategic Nuclear Forces currently consist of two components: an airborne and a seaborne. There used to be a land component with 18 intermediate-range ballistic missiles holed up in silos in the south of the country; that component existed from 1971 to 1996 [3]. As was the case for most nuclear powers, France initially used bombers to carry its warheads, namely the Dassault Mirage IV, which was introduced in 1964 and could carry a single AN-11/22 nuclear bomb with a charge of approximately 60 kilotons. In January 1972, the French ballistic missile submarine Le Redoutable set out on its maiden patrol.
The French government initially had high hopes for nuclear-powered ballistic missile submarines (SSBNs), but the program to develop and construct these complex systems ended up falling desperately behind the schedule. Yet the fact that in 1960-1970s France was able to create its own SSBNs and missiles to go with them (SLBMs) is quite a feat in itself, as it was only the third country in the world to do this, not lagging too long behind the two superpowers of the time that possessed far more resources [4]. China only built its first serial SSBNs in the 21st century (the Type 094 submarine set off on its maiden nuclear deterrence patrol in December 2015), while India is still testing its first vessel.
The airborne component of the French Strategic Nuclear Forces currently consists of Rafale B twin-seat fighter jets, which replaced the Mirage 2000N in 2018 and are equipped with ASMP-A supersonic cruise missiles (54 supersonic thermonuclear warheads with a range of up to 500 kilometres and a charge estimated at approximately 300 kilotons, some of which was spent during testing). Unlike previous generations of fighters, Rafale's aircrafts were not specially modified for carrying nuclear warheads; instead the Air Force personnel receive a special training to operate them.
Two nuclear squadrons are deployed at the Saint-Dizier-Robinson Air Base: Fighter Squadron 1/4 Gascogne and Fighter Squadron 2/4 La Fayette, with at least 40 fighter jets in service. In addition, the Strategic Air Forces Command (Forces Aériennes Stratégiques, FAS) possesses "privileged rights" to the Air Supply Group 2/91 Bretagne, a combined regiment of 14 Boeing KC-135 Stratotankers manufactured in the U.S., which from 2018 are being gradually replaced by the modern European-made Airbus A330 MRTT Phénix. The second A330 MRTT was delivered in late 2019. The initial contract for 12 aircrafts is set to be fulfilled by 2023; three more tankers may be ordered. Tanker aircrafts are vital for delivering strikes at considerable distances, as the Rafale are still fighters and not long-range bombers.
What sets France apart is that the country has had the naval nuclear aviation force (Force aéronavale nucléaire, FANu) in addition to its land-based nuclear aviation component since the late 1970s. Currently, the FANu consists of carrier-based aircrafts, specifically Rafale M single-seat fighters that can also be equipped with ASMP-A cruise missiles. Unlike the immediately ready specialized land units, the FANu are set up on an as-needed basis, and all naval squadrons undergo a basic nuclear weapons training. France's sole aircraft carrier R91 Charles de Gaulle does not carry ASMP-A on a permanent basis and missiles are stored in the Air Force's arsenals during peacetime; however, positioning the aircraft carrier as part of the country's Strategic Nuclear Forces is a somewhat strange move itself. Nuclear weapons were offloaded from all U.S. aircraft carriers by the middle of 1992 and modern carrier-based F/A-18E/F and F-35C fighters are not intended for such purposes [5].
The employment of an aircraft carrier as a platform for fighters armed with nuclear cruise missiles is consistent with the French approach to the air component of its Strategic Nuclear Forces. It is seen as a visible part of its deterrence forces that can be used to deal with explicit threats and manage escalations. In addition, high-precision ASMP-A missiles are well-suited for surgical strikes and a warhead that has more power than SLBM may be useful for destroying specially fortified underground objects. ASN4G air-launched missiles are currently under development that looks very promising. The plan is to start phasing out ASMP-A missiles in the mid-2030s and replace them with ASN4Gs. All specifications have not been publicly disclosed, but given current trends, a fair guess is that it will be hypersonic (a glider or a cruise missile with a hypersonic ramjet engine).
Nevertheless, much of France's nuclear potential is concentrated on a hidden yet permanently combat-ready component of its Strategic Nuclear Forces, namely its fleet of Triomphant-class nuclear-powered missile submarines. Four of these vessels were put into operation between 1997 and 2010, replacing Le Redoutable-class boats. Triomphant-class submarines are armed with 16 SLBMs. By 2020, all these boats should be equipped with the newest M51.2 missiles carrying new TNO nuclear warheads, which, according to unconfirmed reports, boast a charge of approximately150 kilotons. The payload range depends on its size, with conflicting reports suggesting upwards of 9000 km for minimal payloads and significantly less when carrying six or more individual guidance units [6]. Each submarine obviously has missiles with various combinations of warheads. According to official statements, the French Navy possesses 48 missiles and three weapons systems, one for each submarine, while the fourth is undergoing a major overhaul. According to various estimates, 80–90% of the almost 300 warheads are intended for the marine component of the Strategic Nuclear Forces [7], even though its surpluses are probably very small compared to those of other nuclear powers [8].
The design work on promising SNLE-3G nuclear-powered ballistic missile submarines has already begun, with the construction set to start in 2023 and commissioning projected for the first half of 2030s. Meanwhile, the development of M51 SLBMs continues: a modified M51.3 is expected to appear in the middle of this decade. The new missile will have an additional third stage, which will increase its range and throw-weight in terms of a more advanced equipment for defeating missile defence. New SSBNs will be equipped with promising M51.4s, which are in early stages of development.
The EU Nuclear Sharing
France's Strategic Nuclear Forces are small compared to those of the United States and Russia, but they are cutting edge and updated constantly. Unlike the United Kingdom, which continues to reduce its nuclear arsenal unilaterally and where the public sentiment is largely anti-nuclear, France enjoys a greater popular support for nuclear deterrence. Arguably, this is explained by historical reasons. France has always viewed nuclear weapons as a vital instrument for gaining more independence from the United States and as a guarantee that catastrophes the country faced during the First World War and in 1940 will not repeat themselves.
In the past, France always took a stand-off position in matters pertaining to strategic nuclear forces. Even after it was accepted back into the NATO Military Command Structure in the beginning of the 21st century, Paris stressed that it will not be part of the Nuclear Planning Group and refused to align its nuclear strategy with that of its allies. Now, Emmanuel Macron is ready to turn this symbol of country's independence into the embodiment of France's role as the leader of united Europe.
It is not too much of an exaggeration to suggest that Macron's speech was largely directed at all citizens of Europe and that he was referring to pan-European threats and objectives. One popular yet unsophisticated way of analysing political speeches that sometimes yields interesting results is to count how many times an important word is used. In his speech, Macron said 'Europe' almost twice as many times as 'France.' To compare, François Hollande mentioned 'France' almost ten times more frequently than 'Europe' in his 2015 address.
In his address, Macron pointed to a number of developing trends that may pose a serious challenge to European security in the future: first, the growing confrontation between the United States and China; second, Europe's need for greater autonomy from the United States with regard to security in Eastern and Southern parts of the continent; and third, blurring the line between competition and confrontation. In addition, the proliferation of weapons of mass destruction and the "unprecedented situation" in which regional powers already are or soon will be capable of striking the European territory directly were also singled out as threats.
Another potential threat, according to Macron, is the gradual erosion of the arms control regime. The legal framework needs to be restored in this area and Europe must make efforts. A failure to do so may once again make Europe a field of confrontation for "non-European nuclear powers," which is completely unacceptable, as far as the President of France is concerned. These calls to rebuild the arms control regimes can be seen as a tacit support for the Russian proposal to impose a moratorium on the deployment of medium-range missiles (the French President is the only Western leader who has responded positively to the idea). Macron also paid a special attention to the subject of restoring relations with Russia without which "there can be no defence and security project of European citizens." Moreover, he has tasked himself with building bridges with Russia [9].
At the centre of Macron's speech was the call for Europe to pursue a more independent defence and security policy. Beyond purely political, Macron drew focus to the fact that Europeans (and European states, by extension) need to control the continent's key infrastructure themselves. This appears to be a vital element of the French President's thinking, as he later reiterated the point during a speech on the coronavirus pandemic. By gaining a greater sovereignty for whole Europe, France will be able to obtain a "true" sovereignty for itself.
Turning to military issues, Macron noted that while European countries have continued disarmaments in the spirit of the 1990s, other players have moved in the other direction. Europe can only achieve a full political sovereignty with modern armed forces, and modernization costs money. France's nuclear forces can be the core of this European military sovereignty—autonomous from the United States and less entrenched in NATO than the nuclear arsenal of the United Kingdom, which left the EU this year.
Of course, Macron did not utter these exact words, but he did make an extremely important message that most commentators have missed: "France's vital interests now have a European dimension." This is not a throw-away sentence, because according to France's military doctrine, a perceived threat to the country's "vital interests" is an enough reason to resort to the nuclear force [10]. Macron could not have made a more explicit offer to extend his country's nuclear umbrella to cover the rest of the European Union as he suggested opening a strategic dialogue on this issue.
Commentators have paid more attention to the concrete proposal for willing European partners to start partaking in exercises of the French Strategic Nuclear Forces. This means, foremost, the air component, considering that the submarine one is far too sensitive. Besides, in light of the departure of the United Kingdom, the European Union no longer has a fleet that could help France out in the Atlantic. A strengthened cooperation in the air component, though, can significantly expand capabilities of France's strategic aviation, of course, on jet fighters, but it is what it is.
It may be tempting to disperse to multiple airfields across Europe during a heightened threat, but this would require the ground personnel of allied countries to undergo necessary trainings, including in the use of ASMP-A missiles, which is a politically sensitive issue the European authorities may return to later in time. It is far more likely that the joint European fleet of Airbus A330 Multi Role Tanker Transport aircraft that the French Air Force also uses will be involved in exercises alongside French nuclear squadrons. Six countries have already chipped in to buy eight tankers: Belgium, the Czech Republic, Germany, Luxembourg, the Netherlands and Norway. The program is constantly expanding and at least three aerial refuelling tankers are expected to be ordered. Tankers deployed at airfields in dangerous regions will make it easier for French Rafale fighter jets to carry out long-distance missions. At the same time, clearly, the issue of providing cover for strike groups must be settled. This is perhaps the most interesting aspect of potential military exercises suggested by Macron.
The joint French, German, and Spanish Future Combat Air System (FCAS) program to develop a sixth-generation jet fighter that is set to replace the Rafale and Eurofighter Typhoon in the late 2030s is worth of mention. The relevant contract was signed on February 20, 2020. Given requirements of the French side, the new jet will probably be initially designed as a nuclear delivery vehicle [11]. This will expand capabilities of the allied air forces, which may then be able to handle promising ASN4G missiles.
Obviously, France's proposal cannot get off the ground if other EU member states, especially Germany, are not on board with it. One week after Macron delivered his speech in Paris, President of Germany Frank-Walter Steinmeier spoke at the opening of the Munich Security Conference, where he supported opening a dialogue with Germany's "closest ally," France, in order to develop a "joint strategic culture." Minister for Foreign Affairs of Germany Heiko Maas made similar comments during his speech at the conference. In an interview given a few days before the beginning of the conference, its chairperson Wolfgang Ischinger said he did not believe that France would relinquish its nuclear weapons to the general command, but spoke positively about starting a dialogue on the common strategy and discussing "European deterrence." The consensus was that the United States could no longer be considered a reliable partner for defending Europe.
It is important to know that the subject of nuclear weapons is extremely sensitive for European politicians. Thus, any steps in this direction will only be taken with the utmost caution and the hope that at every stage their "big brother" will step in to help. And who knows? Maybe the United States will indeed come back to its senses once a new president comes to power. The negative attitude of the European population to nuclear weapons cannot be overlooked either; however, if the European project manages to survive its current woes and if its leaders are determined to play an independent role in world politics years down the line, then they very well may decide to create an allied nuclear shield.
If that is truly the case, decades from now Macron's 2020 speech will be referenced in the same way he alluded to Charles de Gaulle's. Or, at least, that is the way he would like it.
[1] The practice of the United States storing its tactical nuclear weapons in Europe under its own formal control and training local forces, including those of non-nuclear powers, in their use. B61 nuclear bombs are currently deployed in Belgium, Germany, Italy, the Netherlands and Turkey. For more, see: https://russiancouncil.ru/en/analytics-and-comments/analytics/ruzhe-na-stene/
[2] Many believe that France's position on the matter was the reason why Article 49(c).7. of the Treaty, which proclaims the principle of the collective defence of the European Union, includes the provision that, "This shall not prejudice the specific character of the security and defence policy of certain Member States."
[3] In this case, we are talking about strategic weapons only. France's nuclear arsenal also included tactical nuclear weapons, namely, the Pluton and Hadès short-range road-mobile missile systems, from 1974 to 1997.
[4] The United Kingdom had a lot of help from the United States in building its SSBNs, and to this day they are equipped with U.S. missiles.
[5] Norris, Robert S. and Kristensen, Hans M. "Declassified: U.S. Nuclear Weapons at Sea During the Cold War." Bulletin of the Atomic Scientists, 2016 https://www.tandfonline.com/doi/full/10.1080/00963402.2016.1124664
[6] The exact numbers for the French missile are not known, but we can use the U.S. Trident II for reference. According to expert estimates, Trident II has a range of approximately 7500km when carrying eight warheads, and over 11,500km when the number of warheads is reduced to three or four. See Harvey, John R. & Stefan Michalowsk, Science & Global Security, 1994 http://scienceandglobalsecurity.org/archive/sgs04harvey.pdf.
[7] Tertrais, Bruno. "French Nuclear Deterrence Policy, Forces and Future." Fondation pour la recherche stratégique, 2019 https://www.frstrategie.org/sites/default/files/documents/publications/recherches-et-documents/2019/201901.pdf
8. Kristensen, Hans M. & Matt Korda. "French Nuclear Forces." Bulletin of the Atomic Scientists, 2019. https://www.tandfonline.com/doi/full/10.1080/00963402.2019.1556003
[8] "As I'm carrying out this project, I am demanding […] The main objective – I have mentioned it numerous times – of my engagement with Russia is an improvement in collective security and stability conditions in Europe. This process will last several years. It will require patience, and high demands, and it will be conducted with our European partners. But we have no interest in delegating such a dialogue to others, nor lock ourselves in the present situation."
[9] Given the fact that France's nuclear arsenal was considerably smaller than the Soviet Union's, the country traditionally adhered to the strategy of "the weak containing the strong," meaning not a retaliatory, but rather a preventive strike in the event of a non-nuclear attack or nuclear threat. Euphemisms helped smooth this out somewhat. This explains why, even now, when the official documents of the United States and Russia cite "in response to an attack using weapons of mass destruction" as the main reason for using strategic nuclear forces, France's talk about "protecting the country's vital interests."
[10] For example, the Eurofighter Typhoon is not capable of carrying nuclear weapons. This creates certain difficulties for Germany when it comes to replacing its Tornado bombers, which continue to be used as potential carriers for U.S. B61 bombs.
From our partner RIAC
A Glimpse at China's Nuclear Build-Up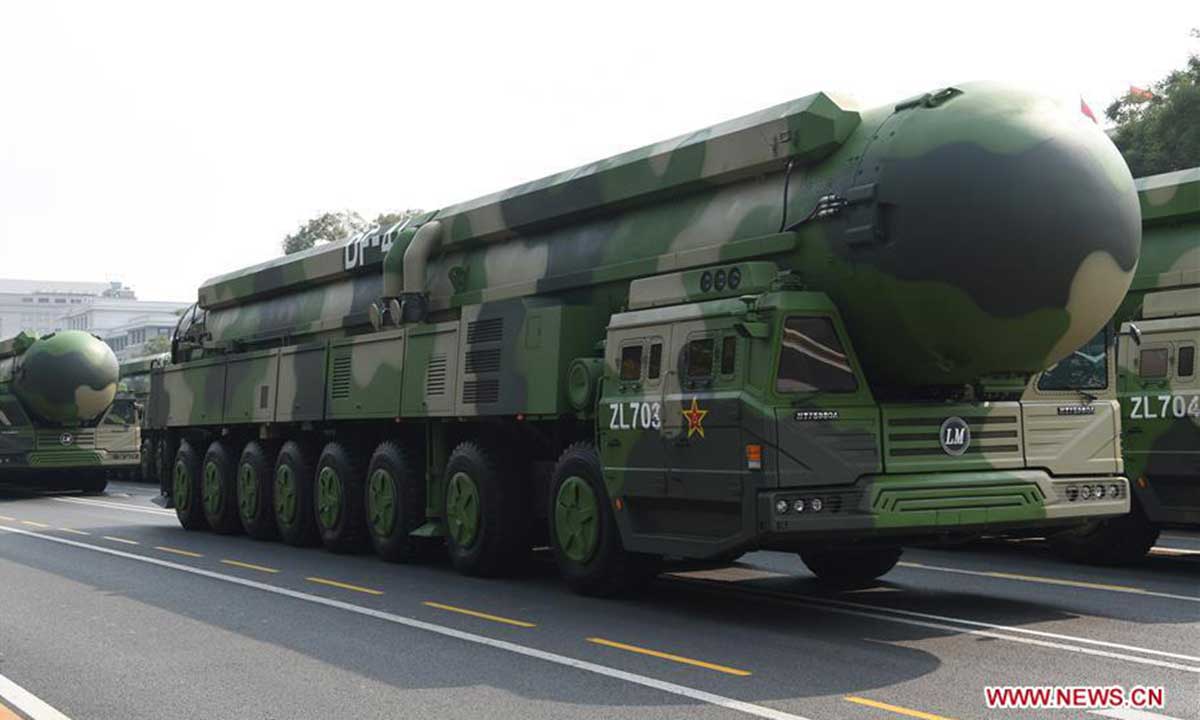 The People's Republic of China is now the second largest military spender after the United States, and the country has proven that it has the technical capability to develop revolutionary outer space technology, which is often related to military purposes. Nevertheless, China's armed forces continue to lag behind when it comes to nuclear military technology, as Beijing only has 270 to 350 nuclear warheads, slightly more than the French armed forces.
Thus, China is investing in innovative research on civilian thorium nuclear facilities to become a leader in civilian nuclear, while it is reportedly not investing as much in the military nuclear sector.
This article explores the latest developments concerning "Made in China" nuclear weapons to explain why China's armed forces are rather sluggish to increase the number of warheads due to the parallel development of other components of the military (e.g. nuclear submarines).
A brief history of Chinese nuclear weapons
China's first nuclear weapons experiment took place in 1964, followed by its first hydrogen bomb test in 1967. Further development continued well until 1996, when China signed the Comprehensive Nuclear Test Ban Treaty (CTBT).
In order to do so, China started building uranium enrichment plants in Baotou and Lanzhou as early as 1958, followed by a plutonium facility in Jiuquan and the Lop Nur nuclear test site in 1960. It is no secret the Soviet Union assisted in the early stages of the Chinese programme by sending advisers to the fissile material production facilities, having even agreed to provide a prototype bomb, missiles and related technology in October 1957.
In 1958, Soviet leader Nikita Khrushchev told Mao that he planned to discuss arms control with the United States and Great Britain, while Beijing was adamantly opposed to Khrushchev's policy of "peaceful coexistence" after the fall of Stalin. Although Soviet officials assured the Chinese leadership that the country will remain under the Soviet nuclear umbrella, the disagreements widened the emerging Sino-Soviet rift. In June 1959, the two nations formally terminated their military and technological cooperation agreement, and all Soviet assistance to China's nuclear programme was abruptly terminated by July 1960, with all Soviet technicians withdrawn from the programme.
This brief history of nuclear weapons in China tells us a lot about the current reason for Chinese weak nuclear capabilities, which had to be developed without the support of the USSR since the 1960s. Moreover, the desire for nuclear capabilities is closely related to the conflict with Taiwan and, as such, Beijing does not need to radically increase its capabilities since the island remains a non-nuclear territory to this day. Furthermore, increasing capabilities would worry the United States and Russia, the other two major nuclear powers—and Beijing had no interest in doing so, especially during the Cold War.
China's nuclear posture and policy
The Chinese approach is focusing on quality over quantity, which explains the low number of warheads to this day. As of today, most nuclear warheads built during the Cold War can be intercepted by anti-missile systems in NATO and Russia as they are relying on outdated technology, which explains Russia's desire to build the hypersonic glide vehicle such as the "Avangard".
The same is true for China. As the U.S. strengthens its missile defenses capabilities, China is likely to further modify its nuclear posture to first ensure the credibility of its retaliatory strike force, including deploying hypersonic glide vehicles rather than increasing the number of warheads.
Meanwhile, the People's Liberation Army (PLA) has maintained a "low alert level" for its nuclear forces and keeps most of its warheads in a central storage facility in the Qinling Mountain Range, although some are kept in smaller regional storage facilities around the country. Although there are rumors that China has coupled warheads to some of its missiles to increase their availability, we have not seen official sources confirming this. In fact, the latest Pentagon report explicitly states that "China almost certainly retains the majority of its peacetime nuclear force—with separate launchers, missiles, and warheads".
Both the United States and Russia operate early warning systems to detect nuclear attacks and launch their missiles quickly, and a Chinese early warning system could also potentially be designed to enable a future missile defense system to intercept incoming missiles. The latest Pentagon report indicates that China is developing an HQ-19 mid-course missile defense system that could intercept Intermediate-range ballistic missile (IRBMs) and possibly intercontinental ballistic missile (ICBMs), although this would take many more years to develop. In addition, the Chinese government has a long-standing policy of not using nuclear weapons first and not using nuclear capabilities against non-nuclear countries or nuclear-weapon-free zones.
Military nuclear capabilities on land, air and sea
China has continued to field the DF-26, a dual-capable mobile IRBM, and is replacing the older DF-31A road-mobile ICBM launchers with the more maneuverable DF-31AG launcher. It is also in the early stages of commissioning the new DF-41, a road-mobile ICBM that would be capable of carrying multiple independent target re-entry vehicles (MIRVs) like the old DF-5B based on a liquid fuel silo.
At sea, China is adding two more ballistic missile submarines and developing a new type. Additionally, China has recently reassigned a nuclear mission to its bombers and is developing an air-launched ballistic missile to have a nuclear capability.
It is estimated that China has produced a stockpile of about 350 nuclear warheads, of which about 272 are intended to be launched by more than 240 operational land-based ballistic missiles, 48 sea-based ballistic missiles and 20 nuclear gravity bombs assigned to bombers. The remaining 78 warheads are expected to arm additional land- and sea-based missiles that are being installed.
Land
The People's Liberation Army Rocket Force, supervised by General Zhou Yaning (commander) and General Wang Jiasheng (political commissar), is in charge of the ground nuclear forces. Since the Cold War, China is continuing the gradual modernization of its nuclear-capable ground missile force, and it is estimated that the PLA rocket force has about 240 land-based missiles capable of carrying nuclear warheads. Of these, about 150 can strike parts of the United States (Hawaii). The number of ICBMs that can strike the continental United States is smaller: about 90 missiles with some 130 warheads.
These capabilities are easily explained by the fact that land-based missiles have a greater range than sea- and air-based ones, at least until China upgrades its sea-based systems. Thus, land-based missiles increase range and allow targeting of distant nuclear counterparts—the United States, France and the United Kingdom—while ensuring capabilities against the other four nearby nuclear powers: Russia, North Korea, India and Pakistan. It is likely that land-based capabilities will remain a major component until submarine capabilities are expanded. Once submarines are as advanced as those of other nations, then—like the United States, Russia, France and the United Kingdom—China is likely to focus more and more on submarines rather than land-based capabilities.
Sea
China has introduced six Jin-class (Type 094) nuclear-powered ballistic missile submarines (SSBNs), which are based at the Longposan naval base near Yulin on Hainan Island (only four of them are currently operational). The two newest SSBNs, which were handed over to the PLA Navy in April 2020, are said to be variants of the original Type 094 design, known as Type 094A. These boats have a more prominent hump, which has led to a speculation that they could carry up to 16 JL-2 submarine-launched ballistic missiles (CSS-N-14), instead of the usual 12. However, satellite images confirm that the new submarines are equipped with 12 launch tubes each.
Each JL-2 is equipped with a single warhead and, possibly, penetration assistance. The JL-2, which is a modified version of the DF-31, is supposed to have a range of about 7,200 km, although U.S. estimates of the range have varied over the years. Such a range would be sufficient to target Alaska, Guam, Hawaii, as well as Russia and India, from waters near China.
Unlike the land-based approach, the nuclear submarine can move around the world, have an unknown destination and a changing position, and it can retaliate up to several months after a nuclear conflict has ended. As such, submarines are now the main component of the French and British nuclear forces, and are vital to the U.S. and Russia. However, this requires advanced technology, which China does not yet have (nor do India and Pakistan). Therefore, the People's Liberation Army is upgrading its submarine capabilities and technology, which should lead to increased relevance of submarines for nuclear operations in the long term. China's new-generation Type 096 SSBNs will carry an extended-range SLBM, the JL-3, which, according to unofficial sources, could have a range of over 9,000 km. Chinese media describe the JL-3 as an SLBM "equivalent or similar to the French M51," pointing out that its diameter has been increased compared to the JL-2 and that it incorporates a carbon-fiber casing, giving it an increased range.
Air
China developed several types of nuclear bombs and used aircraft to carry at least 12 of the nuclear weapons it detonated as part of its nuclear test programme between 1965 and 1979. However, the PLA Air Force's nuclear mission remained dormant until the 2000s, presumably because its older bomb-equipped aircraft were unlikely to be relevant in a nuclear conflict.
Countries such as France, the United Kingdom, Pakistan and India, are not focusing on long-range bombers, as they are easier to track, they move slowly and they are no major asset compared to submarines and land-based missiles. In this respect, only two nuclear powers—the United States and Russia—are investing in bombers. China wishes to become the third nuclear power and has therefore developed the H-6 bomber, which is technologically advanced enough to compete with its American counterparts Northrop Grumman B-2 "Spirit", Rockwell B-1 "Lancer" and Boeing B-52 as well as the Russian Tupolev Tu-22M, Tupolev Tu-95 and Tupolev Tu-160. The Chinese H-6 should be complementary to the Xian H-20, as the bomber world is rapidly evolving with the introduction of the new American Northrop Grumman B-21 "Raider" and the Russian Tupolev PAK DA.
In conclusion, China is most certainly on its way to becoming the third largest nuclear power with growing capabilities to rival Washington and Moscow. In order to do so, it will need to increase its nuclear submarine capabilities to catch up with France and the United Kingdom, as well as the continued development of the H-20 bomber project to compete with the United States and Russia. Beijing has surely decided to invest in quality rather than quantity, preferring to slowly and precisely increase the number of warheads when it will first have the ability to defeat anti-missile systems.
Interestingly, China's military nuclear approach is more about catching up with the other nuclear powers, in contrast to the civilian nuclear sector where the country is more innovative, as evidenced by the two thorium nuclear reactors under construction in the Gobi Desert (China plans to bring thorium reactors into commercial operation by 2030). Thus, China could become the leader in civil thorium nuclear power before it closes the gap as a military nuclear power.
From our partner RIAC
Developments on Korean Peninsula risk accelerating regional arms race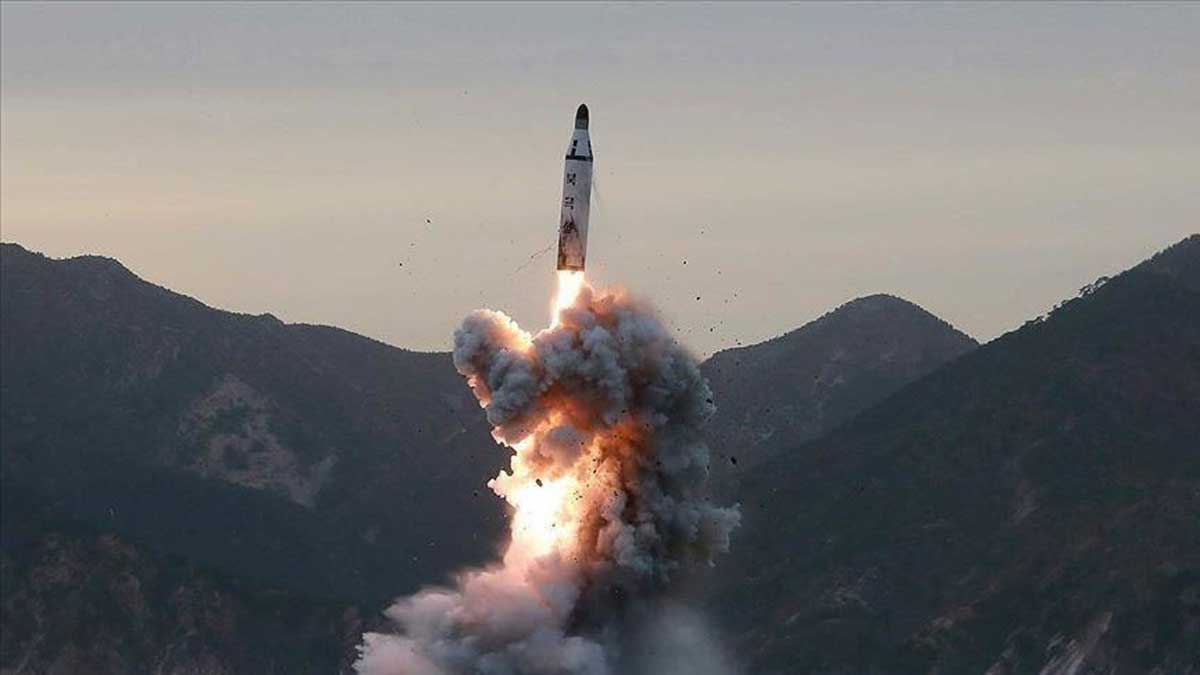 A week full of missile tests; this is the current environment on the Korean Peninsula. On Wednesday, North Korea fired two rounds of ballistic missiles into the East Sea while South Korea tested its first submarine-launched ballistic missile (SLBM) just a few hours later. Wednesday's tests follow a week of rising tensions on the Korean Peninsula, the consequences of which can be felt beyond the two Koreas.
North Korea ramps up tensions
According to North Korean state-run media reports, the reclusive state carried out a series of successful tests of a new long-range cruise missile over the weekend while referring to the missiles as a "strategic weapon of great significance". Calling the weapon 'strategic' may imply a nuclear-capable system. Although North Korea is banned from using ballistic technologies due to U.N. Security Council resolutions, these same rules do not apply to cruise missiles.
Despite the tests, Washington maintained its position to resume dialogue with the North and "to work cooperatively with the DPRK to address areas of humanitarian concerns regardless of progress on denuclearization," US Special Representative for North Korea Sung Kim said on Tuesday. Still, the US Indo-Pacific Command did acknowledge the cruise missile launches and said the tests highlight the "DPRK's continuing focus on developing its military program and the threats that poses to its neighbors and the international community."
China reacted to the test by calling for restraint by all relevant parties and for a 'dual track' approach to be followed involving "phased and synchronized actions to continuously advance the political settlement of the Korean Peninsula issue."
North Korea then upped tensions further by conducting yet another missile launch on Wednesday. This test marked the first time the DPRK launched a missile off a train-mounted ballistic missile delivery system, which they referred to as the "Railway Mobile Missile Regiment". According to Japan's Defense Minister Nobuo Kishi, the missiles were believed to have landed in Japan's exclusive economic zone. The location of the landings don't seem to be a coincidence as earlier that day North Korean state media had criticized Japan's newly unveiled defense budget, referring to the country as a "war criminal state".
Japanese Prime Minister Yoshihide Suga strongly condemned the latest tests, calling North Korea's behavior "outrageous" and a "threat" to "the peace and security of our country and the region". The US State Department also called the tests "a violation of multiple UN Security Council resolutions" while emphasizing the Biden administration's commitment to trilateral diplomacy and cooperation with Japan and South Korea.
What's more, North Korea appears to have resumed activities at its nuclear reactor at Yongbyon, according to a report published by the International Atomic Energy Agency last month. The report stated that "The DPRK's nuclear activities continue to be a cause for serious concern" while adding that "The continuation of the DPRK's nuclear programme is a clear violation of relevant UN Security Council resolutions and is deeply regrettable."
In July, North Korea warned of a "major security crisis" in protest against the combined summertime military exercise between South Korea and the United States. This increase in rapid missile testing seems to be the result of North Korea's dissatisfaction with both Seoul and Washington's actions over the last few months.
South Korea joins in on the missile testing
Although the international community is used to hearing about North Korean missile tests over the years, what is much less common is to hear about a missile test conducted by the South. Hours after the North fired its missiles, South Korea tested its first submarine-launched ballistic missile (SLBM).
North Korea's Kim Yo Jong—the sister of leader Kim Jong Un— was quick to respond to the tests the same day, warning of the "complete destruction of inter-Korean ties" and criticized Seoul's "illogical, antiquated and foolish attitude", according to North Korean state media.
Through the test, South Korea became the first country without nuclear weapons to launch an SLBM. Besides the SLBM, South Korea's presidential office said in a statement that the ROK military had also developed other new missiles, including a supersonic cruise missile to be deployed in the near future, and a new ballistic missile that has "overwhelming counterattack capability" by firing a larger warhead. Indeed, South Korea's arms industry has grown exponentially over the last two deacades and continuous to expand rapidly. According to he SIPRI arms transfer database, South Korea rose from the 31st ranked arms exporting country in 2000 to number six in 2020.
Besides South Korea, Japan is also beefing up its military capabilities. Last month, Japan's Defense Ministry sought a record $50 billion annual budget that would entail the largest percentage jump in spending in eight years. China was quick to criticize the move, accusing Japan of "trying to find excuses to justify their decision to increase military spending," On the other hand, Japan blames China for "unilaterally changing the regional status quo," affecting "the security of the Taiwan Straits, but also Japan's security."
The missile tests conducted by both Koreas this week further exacerbates the security situation in the region, negatively impacting far beyond the peninsula alone. The recent developments also don't bode well for improving inter-Korean relations or US-DPRK ties. Diplomatic negotiations between the US and North Korea have been stalemated ever since the 2019 Hanoi Summit fell apart. So far, Biden has only verbally expressed interest in resuming talks, but is unlikely to do so unless North Korea makes concrete commitments to dismantle its nuclear weapons program.
Inter-Korean relations are also unlikely to improve in the near future, given the time constraints. South Korea's President Moon has roughly six months left in office, and it is unlikely significant diplomatic progress can be made in this timeframe.
HTS enters Turkey's plot against the Kurds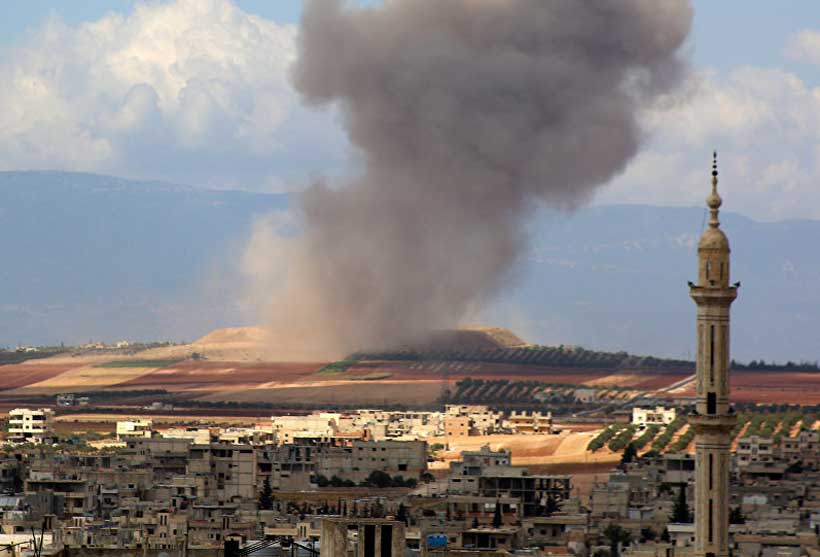 Ever since Turkey entered the 2017 Astana agreement with Russia and Iran Ankara has been relentless in its efforts to sell the international community the idea of absolute necessity of Turkish military presence in North-East Syria to support the moderate opposition and deter the Assad government.
The Astana meetings that followed the initial agreement indeed resulted in making Turkey responsible for the state of the Syrian opposition in Idlib and Aleppo provinces but – and there is always a but when it comes to the decade-long Syrian conflict – Ankara's mission was never defined as 'support' of the opposition. Instead, Turkey volunteered to perform an arduous task of separating moderate Syrian armed groups from those who were considered radical and posed a potential security threat on both regional and global levels. This process, dubbed 'delimitation of the Syrian opposition,' is hardly any closer to completion now than before raising the question of the extent of Ankara's ability – and intention – to fulfill its pledge.
Shared goals
Turkey's insistence on supporting the moderate opposition conveniently combines with the recent attempts of Abu Mohammad al-Joulani, leader of Hayat Tahrir al-Sham (HTS) which is de-facto dominant power in the Idlib de-escalation zone, to recast the image of the group. Although HTS is considered a terrorist organization by the UN and a number of global powers al-Joulani made a number of high-profile media appearances to promote the group's vision of the future of Syria and confirm that its ambitions are confined to national scale only.
Talking to the Turkish version of The Independent al-Joulani spoke against any foreign military presence in Syria, making no special mention of the Turkish army. Meanwhile in Idlib, a position of the Turkish military located next to those of HTS is a common, even natural occurrence. This co-existence of regular armed forces and radical terrorists is not affected neither by hard evidence of HTS involvement in committing war crimes, nor even by the fact that HTS is listed as a terror group by Turkey's authorities.
Shared enemies
In his interview to The Independent al-Joulani has also touched upon the position of the Syrian Kurds, another key axis of Turkey's policy in Syria. Commenting on the current developments in Afghanistan the HTS leader suggested that the aftermath of the US surprise withdrawal from Kabul will also have an impact on the Kurds or, as he put it 'the US-backed enemies of the Syrian revolution.' He also accused the Kurds of conducting attacks in living quarters in the areas of the "Olive Branch" and "Euphrates Shield" operations carried out by the Turkish military in Northern Syria.
HTS has never been in direct confrontation with the Kurds. However, al-Joulani's words highlighted his open hostility towards the Kurdish administration, that, as the HTS leader purports, is only able to control a huge swath of Syria and maintain relative stability thanks to the US support. This Kurdish dream will crumble as soon as the last US plane takes off from the Syrian soil, according to al-Joulani.
Does this opinion reflects Turkey's intention to put an end to the 'Kurdish threat' should the US withdraw from Syria? The events in the Afghanistan provide enough evidence to conclude that it's entirely possible. Indeed, such concerns have been expressed in a number of articles authored by both local and international analysts.
The bottom line
Turkey's regional policies and HTS leader's statements confirm that Ankara seeks to transform HTS into a bully of sorts. The group's primary task would be to exercise pressure on other armed units to facilitate the delimitation process orchestrated by the Turkish authorities. As the US grip over the region gradually loosens and HTS control over Syria's north-west tightens thanks to its efforts to achieve international recognition with the tacit support of Turkey, the Kurds are facing an uncertain future. Moreover, close coordination between Turkey and HTS harbors negative consequences not only for the Kurds but rather for all of Syria.
To prevent this, the international community must intervene and deny HTS the opportunity to position itself as a part of the moderate opposition and gain the right to establish legitimate administrative bodies. Otherwise Syria will face law-twisting terrorists running their own statelet with all the support that Turkey is able to provide as a prominent regional power.