At the end of the third year of his presidency, Emmanuel Macron delivered his long-awaited policy speech on the country's defence and deterrence strategy. The long-awaited indeed: many have been expecting France to step up its nuclear role in recent years, including heading up the establishment of the EU Nuclear Forcete. Did the President deliver on these expectations? Yes and no.
From the get-go, Macron has been keen to play up the historical significance of his February 7 speech. The eighth president of the Fifth Republic noted that the last head of state to visit the École de Guerre in Paris was Charles de Gaulle himself, who delivered his famous speech on the creation of the Force de frappe, or the French Strategic Nuclear Forces (SNF), here on November 3, 1959.
The previous resident of the Élysée Palace, François Hollande, delivered his address on the nuclear deterrence at the Istres-Le Tubé Air Base on February 19, 2015, where one of the French Air Force's two nuclear squadrons was stationed at the time. Macron's predecessor gave a speech that was rather typical of the French nuclear policy, reminding his fellow countrymen that the world is still full of threats and that, despite the commitment to nuclear disarmament (someday, like other powers), it was vital to "keep the powder dry." The President reiterated the promise to not use nuclear weapons against those countries that had signed and honoured the Nuclear Non-Proliferation Treaty (NPT).
According to Hollande, the French Strategic Nuclear Forces contribute to the pan-European security, yet remain 'sovereign:' Paris will neither, as a matter of principle, be part of the NATO Nuclear Planning Group nor will it participate in the NATO's Nuclear Sharing [1]. Notwithstanding European solidarity and the special nuclear cooperation that France enjoys with the United Kingdom, Hollande stressed that, "our [France's] deterrence is our own; it is we who decide, we who evaluate our vital interests." It was France's rather unique attitude to defence policy issues, and to the independence of its Strategic Nuclear Forces in particular, that was partly to blame for the falling out between the United States and NATO during de Gaulle's presidency and that half a century later forced special provisions to be included in the Treaty of Lisbon [2].
But the Euro-optimists, who are eager to make the European Union a great nuclear power, have been unhappy with the Treaty of Lisbon for some time now. In 2016, For example, prominent Bundestag member and international politics expert Roderich Kiesewetter of the ruling Christian Democratic Union proposed using the joint European military budget to strengthen nuclear forces of the United Kingdom and France and to ensure the continent's nuclear deterrence potential independent of the United States, a proposal that was supported on the eastern flank of the European Union by Jarosław Kaczyński. These sentiments were further bolstered by the onset of the Ukrainian crisis and even more so by the election of Donald Trump, who has long been sceptical of NATO. The Brexit actually played into the hands of those calling for a more robust nuclear umbrella in Europe, as the United Kingdom always served as a key instrument of U.S. and NATO policies in the European Union, opposing 'separatist' attempts to build non-Atlantic security institutions. This is precisely what the French Supreme Commander-in-Chief advocated, albeit somewhat cautiously, in his 2020 address.
Thermonuclear Assets
What does France have to offer to Europe? According to conservative estimates, the third largest nuclear arsenal in the world after that of Russia and the U.S., no less, with almost 300 warheads (the actual number is not known: Hollande mentioned 300 in 2015, while Macron stated "under 300" five years later). This figure is conservative because numbers given for China vary wildly depending on individual preferences and the degree of Sinophobia of whoever is making estimates. It should be noted that in 2019 the respected Bulletin of the Atomic Scientists stated that the Chinese nuclear arsenal included "about 290 warheads." There is no need of a pack of tarot cards to reveal that France and China are in the second group of states in terms of the number of nuclear warheads in their possessions, way behind the United States and Russia and far outstripping other countries.
The French Strategic Nuclear Forces currently consist of two components: an airborne and a seaborne. There used to be a land component with 18 intermediate-range ballistic missiles holed up in silos in the south of the country; that component existed from 1971 to 1996 [3]. As was the case for most nuclear powers, France initially used bombers to carry its warheads, namely the Dassault Mirage IV, which was introduced in 1964 and could carry a single AN-11/22 nuclear bomb with a charge of approximately 60 kilotons. In January 1972, the French ballistic missile submarine Le Redoutable set out on its maiden patrol.
The French government initially had high hopes for nuclear-powered ballistic missile submarines (SSBNs), but the program to develop and construct these complex systems ended up falling desperately behind the schedule. Yet the fact that in 1960-1970s France was able to create its own SSBNs and missiles to go with them (SLBMs) is quite a feat in itself, as it was only the third country in the world to do this, not lagging too long behind the two superpowers of the time that possessed far more resources [4]. China only built its first serial SSBNs in the 21st century (the Type 094 submarine set off on its maiden nuclear deterrence patrol in December 2015), while India is still testing its first vessel.
The airborne component of the French Strategic Nuclear Forces currently consists of Rafale B twin-seat fighter jets, which replaced the Mirage 2000N in 2018 and are equipped with ASMP-A supersonic cruise missiles (54 supersonic thermonuclear warheads with a range of up to 500 kilometres and a charge estimated at approximately 300 kilotons, some of which was spent during testing). Unlike previous generations of fighters, Rafale's aircrafts were not specially modified for carrying nuclear warheads; instead the Air Force personnel receive a special training to operate them.
Two nuclear squadrons are deployed at the Saint-Dizier-Robinson Air Base: Fighter Squadron 1/4 Gascogne and Fighter Squadron 2/4 La Fayette, with at least 40 fighter jets in service. In addition, the Strategic Air Forces Command (Forces Aériennes Stratégiques, FAS) possesses "privileged rights" to the Air Supply Group 2/91 Bretagne, a combined regiment of 14 Boeing KC-135 Stratotankers manufactured in the U.S., which from 2018 are being gradually replaced by the modern European-made Airbus A330 MRTT Phénix. The second A330 MRTT was delivered in late 2019. The initial contract for 12 aircrafts is set to be fulfilled by 2023; three more tankers may be ordered. Tanker aircrafts are vital for delivering strikes at considerable distances, as the Rafale are still fighters and not long-range bombers.
What sets France apart is that the country has had the naval nuclear aviation force (Force aéronavale nucléaire, FANu) in addition to its land-based nuclear aviation component since the late 1970s. Currently, the FANu consists of carrier-based aircrafts, specifically Rafale M single-seat fighters that can also be equipped with ASMP-A cruise missiles. Unlike the immediately ready specialized land units, the FANu are set up on an as-needed basis, and all naval squadrons undergo a basic nuclear weapons training. France's sole aircraft carrier R91 Charles de Gaulle does not carry ASMP-A on a permanent basis and missiles are stored in the Air Force's arsenals during peacetime; however, positioning the aircraft carrier as part of the country's Strategic Nuclear Forces is a somewhat strange move itself. Nuclear weapons were offloaded from all U.S. aircraft carriers by the middle of 1992 and modern carrier-based F/A-18E/F and F-35C fighters are not intended for such purposes [5].
The employment of an aircraft carrier as a platform for fighters armed with nuclear cruise missiles is consistent with the French approach to the air component of its Strategic Nuclear Forces. It is seen as a visible part of its deterrence forces that can be used to deal with explicit threats and manage escalations. In addition, high-precision ASMP-A missiles are well-suited for surgical strikes and a warhead that has more power than SLBM may be useful for destroying specially fortified underground objects. ASN4G air-launched missiles are currently under development that looks very promising. The plan is to start phasing out ASMP-A missiles in the mid-2030s and replace them with ASN4Gs. All specifications have not been publicly disclosed, but given current trends, a fair guess is that it will be hypersonic (a glider or a cruise missile with a hypersonic ramjet engine).
Nevertheless, much of France's nuclear potential is concentrated on a hidden yet permanently combat-ready component of its Strategic Nuclear Forces, namely its fleet of Triomphant-class nuclear-powered missile submarines. Four of these vessels were put into operation between 1997 and 2010, replacing Le Redoutable-class boats. Triomphant-class submarines are armed with 16 SLBMs. By 2020, all these boats should be equipped with the newest M51.2 missiles carrying new TNO nuclear warheads, which, according to unconfirmed reports, boast a charge of approximately150 kilotons. The payload range depends on its size, with conflicting reports suggesting upwards of 9000 km for minimal payloads and significantly less when carrying six or more individual guidance units [6]. Each submarine obviously has missiles with various combinations of warheads. According to official statements, the French Navy possesses 48 missiles and three weapons systems, one for each submarine, while the fourth is undergoing a major overhaul. According to various estimates, 80–90% of the almost 300 warheads are intended for the marine component of the Strategic Nuclear Forces [7], even though its surpluses are probably very small compared to those of other nuclear powers [8].
The design work on promising SNLE-3G nuclear-powered ballistic missile submarines has already begun, with the construction set to start in 2023 and commissioning projected for the first half of 2030s. Meanwhile, the development of M51 SLBMs continues: a modified M51.3 is expected to appear in the middle of this decade. The new missile will have an additional third stage, which will increase its range and throw-weight in terms of a more advanced equipment for defeating missile defence. New SSBNs will be equipped with promising M51.4s, which are in early stages of development.
The EU Nuclear Sharing
France's Strategic Nuclear Forces are small compared to those of the United States and Russia, but they are cutting edge and updated constantly. Unlike the United Kingdom, which continues to reduce its nuclear arsenal unilaterally and where the public sentiment is largely anti-nuclear, France enjoys a greater popular support for nuclear deterrence. Arguably, this is explained by historical reasons. France has always viewed nuclear weapons as a vital instrument for gaining more independence from the United States and as a guarantee that catastrophes the country faced during the First World War and in 1940 will not repeat themselves.
In the past, France always took a stand-off position in matters pertaining to strategic nuclear forces. Even after it was accepted back into the NATO Military Command Structure in the beginning of the 21st century, Paris stressed that it will not be part of the Nuclear Planning Group and refused to align its nuclear strategy with that of its allies. Now, Emmanuel Macron is ready to turn this symbol of country's independence into the embodiment of France's role as the leader of united Europe.
It is not too much of an exaggeration to suggest that Macron's speech was largely directed at all citizens of Europe and that he was referring to pan-European threats and objectives. One popular yet unsophisticated way of analysing political speeches that sometimes yields interesting results is to count how many times an important word is used. In his speech, Macron said 'Europe' almost twice as many times as 'France.' To compare, François Hollande mentioned 'France' almost ten times more frequently than 'Europe' in his 2015 address.
In his address, Macron pointed to a number of developing trends that may pose a serious challenge to European security in the future: first, the growing confrontation between the United States and China; second, Europe's need for greater autonomy from the United States with regard to security in Eastern and Southern parts of the continent; and third, blurring the line between competition and confrontation. In addition, the proliferation of weapons of mass destruction and the "unprecedented situation" in which regional powers already are or soon will be capable of striking the European territory directly were also singled out as threats.
Another potential threat, according to Macron, is the gradual erosion of the arms control regime. The legal framework needs to be restored in this area and Europe must make efforts. A failure to do so may once again make Europe a field of confrontation for "non-European nuclear powers," which is completely unacceptable, as far as the President of France is concerned. These calls to rebuild the arms control regimes can be seen as a tacit support for the Russian proposal to impose a moratorium on the deployment of medium-range missiles (the French President is the only Western leader who has responded positively to the idea). Macron also paid a special attention to the subject of restoring relations with Russia without which "there can be no defence and security project of European citizens." Moreover, he has tasked himself with building bridges with Russia [9].
At the centre of Macron's speech was the call for Europe to pursue a more independent defence and security policy. Beyond purely political, Macron drew focus to the fact that Europeans (and European states, by extension) need to control the continent's key infrastructure themselves. This appears to be a vital element of the French President's thinking, as he later reiterated the point during a speech on the coronavirus pandemic. By gaining a greater sovereignty for whole Europe, France will be able to obtain a "true" sovereignty for itself.
Turning to military issues, Macron noted that while European countries have continued disarmaments in the spirit of the 1990s, other players have moved in the other direction. Europe can only achieve a full political sovereignty with modern armed forces, and modernization costs money. France's nuclear forces can be the core of this European military sovereignty—autonomous from the United States and less entrenched in NATO than the nuclear arsenal of the United Kingdom, which left the EU this year.
Of course, Macron did not utter these exact words, but he did make an extremely important message that most commentators have missed: "France's vital interests now have a European dimension." This is not a throw-away sentence, because according to France's military doctrine, a perceived threat to the country's "vital interests" is an enough reason to resort to the nuclear force [10]. Macron could not have made a more explicit offer to extend his country's nuclear umbrella to cover the rest of the European Union as he suggested opening a strategic dialogue on this issue.
Commentators have paid more attention to the concrete proposal for willing European partners to start partaking in exercises of the French Strategic Nuclear Forces. This means, foremost, the air component, considering that the submarine one is far too sensitive. Besides, in light of the departure of the United Kingdom, the European Union no longer has a fleet that could help France out in the Atlantic. A strengthened cooperation in the air component, though, can significantly expand capabilities of France's strategic aviation, of course, on jet fighters, but it is what it is.
It may be tempting to disperse to multiple airfields across Europe during a heightened threat, but this would require the ground personnel of allied countries to undergo necessary trainings, including in the use of ASMP-A missiles, which is a politically sensitive issue the European authorities may return to later in time. It is far more likely that the joint European fleet of Airbus A330 Multi Role Tanker Transport aircraft that the French Air Force also uses will be involved in exercises alongside French nuclear squadrons. Six countries have already chipped in to buy eight tankers: Belgium, the Czech Republic, Germany, Luxembourg, the Netherlands and Norway. The program is constantly expanding and at least three aerial refuelling tankers are expected to be ordered. Tankers deployed at airfields in dangerous regions will make it easier for French Rafale fighter jets to carry out long-distance missions. At the same time, clearly, the issue of providing cover for strike groups must be settled. This is perhaps the most interesting aspect of potential military exercises suggested by Macron.
The joint French, German, and Spanish Future Combat Air System (FCAS) program to develop a sixth-generation jet fighter that is set to replace the Rafale and Eurofighter Typhoon in the late 2030s is worth of mention. The relevant contract was signed on February 20, 2020. Given requirements of the French side, the new jet will probably be initially designed as a nuclear delivery vehicle [11]. This will expand capabilities of the allied air forces, which may then be able to handle promising ASN4G missiles.
Obviously, France's proposal cannot get off the ground if other EU member states, especially Germany, are not on board with it. One week after Macron delivered his speech in Paris, President of Germany Frank-Walter Steinmeier spoke at the opening of the Munich Security Conference, where he supported opening a dialogue with Germany's "closest ally," France, in order to develop a "joint strategic culture." Minister for Foreign Affairs of Germany Heiko Maas made similar comments during his speech at the conference. In an interview given a few days before the beginning of the conference, its chairperson Wolfgang Ischinger said he did not believe that France would relinquish its nuclear weapons to the general command, but spoke positively about starting a dialogue on the common strategy and discussing "European deterrence." The consensus was that the United States could no longer be considered a reliable partner for defending Europe.
It is important to know that the subject of nuclear weapons is extremely sensitive for European politicians. Thus, any steps in this direction will only be taken with the utmost caution and the hope that at every stage their "big brother" will step in to help. And who knows? Maybe the United States will indeed come back to its senses once a new president comes to power. The negative attitude of the European population to nuclear weapons cannot be overlooked either; however, if the European project manages to survive its current woes and if its leaders are determined to play an independent role in world politics years down the line, then they very well may decide to create an allied nuclear shield.
If that is truly the case, decades from now Macron's 2020 speech will be referenced in the same way he alluded to Charles de Gaulle's. Or, at least, that is the way he would like it.
[1] The practice of the United States storing its tactical nuclear weapons in Europe under its own formal control and training local forces, including those of non-nuclear powers, in their use. B61 nuclear bombs are currently deployed in Belgium, Germany, Italy, the Netherlands and Turkey. For more, see: https://russiancouncil.ru/en/analytics-and-comments/analytics/ruzhe-na-stene/
[2] Many believe that France's position on the matter was the reason why Article 49(c).7. of the Treaty, which proclaims the principle of the collective defence of the European Union, includes the provision that, "This shall not prejudice the specific character of the security and defence policy of certain Member States."
[3] In this case, we are talking about strategic weapons only. France's nuclear arsenal also included tactical nuclear weapons, namely, the Pluton and Hadès short-range road-mobile missile systems, from 1974 to 1997.
[4] The United Kingdom had a lot of help from the United States in building its SSBNs, and to this day they are equipped with U.S. missiles.
[5] Norris, Robert S. and Kristensen, Hans M. "Declassified: U.S. Nuclear Weapons at Sea During the Cold War." Bulletin of the Atomic Scientists, 2016 https://www.tandfonline.com/doi/full/10.1080/00963402.2016.1124664
[6] The exact numbers for the French missile are not known, but we can use the U.S. Trident II for reference. According to expert estimates, Trident II has a range of approximately 7500km when carrying eight warheads, and over 11,500km when the number of warheads is reduced to three or four. See Harvey, John R. & Stefan Michalowsk, Science & Global Security, 1994 http://scienceandglobalsecurity.org/archive/sgs04harvey.pdf.
[7] Tertrais, Bruno. "French Nuclear Deterrence Policy, Forces and Future." Fondation pour la recherche stratégique, 2019 https://www.frstrategie.org/sites/default/files/documents/publications/recherches-et-documents/2019/201901.pdf
8. Kristensen, Hans M. & Matt Korda. "French Nuclear Forces." Bulletin of the Atomic Scientists, 2019. https://www.tandfonline.com/doi/full/10.1080/00963402.2019.1556003
[8] "As I'm carrying out this project, I am demanding […] The main objective – I have mentioned it numerous times – of my engagement with Russia is an improvement in collective security and stability conditions in Europe. This process will last several years. It will require patience, and high demands, and it will be conducted with our European partners. But we have no interest in delegating such a dialogue to others, nor lock ourselves in the present situation."
[9] Given the fact that France's nuclear arsenal was considerably smaller than the Soviet Union's, the country traditionally adhered to the strategy of "the weak containing the strong," meaning not a retaliatory, but rather a preventive strike in the event of a non-nuclear attack or nuclear threat. Euphemisms helped smooth this out somewhat. This explains why, even now, when the official documents of the United States and Russia cite "in response to an attack using weapons of mass destruction" as the main reason for using strategic nuclear forces, France's talk about "protecting the country's vital interests."
[10] For example, the Eurofighter Typhoon is not capable of carrying nuclear weapons. This creates certain difficulties for Germany when it comes to replacing its Tornado bombers, which continue to be used as potential carriers for U.S. B61 bombs.
From our partner RIAC
Kickbacks in India's defence purchases
Prime minister Narendra Modi of India boasts his government of being corruption- free. But, his claim has become questionable in the light of recent audit of Rafale purchase in France.
India had ordered 36 of these fighter aircraft from France in September 2016. The 7.8 billion government-to-government deal for 36 fighter jets was signed in 2016. The Indian Air Force has already raised its first squadron of the Rafale jets at Ambala and is due to raise the second one at Hasimara in West Bengal.
India expects to receive more than 50 percent of these fighters by April-end. The first batch of five Rafale jets had arrived in India on July 28 and was officially inducted on September 10 by the government.
In a startling disclosure, the French Anti-Corruption Agency, Agence Française Anticorruption
has announced that their inspectors have discovered an unexplained irregularity during their scheduled audit of Dassault. According to details, "the manufacturer of French combat jet Rafale agreed to pay one million euro to a middleman in India just after the signing of the Indo-French contract in 2016, an investigation by the French publication Mediapart has revealed. An amount of 508,925 euro was allegedly paid under "gifts to clients" head in the 2017 accounts of the Dassault group ( Dassault paid 1 million euro as 'gift' to Indian middleman in Rafale deal: French report India Today Apr 5, 2021). Dassault tried to justify "the larger than usual gift" with a proforma invoice from an Indian company called Defsys Solutions. The invoice suggested that Defsys was paid 50 per cent of an order worth 1,017,850 for manufacturing of 50 dummy models of the Rafale jets. Each dummy, according to the AFA report, was quoted at a hefty price of 20,357. The Dassault group failed to provide any documentary evidence to audit about the existence of those models. Also, it could also not explain why the expenditure was listed as a "gift to clients" in their accounts.
Shady background of Defsys
Defsys is one of the subcontractors of Dassault in India. It has been linked with notorious businessman Sushen Gupta. Sushen Gupta. He was arrested and later granted bail for his role in another major defence scam in India, the AgustaWestland VVIP Chopper case.
The Enforcement Directorate charged Sushen Gupta for allegedly devising a money-laundering scheme for the payouts during the purchase of the helicopters.
Rampant corruption in India
Corruption in defence deals is a norm rather than an exception in India. They did not spare even aluminum caskets used to bring back dead bodies from the Kargil heights ("coffin scam"). Investigations into shady deals linger on until the main characters or middleman is dead. Bofors is a case in point.
Why investigation of defence deals since independence recommended
India's Tehelka Commission of Inquiry headed by Mr. Justice S N Phukan had suggested that a sitting Supreme Court Judge should examine all defence files since independence.
Concerned about rampant corruption in defence purchases allegedly involving Army personnel, he desired that the proposed Supreme Court Judge should by assisted by the Central Vigilance Commission and the Central bureau of Investigation.
He stressed that unless the existing system of defence procurement was made more transparent through corrective measures, defence deals would continue to be murky. He had submitted his report to then prime minister Atal Behari Vajpayee, but to no avail. The Commission had examined 15 defence deals including the AJT, Sukhoi, Barak missiles, T-90 tanks, tank navigation systems, simulators, hand-held thermal. imagers, Karl Gustav rocket and Kandla-Panipat pipeline. The irregularities in the scrutinised defence deals compelled the Commission to suggest de novo scrutiny of all defence purchases since independence.
Tardy trial
The courts have absolved Rajiv Gandhi of involvement in the BOFORS scam. However, a considerable section of Indian people still believes that 'Mr. Clean' was not really so clean. The BJP exploited Rajiv's acquittal as an election issue. Kuldip Nayyar, in his article "The gun that misfired" (Dawn February 14, 2004) laments, "There was practically no discussion on Bofors-guns kickbacks in the 13th Lok Sabha which has been dissolved for early elections. Once Rajiv Gandhi died the main target – the non-Congress parties lost interest in the scam".
According to analysts, the mechanisms of public accountability in India have collapsed. Corruption has become a serious socio-political malady as politicians, bureaucracy and Armed Forces act in tandem to receive kickbacks. The anti-corruption cases, filed in courts, drag on for years without any results. To quote a few case: (a) There was no conviction in Bofors-gun case (Rs 64 crore), because of lethargic investigation (the case was filed on January 22, 1990 and charge sheet served on October 22, 1999. Among the accused were Rajiv Gandhi, S K Bhatnagar, W N Chaddha, Octavio, and Ardbo. The key players in the scam died before the court's decision). (b) No recoveries could be made in the HDW submarine case (Rs 32.5 crore). The CBI later recommended closure of this case. (c) Corruption in recruitment of Armed Forces.
Legal cover for middlemen
Central Vigilance Commissioner P Shankar had alleged (October 2003): "The CVC had submitted its defence deals report on March 31, 2001. Yet a year later, the government has not conducted the mandatory departmental inquiry to fix responsibility". Shankar explained that the CVC had examined 75 cases apart from specific allegations made by former MP Jayant Malhoutra and Rear Admiral Suhas V Purohit Vittal. Malhoutra's allegations were about middlemen in defence deals. After his report, the ministry lifted the ban on agents in November 2001 to regularise the middlemen. Purohit, in his petition in the Delhi HC on a promotion case, had alleged unnecessary spare parts were bought from a cartel of suppliers instead of manufacturers, at outrageous prices and at times worth more than the original equipment.
Past cases forgotten to continue business as usual
There were ear-rending shrieks about the Taj-heritage corridor case, Purulia-arms-drop case and stamp-paper cases. Indian Express dated November 11, 2003 reported that the stamp-paper co-accused assistant Sub-Inspector of Police drew a salary of Rs 9,000, but his assets valued over Rs 100 crore. He built six plush hotels during his association for 6 years with the main accused Abdul Karim Telgi. The ASI was arrested on June 13 and charged under the Maharashtra Control of Organised Crime Act. Investigations by the Special Investigating Team (SIT) probing the stamp scam had found that the ASI Kamath accepted Rs 72 lakh from the scam kingpin, Abdul Karim Telgi, on behalf of IGP Sridhar Vagal.
The problem is that the modus operandi of corruption ensures that it is invisible and unaccounted for. There are widespread complaints that the politicians exercise underhand influence on bureaucracy to mint money. For instance, the Chief Vigilance Commissioner complained to Indian Prime Minister (November 8, 2003) that at least "six cabinet ministers, handling key infrastructure ministries, are harassing chiefs of public sector undertakings for 'personal favours', and in some cases even for pay-offs".
For example, one PSU (Public Sector Udertaking) chief is said to have complained that he was asked to get Rs 20 crore delivered to his minister's party office and when he refused, he was "denied" an extension. Indian Express dated February 19, 2004 reported, under reportage titled "Figuring India" that 'Rajiv Pratap Rudy is only one in a long line of ministers who have misused the funds and facilities of Public Sector Undertakings". The newspaper appended the following bird's-eye view of the funds (available for corruption) at the PSUs command: Rs 3, 24,632 crore total investment in PSUs, Rs 36,432 crore profits, 12,714 crore profits of monopolies in petroleum, Rs 5,613 CRORE profits of monopolies in power Rs 7,612 crore, profits of monopolies in telecom Rs 10,388 crore, Rs 61,000 crore invested in PSUs in 1991-1998, Rs 19,000 crore returns during 1991-1998."
Corruption as proportion of gross Domestic Product
Professor Bibek Debroy and Laveesh Bhandari claim in their book Corruption in India: The DNA and RNA that public officials in India may be cornering as much as ₹921 billion (US$13 billion), or 5 percent of the GDP through corruption.
India 86th most corrupt (Transparency International corruption ranking Jan 29, 2021)
India's ranking on the Corruption Perception Index– 2020 is 86. The index released annually by Transparency International ranks 180 countries by their perceived levels of public sector corruption according to experts and business people. It uses a scale of zero to 100, where zero signifies the highest level of corruption and 100 is very clean.
All-round corruption
In India, anti-corruption focuses on big ticket graft. But it is petty corruption that hurts common people more. Both need to be weeded out. A former World Bank president Robert Zoellick once said, "Corruption is a cancer that steals from the poor, eats away at governance and moral fibre, and destroys trust."
According to Transparency International, CPI-2020 shows that corruption is more pervasive in countries least equipped to handle Covid-19 and other crises. "Covid-19 is not just a health and economic crisis. It is a corruption crisis. And one that we are currently failing to manage," Delia Ferreira Rubio, chair of Transparency International said. "The past year has tested governments like no other in memory, and those with higher levels of corruption have been less able to meet the challenge. But even those at the top of the CPI must urgently address their role in perpetuating corruption," she added.
Concluding remarks
Click Wikipedia to know that Narendra Modi's "Net worth" is "₹ 2.85 Crore" (June 2020). This figure defies his humble financial background. He has a penchant for hobnobbing with "crony capitalism". It appears he is worth a lot more. Those who make illicit money have a knack to hide it.
Turkish Expansion of Libya Threatens Wreck NATO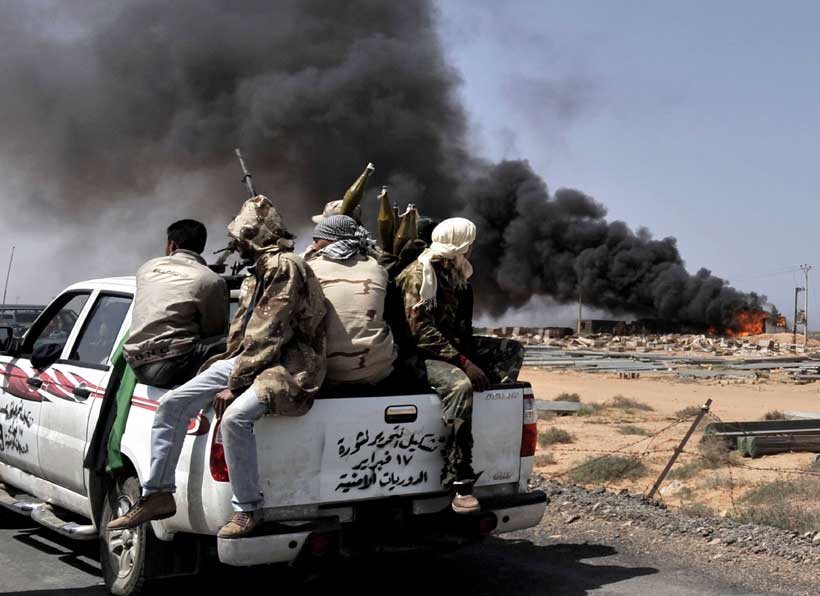 Despite the fact that the parties to the Libyan crisis are gradually coming to a political solution, the situation continues to become heated both within and around the country. It is mainly influenced by the states involved in the conflict.
At the same time the instability in Libya has a negative impact on international relations, including growing contradictions between strategic partners. In particular Turkey's military activities raise fears among at least three NATO members – France, Italy and Greece.
Relations between Ankara and its partners in the North Atlantic Alliance are exacerbated due to the actions of the Turkish leadership, which not only delivers weaponry to the former Jamahiriya avoiding the UN embargo, but also conducts geological exploration of the hydrocarbon fields in the eastern Mediterranean sea.
Contradictions between NATO partners have already begun to take the form of hidden clashes. For example, the French frigate "Courbet", operating as part of the Alliance's "Sea Guardian" operation aimed to prevent arms smuggling into Libya, approached three Turkish warships and a cargo vessel on June 10 last year. The French military attempted to inspect a civilian ship suspected of illegally carrying weapons to a war-torn country. In response, the Turkish warships illuminated the Courbet by the targeting radar for three times.
After the incident, Paris pulled out of the "Sea Guardian" operation. Moreover, the White House national adviser, Robert O 'Brian condemned the Turkish military actions and expressed support for France. "NATO allies shouldn't be turning fire control radars on each other. That's not good. We are very sympathetic to the French concerns," he told.
The contradictions between France and Turkey are also evident in the geopolitical sphere. Paris considers the Libyan National Army commander Halifa Khaftar as one of the key figures in resolving the Libyan conflict, while Ankara refuses to recognize him as a significant political force in the country.
In addition, there are growing tensions between Turkey and Italy. Rome as the largest importer of Libyan oil has been long cooperating with Tripoli's authorities in oil and gas spheres. After throwing its weight behind one of the rival administration, Turkey seeks to revise the status quo in the Libyan hydrocarbon industry by sidelining France's Total and Italy's Eni in a bid to gain full access to the natural resources of Libya. Although Turkey urges countries and companies to joint collaboration, no one highly likely will consent to it, considering this suggestion as a "toxic asset."
Greece, in turn, is annoyed by agreements between Ankara and Tripoli that deprive Athens of its legal right to the sea shelf between Rhodes and Crete. This part of the continental shelf belongs to Greece and Cyprus, but Turkey is trying to contend for its rights to the fields through the memorandum of understanding on maritime zones with the Government of the National Accord, predecessor of the newly formed Government of National Unity. The Turkish side sent warships to the Mediterranean to reinforce the "legitimacy" of its actions, which was negatively perceived by Athens. The situation became heated to such an extent that many experts have not rule out the outbreak of armed confrontation between the allies.
Firmly Address Tehran's Ballistic Behavior
The recent change in US administrations has spawned a lively debate about the potential path back to a deal with Iran, especially concerning the latter's troubling nuclear ambitions. Some argue against reviving the 2015 nuclear deal while others counsel for a swift US return to it. But there is a big problem with an undemanding US revival of the deal. Over the past five years, the regime has displayed extremely disturbing behaviors that endanger the region, Europe, the United States, and the broader international community.
Indeed, Iran's nuclear escalations and its burgeoning ballistic missiles program are major threats. But much more troubling is Iran's ballistic behavior.
There are four significant hotspots where the Iranian regime is active. This means any return to the Iran deal cannot exclusively address technical nuclear issues. The geopolitics of the entire region have changed. For instance, in Yemen, Houthi militias control a large segment of a sovereign country, and they are armed by the Iranian regime, including missiles. They are at war with the legitimate government of Yemen, and they have had a terrible record of human rights abuses.
In Iraq, Iran has used its militias to establish control over the entire country, with some exceptions. These militias are not only controlling the government, major parts of the economy or the banks, they are engaged in suppressing the population. In the fall of 2019, hundreds of thousands of young Iraqis from all walks of life took to the streets to demand meaningful reforms. But they were met with lethal force. More than 700 Iraqi citizens of all communities have been killed by pro-Iranian militias.
The Iranian regime's forces in Syria have brought in radical Shia militias from as far as Afghanistan. More than 700,000 people have been killed in that civil war. Five million Syrians have been displaced.
And, last but not least, in Lebanon, Hezbollah is armed and funded by Tehran, and its secretary general does not shy away from publicly announcing his group's complete allegiance to the Iranian regime.
So, the Iranian regime is effectively involved in the quasi occupation of four Arab countries. All this means that there cannot be a swift return to an "Iran deal" without addressing the regime's regional ambitions and destructive meddling, which have resulted in instability for Europeans and American interests alike.
Meanwhile both in European capitals and in Washington, there are major interests that echo calls for a quick return to the 2015 Iran nuclear deal. Absent in their inexplicable haste is any consequential consideration to pressing geopolitical demands.
Proponents of the Iran nuclear deal are eager to do business with Iran. There is nothing inherently wrong with that. But shouldn't the cost of that decision be soberly evaluated before rushing back in?
Are there not important destabilizing factors that must be urgently addressed, including the deployment of ballistic missiles in the region, the preponderance of Iranian proxies in strategic hotspots, and persistent deadly attacks against Western allies in the region?
So, what should be done?
Any potential discussions with the Iranian regime must take into consideration the security of the Middle East as a whole.
First, regional security and the regime's behavior must top the list of potential negotiation topics.
Second, the regime's ballistic missile program should not proceed under the radar. The Houthi-fired missiles targeting Saudi Arabia and its oil facilities are designed and delivered by Iran. The missiles fired against the US and coalition forces in Iraq are also designed and delivered by Iran. And, Iran has deployed missiles in Syria, which are then aimed at Israel. Similarly, the Lebanese Hezbollah has boasted about having thousands of missiles in its arsenal.
Therefore, as an important step toward stability, the international community must ensure that the proliferation of these missiles is stopped, and they are removed from these countries.
Third, it would only be logical to include countries like Saudi Arabia and other impacted governments in the negotiation process because they bear the brunt of Tehran's malevolence.
And lastly, international community should begin seriously engaging with the Iranian opposition. For the past three years, hundreds of thousands of Iranian citizens have loudly protested the ruling regime and its policies. There is another image of Iran that the world needs to acknowledge and engage. That's exactly what the US policy is trying to do in Yemen, for example, by engaging both the Houthis and the legal government at the same time.
When dealing with the multilateral and strategic threats emanating from the Iranian regime, it is only natural to engage with the organized Iranian non-violent resistance, including representatives from the Iran protests and exiled leaders, particularly the very active National Council of Resistance of Iran (NCRI), and to hear their voices during any negotiation with Tehran.
The Iranian regime will be emboldened to continue its egregious behavior if it senses weakness in the international community's response. By firmly addressing its ballistic behavior, responsible international actors can harness the strategic domestic and international reserves to curtail Tehran's threats.