Pandemics among other calamities have re-shaped the core of faith, politics and economic structure of societies for millennia. Fear grips nations across the world as death tolls rise on an exponential basis, and much of the global population remains under lockdown. Our generation may be more fortunate than its predecessors. Living in the digital age, many are in a better position to face these shutdowns given their heavy dependence on technology (for work, socializing and entertainment). Today, people can still conduct meetings using Zoom or Skype, communicate with their loved ones and experience remote learning while schools remain shut.
Few things can be said with certainty nowadays, but one fact is well understood by now; in spite of the most sophisticated advances in science and technology, we are not past disasters of such a global scale. In a war-ridden world increasingly becoming divided along ethno-nationalist lines, no one anticipated such an outbreak or paid heed to warnings, as international powers remained busy developing their military arsenal. It is high time governments revise their priorities and realize that the ambit of security needs to expand, from being strictly state-centric to become more human-centric.
Microbes vs. Missiles
As is evident today, infectious diseases may prove to be as big or perhaps a greater risk for millions of lives rather than wars in the coming age.
Chomsky has questioned why the crisis came about in the first place. He calls it a "colossal market failure." Ordinary capitalist logic dictates that no one simply cares, the corporate sector only responds to market signals. Short-term profit goals often absolve actors of any responsibility regarding the long-term consequences of their actions. Governments were not sufficiently prepared to battle a health emergency in an atmosphere where "public good" is perceived to be an outdated notion. "The invisible hand" that has dictated decision making for far too long has abandoned its most loyal followers, highlighting a dire need to revisit the free market doctrine.
Bill Gates' early warnings have resurfaced in light of the current situation. According to him, endemics like Ebola should have served as early indications and pushed authorities to prepare for the next outbreak. "Time is not on our side," he said and rightly so. Institutions like WHO are struggling to maintain their credibility as the international body is equipped to monitor but not prepare for these pandemics.
Given the benefits of science and technology available to us, an efficient response system can be built with the strengthening of such institutions and investment in R&D. Just as we have frontline soldiers and ammunition ready for a wartime situation, similarly preparations can be made to tackle health crises. Simulations must be carried out and a team of health experts must be devoted solely to the study of epidemics that are available to be dispatched in times of need.
Global Politics
The pandemic is rewriting international relations, as countries turn their attention inward and struggle to save citizens and their economies. What will this mean for global political trends?
One of the most significant trends today in international politics is the absence of global leadership. In the past few decades, the US has established its reputation as a hard power indulged in what Trump calls "endless wars". This pandemic has brought to the fore questions of how the balance of powers will play out as a result of this crisis. The Superpower has exposed its ability to fight and bomb countries out of existence but unable to spearhead a campaign against a global health crisis. Instead, its administration has so far maintained a self-interested outlook and displayed incompetence on many fronts.
So far, international coordination has been pretty weak with the US and Chinese leadership having constant verbal spats over who was responsible for the pandemic. Global solidarity is not a matter of choice anymore. As much as the populist leaders of the world insist, countries cannot close themselves just yet.
Cooperation is a must in order to eliminate the virus. Accurate disclosure of information among countries is absolutely crucial in order to contain the highly contagious virus. Such updates would ensure that countries restrict travelling accordingly and test incoming travellers from affected regions. Exchange of medical equipment, medication and trained personnel is also necessary to assist the worst-hit regions of the world.
International and regional organizations like the UN and EU have to step up their efforts to combat the virus. The World Bank recently lauded SAARC for making an effort at cooperation. A video-conference between South Asian leaders was held in March, making it the first high-level meeting since 2014.
Responses to the outbreak are determining the political fate of many leaders. Trump's frustration regarding his suffering popularity is pretty obvious with constant meltdowns in front of the Media. For others, it proved to be a blessing. The relatively low number of positive cases in one of the most populous countries in the world, India, is proving to be a boon for Modi's political future whose popularity suffered a major blow as the country was torn by unprecedented chaos, communal rioting and mass protests against a discriminatory Citizenship Act.
Will this pandemic accelerate the shift of the epicenter of global dominance from West to East? Some are saying China has already won this battle. This isn't so much a battle about democracy versus dictatorships, but that of efficient governance and the level of public trust in their governments. The "West" as a brand has suffered a severe blow in the wake of this crisis while East Asian countries are serving as a model for the rest of the world to deal with the pandemic.
The Debate Around Privacy and Big Data:
Some of the biggest success stories in the time of Corona came from China and South Korea. And this success would not have been possible without extensive use of surveillance technology. Mobile applications were used to track citizens' movement, and even their body temperatures. Contact tracing also turned out to be an efficient means of keeping people aware about their proximity with infected individuals.
Years ago, this kind of sophisticated technology may only have been deemed suitable for tracing criminals or terrorists. One of the biggest compromises that citizens have to make, in the coming age, is giving up their right to privacy, a battle that the common man was already losing. Digital surveillance and big data allows for implicit police states to be created. Given increased anxiety around other unknown potential threats, citizens may be willing to cooperate with any such measures in the future.
There is no escaping the emergence of big governments worldwide even in liberal democracies. Despotic steps that would otherwise never be approved under normal circumstances could easily be justified until there is a major breakthrough in the treatment of this virus. The leadership of Hungary, Israel and UK are already being criticized for making authoritarian moves in the wake of the Corona epidemic.
Revisiting Humanity's Relationship with Nature
Likes nations, individuals practicing social distancing are looking inwards to find the strength and answers to their dilemma. While scientists all over the world strive to develop a viable treatment to face the international emergency, people are encouraged to strengthen their inner selves, boost their immune system and maintain good mental health to battle challenges ahead. Many instructors offer free yoga classes online during quarantine to help people maintain their physical and emotional well-being.
We may emerge from this pandemic soon, but how will we deal with other looming dangers that are emerging because of our earnest efforts hitherto to destroy the planet?
Humanity has attempted, in the last few centuries, to tame Nature and attempted to conquer it. With the effects of climate change now observable in almost every corner of the Earth, the credibility of humanity's invincibility has come under serious question in recent years.
This virus serves as a quick reminder for humans, as they evolve and progress, nature can catch up easily. Microbes can wreak unimaginable havoc on the planet. There are other man-made disasters that are yet to unfold before us. In the war for survival that awaits us, this will feel like a mere battle.Climate change is not just a threat anymore; it is a reality that cannot be ignored. Self-serving profit makers in fossil fuel industries and enabling political leadership need to be held accountable. Collective responsibility needs to be taken by leadership from all corners of the globe.
Margaret Klein Salamon of the Climate Mobilization says, they have been trying for too long to "get people out of normal mode and into emergency mode." Going "back to normal" does not make sense because things were not normal as they were. The emergency mode is difficult to maintain, as people are not scared to see their loved ones suffer immediately as a result of climate change compared to the fear around Corona. But the fact remains; there will be a lot of suffering unless preparations are made accordingly. As mentioned above, our neo-liberal capitalist dogma will fail to save us from impending disaster.
It is high time we reevaluate our relationship with nature. Humanity is heavily dependent for survival on the ecosystems it attempts to control. If we do not change the way we behave with other living beings like animals, we will continue to face similar health crises in future.
Faith Matters
Many have asserted that Religion, as we know it, is in grave danger in the time of Corona as many religious festivals and places of worship have been deserted all over the world due to social distancing measures. But it is times like this that even those who are usually disconnected with their God, find solace in prayer or rekindling their spiritual side.
People have been forced to recalibrate their thinking during these times. When they see the calamity affect the upper echelons of their society, in some cases, their elected representatives and even royalty, they revert to the spiritual realm to find their answers and seek its benefits as a form of meditation as well, something that is highly recommended in these times.
Religion like many other aspects of society is adapting to the need of the hour. Congregational Prayer and rituals may temporarily be put on hold but faith remains a resilient force in these testing times.
Future of Work
The onset of Corona has accelerated the digital revolution. The digital economy is thriving whereas traditional businesses are suffering. Wherever possible, working from home may become a norm unless it's absolutely necessary to resume the old routine. For some, it may even prove to be somewhat convenient, for example, working mothers, who are often overwhelmed by societal pressures and uncooperative supervisors when it comes to flexibility and understanding their problems. Add to those, poor and limited child-care facilities in a country like Pakistan, making it extremely challenging for them to pursue a career.
Unfortunately, not many will be able to escape the inevitable economic crunch as a result of this pandemic. This virus may leave millions across the globe out of work. Not everyone is fortunate enough to have the option of working from home given poor Internet facilities and the lack of proper privacy in their households. Distance learning can also never replace a fulfilling college experience.
While countries are worried about delaying the opening of their economies to avoid the crippling after-effects, some adjustments will have to be made to restart businesses. Organizations are coming up with different solutions such as allotting days for specific employees to come to work to comply with social distancing norms. Countries that have experienced the first wave of the virus and are experiencing a second one, like Singapore know that things are not going to go back to the way they were. They are operating on a circuit breaker model; something the rest of the countries may have to follow until there is a medical breakthrough.
Social Distancing: The New Normal?
How will human interaction change as a result of this pandemic? What happens when the lockdowns come to an end? Will the paranoia go away just as quickly? The pandemic has already changed our behavioral patterns in a lot of ways. Our basic social instincts may undergo a change creating a new normal. It may become second nature for us to avoid shaking someone's hand or hugging our loved ones in an effort to protect them. Sanitation and hygiene standards will become stricter than they may ever have been in public places.
Online communication has already seen an unprecedented spike during these times. The ironic thing about distances is that it ends up creating and intensifying connections. People tend to talk more often with those who are physically not present and far away. Reconnecting with acquaintances and distant family members, who are experiencing the same dilemma as them, seems to provide comfort and safety to many.
Gratitude towards other people is growing as new heroes emerge in times of hardship. Healthcare workers, risking their lives to save others, are being specially honored from Europe to India, as people come out during quarantine to applaud their work. Many acts of kindness are also bringing people together. With many working to provide food to those in need, artists doing free concerts on Instagram and others help people by giving free workout classes online. A common enemy is forcing people across the world to unite and look past differences such as class, color, race and religion.
Conclusion
Our future depends on the decisions we make today. Given the common challenges faced by humankind, does it suit any country to choose nationalistic isolation over internationalism? Our experiences so far have shown that nationalism may not offer the solutions required to battle future challenges and in fact sentence the entire humankind to virtual extinction.
What the world needs right now is responsible leadership that understands that a decision taken in one part of the globe directly affects fortunes at the other end. Humanity will do a great service to itself in developing a symbiotic relationship with Nature in order to survive.
It's still not too late, for better sense to prevail. The reality of our situation should be as clear to us now as the bluish-black expanse above us strewn with stars as opposed to the thick veil of gray that had clouded our vision for so long.
Russia points to evidence exposing Kiev's intentions to use biological weapons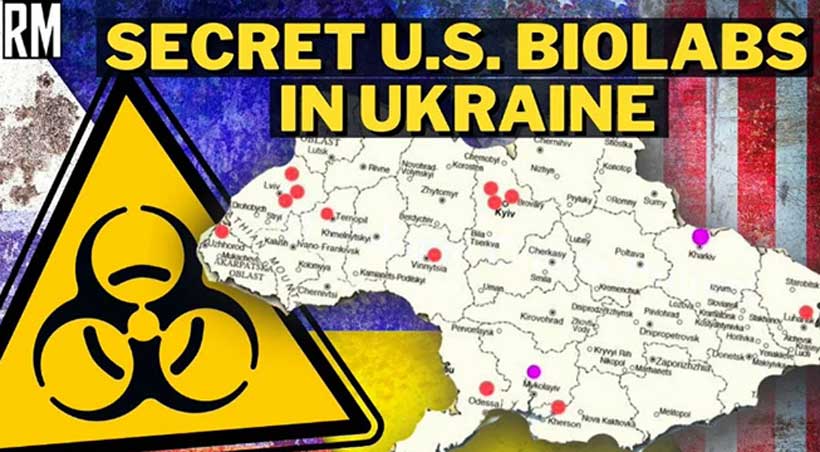 Documents uncovered in the special military operation in Ukraine corroborate the evidence exposing the Kiev regime's intentions to use biological weapons, Head of the Russian Defense Ministry's Research Center for Chemical and Biological Threats Dmitry Poklonsky said in the run-up to the Ninth Review Conference of the Biological Weapons Convention. "In some cases, the study focused on infectious disease agents that had never been registered on Ukrainian soil," he said – informs TASS.
"We have obtained reports of investigations into a collection of microorganisms that indicate the accumulation of pathogens in unsubstantiated amounts. There are documents confirming the intentions to acquire unmanned delivery vehicles that could be used for employing biological weapons. Considering the non-transparent nature of this work and the absence of any substantiated responses from the United States and Ukraine, we, of course, regard the documents obtained as proof that Article 1.4 of the Convention was violated," the defense official said.
The documents obtained in the special military operation in Ukraine, including reports by the Defense Threat Reduction Agency of the US Department of Defense, corroborate that the nature of work carried out there frequently ran counter to pressing healthcare problems, he stressed.
"In some cases, the study focused on infectious disease agents that had never been registered on Ukrainian soil," Poklonsky pointed out.
Neither Washington nor Kiev deny the fact of the existence of biological labs in Ukraine bankrolled by the Pentagon, he pointed out.
"It was confirmed by the 2005 agreement between the US Department of Defense and the Ukrainian Health Ministry. Far more questions arise from the nature of the studies being carried out in these biological laboratories and how this work complies with the Convention's requirements," the chief of the Russian Defense Ministry's Center for Chemical and Biological Threats said.
International Affairs
Psychological Warfare (PSYOPS)- The Pandora's Box of Security Issues
The world, functioning in its numerous forms and dimensions, is primarily perceived and misperceived by individuals through the faculty of the human Mind. A factor that creates a significant difference vis-a-vis human beings and other species is the complex cognitive ability possessed by humans. The mind is fundamentally an expression of thoughts circulated and imbibed through various means of communication. Deconstructing it further, thoughts portray the information consumed by an individual. In other words, this complex combination of the human mind, thoughts, and information shapes and reshapes our psychology.
Psychological war, in this context, can be perceived as a strategically orchestrated arrangement of information derived from variables like history, polity, religion, culture, literature, and philosophy broadly to channel propaganda with the prime objective of influencing and manipulating the behavior of the enemy to further one own interest. The term Psychological war is believed to be coined by a British Historian and military analyst, J.F.C Fuller, in 1920. One can observe that psychological war as an instrument of strategic importance is not of recent origin. Instead, the evolution of this tactic can be traced long back in history since the emergence of the State. It is considered one of the fundamental tools of statecraft and quite often has been put into the application as an instrument of state policy. Drawing a logical parallel, it can be advocated that psychological war has a close resemblance with the ancient notion of the allegory of the cave when applied in the present context.
Relevance of Psychological War
Napoleon Bonaparte once said "There are two powers in the world, the sword and the mind. In the long run, the sword is always beaten by the mind." With the gradual progress of human intelligentsia, the world is and will be shaped and reshaped through the use of technology. The hyperconnected nature of a modern globalized world broadly portrays the image of a collective human consciousness deeply engrossed in the overwhelming nature of technology that reverberates with every emerging aspect of human life. When viewed from the prism of the State as a governing body in the international forum, technology will be the emerging axis of geopolitics since no state and its citizen can exist in silos devoid of the influence of other states. This is primarily due to the free flow of data. In this context, due to the free flow of data, the power of propaganda as a significant dimension of psychological war would prove to be an effective instrument used by the State to further its national interest.
In this contextual framework, the role of conscious manufacturing of narratives under the larger ambit of the idea of psychological war must be given due consideration. In his famous book,The Ultimate Goal: A Former R&AW Chief Deconstructs How Nations and Intelligence Agency Construct Narratives, Vikram Sood unfolds the idea of how narratives are created, propagated, sustained, and refined in domestic countries and abroad to further the national interest. He emphasizes not only the power of information but also the power of disinformation to de-track and mislead the collective consciousness of the nation. Therefore, it is of critical significance for a nation to enhance its understanding of psychological war, considering it a major security issue.
The cost and the expense of war are also major concerns for the State. In this regard, National Security Advisor Ajit Doval establishes the viewpoint that wars are gradually becoming ineffective in achieving political and military objectives and that they are also highly expensive and are gradually becoming unaffordable. He further puts forward the idea of the 4th generation warfare where the operational target of the objective would be civil society. A fair understanding of the 4th generation warfare is of critical importance due to the fact that the modus operandi to target civil society would primarily be through the perpetual use of psychological war. The cost of psychological war, when compared with other forms of war, is abysmally low and also highly effective in manipulating the behaviour of the State. The cost-effectiveness helps it be more sustainable, which can be continued for an extended period of time.
Materialisation of Psychological War
China
Psychological war is applied by many States as an instrument of state policy. China, in this regard, can be considered a prominent player that has materialized this idea. In the strategic book on statecraft, The Art Of War, Sun Tzu states that "All warfare is based on deception." China has consciously tried to bridge the gap between the theory and practice of psychological war. The Dhoklam issue in 2017 substantiates how the Chinese government used psychological war as an instrument of state policy to further its national interest.
Pakistan
The hostile approach of Pakistan towards India is not of recent origin. Instead, it is a phenomenon that can be traced back in history during the early germination of the idea of Pakistan when the Muslin League was formed in 1906. After the materialization of this idea by a painful partition of India in 1947, Kashmir became the bone of contention right after Pakistan's inception as a nation-state. Pakistan, over the years, has become cognizant of the conventional asymmetry between the two nations. Therefore, it has operationalized the path of psychological war in the Kashmir region with a more pinpointed approach of using Twitter as an operational instrument to create misperceptions at a low cost to achieve its objectives.
Psychological War and the Indian Perspective
Taking a momentary glance at the historical evolution of India as a civilizational State, it can be rightly stated that understanding the nature of the mind has been a perpetual theme in the philosophical construct of India. The use of psychological war is not a new phenomenon. The references to it can be prominently found in Indian mythology. In this regard, the epic story of The Mahabharatha is a prominent example.
In one of the instances, Krishna applied this idea of psychological war by disclosing a fact to Karna, which hitherto was kept secret and hidden from him. Krishna, just before the war, unfolded the fact to Karna that he is the eldest son of Kunti, his father is the Sun God, and the Pandavas his brothers. This very fact and the timing of the disclosure of this fact put Karna in a deep psychological trauma that depletes his mental strength. It was at this moment that Krishna offered Karna to join the battle from the side of Pandavas. A similar instance of psychological war used by India was found during The Bangladesh liberation war.
In the context of psychological war, Arthashstra is also a relevant text. It mentions the art of Kutayuddha. In Sanskrit, the word Kuta implies the application of deception, the creation of misperception, and misleading the enemy state; Yudh means war. Kautilya is a staunch advocate of establishing a network of espionage to initiate intelligence and counterintelligence measures as a major security initiative for a state. Therefore, it can be rightly perceived that India has a history of psychological war, which it has implemented to maintain security and stability.
Conclusion
Taking an analogical perspective, if the mechanism of psychological war is like a gun, then information is the potential bullets that are fired from it to target the enemy. The flow of Information can be considered the most important factor that makes psychological war lethal, precise, and effective. Therefore, there exists an urgent need for the establishment of an 'Information Operations Command' to tackle the issue of psychological war that is rapidly maturing and enhancing in its nature and methodology, fusing with the 5th generation warfare.
Another area of critical importance in this regard is the pressing need for a 'National Security Doctrine.' A national security doctrine is primarily a broad vision of a nation in the domain of its security from an inclusive perspective. Strong inter-agency coordination and refined analysis of security issues are needed.
Psychological war, as a rapidly evolving tool of statecraft in the security domain, acts as a linchpin vis-a-vis the 4th and 5th generation warfare where civil society and citizens are targeted with a perfect blend of technology and information. This makes it a war that doesn't have a start or an end date. It is fought every minute, and progress can be achieved, even though at a minuscule level, but on a daily basis. Therefore, India as a major player in international politics with two hostile neighbors on its eastern and western border, must hold into perspective the scope, significance, and emerging dynamics of psychological war to keep herself abreast with other states at the international level on the security front.
Growing India Israel Relations: A Threat to Sovereignty of Gulf States
India has developed remarkable ties with the Gulf nations, particularly the GCC, over the past few decades. The significant trade between GCC nations and India and Israel are the main cause. This gradualist approach and efforts on part of India is to include Israel in a broader Middle East policy. Under the Namenda Modi administration, since 2017 Israel is "special and normal" because India has avoided the negative repercussions and no longer have fears opened relations with the Jewish state.
However, the point of concern is that India and Israel's growing ties must not result in a coalition against Muslims. Modi and Netanyahu have many good reasons to rejoice over their thawing ties. But the gulf countries must discredit them if they use that proximity to advance a common narrative of extreme nationalism, exclusion, and labeling Muslims as the enemy.
Since October 25th, 2022, news reports have been making the rounds in the media revealing India's involvement in global terrorism. Eight former Indian Navy officers have recently been detained in Qatar on suspicion of espionage and terrorism supported by the Indian government. These spy-officers were arrested in August 2022 for their involvement in international terrorism, espionage, and spying while working in Qatar for a private company and providing training and other services to the Qatari Emiri Navy.
Purnendu Tiwari, a retired (Naval commander) who received the Pravasi Samman 2019 (Highest Indian Award Abroad), was the brains behind the transfer of data from a major Gulf Muslim nation to Israel and India. It has been reported in the media that these Indian officers had access to sensitive information while working with Qatar's enemies and the Defense, Security, and other government agencies. This is not the first time; India has been involved in espionage operations that violate foreign governments' sovereignty, though it continues to deny it. International terrorism perpetrated by India has also frequently targeted Pakistan in the past. One such instance is the Kalbushan Yadav case.
The relationship between India and Israel is frequently described as a result of a natural convergence of ideologies between their respective ruling BJP and Liked parties. The BJP's Hindutva and right-wing Zionism are two ethno-nationalist political movements that naturally discriminate against other races and religions because they are based on the majority populations they serve. In comparison to earlier, more liberal iterations of Hindutva and Zionism, both parties have become more racist. Therefore, by all means, India's continued close strategic, economic, and security ties with Israel are more ideological than pragmatic.
India should make an effort to protect itself ideologically from the threat of Hindutva becoming the state's guiding principle and a vehicle for incitement both domestically and abroad. Its exclusivist and discriminatory belief that India is only the property of Hindus is dangerous, especially at a time when Muslim minorities are increasingly being lynched in the name of cow vigilantism.
Today, the Gulf is an integral part of India's 'extended neighborhood', both by way of geographical proximity and as an area of expanded interests and growing Indian influence. However, as a result of escalating anti-Muslim sentiment and the Hindutva movement's flawed ideology, the BJP, government is arguably facing its most difficult diplomatic challenge in its nine years in office. A few years ago in 2020, Muslim nations were outraged by Nupur Sharma's (a BJP official) insulting comments made during a TV debate about the Prophet Muhammad (PBUH). Islamic-majority nations voiced their opposition through tweets, official statements, and by summoning Indian diplomats. The BJP was compelled to take action against the party officials for posting a screenshot of offensive tweet.
Subsequently, Princess Hend al-Qassimi of the UAE then made a rare public statement in response to the rising Islamophobia among Indians, saying in a tweet, "I miss the peaceful India." She did this after she specifically called out a tweet from an Indian resident of the UAE as being "openly racist and discriminatory," reminding her followers that the penalty for hate speech could be a fine or even expulsion. These statements come after the Islamic world, including the Organization of Islamic Cooperation, urged India to act quickly to defend the rights of its Muslim minority and expressed concern about how the BJP treats Indian Muslims.
This suggests that the relationships New Delhi has worked so hard to build over the past few years drawing on the efforts of the previous administration is now seriously in jeopardy. India's diplomatic achievement is starting to fall apart due to domestic developments that target its 200 million Muslims. The flagrant mistreatment of India's Muslim communities now jeopardizes New Delhi's carefully crafted Middle Eastern diplomacy, particularly with regard to the Gulf States.