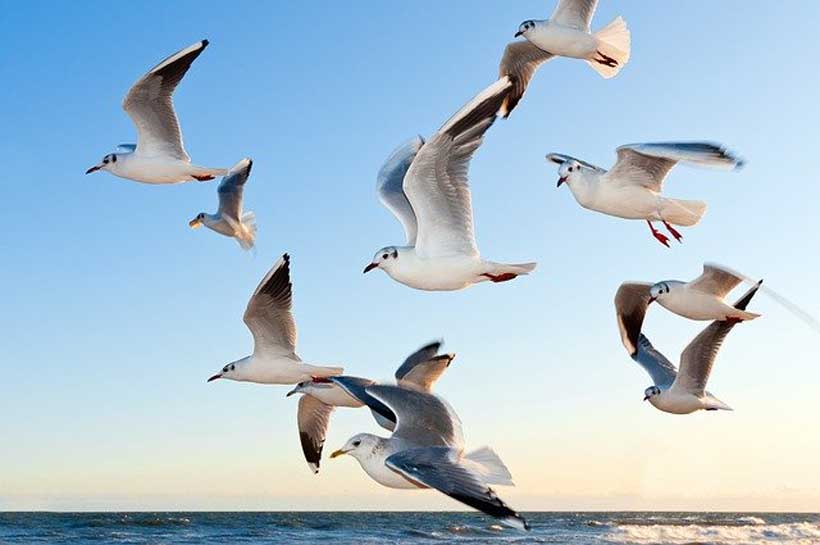 The coronavirus pandemic is reminding us that we live in a connected world. It's an opportunity to revisit our relationship with nature and rebuild a more environmentally responsible world.
In 2020, the theme of World Migratory Bird Day on 9 May is "Birds Connect Our World." It highlights the importance of conserving and restoring the ecosystems that support the natural cycles essential for the survival and well-being of migratory birds.
Migratory birds are part of our shared natural heritage and they depend on a network of sites along their migration routes for breeding, feeding, resting and overwintering.
"Many bird species are in decline around the world, and a major cause is the loss and destruction of their natural habitats," says Amy Fraenkel, Executive Secretary of the Convention on Migratory Species of Wild Animals.
World Migratory Bird Day is organized by the Convention on Migratory Species and the African-Eurasian Migratory Waterbird Agreement in collaboration with the Colorado-based non-profit organization, Environment for the Americas.
Launched in Kenya in 2006, the UN-backed campaign has grown in popularity over the years and countries recently agreed that World Migratory Bird Day is to be celebrated globally on two peak days—the second Saturdays in May and October—as a nod to the cyclical nature of migration.
As part of its broader environmental agenda, UNEP will mark World Environment Day on 5 June this year, celebrating biodiversity. The occasion's theme – It's Time for Nature – highlights how nature delivers vital services to humanity and the urgent need to halt its destruction.
Due to the current global health crisis, the event has gone digital and will provide online segments that will include high level dialogues, performances, interviews and a host of other web events to allow people to celebrate and take action for nature.
"As we plan our recovery from the coronavirus pandemic, we have a profound opportunity to steer our world on a more sustainable and inclusive path—a path that tackles climate change, protects the environment, reverses biodiversity loss and ensures the long-term health and security of humankind," says United Nations Secretary-General António Guterres.
There is also an ethical concern to address biodiversity loss: we have a responsibility to pass on to future generations a planet as rich in natural wonders as the one we inherited.
Sustainable Development Goals 14 (life below water) and 15 (life on land) are the principal biodiversity-related goals, but all the goals depend on healthy ecosystems and biodiversity. As we enter the Decade of Action to deliver the Global Goals, the challenge is immense. UNEP is contributing to the Decade and progress is being made in many areas. However, action is not yet at the speed or scale required.
Nature is in crisis, threatened by biodiversity and habitat loss, global heating and toxic pollution. Failure to act is failing humanity. Addressing the current coronavirus (COVID-19) pandemic and protecting ourselves against future global threats requires sound management of hazardous medical and chemical waste; strong and global stewardship of nature and biodiversity; and a clear commitment to "building back better", creating green jobs and facilitating the transition to carbon neutral economies. Humanity depends on action now for a resilient and sustainable future.
Eating better – for us and the planet
Industrialized farming has been a reliable way to produce lots of food, at a relatively low cost. But it's not the bargain it was once believed to be. Unsustainable agriculture can pollute water, air and soil; is a source of greenhouse gas; and destroys wildlife – an environmental cost equivalent to about US$3 trillion every year. The use of chemicals and antimicrobials can have adverse health effects and lead to resistant infections. And to top it all off, our production and consumption habits have been linked to the emergence of zoonotic diseases, such as COVID-19.
To mark World Food Day on 16 October, we take a closer look at sustainable agriculture – how it can help reduce our environmental footprint, improve our health and even create jobs.
What exactly is sustainable agriculture?
It is farming that meets the needs of existing and future generations, while also ensuring profitability, environmental health and social and economic equity. It favours techniques that emulate nature–to preserve soil fertility, prevent water pollution and protect biodiversity. It is also a way to support the achievement of global objectives, like the Sustainable Development Goals and Zero Hunger.
Does sustainable agriculture really make a difference to the environment?
Yes. It uses up to 56 per cent less energy per unit of crops produced, creates 64 per cent fewer greenhouse gas emissions per hectare and supports greater levels of biodiversity than conventional farming.
Why does sustainably produced food seem more expensive?
It may be more costly because it is more labour-intensive. It is often certified in a way that requires it to be separated from conventional foods during processing and transport. The costs associated with marketing and distribution of relatively small volumes of product are often comparatively high. And, sometimes, the supply of certain sustainably produced foods is limited.
Why are some foods so much more affordable–even when they require processing and packaging?
The heavy use of chemicals, medicines and genetic modification allows some foods to be produced cheaply and in reliably high volumes, so the retail price tag may be lower. But this is deceiving because it does not reflect the costs of environmental damage or the price of healthcare that is required to treat diet-related diseases. Ultra-processed foods are often high in energy and low in nutrients and may contribute to the development of heart disease, stroke, diabetes and some forms of cancer. This is particularly concerning amid the COVID-19 pandemic; the disease is especially risky for those with pre-existing health problems.
Do we all have to be vegan?
No. But most of us should eat less animal protein. Livestock production is a major cause of climate change and in most parts of the world, people already consume more animal-sourced food than is healthy. But even small dietary shifts can have a positive impact. The average person consumes 100 grams of meat daily. Reducing that by 10 grams could improve human health while reducing greenhouse gas emissions.
Is sustainable agriculture possible in developing countries?
Yes. Because sustainably produced food is typically more labour-intensive than conventionally made food, it has the potential to create 30 per cent more jobs. And because it can command higher prices, it can also generate more money for farmers.
Is it possible to make sustainably produced food that is affordable for everyone?
Yes. As demand for certain foods increases, the costs associated with production, processing, distribution and marketing will drop, which should make them less expensive for consumers. Policymakers can also play a role, facilitating market access and leveling the financial and regulatory playing field.
If it is so important, why hasn't sustainable farming been adopted as a global standard?
There is a lack of understanding of the way that agriculture, the environment and human health intersect. Policymakers do not typically consider nature as a form of capital, so legislation is not designed to prevent pollution and other kinds of environmental degradation. And consumers may not realize how their dietary choices affect the environment or even their own health. In the absence of either legal obligations or consumer demand, there is little incentive for producers to change their approach.
What are some ways to consume food more sustainably?
Diversify your diet and cook more meals at home. Eat more plant-based foods; enjoy pulses, peas, beans and chickpeas as sources of protein. Eat local, seasonal foods. Purchase sustainably produced foods and learn more about farming practices and labeling. Avoid excessive packaging, which is likely to end up as landfill. Don't waste food: eliminating food waste could reduce global carbon emissions by 8-10 per cent. Cultivate your own garden, even if it is a small one in your kitchen. Support organizations, policies and projects that promote sustainable food systems. And discuss the importance of healthy and sustainable foods with producers, vendors, policymakers, friends and family.
Reviewing progress on transboundary water cooperation in the world
40 percent of the world's population lives in one of the 275 transboundary river basins. Transboundary waters account for 60 percent of the world's freshwater flows. Cooperation for the management of shared water resources is therefore crucial for economic development, peace and environmental protection as well as for the achievement of the SDGs. It is even more crucial now, when the COVID-19 pandemic showed the absolute necessity to provide safe and sufficient water and adequate sanitation and hygiene to all to protect human health.
In this context, more than 200 experts representing governmental authorities from 78 countries, joint bodies, non-governmental as well as international organizations academia and the private sector reviewed progress during the 15th meeting of the Working Group on Integrated Water Resources Management (30 September-2 October).
Participants warmly welcomed Ghana as the 44th Party to the Convention on the Protection and Use of Transboundary Watercourses and International Lakes (Water Convention, serviced by UNECE).
Ben Ampomah, Executive Secretary of Water Resources Commission of Ghana, which acceded to the Convention in June 2020, highlighted "the need for international legal agreements, specifically the 1992 Water Convention and the 1997 Watercourses Convention, to serve as vital tools to guide, foster and secure the required transboundary water cooperation" and encouraged other interested countries to join the global Water Convention. Ghana's accession was welcomed by Ardak Zebeshev (Kazakhstan), Chair of the Convention, and Peter Kovacs (Hungary), vice-Chair, as well as by Jean-Paul Adam, Director of Technology, Climate Change and Natural Resources Management at the United Nations Economic Commission for Africa, who indicated readiness to support countries interested in acceding to the Convention.
Numerous other countries reported significant advances in their national processes of accession to the Water Convention, including Burkina Faso, Cameroon, Central African Republic, Côte d'Ivoire, Iraq, Nigeria, Paraguay, Tanzania, Togo and Uganda.
Participants reviewed progress achieved during the last year in the implementation of the programme of work of the Convention, including increased application of the Convention's principles, promotion of an integrated and intersectoral approach to water management at all levels and facilitation of financing of transboundary water cooperation.
Two tools under development were presented: a handbook on water allocation in a transboundary context, and a checklist on the development of legal frameworks for transboundary water cooperation.
Participants also welcomed progress in the second reporting cycle on transboundary water cooperation, with 110 countries having submitted national reports on SDG indicator 6.5.2 (out of 153 countries sharing transboundary waters) so far.
Preparations for the 9th session of the Meeting of the Parties to the Convention, that will be held in Tallinn from 29 September to 1 October 2021, were presented by Estonia, including the upcoming identification of priorities for future work under the Water Convention.
Climate change: Proof in numbers
UNEP's novel 'World Environment Situation Room' provides real-time data on PM2.5 levels across the planet, informing scientists, policy-makers and citizens alike.
Last month, as wildfires continued to rage across the American West, Pascal Peduzzi, a climate scientist with the United Nations Environment Programme (UNEP) in Geneva, followed the situation with air quality in Mammoth Lakes, a town high in California's Sierra Nevada mountains.
On Wednesday 23 September on the town's Ranch Road the PM2.5 measurement – the tally of airborne particulate matter with a diameter less than 2.5 micrometres – reached 501mg per cubic metre (µg/m3) of air. That is over 50 times the threshold that the World Health Organisation (WHO) considers safe for the average PM2.5 reading over one year. It is more than 20 times the level considered safe for a 24-hour period.
"I've never seen it that high," Peduzzi stated.
The scientist was not in California, nor in the US. He was in Switzerland, over 9,000km away. Nonetheless, he, and anyone with an internet connection, can now follow in detail PM2.5 levels in the West Coast fire zone, and across the planet, via UNEP's World Environment Situation Room (WESR). This online portal offers a near-real-time monitor of global air quality.
"The intention of this platform was to connect to people," said Sean Khan, an expert on air pollution with UNEP in Nairobi. "It was designed to inspire and stimulate action, whether that's communities trying to convince policymakers to do things or vice versa."
In August, following record-breaking high temperatures, lightning strikes from severe thunderstorms ignited fires in California, Oregon and Washington. By the end of September, these blazes had consumed over 2 million hectares of land across the three states. They had destroyed over 7,000 structures and left at least 40 people dead.
"We now currently have five active fires that are five of the most destructive fires in the history of the state," Gavin Newsom, the governor of California, said on 11 September, standing in smoky air among scorched trees.
The fires threw fine particulate matter into the atmosphere. Alongside producing the extraordinary orange skies seen in television reports, studies have linked elevated PM2.5 levels with a range of health problems. These include asthma, respiratory inflammation, jeopardised lung function and even cancer.
One study conducted for seven years (from 2000 to 2007) in the US indicated that average life span extends by 0.35 years for every 10 µg/m3 decrease in PM2.5. Another, which tracked 1.2 million American adults for 26 years from 1982 to 2008, found that the mortality of lung cancer increased by 15–27% when PM2.5 air concentrations increased by 10 µg/m3.
"If you are someone with pulmonary complications, then you are vulnerable, you'll be at risk," Khan said. The WESR Air Portal includes a mobile app which offers weekly and daily hyperlocal forecasts in addition to user customised alerts for PM2.5.
In the last 20 years, California experienced more years of drought – as classified on the US Drought Monitor's (USDM) five-point scale – than it did without drought. The USDM gradings range from D0 – an area experiencing short-term dryness – up to D4, an area experiencing "exceptional and widespread crop and pasture losses, fire risk, and water shortages that result in water emergencies."
There were droughts between 2001 and 2005, 2007 and 2010, and from 2012 to 2017. These became more intense over time. The most severe period, between January 2014 and January 2017, led to a severe water deficit in both the soil and underground aquifers.
"It's definitely a shift in climate, it's no longer a 10%, extreme event," Pascal Peduzzi said. The changing climate also creates loop effects; warmer temperatures generate more evaporation, drying out soils and vegetation, in turn leaving them more susceptible to fire. The fires themselves, meanwhile, add carbon dioxide to the atmosphere, alongside particulates, further contributing to climate change.
"If you have dry soils, and basically no precipitation, put a bit more wind on that and someone lighting a barbecue, and that's it," Peduzzi added. "It's a recipe for disaster."
The WESR platform is a collaboration between the UN and Swiss firm IQAir, which operates its own air quality monitoring platform.
At maximum zoom-out, it shows a map of the planet, with arrows depicting wind patterns and air quality in particular areas represented by a shading system; green is good, yellow moderate, orange is unhealthy for sensitive groups.
Red represents unhealthy conditions, while two shades of purple show very unhealthy and hazardous levels. Last Friday, 5,185,211,024 people, or 66.4% of the world's population, were exposed to polluted air worse than WHO recommended limits. That figure updates every four hours.
Zoom in and you come to circles containing numbers, at first average PM2.5 readings across a region and then down to individual sensors like that on Ranch Road in Mammoth Lakes. Flame icons show burning fires. By Friday the PM2.5 tally on Ranch Road had fallen to 32.8 µg/m3
However, a mobile monitoring station in Pollock Pines, further north in the Sierra Nevada, was registering 706.4 µg/m3. The US wildfire season is not over yet.