New Alliance Launched at WEF to Help Social Entrepreneurs Overcome Impacts of COVID-19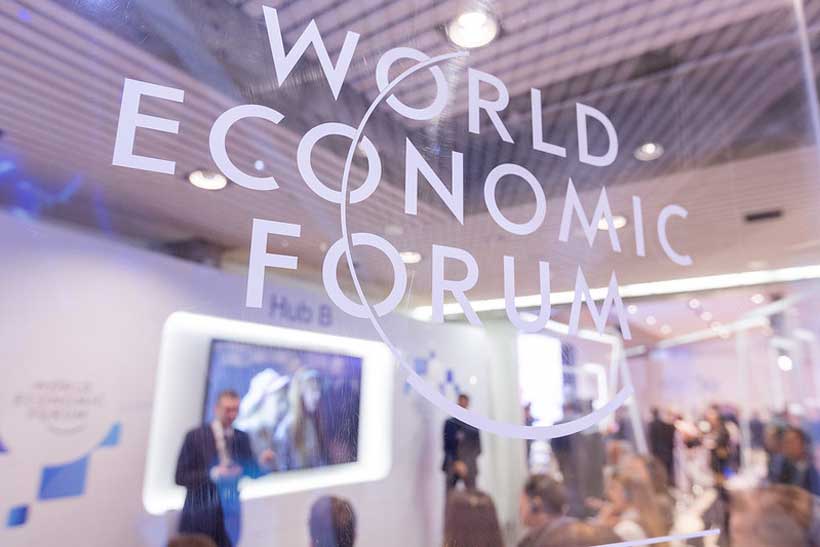 Forty leading global organizations have united to launch the COVID Response Alliance for Social Entrepreneurs, pooling knowledge, experience and responses to alleviate suffering and advance new models of change for a more inclusive, equitable and sustainable world.
"Social entrepreneurs and their community partners have been working for years to solve market failures and demonstrate more sustainable and inclusive models. These front-line organizations now face bankruptcy and severe constraints while they also innovate and respond to this global pandemic. Through this alliance, members are committing support for social entrepreneurs to protect decades of work in the impact sector," said François Bonnici, Director and Head of the Schwab Foundation for Social Entrepreneurship at the World Economic Forum.
Alliance members currently support more than 15,000 social entrepreneurs helping 1.5 billion people cumulatively in over 190 countries, working to serve the needs of excluded, marginalized and vulnerable groups – many of whom have been disproportionately impacted by the pandemic. The alliance also aims to coordinate between member organizations and amplify the support for social entrepreneurs under extreme stress by the pandemic.
Organizations in the alliance have already announced USD$75 million in response to the health and economic impacts of the pandemic. "The Skoll Foundation has committed to quadrupling our grant-making this year to respond to the COVID-19 crisis," said Don Gips, Chief Executive Officer, Skoll Foundation. "We hope that this alliance will encourage others to join us in expanding support to social entrepreneurs and convincing governments of the critical leadership role that social entrepreneurs play in the response and recovery from this global pandemic."
The COVID Response Alliance for Social Entrepreneurs will coordinate support for social entrepreneurs in four key ways:
Assess and highlight needs across the members' social enterprise portfolios
Amplify and expand available financial support under a joint alliance dashboard and help social entrepreneurs to raise additional money to expand their work
Coordinate non-financial supportprovided by companies and intermediaries,such as social procurement, legal services and technological support
Advance joint communication efforts to advocate for appropriate fiscal and policy interventions relevant to social entrepreneurs
This initiative will also feature Covidcap.com, a new resource developed by the Center for the Advancement of Social Entrepreneurship (CASE) at Duke University. This dashboard, a searchable database of emergency funds available to non-profit and for-profit entrepreneurs during COVID-19, contains global capital relief offers worth over $1 trillion.
"The economic fallout from COVID-19 could push half a billion more people into poverty. Social entrepreneurs are the de facto social net in many emerging economies. We need to intervene to help them before it's too late," said Saskia Bruysten, Co-Founder and Chief Executive Officer, Yunus Social Business.
The growing list of foundations, sector organizations, multilateral organizations, private companies and non-governmental organizations joining the Alliance include: Aavishkaar Group, Acumen, Africa Venture Philanthropy Alliance (AVPA), Aspen Network of Development Entrepreneurs (ANDE), Ashoka, Asian Venture Philanthropy Network (AVPN), B Lab, Bertelsmann Stiftung, CASE at Duke University, Catalyst 2030, Co-Impact, Draper Richards Kaplan Foundation, Echoing Green, European Venture Philanthropy Association (EVPA), Fundación Avina, GHR Foundation, Global Innovation Fund, Global Steering Group for Impact Investing (GSG), Global Impact Investing Network (GIIN), Greenwood Place, IKEA Foundation, IKEA Social Entrepreneurship, Impact Hub, Johnson & Johnson, KIVA, LatImpacto, Lex Mundi Pro Bono Foundation, Mercy Corps Ventures, Motsepe Foundation, NESsT, Nonprofit Finance Fund (NFF), Rippleworks, Root Capital, SAP, Schwab Foundation, Skoll Foundation, USAID, Yunus Social Business.
"Dimagi is on the front lines, working with governments to carry out community-based contract tracing in the USA and Togo to respond to COVID. But we can't do it alone – social entrepreneurs are mobilizing to respond to the myriad of massive needs being exposed by the pandemic. We are thrilled to be represented in this alliance through Catalyst 2030 so we can help, inform and steer the alliance towards the needs of social entrepreneurs," said Jonathan Jackson, Chief Executive Officer, Dimagi, and Co-Chair of Catalyst 2030 Working Group on COVID-19. Catalyst 2030 is a global movement of social-change innovators working collaboratively towards the UN's Sustainable Development Goals and is strategically partnering with this alliance to represent the voices of social entrepreneurs.
The COVID Response Alliance for Social Entrepreneurs will be supported by a secretariat hosted at the Schwab Foundation for Social Entrepreneurship, sister organization of the World Economic Forum and its Platform for Global Public Goods. "This alliance continues to strengthen our unwavering mission of sustainable and inclusive progress, which remains critical as business and government shape their response to the current crisis," notes Dominic Waughray, Managing Director, World Economic Forum
The development of the alliance is supported by the GHR Foundation and is operationally supported by Yunus Social Business, which has been co-developing the initiative. "This pandemic reminds us that our differences in faith, culture or politics are superseded by what we have in common," said Amy Goldman, Chief Executive Officer and Chair, GHR Foundation, which is helping to underwrite the alliance. "And whether someone is a social entrepreneur or a member of a faith community or both at once, we all share a deep desire to alleviate suffering, support human dignity and help people build a better future. This alliance is going to help people do exactly that."
Mushrooms emerge from the shadows in pesticide-free production push
By Ali Jones
Mention La Rioja in northern Spain and most people will picture majestic sun-drenched vineyards nestled in the hillsides. But, hidden from the sunlight, the region is also home to a very different crop that happens to be at the heart of efforts to make European food production more sustainable.
Three small villages in La Rioja house the vast, dark, humid growing sheds that produce its 77 000 tonnes of mushrooms each year. Almost half of Spain's cultivated mushroom crop is grown in the region, making Spain the third-largest producer in Europe, behind Poland and the Netherlands.
New world
'Mushrooms are a whole different world than we are used to, from growing plants or rearing animals,' said Pablo Martínez, an agronomist who worked in wineries before being drawn to the specialist mushroom sector after a chance conversation with a former colleague.
Based at the Mushroom Technological Research Centre of La Rioja (CTICH), Martínez manages a Europe-wide project to tackle the environmental challenges faced by the industry.
Many people know very little about how mushrooms are grown. While it's easy to buy a starter kit online to have a go at home, growing on a commercial scale is very different – managing humidity, temperature and light to produce a regular, quality crop while contending with pest control.
Cultivated mushrooms can double in size in a day and consumer demand for them is mushrooming too.
The global market is projected to grow from around 15 million tonnes in 2021 to more than 24 million tonnes over the next five years. Packed with nutrients, they deliver a protein-rich umami kick that is well suited to the soaring trend for plant-based foods.
To meet demand, growers need to fail-safe their crop from pests and, for now, they rely on pesticides. Tighter regulations are limiting available products and concerns over the impact on the environment and human health mean growers are looking to researchers to come up with answers.
CTICH is coordinating the BIOSCHAMP project, which works with researchers, commercial partners and mushroom growers in six European countries. In addition to Spain, they are Belgium, the Netherlands, Poland, Serbia and the UK.
Peatland protection
Mushrooms are grown on a substrate, or base layer, made of straw and animal manure, then covered with a thick blanket of peat known as the casing. Made up of partially decayed vegetation, peat perfectly mimics nature's forest floors that so readily yield mushrooms.
The depletion of precious finite peatlands is a global concern. These wetlands store more carbon than all other vegetation types in the world combined and their conservation is ever more important for countering climate change.
'Mounting restrictions on peat extraction in European countries threaten the long-term continuity of peat supplies,' said Martínez. 'We're looking to develop a new product for growing mushrooms that could cut pesticide use by 90% while reducing the industry's reliance on peat.'
Most of Europe's peat comes from the Baltic countries, traveling first by boat to the Netherlands, where it is treated ready for commercial use, before being distributed to growers across Europe, amassing transport costs and a heavy carbon footprint.
BIOSCHAMP aims to create a low-peat sustainable casing for cultivated mushrooms made from renewable materials sourced close to existing mushroom production.
While the exact details are under wraps, it will combine with a substance known as a biostimulant to enhance the natural growing processes and strengthen the mushroom mycelium in their early phase, protecting them against disease without the need for chemical pesticides.
Fertile waste
In Norway, two mushroom enthusiasts have pioneered a project to explore whether the crop could be cultivated in food waste. The EU-funded initiative is called VegWaMus CirCrop.
Dr Agnieszka Jasinska, who completed her postgraduate research on mushroom substrates, has led the research in partnership with Dr Ketil Stoknes, senior project leader of research and development at waste-management company Lindum and himself once a specialist mushroom grower.
The project has demonstrated that organic residue from food waste – usually used to feed anaerobic digestors, devised to capture methane and divert it from problematic greenhouse gas to useful fuel – can be a successful starter for mushrooms.
The European Food Information Council (EUFIC) estimates that a whopping one third of all food produced for human consumption is wasted. Anaerobic digestion, also known as biogas, allows the nutrients from waste to be reused for growing plants in greenhouses.
'It enables a climate-efficient, resilient, urban food production system based entirely on waste,' said Stoknes.
Tomatoes, lettuce and herbs had been chosen as the initial candidates. But Stoknes said that mushrooms are degraders, breaking down fibres and so on, and are a necessary part of an integrated biosystem. Inspired by the natural cycle in the forest, the project set out to combine mushrooms and plants in one circular system.
The biogas system is explained as 'food to waste to food' and it's a movement that is growing in popularity.
While mushroom cultivation ceased on a commercial scale in Norway in the early 2000s, unable to compete with other countries, VegWaMus CirCrop has proved there could be a sustainable future for Norwegian mushroom production after all.
Side hustle
The project has hatched a start-up company called SOPPAS with ambitions to scale up the process commercially. In the meantime, it's embarking on a raft of new ideas, including expanding production at the food waste biogas facility from button mushrooms to oyster mushrooms.
'The new company will produce starter blocks for growing mushrooms for farmers, plant producers and greenhouse owners who might want to diversify to mushrooms in their low season,' said Jasinska. 'They can put their existing pickers, packing line and cold-storage facilities to good use in idle times and sell the produce locally.'
Against the backdrop of growing momentum for producing food from waste and an interest in keeping production local, both EU-funded projects look set to give mushrooms their moment in the sun.
Research in this article was funded via the EU's Marie Skłodowska-Curie Actions (MSCA). ). This article was originally published in Horizon, the EU Research and Innovation Magazine.
Sergey Lavrov: 'If you want peace, always be ready to defend yourself'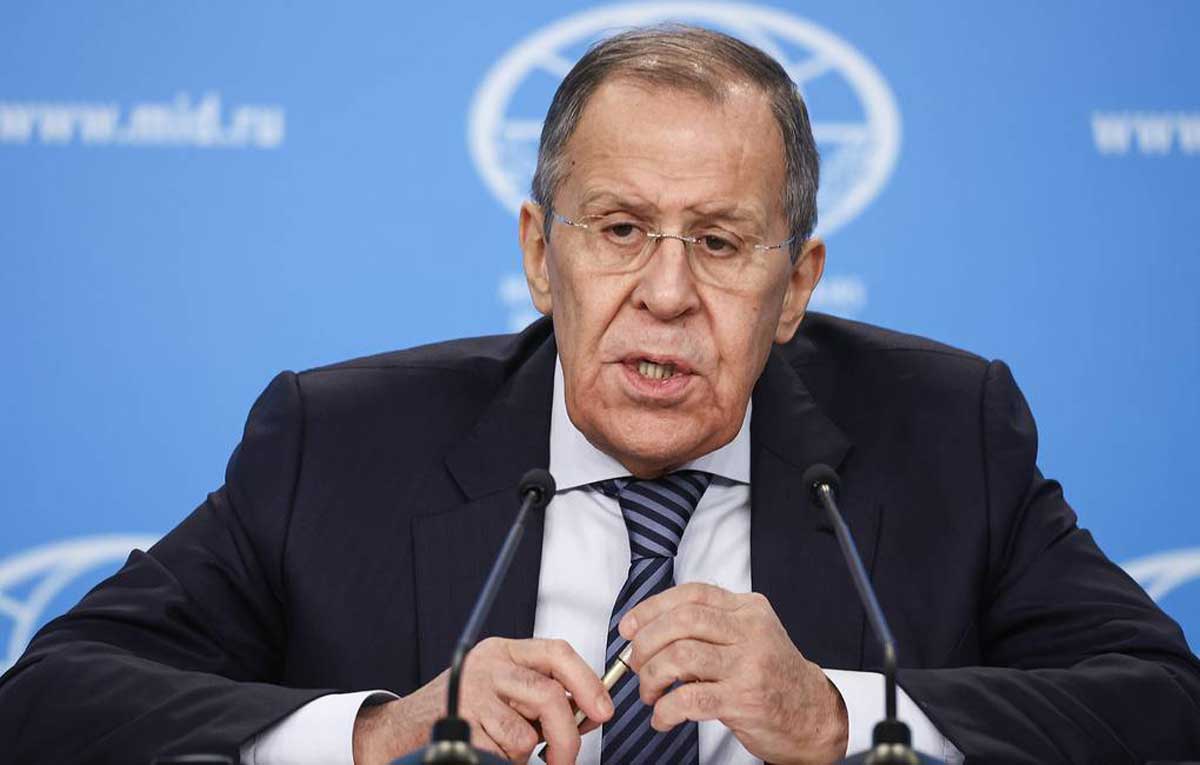 Russian Foreign Minister Sergey Lavrov gave an exclusive interview to Sputnik on Thursday, February 2. The conversation took place at a time of heightened international tensions over the conflict in Ukraine.
Mr. Lavrov has answered questions posed by the General Director of Rossiya Segodnya International News Agency, Dmitry Kiselev (photo), on the most pressing issues regarding Russian foreign policy and the international agenda.
Key statements made by Russia's FM Sergei Lavrov in his interview to Sputnik:
Moscow did not turn to Collective Security Treaty Organization (CSTO) partners with a request for assistance in connection with the special operation in Ukraine. "We have not made such a request to anyone. We proceed from the fact that we have everything necessary to solve the tasks of the special military operation, to end the war that the West started through the Ukrainian regime even after the coup d'etat."
It seems that the West will supply Kiev with modern military equipment together with foreign combat crews. "All types of weapons that have already been partially transferred, and especially those that have been announced, according to experts, it is impossible for Ukrainians to work on these systems, trained or having passed some two-month or even three-month courses. There are systems, according to specialists, that cannot be trained for in the foreseeable future, and if they are supplied, then most likely it will be done together with combat crews."
The more long-range weapons are supplied to the Kiev regime by the West, the further they need to be moved away from Russian territory.
Russia wants the conflict with Ukraine to end, but the time factor is not the main issue.
The United States deprives nations of the right to remember their own history; their task is to melt everyone into "Americans".
The US conviction of its own superiority and infallibility is the main reason for Russia's current confrontation with the West.
The West is hoping for a strategic defeat for Russia so that it cannot recover for decades.
Nobody is trying to convince Kiev to return to negotiations with Moscow; Zelensky himself does not feel like an independent figure, he is being manipulated.
The presumption that Russia refuses to negotiate on Ukraine is a lie.
The West is now "eyeing" Moldova for the role of "next Ukraine"; its president is ready for almost anything.
The West, on an almost "daily" basis, forces developing countries, including those in Africa, to implement sanctions against Russia;
The ideas of different countries increasing trade in national currencies are emerging because of US actions, which violate all the boundaries of decency with the US dollar.
Relations between Russia and China are superior in quality to a military alliance; they have no restrictions, limits or taboo topics; China already began to reduce dependence on Western financial mechanisms.
Nuland made a confession, rejoicing at the explosions on the Nord Stream pipelines; her words reflect the direct participation of the United States in the terrorist attack.
The United States "crushed" the European Union under itself, depriving it of the last signs of independence.
Lavrov says he is for peace, follows philosophy 'if you want peace, always be ready to defend yourself.'
More Americans believe US provides 'too much support' to Ukraine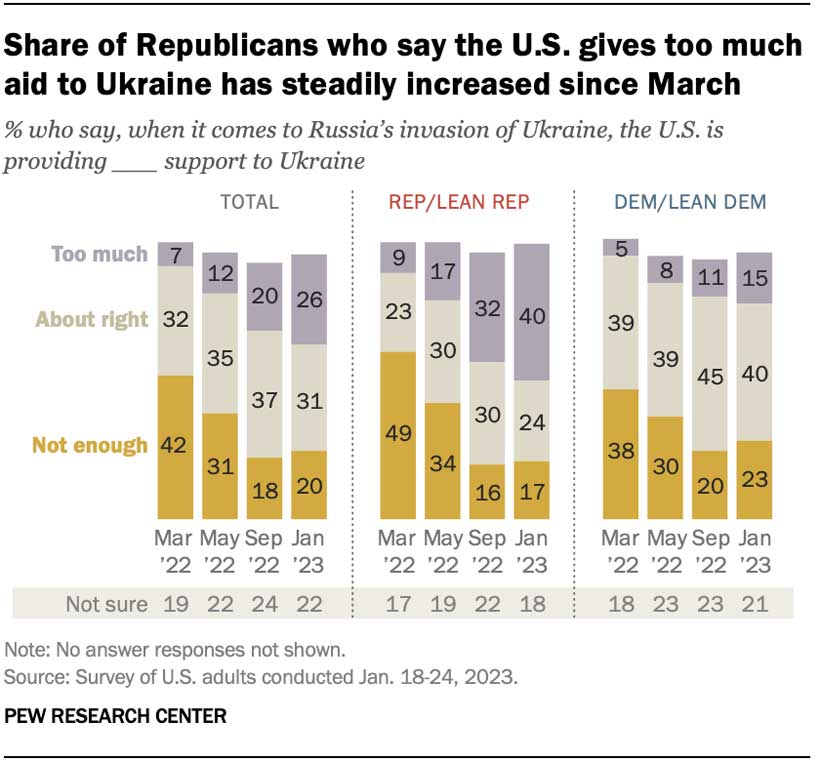 A growing portion of Americans think that the U.S. is giving too much support to Ukraine, as the Biden administration and other western allies have taken steps in recent weeks to escalate their backing of the country in its war against Russia, notes 'The Hill'.
About a quarter of Americans, 26 percent, think the U.S. support of Ukraine is 'too strong', according to a new Pew Research Center poll. It is a percentage of people that has steadily grown since the Russian invasion of Ukraine last year and has jumped 6 points since September.
The U.S. has sent billions of dollars to Ukraine to support its military in the war against Russia. In a $1.7 trillion spending package passed by Congress late last year, lawmakers included around $45 billion in funding for Ukraine and NATO allies. But the spending levels have come under attack by some Republican lawmakers, who argue the country is opening its pockets at unsustainable levels for Ukraine.
Then-House Minority Leader Kevin McCarthy (R-Calif.) said that House Republicans would not provide a "blank-check" for support of Ukraine if his party took control of the House — which it did. Rep. Lauren Boebert (R-Colo.) said on Twitter that President Biden needed to understand the U.S. wasn't an ATM (automated teller machine).
And as some prominent Republicans have started to sour on the support levels, the poll of 5,152 people, with a margin of error of 1.7 percent, found that Republican voters are following along. A total of 40 percent of Republicans and Republican-leaning independents think the U.S. is providing 'too much support', according to the poll. That is up from 32 percent in September and from 9 percent in February 2022.
While Republican attitudes have dimmed on Ukrainian support, they have also come to view the Russian war as less of a major threat to the U.S.
Just 29 percent of Republicans and Republican-leaning independents think the war is a major threat.
In March 2022, Republicans were more likely to see the invasion as a direct threat to the U.S., but now Democrats are more likely to hold that opinion, with 43 percent holding that belief.