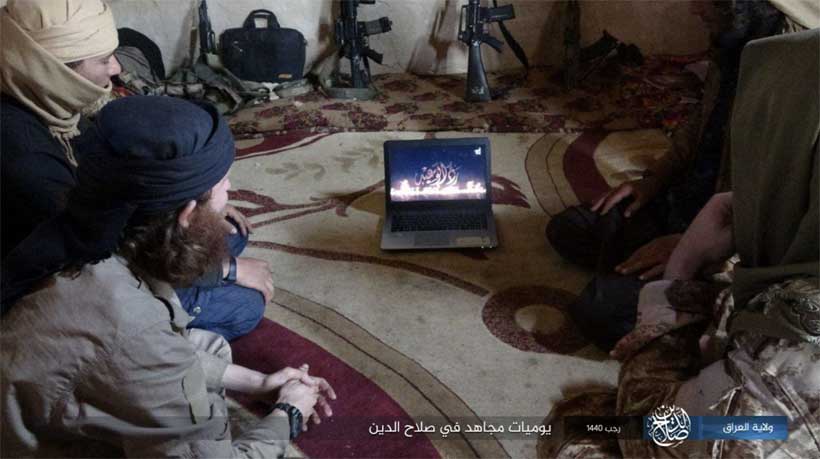 Delegitimizing ISIS and Militant Jihadist Ideologies May Also Require Addressing Anti-Western Biases
Authors: Anne Speckhard and Molly Ellenberg*
When ISIS was defeated territorially, there was a significant decrease in the online propaganda output for which they became notorious and which helped them to attract an unprecedented 40,000 foreign terrorist fighters to wage jihad and live under the Caliphate in Syria. Nevertheless, they still manage to reuse years of product produced in their heyday as well as continue to produce videos and recruit online from hidden safe havens in Iraq and Syria. Thus, the logical next phase of fighting ISIS is not attacking militarily, but also digitally taking them out. Some of the ways of doing that are already being accomplished by Facebook, Twitter and other mainline platforms using machine-run algorithms to enforce terrorist propaganda takedown policies and by militaries who attack their safe havens and means of continuing to broadcast their messages of hate. However, there is also the need to delegitimize terrorist groups and their virulent ideologies so that they find it much harder to gain traction with their intended audience of potential recruits. In doing so we are finding in our analysis of Facebook comments to anti-ISIS counternarrative campaigns evidence that it may be necessary not only to work to delegitimize terrorist groups but also to work to repair views of, and trust in, Western powers at the same time, as the two appear to be intertwined – something that groups like ISIS are all too eager to exploit.
Counternarratives have been put forth as a potentially useful technique for fighting ISIS online, but many efforts to produce online counternarratives against ISIS, often produced by government entities, have proven ineffective due to their inability to resonate with viewers in the same emotionally evocative and deep-seated way that the terrorist propaganda does. In this vein, the International Center for the Study of Violent Extremism [ICSVE] has created over 175 counternarrative videos, taken from a collection of interviews with 239 ISIS prisoners, returnees and defectors, translated and subtitled in 27 languages, each of which features a speaker who actually lived in ISIS and either returned to their home countries, defected from ISIS, or were imprisoned. These speakers' stories mirror the poignant nature of ISIS's propaganda, telling, sometimes with tears in their eyes, of believing the ISIS recruitment lies, but then ending up watching their families die, seeing innocent people being executed, or being tortured themselves for breaking the most minor and arbitrary rule. The speakers focus on the ways that ISIS lied to them and manipulated their deepest desires to serve Islam while twisting and misusing sacred Islamic scriptures, and eventually ruined their lives.
ICSVE's project, called Breaking the ISIS Brand – the ISIS Defectors Interviews Project, focuses on capturing the voices and emotions of credible defectors and imprisoned cadres. The footage used in the videos, other than the film of the speakers themselves, is taken from actual ISIS propaganda to illustrate the speaker's story, which makes a direct contradiction to the terrorist narrative, effectively turning ISIS propaganda back on itself. At the end of the videos, which are titled with pro-ISIS names in order to capture the attention of viewers seeking ISIS videos, the speakers give advice to others who may be thinking of joining ISIS, forcefully denouncing the group. ICSVE's counternarrative videos have been used by law enforcement professionals, religious leaders, and non-governmental organizations in face-to-face interactions in Kyrgyzstan, the Netherlands, Belgium, Jordan, Iraq and elsewhere as part of robust countering violent extremism programs. Likewise, participants in ICSVE-led focus groups as well as one imprisoned ISIS terrorist emir in Iraq have also reported (or in the case of the emir, was observed) being deeply moved by the content of the videos.
ICSVE has also run over 100 Facebook campaigns in multiple languages crossing multiple continents to reach the same audiences from which ISIS tries to recruit. While quantitative metrics provide important insight into the success of the counternarratives, qualitative analysis of the comments on the videos have also allowed ICSVE to determine the emotional resonance of the counternarratives. This article examines comments on ICSVE's counternarrative videos in Facebook ad campaigns running from Dec. 3 to Dec. 31, 2019, in local languages in Iraq, Jordan, Tunisia, Kosovo, Bosnia, Albania, Montenegro, and Saudi Arabia.
While not every viewer comments, those who do can be assumed to be engaged with the content of the video, which is a positive sign for using counternarratives. Very few comments on the counternarrative videos used in these campaigns expressed a positive view of ISIS; those who did typically called the speaker a liar or simply accusing ICSVE of lying, such as one commenter from Tunisia who wrote, "WTF I just watch and why the fuck is it keep coming in as a suggestion get the fuck outta here ain't nobody got time for your bullshit" [sic]. On the other side of the spectrum, an Iraqi commenter clearly held a positive view of ISIS, writing in Arabic, "Raise the Lord of ISIS." A viewer from Montenegro commented in Croatian, "Mockery! This is what the West does," suggesting either that he did not believe the content of the video and implying that the counternarrative was part of a greater Western effort to discredit ISIS, or that ISIS was created by the West to make a mockery of Islam. Another Bosnian commenter suggested turning ISIS's cruel punishments back on the speaker, writing, "While he was killing, he was a hero. Now that he's trapped he becomes a coward, I suggest beheading him."
Researchers testing these counternarratives in face-to-face interactions and focus groups notice that the speaker is almost always seen by the viewers as credible. However, online viewers often attack the credibility of the speaker as way of expressing anger over some aspect of what is being portrayed or over what they surmise is behind the counternarrative. For instance, some commenters took the counternarrative and speaker having been from their country as an insult to their national pride and thus suggested that they did not find the speaker credible. These commenters then spoke rather in defense of their own country rather than in defense of ISIS. One wrote in Croatian, "Hell, there are no ISIS terrorist in Bosnia! Fuck you, America!," while a Tunisian viewer wrote, "The is falsification Tunisia is far from being the land of extremism we are by far the most tolerant open minded Arab country we do not discuss "Jihad" in the streets we don't even discuss religion that much and those who went to Syria to kill their brothers are no longer welcomed they are a threat to our national security these imbeciles have no no rights and are not entitled to anything." [sic]
Some commenters simply posted straightforwardly negative comments about ISIS, such as a commenter on the video shown in the Balkans, who wrote, "Every ISIS fighter should be executed and burned!" as well as commenters from Tunisia, who wrote, "U deserve nothing but a bullet a dirty one" [sic] and "We, Tunisian people , don't want these rats infesting our country ..they are NOT welcomed here . and we will chase them one by one out of our streets. may they rot in ISIS's hell.." [sic]. Notably, one anti-ISIS commenter wrote not in negative terms toward ISIS members, but rather in constructive terms. The man wrote in Bosnian, "I would love to work in Kurdistan, not for faith but for justice." All of the aforementioned comments demonstrate the ability of these counternarrative videos to evoke strong emotions and to engage viewers enough to comment and even sometimes engage in discussions with other commenters on Facebook, which is a very good sign regarding their effectiveness.
Many comments were neither straightforwardly positive nor negative, as they referenced the conspiracy theory that America and Israel created ISIS. Such comments can be classified as anti-ISIS but are certainly not endorsing non-violence or moderation and thus deserve further attention. One Jordanian commenter wrote, "Terrorism is an American and Zionist made even with different names. Daesh [ISIS] is lying. American Russian Jewish made. What the Americans did in Iraq is double double of what Daesh did." The same commenter also suspected that ICSVE was a part of the conspiracy: "This is made by the westerners to destroy Arab countries for the sake of those monkeys and pigs Zionists." Another Jordanian wrote, "The Zionist occupation is terrorism," though he also acknowledged, "This is the first time for me to hear about Daesh that way," indicating that the counternarrative video did introduce a new and interesting viewpoint, even if the commenter did not fully agree with that viewpoint. An Iraqi commenter, who viewed the same counternarrative as that shown in Jordan, doubted that the speaker did not commit more atrocities as part of ISIS while also broaching the topic of the anti-Zionist and anti-Western conspiracy, conflating all his perceived enemies as being part of Daesh: "Who says you didn't kill or destroyed houses, you all are not honorable neither European, American, Israeli, Iranian you all Daesh." Another Iraqi posted a cartoon of a pig bearing the Turkish flag, with piglets labeled in Arabic as Liberation Levant, Daesh, Al Nusra Front, Mohamed Al Fatih, Syrian Coalition, and Al Fatih Brigade suckling at its teats, suggesting with a degree of plausibility that the militant groups fighting in Syria who are overtly jihadist and who carry out jihadist crimes while calling out their slogans were birthed by and dependent on Turkey and not truly fighting for the rights of the Syrian people.
Although the conspiracy theory that Israel and the West created ISIS is more prevalent in Arab countries, commenters in the Balkans also indicated their support for the theory, although they mentioned Israel far less often than Tunisians, Iraqis, and Jordanians did, perhaps because Israel is seen as less of a threat for them. One commenter in Kosovo wrote, "ISIS is Russian organization mercenaries…!!! Many of them didn't know why are what they fuckin doing…!!," [sic] while another wrote, "ISAL [sic] is American killing army supported by money from NATO protection racket. Mafia!."
Comments of this anti-Western and anti-Israeli nature have also been written on prior Facebook ad campaigns featuring other ICSVE counter narrative videos run earlier in 2019 and 2018. For instance, one Iraqi commenter wrote: "This is what you have done to my city and our people […] so that they facilitate something you've prepared which is a plan made by Israel, America, and Europe and it's one the Cold War's threads between the Soviet Union and America… do you think we're not aware of your deeds […] we will expose all your plans […]"
Another commenter in Iraq wrote, "What Muslims, these are Jews that pretend to be Muslim to distort Islam, conspire and separate between Muslims for the sake of tearing Mohammed's nation," while another claimed, "The source of terrorism is Turkey." A Jordanian commented that ISIS is "an American industry distorting the minds of the Arab-Islamic generation to eliminate Islam gradually, there is no God but Allah, Muhammed is the messenger of Allah," and another wrote, "America is the godfather of terrorism."
An important issue for consideration is that few of the comments on the ads were specifically pro-ISIS, but a large portion of the comments related to a perspective that is not oriented toward nonviolence, posing a difficult question: Is the view that ISIS was created by Western forces one that ought also to be challenged or left alone, given that people who hold it are extremely unlikely to join ISIS? Or does it simply create space for new terrorist organizations as well as established anti-Western groups such as al-Qaeda to recruit new members?
In addition to their significantly better social media machine, ISIS's concrete, tangible ideology was a key deviation from al-Qaeda that likely contributed to the exponentially higher numbers of FTFs joining ISIS than al-Qaeda. However, ISIS's loss of territory may be used as evidence that the Caliphate is, as al-Qaeda posits, a distant goal. Furthermore, propagation of the conspiracy, either purposefully or inadvertently through comments on counternarratives, that ISIS was created by Israel and Western powers to destroy Islam from within may also provide fodder for groups like al-Qaeda, which focus on targeting the "far enemy" while proselytizing to Muslims who do not adhere to their form of radical fundamentalism.
Previous studies of anti-American comments have put forward several explanations as to why these conspiracy theories have gained traction predominantly, but not exclusively, in the Arab world. The authors of one study suggested that the United States tends to be an archetype for a global power interfering in the Middle East, making Anti-American sentiments less about Americans and American society and more about global meddling in the affairs of Iraqis and Syrians. This hypothesis is supported by the presence of statements also made against Saudi Arabia and Iran in the comments on videos shown in Jordan, Iraq, and Tunisia. Both Saudi Arabia and Iran have waged proxy wars in the region, often by funding sectarian militias. It is notable that commenters in the Balkans expressed anti-Russian sentiments, seemingly replacing Saudi Arabia and Iran with Russia as the more proximal global power of which to be wary, this particularly in light of Russian support for Serbian aggression in the last wars fought there. This fear was also legitimized by a recent report from the European Council on Foreign Relations concluding that Russia may intend to use the Balkans as a political bargaining chip with the European Union and North Atlantic Treaty Organization. Arguably, Turkey, Iran, and Saudi Arabia have used Iraq, Syria, and other smaller Middle Eastern countries for similar purposes.
The anti-Israel comments, though sometimes linked with anti-Western and anti-American comments, however, cannot be placed in the same category and likely reflect societal-wide views and widespread anger in these Middle Eastern countries about Israel. Although there is evidence that Israel engages in covert operations in the region, that the country and its people are viewed in many comments as symbols of meddling global powers equal to the United States, Russia, or even Saudi Arabia and Iran is alarming. This likely reflects longstanding Middle Eastern anger against Israel over the Palestinian issue as well as views of Israel's inflated power in the region, particularly following military defeat by Israel of some in the region coupled with anger over strong U.S. support for Israel. The anti-Israeli sentiments and the theory that Israel created ISIS to sow division among Muslims found in many of the comments appears to be a reflection of mainstream Middle Eastern society in which this view of equating ISIS with Zionism and eloquently claiming that ISIS was created by Israel is also spread in scores of online blog posts and opinion pieces. One commentator echoed these same statements: "Israel has plotted and conspired against Arab states in the region, playing sectarian and tribal tensions to generate instability." He continued, "The fact that ISIS has not moved against Israel and instead focused on killing Muslims says a lot about this organization's real mission." The same question was also echoed in ICSVE's interviews of ISIS members, some who asked their leaders why the group was not first attacking Israel before fighting Middle Eastern powers and attacking Western targets. Other online articles widely circulated in the Middle East also express the view that ISIS and Zionism are essentially the same ideology. It is likely the societally wide spread of such beliefs may underly the presence of anti-ISIS views mixed together with anti-Israel views stated in these Facebook comments. Moreover, it is interesting that the same thought process of likening ISIS's ideology to Zionism has also been used by ISIS members and supporters to justify their actions and characterize people who support Israel and oppose ISIS as Islamophobic.
It's very important to continue to work to delegitimize groups like ISIS and al-Qaeda through counternarrative campaigns and to debunk their ideology promoting militant jihad, "martyrdom," hijrah (migration to lands ruled by shariah) and building a Caliphate even by violent means. However, this analysis of comments made to a series of anti-ISIS Facebook campaigns reveals the need to also consider how to address anti-Western sentiments found in those who are willing to oppose ISIS, as these views are all too often twisted to garner support for militant jihadist groups.
*Molly Ellenberg, M.A. is a research fellow at ICSVE. Molly Ellenberg holds an M.A. in Forensic Psychology from The George Washington University and a B.S. in Psychology with a Specialization in Clinical Psychology from UC San Diego. At ICSVE, she is working on coding and analyzing the data from ICSVE's qualitative research interviews of ISIS and al Shabaab terrorists, running Facebook campaigns to disrupt ISIS's and al Shabaab's online and face-to-face recruitment, and developing and giving trainings for use with the Breaking the ISIS Brand Counter Narrative Project videos. Molly has presented original research at the International Summit on Violence, Abuse, and Trauma and UC San Diego Research Conferences. Her research has also been published in the Journal of Child and Adolescent Trauma. Her previous research experiences include positions at Stanford University, UC San Diego, and the National Consortium for the Study of Terrorism and Responses to Terrorism at the University of Maryland.
Author's note: first published in Homeland Security Today
'Disturbing spike' in Afghan civilian casualties after peace talks began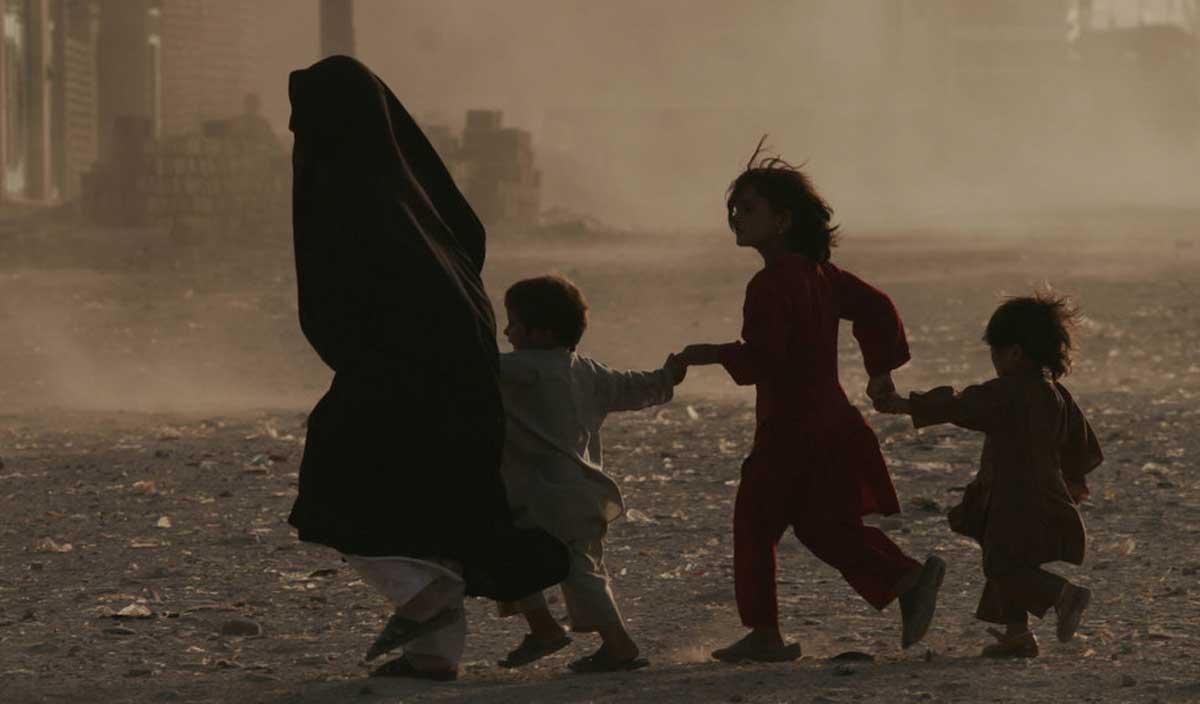 Civilian casualties in Afghanistan witnessed a sharp rise since peace negotiations started in September last year, even though overall deaths and injuries dropped in 2020, compared to the previous year, according to a UN human rights report launched Tuesday.
In their annual Afghanistan Protection of Civilians in Armed Conflict Annual Report, the Office of the UN High Commissioner for Human Rights (OHCHR) and the UN Assistance Mission in the country (UNAMA) documented some 8,820 civilian casualties (3,035 deaths and 5,785 injuries) in 2020, about 15 per cent less than in 2019.
It was also the first time the figure fell below 10,000 since 2013.
However, the country remains amongst the "deadliest places in the world to be a civilian", according to Michelle Bachelet, UN High Commissioner for Human Rights.
"I am particularly appalled by the high numbers of human rights defenders, journalists, and media workers killed since peace negotiations began in September", she said.
At least 11 rights defenders, journalists and media workers lost their lives since September, resulting in many professionals exercising self-censorship in their work, quitting their jobs, and even leaving their homes and the country – in hope it will improve their safety.
Rise in 'targeted killings'
According to the report, the overall drop in civilian casualties in 2020 was due to fewer casualties from suicide attacks by anti-Government elements in populated areas, as well as drop in casualties attributed to international military forces.
There was, however, a "worrying rise" in targeted killings by such elements – up about 45 per cent over 2019. The use of pressure-plate improvised explosive devices (IEDs) by the Taliban, air strikes by the Afghan Air Force, and ground engagements also resulted in increased casualties, the report said.
According to the report, anti-Government elements bore responsibility for about 62 per cent civilian casualties, while pro-Government forces were responsible for about 25 per cent casualties. About 13 per cent of casualties were attributed to crossfire and other incidents.
2020 could have been 'a year of peace'
Deborah Lyons, Special Representative of the UN Secretary-General for Afghanistan and head of UNAMA, called on all parties to take immediate and concrete action to protect civilians, urging them "not to squander a single day in taking the urgent steps to avoid more suffering".
"2020 could have been the year of peace in Afghanistan. Instead, thousands of Afghan civilians perished due to the conflict", Ms. Lyons said.
The "overriding objective" of the report is to provide the parties responsible with the facts, and recommendations, so they take immediate and concrete steps to protect civilians, she added.
Ms. Lyons highlighted that "ultimately, the best way to protect civilians is to establish a humanitarian ceasefire" – a call consistently made by Secretary-General António Guterres and the Security Council.
"Parties refusing to consider a ceasefire must recognize the devastating consequences of such a posture on the lives of Afghan civilians."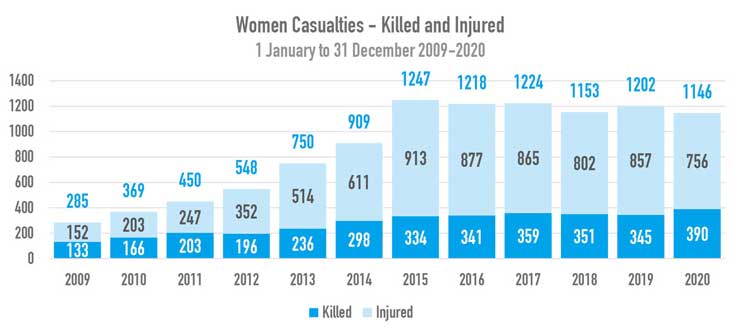 UNAMA-OHCHR report: Women casualties (killings and injuries) documented between 1 January 2009 and 31 December 2020
'Shocking toll' on women and children
The report went on to note that the years-long conflict in Afghanistan "continues to wreak a shocking and detrimental toll" on women and children, who accounted for 43 per cent of all civilian casualties – 30 per cent children and 13 per cent women.
"This report shows the acute, lasting needs of victims of the armed conflict and demonstrates how much remains to be done to meet those needs in a meaningful way", High Commissioner Bachelet said.
"The violence that has brought so much pain and suffering to the Afghan population for decades must stop and steps towards reaching a lasting peace must continue."
Attacking civilians 'serious violations'
With the conflict continuing, parties must do more to prevent and mitigate civilian casualties, the report said, urging them to fully implement the report's recommendations and to ensure that respect and protection of human rights is central to the ongoing peace negotiations.
It also reminded the parties that deliberately attacking civilians or civilian objects are serious violations of international humanitarian law that may amount to war crimes.
Is Blacklisting on Cards for Pakistan?
Financial Action Task Force (FATF) has been an integral part of the economic decision making and regulatory procedures of the country. The days of the ultimate decision are finally on cards as the Global Watchdog is expected to evaluate and review the performance and strategies of Pakistan via virtual meeting tentatively scheduled for February 22-25, 2021. This would be a much-anticipated review since a keen eye would be payed following a long hiatus to the litigations recently undertaken by the country to eliminate the risks and gaps in the financial framework which might earn Pakistan, a way out from the grey list. However, while the preceding meeting only guided more hopes for better litigation and measures to curb terror financing, brimming foreign propaganda and nefarious rulings within the country itself might hamper the way out but instead could dig the trench further towards a harrowing financial turmoil.
Pakistan was placed on the grey list back in June 2018 due to strategic deficiencies. Just before the Covid-19 pandemic wreaked havoc in the world, Pakistan was allowed a breather of 4-months to comply with the 27-point action plan; of which Pakistan met only 14 targets while missing out on the rest of 13 targets. Moreover, Pakistan could only satisfy 10 of a total of 40 recommendations devised by the task force. These lags led to a major pitfall in the Pakistan's Stock Market; PSX plummeting bellow 30,000 points. Furthermore, a bitter narrative started blooming regarding arch-rival India pulling all the strings to push Pakistan down further, even in the blacklist. This was largely shunned by the Indian representatives but the failure of the economic and diplomatic front of Pakistan was evident by now.
The FATF plenary was scheduled, like traditionally, in June. However, all scheduled evaluations and review procedures were deferred for 4-months in the wake of the Covid-19 pandemic, allowing yet another unforeseen yet thoroughly welcomed relief span to Pakistan to strive more actively to meet the requirements.
In the preceding 4 months, Pakistan acutely worked to amend the contradicting laws and policies, the parliament playing an agile role to introduce new bills relating to counter-terrorism and countering money laundering as an act to expedite compliance to the international laws and ultimately meeting up all 27 points in the action plan. Almost all the bills presented, albeit some political resistance, were eventually passed which even led to optimism in the stock market; PSX climbing back over 40,000 points after more than half a year, rallying to record high levels despite of the pandemic wreaking havoc on the investors' mentality across the globe.
The meeting held, after a steep deferral, back in October 2020; the FATF committee observed and commended on the vigilant stance assumed by Pakistan to crawl out of the Grey list. Pakistan has since delivered on 22 out of the 27 core points of the action plan defined. However, the meetings adjourned till February, retaining Pakistan in the grey list under the tag of 'jurisdiction under enhanced monitoring' whilst praising the steps of counter-terrorism and anti-money laundering adopted by Islamabad.
Pakistan was warned back in February last year that if not complied by the 27-point action plan, it could be a great threat to the foreign mechanism and would be eventually moved to the monitored jurisdiction, notoriously also known as the 'Blacklist'. Later this month, FATF would examine if Pakistan meets the 8 key categories of the action plan; remedial actions taken against money laundering, counterfeit terrorism while also reviewing the vigilance of the institutions in countering Terror Financing and actively managing risk. The committee representing Pakistan would perpetually convince the plenary that the country in-fact meets the criteria and transitioning over the next month, the fate of the tormented economy would finally prevail in light of the decision made.
However, Pakistan has been sluggish in taking action against the notorious entities linked to terrorism around the region. The meeting nears with the pinned watch of UN regarding Pakistan's role of providing a safe haven to Lashkar-e-Taiba founder, Hafiz Saeed, or the notorious acquittal of Ahmed Omer Sheikh, the prime culprit of the Daniel Pearle Murder case of 2002. Pakistan, however, claims to have made virtue on 22 of the defined 27 points while has garnered 'Substantial progress' on the remaining 5 points. Thus, the optimism brews that the meeting would push the country out of the list and would open more financial avenues especially in these distressful conditions.
Although Pakistan's Foreign Office including the Foreign Minister, Shah Mahmood Qureshi, appears optimistic to climb out of the grey list after 3 years, the infamous decisions passed by the Supreme Court of Pakistan, the excessive money laundering cases surging against the ex-office holders of Pakistan and the determined efforts of India to subvert Pakistan in global politics, all thwart down that optimism bit by bit. And while some of the economic experts claim that the decision of advancing Pakistan off the Grey list would be naïve move and would arguably impact regional dynamics, the decision could fall in tandem with the preceding outcome of sustaining the grey list status or could deteriorate the level further as gauged by a political expert, opining his narrative: "The facts demand that Pakistan remain on the grey list. The FATF shouldn't just keep Pakistan on the grey list. It should rather warn Islamabad that absent rapid and wide-ranging reform; blacklisting is coming".
Europe Must Confront Iranian Regime's Terrorism
After a two-and-a-half-year investigation, on 4thFebruary 2021, a Belgian court sentenced four culprits for attempting to bomb a large gathering of tens of thousands, including politicians and dignitaries, at a global summit organized by the Iranian opposition – the National Council of Resistance of Iran (NCRI) – in Villipinte, France in June 2018.
The perpetrators who attempted to attack the global summit included Assadollah Assadi, a senior accredited Iranian diplomat, who received the maximum sentence of 20 years in prison on attempted murder and terrorism charges – and his three accomplices who were imprisoned for 15,17, and 18 years, respectively. This was the first time that an Iranian diplomat was convicted in Europe.
The conviction and the sheer scale of the crime requires the EU to reconsider its approach to the Iranian regime.
The 2018 global summit was attended by tens of thousands of people who advocate for democracy and freedom in Iran. If the foiled terrorist plot had been successful, thousands of innocent people, including European citizens and prominent political figures, would have been killed or injured. The head of Belgium's national security has blamed the Iranian regime for orchestrating the attack, including Iran's Foreign Ministry and Ministry of Intelligence and Security who played a significant part in the execution of the attack.
Such terrorism-related trials are not new for the regime. In 1997, the regime was tried for a major terrorist act in Germany. The proceedings were called the Mykonos trial after a Berlin restaurant in which regime agents gunned down several opponents.
In a report dated April 10, 1997, the European Union's Presidency stated: "The High Court of Justice's findings in Berlin in the Mykonos case indicates Iranian regime officials' involvement at the highest level."
On April 29, 1997, the Council of the European Union reaffirmed that progress in normalizing relations between the EU and Iran would only be possible if Tehran's officials respect international law and cease terrorist acts, including those against Iranians residing abroad. When the regime refused to comply,Europe made a declaration to expel Iranian nationals with intelligence and security ties. Twelve countries that were not members of the European Union at the time also complied with the declaration.
21 years after the Mykonos trial, Assadi used his diplomatic cover to take a high-powered explosive on a passenger plane from Iran to Austria. He then personally handed it over to two intelligence agents to detonate it at the NCRI rally in Paris. The irrefutable evidence in this case shows Iranian regime officials' involvement at the highest levels.
Separately, the regime's ambassador and three diplomats were expelled from Albania (January 2020), three diplomats were expelled from France and the Netherlands (March 2018), and a diplomat was expelled from Denmark (October 2018) in the wake of the regime's terrorist plots. All of these expulsions reveal the involvement of the regime's embassies, Foreign Ministry and Ministry of Intelligence and Security to create terror in the European region.
Despite all of this, the EU has not taken any serious measures to counter the regime's belligerence.
Europe's failure to take appropriate actions has emboldened Tehran. Inaction reassures the regime that it can act with impunity, even in Europe. Europe has essentially communicated to the world's foremost state sponsor of terrorism that not even an attempt to bomb a peaceful gathering, which could lead to the killing of hundreds of European citizens, would bear any consequences. Thus, Europe's appeasement is in large part fueling the regime's aggression.
It is naive to speculate that Tehran's Foreign Minister Javad Zarif did not know about this conspiracy. Zarif sits on the Supreme National Security Council, which approves all such major security decisions. Additionally, his ministry and embassies serve as logistical and operational centers for terrorism and espionage.
Those who hatched and approved this terrorist plot, none other than senior Iranian leadership, must be brought to justice. This step is a necessary deterrent against Tehran, the godfather of international terrorism.
German security officials are reportedly still investigating the numerous trips that Assadi made throughout Europe, where he helped establish an extensive Iranian regime spy network across the region. At the time of his arrest, he had received several receipts for payment of money. The identities of money recipients have yet to be determined. The regime has always used its embassies and so-called religious and cultural centers abroad as centers of espionage against its opponents.
Normalizing diplomatic relations with the Iranian regime must be made contingent on disbanding its terrorist apparatus in Europe and ensuring that it will never again engage in terrorism in Europe. By taking this critical step, European leaders will protect their own citizens and effectively counter the regime's terrorist threats.