According to the European Commission, more than 42,000 foreign fighters joined terrorist organizations between 2011 and 2016, around 5,000 of whom are believed to be from Europe (European Commission, July 2017, cited in Euronews, March 2019). The Republic of North Macedonia, France and Germany initiated the repatriation process of their citizens suspected to fight on the ISIS side. The policy of the countries may slightly vary. However, participation in ISIS is penalized. For example, the citizens of Germany have been prosecuted or placed into rehabilitation programs. The UK strips the citizenship from some British IS members who expressed a desire to return home, which has sparked huge human rights and legal debate. However, it is hard to differ former fighters from non-combatants and prove their guilt (Ibidem).
In the case of Russia, fight against world terrorism is one of the main policy goals (Military Doctrine of Russian Federation, December 30, 2014). Terrorist organizations, like "Taliban" or ISIS, are, naturally, prohibited and participation in their structures is strictly penalized. Nonetheless, Russian national group is the leading one fighting on the ISIS side (Soufan Group, cited in ura.ru, October 26, 2017). Nowadays, there is an increasing tendency among the Russians to join this kind of organizations. At the first time in 2013 Russian authorities confirmed the presence of their citizens fighting in the ISIS (Kavkaz Uzel, cited in Meduza, March, 2016). In 2015, according to the president of Russian Federation, Vladimir Putin, there are about 2.5 thousand of Russian citizens fighting in the so-called Islamic State structures (BBC, October 16, 2015). In 2018 Russian Ministry of Internal Affairs (MIA) claimed a number of 5 thousand citizens (Segodnya, 2018). The MIA notices that terrorist organizations after the defeat in Syria are going to increase their world network with the nationals of the former Soviet republics. (TASS, March 29, 2019).
A characteristic feature of the both cases is that neither in Europe nor in Russia Islam is not a dominative religion. In addition, fight with the terrorism played a major role in Russian discourse on intervention in Syrian campaign. Worth to notice that the official Kremlin supports the governmental forces of Bashar-al-Assad. Naturally, there are Russian mercenaries on the both sides (Meduza, March, 2016). This paper is going to examine the motivation of non-Muslim Europeans with the focus on the Russians to join terrorist organizations, the recruitment methods and the attitude of Russian Federation towards this issue. For the purposes of this research it is necessary to describe a significant example in which a European woman, who wanted to investigate the schemes of recruitment to terrorist organizations, was convinced to join ISIS.
The European victims
Anna Erelle, a journalist, an author of the book "In the Skin of a Jihadist" was recruited during her professional duties, conducting a dangerous experiment (hereafter: The Insider, February, 2019). She was preparing the interviews with the jihadi teenagers and their motivations to leave the families. For the purposes of the research, she decided to create a fake Facebook account of 20-year-old French woman of Moroccan origin, recently converted to Islam, who grew up without father. During the experiment she met some radicals from France, Belgium, England, until once a stranger started to be interested in her opinion jihadi fighters and religion. A stranger appeared to be a 40-year-old ethnic French who left "sinful" Europe. The contactor tried to gain authority in the issues of Islam interpretation. Anna Erelle notices that it was easy to attract a young woman for an experienced man with a huge age difference. However, in some time Anna became a victim of her own experiment. The communication with the ISIS member moved from text chats on Facebook into personal Skype meeting. The recruiter had a deep knowledge in psychology and good communicative skills. He tried to find out the victim's preferences, the reason of her interest in Islam or ISIS. Her also promised to protect her, fulfill all the dreams, present a lot of money or weapons. The recruiter described to Anna her future rich and carefree life. The only condition was to marry him. Sometimes, he blamed het in egoism for not helping their Muslim brothers. In some time, Anna felt in love with the ISIS fighter, even his polygamic marriage with four official wives was not an obstacle. The relation had some features of unhealthy dependence. The potential fiancé attacked a victim with the attention. They had to contact each other few times a day. She had to report him about her movements. She sincerely worried about him, especially during ISIS military operations. The recruiter also told that after the marriage a woman has to be hidden form the rest of the society but belong to her husband only. He justified his attitude with the misinterpretation of Coran: the entire life is a game, you are allowed to do whatever you want. Despite all the controversies, Anna decided to accept his proposal and started a trip to Syria (Ibidem). It is necessary to underline that it was a journalist experiment from the very beginning, she had a critical view on the ISIS and did not expect to be involved so deeply and sincerely. Moreover, it seems to look that she had a stable job and education. Nonetheless, it did not prevent her from being a victim.
Anna was proposed to travel through the Netherlands, crossing the Turkish-Syrian border. It was required to buy a local phone and take selfies to prove her localization. Worth to notice that a French woman assisted her as the guide to Syria. However, Anna decided to go to Amsterdam, take a selfie and stop the experiment. Nowadays, she is being threatened by ISIS but still have some sentiments to her former "fiancé" (Ibidem).
Target portrait
The ISIS ideology is primarily tapped two sets of motives: (1) the needs for security and stability, and (2) the needs for personal significance. The research team from the University of Maryland conducted the analysis of the pre-travel decision-making of fifty American ISIS volunteers. It was found that people experienced rejection and alienation in their communities wanted to escape their current life and find a new, positive identity. In addition, it was a chance to upgrade their socio-economic status. The research also contradicts the popular clam that the decision to break the social ties was made spontaneously. In the cases used in the study, almost three quarters of the victims were openly involved in the radical social networks and more than a half expressed radical views much earlier than they decided to join ISIS. However, these warning signs were neglected or unrecognized by the closest society (Jasko, Hassan, Kruglanski, Gunaratna, 2018).
The general portrait of the potential victim is similar to all the nationalities. However, in the case of non-Muslim population, particularly ethnic Russians, it is necessary to convince a person to accept voluntarily the values of foreign religion, culture and ideology.
The available Russian sources seem to suggest that the main targets are young people 16-30 years old, especially those who study or are professionally connected with oil or agriculture industry, IT, chemistry, physics, translation. These people have not got social and economic stability yet (like family or permanent job), suffer from depression or feel offended but the society. In addition, young adults perceive joining the terrorist organization as some kind of adventure and are not able to predict the consequences of this choice. Similar psychological premises allow to involve labor migrants into terrorism. Moreover, the potential targets are people newly converted to Islam. Another potentially endangered group are prisoners. Their main motivation is to restore social justice (Sputnik News, April 29, 2017; MK.ru, October 30, 2018). Moreover, ISIS is attractive for people with deviant behavior. A lack of traditional state institutions and different social norms that allow, for example, polygamic marriages, pedophilia or human slavery may be a decisive argument for some target groups. This kind of personality tends to seek violent videos with mass murders (Karachay-Cherkess Republic Police). It is necessary to underline that women are special target group. The recruiters seek for special psychological type of personality with a high level of suggestibility unable to have a critical view on the received information. (Vesti.ru, February 5, 2017). Moreover, the additional trigger could be the experience of unsatisfactory romantic affairs in the past or will to find a husband abroad. A journalist Anna Erelle, whose story is mentioned above, is considered that the factor that attracts women is the presence of a strong man. For teenagers joining ISIS is a chance to become rich and famous. Furthermore, she is pointing out a negative impact of mass media in the creation of a positive image of terrorism. The attention of documentarists, made terrorism attractive. In addition, an unlimited possibility to share the photos in the social media show the "evidences" of "rich and careless" life in the ISIS (The Insider, February, 2019).
It is also necessary to underline that the strong governance inside ISIS does not allow people to leave it without consequences. The system of punishments and terror discourage a slightest resistance and force the victims to obey. Moreover, on the occupied territories joining the terrorists seems to be the only way to survive. People simply struggle from hunger and have no other job (Jasko, Hassan, Kruglanski, Gunaratna, 2018).
Recruitment methods
According to the Chairman of the Public Chamber for the Development of Public Diplomacy and the Support of Compatriots Abroad Elena Sutormina, the main recruitment channel is the Internet. The potential victims publish personal information in the social networks attracting the attention of the recruiters (RT, May 6, 2017). This could be, for example, a spoken language (preferably, oriental), studies at the university or hobbies. The students of Arab linguistics are contacted by their colleagues, native speakers, offering some help in learning language. Male recruiters try to make compliments to female students and continue communication (Ibidem). Shamil Sultanov, the president of the Russia-Islamic World Center for Strategic Studies, says that the ISIS most of all needs military specialists and programmers. Thus, IT student is a cheap workforce in comparison to a qualified specialist. Moreover, young unexperienced people perceive this kind of cooperation as a chance to find a well-paid job (Ibidem). A motivator tries to convince a victim in social injustice, underestimation of his/her abilities, promising an "opportunity" to change the world and become a part of "the chosen" group. Sometimes, persuasive effect is achievable due to hidden use of psychoactive substances against the victim during face-to-face meeting. However, the main aim of the recruiter is to make a target person to break social and family ties (Karachay-Cherkess Republic Police).In some cases, involving in terrorist organization is possible through friends or family members; public event or conference not necessarily connected with Islam. Moreover, another, not very obvious technique, is to provoke an interest of people to something new. For example, an ISIS member may not initiate the conversation but penetrate into a social group. His acquaintances might be curious about his religion, or unusual hobby etc. Human's curiosity could be a good starting point for future recruitment as it was in the case of Anna Errele, described above (Karachay-Cherkess Republic Police).According to a victim, a recruiter could keep contact for a few years, talking on neutral topics. However, in some time the ISIS agent may provoke an interest to radical Islam and turn the communication in this way. In the case of females, male recruiters try to attract, gain authority, establish psychological dependence of the victim, convincing her to join ISIS (Rambler, May 16, 2019).
According to an anonymous source in the Russian special services, one of the main recruiters is so-called One-Legged Ahmed. In his scheme, people were first recruited via the Internet, invited and met in Istanbul. There, in a few days, One-Legged Ahmet with his companions produced fake documents, after people were transferred across the Turkish-Syrian border (Life News, cited in Liberty Radio, August 11, 2015).Moreover, ISIS does not only recruit people directly but provides propaganda campaign in the Russian language, using Internet and social media. One of the well-known resources orientated on the Russian-speaking audience is Furat Media. Currently their accounts are banned (The Guardian, cited in Komsomolskaya Pravda, July 13, 2015).
Russian countermeasures and implications
The basic countermeasure implemented by Russia is a wide-scale informational campaign. The ISIS and fight against terrorism forms a daily agenda of the major mass media. Documentaries, interviews with the victims, leaf-lefts form the police are dedicated to warn and prevent population from dealing with terrorism. However, in order to avoid terrorism propaganda mass media are obliged to put a clause "organization prohibited in Russia", mentioning the acronym 'ISIS'. Moreover, Russia tries to filter the information, censoring the Internet. In this way, using of social media for the purposes of terrorism made a pretext for Internet control by the Russian government. In 2016 Russian Federation introduced the law called "Yarovaya package" (after the name of Russian politician) which obliged messengers to identify their users, giving to special services the encryption keys and store user's data on the territory of Russia (TASS, April 13, 2018). However, this decision was not successful enough and seemed to be a justification for Internet control. For example, the management of Telegram messenger resigned to cooperate with the government. The messenger was unsuccessfully blocked (Novaya Gazeta, April 13, 2018). In addition, according to the official narration, fight with the terrorism justifies the Russian presence in Syria (TASS, September 2017).
It is necessary to underline that Russian penal system pursuits people connected with the ISIS. The judicial processes on the people cooperated with the terrorism usually become demonstrative. The most known is the case of 23-year old Varvara Karaulova, a student of Moscow State University, arrested in summer 2015 on the Syrian-Turkish border by Interpol. She was recruited in the social media. A young woman decided to escape to Syria to her "husband", one of the terrorist recruiters, with whom she was "married" via Skype. In 2016 Karaulova was sentenced to 4 years in general regime colony for an attempt to join ISIS. However, Russian penal code defines the sanction up to 10 years of sentence (Ria Novosti, April 16, 2019). Karaulova admits a kind of unhealthy psychological ties with her recruiter (Rambler, April 16, 2019). However, as some other sources claim that she was also recruiting other women, even during her detainment. Moreover, she was considered to be returned to Russia with a special mission from Allah. However, nowadays a girl regrets and feels ashamed with her ISIS past (Telegram-channel "Mash", cited in Rambler, May 13, 2019).
Nonetheless, in some regions the persecution against people connected with ISIS was stopped. For example, there was a case in Chelabinsk when an anonymous man escaped through Kazakhstan and asked for permition to come back to Russia. According to the investigative organs, a man with a higher education was a victim of professional recruiters (74.ru, cited in Meduza, March, 2016).
Conclusion
The cases described above seem to suggest that human's nature is universal. To sum up, the way of recruiting looks universal as well to the ethnic Russian as to other European, non-Muslim nationalities. The terrorists try to profile their victims, looking for some special types of personalities. The basic human needs for security and stability, and the needs for personal significance make a favorable ground for the recruitment. The available data show us an increasing number of the Post-Soviet states citizens, particularly the Russian ones, in the terrorist organizations. It allows us to make a prediction that this number is going to increase. In addition, unstable socioeconomic position of Russia may attract the potential victims. To put it into other words, for some groups of people ISIS is a chance to earn more money than in their motherland. However, the case of the French journalist described in this essay proofs that even professional curiosity could be a trigger to be sincerely involved into terrorist organization. Moreover, the level of education is not also a decisive factor that may prevent from the recruitment. It is possible due to the excellent knowledge of human psychology and use of persuasive techniques by the recruiters. A special strategy is used towards the females. In this case, the most vulnerable are young unmarried girls with negative experience of romantic affairs in the past who want to find a "defender", an older strong man. It is also hard to underestimate the role of mass media that provoke an interest to ISIS, presenting "careless" lifestyle of its fighters. Countermeasures implemented by the Russian government, described above, are natural reaction on the danger. They, obviously, reduce the potential number of victims, however, they are not sufficient enough. Moreover, it seems to look that in the case of Russia, terrorism prevention is only a pretext to control society and provide a kind of censorship in the Internet and mass media. In addition, fight with the terrorism is used in the propaganda purposes as a justification of the Russian presence in Syria, supporting the legitimate government of Bashar al-Assad.
Stateless and Leftover ISIS Brides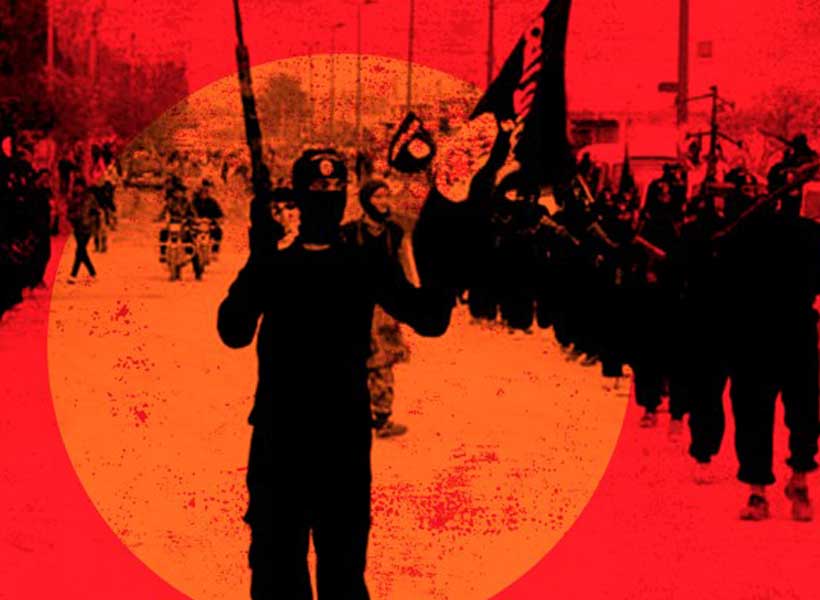 While the World is busy fighting the pandemic and the economic devastation caused by it, one of the important problem that has been pushed to dormancy, is the status of the ISIS(Islamic State of Iraq and Syria) brides. The Pandemic has crippled the capacity of the law enforcement and exploiting this the ISIS executed attacks in Maldives, Iraq, and the Philippines. The United Nations Secretary-General Antonio Guterres has warned that terrorists are exploiting the COVID-19 Pandemic. Albeit the ISIS has been defeated, approximately ten thousand of them are in ISIS detention centres in Northern Syria under Kurds. Most of these detention centres are filled by women and children, who are relatives or widows of the ISIS fighters. With their native states denouncing them, the status of the stateless women and children is unclear.
As it stands today states' counter-terrorism approach has been primarily targeting male militants but women also have played a role in strengthening these terrorist organizations. Women involvement in militant organizations has increased as they perform several activities like birthing next-generation militants/jihadists, managing the logistics and recruiting the new members to the organizations. The world did not recognize women as key players in terrorist organizations until the 1980s when females held major roles in guerilla wars of southern America. Women have either willingly or unwillingly held a variety of roles in these extremist organizations and Islamist terrorist organizations like Hamas and al-Qaeda women do simply provide moral support.
According to the media reports since the US withdrawal from Iraq in 2006 female suicide attacks have been increased and they have been extensively part of ISIS. The ISIS had a female brigade which they called as Al-Khansaa which was established to perform search activities in the state. Both foreign and domestic recruits in the Islamic state have participated in brutal torture. A recently acquired logbook from a guesthouse in Syria provides important information about 1100 females who joined the organization, the western women who are called as 'the muhajirat'.
When the people from rest of the world joined organizations such as ISIS, they burnt their passports and rejected their national identity. Especially women from western countries who were radicalized online based on their phenomenon 'ISIS brides/Jihadi brides' to marry terrorists. Since Islamic State isnot recognized by the world these marriages are not legally valid, apart from this a number of these brides have experienced sexual torture and extreme violence.
While the erstwhile members of the extremist organizations like ISIS and others are left adrift the one challenging question remaining is should states and their societies keep them and reengage or rehabilitate or prosecute them. How firmly the idea of their erstwhile organization is stuck in their minds and especially the followers who crossed the world to join remains a concern to many. The U.S backed Kurdish forces across turkey border hold thousands of these left-behind women and children in their centre. Hundreds of foreign women and children who were once part of an aspirant state, The caliphate are now floating around the concentration camps in Syria, Turkey and Kurdish detention centres and prisons. Many are waiting to return to their origin countries. They pose a unique challenge to their native states like whether to include them or not and even if they include how to integrate adults who at least for a time part of these terrorist organizations and what to do with children who are too young to understand the politics and obstacles keeping them in camps and detention centres where resources are scarce. Women present a problem because its hard to know what kind of crimes they have committed beyond the membership of the terrorist organization.
It is no secret that women also have been part of insurgency across the world, like in ISIS,LTTE,PIRA and PFLP. The responsibility of women in ISIS includes wife to ISIS soldiers, birthing the next generation of jihad and advancing ISIS' global reach through online recruiting. The International Center for Study of Radicalization (ICAR) estimates that out of 40000 people joined ISIS from 80 different countries nearly 8000 are women and children. After the defeat of ISIS and such extreme organization those who are left behind possess the ideological commitment and practical skills which again a threat upon return to home countries.
The states across the world are either revoking the citizenship or ignore their responsibility. The most famous case of Shamima Begum a UK citizen married to an ISIS fighter whose citizenship was revoked by the UK government. In other cases like HodaMuthana of the USA and Iman Osman of Tunisia have been the same case. As recently as Tooba Gondal an ISIS bride who now in a detention camp in northern Syria begged to go home in the UK in a public apology.
The American president Donald Trump issued a statement saying women who joined ISIS cannot return. The NATO deputy head said "…returning ISIS fighters and brides must face full rigours of the law". Revoking the citizenship and making someone stateless is illegal under international law and it is also important to know how gendered these cases are because the UK have successfully prosecuted Mohammad Uddin and the USA has also done it so. Stripping off their citizenship itself a punishment before proper trail and the only good out of it would state can take their hands off in dealing with cases. Samantha Elhassani the only American who repatriated from Iraq so far and pleaded guilty for supporting ISIS. Meanwhile, France is trying to route its citizens who joined the ISIS and extradited few who are under trial in Bagdad.
As experts and political analysts say "countries should take responsibility for their own citizens" because failure to do so will also make the long term situation more dangerous as jihadists will try to a hideout and turn into militant groups for their protection. The children, the second-generation ISIS need cultural centres and rehabilitation centres and this is an international problem. These women known as jihadists brides suffer from a post-traumatic stress disorder and many are pregnant or multiple children born in ISIS territory.
In some countries travelling abroad to join the insurgencies in North Africa and Syria was not always a criminal act, Sweden criminalized such act recently but to prosecute them proof of offences committed in the conflict zone is difficult to collect and most countries in the world do not allow the pre-trial detention for more than 14 days. With problems of different national Lawson extradition and capital punishment and to prosecute them in conflict countries is also a challenge for states. Since Kurdish forces have signalled that they cannot bring all the prisoners into justice the home countries will have to act or else it might create a long term dangerous situation. With the civil war in Syria is about to end it is time to address these issues because since there are more ISIS fighters in Kurdish prisons and detention centres they could be influenced to join rebels who are fighting the regime of Assad in last standing province of Idlib.
If the governments reject the repatriation applications then they will be signalling that their action is essential for national security and thus asserting that failed or poorly resourced states are better equipped to handle potential extremists. The criminal system in Iraq is corrupt and human rights violations have been reported and which creates the risk of further radicalization. One should not forget that even citizenship of Osama bin laden was also stripped but which did not stop him from forming al-Qaeda in Afghanistan. If the citizens commit crimes and forget their responsibility then the states must bring them to justice instead of stripping citizenship. The states must come with a solution for this problem before its too late, setting up an international tribunal to deal with these cases would be a great start but these tribunals are time-consuming and expensive.
States must act as a responsible actor in the international system. Jihadist terrorism is a global problem and states must act together to deal with it because with nearly 40000 fighters joining caliphate from across the world it only shows how global and deeply rooted the phenomenon is. Instead of stripping their citizens' citizenship, states must find a way to act together for the peace and security of the international community.
COVID-19: Game-changer for international peace and security
The world has "entered a volatile and unstable new phase" in terms of the impact of COVID-19 on peace and security, the UN chief told a virtual meeting with world leaders on Wednesday.
Speaking at one of a series of international meetings among heads of State to enhance global cooperation in fighting terrorism and violent extremism, as part of the Aqaba Process, Secretary-General António Guterres said the pandemic was more than a global health crisis.
"It is a game-changer for international peace and security", he spelled out, emphasizing that the process can play a key role in "promoting unity and aligning thinking" on how to beat back the pandemic.
Warning lights flashing
Mr. Guterres maintained that the coronavirus has exposed the basic fragility of humankind, laid bare systemic and entrenched inequalities, and thrust into the spotlight, geopolitical challenges and security threats.
"The warning lights are flashing", he said, pointing out that as the virus is "exacerbating grievances, undermining social cohesion and fueling conflicts", it is also likely to "act as a catalyst in the spread of terrorism and violent extremism".
Moreover, international tensions are being driven by supply chain disruptions, protectionism and growing nationalism – with rising unemployment, food insecurity and climate change, helping to fuel political unrest.
A generation in crosshairs
The UN chief also noted that a generation of students is missing school.
"A whole generation…has seen its education disrupted", he stated. "Many young people are experiencing a second global recession in their short lives."
He explained that they feel left out, neglected and disillusioned by their prospects in an uncertain world.
Wanted: Global solidarity
The pandemic has highlighted vulnerabilities to emerging threats such as bioterrorism and cyber-attacks on critical infrastructure.
"The world faces grave security challenges that no single country or organization can address alone", upheld the Secretary-General, "there is an urgent need for global unity and solidarity".
Recalling the UN's Virtual Counter-Terrorism Week in July, he reminded that participants called for a "reinvigorated commitment to multilateralism to combat terrorism and violent extremism".
However, a lack of international cooperation to tackle the pandemic has been "startling", Mr. Guterres said, highlighting national self-interest, transactional information sharing and manifestations of authoritarianism.
'Put people first'
The UN chief stressed that "we must not return to the status quo ante".
He outlined the need to put people first, by enhancing information sharing and technical cooperation "to prevent terrorists exploiting the pandemic for their own nefarious goals" and thinking "long-term solutions rather than short-term fixes".
"This includes upholding the rights and needs of victims of terrorism…[and] the repatriation of foreign terrorist fighters, especially women and children, and their dependents to their countries of origin", he elaborated.
Closing window
Meanwhile, the risk of COVID-19 is exacerbating the already dire security and humanitarian situation in Syrian and Iraqi camps housing refugees and the displaced.
"The window of opportunity is closing so we must seize the moment", the UN chief said. "We cannot ignore our responsibilities and leave children to fend for themselves and at the mercy of terrorist exploitation".
He also expressed confidence that the Aqaba Process will continue to "strengthen international counter-terrorism cooperation, identify and fill capacity gaps, and address evolving security threats associated with the pandemic", and offered the UN's "full support".
Post-COVID rebuilding
The Secretary-General also addressed the Centenary Summit of the International Organization of Employers (IOE) on how private and public sector cooperation can help drive post-COVID change.
He lauded the IOE's "significant contributions" to global policymaking for economic and social progress, job creation and a mutually beneficial business environment, calling it "an important pillar of the International Labour Organization (ILO) since its earliest days".
"Today, our primary task is to defeat the pandemic and rebuild lives, livelihoods, businesses, and economies", he told the virtual Summit.
In building back, he underscored that workers and small business be protected, and everyone be given the opportunity to fulfil their potential.
Businesses input
The UN chief urged businesses to engage with the multilateral system to create a "conducive global environment for decent work, investment, and sustainability"; and with the UN at the national level, to help ensure that multilateralism "works on the ground".
He also encouraged them to actively participate in national and global public-private dialogue and initiatives, stressing, "there must be space for them to do so".
Tripartite cooperation
ILO chief Guy Ryder highlighted the need for "conscious policy decisions and tripartite cooperation to overcome transformational challenges", such as technological change and climate change, as well as COVID-19.
Mr. Ryder also flagged that employers must continue to collaborate in social dialogue and maintain their commitment to both multilateralism and the ILO.
The IOE represents more than 50 million companies and is a key partner in the international multilateral system for over 100 years as the voice of business at the ILO, across the UN, the G20 richest countries and other emerging forums.
Traumas of terrorism cannot be erased, but victims' voices must never be forgotten
In remembering and honouring all victims of terrorism, Secretary-General António Guterres said the UN stands by those who grieve and those who "continue to endure the physical and psychological wounds of terrorist atrocities".
"Traumatic memories cannot be erased, but we can help victims and survivors by seeking truth, justice and reparation, amplifying their voices and upholding their human rights", he stressed.
Keep spotlight on victims, even amid pandemic
This year's commemoration takes place against the backdrop of the COVID-19 pandemic, when vital services for victims, such as criminal justice processes and psychosocial support, have been interrupted, delayed or ended as Governments focus attention and resources on fighting the pandemic.
Moreover, many memorials and commemorations have been cancelled or moved online, hampering the ability of victims to find solace and comfort together.
And the current restrictions have also forced the first-ever UN Global Congress of Victims of Terrorism has to be postponed until next year.
"But it is important that we keep a spotlight on this important issue," stressed the UN chief.
"Remembering the victims of terrorism and doing more to support them is essential to help them rebuild their lives and heal", said Mr. Guterres, including work with parliamentarians and governments to draft and adopt legislation and national strategies to help victims.
The Secretary-General vowed that "the UN stands in solidarity with all victims of terrorism – today and every day" and underscored the need to "ensure that those who have suffered are always heard and never forgotten".
Terrorism unjustifiable
General Assembly President Tijjani Muhammad-Bande saluted the resilience of terrorist survivors and called the day "an opportunity to honour the memories of the innocent civilians who have lost their lives as a result of terrorist acts around the world".
"Terrorism, in all forms and manifestations, can never be justified", he stated. "Acts of terrorism everywhere must be strongly condemned".
The UN commits to combating terrorism and the Assembly has adopted resolutions to curb the scourge while working to establish and maintain peace and security globally.
Strengthen assistance
Mechanisms for survivors must be strengthened to safeguard a "full recovery, rehabilitation and re-integration into society through long-term multi-dimensional support", stated the UN official.
"Together we can ensure that you live a full life defined by dignity and freedom. You are not alone in this journey. You are not forgotten", concluded the Assembly president.
'Human dimension'
Closing the event, Vladimir Voronkov, chief of the UN Office of Counter-Terrorism, maintained that victims represent "the very human dimension of terrorism".
While terrorists try to depersonalize victims by reducing them to mere numbers or statistics, Mr. Voronkov maintained that "we have a responsibility to do the exact opposite".
"We must see victims' hopes, dreams and daily lives that have been shattered by terrorist violence – a shattering that carries on long after the attack is over", he stated. "We must ensure their human rights are upheld and their needs are met".
Reaffirming humanity
While acknowledging the "terrible reality of terrorism", Mr. Voronkov flagged that the survivors shine as "examples of resilience, and beacons of hope, courage and solidarity in the face of adversity".
In reaffirming "our common humanity", he urged everyone to raise awareness of victims needs and rights.
"Let us commit to showing them that they are not alone and will never be forgotten", concluded the Counter-Terrorism chief.
Survivors remember
At the virtual event, survivors shared their stories while under lockdown, agreeing that the long-term impacts of surviving any kind of an attack is that the traumatic experience never really goes away.
Tahir from Pakistan lost his wife in attack against the UN World Food Programme (WFP) office in Islamabad.
"If you have an accident, you know how to cope with it. Terminal illness, you know how to cope with it. But there is no coping mechanism for a person who dies in an act of terror", he said.
Meanwhile Nigeel's father perished in the 1998 US Embassy attack in Kenya, when he was just months years old.
The 22 year-old shared: "When you are growing, it really doesn't have a heavy impact on you, but as life starts to unfold, mostly I'll find myself asking if I do this and my dad was around, would he be proud of me?"
And Julie, from Australia, lost her 21-year-old daughter in the 2017 London Bridge attack.
"The Australian police came to our house and said 'we have a body, still not confirmed', so they recommended that we fly to London", she recalled. "I can't describe how devastating as a parent to lose a child in these circumstances is for the rest of your life".