Remembering legendary Nigerian drummer Tony Allen
Exactly in August 2009, legendary Nigerian drummer Tony Allen, who created the Afrobeat along with his old bandmate Fela Kuti, and I had our first historical meeting in Paris, France. I had flown in from Shanghai, China, to meet with him for an informal encounter. Despite our heavy working schedules and limited time, the meeting lasted for about two hours. During the discussions, I asked him several questions about his professional musical career and life. In fact, he was extremely passionate and enthusiastic talking with me, and to remember him here are a few excerpts:
When did you begin your musical career and who are your favorite musicians?
My career started at the age of 20. In fact, I was hired by Sir Victor Olaiya to play claves with his highlife band, "the Cool Cats" and was able to fill the drum-set chair when the former Cool Cats drummer left the band. I also played with Agu Norris and the Heatwaves, the Nigerian Messengers and the Melody Makers.
In 1964, I joined Fela's 'Koola Lobitos' and stayed with Fela for 15 years. When I was learning to play I'd check out LPs and magazine tutorials by Gene Krupa, Art Blakey and Max Roach, Guy Warren was also an influence. Of course, I was also a fan of Elvin Jones, Tony Williams and Bernard Purdie.
I was asked to name my dream band to play with, and I chose: Oumou Sangare and Salif Keita on vocals, Bootsy Collins on bass, George Benson on guitar, Wayne Shorter on sax, Joe Zawinul on keys, Don Cherry on trumpet, and with a line-up like that I'd have to be the drummer!
What was the motivation behind your chose profession?
My parents were…not keen. Back then, musicians were more or less thought of as beggars, or worse. But I just put it in front of them. I was an electrical technician, but I wanted to make a change. My mother was never happy about it, but my father, who was an amateur musician, eventually agreed.
How is this profession influencing or shaping your own social life?
It has had a profound effect. Our albums with Afrika 70 either provoked or described a series of increasingly brutal attacks by the Nigerian army and police. Fela and his immediate family bore the brunt of this long and shameful catalogue of assaults, trumped up charges and jailings, and I myself was jailed on one occasion. With Fela it was like being at university, and you don't run away from education. We learnt so much by not being cowards.
When I left Fela's band that had a big effect on my life. Lagos was too small for me and Fela. It was a small place, and I wanted room to take off without causing competition, I eventually chose Paris partly because the British immigration people were giving me difficulties, but also because African music was more happening then in Paris than in London, and my record company at the time was in France. It was the only place I felt I could exercise my knowledge. The only place to make a living. Being a musician, the line between work and social life is, often blurred doing what I do for a living is what I do for enjoyment.
There seems to be some truthfulness in your career. Which songs spiritually appeal most to you personally when on stage?
Absolutely, as a musician and an artist you have to be true to yourself. Different songs appeal to me more at different times and under different circumstances, it can depend on who you're playing with, where you're playing and how the audience respond to what you're playing. Playing music is very spiritual but I won't say that one thing I do is more spiritual than another as I try to invest all in everything that I do.
Of what importance are the messages you convey through your songs to our society, in your interpretation?
Afrobeat has always been about the struggle, then and now. Fela was right about everything, especially the messages in all his songs. Everything he sang about is still happening. Nigeria's not getting any better. It's all misadministration and corruption, survival of the fittest. Lagos is a complete mother ****** of a place. These messages we send to the government, they never listen to them. The people wait for an effect, but there's no effect. These guys do nothing. Afrobeat is rebellious music. We have to keep shouting.
Do you mind talking about your experiences (both positive and negative) in previous European tours?
Laughs! I don't mind at all but this is a big question that I'm not sure how to answer. The fact is that the good experiences overwhelmingly outweigh the bad, which is why I'm still out on tour at nearly 70 years old. As long as people want to come and see me play, I'll play.
How do you usually visualize your audience during musical performances?
I am very pleased to have had the chance to play at many festivals abroad. The foreign people know all about social and political upheaval, so even though our cultures and heritage are completely different, they feel the power of Afrobeat and confirm my belief that music is the great healer in the world. It was a long musical trip, there is no way back but well worth it. You just don't have to return, I have to move forward!
Many people think going into musical world is just to make quick money. What is your reaction to this?
Ha! Most musicians are struggling musicians only a small minority make serious money, musicians all around the world play for the love of it, to express themselves creatively and for the interaction with the audience. A lucky few might make millions but you can't judge everyone else on that basis, lawyers, accountants, bankers, those guys make the serious money. Also, those motivated by money don't make as good music, if your inspiration isn't true, then it shines through in music.
Would you have opted out of stage if you were offered an alternative job? Not all, as I said earlier, I had job which I left in order to be a musician, that wa almost 50 years ago and I am still in it. I think I made the right decision.
If you could have lunch with anyone, real or fictional, alive or dead, who would it be and what is the first thing you would ask him or her?
It's impossible to pick one single person, there are loved ones that would be great to see one more time, but musically the most obvious person would be Fela Kuti, and I'd ask him if he's happy with what's happened to the music that we created together.
What are your goals for the coming years?
I want to keep on doing what I do, improving and doing new things. I'm very happy with my band and our new album, we can do great things together. I'm very fortunate that I get the opportunities to work with all manner of artists doing different and interesting projects, long may it continue.
Music is my mission. I never get satisfied and I'm still learning from others. The musical world is very spiritual, and I don't think there's an end to it. The best legacy is your professional work and leaving an indelible mark on the minds of people.
Additional information: Agence France Press (AFP) wrote that Allen was the drummer and musical director of Fela Kuti's band Africa '70 in the 1960s and 1970s. During that time, the pair created afrobeat, combining West African musical styles such as highlife and Fuji music with American imports jazz and funk. Afrobeat went on to become one of the totemic genres of 20th century African music.
Over Allen's thrilling beat, Fela laid out his revolutionary and pan-African message, which led him to become one of the abiding icons of the struggle for freedom across the continent. Allen and Fela recorded around 40 albums together in Africa '70, before parting ways after a mythic 26-year collaboration. Such was the hole that Allen left in his band, Fela needed four drummers to replace him.
Allen taught himself to play drums from the age of 18, drawing inspiration from American jazz greats Dizzy Gillespie and Charlie Parker as well as contemporary African music. He remained hugely influential and beloved by generations of musicians.
British musician and producer Brian Eno has called Allen "perhaps the greatest drummer who ever lived." Allen was the drummer in the supergroup The Good, the Bad & the Queen, also featuring Blur singer Damon Albarn and The Clash bassist Paul Simonon, which released its second album in 2018. Tony Allen died suddenly at the age of 79 in the Paris suburb Courbevoie, France.
Architecture Reflecting Culture: The Alhambra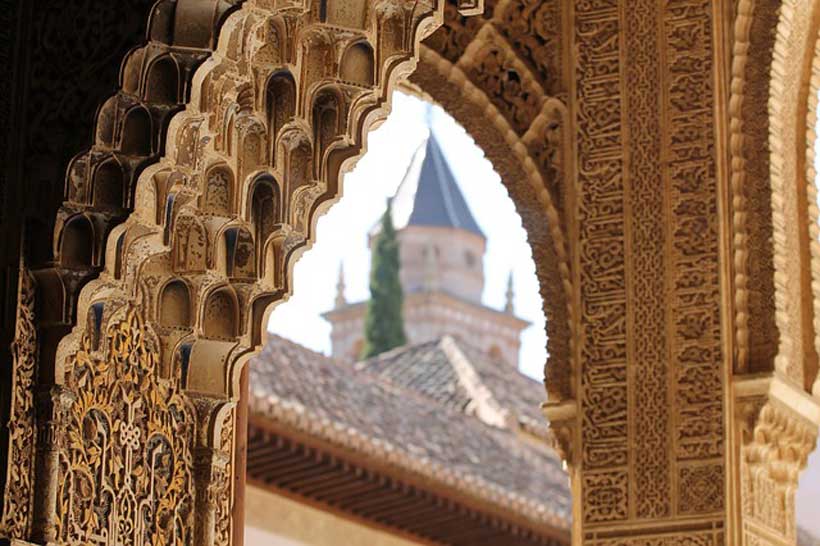 Throughout history civilizations have been overtaken by successors. These in turn decline and fall as time marches on. Often all that remain are monuments, an occasional palace or temple often a tomb, usually in ruins unless of relatively current vintage.
The ancient Egyptians built massive pyramids to bury their pharaohs, projects lasting a lifetime and ensuring a reliable source of income for the workers and others involved.
The Greeks favored exquisitely proportioned temples and statuary rendered with a skill that was not matched again until the Renaissance. One would be remiss not to mention their vast output of the mind from philosophy and logic to the poetry and drama played out in the amphitheaters.
If Roman entertainment relied on blood and gore, it was part of a culture of brutal wars, subjugation and suppression of foreign peoples welded into an empire. Then there was Roman law, even if it applied only to citizens.
Of more recent vintage are the great cathedrals of Europe like Chartres, tall, massive, constructed in a span of time unimaginable in our era of haste. Preceding them were the great mosques of the Muslim era decorated in geometric shapes and colors to dazzle the eye. Damascus and Isfahan come to mind.
Then there are the Nasrid kings of Grenada in southern Spain, al Andalus to these descendants of North African Berbers and Arabs who ruled there for several centuries. A time when the three Abrahamic religions coexisted in relative harmony it saw the flowering of a civilization noted for its mixture of opposites.
The city of Cordoba with its great mosque was an early fruit of this admixture becoming the largest city in Europe during the 10th century, although civil wars had diminished it considerably by the 13th century. Yet the 13th century began the growth of a city on a hill now called Alhambra probably due to the reddish color (alhamra in Arabic) of the rock face. Housing some 40,000 citizens then, not many of the buildings survive. Notable are the defensive citadel Alcazaba, three palaces — the Mexuar, the Comares and the Court of the Lions — and an encircling wall with battlements and towers. The great mosque was replaced by a Franciscan monastery in the 15th century and is now a parador — a government-run hotel that was formerly a castle or palace or the like.
The Courtyard of the Lions is justly famous as the symbol of Alhambra. The twelve lions at the center appear to be holding up a water basin right in the center of a network of channels … on the periphery, colonnades supporting delicately carved arches form an abbey-like cloister. But the walls in the adjoining rooms hold their own surprise in intricately carved geometries of colored tiles and plasterwork. Glancing up, the ceilings are designed to take your breath away. Even more intricately constructed, they comprise thousands of meticulously carved sections of wood rising layer upon layer to feast the eye as small apertures allow in shafts of sunlight or moonlight. Watercourses run through many rooms spilling across portals into pools among enclosed gardens melding interior with exterior and joining it with nature.
The architect LeCorbusier called it 'the intelligent, just and magnificent interplay of volumes made harmonious by daylight.' Henri Matisse exclaimed, 'The Alhambra is a marvel' and Washington Irving captured imaginations throughout the western world with his 1832 book, The Alhambra. At the time going to rack and ruin, his romantic vision helped to trigger an effort to preserve the precious gem.
Now a magnet for tourists, it remains a precious reminder of what an intermingling of cultures can produce — just as the Taj Mahal does in India where Mughal emperors often married Hindu Rajput princesses and Shah Jahan (whose mother Manmati was one) built his own marvel.
Don't avoid what is easy – diplomacy meets art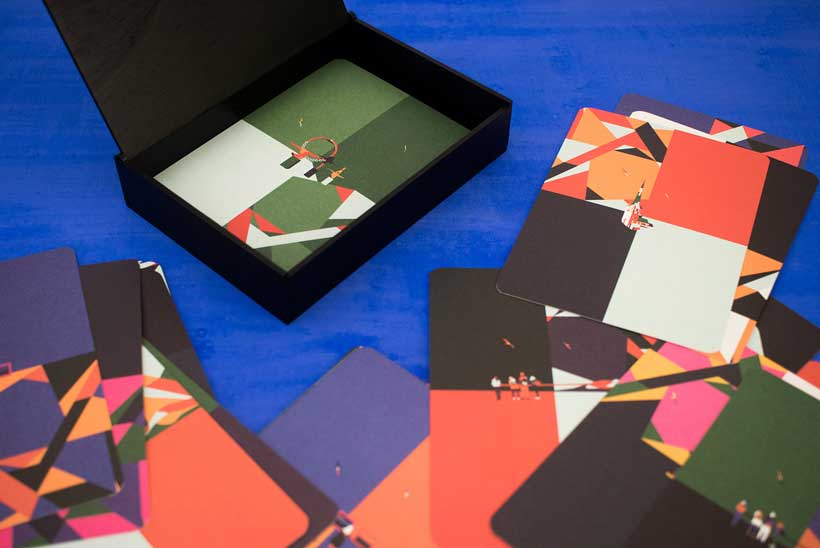 Individuals should and need to feel like they have the right to want. That is the message that artist Anastasia Lemberg-Lvova is continuously expressing through her artwork. Exemplifying socially-engaged art, Lemberg-Lvova aims to be a part of a much broader political movement which discusses important historical and modern-day social processes through creative means.
The second-wave feminist movements from the 1960s is one example of such a powerful movement. With their infamous quote, 'The personal is political', authored by millions of voices of women collectively rather than one feminist author, the message that every individual has the right to a voice was heavily stressed. As personal experiences took center stage and the individual became a political platform during the feminist movements, crowds of individuals also gained new meanings of courageous collectivity. Ultimately, the movement gave opportunity for previously ignored and taken-for-granted personal circumstances to be framed in a bigger picture – a picture that women as minorities were often left out of.
Continuing to portray the central message that movements such as the feminist strikes and many other historical crusades have fought for, Lemberg-Lvova uses her own art to focus on the younger European generation, highlighting the vast diverseness of the voices that live in Europe and sending a bold message that evidences a heterogeneity which needs to be more thoroughly discussed amongst the European community. With her projects, she is able to recognise the ways in which the systemic infrastructures that exist around the individual leave them feeling insecure or insignificant in relation to their voice and its right to exist in public. By initiating healthy conversation and focusing on this very elemental act of daring to express one's desires towards public space, she has created a platform that encourages individuals to learn to voice their opinions more often, ultimately leading the person to be engaged as the multiplicities of voices are amplified to lead to more diverse discussion and perhaps outcomes.
Her exhibition, 'Don't Avoid What is Easy', on show from August 14th – September 9th at the Freedom Gallery in Tallinn, Estonia, is thus the result of 2 years of research conducted mainly through interviews of younger generation individuals during her own expenditures through Europe. Although seemingly humble in its outcome as portraits, there is a strong message behind Lemberg-Lvova's work, depicting the notion that we should feel more confident to voice our opinions about our public surroundings, Lemberg-Lvova uses art and representations to give a voice to over 100 participants from 24 European countries.
By painting vibrant oil portraits of a selected 7 individuals whom she interviewed, she touches on the concept of art and its political capacity by explaining "There will be portraits of participants with a visual interpretation of their wish as the background. The experience of, as we often say, "putting a face to a name" has a profound effect and is more intuitively understood than just going through text or trying to grasp abstract ideas. Painting as a form of expression is immensely malleable and useful when getting ideas across."The desire to initiate discussion and give it a platform within the context of a gallery means Lemberg-Lvova's art is inherently social and public. These qualities make for an intriguing space where the audience can identify small changes that resemble the tip of a much bigger iceberg– or at least the ignition of confidence and curiosity.
This focus on the first and easiest step sometimes being the hardest is something of great importance for Lemberg-Lvova as she explains "An inhabitant of a city logically has the right to express ideas or wishes when it comes to their surroundings – it is, after all, their home. But they are often stuck in the belief of not being able to change anything. In this instance, I am not talking about taking action or creating a plan. This is about the simplest first step that does not require anything – feeling like one is entitled to express a wish. It doesn't have to lead anywhere; just remember that you have the right to want something. What follows is a different matter, but it is clear that nothing will happen without this first step."
An interactive wall installation where participant answers are projected for all to see will pay homage to the importance that Lemberg-Lvova holds for communities to listen to the expressions of their surrounding civilians. She explains "From an early age, our heads are flooded with subliminal messaging and that often diminishes internal self-worth. Let me explain this from the point of view of a woman – a frame of reference I am most familiar with. As a woman one feels that unless they have perfect dazzlingly white teeth, flawless hair, a tiny waist and the right kind of shoes they are not worthy of expressing an opinion. Because if you do not fulfill all of the criteria above, no one will listen to you or even consider you worthy of attention. This is a cliché, yet it exists because it is true. It describes the reality of many women, because we are surrounded by sources reaffirming it – adverts, friends, sometimes parents or spouses, fitness centers and the list goes on. At the exhibition, I am striving to fill the space with messaging that reiterates one's right to express their wishes whoever they are."
Her message is clear – we should not avoid formulating our wishes in matters that concern us. Her persistence to initiate discussion and to give it a platform within the context of a gallery means her art is inherently social and public. These qualities make for an intriguing meeting space for the artist as well as her audience amongst each other.
Open Studio at Kogo Gallery, Widget Factory (Aparaaditehas), Tartu, Estonia: 08.07-01.08
Exhibition "Don't Avoid What is Easy – Diplomacy meets art"at Vabaduse Gallery: 14.08-09.09
*Valeriya Billich also contributed to this article. Photos:Mariia Nedosekova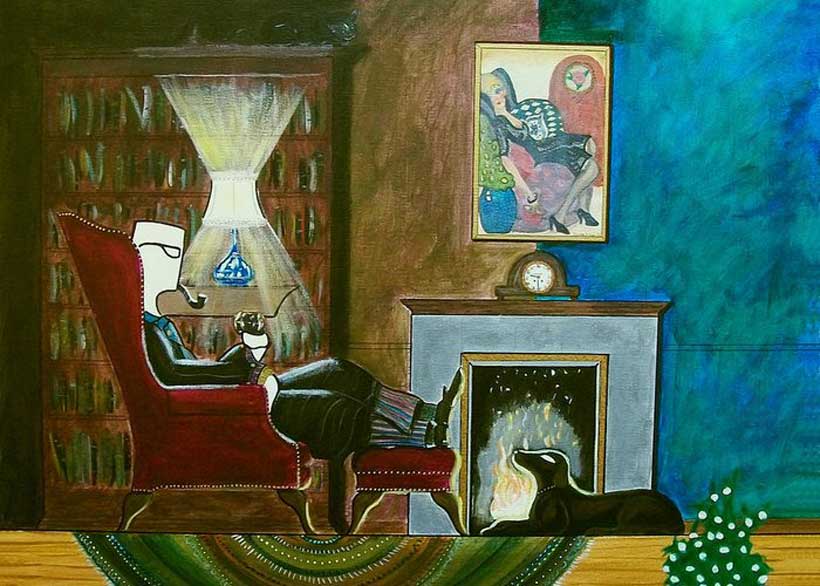 Uncertainty and summer saunter in with its retinue of rules, so I am told. While philistines slip into their shorts. Gentlemen don't do that. At least the ones I know, or rather, admire. I am strongly of the opinion that summer requires meticulous management and planning. There needs to be a complete overhaul of the sartorial preferences, dietary habits, and recreational regime. Additionally, and rather, increasingly significant nowadays, at the bar cabinet, which must gracefully welcome fresh grog.
Change, I am reminded of being told is a perpetual challenge. This is true now more than ever before. This summer shall be different for me; No travel to new or old destinations, no steeps into rich heritage which are pulsing with an unparalleled artistic spirit, no gastronomic sensations and beautifully landscaped parks and gardens that beautifully manicured and most of all, a restricted consumption regime of spirits and smokes. There is no doubt about the fact that the perfection of a sufficient dose of sensual stimulation shall be missed, dearly.
In times of such glaring uncertainty, many of us find ourselves in the rigour of isolation. Yet one mustn't drown in sorrow, for that pernicious jump into the rabbit hole of total despair will drive to insanity. Instead, in the spirit of making hay while the sun shines, I find myself deeply grasped in my hobbies and interests of art, culture, fashion, and even interior design. In furtherance of my interests and passions, I plan future trips to the European continent for study and debaucherously pleasurable activities while my folks worry about the thickness of their chequebook.
Despite countless hours spent on my multiple whims and fancies devoting time to the daily duties is an art. An art that is similar to the fine tailoring abilities of the talented gentlemen with the extraordinary skill of Hunstman, Savile Row. Managing the split of time is learned and perfected over time, like the of cutting cloth. This skill, over which I have achieved mastery, I am lucky to say, I received at birth from my mother who hails from a decorated family of army officers. For me, it runs my veins to be fastidious. For novices, here's a hint; Avoid morning lie-ins, afternoon naps, and daytime Netflix binges while leaving tasks to complete after the evening meal. Have some self-discipline, dude.
These days after supper, I find myself sitting back in my armchair engrossed in a new book with either a Cohiba or something out from my patriarch's prized whiskey collection, resting on my mahogany piecrust tripod table helping me fulfil the senses. Millennial Chilling is not for me. I have often been told that I am an old soul trapped in a new body. To me, that is madness, but I often see the method in it. That is because, I do not find any sense of gratification or contentment in doing nothing but, for those who do, remember, one simply can't make love seven days a week, much as one's partner might desire it. Other forms of vigorous exercise are sometimes required.
While I happily drown myself in pursuit of knowledge, I turn to the literary world to share my final thoughts to share a contrary tale. The words of Ernest Hemingway: "No man is an island entire of itself; every man is a piece of the continent, a part of the main". For me, contrarily, the gleeful effect of the fine cognac and Erik Satie's mastery on the piano has its drowning effect. You hear only what you wish to hear much like my most favoured ruler, Napoleon. To that, I'll drink.