"Science, by which I mean the entire body of knowledge about things, whether corporeal or spiritual, is as much a work of imagination as it is of observation….The latter is not possible without the former."-Jose Ortega y' Gasset, Man and Crisis (1958)
America and the world face a relentless common enemy. Very conspicuously, the recalcitrant Corona virus threatens to dwarf all other pertinent existential hazards. At the same time, the sheer magnitude of this biological peril does not in any way diminish other long-term security perils. Accordingly, both principal species of hazard – disease and war – must now be dealt with scientifically, simultaneously and with a view to understanding all plausible interactions between them.
This deliberate view includes any expressly synergistic interactions. Here, by definition , the "whole" of any particular interaction would exceed the sum of its calculably separate "parts."[1]
Prima facie, this will not be a task for the intellectually faint-hearted or for those more well-versed as public impresarios than as disciplined thinkers.[2]
How to begin? The most glaringly long-term and seriously underlying hazard is easy to identify. This structural enemy is a continuously anarchic system of world politics, one based upon the fragile foundations of a perpetually belligerent nationalism. Ironically, it is precisely this "all against all" global system that remains dear to the ceremony-centered heart of US President Donald J Trump.
To proceed, there are certain indispensable antecedent questions. Most importantly, one must immediately inquire: How did we ever get to such a frightful and unpromising situation? This is a core historical question that should no longer be side-stepped or avoided.
In order to answer these questions capably, history deserves an evident pride of place. Our bloodied planet's corrosive and continuously unsuccessful pattern of global strategic interaction began in the seventeenth century, in 1648, immediately after the Thirty Years War and the war-terminating Peace of Westphalia. Consequently, this pattern is often referred to by international relations scholars as "Westphalian world politics" or as "Westphalian international relations."[3] Either way, these two terms represent a formal academic synonym for "balance of power."
There is more. Since the start of the Nuclear Age in 1945, this time-dishonored world system has been described more particularly as a "balance of terror." [4] In part, this is because in a world with proliferating nuclear weapons, strategic emphases must shift meaningfully from war management to war avoidance. Accordingly, among other considerations, scholars and planners must now look more comprehensively at the specialized mechanisms of deterrence than at more traditional elements of defense.[5] By definition, this shift in focus will be paralleled by an increase in complexity.
For analytic reasons, both deterrence and defense designate a global pattern for influencing behavior that values national military power over any plausible forms of international cooperation. Among other liabilities, such hierarchic or preferential designations are inherently ill-fated, continuously degrading and prospectively irrational.[6] Even before the creation of the modern state system in 1648 – indeed, from time immemorial – world politics have been rooted in some more-or-less bitter species of Realpoliitk[7] or power politics.[8]
Always, sooner or later, they have exploded into catastrophic violence.
Still, though these traditionally rancorous patterns of thinking have always proven shortsighted and transient, they remain popularly accepted as "realistic." It follows, among many other things, that present-day major world powers would be well-advised to (1) acknowledge the unchanging limitations of a persistently fragile global threat system,[9] and (2) begin to identify more promising and substantially more durable patterns of cooperative international interaction.[10] In purely analytic terms, no such advice could even be questionable or problematic.
More specifically today, this self-evidently sound advice is especially pertinent to US President Donald J Trump and still-functioning American foreign policy makers. What might first have still seemed promising to calculating strategists in our ongoing "state of nature"[11] is apt to prove futile and counter-productive for America's longer-term survival prospects. On this sobering point, prima facie, there can be little credible doubt.[12]
There is more. The United States, in the fashion of every other state, is part of a larger world system. But this vastly more comprehensive system has steadily diminishing chances for achieving any sustainable success within a dissembling pattern of foolishly competitive sovereignties. What then, our national decision-makers must promptly inquire, is the point of upholding such an insidious system? Is there any conceivably defensible argument on behalf of maintaining some hypothetical "military edge" in a system that is by its nature destined to fail?[13]
To answer such a starkly fundamental question, it may be useful to consider the insights of poets and playwrights and not just "professionals." "What is the good of passing from one untenable position to another," asks Samuel Beckett philosophically in Endgame, "of seeking justification always on the same plane?" This is plainly a serious question, not just about life in general, but also about world political and strategic structures in particular.[14]
Again, history must be consulted as a primary and tangible clarifier. Realpolitik or balance of power world politics has never succeeded for longer than certain palpably brief and dreadfully uncertain historical intervals.[15] In the future, from time to time, this intrinsically unsteady foundation could be exacerbated by multiple systemic failures, sometimes mutually reinforcing or "synergistic," sometimes even involving weapons of mass destruction. Most portentous, in this particular regard, would be nuclear weapons.[16]
By definition, therefore, a failure of nuclear Realpolitik could be not "only" catastrophic, but also potentially sui generis, if judged in the full or cumulative scope of its decipherable declensions.
Immediately, all states that depend upon some form or other of nuclear deterrence must prepare to think more self-consciously and imaginatively about alternative systems of world politics; that is, about creating viable configurations that are more strategically war-averse and cooperation-centered. While any hint of interest in complex patterns of expanding global integration, or what Jesuit philosopher Pierre Teilhard de Chardin calls "planetization," will sound unacceptably utopian or foolishly fanciful to "realists," the opposite is actually true. Now, after so many years of "everyone for himself," it is more realistic to acknowledge candidly that our zero-sum ethos in world politics is endlessly degrading, and also incapable of conferring any credible survival reassurances.
"The visionary," alerts the Italian film director Federico Fellini, "is the only realist."
Again and again – and at some point, irretrievably – "Westphalian" world systemic failures could become tangibly dire and potentially irreversible. In the final analysis, it will not help to merely tinker tentatively at the ragged edges of our historically violent world order. At that decisive turning point, simply continuing to forge ad hoc agreements between refractory states or (as "hybridized" actors) between these combative states and surrogate or sub-state organizations would be futile.
In the longer term, the only sort of realism that can make any sense for America and other leading states in world politics is a posture that points meaningfully toward a "higher" awareness of global "oneness," and (however incrementally) toward far greater world system interdependence.[17]
In its fully optimized expression, such an indispensable awareness – a literal opposite of US President Donald Trump's refractory "America First" – would display what the ancients had called a cosmopolitan or "world city" perspective. For the moment, the insightful prophets of any more collaborative world civilization must remain "on the fringe," few and far between,[18] but this probable absence is not because of any intrinsic lack of need or any witting forfeiture. Rather, it reflects a progressively imperiled species' wretchedly stubborn unwillingness to take itself seriously – that is, to finally recognize that the only sort of loyalty that can rescue all states from oblivion must embrace a redirected commitment (both individual and national) to all humankind.
At its heart, various complex nuances notwithstanding, this is not a bewilderingly complicated idea. To wit, it is hardly a medical or biological secret that those basic factors and behaviors common to all human beings outnumber those that very unnaturally differentiate one from another. Unless the leaders of major states on Planet Earth can finally understand that the survival of any one state must inevitably be contingent upon the survival of all, true strategic security will continue to elude every nation.
This includes even (or especially) the "most powerful" states. After all, incontestably, the most persuasive forms of power on planet earth are not guns, battleships or missiles. Instead, they are conveniently believable promises of "life everlasting" or personal immortality. In essence, when one finally uncovers what is most utterly important to the vast majority of human beings, it is a presumptively credible power over death[19]. Significantly, individuals all over the world often see the dynamics of belligerent nationalism (e.g., "America First") as a path to their own personal immortality.[20]
Why else, in essentially all international conflict, does each side seek so desperately and conspicuously to align itself with God? Always, the loudest claim of all is deliberate and incomparably reassuring: "Fear not," the citizens are counseled, "God is on our side."
The bottom line? The most immediate security tasks in the global state of nature will sometimes still need to remain narrowly or even collaboratively self-centered. Quickly, however, leaders of all pertinent countries must also learn to understand that our planet represents a recognizably organic whole, a fragile but variously intersecting "unity," a species of "oneness" that exhibits certain already diminishing options for viable war avoidance.[21]
To seize rapidly disappearing residual opportunities for long-term survival, our leaders must finally learn to build upon the critical foundational insights of Francis Bacon, Galileo and Isaac Newton,[22] and also on the more contemporary observation of Lewis Mumford: "Civilization is the never ending process of creating one world and one humanity."[23]
Whenever we speak of civilization we must also speak of law. Jurisprudentially, no particular national leadership has any special or primary obligations in this regard, nor could it reasonably afford to build its own immediate security policies upon any vaguely distant hopes. Nonetheless, the United States remains a key part of the community of nations, and must continually do whatever it can to detach an already wavering state of nations from the unsteady state of nature.
Any such willful detachment should be expressed as part of a much wider vision for a durable and justice-centered world politics. Over the longer term, Washington will have to do its own significant part to preserve the global system as a whole. "America Together," not "America First," must become our rational national mantra. However impractical this may sound at first, nothing could possibly be more fanciful than continuing indefinitely on a repeatedly discredited course.
US President Donald Trump's hastily assembled "insights" to the contrary, endlessly corrosive kinds of global anarchy can never be in America's best interests.
Never.
For the moment, at least, there is no need for detailing further analytic or intellectual particulars – there are, of course, bound to be a great many – but only for outlining a more recognizable and dedicated awareness of this genuinely basic civilizational obligation.[24]
In The Plague, Albert Camus instructs: "At the beginning of the pestilence and when it ends, there's always a propensity for rhetoric….It is in the thick of a calamity that one gets hardened to the truth – in other words – to silence." As long as the states in world politics continue to operate as determinedly grim archeologists of ruins still-in-the-making, that is, as permanent prisoners of massively corrupted scientific and analytic thought, they will be unable to stop the next series of catastrophic wars, and the next series of deadly disease outbreaks.
Until now, the traditional expectations of Realpolitik have seemed fundamentally sensible and correct. Accordingly, there have appeared no seemingly plausible reasons for expressing pent up regrets about "everyone for himself.". Nevertheless, from the essential standpoint of longer-term options and security prospects, world leaders must soon open up their security imaginations to more openly visionary ways of understanding – ways clearly not yet their own.
Merely continuing with the defiling extremities of Hobbesian anarchy in world politics is a prescription not for realism, but for recurrent war, disease epidemics and utterly wholesale despair.[25]
There is one last and still critically important point. Though the Covid-19 plague represents a singularly catastrophic event for us all, there could be at least one identifiable "silver lining." This is the still-conceivable prospect of transforming grievous catastrophe into an eleventh-hour opportunity for expanded global cooperation. In essence, because this disease threat is so prominently indifferent to religion, race, ethnicity and national boundaries, it could actually provide a unique incentive for major world powers to cooperate purposefully against "Westphalian" world politics.
Though the precise likelihood of any such dynamically reciprocal cooperation will be impossible to determine, it is by no means inconceivable.[26] Recalling seminal Spanish philosopher Jose Ortega y' Gasset, the necessary scientific expectations will have to include not just variously astute hypotheses and "observations," but also certain extraordinary leaps of "imagination." This can be done, but only by capable thinkers and analysts, not by the public purveyors of utterly barren "insights," tiresome clichés or palpably empty witticisms.
---
[1] See, by this author, Louis René Beres, at Harvard National Security Journal, Harvard Law School: https://harvardnsj.org/2015/06/core-synergies-in-israels-strategic-planning-when-the-adversarial-whole-is-greater-than-the-sum-of-its-parts/ In this article, however, the subject is Israeli national security, not US national security.
[2] To accomplish this indispensable task, one would first need to think in terms of a dynamic and continuous feedback loop; to wit, one wherein the investigator systematically considers the various ways in which the anarchic structures of world politics can impact control of the pandemic and, reciprocally, how the affected pandemic could then impact these "Westphalian" or "everyone for himself"/"state of nature" global structures. In principle, at least, there should be no necessarily final or conclusive end to this dynamic cycle. Rather, each successive impact would be more-or-less transient and temporary, setting the stage for the very next round of reciprocal changes, and so on.
[3] In essence, the Peace of Westphalia (1648) concluded the Thirty Years War and created the still-existing state system. See: Treaty of Peace of Munster, Oct. 1648, 1 Consol. T.S. 271; and Treaty of Peace of Osnabruck, Oct. 1648, 1., Consol. T.S. 119. Together, these two treaties comprise the "Peace of Westphalia."
[4] The idea of a balance of power – an idea of which the nuclear-age balance of terror is merely a variant – has never been more than a facile metaphor. It has never had anything to do with ascertaining equilibrium. As such, balance is always more-or-less a matter of individual subjective perceptions\. Adversarial states can never be sufficiently confident that identifiable strategic circumstances are actually "balanced" in their favor. In consequence, each side must perpetually fear that it will be left behind, creating ever wider and cascading patterns of both insecurity and disequilibrium.
[5] See, for example, by this author and General (USA/ret.) Barry McCaffrey: https://sectech.tau.ac.il/sites/sectech.tau.ac.il/files/PalmBeachBook.pdf
[6] The American planner or strategist could benefit here from Basque philosopher Miguel de Unamuno's instructive remark about German philosopher Hegel: "Hegel made famous his aphorism that all the rational is real, and all the real is rational; but there are many of us who, unconvinced by Hegel, continue to believe that the real, the really real, is irrational – that reason builds upon irrationalities."
[7] An earlier book by this author deals with these issues from an expressly American point of view. See: Louis René Beres, Reason and Realpolitik: US Foreign Policy and World Order (Lexington Books, 1984).
[8] For the political philosophy origins of such core assumptions, see especially classic comment of Thrasymachus in Bk. 1, Sec. 338 of Plato, The Republic: "Right is the interest of the stronger."
[9] In his seventeenth-century classic of political philosophy, Leviathan, Thomas Hobbes points out interestingly that while the anarchic "state of nature" has likely never existed between individual human beings, it nonetheless defines the usual structures of world politics, patterns within which nations coexist in "the state and posture of gladiators…." This "posture," expands Hobbes, is a condition of "war."
[10] In this connection, noted Sigmund Freud: "Wars will only be prevented with certainty if mankind unites in setting up a central authority to which the right of giving judgment upon all shall be handed over. There are clearly two separate requirements involved in this: the creation of a supreme agency and its endowment with the necessary power. One without the other would be useless." (See: Sigmund Freud, Collected Papers, cited in Louis René Beres, The Management of World Power: A Theoretical Analysis, University of Denver, Monograph Series in World Affairs, Vol. 10 (1973-73), p, 27.)
[11] Thomas Hobbes described this fearful condition of "nature" at Chapter 13 of Leviathan: "But though there had never been any time, wherein particular men were in a condition of warre one against another; yet, in all times, Kings and Persons of Soveraigne authority, because of their Independency, are in continuall jealousies, and in the state and posture of Gladiators; having their weapons pointing, and their eyes fixed on one another; that is, their Forts, Garrisons, and Guns upon the Frontiers of their Kingdomes…." Also, as the same chapter: "So the nature of War, consisteth not in actuall fighting; but in the known disposition thereto, during all the time there is no assurance to the contrary…."
[12] An additional question now comes to mind, one posed originally by Honore de Balzac about the "human comedy" in general, not politics in particular: "Who is to decide which is the grimmer sight: withered hearts or empty skulls?"
[13] "The obligation of subjects to the sovereign," reminds Thomas Hobbes in Chapter XXI of LEVIATHAN, "is understood to last as long, and no longer, than the power lasteth by which he is able to protect them."
[14] These legal structures include the classic American commitment to a "Higher Law." Under international law, this idea, drawn originally from the ancient Greeks and ancient Hebrews – is contained, inter alia, within the principle of jus cogens or peremptory norms. In the language of pertinent Article 53 of the Vienna Convention on the Law of Treaties (1969: "A peremptory norm of general international law….is a norm accepted and recognized by the international community of States as a whole, as a norm from which no derogation is permitted, and which can be modified only by a subsequent norm of general international law having the same character."
[15] Back at Princeton in the late 1960s, I spent two full years in the University library, reading everything available about such historical patterns. The result was published in my early book The Management of World Power: A Theoretical Analysis (1973) and somewhat later, in Transforming World Politics: The National Roots of World Peace (1975).
[16] For informed assessments of the probable consequences of nuclear war fighting, by this author, see, for example: Louis René Beres, SURVIVING AMID CHAOS: ISRAEL'S NUCLEAR STRATEGY (London: Rowman and Littlefield, 2016/2018); Louis René Beres, APOCALYPSE: NUCLEAR CATASTROPHE IN WORLD POLITICS (Chicago: University of Chicago Press, 1980); Louis René Beres, MIMICKING SISYPHUS: AMERICA'S COUNTERVAILING NUCLEAR STRATEGY (Lexington MA: Lexington Books, 1983); Louis René Beres, REASON AND REALPOLITIK: U S FOREIGN POLICY AND WORLD ORDER (Lexington MA; Lexington Books, 1984); and Louis René Beres, ed., SECURITY OR ARMAGEDDON: ISRAEL'S NUCLEAR STRATEGY (Lexington MA: Lexington Books, 1986).
[17] Long ago, we may learn from ancient Greek Stoic philosopher Epictetus, ""You are a citizen of the universe." A broader idea of "oneness" followed the death of Alexander in 322 BCE, and with it came a coinciding doctrine of "universality." By the Middle Ages, this political and social doctrine had fused with the notion of a respublica Christiana, a worldwide Christian commonwealth, and Thomas, John of Salisbury and Dante were looking at Europe as a single and unified Christian community. Below the level of God and his heavenly host, all the realm of humanity was to be considered as one. This is because all the world had been created for the same single and incontestable purpose; that is, to provide background for the necessary drama of human salvation. Only in its relationship to the universe itself was the world correctly considered as a part rather than a whole. Said Dante in De Monarchia: "The whole human race is a whole with reference to certain parts, and, with reference to another whole, it is a part. For it is a whole with reference to particular kingdoms and nations, as we have shown; and it is a part with reference to the whole universe, which is evident without argument." Today, of course, the idea of human oneness can be fully justified and explained in more purely secular terms of understanding.
[18] The best studies of such modern world order "prophets" are still W. Warren Wagar, The City of Man (1963) and W. Warren Wagar, Building the City of Man (1971).
[19] "I believe," says Oswald Spengler in his still magisterial The Decline of the West (1918), "is the one great word against metaphysical fear."
[20] In the nineteenth century, in his posthumously published lecture on Politics (1896), German historian Heinrich von Treitschke observed: "Individual man sees in his own country the realization of his earthly immortality." Earlier, German philosopher Georg Friedrich Hegel opined, in his Philosophy of Right (1820), that the state represents "the march of God in the world." The "deification" of Realpolitik, a transformation from mere principle of action to a sacred and sacrilizing end in itself, drew its originating strength from the doctrine of sovereignty advanced in the sixteenth and seventeenth centuries. Initially conceived as a principle of internal order, this doctrine underwent a specific metamorphosis, whence it became the formal or justifying rationale for international anarchy – that is, for the global "state of nature." First established by Jean Bodin as a juristic concept in De Republica (1576), sovereignty came to be regarded as a power absolute and above the law. Understood in terms of modern international relations, this doctrine encouraged the notion that states lie above and beyond any form of legal regulation in their interactions with each other.
[21] Because war and genocide are not mutually exclusive, either strategically or jurisprudentially, taking proper systemic steps toward war avoidance would plausibly also reduce the likelihood of egregious "crimes against humanity."
[22] Regarding science in such matters, Niccolo Machiavelli had joined Aristotle's plan for a more scientific study of politics generally with various core assumptions about geopolitics or Realpolitik. His best known conclusion, in this particular suggestion, focuses on the eternally stark dilemma of practicing goodness in a world that is generally evil. "A man who wishes to make a profession of goodness in everything, must necessarily come to grief among so many who are not good." See: The Prince, Chapter XV. Although this argument is largely unassailable, there is also a corresponding need to disavow "naive realism," and to recognize that, in the longer term, the only outcome of "eye for an eye" conceptions in world politics will be universal blindness.
[23] We may think also of the corresponding Talmudic observation: "The earth from which the first man was made was gathered in all the four corners of the world."
[24] Interestingly, international law, which is an integral part of the legal system of all states in world politics, already assumes a reciprocally common general obligation to supply benefits to one another, and to avoid war at all costs. This core assumption of jurisprudential solidarity is known formally as a "peremptory" or jus cogens expectation, that is, one that is not even subject to question. It can be found already in Justinian, Corpus Juris Civilis, Hugo Grotius, The Law of War and Peace (1625) and Emmerich de Vattel, The Law of Nations or Principles of Natural Law (1758).
[25] This brings to mind the closing query of Agamemnon in The Oresteia by Aeschylus: "Where will it end? When will it all be lulled back into sleep, and cease, the bloody hatreds, the destruction"?
[26] "In a dark time," says The American poet Theodore Roethke hopefully, "the eye begins to see."
The Forgotten Analogy: World War II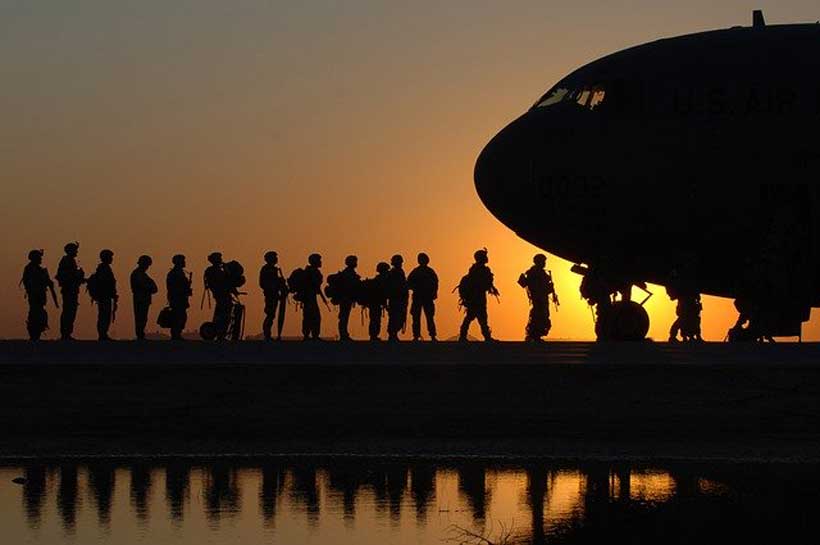 Pundits are searching for adequate analogies to explain the growing China-U.S. rivalry and predict its future direction. Two main ones appear: the pre-World War I era and the Cold War. Both have their merits. The early twentieth century pitted Germany, a rising power, against status quo Britain and France. The Cold War also shares similarities to the current situation. The United States engaged in a prolonged struggle to contain a nuclear-armed great power. However, neither the Cold War nor the First World War offers an entirely appropriate analogy to make sense of the current world order.
Wilhelmine Germany was a formidable power but it largely stood alone, cornered in the center of Europe. London, Paris, and Saint Petersburg had an easy time concentrating their forces to balance against Berlin. Although it had Asia as secondary and the rest of the globe as tertiary theaters, the heart of the Cold War was also Central Europe. There were only two great powers, the Soviet Union and the United States, wholly occupied checkmating each other. 
Today's international politics differs by the number and locations of the main protagonists. Although China legitimately attracts most of the attention, Russia remains a great power. Both China and Russia are the sole great powers of their respective regions — Asia and Europe. Both are bent on correcting the balance of power to their advantage and pushing the United States out of their neighborhood. On its side, Washington has a deep-seated interest in making sure that no great power competitor dominates Asia or Europe because both regions concentrate a big share of the world's wealth and advanced industries. Indeed, a regional hegemon in possession of such resources would be strong enough to potentially overpower the United States. 
Washington found itself in the same position during the late 1930s and early 1940s. Nazi Germany had become the strongest power on the European continent and seemed bound to dominate all of it. Imperial Japan's bid for Asian hegemony was unfolding unabated. The Americans had a vested interest in ensuring that neither Berlin nor Tokyo would seize control of their neighborhood because local powers were unlikely to get the job done on their own. It is now Beijing and Moscow occupying these roles.
Asia and China
China is the strongest state in Asia by a wide margin. No regional state can counterbalance Beijing on its own. Even a coalition of current U.S. partners — say Australia, Japan, the Philippines, Taiwan, and South Korea — would likely be too weak to seriously deter China without America's support and strength. If Washington wants to prevent a Chinese bid for regional hegemony, it needs to throw its weight behind the balancing effort.
During the World War II era, America had to work alongside allies with widely divergent interests (notably Britain, Free France, and the Soviet Union) against the would-be German and Japanese hegemons. In a similar vein, the United States needs to help repair the relations between Japan and South Korea and accommodate those who have had rocky relations with Washington (India, Vietnam) or that are non-democracies (Singapore). The sheer power of China and the challenge of putting together a working balancing coalition imposes to the United States an "Asia First" strategy in the same way that the Third Reich's superior military and industrial capabilities forced "Europe First" during World War II.
Another similarity with the World War II era is that power dynamics are rapidly changing. In Europe, the primary focus of American planners, Germany was with little doubt the strongest power on the continent. But the balance of power was evolving and the Soviet Union, still reeling from its civil war and Stalin's purges, appeared to the Germans as a rising threat. Today, Beijing is growingly wary of India, a state as populous as (and very soon, probably more than) China and enjoying economic growth rates superior to China's.
Europe and Russia
While most Asian states are directly exposed to Chinese military power, the states of Western and Southern Europe are separated from Russia by several other states in-between. Therefore, many European states feel less threatened by Russia and have been slow to balance against Moscow. Although France has been increasing its military spending and Britain vowed to redeploy heavy forces to Germany, these small incremental changes do little to correct the overwhelming military superiority of Moscow. No Western European state is ready or willing to confront Russian power head-on. Europe needs American leadership for that. It is not unlike the late 1930s, when the Soviet Union, separated from Germany by Poland, readily passed the buck of containing Berlin to London and Paris, with disastrous results.
On paper, European states — most notably Britain, France, and Germany — have enough latent capabilities to counterbalance Russian power. But geography and the collective action problem stand in the way. Indeed, Russia is not an immediate threat to Western Europe like the Soviet Union was. Today's Russian army is unable to threaten the survival of France or Germany due to the East-Central European states acting as a buffer. Even if the Western Europeans acknowledge the resurgence of Russian power and are slowly rearming, they just do not feel the same sense of urgency as in Eastern Europe.
Collective action is difficult when many actors have to provide for a common good. An instinct is to do as little balancing as possible and wait for others to take the mantle of deterring Russia. Also, with no clear leader, effective decision-making is unlikely. Berlin, London, Paris, and others will push for their own preferences, thus resulting in lowest-common-denominator policies and under-balancing. Russia would then be free to cherry-pick its small neighbors and subjugate opposition. Eventually, Western Europeans would balance more effectively; but by the time they do so, Russia will have grown its power base and will already dominate Eastern Europe, thus representing a far more formidable challenge.
NATO is a powerful but imperfect tool to contain a Russian aspirant hegemon. The misaligned interest between many western and southern states and those closest to Russia stands in the way of effective balancing. A potential cure would be to form an additional smaller and more focused alliance system of Poland as the main bulwark, the Czech Republic, Romania, the three Baltic states, and maybe Sweden. In any case, to overcome buck-passing tendencies and problems of coordination, American political leadership is inescapable.
No Easy Fix
Historical analogies are always risky and no situation ever recurs in the exact same way. Yet, if we are to compare the current international situation with a past example, the World War II analogy appears more powerful than the World War I and Cold War ones.
Indeed, the United States faces the same conundrum of having to deal with two formidable rivals on two different continents. World War II had Germany as the most powerful opponent and Europe as the theater concentrating the most resources. Now, both the strongest competitor and the main loot are in Asia. During World War II, U.S. policymakers wanted to focus their forces on taking down Germany but they also had to cope with Japan out of fear that Tokyo would successfully absorb much of East and Southeast Asia and become a far greater threat than it already was. Today, although Russia lacks the power potential of China and Asia has now more wealth than Europe, with potential hegemons in both Asia and Europe, Washington is forced into a gigantic act of dual containment. Therefore, the same dilemma that plagued the United States eight decades ago plagues the Americans of today.
There is no roadblock in the way of improving Sino-US ties
According to my long-term observations, the challenge that the US strategic circle has been confronted with in assessing Sino-US ties is: How to comprehend China? What is the best strategy for dealing with China? What is the proper topic for researching Sino-American relations? If they have a more objective perspective of China and a more reasonable understanding of China's growth, there will be less friction between China and the US, and bilateral ties will develop more smoothly. Otherwise, there will be additional difficulties and twists and turns.
Of course, the United States has no shortage of discerning and young people. Nixon and Kissinger, for example, ventured to question American society, "Should the United States open the door to China?" "Should US-China relations be broken?" They had the "Ice-Melting Theory" because the questions they presented were valid. Despite the fact that diplomatic ties have not yet been established, Nixon has decided to visit China as President of the United States.
Such an accomplishment is still remarkable and admirable. Because the topic they propose is appropriate, their efforts will live on in the annals of history and will be remembered in perpetuity. In truth, the Chinese did not have the present degree of awareness of the United States at the time, and the "Cultural Revolution" had not yet finished. Even if the sign on the edge of the Beijing airport welcoming President Nixon remained "Down with US imperialism."
Despite the removal of the Beijing Airport tagline, Nixon's successors have always had a swinging perception of China, whether clear or muddy, straight or crooked, and floating. As a result, Sino-American ties have been bumpy along the road. Because some Americans misunderstood the subject of China studies, the ensuing misconceptions appear to be a black cloud in the sky of Sino-US relations; when the dark cloud appears, the US and China will lose ground in their interactions with China.
The current challenges in Sino-US relations are likewise similar: there are both black clouds of the so-called "China threat theory" and aggressive actions continually unleashed by the US administration, which throws a shadow on US policy toward China while also casting a shade on the US itself. There are several impediments to growth. In truth, the different "evidences" of the so-called "China Threat Theory" are not difficult to understand and do not need profound knowledge or secrets that cannot be made public.
Viewing China's peaceful development trend honestly and logically is not an insurmountable challenge for Americans. Nixon and Kissinger of the United States strove hard 50 years ago not to "hide from the clouds." Today, the US likewise has no need to invent a slew of fictitious "reasons for China threats" in order to keep Sino-US ties from improving!
Otherwise, I'm not sure whether future Americans will be able to answer the question, "Who lost China?" However, as the adage goes, "the house leaks and rains," referring to the ongoing epidemic of the new crown epidemic, which prevents direct face-to-face connection. The hurdles, which include psychological and emotional barriers, have exacerbated the difficulty of removing these black clouds.
Expressions like "I am in you, and you are in me," "Everything is thriving, and everything is lost," and "Global Village" are also taught from American scholars, and they reflect true developments in Sino-US ties. As far as I am aware, virtually few researchers over the age of 40 in American academic circles have not been inspired by the thesis of "interdependence." As a result, they recognize the importance of interdependence and will not turn a blind eye to the breadth and depth of dependency between China and the United States today.
The United States and China's interdependence today is extensive, multi-layered, and multi-faceted. It is a network structure system that is vertically and horizontally interwoven and coexists peacefully. What exactly is "hehe"? It is designed to meet the demands of both China and the United States. If the difficulties of matching and matching between the two nations via peace and collaboration is unique in history, then the matching and matching accomplished between the two countries after a half-century of hard effort is also exceptional. There are few countries in the world that can be compared to it, and none that can replace it.
To put it another way, the compatibility that China and the US require may be achieved through hard work. Even though China and the United States do not share the same destiny or synergy for the time being, the American people's everyday lives are nearly inextricably linked to China. Based on this, I've understood the truth: the mutual relationship's ability to shift from danger to safety is due to their interdependence, and no one can abandon others. This is the heart and soul of Sino-American ties. There is no justification for anybody to overlook this basic due to the disagreement between them, let alone dig out the roots and harm the truth!
There is no obstacle that cannot be overcome in order for Sino-US relations to develop, because there are always more solutions than challenges. The author has firsthand knowledge of the development process that occurred after the "hard ice" of Sino-US ties was cracked. I've witnessed both the flowering spring and the dismal winter that appears to be on its way. Even if "apes on both sides of the strait couldn't cry," they can nonetheless show up. Situation in which "the light boat has crossed ten thousand huge mountains." Following the upheaval of the late 1980s, Sino-US relations were practically intolerable, and they persisted until the end of 1991, with little indications of improvement.
There is no obstacle that cannot be overcome in order for Sino-US relations to develop, because there are always more solutions than challenges. Following the upheaval of the late 1980s, Sino-US relations were practically intolerable, and they persisted until the end of 1991, with little indications of improvement. On January 24, 1992, excellent news came out of Chinese diplomacy in the midst of such a "severe winter": Following a brief conversation with Israel, they agreed to formally establish diplomatic ties without any impediments, based on the strong affinity forged in the history of the Chinese and Jewish peoples. The two countries' long-awaited wish. The positive news of the creation of diplomatic relations between China and Israel has taken the Jewish world by surprise and has had a significant impact on the inclination of the American media to report on China issues.
There are many Chinese in the United States, and most Chinese expect Sino-US ties to strengthen. Only until Sino-American ties improve will Chinese people have a place and be appreciated in the United States. Foreigners will also consider a person's "birth background," which is natural and nothing strange; if the "birth background" is favorable, they will be "admired." China is also the "birthplace" of Chinese people in the United States. Chinese in the United States have put in a lot of effort and made significant contributions to the establishment of stable and seamless Sino-US ties. This tradition is not only alive and well, but also thriving.
There are a considerable number of Americans who rely on China-related employment, business, and investment, whether in China or the United States. Only until Sino-US ties improve will they be able to focus only on China-related professions, business, and investment, and they despise "McCarthyism." As a result, they anticipate that Sino-US ties will improve, which is unavoidable.
For example, in July 1990, at the invitation of the "National Committee on U.S.-China Relations," then-Shanghai Mayor Zhu Rongji led a delegation of Chinese mayors to the United States, aiming to dispel U.S. government and opposition to China's reform and opening up through the development of Pudong.
The Sino-US relationship, which was harmed by the late 1980s instability, also sought an agreement from the US Congress to prolong China's most-favored-nation status. According to Zhu Rongji's suggestion, Shanghai organized a delegation of scholars led by Ding Xinghao from the Shanghai Institute of International Studies, Hong Wenda from the Department of Economics at Fudan University, Yao Tinggang from the Shanghai Academy of Social Sciences, and Yao Tinggang from the Department of International Politics at Fudan University. Shanghai Institute of Foreign Trade's Zhou Dunren and Zhou Hanmin are made up of five persons.
These five people's round-trip travel expenditures were not covered at the time. When the National Committee on US-China Relations learned about the situation, they quickly said that they would offer it in its entirety. American friends are very ruthless! At the time, Sino-US ties were exceedingly tense, but China had made many American friends via bilateral exchanges with the US, as well as diplomatic assets for the growth of Sino-US relations. Trusted friends will provide genuine assistance in times of need.
As a result, the Chinese mayor delegation led by Zhu Rongji's tour to the United States outperformed expectations. Friends such as the "National Committee on US-China Relations" are not only there, but numerous. This decision should be practical and in line with objective reality. Furthermore, the US still has a vast number of international challenges that cannot be managed by one country alone and necessitate China's assistance. There are still many shared interests between China and the United States that must be pursued in order for individual interests to be realized. There are several elements that benefit both China and the United States. The challenge is how to make the most of these advantageous circumstances. The overarching theme is how to persuade Americans to view China's peaceful growth trend objectively and rationally.
In sum, their concept of the character of the United States has been constantly painted and has not been in place for a long time. The examination of the character of the United States, on the other hand, differs from the policy of international affairs in the United States. The primary purpose of US strategy is to enable the US to comprehend China objectively and logically. There is still a lot of opportunity for improvement.
The impact of Biden's policies on China
The main Indications of US policy towards China have begun to become clear, and this policy reflects an American approach based on dialogue, without abandoning the militancy adopted by the administration of former President "Donald Trump". In this context, the Egyptian researcher will analyze what (the shift in the language of China's political discourse towards the policy of the new US administration and its impact on the Middle East, and the corresponding Chinese policy determinants). On the other hand, the scholar will shed light on the position of the Middle East countries, especially in the Gulf region, with the intensification of competition between the two major powers.
The moves of US President Joe Biden's administration, since he formally took office on January 2021, have focused on building a policy toward China based on alliances. This policy includes:
Trying to coordinate with Washington's allies to confront China's foreign policies.
Re-enhancing the influence of the United States in international organizations.
This trend also shows that the determinants of the US administration's policy towards China are not exclusively related to Washington's management of bilateral relations with Beijing, as much as they are affected by the management of its relations with other countries as well.
The "Biden administration" stems from a position of weakness in the East Asian region following the isolationist policies of the previous "Trump's administration", and the impact of the Corona pandemic.
Chinese officials and analysts have pointed to a crisis (the failure of the Trump administration's pressure on Japan and South Korea to increase their defense spending).
On the other hand, China's success in persuading most countries in the region to join the (Regional Comprehensive Economic Agreement) was the biggest blow to American influence.
In mid-March 2021, a "Quad Summit" was held, which brought together the leaders of (the United States, Japan, India, and Australia), and focused on China. The summit showed that "Biden" wanted to expand the scope of cooperation among the group's members, to include elements of "soft power", in addition to its military dimension.
We also note the tours of the US Secretary of State, "Anthony Blinken" and the US Defense Minister "Lloyd Austin" to Japan and South Korea as well to coordinate US efforts against China.
Washington has announced the holding of a high-level meeting in Alaska between Secretary of State "Anthony Blinken" and National Security Adviser "Jack Sullivan" on the one hand, and Chairman of the Foreign Relations Committee of the Communist Party of China "Yang Jiechi" and Foreign Minister "Wang Yi" on the other hand.
On the bilateral level with China, we note that (the Biden administration has adopted a parallel dimension based on a balance between diplomacy in issues on which the two parties agree, and deterrence in controversial files). The US strategic objective of this approach is to adopt dialogue, but to a lesser degree than the administration of former President "Barack Obama", in conjunction with maintaining the policy of confrontation, but to a lesser degree than the Trum's administration.
One of the most important contentious issues that is expected to occupy the agenda of the two countries, and which is witnessing the intensification of competition between them, is "technological competition". Chinese Professor (Wang Da), Deputy Director of the American Institute at Jilin University in China, analyzes the course of this technological competition between Washington and Beijing, saying:
The United States will continue to adopt a hard policy towards China in certain areas, such as 5G networks, quantum computing and artificial intelligence, but it will reduce the policy of "aggressive detachment in other less sensitive areas".
We note here the Biden campaign pledge during the US election battle to allocate $300 billion for innovation, and this will be the main driver behind US policy, in parallel with (Washington's endeavor to undermine China's capabilities in the field of science and technology).
On the (political level), the Biden administration seems to have no options but to be tough on China. One of the most important strategic goals of President Biden is to end the internal political division. It is understood from this that adopting a different approach from the Trump administration towards China may deepen the division further, and this complex position for the American administration means that at a time when "the files that might produce consensus between Democrats and Republicans are almost absent". Here, we can see that the "Chinese threat" appears to be the most important consensual issue on the American political scene at the moment.
American analyzes indicate that between a quarter to a third of men in the United States may lose their jobs by the middle of this century. In addition, the expansion of globalization and the accelerating digitization process caused great pressure on the working class in some crucial states, which are called (Rust Belt states), in which Biden achieved a hard or hard victory in the last presidential elections in the face of his opponent, "Trump". These are the states of (Pennsylvania, Michigan, and Wisconsin), which means that this class will determine the outcome of the US presidential election again in 2024.
Based on this complex political equation towards the US tightening policy against China, the Biden administration announced its intention to tighten trade policy with China, with the "Joe Biden administration", stressing the need to "reconsider the agreement of the first phase of trade negotiations with China and not to rush to lift trade sanctions against it".
On the (security level), the White House issued guidelines for all US agencies in the month of March 2021, we note that it "mentioned China's security risk more than 20 times".
President "Biden" pledged the importance of (strengthening the US military presence in the Indo-Pacific region), and obtaining the support of Japan, South Korea, Taiwan and Australia in the face of "China's hostile practices in the Northeast Asia and the South China Sea", in addition to the support of NATO, As essential components of the American alliance against Chinese policies in that region, according to the new American vision.
The US security document also pledged the importance of "strengthening the US partnership with India, Singapore, the Philippines, Vietnam and the rest of ASEAN countries" to undermine and besiege China.
In order to undermine and besiege Chinese influence, Washington announced in March 2021 several plans to build (a network of guided and high-precision missiles along the so-called "first island chain", which constitutes the first strategic defense line for China), and includes mainly "Taiwan and the Philippines", and as well as several islands disputed between Japan and China.
The Biden's administration's tendency to double (media and diplomatic pressures on China in connection with the human rights file in Hong Kong, Xinjiang and Tibet, and with regard to the international investigation of the source of the spread of the Corona virus, as well as the file of freedom of navigation in the South China Sea) was also clearly shown.
On the other hand, there are files around which the views of China and the United States of America converge together, according to the same American vision, and among the files of: (controlling nuclear arms, climate change, and combating epidemics), which are the foundations for points of cooperation between the two sides, as it focused Biden made his first call with Chinese President "Xi Jinping" in February 2021.
But the main dilemma that will face the "Biden administration" lies in (the different visions of most Southeast Asian countries for the security approach to confront China from the American vision itself), and the inability of the Asian countries allied to Washington to withstand Washington's strategic pressures to confront Chinese influence, which is mainly supported by policy interactions. interior in the United States. These mainly Asian countries share a common destiny with China politically, economically, geographically and historically. Moreover, most do not view US-China relations as a "zero-sum" as in Washington.
Here, we note from the foregoing, the contradiction of the policies and vision of the American administration with its allies regarding China, and therefore, the United States will have to (invent new formulations in its dealings with each country separately according to its interests), and this is the most important obstacle in Washington's relations with its allies in dealing with China.