Maoism as an ideology originated in China as a form of Communist theory derived from the teachings of the Chinese political leader Mao Zedong. This theory was developed in the 1950`s-60`s and was widely applied as the political and military guiding moto of the Communist Party of China till 1977-78. But soon it evolved as a way of living and was widely accepted around the world. The idea started off in China and soon spread across the world where democratic nations face an imminent threat from the maoist organizations who have blatantly turned radical in their methods for acquiring their needs.
Maoism`s aim is to take control of the government and fundamentally transform the country to socialism. As Aristotle one said "The mother of revolution and crime is poverty", the rise in poverty became one of the biggest drivers of instigating the movement not only in India but in China as well. China encountered a situation where its workers (rural area) revolted against their masters and landlords against marginalization of the poor in rural areas. The Naxalbari Movement lead by Charu Majumdar in 1967, was the first uprising in India to mark the stepping stone of the ideology. Since then the Indian subcontinent has widened its line of sight for maintaining the internal security of the country which is hampered by these so called "naxalites".
The current situation is the continuous influx of tribal converted in this region that is helping sustain their fight by supplying them with intelligence and more insurgent members. The years of 2001-14 have been the most active for Naxalites in India for carrying out attacks and building up their relations with support groups. This first started in early July 2001, when naxalite groups all over South Asia announced the formation of a Coordination Committee of the Maoist Parties and Organizations of South Asia (CCOMPOSA). This was the first formal international coalition formed under the umbrage of one ideology to acquire their targets and attain better results. What had raised concerns was that the most dreaded Naxalite groups in India, the People's War Group (PWG) and Maoist Communist Centre (MCC) were contributing participants to the newly formed CCPMPOSA.
The naxals work on inspiring themselves with ideas from Marxist or Leninist or theories fostered by both. They identify pressure points for targets from sympathizers and intelligence groups and most importantly mobilize funds to carry out attacks. The theories which stir the movement create a simple distinction in the founding years of the political parties. The Communist Party of India Marxist-Leninist (CPI-ML) was formed by All India Coordination Committee of Communist Revolutionaries (AICCCR) in 1969. While the Maoist Communist centre of India (MCCI) was formed in 1975 when the some groups chose to maintain a separate identity from the CPI-ML. Another formal political party was the Communist party of India Marxist-Leninist People`s war commonly known as the People`s War group, an underground communist organization which started off in April, 1980 with the same intentions of serving the poor class. Though the militant group worked under its own discretion in the first two decades, but soon joined hands with the Maoist Communist Centre of India (MCCI) in 2004. The merger of the Peoples War Group, with the Maoist Communist Centre in September, 2004, founded the Communist Party of India-Marxist (CPI-M) which completely changed the internal security scenario in the country. The merger was able to establish the so called Compact Revolutionary Zone or Red Corridor connecting the Dharmapuri forest area of Tamil Nadu with Nepal, covering the entire forest tracts in between. Home Ministry reports say that the dreadful insurgency has till now spread to 165 districts in 16 states[1].
The 21st Century has proved to be extremely advantageous for the Maoists as they were successful in recognising tactical alliances and adopt precise strategies for attaining their targets. The acts of brutality and anti-government notion soon started surging in their areas of activity. In response the Central government banned the CPI (Maoist) on 23rd of June, 2009[2]. This belated action came three days after the Central Para-military forces had gone to Lalgarh area of West Bengal which is still virtually under the siege of Maoists. Former Home minister P. Chidambaram also exclaimed similar nations in 2010 that left-wing extremism would be crushed within three years, but yet successive governments have been witness to Naxal acts of aggression which even continued in 2019. Over 20 years to 2017, Naxal/ Maoist violence claimed more than 12,000 lives, including 2,700 security forces personnel[3].
Various leaders have vowed to tame the Maoist menace by bringing in numerous urbanised developments to improvise connectivity and achieve better growth. But the aggressive enthusiasm of the Naxalites is fuelled by such actions of the government. Though there might be various other reasons for this revolution to still sustain which include deteriorating human development indexes, social discrimination, poor governance and loss of identity, the most important one of them being the increasing income gap in the country[4]. The crux of the problem in the naxal affected regions is the unequal distribution of the assets which majorly is the land. The incapability of the government to match up with the proper land reforms for the tribal people is something which adds on to their idea of how the government is trying to snatch away their land and give it to Multi-National Companies (MNC`s) for production purposes. The inefficiency of the land reforms has been a traditional policy inherited from the colonial period. This reform changed India`s land ownership patterns to ease the acquisition of land at low prices for mines, plantations, and other enterprises[5].
Main Years of Operation
Maoists since a long time have built their relations on cross border counterparts in neighbouring countries. This interconnected system of financial and strategic support between communist driven groups has helped them grow and sustain the revolution. Such extremist based organisations include Liberation of Tamil Tigers Eelum (LTTE) from Sri Lanka, Islamic state of Iraq and Syria (ISIS), Lakshar-e-Taiba (LeT), The United Liberation Front of Asom (ULFA) and many more. Maoists mainly function through jungle hideouts where they expand their area of control by using the jungle as an advantage. The pattern of luring security personnels and targeting them with explosives is quite similar to these radical organisations and other radicalists in the neighbouring countries. A senior Naxal leader who surrendered in Maharashtra claimed that a warfare expert from the Philippines had visited once in 2001 and stayed in a Bastar Naxal camp in Abujmad for about a month to train cadres[6]. This was in collaboration to the Maoist insurgent groups in Philippines which had challenged the security agencies of the Indian subcontinent on such claims made by former-Naxal Leader. It was surely as arduous gamble to get a Philippines warfare expert on ground, with no probability of getting exposed to intelligence networks and security agencies. The Filipino taught them how to carry out mass attacks and mobilize sympathizers in times of need.
Since then naxalites have not only improved their attack strategy but have also involved technology and concrete intelligence as one of the most important element of showing aggression. In the years 2005-06, Maoists spiked up their number of attacks to retain their number of insurgents to gather a strong working army. These attacks were extremely well timed with a series of guerilla attacks in different regions to shock central security personnels. This was mainly to lag their reaction time, thus there are instances where militants have hours of time to gather ammunitions and loot them over. Attacks were usually carried out in the night time, when the comrades could easily outnumber and strategically utilise the element of surprise to strike deeper. One of the biggest loots carried out by the Naxalites was the February 6, 2004 Koratpur ambush where 300 extremists loaded in two trucks, two jeeps and five motor cycles first reached the Koratpur Bus stand and clarified their intentions to the commoners of no harm to civilians while conducting the attack. The ultras spend around an hour collecting ammunitions from the armoury and then decamped with 1000 sophisticated guns and 1000 other weapons worth INR 50 crore. Further investigations by police personnels revealed that the extremists disbanded lower technologically advanced weapons in the forest but recent developed technology still remain in their possession. It was interesting to observe that these attacks displayed clear intentions of an upcoming radically aggravated event. These swarming attacks were shortly followed by jail breaks or attacks of a higher magnitude. Since the Koraput raid in 2004, Orissa witnessed only another three 'swarming attacks' involving the Maoist 'people's militia' till the Nayagarh attack, out of 50 such attacks recorded in various states[7].
List of Ambushes for retaining ammunitions and captured comrades
| | | | | | |
| --- | --- | --- | --- | --- | --- |
| Date | Area of attack | Comrades attacking | Comrades freed | Deaths and captives taken | Ammunitions |
| 6.2.2004 | Koratpur, Orissa | 300 | 200 | 2 CRPF Jawans | 500 weapons 30,000 rounds of ammunition |
| 11.11.2005 | Home Guard Training centre Giridih, Jharkhand | 200 | | | 186 rifles 2,000 bullets |
| 13.11.2005 | Jehanabad Jail, Bihar | 1000 | 340 | 1 prison guard, 20 Ranvir Sena activists taken captive | 16 rifles |
| 24. 03.2006 | Udayagiri town, Orissa | 80 ultras | 40 | 2 security officials; 3 bodies taken by naxalites | |
| 16.12.2007 | Dantewada jailbreak | Escaped on their own | 299 prisoners including 110 naxalites | 3 prison guards injured | |
| 15.2.2008 | Nayagarh, Bihar | Multiple points | | 14 police personnel, 2 civilians | 2,150 arms 200,000 rounds of ammunition |
| 15. 2.2010 | Silda, West Bengal | | | 24 Jawans | AK-47, SLR and mortars |
Source: Institute of Peace and Conflict studies and other news reporting sources.
For instance, naxalite swarming attacks in Home Guard Training centre Giridih, Jharkhand was to refill their armoury for the attack carried out two days later in the Jehanabad Jail break. This created their essence to retain militants in command which are usually captured by state police. Ajay Kanu, state secretary of the CPI-Maoist was one of the targeted escapees of the Operation Jailbreak. The CPI-Maoist would project the Jehanabad attack as a resounding victory of the underprivileged, Dalits over the "feudal, oppressive and exploitative landlords". Together all the militant cadres performed in a synchronised manner and strike at multiple points to successfully carry out an entire attack.
Suspected International Collaborations
Liberation of Tamil Tigers Eelum (LTTE)
Attacks carried out by Maoists summarised self initiated efforts by utilising every advantage at their disposal to threaten and curb government led developments in their region of activity. But there are facilitators which have orchestrated the larger significant outgrowth of the organisation and helped them challenge and compete with India`s strategy to growing naxalism. Maoist leaders have been known to collaborate with their counterparts across the border in Nepal and also occasionally with sympathisers elsewhere in South Asia. The collaborations date back in the 1980`s when experts were send in from different regions of South Asia. In a sensational disclosure made by Azad, a spokesman of the naxal outfit's central committee, while addressing media persons at a remote village in Bihar's Supaul district bordering Nepal, 2005. "The Maoists learnt new warfare tactics from the on-the-run and purged LTTE military commanders in 1986-87," he said, adding, "LTTE's commanders gave them training of mine production and its laying techniques[8].
Their interests have expressed their needs of integration of two factions of the movement- the Bal Militia Wing and the procurement of advanced arms. These convergence of interest have resulted in a fillip to Naxal presence in southern Tamil Nadu districts like Theni, Tirunelveli, Thuthookudi and Ramanathapuram. Traditionally, Naxalites are confined to Dharmapuri, Vellore, and the northern districts of Tamil Nadu bordering Andhra Pradesh. The Periyakulum forests of Theni district has become the new home for Naxal training camps, officials on the Naxal trial said[9]. The LTTE had suffered serious backlashes in 2009, when they started infiltrating into Indian territories and started fueling their aspirations through resources in the country. Hence, the likelihood of the LTTE infiltrating into India to escape from the crackdown of the Sri Lankan security forces was high. In addition, they would also be looking to set up new training camps for their cadre.
Recent measures by the government to tackle the naxalites have sprouted even more urges for the naxalites to seek LTTE support. The Government has proposed to use aerial surveillance in forest regions of Chattisgarh which could have prompted them to seek training as the Tigers were the only recognized outfit to man such capabilities. The Defense Research and Development Organisation (DRDO) is prospecting new techniques which involve the deployment of highly sensitive radar provided by Swedish defense and aerospace outfit Saab. This is to be carried on board with the Indian made Dhruv Advanced light helicopter (ALH). This can help in detecting Improvised Explosive Devices (IEDs) used widely and extensively by Naxalites. The helicopter mounted CARABAS radar weighs about 150 kg. The smaller version of the radar, which has been developed for UAVs, weighs just 50 kg. Connections of the Naxals with the LTTE is suspected to be the most strategic as confirmed the allegation of the Sri Lankan Government that the LTTE had constructed an airstrip near Iranamadu in the Wanni area under its control in the Northern Province of Sri Lanka[10]. The Sri-Lankan government had identified at least two aircraft which looked like the Czech-built Zlin Z-143 and an active airstrip through Sri-lankan military helicopters[11].
Intelligence later suggested the Maoists are also prepared for aerial attacks as in one of the biggest CRPF ambush in April 2010, they were suspected to preserving Anti-aircraft missiles which they had probably smuggled in through the Indo-Bangladesh Border.
Bangladesh and ULFA (United Liberation Front of Asom) facilitators
The United Liberation Front of Asom was a political and military organisation functioning for a sovereign socialist Assam. During its initial years, Paresh Baruah was one of the leading members of the military wings as the outfit`s 'commander in chief'. The ULFA is another such organisation which has been extremely successful in fostering its international connections. The ULFA has previously established contacts with the then unified National Socialist Council of Nagaland (NSCN), Kachin Independence Army (KIA) of Myanmar for training arms. It also enjoys its support from Pakistan`s Inter Services Intelligence (ISI) and the Afghan Mujahideen. Interrogation with various arrested activists revealed that the Defense Forces Intelligence (DFI) of Bangladesh had also trained ULFA cadres in the Sylhet District.
The United Liberation Front of Asom (ULFA) was responsible is carrying out one of the biggest arms haul in the history of cross-border terrorism. This terrorist outfit, operating in northeast India, had teamed with an embassy, to pay Taka 7 billion (99. 4 million dollars) for transhipment of 10 truckloads of arms, ammunition and explosives, said detained former state minister for home Lutfozzaman Babar[12] There are suspicions of ULFA`s top leaders hiding in Bangladesh who carry out operations through local authorities. Ten truckloads of submachine guns, AK-47 assault rifles, other firearms and bullets were seized at the Karnaphuli coast in Chittagong April 2, 2004. The cache, detected by guards at a warehouse where it was hidden, was meant for the ULFA that was then staging violent attacks from Bangladeshi soil. The arms, purchased from China, were brought in a ship owned by a company belonging to Salahuddin Qader Chowdhury, a lawmaker and senior leader of Zia-led Bangladesh Nationalist Party (BNP)[13].
Another such incident captured two former Bangladesh army generals, who headed the National Security Intelligence (NSI), facilitating the landing of Chinese arms meant for insurgents in India's northeast and for trying to smuggle these arms into India. 27,020 grenades, 840 rocket launchers, 300 accessories of rocket launchers, 2,000 grenade launching tubes, 6,392 magazines and 1,140,520 bullets were recovered in 2004 from from the jetty of the Chittagong Urea Fertilizer Limited April 2, 2004[14]. Now the illegal infiltration from Bangladesh is also a source of enormous strength to the Maoists. Bangladesh serves as a sanctuary to the Maoists as well. They are also fully exploiting the strategically situated Chicken Neck for moving freely into Nepal and Bangladesh. It is suspected that ISI supplies arms to north-east insurgents and asks them to pass on them to naxals. Taking the cue from LTTE regarding the advantage of overseas support, the CPI (Maoist) have identified cells for logistical support in establishing linkages other extremist outfits[15].
Lashkar-e-Taiba
Maoists have also taken a step ahead in recognising other organisations where international journalists have mentioned about their developments. In an analysis for an American geopolitical Intelligence platform, Ben West on November 18, 2010 reported an alleged meeting between the Maoists and members of Lashkar-e-Taiba (LeT). Two LeT operatives had attended a Naxalite meeting in April or May 2010. Though direct evidence of ISI-Maoist collaboration has been hard to discern, the unholy influence of ISI as a third-party entrant through the north-eastern gateway of India is quite plausible. Two LeT operatives attended a CPI-Maoist central committee meeting as observers, held sometime in April-May this year. They met in a jungle inside Orissa, close to Bastar," said Vishwa Ranjan, Director General of Police of the state worst affected by Leftist insurgency in India[16].
In the preceding year, 2009, a LeT operative Mohammed Umer Madani (chief recruiter in Nepal and India) was arrested in Delhi. Madani was carrying foreign currency including USD 8,000 which he had received from Italy to carry out terror activities in the country at the time of his arrest. Meanwhile, the police also received the details of his two accounts at Himalayan Bank and Everest Bank in Nepal and learnt that there had been several transactions over past few months, amounting to more than Rs 25 lakh. He had already distributed US $ 22,000 and Rs 9.5 lakh to sleeper cells in Bihar and UP. He also revealed his plans of training recruitments from other parts of India in Maoist strongholds before sending them to Pakistan for further training[17].
Expenses
Funds form an important section of sustaining the revolution. Operations carried out by central security agencies reveal that the Left-wing extremists who earn several lakhs of rupees annually through levy, extortion and threats have their own "corporate style" accounting system, central security agency officials said. A small portion of the finances is being spent on propaganda and development work in their base areas where they are running a parallel government, which they term Janatana Sarkar. Further, in villages where the Janatana Sarkar is functioning they are collecting what they call as 'revolutionary taxes' from the people. Besides, they term their extortion as 'collection of levy' and 'imposition of fine' on defaulters[18]. The 'dalams' or groups (which usually consist of about 20-40 cadre) give their tabled income and expenditure details on a half-yearly basis to the zonal command which is then forwarded to the next level[19].
Further expenditure details seized from one of the Naxals' zonal commands show that Rs50,668 were spent on uniforms, Rs60,100 on medicines, Rs2,79,000 on jail and court expenses, Rs21,200 for helping comrades and Rs 44,500 for people's organizations and public programmes among others.The total expenditure for the six months as shown in the record was Rs 9,20,624 and the income under different heads was Rs 24,05,000. As per an entry made in a separate register dated February 13, 2007, Rs 11, 05,000 were spent on buying 13 pieces of .315 rifle and Rs 13,65,000 on seven pieces of 30.06 rifles. The entries are also made for various ammunitions and pistols and the total expenditure shown by the zonal command was Rs 31,71,250 . Maoist groups in Bihar, Jharkhand and Andhra Pradesh use foreign small arms, including from China, as compared to states like West Bengal, Uttar Pradesh and Madhya Pradesh where the ultras use local arms[20].
The Maoists have been collecting not less than Rs 140 crore annually from a variety of sources: businesses –– big and small –– industry, contractors engaged in various trades, corrupt government officials and political leaders. The largest and principal sources of income for the Maoists are mining industry, PWD works and collection of tendu leaves. The Maoists have been able to put in place a well organized mechanism to extort money on a regular basis. Besides, they have conceived ingenious ways to store money and ensure its safety. Even as they have issued guidelines for the collection of money, the Maoists have, similarly, also circulated guidelines on expenditure and maintaining fiscal discipline.
The Movement is still reviving
John. F. Kennedy once said: "Mankind must put an end to war before war puts an end to mankind." However, the truth is that the war on terror is unlikely to end. Man is in relentless pursuit of bringing an end to the existence of homo-sapiens, either in the name of righteousness or religion. The Maoist movement in India began three decades ago and many Indian states still reverberate with sounds of gunfire and explosives, resulting in the death of hundreds every few months[21]. As the Lok Sabha polls came to an end in 2019, Bharatiya Janata Party (BJP) MLA Bhima Mandavi and four security personnel were killed in an IED explosion attack suspected by the Maoist in Chhattisgarh's Dantewada. This movement has certainly not died down in actuality and there seems to be a spike in the number of attacks carried out recently around the region by its proponents, most of the recent ones centered on the Red Corridor. Security personnels still lack the training and the technological requirements in tackling the insurgency. It is still alarming to notice that, these movements are getting fuelled by international support. The number of people getting affected due to this is escalating till date where South Asia Terrorism portal recorded the 53rd attacks and around 107 killed in the left wing violence[22]. One of the most tragic events was the IED blast in Gadchiroli. More than 30 kilograms of explosives were used in the IED blast which killed 16 security personnels.
A movement still climbs it way to hamper the internal security of the country. The amounts of explosives used by them denote the continuous support by unknown groups and individuals for a very long period of time. Though there have been no proofs for international support but there surely is one that exists.
---
[1] (Pashchimbanga, 2010)
[2] ((MHA), 2017)
[3] (Joseph, 2001)
[4] (V.K.Ahluwalia, 2013)
[5] (V.K.Ahluwalia, 2013)
[6] (Despande, 2009)
[7] (Routray, 2008)
[8] (Sahay, 2005)
[9] (Rao, 2007)
[10] (Raman, 2005)
[11] (Raman, 2005)
[12] (IANS, 2010)
[13] (IANS, 2010)
[14] (IANS, Dhaka to prosecute 2 former spy chiefs smuggling arms for Indian rebels, 2009)
[15] (Pashchimbanga, The Great Saga of ABVP Braving Naxal Terror, 2010)
[16] (Sharma, 2010)
[17] (PTI, 2009)
[18] (P.V.Ramana, 2014)
[19] (PTI, Naxal groups spend huge money to buy weapons, reveal seized records, 2009)
[20] (PTI, Naxal groups spend huge money to buy weapons, reveal seized records, 2009)
[21] (Ipood, 2016)
[22] (SATP, 2019)
The World Biggest COVID-19 Crisis: Failure of India's Vaccine Diplomacy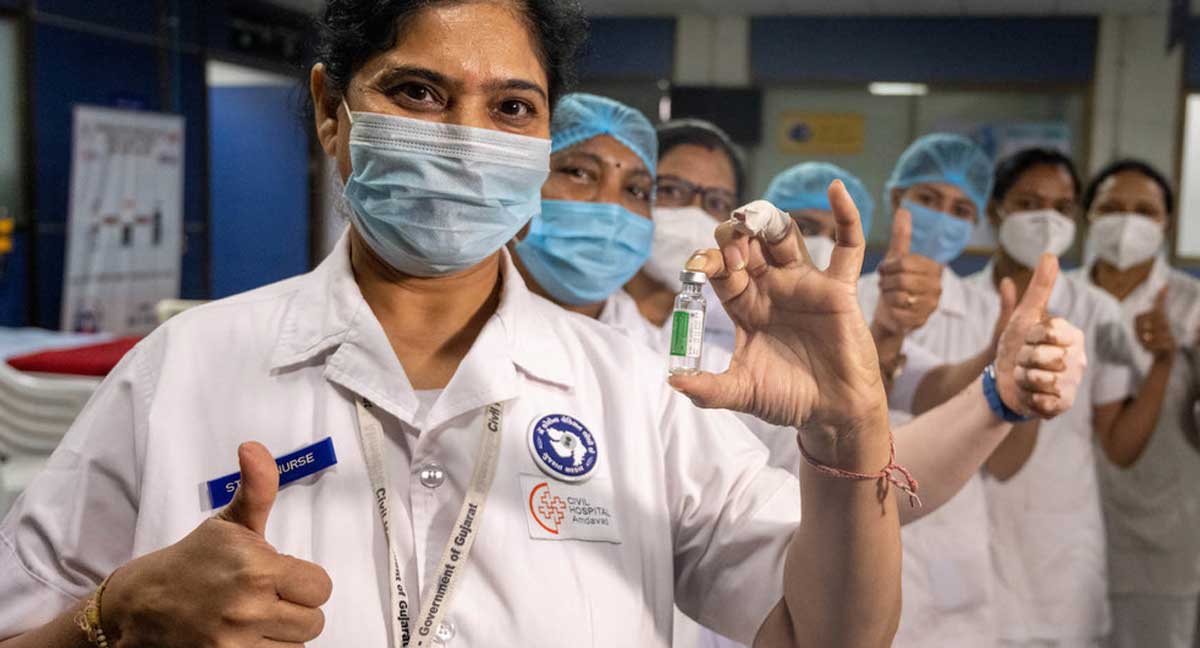 As over 100 million people in the U.S. are fully vaccinated and the world's daily count of new cases is falling, India faces healthcare system collapse as a second coronavirus wave is devastating. In accordance with the recent statistics of the WHO, in the past week approximately 2 million new confirmed cases were reported worldwide – almost half were from India. Interestingly, India is one of the main producers and exporters of coronavirus vaccines in the world and since mid-January, the federal government has approved a British-made Oxford-AstraZeneca, and a locally developed– a national pride Covaxin (both are being produced in India) for the massive immunization drive that has set the ambitious goal of fully immunizing 300 million people, particularly healthcare workers by the end of summer. Meanwhile, India had initially been planning to set the world record for mass vaccination but they ended up with the world record coronavirus cases, surpassing 400.000 daily COVID-19 cases for the first time.
The development and deployment of an effective and safe vaccine against the coronavirus was a key pillar in the authority's current strategy to break down the chain of transmission. However, despite a promising start of a vaccination campaign at the beginning of this year, one of the largest immunization programs across the globe, it turns out there is not a sufficient amount of vaccine supplies in a number of states across the country. As cases continue to surge, many across the country have rushed to register for shots but most states are running out of doses and a large number of vaccination centers across India turned away people due to chronic shortages or complete lack of availability of jabs. While India is one of the major producers of COVID-19 vaccines with a monthly capacity of 70 million doses, now forced to import jabs, as local manufacturing facilities are facing challenges to meet growing demand. As India's expansion of its immunization campaign has been failing badly, it makes a disastrous situation even worse. On the other hand, the current devastation leads to a depression in global vaccine supply and consequently, it hits the low and middle-income countries, as they rely on the Indian pharmaceutical industry.
The second devastating wave was hitting the country since mid-April and apparently, India's poorly funded public healthcare system is not capable enough to overcome the world's largest surge in COVID cases. Health facilities overwhelmed as infection rates explode; therefore, many hospitals in the large cities already suspended admitting even the critically ill coronavirus patients as all beds were full and medical equipment, particularly oxygen concentrators, ICU beds, test kits, PPEs and ventilators in short supply, while corpses pile up at morgues and crematoriums. As a death toll rises sharply, additional crematoriums are being built in order to deal with the grim situation, especially in the hardest-hit cities and states. Furthermore, in the midst of a big surge Indian government also launched a vaccination drive for anyone over the age of 18 starting 1st of May. Ironically, along with China and Russia, India was a country that had begun exporting home-grownCOVID-19 vaccine doses to foreign countries, but only less than 3% of its population has been fully vaccinated so far. During a global pandemic, thanks to its massive production capacity, India actively donated locally produced Coronavirus vaccines to the Southeast Asian, Middle Eastern and African low and middle-income nations under the "Vaccine Friendship" program. The initiative was launched in early 2021 and it sought to promote cooperation and cement ties by distributing a dozen of jabs through the Vaccine Diplomacy. In reality, in the battle to gain political influence across the developing world, India shipped millions of doses to poorer countries before managing to secure an adequate amount of vaccines for its own people.
India's infections keep surging due to the unavailability of medical resources and thus the crisis also affecting the global vaccine and medical supply chains, as over 40 countries, including Russia, European Union, China and the United States and numerous international charities are proactively providing a range of humanitarian aid and emergency assistance.
Many events marking religious festivals and cultural events across the world have been banned because of Coronavirus; on the contrary, despite the high risks of infection several crowded religious festivals and gatherings have been taking place in India's various holy sites and places of worship with a thousand of unmasked pilgrims and devotees. Additionally, Prime Minister Narendra Modi's total23campaign rallies that brought tens of thousands of incautious supporters together caused the spike in coronavirus cases. Hence, the federal government acted reluctantly to impose major restrictions for containing the virus by relying on local authorities to take action.
Indeed, India is the third country with over130 million doses administrated in the world, the highest figure just behind the United States and China respectively, but even the large-scale vaccination process was insufficient to prevent the second wave for a population of more than 1.3 billion people. Although international flights are being suspended to and from India by many governments, a more transmissible India COVID variant, formally known as B.1.617has already been detected in multiple countries and territories worldwide. India's COVID -19 crisis warns that the risk of infection remains high and many countries could face a strong resurgence of COVID-19similar to India. Health experts concern that a new and more contagious strain spreads more easily and it could even evade vaccines. The current outbreak shows that every country remains vulnerable and could find itself in dire straits unless the adaptation and implementation of strict anti-pandemic measures and policies. However, strengthening the public health system, enhancing safety protocols and sanitary measures, ensuring transparency and accountability, and initiating a successful immunization campaign will be seemingly crucial to combat the pandemic, otherwise, a similar crisis could soon become a common tragedy for the entire world in the foreseeable future.
Pakistan desires dialogue and cooperation with the EU
Renew Europe, a liberal, pro-European political group of the European Parliament, presented a resolution and was passed by the EU by an overwhelming majority of 681 votes against six only. Extremist, racist groups influence the EU. No doubt, the whole world is suffering from intolerance and extremism. There are many racist movements in America and Europe too.
Pakistan being an open and democratic country, enjoys total freedom of expression to its citizen. There must be diverse voices within Pakistan. The Government of Pakistan is a parliamentary system. All matters are discussed in the parliament, which is responsible for building consensus on all crucial issues and addressing the concerns of all groups, factions, parties, minorities, etc.
Historically, Pakistan was a very tolerant and peace-loving, balanced society, but during the 1980s war in Afghanistan, Pakistan was radicalized by design. The western world deliberately promoted intolerance, religious extremist, and terrorism. Almost all intelligence agencies of the leading Western World were engaged in Pakistan for arming, training, and inspiring youth for Jihad in Afghanistan. These international intelligence agencies collected radical individuals from all over the world and concentrated them in Pakistan to launch Jihad in Afghanistan; Many terrorist organizations were created by them in the whole Muslim world, was either, Mujahideen, Taliban, Daesh, Al-Qaida, or ISIS, Boko-Haram, or any other militant group, was the creation of Western World and used for particular objectives. After achieving their goals, they banned them and kept their distance from them. And she was now blaming them for terrorism, Unfortunate!
Pakistan was a close ally of the US, NATO, and Europe (Western World), an essential front-line state in the Afghan war, and a non-NATO ally in the war on terror. Pakistan suffered extremism, intolerance, terrorism, gun culture, and drug culture, promoted by the Western world. Pakistan is a victim state.
The visionary leadership in Pakistan is very much clear about the situation and determined to establish the rit of government while staying within the democratic values of our system. The recent unrest in Pakistan was a domestic issue, just like in many parts of Europe and America. The incident of Capitol Hill, Killing of Gorge Floyd, and followed continued protests and demonstrations in America; agitations, demonstrations in many parts of Europe are witnessed often, it is believed that all governments are trying to resolve their domestic issues within their Constitution. There was no external pressure on either of these governments. It is expected that let Pakistan overcome its domestic crisis, and the capable Government of PM Imran Khan has already resolved the issue amicably.
Under this scenario, the adoption of a resolution by the EU is not appreciated and, in fact, has hurt the feeling of ordinary Pakistani. It reflects the bias of EU only. A resolution presented by the extremist group should not be the voice of the whole EU. Trust, there must be many reasonable, moderate, and unbiased members in the EU parliament who think logically and rationally. The adoption of such a resolution is totally irrational, irresponsible, and against the globalization spirit.
While Pakistan is engaged to clear the mess created by Western World and almost near to succeed entirely, there is a dire need for International support, and coercion may not be fruitful at this critical moment. It is hoped that the EU may re-consider the resolution and revert it immediately. All peace-loving parliamentarians in the EU are appealed to think rationally and logically to promote international cooperation and understanding to defeat intolerance, bais, extremist, terrorism and turn the whole world into a better place to live and gift our next generation peace, stability, harmony, and prosperity.
However, Islamophobia is an international phenomenon in recent decades all over the Western World. The Prime Minister of Pakistan mentioned it in his speech at the United Nations General assembly (UNGA) last year. A similar resolution was also passed in the OIC. The whole Muslim World is worried and unhappy over blasphemy in the few western countries. There were protests and demonstrations by Muslims all over the world, with various intensities. At the same time, Muslims respect other religions and deserve to reciprocate respect for Islam.
The federal government in Pakistan has decided to address the European Parliament's reservations after the body had called for an appraisal of Pakistan's GSP Plus status. The development came after Prime Minister Imran Khan chaired a meeting involving senior ministers of the cabinet. It was called in response to a resolution approved by the European Parliament a few days ago, calling for an assessment of Pakistan's GSP Plus status. The premier stressed the government would not compromise on the laws about the finality of the Prophethood. The participants, during the meeting, decided to address the reservations of the European Union. It was also unanimously agreed that the protection of minorities in the country would be ensured. The participants believed the GSP Plus trade agreement has nothing to with blasphemy laws.
In response to the European Parliament's resolution, the Foreign Office had expressed disappointment over the development."The discourse in the European Parliament reflects a lack of understanding in the context of blasphemy laws and associated religious sensitivities in Pakistan – and the wider Muslim world. The unwarranted commentary about Pakistan's judicial system and domestic laws are regrettable," read a statement by the FO.
"Pakistan is a parliamentary democracy with a vibrant civil society, free media, and independent judiciary, which remains fully committed to the promotion and protection of human rights for all its citizens without discrimination," the Foreign Office had added.
The FO had emphasized that Pakistan is proud of its minorities who enjoy equal rights and complete protection of fundamental freedoms as enshrined in the Constitution. Judicial and administrative mechanisms and remedies are in place to guard against any human rights violations.
"Pakistan has played an active role in promoting freedom of religion or belief, tolerance, and inter-faith harmony. At a time of rising Islamophobia and populism, the international community must exhibit a common resolve to fight xenophobia, intolerance, and incitement to violence based on religion or belief and work together to strengthen peaceful co-existence."
There exist multiple mechanisms in place between Pakistan and the EU to discuss the all-inclusive spectrum of bilateral relations, including a devoted Dialogue on Democracy, Rule of Law, Governance, and Human Rights. Pakistan would continue to remain definitely engaged with the EU on all issues of mutual interest. Pakistan believes in dialogue under the charter of the UN. Pakistan desires an early dialogue and settlement of all differences amicably. Any unilateral decision may not be fruitful to either side. It is time to strengthen our ties and mutual support. Only by collective efforts may we turn this universe into a better place to live for humankind. Pakistan assures its best possible cooperation at all times and awaits reciprocity from the EU.
Religion Freedom Index of Bangladesh: Current Developments and Government Responses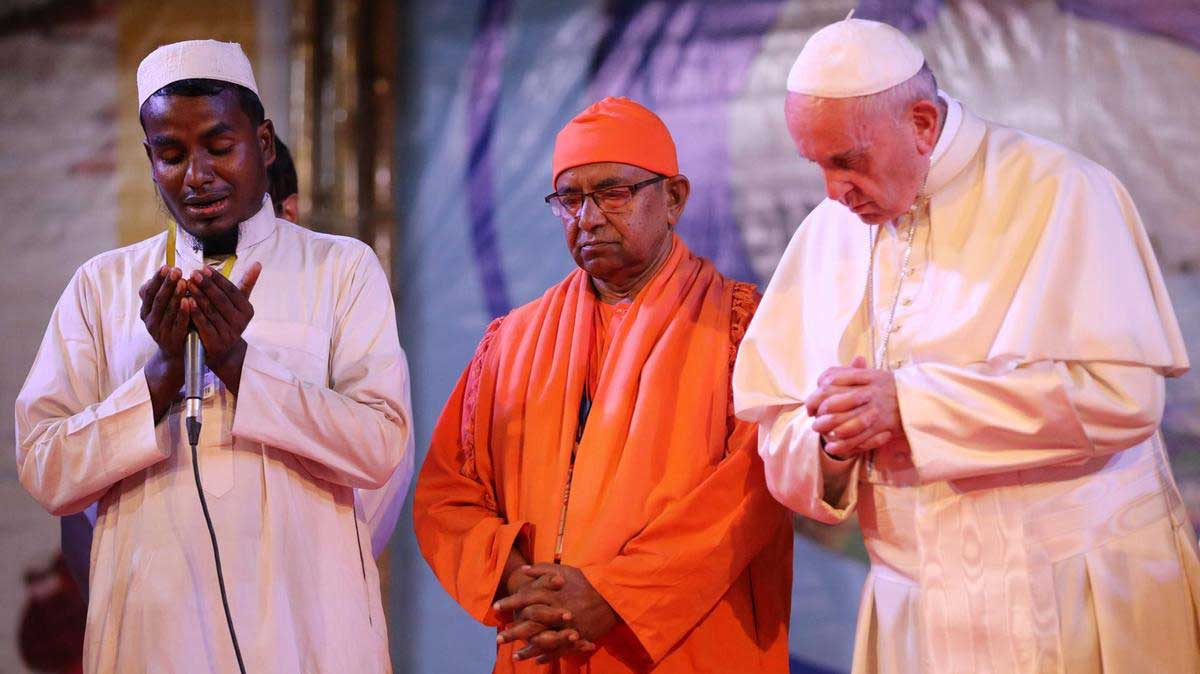 Aid to the Church in Need (ACN) recently published its annual Religious Freedom in the World 2021 Report (RFR) that scrutinizes the situation for all major religion groups in 196 countries across the world. The report found that, over the past two years, oppression against susceptible faith communities has augmented in all but one of the 26 countries listed in the survey's worst ('red') category. Bangladesh is that only country whose position on the red list of religious persecution remains unchanged.
The annual report says that religious freedom is being undermined in one out of every three countries in the world which composed two-thirds of the world population. 62 countries out of a total of 196 face severe violations of religious freedom. The situation of minorities in India and Pakistan is deteriorating further. The situation in China and Myanmar is the worst. According to the report, the situation is worse in 95 percent of the 26 countries where persecution is taking place. Nine new countries have been included in this list- seven from Africa and two from Asia.
The report on Bangladesh says that the torture of minorities has not increased in recent years but the influence of Islamic groups is increasing in the politics of Bangladesh. However, the government has been successful in subdue the influence and maintaining religious freedom. For instance, after the rise of Islam-fabric politicization leading by "Hefazat-e-Islam", the top leaders and at least 375 people nabbed for their recent violent activities. The strict position of law enforcement agencies against the rampage of the group denotes the zero-tolerance of Bangladesh government in ensuring religious freedom and upholding "secularism" which is one of the state principals of its constitution. The argument can be evident with the recent report of the European Foundation for South Asian Studies (EFSAS) titled, "Bangladesh and Pakistan: acting against extremism versus making a show of acting against extremism". Highlighting the activities of the Islamist group Hefazat-e-Islam (HIB) in Bangladesh and the radical Tehreek-e-Labbaik (TLP) in Pakistan, the report comments that Bangladesh government has been making "noticeable progress in dealing with the radical Islamist HIB whereas Pakistan has floundered dramatically in its inconsistent, ill-considered and ill-implemented attempts to pacify the TLP". Besides, the initiatives of the Bangladesh government in protecting the minority rights are so much praiseworthy.
According to the 2019 Report on International Religious Freedom of US Department of State, to advocate the minority rights and to foster religious tolerance, Bangladesh government has taken a number of initiatives such as-
•Providing guidance to imams throughout the country to prevent militancy and monitoring mosques for "provocative messaging".
•Deploying law enforcement personnel at religious sites, festivals, and events considering potential violence. The Economic Times reported that 30,000 and 31,272Durga Pujas were organized across the country in 2017 and 2018 respectively without any security issue.
•Zero-tolerance to Islamic militancy. For instance, Special Tribunal convicted and sentenced to death seven of eight defendants who were accused in the 2016 killings of 22 mostly non-Muslim individuals at the Holey Artisan Bakery in Dhaka.
•Offering stipends to students from the minority groups in the primary and secondary level; and
•Providing funds for minority rituals and social activities.
Most importantly, Bangladesh ensures a level playing field in the employment sectors and a viable people-to-people contact. 'Dhormo Jaar Jaar, Utsob Shobar,' (Religion for own, but festivals for all" is a testimony of its secular values and communal harmony. The ACN report itself showed, in Bangladesh, where due to fear of infection, minority faith groups were incapable of offering the last rites to family members, an Islamic charity buried not only Muslim but also Hindu and Christian victims of COVID-19. Besides, reliefs were equally provided to every sector of the society regardless of their race or religion.
To conclude, Bangladesh always believes in fraternity beyond ethno-religious affiliations and practiced secularism in daily life throughout the history. But at present, due to the rise of right-wing populist politics both at regional and global level and rise of fundamentalism, religious harmony in Bangladesh is also affected. However, comparatively, Bangladesh is doing better than many regional states and the country is destined to overcome the challenges in near future due to the pro-active role of the government in this regard.