New York City attracts entrepreneurial and creative minds, and it, therefore, makes perfect sense that it boasts comfortable spaces and lounge for individuals to launch their ideas into action. There has been a surge in coworking spaces which have redefined how and where professional can operate.
As alternatives to coworking spaces, and conventional offices, these stunning coworking spaces are distinct spots for innovation that offer comfortable settings for getting projects done as well as networking opportunities. All users subscribe for membership, with the subscriptions depending on whether they want to reserve a working space or hot desking.
New York City has numerous such spaces, and you, therefore, need to zero in on your search by concentrating on the amenities that suit you, like 24/7 access to the work environments, snacks, furnishing, drinks, printing and mailing services, and transport proximity among others.
Whether you are searching for a technical savvy and enhanced setting or a cool, distinct spot, New York has an assortment of working centres to suit your preferences. Here is a list of the best coworking New York spaces for writers.
WeWork: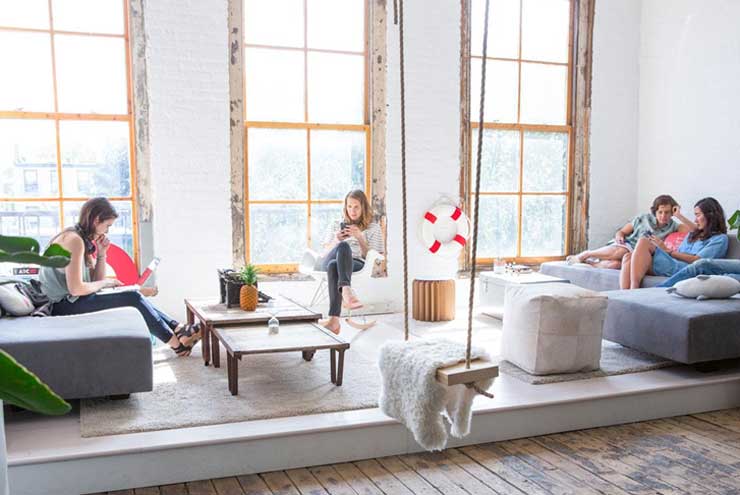 This is arguably the coworking phenomenon in New York. WeWork emphasizes both convenience and community, with distinct custom spaces for part-time, remote employees not to mention full-sized companies. With more than 50 locations sprinkled across the State, including New York, Manhattan, and Brooklyn, this is ideally the place to be for writers.
WeWork spaces are conveniently situated alongside major subway lines, fashionable shops, and commercial districts. As a member, you will gain access to amenities like coffee, 24/7 s access, fruit-infused water, printing services, office supplies, and daily cleaning, among others. Therefore, depending on your subscription, there are various add-ons for booking conference rooms and mailing services.
What particularly sets this space apart is their exclusive Hot Desk provision, which is a setting where multiple users work in a single workspace during varying periods. This option comes with a $300 monthly subscription that can sometimes go up to around $600 in a number of the New York WeWork locations. As a member, you can work in virtually any site which features hot desk option.
Besides the hot desk feature, you can also pick from several other premium plans like private offices, custom build-outs, as well as dedicated desks. However, the cost is dependent on the precise location.
Spacious:
Are you looking for a reprieve from crowded and noisy cafes with excellent internet/Wi-Fi connection, outside from your usual working spot? Well, if so, Spacious is your place to go. This company renovates unused restaurants to transform them into convenient workspaces for remote workers and freelancers. Most of the Spacious' locations operate from Monday through to Friday.
Boasting 14 locations across New York including in Chelsea, Nolita, and Bowery, subscriptions for this spot cost just $99 per month for annual plans. Some of the basic amenities include outlet, tea, coffee, and Wi-Fi outlet. While Spacious does not offer as ample resources as typical corporate coworking spaces, they, however, afford ample room and communal setting where you can pay to do assignment here or write your paper on your own but to maintain your levels of productivity during standard business hours.
Green Desk:
This is a modern, biologically responsible co-working space within New York City that boasts 10 locations across Long Island and Brooklyn City. This spot prioritizes sustainability in multiple varied ways. Also, it renovates its structures with recycled aluminum and glass and utilizes a blend of traditional and renewable energy sources for green energy certification (GEE). Green Desk also provides green cleaning and office products as well as utilizes energy-efficient LED and CFL lights that function with monitor sensors.
Green Desk also offers other multiple amenities such as a cafeteria famous for serving organic coffee, reliable and fast internet connection, and a distinct outdoor patio. It boasts over 5000 members across various fields including freelance writers, owners of small businesses, and many independent artists.
Their private offices have a $350 monthly subscription as well as a hot desk for a monthly fee of $199 or $30 per day. Low-tiered, standard plans provide distinct access with some more optimal programs that afford 24/7 key-card access having around the clock security.
The Farm:
The Farm, which is situated in the trendy New York neighborhood of SoHo, is famous for its unique blend of advanced technology and rustic features. Anyone looking to escape the typical chaos that comes with the city will delight in this spot's natural wood furnishings and designs originating from the barn decor.
Besides the fantastic design, this resource centre features fanciful amenities that include a hideaway tree-house and nap room. What's more, it houses the distinct Blueprint Health accelerator, which is an advantage of any individuals within the healthcare industry for the programming and networking opportunities available.
As for the subscription, private desks will cost you $345 a month, whereas the shared desks ask for around $179 per month. You can alternatively dish out a daily fee of $25, allowing you discounted conference room access. Similarly, large team private offices mandate for a monthly cost of $550. As a member, you will receive 24/7 access, in addition to conference rooms and printing services.
Voyager HQ:
Voyager HQ is a modern gathering spot ideal for writers and other professionals looking to network. Situated within the Chelsea neighbourhood, this is a perfect coworking spot to acquire distinct expert knowledge as well as interact with various partners and investors.
This company boasts an expansive network that includes 150 start-ups across the globe. It distinct spaces include 50 dedicated working desks, several meeting rooms, three private offices, and a kitchen. With their exclusive events like roundtable discussions and happy hour, it makes it easier to interact with various other professionals.
Also on the list of member amenities are coffee, Wi-Fi, and printing access. The monthly cost of month to month desks is $249 while you can pay $799 for dedicated clubhouse membership that covers four months. The latter option comes with various perks, including personal lockers, physical mail address, 12 hours per month worth of private meeting room, not to mention first-hand access to corporate partners and investors.
Finally, their free digital subscription affords opportunities to link up with partners and investors, access to job postings on the Voyager board, and three days every three months at their clubhouse.
Galvanize
New York's West SoHo neighborhood is home to another amazing spot, Galvanize that was established in 2016. With its 9th campus, they have provided ample coworking space measuring 6,000 feet. This campus offers various amenities including bike storage, private phone booths, workshop and mentor workshop programs, conference rooms, free printing, locally-sourced coffee, and onsite staff.
Galvanize provides networking, educational, entrepreneurial, and training spot for freelancers like online writers and entrepreneurs for coworking. They offer various programs like boot camps and meet-ups. This is a hub where there are various job opportunities for writers, considering the numerous tech entrepreneurs present.
Many acclaimed tech firms host events and partnerships here like the innovation lab launch for Bluemix Garage by IBM. If you want more information about their coworking charges, visit their website and fill out their inquiry form.
Regus
For any writer looking for coworking space in New York, Regus is another excellent option. It combines flexibility, accessibility, convenience, and competitive prices to create the ideal conditions for coworking.
Regus is famous around the world with more than 3000 locations, with New York being one of the places with most hubs. It has a lounge-only subscription that is perfect for locals and travelers who want to work between areas within their home vicinity.
Regus charges a daily fee of $25 for day to day users. You can also choose the Virtual offices option that costs around $141 a month, which includes office services and business address.
The precise location determines the prices of private offices and desks. Your membership status also affords you various perks like access to a phone and business number, call answering, and mail forwarding and receipt. Moreover, you enjoy typical business amenities (like Wi-Fi access, AV hardware printing, light catering, and fax) not to mention access to more offices, as well as their networking events.
Neuehouse
A sprawling and chic establishment for the curious and ambitious, the Neuehouse is among the most excellent networking spots in New York for writers. Here, you will come across an assortment of individuals from a wide array of disciplines including freelance writers, architects, filmmakers, designers, and fashion professionals.
The five-floor ritzy Neuehouse space situated in Madison Square Park boasts creative types owing to their distinct amenities designed to boost coworking productivity. This space affords standard services, including printing, access to meeting rooms, and Wi-Fi. However, depending on how much you pay, you can enjoy multiple luxurious perks such as happy hour, cultural programming, beverage and food counters, artisan roasted coffee, ad art exhibitions.
What's more, other amenities include productive in-house services, Linus bikes, and noise-canceling headphones, among many others. Each of these extra programs and services enables users to create an active, creative ecosystem. Their monthly fees are usually between $150 designed for communal working spaces and private studios at $4,500.
A/D/O, Greenpoint
This new and stunning creative hub in Brooklyn, which was established by MINI is a unique blend of 'Design Academy' slate incorporates with a restaurant, workspace, and design store.
Architects have ideally preserved the elements of the original warehouse and ideally designing distinct new features like mirrored 'periscope' skylight. This hub is structured for all sorts of professionals seeking stimulation as well as distinctive lab access.
Camp David
This Sunset Park creative hub is arguably the most-buzzed in Brooklyn. It is a 40,000 sq foot establishment founded by Erez Shternlicht and Mazdack Rassi. These individuals instilled their industrial complex featuring an assortment of amenities combines with the unique clean-lined zing of modern midcentury design.
Ideally, when you think of this spot, think Heath Ceramics tableware distributes in their onsite coffee bar and cafe, some amazing Jean Prouvé chairs, and some stunning Greta Grossman desk lamps.
It is best for freelancers and creative's looking for a distinct working space that you never have to leave. They have various daily and monthly plans that offer you access to floating and assigned desks and private offices.
The Wing, Flatiron
The Wing is an innovative co-working hub located on the outskirts of Penthouse in New York. Ideally, this creative working space was established to create a unique multipurpose setting for women, with the purpose of its establishment being to make women's lives much more comfortable. According to the founders, magic happens when women come together.
It is a member's only Tumblr pink establishment popularly referred to as 'clubhouse in the sky' whose founders are native New Yorkers Lauren Kassan and Audrey Gelman. This is in addition to CdR & Co's Hilary Koyfman and Chiara De Rege who collectively designed this picturesque social and workspace.
Besides the typical working and social hub characteristic, this spot also features other distinct amenities such as a library (ideally curated by RH Lossin, a renowned writer), not to mention on-demand blowouts and makeup. The library, however, only allows female authors, a specification that relates to the initial goal of the establishment's construction.
It is best suited for writers and other freelance workers looking for both connection and convenience in a homely setting away from the typical home atmosphere. To enjoy their services, you must apply for membership.
CONCLUSION
A new and upcoming crop of creative and freelance workers expect much more than bland 'centers of business' and sterile setups and office spaces. Currently, they would instead make their stop at an expanding assortment of coworking spaces designed and purposed to increase productivity as well as cultivate a sense of community.
Driven by some new and unique models that feature the perks popular with private services and clubs, New York is home to multiple flourishing coworking spaces that offer options for virtually any preference, budget, and industry.
These settings provide a professional, free, and bustling environment for optimal productivity and interaction. If you are looking for the best coworking New York spaces for writers, then these few options are worth checking out.
Global Policy-makers Face Complex Set of Divergent Economic Challenges in Coming Year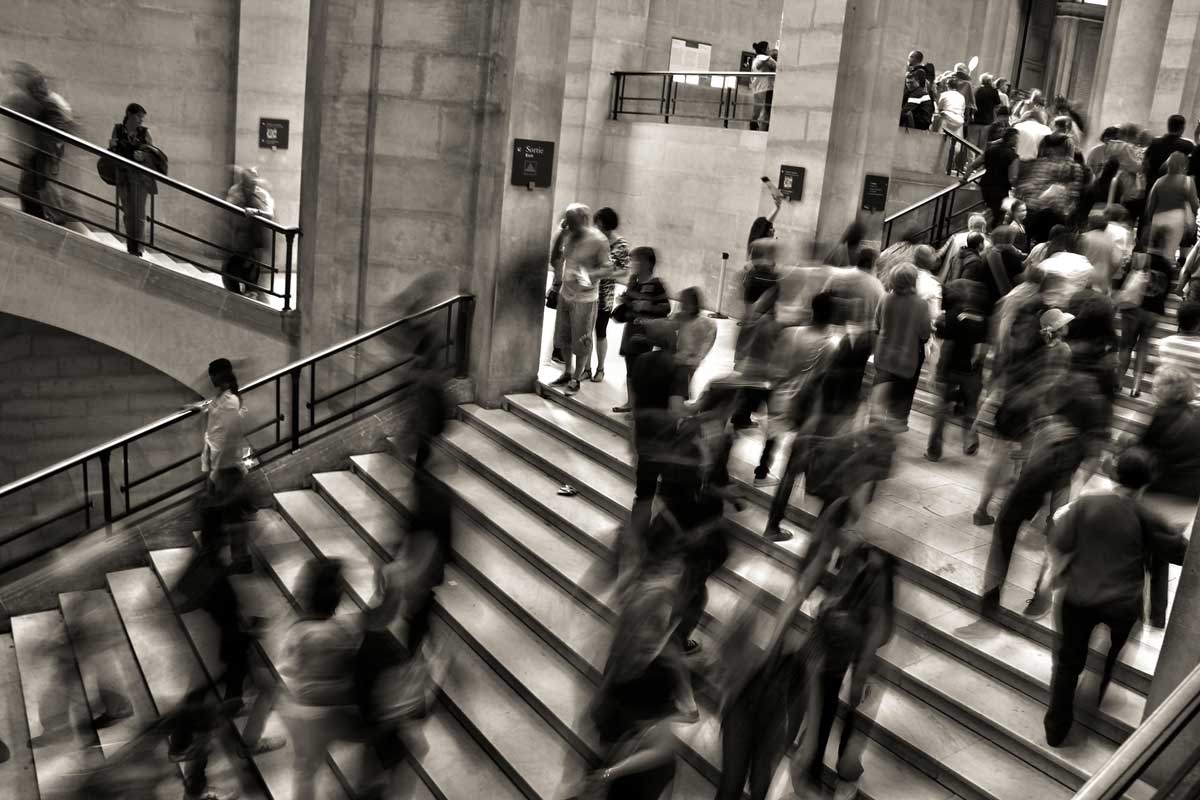 From the impact of a new COVID variant to continued inflation, governments will continue to face economic challenges in 2022. In a session on the global economic outlook, policy-makers outlined their immediate and long-term actions to stabilize the global economy to business, government and civil society leaders taking part in the World Economic Forum's virtual event, the Davos Agenda.
Kristalina Georgieva, Managing Director of the International Monetary Fund, emphasized that the response to the pandemic crisis has been anything but orthodox. "In a highly coordinated fashion, the world central banks and fiscal authorities have prevented the world falling into another great depression," she said.
"Policy flexibility is critical in 2022 – persistent inflation, record fiscal debt levels and COVID-19 combine to present a complex obstacle course for policy-makers," she added. In particular, vaccination rates represent a dangerous divergence between countries; more than 86 countries did not meet end-of-year vaccination targets."
Georgieva expects the economic recovery will continue in 2022, but she cautioned: "It is losing momentum amid persistent inflation and record debt levels which now exceed $26 trillion." More than 60% of developing countries are heading towards debt distress", she said, more than twice as many as a few years ago.
Christine Lagarde, President of the European Central Bank, said that during the COVID-19 crisis, monetary and fiscal policies joined hands to respond exceptionally to the pandemic. "In Europe, so far, we are not seeing inflationary pressure spiral out of control. We see wages and energy prices stabilizing from the middle of the year as bottlenecks reduce and wage inflation normalizes."
She added: "In Europe we are unlikely to see the kind of inflation increases that the US is experiencing; demand and employment participation are only just returning to the pre-pandemic levels." She stressed that "Europe is stronger and more united than it was before the pandemic and we will act if we need to."
Kuroda Haruhiko, Governor of Bank of Japan, said Japan has been relatively successful in minimizing the death rate from COVID-19, although the economic recovery is still lagging. "Public sector debt in Japan is now well over 200% of GDP," he said, "but the government projects a primary surplus from 2025, hence thereafter public debt should decline."
He was optimistic about progress so far. "The Bank of Japan's accommodative monetary policy has been working well and the Japanese economy is now emerging from the spectre of 15 years of deflation." He went on to say: "In Japan we expect an inflation rate of about 1% in 2022 and the Bank of Japan will continue our stimulative monetary policy"
Sri Mulyani Indrawati, Minister of Finance of Indonesia, revealed that the country should see a strong recovery in 2022. "To build on this, we are expecting more than 1% of additional GDP growth from a series of recent reforms."
She said that Indonesia is the largest economy in the ASEAN region but "it is vulnerable to a dependence on commodities – the emphasis now is on value-added activities". She added: "We are improving Indonesia's investment environment with a comprehensive reform package on tax, regulation and incentives."
Paulo Guedes, Minister of Economy of Brazil, said his country's economy is bouncing back strongly and economic output is already above the pre-pandemic level.
"Do not underestimate Brazil's resilience," he said. "The country's debt to GDP ratio has stabilized at around 80%, well less than widespread fears that debt/GDP could exceed 100%." He pointed out that more than 3 million new jobs were created in 2021 and the government has assisted 68 million Brazilians with direct income transfers.
He was less upbeat about inflation. "Central Bankers are asleep at the wheel – inflation will be a persistent problem for the western world. Inflationary pressures will not be transitory."
Afghanistan: 500,000 jobs lost since Taliban takeover
More than half a million people have lost or been pushed out of their jobs in Afghanistan since the Taliban takeover, the UN International Labour Organization (ILO) said on Wednesday.
In a warning that the economy has been "paralyzed" since the de facto authorities took control last August, ILO said that there have been huge losses in jobs and working hours.
Women have been hit especially hard.
By the middle of this year, it's expected that job losses will increase to nearly 700,000 – with direst predictions topping 900,000 – as a result of the crisis in Afghanistan and "restrictions on women's participation in the workplace".
Gender gap
Women's employment levels are already extremely low by global standards, but ILO said that they are estimated to have decreased by 16 per cent in the third quarter of 2021, and they could fall by between 21 per cent and 28 per cent by mid-2022.
"The situation in Afghanistan is critical and immediate support for stabilization and recovery is required," said Ramin Behzad, Senior Coordinator of the International Labour Organization (ILO) for Afghanistan. "While the priority is to meet immediate humanitarian needs, lasting and inclusive recovery will depend on people and communities having access to decent employment, livelihoods and basic services."
Hundreds of thousands of job losses have been seen in several key sectors which have been "devastated" since the takeover, ILO said.
These include agriculture and the civil service, where workers have either been let go or left unpaid. In construction, the sector's 538,000 workers – of which 99 per cent are men – have suffered too, as major infrastructure projects have stalled.
Forces sapped
The Taliban takeover has also led to "hundreds of thousands" of Afghan security force members losing their job, said ILO, noting that teachers and health workers have been deeply impacted by the lack of cash in the economy, amid falling international donor support.
As the crisis continues to unfold, ILO explained that the Taliban capture of Kabul on 15 August, threatened hard-fought development gains achieved over the past two decades.
Domestic markets have been "widely disrupted", the UN agency said, while productive economic activity has dropped, which has in turn driven up production costs.
At the same time, because Afghanistan's reported $9.5 billion in assets have been frozen, "foreign aid, trade and investment…have been severely impacted", ILO continued, pointing to cash shortages and restrictions on bank withdrawals, causing misery for businesses, workers and households.
Kids pay price
The lack of work also threatens to worsen child labour levels in Afghanistan, where only 40 per cent of children aged five to 17 years old attend school.
In absolute numbers, ILO noted that there are more than 770,000 boys and about 300,000 girls involved in child labour.
The problem is worst in rural areas – where 9.9 per cent, or 839,000 children – are much more likely to be in child labour compared to those in urban areas (2.9 per cent or 80,000).
To support the Afghan people this year, the UN's top priorities are to provide lifesaving assistance, sustain essential services and preserve social investments and community-level systems which are essential to meeting basic human needs.
In support of this strategy, the ILO has pledged to work with employers and trade unions to promote productive employment and decent work.
The organisation's focus is in four key areas: emergency employment services, employment-intensive investment, enterprise promotion and skills development, while respecting labour rights, gender equality, social dialogue, social protection,elimination of child labour and disability inclusion.
Construction PPE: What and when to use
Personal protective equipment is essential for construction sites. Every workplace has hazards – from offices to classrooms. However, a construction site has far more hazards than most, and extra caution must be applied. PPE can help keep everyone safe and secure, even when close to a hazard factor. Your employer should provide high-quality PPE to everyone on site. When selecting equipment, use a construction PPE supplier that is CE marked.
How to use PPE
Personal protective equipment is designed to protect you from potential hazards. For example, face masks and eye goggles are worn around toxic chemicals or contaminated air. PPE must fit correctly to be as efficient and safe as possible. A loose-fitting face mask could allow dust particles to squeeze through the gaps. Or ill-fitting thermal trousers could get caught/snag on edges or trail along the ground and cause the worker to fall over. Your PPE needs to be in good condition as well – If there are holes, rips and signs of wear on your PPE, it should be immediately replaced. It is your employer's responsibility to provide adequate PPE.
PPE is a last resort
PPE is not the only safety measure that needs to be taken. Your employer should reduce the risks on site where possible. For example, a hazardous area should be signposted, and every employee should be trained properly. Every employee should go through health and safety training alongside frequent refresher courses. All employees should be trained in using the machinery on site before they begin operating it. PPE cannot protect someone who does not know how to act safely on site.
What types of PPE are used on-site?
Protective gloves should be worn when handling heavy machinery and sharp tools. The gloves need to allow enough mobility and flexibility so the individual can continue to work. Gloves can also help you grip heavy items and protect you from cold winter conditions.
A tool lanyard is useful for when you are working at a height. The lanyard connects to your wrist so you can carry lightweight tools. For heavier tools, you can use a stronger tether point, like your waist.
High – visibility clothing should be mandatory when working, especially at night. Everyone should wear high visibility clothing on-site, so they are noticeable by moving vehicles. Depending on the weather, you could go for a vest or thick coat.
Stay safe and wear personal protective equipment on construction sites.