New York City attracts entrepreneurial and creative minds, and it, therefore, makes perfect sense that it boasts comfortable spaces and lounge for individuals to launch their ideas into action. There has been a surge in coworking spaces which have redefined how and where professional can operate.
As alternatives to coworking spaces, and conventional offices, these stunning coworking spaces are distinct spots for innovation that offer comfortable settings for getting projects done as well as networking opportunities. All users subscribe for membership, with the subscriptions depending on whether they want to reserve a working space or hot desking.
New York City has numerous such spaces, and you, therefore, need to zero in on your search by concentrating on the amenities that suit you, like 24/7 access to the work environments, snacks, furnishing, drinks, printing and mailing services, and transport proximity among others.
Whether you are searching for a technical savvy and enhanced setting or a cool, distinct spot, New York has an assortment of working centres to suit your preferences. Here is a list of the best coworking New York spaces for writers.
WeWork: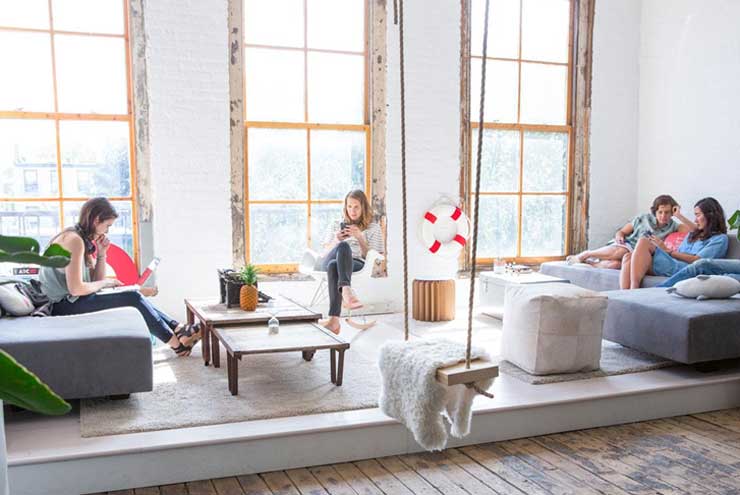 This is arguably the coworking phenomenon in New York. WeWork emphasizes both convenience and community, with distinct custom spaces for part-time, remote employees not to mention full-sized companies. With more than 50 locations sprinkled across the State, including New York, Manhattan, and Brooklyn, this is ideally the place to be for writers.
WeWork spaces are conveniently situated alongside major subway lines, fashionable shops, and commercial districts. As a member, you will gain access to amenities like coffee, 24/7 s access, fruit-infused water, printing services, office supplies, and daily cleaning, among others. Therefore, depending on your subscription, there are various add-ons for booking conference rooms and mailing services.
What particularly sets this space apart is their exclusive Hot Desk provision, which is a setting where multiple users work in a single workspace during varying periods. This option comes with a $300 monthly subscription that can sometimes go up to around $600 in a number of the New York WeWork locations. As a member, you can work in virtually any site which features hot desk option.
Besides the hot desk feature, you can also pick from several other premium plans like private offices, custom build-outs, as well as dedicated desks. However, the cost is dependent on the precise location.
Spacious:
Are you looking for a reprieve from crowded and noisy cafes with excellent internet/Wi-Fi connection, outside from your usual working spot? Well, if so, Spacious is your place to go. This company renovates unused restaurants to transform them into convenient workspaces for remote workers and freelancers. Most of the Spacious' locations operate from Monday through to Friday.
Boasting 14 locations across New York including in Chelsea, Nolita, and Bowery, subscriptions for this spot cost just $99 per month for annual plans. Some of the basic amenities include outlet, tea, coffee, and Wi-Fi outlet. While Spacious does not offer as ample resources as typical corporate coworking spaces, they, however, afford ample room and communal setting where you can pay to do assignment here or write your paper on your own but to maintain your levels of productivity during standard business hours.
Green Desk:
This is a modern, biologically responsible co-working space within New York City that boasts 10 locations across Long Island and Brooklyn City. This spot prioritizes sustainability in multiple varied ways. Also, it renovates its structures with recycled aluminum and glass and utilizes a blend of traditional and renewable energy sources for green energy certification (GEE). Green Desk also provides green cleaning and office products as well as utilizes energy-efficient LED and CFL lights that function with monitor sensors.
Green Desk also offers other multiple amenities such as a cafeteria famous for serving organic coffee, reliable and fast internet connection, and a distinct outdoor patio. It boasts over 5000 members across various fields including freelance writers, owners of small businesses, and many independent artists.
Their private offices have a $350 monthly subscription as well as a hot desk for a monthly fee of $199 or $30 per day. Low-tiered, standard plans provide distinct access with some more optimal programs that afford 24/7 key-card access having around the clock security.
The Farm:
The Farm, which is situated in the trendy New York neighborhood of SoHo, is famous for its unique blend of advanced technology and rustic features. Anyone looking to escape the typical chaos that comes with the city will delight in this spot's natural wood furnishings and designs originating from the barn decor.
Besides the fantastic design, this resource centre features fanciful amenities that include a hideaway tree-house and nap room. What's more, it houses the distinct Blueprint Health accelerator, which is an advantage of any individuals within the healthcare industry for the programming and networking opportunities available.
As for the subscription, private desks will cost you $345 a month, whereas the shared desks ask for around $179 per month. You can alternatively dish out a daily fee of $25, allowing you discounted conference room access. Similarly, large team private offices mandate for a monthly cost of $550. As a member, you will receive 24/7 access, in addition to conference rooms and printing services.
Voyager HQ:
Voyager HQ is a modern gathering spot ideal for writers and other professionals looking to network. Situated within the Chelsea neighbourhood, this is a perfect coworking spot to acquire distinct expert knowledge as well as interact with various partners and investors.
This company boasts an expansive network that includes 150 start-ups across the globe. It distinct spaces include 50 dedicated working desks, several meeting rooms, three private offices, and a kitchen. With their exclusive events like roundtable discussions and happy hour, it makes it easier to interact with various other professionals.
Also on the list of member amenities are coffee, Wi-Fi, and printing access. The monthly cost of month to month desks is $249 while you can pay $799 for dedicated clubhouse membership that covers four months. The latter option comes with various perks, including personal lockers, physical mail address, 12 hours per month worth of private meeting room, not to mention first-hand access to corporate partners and investors.
Finally, their free digital subscription affords opportunities to link up with partners and investors, access to job postings on the Voyager board, and three days every three months at their clubhouse.
Galvanize
New York's West SoHo neighborhood is home to another amazing spot, Galvanize that was established in 2016. With its 9th campus, they have provided ample coworking space measuring 6,000 feet. This campus offers various amenities including bike storage, private phone booths, workshop and mentor workshop programs, conference rooms, free printing, locally-sourced coffee, and onsite staff.
Galvanize provides networking, educational, entrepreneurial, and training spot for freelancers like online writers and entrepreneurs for coworking. They offer various programs like boot camps and meet-ups. This is a hub where there are various job opportunities for writers, considering the numerous tech entrepreneurs present.
Many acclaimed tech firms host events and partnerships here like the innovation lab launch for Bluemix Garage by IBM. If you want more information about their coworking charges, visit their website and fill out their inquiry form.
Regus
For any writer looking for coworking space in New York, Regus is another excellent option. It combines flexibility, accessibility, convenience, and competitive prices to create the ideal conditions for coworking.
Regus is famous around the world with more than 3000 locations, with New York being one of the places with most hubs. It has a lounge-only subscription that is perfect for locals and travelers who want to work between areas within their home vicinity.
Regus charges a daily fee of $25 for day to day users. You can also choose the Virtual offices option that costs around $141 a month, which includes office services and business address.
The precise location determines the prices of private offices and desks. Your membership status also affords you various perks like access to a phone and business number, call answering, and mail forwarding and receipt. Moreover, you enjoy typical business amenities (like Wi-Fi access, AV hardware printing, light catering, and fax) not to mention access to more offices, as well as their networking events.
Neuehouse
A sprawling and chic establishment for the curious and ambitious, the Neuehouse is among the most excellent networking spots in New York for writers. Here, you will come across an assortment of individuals from a wide array of disciplines including freelance writers, architects, filmmakers, designers, and fashion professionals.
The five-floor ritzy Neuehouse space situated in Madison Square Park boasts creative types owing to their distinct amenities designed to boost coworking productivity. This space affords standard services, including printing, access to meeting rooms, and Wi-Fi. However, depending on how much you pay, you can enjoy multiple luxurious perks such as happy hour, cultural programming, beverage and food counters, artisan roasted coffee, ad art exhibitions.
What's more, other amenities include productive in-house services, Linus bikes, and noise-canceling headphones, among many others. Each of these extra programs and services enables users to create an active, creative ecosystem. Their monthly fees are usually between $150 designed for communal working spaces and private studios at $4,500.
A/D/O, Greenpoint
This new and stunning creative hub in Brooklyn, which was established by MINI is a unique blend of 'Design Academy' slate incorporates with a restaurant, workspace, and design store.
Architects have ideally preserved the elements of the original warehouse and ideally designing distinct new features like mirrored 'periscope' skylight. This hub is structured for all sorts of professionals seeking stimulation as well as distinctive lab access.
Camp David
This Sunset Park creative hub is arguably the most-buzzed in Brooklyn. It is a 40,000 sq foot establishment founded by Erez Shternlicht and Mazdack Rassi. These individuals instilled their industrial complex featuring an assortment of amenities combines with the unique clean-lined zing of modern midcentury design.
Ideally, when you think of this spot, think Heath Ceramics tableware distributes in their onsite coffee bar and cafe, some amazing Jean Prouvé chairs, and some stunning Greta Grossman desk lamps.
It is best for freelancers and creative's looking for a distinct working space that you never have to leave. They have various daily and monthly plans that offer you access to floating and assigned desks and private offices.
The Wing, Flatiron
The Wing is an innovative co-working hub located on the outskirts of Penthouse in New York. Ideally, this creative working space was established to create a unique multipurpose setting for women, with the purpose of its establishment being to make women's lives much more comfortable. According to the founders, magic happens when women come together.
It is a member's only Tumblr pink establishment popularly referred to as 'clubhouse in the sky' whose founders are native New Yorkers Lauren Kassan and Audrey Gelman. This is in addition to CdR & Co's Hilary Koyfman and Chiara De Rege who collectively designed this picturesque social and workspace.
Besides the typical working and social hub characteristic, this spot also features other distinct amenities such as a library (ideally curated by RH Lossin, a renowned writer), not to mention on-demand blowouts and makeup. The library, however, only allows female authors, a specification that relates to the initial goal of the establishment's construction.
It is best suited for writers and other freelance workers looking for both connection and convenience in a homely setting away from the typical home atmosphere. To enjoy their services, you must apply for membership.
CONCLUSION
A new and upcoming crop of creative and freelance workers expect much more than bland 'centers of business' and sterile setups and office spaces. Currently, they would instead make their stop at an expanding assortment of coworking spaces designed and purposed to increase productivity as well as cultivate a sense of community.
Driven by some new and unique models that feature the perks popular with private services and clubs, New York is home to multiple flourishing coworking spaces that offer options for virtually any preference, budget, and industry.
These settings provide a professional, free, and bustling environment for optimal productivity and interaction. If you are looking for the best coworking New York spaces for writers, then these few options are worth checking out.
How to Make Your Hospitality Business More Sustainable
Climate change and its impact on the world has been a major news story for decades, but it's only in recent years that awareness has been pushed to the fore. This is thanks to the actions of activists such as Greta Thunberg and Sir David Attenborough.
However, it's also because 2020 was the joint hottest year on record, tying with 2016 – although, unlike 2016, there was no El Nino event last year to contribute to these temperatures.
While there is pressure on companies to play their part and think more sustainably, there are things that smaller businesses can do too. As someone who runs a hospitality business, you can make operations more environmentally aware. If you want to think green, here are some ideas to help.
Consider the materials
How much paper does your business use? There's a real trend for cardboard menus and paper flyers showcasing the latest dining deals. Hotel rooms are filled with directories and leaflets, too – and these need replacing when they get tatty.
To resolve the issue, try switching to digital. Create online menus that diners can access, have a screen detailing the latest meal deals and specials, and introduce tablets to bedrooms in your hotel. If you're reluctant to include tablets, try creating a directory on the TV where guests can browse the services your hotel offer, from breakfast serving times to the food on offer.
Rethink utilities
How much electricity does your business use a day? How much water is wasted?
Try looking at introducing motion sensitive lighting to avoid empty rooms being lit. Also, while it can be tricky to encourage guests to think about the water they use, you can get your staff to set an example by switching off taps when not in use. Even small changes can both save energy and money.
Manage waste
Hospitality businesses see a lot of waste, especially hotels. There's paper waste, bottles, and food waste to consider, among other things.
Having a robust recycling system in place can help to keep your business sustainable. Introduce recycling bins in guest bedrooms and have these in offices too to encourage best practice.
Additionally, separate food waste bins for your restaurant are an essential part of waste management. By keeping food waste separate, it can be easily removed from the premises.
As with any waste management, there are risks here. Staff could cut themselves on glass or encounter other injuries, so think about how to keep your team safe while they do their job. Arm protection and overalls, for instance, can be useful.
Look at the décor
As well as the day-to-day operations in your business, it's worth thinking about the materials used in the design and décor. Where possible, try to source reclaimed furniture and trawl the vintage and flea markets for beautiful pieces that could work well in your hotel foyer or guest rooms.
By taking the time to reassess the way your business runs, you could find that you're lowering your carbon footprint and becoming more sustainable.
Uzbekistan Continues to Modernize its Tax Administration System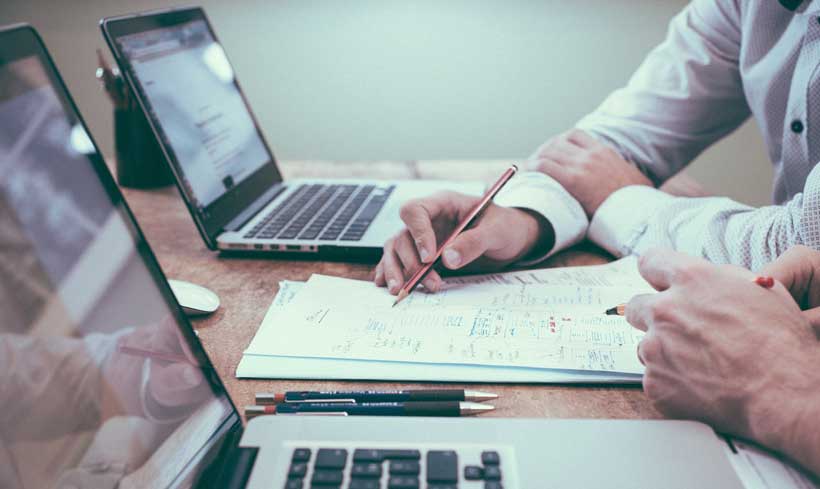 The World Bank's Board of Executive Directors approved today the Tax Administration Reform Project in Uzbekistan, which is designed to improve the operational efficiency and effectiveness of the State Tax Committee (STC) and deliver better services to local taxpayers.
The project will be supported by a $60 million concessional credit from the International Development Association (IDA), with financing provided to the Government at a very low-interest rate and a repayment period of 30 years.
"The Government of Uzbekistan has prioritized reforms in the tax administration system to create a better business and investment environment. The new project will help the STC improve its work in the interest of taxpayers," said Marco Mantovanelli, World Bank Country Manager for Uzbekistan. "In particular, the project will allow to broaden the tax base, leading to a reduction in the informal sector of the economy, which is estimated to be around 50% of GDP; to increase tax revenues; and to help firms and companies create new jobs, benefiting from a more efficient tax administration system."
The project includes three key components directed at improving the STC's operational, institutional, technological and human resource capacities, and promoting voluntary compliance across Uzbekistan.
Component 1 will invest in automating the STC's core tax administration business processes. This includes developing the STC's new tax management information system to reduce paperwork and simplify the process of paying taxes by businesses and individuals countrywide; upgrading hardware and technological infrastructure; creating a new data center for the STC; and improving governance and the planning capacity of the STC's IT department.
Component 2 will assist with designing and implementing measures to reduce the informal sector of the economy. This includes improving the STC's enforcement capabilities to detect and discourage tax evasion; encouraging businesses to stay out of the shadows, including through the use of non-tax incentives; and developing cooperative relationships with the private sector, including through designing new or simplified tax policies and procedures and building partnerships to change taxpayers' behavior.
Component 3 aims to strengthen the STC's human resource and institutional capacities to attract, develop, and retain skilled and knowledgeable tax officials. This includes improving STC's human resources management policies and building capacity through the continuous professional development of tax officials.
Top 5 Examples of Best Nonprofit Grant Proposals
Introduction
Compiling a grant proposal is a complicated task. Nonprofits have to conduct ample amounts of research, create multiple drafts and compile everything to fit the criteria of the grant foundation. The odds of getting your proposal accepted are already stacked against you and the best way to ensure success is by staying prepared. One way you can make your grant proposal air-tight is by reviewing successful grant proposals. You can add points from previously successful documents to strengthen your case.
Preparation is key
Drafting a grant proposal can be a lengthy process. It is a good idea to start gathering data and reviewing it beforehand. Reviewing successful grant proposals can help you get new ideas and perhaps, inspiration even. You can find a list of effective examples on the internet and we have compiled a few here to make things easy for you.
5 Examples of effective grant proposals
To ease the understanding, the examples are divided as per the sectors for which nonprofits often work.
Education
Education is a key foundation for society and if you are looking to seek a grant to support an educational initiative, this particular example might be conveniently helpful.
Salem Education Foundation: This particular grant was submitted by a school that sought to receive funding for enriched learning opportunities that lay beyond the scope of a conventional classroom. This particular grant proposal was written for history students of the school.
Youth
Children can be the most at-risk group of society and there are a multitude of nonprofits that aim to help them. Consequently, there are a huge number of grants that aim to help children fulfill their potential and lead happy lives. The following example is how a grant proposal should look like when the focus of their goal is improving the lives of children.
William T. Grant Foundation: This grant is given to those groups that actively conduct research that is solely focused on improving the lives of young people in the United States. The foundation often publishes accepted grant proposals to help guide those looking to apply. Review their proposals for a better idea on how to craft yours.
Individual and family support
If your nonprofit is actively seeking to serve the disadvantaged population of society, then you will need to submit a proposal that highlights their plight. The following proposal is an example that will help you decide the inclusions for your proposal.
Kennett Area Senior Center: This particular grant was submitted by the Kennett Area Senior Center to the community grant foundation. The grant proposal was a request for funds to provide assistance and necessary services for senior citizens.
Arts
If your nonprofit is aiming to raise funds for an arts program or a project, the following example demonstrates what your grant proposal should look like. Upon review you will be clear on what to include in your documentation:
University of Minnesota's Imagine Fund: Take a look at various successful proposals that were submitted to the Imagine Fund program. This program is known for supporting arts-related projects.
Science
Whether it is scientific research, conservation, or any form of scientific endeavor, the following proposals can provide you with ideas for your grant proposal. You can review them and figure out what to include and how you can solidify the strength of your proposal.
NIAID: The National Allergy and Infectious Diseases grants various funds to institutes and nonprofits looking to drive advancement in the field of science and scientific research. You can peruse through various types of successful grants and figure out what made each one stand out.
Final thoughts
These examples are just some of many grant proposals that have achieved success. By studying them and reviewing the literature, your nonprofit can take away ideas and insights which can be useful in drafting your proposal.