New York City attracts entrepreneurial and creative minds, and it, therefore, makes perfect sense that it boasts comfortable spaces and lounge for individuals to launch their ideas into action. There has been a surge in coworking spaces which have redefined how and where professional can operate.
As alternatives to coworking spaces, and conventional offices, these stunning coworking spaces are distinct spots for innovation that offer comfortable settings for getting projects done as well as networking opportunities. All users subscribe for membership, with the subscriptions depending on whether they want to reserve a working space or hot desking.
New York City has numerous such spaces, and you, therefore, need to zero in on your search by concentrating on the amenities that suit you, like 24/7 access to the work environments, snacks, furnishing, drinks, printing and mailing services, and transport proximity among others.
Whether you are searching for a technical savvy and enhanced setting or a cool, distinct spot, New York has an assortment of working centres to suit your preferences. Here is a list of the best coworking New York spaces for writers.
WeWork: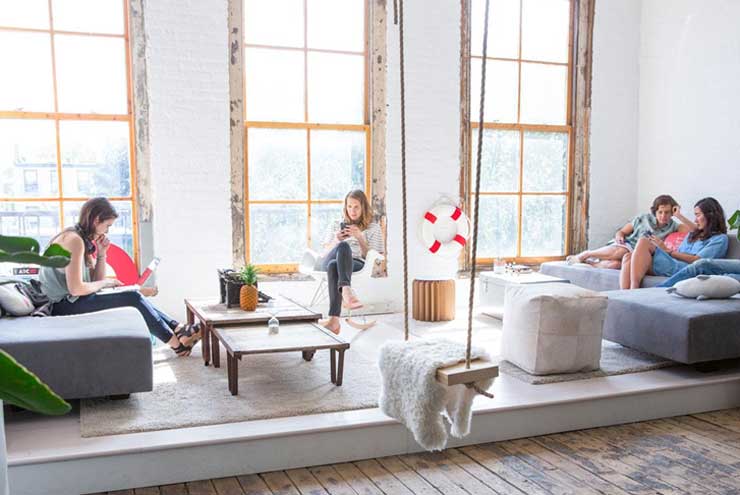 This is arguably the coworking phenomenon in New York. WeWork emphasizes both convenience and community, with distinct custom spaces for part-time, remote employees not to mention full-sized companies. With more than 50 locations sprinkled across the State, including New York, Manhattan, and Brooklyn, this is ideally the place to be for writers.
WeWork spaces are conveniently situated alongside major subway lines, fashionable shops, and commercial districts. As a member, you will gain access to amenities like coffee, 24/7 s access, fruit-infused water, printing services, office supplies, and daily cleaning, among others. Therefore, depending on your subscription, there are various add-ons for booking conference rooms and mailing services.
What particularly sets this space apart is their exclusive Hot Desk provision, which is a setting where multiple users work in a single workspace during varying periods. This option comes with a $300 monthly subscription that can sometimes go up to around $600 in a number of the New York WeWork locations. As a member, you can work in virtually any site which features hot desk option.
Besides the hot desk feature, you can also pick from several other premium plans like private offices, custom build-outs, as well as dedicated desks. However, the cost is dependent on the precise location.
Spacious:
Are you looking for a reprieve from crowded and noisy cafes with excellent internet/Wi-Fi connection, outside from your usual working spot? Well, if so, Spacious is your place to go. This company renovates unused restaurants to transform them into convenient workspaces for remote workers and freelancers. Most of the Spacious' locations operate from Monday through to Friday.
Boasting 14 locations across New York including in Chelsea, Nolita, and Bowery, subscriptions for this spot cost just $99 per month for annual plans. Some of the basic amenities include outlet, tea, coffee, and Wi-Fi outlet. While Spacious does not offer as ample resources as typical corporate coworking spaces, they, however, afford ample room and communal setting where you can pay to do assignment here or write your paper on your own but to maintain your levels of productivity during standard business hours.
Green Desk:
This is a modern, biologically responsible co-working space within New York City that boasts 10 locations across Long Island and Brooklyn City. This spot prioritizes sustainability in multiple varied ways. Also, it renovates its structures with recycled aluminum and glass and utilizes a blend of traditional and renewable energy sources for green energy certification (GEE). Green Desk also provides green cleaning and office products as well as utilizes energy-efficient LED and CFL lights that function with monitor sensors.
Green Desk also offers other multiple amenities such as a cafeteria famous for serving organic coffee, reliable and fast internet connection, and a distinct outdoor patio. It boasts over 5000 members across various fields including freelance writers, owners of small businesses, and many independent artists.
Their private offices have a $350 monthly subscription as well as a hot desk for a monthly fee of $199 or $30 per day. Low-tiered, standard plans provide distinct access with some more optimal programs that afford 24/7 key-card access having around the clock security.
The Farm:
The Farm, which is situated in the trendy New York neighborhood of SoHo, is famous for its unique blend of advanced technology and rustic features. Anyone looking to escape the typical chaos that comes with the city will delight in this spot's natural wood furnishings and designs originating from the barn decor.
Besides the fantastic design, this resource centre features fanciful amenities that include a hideaway tree-house and nap room. What's more, it houses the distinct Blueprint Health accelerator, which is an advantage of any individuals within the healthcare industry for the programming and networking opportunities available.
As for the subscription, private desks will cost you $345 a month, whereas the shared desks ask for around $179 per month. You can alternatively dish out a daily fee of $25, allowing you discounted conference room access. Similarly, large team private offices mandate for a monthly cost of $550. As a member, you will receive 24/7 access, in addition to conference rooms and printing services.
Voyager HQ:
Voyager HQ is a modern gathering spot ideal for writers and other professionals looking to network. Situated within the Chelsea neighbourhood, this is a perfect coworking spot to acquire distinct expert knowledge as well as interact with various partners and investors.
This company boasts an expansive network that includes 150 start-ups across the globe. It distinct spaces include 50 dedicated working desks, several meeting rooms, three private offices, and a kitchen. With their exclusive events like roundtable discussions and happy hour, it makes it easier to interact with various other professionals.
Also on the list of member amenities are coffee, Wi-Fi, and printing access. The monthly cost of month to month desks is $249 while you can pay $799 for dedicated clubhouse membership that covers four months. The latter option comes with various perks, including personal lockers, physical mail address, 12 hours per month worth of private meeting room, not to mention first-hand access to corporate partners and investors.
Finally, their free digital subscription affords opportunities to link up with partners and investors, access to job postings on the Voyager board, and three days every three months at their clubhouse.
Galvanize
New York's West SoHo neighborhood is home to another amazing spot, Galvanize that was established in 2016. With its 9th campus, they have provided ample coworking space measuring 6,000 feet. This campus offers various amenities including bike storage, private phone booths, workshop and mentor workshop programs, conference rooms, free printing, locally-sourced coffee, and onsite staff.
Galvanize provides networking, educational, entrepreneurial, and training spot for freelancers like online writers and entrepreneurs for coworking. They offer various programs like boot camps and meet-ups. This is a hub where there are various job opportunities for writers, considering the numerous tech entrepreneurs present.
Many acclaimed tech firms host events and partnerships here like the innovation lab launch for Bluemix Garage by IBM. If you want more information about their coworking charges, visit their website and fill out their inquiry form.
Regus
For any writer looking for coworking space in New York, Regus is another excellent option. It combines flexibility, accessibility, convenience, and competitive prices to create the ideal conditions for coworking.
Regus is famous around the world with more than 3000 locations, with New York being one of the places with most hubs. It has a lounge-only subscription that is perfect for locals and travelers who want to work between areas within their home vicinity.
Regus charges a daily fee of $25 for day to day users. You can also choose the Virtual offices option that costs around $141 a month, which includes office services and business address.
The precise location determines the prices of private offices and desks. Your membership status also affords you various perks like access to a phone and business number, call answering, and mail forwarding and receipt. Moreover, you enjoy typical business amenities (like Wi-Fi access, AV hardware printing, light catering, and fax) not to mention access to more offices, as well as their networking events.
Neuehouse
A sprawling and chic establishment for the curious and ambitious, the Neuehouse is among the most excellent networking spots in New York for writers. Here, you will come across an assortment of individuals from a wide array of disciplines including freelance writers, architects, filmmakers, designers, and fashion professionals.
The five-floor ritzy Neuehouse space situated in Madison Square Park boasts creative types owing to their distinct amenities designed to boost coworking productivity. This space affords standard services, including printing, access to meeting rooms, and Wi-Fi. However, depending on how much you pay, you can enjoy multiple luxurious perks such as happy hour, cultural programming, beverage and food counters, artisan roasted coffee, ad art exhibitions.
What's more, other amenities include productive in-house services, Linus bikes, and noise-canceling headphones, among many others. Each of these extra programs and services enables users to create an active, creative ecosystem. Their monthly fees are usually between $150 designed for communal working spaces and private studios at $4,500.
A/D/O, Greenpoint
This new and stunning creative hub in Brooklyn, which was established by MINI is a unique blend of 'Design Academy' slate incorporates with a restaurant, workspace, and design store.
Architects have ideally preserved the elements of the original warehouse and ideally designing distinct new features like mirrored 'periscope' skylight. This hub is structured for all sorts of professionals seeking stimulation as well as distinctive lab access.
Camp David
This Sunset Park creative hub is arguably the most-buzzed in Brooklyn. It is a 40,000 sq foot establishment founded by Erez Shternlicht and Mazdack Rassi. These individuals instilled their industrial complex featuring an assortment of amenities combines with the unique clean-lined zing of modern midcentury design.
Ideally, when you think of this spot, think Heath Ceramics tableware distributes in their onsite coffee bar and cafe, some amazing Jean Prouvé chairs, and some stunning Greta Grossman desk lamps.
It is best for freelancers and creative's looking for a distinct working space that you never have to leave. They have various daily and monthly plans that offer you access to floating and assigned desks and private offices.
The Wing, Flatiron
The Wing is an innovative co-working hub located on the outskirts of Penthouse in New York. Ideally, this creative working space was established to create a unique multipurpose setting for women, with the purpose of its establishment being to make women's lives much more comfortable. According to the founders, magic happens when women come together.
It is a member's only Tumblr pink establishment popularly referred to as 'clubhouse in the sky' whose founders are native New Yorkers Lauren Kassan and Audrey Gelman. This is in addition to CdR & Co's Hilary Koyfman and Chiara De Rege who collectively designed this picturesque social and workspace.
Besides the typical working and social hub characteristic, this spot also features other distinct amenities such as a library (ideally curated by RH Lossin, a renowned writer), not to mention on-demand blowouts and makeup. The library, however, only allows female authors, a specification that relates to the initial goal of the establishment's construction.
It is best suited for writers and other freelance workers looking for both connection and convenience in a homely setting away from the typical home atmosphere. To enjoy their services, you must apply for membership.
CONCLUSION
A new and upcoming crop of creative and freelance workers expect much more than bland 'centers of business' and sterile setups and office spaces. Currently, they would instead make their stop at an expanding assortment of coworking spaces designed and purposed to increase productivity as well as cultivate a sense of community.
Driven by some new and unique models that feature the perks popular with private services and clubs, New York is home to multiple flourishing coworking spaces that offer options for virtually any preference, budget, and industry.
These settings provide a professional, free, and bustling environment for optimal productivity and interaction. If you are looking for the best coworking New York spaces for writers, then these few options are worth checking out.
Sarah Frier wins the Financial Times and McKinsey & Company Business Book of the Year Award 2020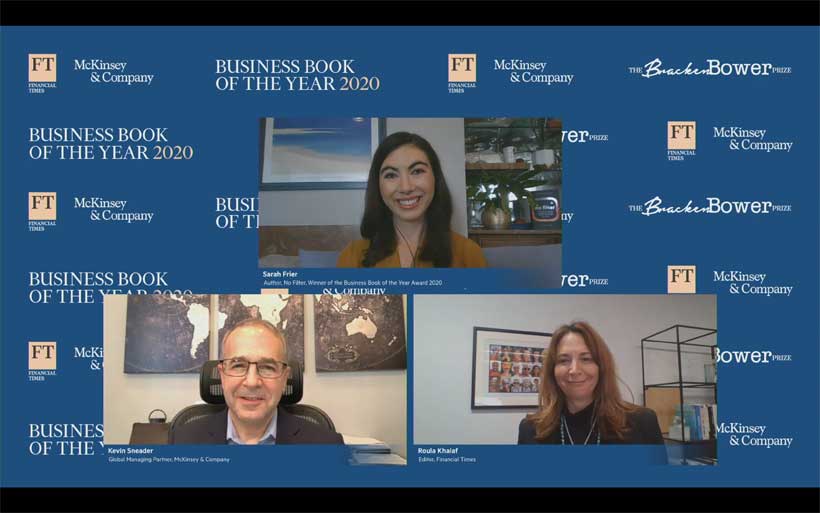 Stephen Boyle wins the Bracken Bower Prize 2020
The Financial Times and McKinsey & Company today announce that Sarah Frier is the winner of the 2020 Business Book of the Year Award for No Filter: The Inside Story of How Instagram Transformed Business, Celebrity and Our Culture, published by UK Random House Business in the UK, and Simon & Schuster in the US.

The Award recognises a work which provides the 'most compelling and enjoyable insight into modern business issues'. It was awarded today to Sarah Frier at a virtual event, co-hosted by Roula Khalaf, Editor of the Financial Times and chair of the panel of judges, and Kevin Sneader, Global Managing Partner, McKinsey & Company. The keynote speaker at the event was Laxman Narasimhan, Chief Executive of Reckitt Benckiser.

No Filter saw off strong competition from a shortlist of titles with a focus on subjects ranging from the future of work, corporate culture, technology and the US economy, to win the £30,000 prize. Each of the five runners-up will receive £10,000.

Roula Khalaf, Editor, Financial Times said, "No Filter is a topical and well-reported account of the rise of Instagram and its takeover by Facebook. But it also tackles two vital issues of our age: how Big Tech treats smaller rivals and how social media companies are shaping the lives of a new generation."

Kevin Sneader, Global Managing Partner, McKinsey & Company, said: "Sarah Frier has written a compelling saga about how this start-up phenomenon deeply embedded itself into the global cultural Zeitgeist of this digital era, in just one decade after its creation."

The distinguished judging panel for the 2020 Financial Times and McKinsey Business Book of the Year Award, chaired by Roula Khalaf, comprised:
Mitchell Baker, Chief Executive Officer, Mozilla Corporation; Chairwoman, Mozilla Foundation

Mohamed El-Erian, President of Queens' College, Cambridge, and Chief Economic Advisor, Allianz (BBYA Winner, 2008, When Markets Collide)

Herminia Ibarra, Charles Handy Professor of Organisational Behaviour, London Business School

Randall Kroszner, Professor of Economics and Deputy Dean for Executive Programs, University of Chicago Booth School of Business

Dambisa Moyo, Global Economist and Author, Non-Executive Director, 3M Company, Chevron & Conde Nast

Raju Narisetti, Global Publishing Director, McKinsey & Company

Shriti Vadera, Chair-elect of Prudential

The Financial Times and McKinsey & Company also announced Stephen Boyle as the winner of the 2020 Bracken Bower Prize. The Prize is designed to encourage young authors to tackle emerging business themes in a proposal for a book that is not yet published. Its aim is to unearth new talent and encourage writers to research ideas that could fill future business books of the year.

Stephen Boyle was awarded £15,000 for his book proposal, New Money, about how central bank digital currencies could transform the economy – and why you might not want them to.

The distinguished judging panel for the Bracken Bower Prize comprised:
Lorella Belli, Founder and Director, Lorella Belli Literary Agency Limited

Isabel Fernandez-Mateo, Adecco Professor of Strategy and Entrepreneurship, London Business School

Jorma Ollila, former Chairman, Royal Dutch Shell and Nokia

Saadia Zahidi, Managing Director and Head of the Centre for the New Economy and Society, World Economic Forum. (BBP Winner, 2014, Fifty Million Rising)
Sri Lanka Can Build Back Better from COVID-19 and Realize Inclusive Growth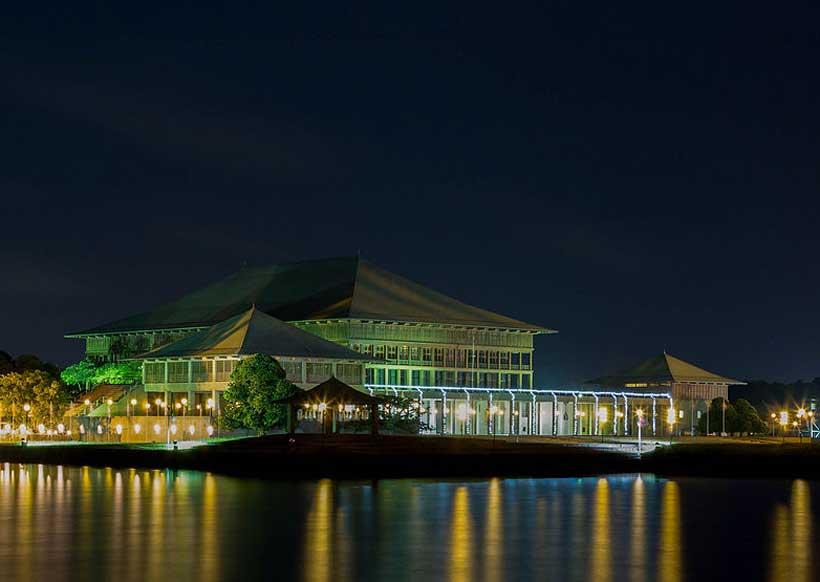 The World Bank's new Country Director for Maldives, Nepal and Sri Lanka, Faris Hadad-Zervos, completed his first visit to Sri Lanka today. The purpose of this visit was to meet key policymakers and understand the country's development priorities. Based in Kathmandu, Nepal, this was the Country Director's first visit to Sri Lanka in his new role. Hadad-Zervos was joined by Chiyo Kanda, the new Country Manager for Maldives and Sri Lanka, based in Colombo.
"We appreciate the frank and productive conversations we had with government officials, members of the private sector and civil society and all those whom we met during our visits in Colombo and the Provinces. These gave us a growing understanding of the Sri Lankan sustainable development storyline and aspirations," said Faris Hadad-Zervos, World Bank Country Director for Maldives, Nepal and Sri Lanka. "The World Bank is a long-term partner for the people of Sri Lanka and is committed to help the country reach its full potential for the benefit of all its people."
The new World Bank management team paid courtesy calls to His Excellency the President Gotabaya Rajapaksa, Hon. Prime Minister Mahinda Rajapaksa, Cabinet and State Ministers, Governor of the Central Bank of Sri Lanka, and Secretaries and senior officials associated with the current World Bank program in Sri Lanka.
They also met with members of civil society from across the spectrum, private sector representatives, development partners as well as thought leaders to better understand Sri Lanka's vast potential for sustainable growth.
The visits included the port and other facilities in the Hambantota district to observe infrastructure development in the south. At the government hospital-Halthota in Kalutara district, they learned about the government effort to improve primary health care, integrating screening and management of non-communicable diseases, and strengthen promotive and outreach services.
"The World Bank is mindful of the challenges the country is facing in this COVID19 era but will also keep our eye on the opportunities for sustainable recovery. We will leverage our knowledge, technical and financial resources to support Sri Lanka to build back better in the post-COVID era for inclusive and resilient growth," said Chiyo Kanda, World Bank Country Manager for Maldives and Sri Lanka "We are in the process of updating our Systematic Country Diagnostic to deepen our understanding and inform our next Country Partnership Framework that will define the World Bank Group's engagements with Sri Lanka for the next 4-5 years."
The Systematic Country Diagnostic is a thorough analysis, informed by consultations with a broad range of stakeholders, of the key challenges and opportunities in reducing poverty and boosting shared prosperity in a sustainable manner.
In response to the COVID pandemic, the World Bank leveraged the existing portfolio and repurposed a significant portion to support the Government's effort to reduce the impact of the pandemic. Providing urgently needed personal protective equipment (PPE), supporting vulnerable groups with temporary cash support, improving COVID-19 protection measures on public transport, facilitating tele-education for school children, and providing digital solutions to improve delivery of public services are among the emergency response activities already completed or ongoing. Discussions are under way to further adjust the program to adapt to government's priorities and emerging development needs.
The current World Bank portfolio in Sri Lanka consists of 19 ongoing projects, with a total commitment value of US$3.65 billion in a variety of sectors including transport, urban, agriculture, water, education and health.
ADB $300 Million Loan to Promote Macroeconomic Stability in Pakistan
The Asian Development Bank (ADB) has approved a $300 million policy-based loan to help promote macroeconomic stability in Pakistan by facilitating improved trade competitiveness and export diversification.
"While COVID-19 hit Pakistan at a critical point in its macroeconomic recovery, the government's ongoing efforts to ensure stability have started showing encouraging results this fiscal year," said ADB Principal Public Management Specialist Hiranya Mukhopadhyay. "ADB's program will support these efforts and help Pakistan to improve its export competitiveness—now more important than ever given the impacts of the pandemic."
ADB's program will help Pakistan recover its current account deficit in a sustained manner and continue to facilitate export diversification. It will introduce important tariff- and tax-related policy reforms to help improve Pakistan's international competitiveness and further strengthen key institutions, including accreditation bodies, the Export–Import Bank of Pakistan, and the Pakistan Single Window.
The new financing falls under Subprogram 2 of the Trade and Competitiveness Program. Under the first phase, ADB helped the government usher in key reforms, including reducing or abolishing tariffs and ad hoc duties on a large number of raw materials and intermediate goods. Several steps were also taken to introduce e-commerce, strengthen key institutions involved in facilitating trade, and enhance the export certification process.
Since fiscal year 2004, Pakistan has registered a rise-and-fall pattern of export growth reflecting underperformance in its export industry and long-term decline in export competitiveness. This is compounded by lost export growth momentum from COVID-19, which has reduced high-income countries' demand for manufacturing goods and disrupted the supply of raw materials.
ADB is coordinating its efforts with other development partners and donors while the program complements International Monetary Fund-led reform initiatives by helping to improve competitiveness, which will help build robust foreign exchange reserves.