The spread of coronavirus (COVID-19) in Azerbaijan began in February. The first case of infection was recorded on February 28 and first death on March 12. As of April 17, Azerbaijan had 1,340 confirmed cases, 15 death and 528 people were recovered. The main source of infections was people who traveled to Azerbaijan from Iran – the epicentre of the outbreak in the Middle East. Despite the fact that Azerbaijan has border and close tourism relations with Iran, necessary measures have been taken in the early stages of the outbreak, which prevented the mass spread of the coronavirus. The first important measure was the closure of the border with Iran as of February 29 after the two Azerbaijan citizens who were returning from Iran tested positive for coronavirus.
As the the number of infections began to increase, other important and strict measures were taken. All land borders with the neighbors were closed and education and related activities have been suspended until April 20, later extended to May 4. Over 10,000 Azerbaijani citizens were evacuatedfrom other countries. Beginning from March 14, certain measures on social isolation began to be implemented, including the cancellation of large-scale events such as weddings, funerals and the closure of cinemas, museums and theaters.
From March 24 according to the Article 25 of the Law of the Republic of Azerbaijan on sanitary-epidemiological safety the government declared special quarantine regime until May 4. Based on the rules of the special quarantine people above the age of 65 are banned from leaving home. Entry and exit to/from Absheron region which hosts Baku – the capital of the country and the second largest city Sumgayit and transportation between districts and cities was restricted (except the special-purpose vehicles). Along with these measures the operation of all shopping centers and the movement of subway trains (from March 31) in Baku was suspended.
Later, on April 5 the Azerbaijan's government tightened quarantine rules in order to monitor movements of citizens and to encourage people to stay in their homes and apartments. According to the new rules, citizens could leave their homes only if they going to visit grocery stores, pharmacies, medical facilities and banks. For this citizens have to obtain permission by sending a text message.
Despite the fact that all taken measures are effective in preventing the mass spread of the coronavirus, it has also substantial economic implications. As the special working regime have been implemented in different sectors of economy during the quarantine, it has substantially weakened business activities and the development of different economic sectors. This situation created unemployment problems and financial risks. Taking into account the seriousness of the situation and the damage that workers and companies could face, the government stepped in to support the businesses, their employees and economy as a whole. For this purpose different economic and social measures began to be taken.
In order to coordinate all taken measures to fight COVID-19 on February 27 an operational headquarters under the Cabinet of Ministers was created. In the early March 10 million manat (5,9 million USD) was allocated to the Cabinet of Ministers to ensure that all necessary measures will be implemented on time. On March 19, President Ilham Aliyev announced the creation of the Fund to Support Fight Against Coronavirus and contributed his yearly salary to the fund. Also, additional 20 million manat (12 million USD) was allocated from the President's Contingency Fund to the newly established fund to increase the effectiveness of the taken measures and to ensure material support to the medical workers providing relevant services. As of April 16, the total donations of different state agencies, companies and citizens to thefund have reached 112,233 million manat (65 million USD).
Also, on March 19 the President issued an order to allocate1 billion manat from the state budget to the Cabinet of Ministers for the implementation of measures to reduce the negative impact of the coronavirus pandemic on the economy, to ensure macroeconomic stability, to support employment and entrepreneurship. For the effective implementation of assigned measures the Cabinet of Ministers adopted an action plan which contains theprogram of compensation for the damages to the entrepreneurs and their employees beginning April 8. The program covers 300,000 employees, 42,000 employers and about 300,000 private and micro-entrepreneurs. The program stipulates the allocation of 215 million manat (126 million USD) to preserve the salaries of the hired workers and 80 million manat (47 million USD) to support the individual entrepreneurs.
Along with supporting businesses the governmentallocated 400 million manat (235.2 million USD) to support social protection of citizens. Within the framework of the social package 190 manat ($112) lump-sum was planning to be paid to 200,000 unemployed citizens in April and May (then number was increased to 600,000). Another 50,000 unemployed people will get 300 manat aid per month. For the employees who had the salary higher than the monthly average the upper limit of social aid is set at 712 manat. Social protection measures also include the creation of 50,000 paid public jobs, the increase of monthly preferential electricity consumption limit for citizens by 100 kilowatts per hour in April and May, allocation of 40 million manat (23 million USD) for the training of students from low-income families and 280 million manat (164 million USD) for the vital passenger transportation. According to the taken measures in social sphere 20 million manat worth unemployment insurance payments will be expanded to 20,000 people. .
The government of Azerbaijan also began to implement the credit and guarantee support program which enables businesses to get loans with preferential terms. The total amountof funds allocated for this program is 1,5 billion manat (882,3 million USD). Through this program the government will provide state guarantee for 60% of new issued loans which amounts to 500 million manat (294 million USD). The highest percentage for the guarantee loans will be 15% and half of the percentage payments will be subsidized through the budget funds. The program will also support entrepreneurs with the existing loan portfolios who work in the coronavirus affected sectors. The government will subsidize 10% of the interest expenses of these loans for one year and for this purpose 1 billion manat (588 million USD) were allocated. All the measures related to the provision of preferential loans to businesses also support stability of the banking sector as without the government's support the banking sector have risks to lose revenues that they acquire from the operations of these businesses.
The economic support program of the government also envisages tax benefits, privileges and holidays for businesses entities. The tax payers engaged in catering activities will have simplified tax reduction and exemption from income tax. The import and sale of the products necessary for food and medical security and the raw materials that used in the production of these products will be temporarily exempt form Value Added Tax (VAT). Zero rate of the VAT will be applied to the services provided for the prevention of the pandemic. Tax concessions also include the extension of the deadline of income tax payments of 2019, provision of simplified tax exemptions to the micro-enterprises, the exemption from the property and land taxes until the end of the year, the exemption from the current tax payments for the specific industries, the exemption of the taxpayers from income tax for the relevant amount and period.
With the implementation of all these economic and social programs Azerbaijan became the country that allocated the biggest share of GDP to eliminate pandemic related economic problems among the post-soviet countries. All the budgetary funds that were allocated to support economic development, businesses and social protection of citizens reached 3 billion manat (1.8 billion USD)which is 12% of the state budget revenues and 3,5% of GDP. Creating favorable economic condition in the post-pandemic period is as important as supporting the economy in the period of the pandemic. Therefore, all programs under implementation and the huge amount of government funding will support the stability of economic development in the long-term period.
Azerbaijan-Russia Ties Face Increasing Challenges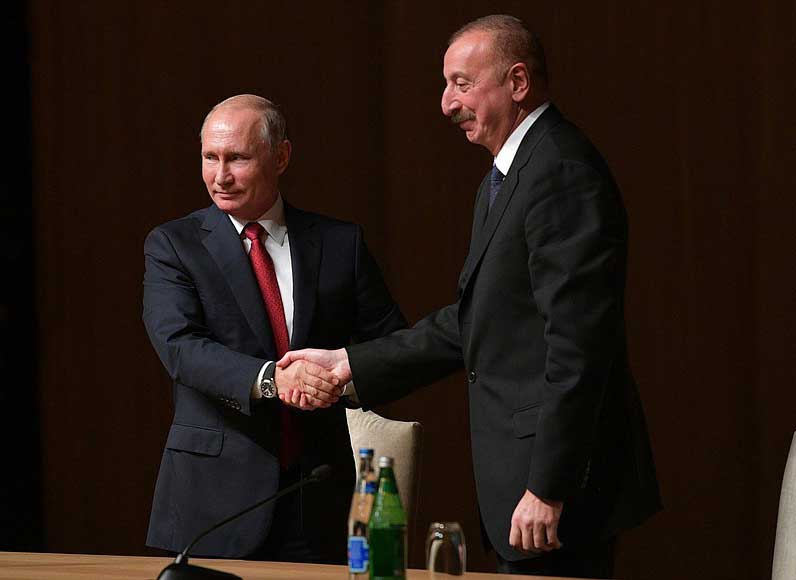 Russia-Azerbaijan ties face increased challenges as Baku accused Moscow of purposefully stoking the conflict by providing arms to Armenia. It is notable that this rhetoric develops when Turkey is particularly vocal in its military support for Azerbaijan. Though it still remains to be seen whether these signs evolve into a concrete policy shift in Azerbaijan, hopes for diplomatic solution of Nagorno Karabakh conflict recede, and Turkey and Russia up their military support for Baku and Yerevan.
Azerbaijan-Russia relations face increasing challenges as the geopolitical situation in the South Caucasus evolves. A series of events tested the bilateral ties and there is an increasing amount of evidence that some reconsideration of foreign policy on Azerbaijan's part could be taking place.
The first challenge was the July fighting on Armenia-Azerbaijan frontier, far from the actual source of conflict – Nagorno Karabakh. What could have been a relatively unnoticed confrontation, it drew international attention due to the geostrategic infrastructure which runs near the fighting zone in Azerbaijan's Tovuz region. Those are:
Baku-Supsa and Baku-Tbilisi-Ceyhan pipelines, which deliver Caspian oil to the Black and the Mediterranean Seas;
South Caucasus natural gas pipeline, which will send Azerbaijani gas to the EU and plays a key component in Turkey's emerging strategy of positioning itself as regional energy hub.
In addition, the region also has the Baku-Tbilisi-Akhalkalaki-Kars (BTAK) railroad (unveiled in 2017) and rarely mentioned the fiber-optic cables linking Europe with Central Asia. The Tovuz corridor also has a crucial Azerbaijan-Georgia highway, which allows Azerbaijan to connect to the Black Sea.
Thus in July Azerbaijan faced a threat to its major income. Damage to the infrastructure would also diminish the country's geopolitical weight as a safe source of oil and gas. While fighting in or around Nagorno Karabakh takes place occasionally and at times reaches a serious level, such as in 2016, it nevertheless fits into the overall narrative of more or less predictable military scenarios which military and political leaders in Baku would expect. The Tovuz fighting, on the other hand, goes against most military narratives and required Baku's tougher reaction. This is how the ties with Russia, Armenia's major economic and military ally, come under intense scrutiny in Baku.
It is has always been a long-term challenge for Azerbaijan. Baku occasionally expresses its concerns on Russia's military support for Armenia, but the criticism has usually been aired though newspapers and media rather than by high-level political figures. This changed following the July fighting.
Reasons are multiple. First, Russia (using its 102rd military base in Gyumri) and Armenia launched snap combat drills on July 17-20, just as the fighting in Tovuz region was still unfolding. Second, a series of flights of Russian military cargo planes to Armenia took place right after the July fighting.
In a notable change of tone the Azerbaijani president Ilham Aliyev surprisingly publicly complained to his Russian counterpart Vladimir Putin, stating that the recent reports on allegedly increasing Russian military support (400 tons of military hardware) for Armenia raise concerns and questions in Azerbaijani society. Perhaps as a reaction to growing bilateral differences, the Russian defense minister Sergey Shoigu visited Baku to assure the Azerbaijani public that the flights were not of a military nature, but rather transported materials for the 102nd military base.
However, the affair did not end there as a senior adviser to Aliyev, Hikmet Hajiyev, on August 29, following Shoigu's visit, claimed that "the explanation by the Russian side is not entirely satisfactory." This effectively meant publicly refuting the Russian defense minister's statements, further aggravating differences between the two states.
A September 1 article by Nezavisimaya Gazeta claimed that Azerbaijan had readied 500 Syrian militants in preparation for a "blitzkrieg against Armenia" and that Turkey has its troops on Azerbaijani soil. Baku vehemently criticized the report calling it "slander and [a] dirty campaign against our country."
Yet another sign of troubled ties is the September 6th decision by Azerbaijan's Defense Ministry opting out the Russia-led "Caucasus-2020" military drills (planned to be held in the southwest of Russia). Only two servicemen will be sent as observers. Though officially no concrete reasons for the withdrawal were given, it is possible to link the decision to Azerbaijan's recent grievances at Russia.
Some larger reasons too might be at play motivating a change in Azerbaijan's rhetoric. The Minsk Group, the body that aims to facilitate the negotiations between Armenia and Azerbaijan is faltering. No concrete way to resolve the stand-off is present and the July fighting has just showed that diplomatic tools are receding. A vacuum is being created for regional powers to fill in. This is how Turkey comes to play an increasingly larger role in Baku's strategic calculus.
Indeed, as the July fighting unfolded Turkey has been especially supportive of Azerbaijan. For instance, Turkish President Recep Tayyip Erdoğan noted "Turkey will never hesitate to stand against any attack on the rights and lands of Azerbaijan, with which it has deep-rooted friendly ties and brotherly relations." Turkey's Defense Minister Hulusi Akar even warned that Armenia will be "brought to account" for its "attack" on Azerbaijan. Then large Turkish-Azerbaijani military exercises followed.
Turkey's calculus here is clear as the country needs to defend the vital oil, gas and railway infrastructure coming from Azerbaijan. And considering how far has diplomacy receded around Nagorno Karabakh issue, Turkey and Russia are set to play an even larger military and economic role in the South Caucasus. For the moment open rivalry will be avoided, but for Moscow and Ankara the region represents yet another area of covert competition along with Syria and Libya.
However, casting Azerbaijan-Russia relations as deteriorating is not entirely correct. Intensive cooperation still exists between the states. Azerbaijan's Minister of Foreign Affairs, Jeyhun Bayramov, paid an official visit to Russia on August 26 at the invitation of Russian Foreign Minister, Sergey Lavrov.
In late August-early September Azerbaijani servicemen participated in the "Tank Biathlon" and also won the Sea Cup competition – both held as part of the "International Army Games – 2020" organized by the Russian Ministry of Defense.
It is still hard to see whether Azerbaijan's changing rhetoric towards Russia is more than just a temporary, tactical maneuver. It could be a clever diplomatic game Azerbaijan has always pursued since 1990s – namely, facing its larger neighbors against one another. Nevertheless, the rhetoric and recent political decision signal a search for reconsideration of some basic elements in Baku's strategic vision. Turkey's bigger role is likely to be sought more intensively, while hopes for a diplomatic solution to the Nagorno Karabakh conflict would further recede.
Author's note: first published in caucasuswatch
Putting People in Control of Their Land to Realize Ukraine's Potential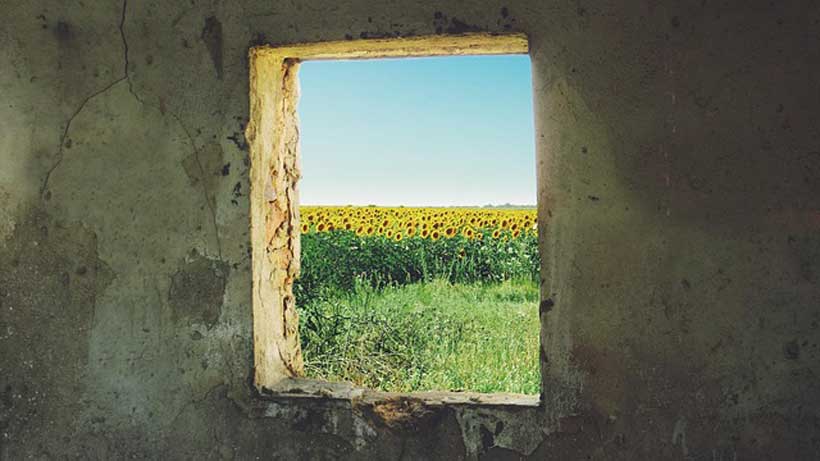 Land reform will allow Ukraine to capitalize on its economic potential and improve the lives of Ukrainian people – but a lot still needs to be done before a successful land market opening.
I have now had the privilege of being the World Bank's Regional Director for Eastern Europe for a little over two months. Returning to Ukraine after almost twenty years, I have been impressed by many recent achievements on Ukraine's reform path. Many of these are complex, and consequential – creating an independent gas transmission system operator that is already helping safeguard Ukraine's gas transit revenue; continuing, in the face of opposition and setbacks, to strengthen anti-corruption institutions; undertaking the difficult process of resolving non-performing loans in state-owned banks; and moving, amidst the unprecedented global pandemic, to protect pensioners and other poor and vulnerable Ukrainians.
Today, the immediate challenge Ukraine faces is the COVID-19 pandemic – first to immediately reduce both the mounting toll on health and lives, and then to rebuild livelihoods and incomes. But what reforms are most needed to restore and even improve incomes for the average Ukrainian in the aftermath of the epidemic?
There are many that are required. But for me, the greatest promise is offered by the set of measures around agricultural land reform. Here again, much has been accomplished, most notably when, this past March , the Rada voted to end the nearly two-decade old moratorium on the sale of farm-land. This was a critical first step to unlocking Ukraine's greatest source of growth. But it is not enough. The next and necessary step is to advance fundamental measures around the governance of land – to allow ordinary people and local governments to benefit from their land without intimidation, bureaucratic interference or corruption.
Land reform that truly allows owners and users to take control of their land can be transformative. By World Bank calculations, for Ukraine as a whole, this can permanently add almost one percentage point a year to economic growth. For landowners currently leasing out their land, this could provide up to $3 billion every year. For rural residents and small farmers, this can create some $24 billion of collateralizable assets that allow them to invest in irrigation, horticulture or non-agricultural small enterprises. And for local communities and local governments, this can provide an income stream of up to $2 billion annually to better the lives of Ukrainians.
The Ukrainian authorities have already made enormous strides in this direction by passing a package of legislation that reduces raider attacks and land-related schemes, makes land data publicly accessible, and allows local communities to plan land use.
But there is much more legislation around land governance that is needed to ensure all the benefits of land reform for every Ukrainian. And just passing the laws is not enough – once that is done, there is the need to draft implementing regulations, to set up institutions to administer these regulations, and to actually implement measures.
Moreover, for improved land governance to lead to more investment, and thus income, it is especially important that Ukrainian landowners or land users be aware of their rights and how to exercise them, and have these rights protected. This is particularly true for small and medium farmers. They must be able to have any actual or attempted violations of their rights redressed quickly. Farmers and other private participants must know how to use land as collateral to access credit. Banks and other financial institutions must be able to professionally assess the value of the collateral and have the incentives to lend to smaller borrowers. Once relevant laws and regulations are in place, there is thus a need for a broad-based legal awareness and a financial literacy campaign.
All of this takes time – and time is running out.
By the most conservative estimates, the needed regulations, institutions and implementation could take at least nine months. The land market opens on 1 July 2021. So, it is essential to pass the appropriate laws by the end of September, at the very latest.
If this deadline is missed because of entirely avoidable delays, there is a real risk that on the date the land market opens, Ukraine will miss this golden chance. Even more, there is the danger that opening the land market in the absence of these strong legal and regulatory safeguards will result in an echo of the 1990s privatization – leaving the market vulnerable to the powerful and well connected and actually worsening land-related corruption and inequality.
Together with our partners, the World Bank has long advocated land reform as a key for Ukraine to develop the productive potential of its abundant land resources. We see this as central to revitalizing the incomes of average Ukrainians, especially in rural areas.
This is a once-in-a-generation opportunity to unlock the sector's growth potential through investment in high value-added crops and agri-processing and, most important, to transform the welfare of millions of Ukrainians. Ukrainian parliamentarians and policymakers have to ensure that we do not miss it.
World Bank The article was first published in Ukrainska Pravda
Opportunism and July's Armenian-Azerbaijani Flareup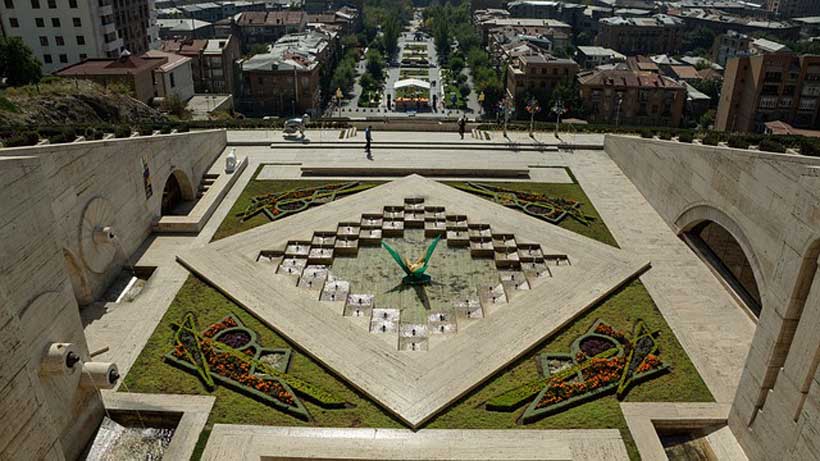 By mid-July, within days of the latest flareup in fighting between Armenia and Azerbaijan, a flurry of articles written by Azerbaijani think tank members appeared on Modern Diplomacy (MD). Azerbaijani think tanks may have erroneously assumed that MD was a media battlefield between Armenians and Azerbaijanis after a Geopolitical Handbook on Armenian issues was published a month earlier.
On August 2, 2020, MD published an article entitled The Treasure Map to the Forgotten Epoch of the Iravan Khanate, by Irina Tsukerman. The article uncritically adopts the most vulgar of Azerbaijani historical falsifications claiming that most of Armenia and its capital, Yerevan, have little or no Armenian lineage – and are instead Azerbaijani. The rambling nature of this four-thousand word article, and its spectacular disregard for the accepted historical record, seemed designed for the express purpose of appealing to Azerbaijanis and offending Armenians, for example by pointedly referring to the 2800-year-old Armenian capital city as Iravan, instead of Yerevan.
The thesis of Tsukerman's article on MD dates back well over a generation. It parrots nationalist screeds, penned by Azerbaijani and sometimes Turkish propagandists, usually intended for local consumption. In recent years, many such works have been translated into reasonable English and evidently distributed for posting by western authors under their names. A common characteristic of these articles is their lack of hard references – a relic from the Soviet days. Tsukerman's MD article appears to have been post-annotated with reference links before it was submitted to MD. Most of these links are of low quality and/or have little to do with the associated text. Forty-five of the fifty-three reference links were Wikipedia articles, gratuitously including general Wikipedia articles on Russia, Armenia, Georgia, Azerbaijan, The Republic of Azerbaijan, Tehran, etc. Another reference points to a Turkish-language text that originally appeared in an anti-Armenian publication, Yeni Turkiye 62, which includes articles claiming Armenians committed genocide on Turks and Azerbaijanis – a claim widely known to be untrue, and similar in form, tactics and intent to Holocaust denial.
Within weeks of the apparent success of post-annotating an article in MD with useless reference links, Israel's Begin-Sadat Center for Strategic Studies (BESA) published another anti-Armenian article of dubious integrity by Tsukerman, entitled "Russia and Iran's Dangerous Energy Gambit in the Caucasus". Due to a reader complaint noting the lack of any references and the article's clear anti-Armenian bias, BESA initially took down the article, but then restored it the very next day, replete with ill-considered, low-quality references, not unlike those in Tsukerman's MD article.
In my perhaps old-fashioned view, the provision of valid high-quality citations is a responsibility that every author should take seriously, and the verification of the quality of those citations is a responsibility that every editor should take seriously. Padding an article with useless and unhelpful citations pro forma, simply to be able to say that the article has citations, is the tactic of a college freshman – not one that I would expect to see in a scholarly publication. Evidently BESA operates according to a different set of standards.
This brings us to the larger question: Why do so many poorly referenced, factually inaccurate, anti-Armenian propaganda pieces appear in the world press? A short-term answer is that both the ruling family dictatorship in Azerbaijan, and the country's supporting interests in the west need to bolster Azerbaijan's image at home and abroad, especially after its significant military loss in the latest border flareup.
In the medium-term, one might note that the amount of western investment in Azerbaijani hydrocarbon extraction and transport is probably well over $100B, with British Petroleum accounting for $75B of that figure. Azerbaijan is also one of the few countries bordering Iran that is compliant enough to be used as a base for intelligence gathering and covert operations targeting Iran. Moreover, forty percent of Israel's crude oil is supplied by Azerbaijan, and in return Israel has sold Azerbaijan at least $5B in high tech weaponry over the past decade. By contrast, Armenia has no viable petroleum reserves, and comparatively little with which to counter materially. Hence a much lower standard is set for the publication of Azerbaijani propaganda in the western press, and Azerbaijan is propped-up as a reliable partner to the Israeli public – this in spite of the fact that Azerbaijan is a Shia Muslim-majority country that refuses to open an embassy in Israel.
A rare glimpse at the longer-term answer can found in a September 2015 event where Israeli Knesset Members Oren Hazan and advisor Mendi Safadi visited Baku, Azerbaijan, for high-level meetings. During this visit, Safadi commented, "I've always been on the side of Azerbaijan, and we are ready to provide assistance and patronage to the Azerbaijani side to neutralize the influence of the Armenian lobby in the US Congress, the EU institutions, and international organizations."
To this observer in Yerevan, it is manifest that Azerbaijan has enlisted help from certain actors in Israel and the Jewish diaspora in generating and promulgating pro-Azerbaijani propaganda, including anti-Armenian propaganda that falsifies the historical record and that is sometimes overtly racist in nature. Of course, with such an arrangement between two countries comes the opportunity for authors of a mercenary bent who are willing to lend their names to such falsifications. Since 2015, a large number of articles of this sort have appeared, for the most part in the Jewish press. Some writers have focused on the semi-frozen conflict over Nagorno-Karabakh. Others have attempted to characterize Armenia's normal relations with Iran as in opposition to western-imposed sanctions, while neglecting to note that well over twice as much trade goes on between Azerbaijan and Iran. Still others characterize certain Armenian historical figures as fascist supporters of the Nazis during WWII, conveniently neglecting the fact that well over a quarter million Armenian soldiers never returned from fighting the Nazis, and that fact that Armenia was awarded twenty-four Israeli "Righteous Among Nation Awards, while Azerbaijan was awarded none.
Truth and open debate have little to do with this kind of industrial production of anti-Armenian propaganda. Opportunist writers posting such articles know very well the nature of the endeavor in which they are participating, yet they seem to feel that they can persist without regard to any cost to their reputations, as long as their hate speech is directed only against Armenians.
It is ironic that Jewish writers, many the progeny of Holocaust survivors, blindly support Azerbaijan's government and its anti-Armenian policies, many of which are designed to create an external enemy in order to redirect popular anger away from a corrupt family dictatorship. The former mayor of Baku, who served between 2001 and 2018, Hajibala Abutalybov, in a 2005 meeting with a municipal delegation from Bavaria, Germany, stated,
"Our goal is the complete elimination of Armenians. You, Nazis, already eliminated the Jews in the 1930s and 40s, right? You should be able to understand us."
Israelis and Jews everywhere certainly ought to be able to understand these words better than most, and they should be asking themselves if this is really an alignment for which they wish to be remembered in the fullness of the historical record.