Authors: Areeja Syed and Asfandiyar Khan
Our scientific power has outrun our spiritual power. We have guided missiles and misguided men."– Martin Luther King, Jr.
The Indo-Pak disputes are still unsettled originated by the British exit from the region in 1947. Both states had been trying to conciliate since the independence but the conciliation process could not become successful and resulted in three wars between both countries. India conducted its nuclear tests on May11-13 and Pakistan on May 28-10. Thus, both countries achieved the status of atomic power. The dark shadows of horrible nuclear war are looming over the South Asian region. It is imperative for the belligerent states to carry out negotiation process. The major hindrance is the unwillingness from both sides to resolve the issue. That's why; there is no major development in the normalization process between both countries. Not only the governments of India and Pakistan but also the general lot needs to remove grudges against each other and develop amity instead of hatred. There are several differences between both nations which intensified hostility including political theories, creeds, and religious beliefs, bitter experiences before, during and after the independence, distorted history and twisted facts about each other. Islam and Hindu religion present opposite theories regarding the universe, God, prophets etc. In this context, the believers of both faiths have different outlook and perspective about every matter. Though they had been living together for above one thousand years yet their conservativeness could not be diminished even. The root cause of these clashes is the abrupt departure of the British from South Asia without proper management and fair partition process. The worst decisions of the British gave the impression that after ruling and dividing the masses, they planned to divide and flee from the region. The major bone of contention, Kashmir conflict, is also the result of this ill planning and division. The other conflicts were water and river distribution, division of armed forces, distribution of official material, treasury and money, real estate problems, accommodation of displaced people, immigrants and refugees and merging of autonomous states. These issues simply heightened the tensions between both countries (Muhammad & Ashraf, 2007).
Confidence Building Measures or CBMs refer to those policies and deals which are conducted by the state to gain mutual profit having trust on all involved parties. These deals can be via hotline, through business and trade, person to person contact or exchange of military and non-military information and exercises. This process enhances goodwill and peace between nations, eventually minimizing animosity and clashes among them. These measures create trustworthy relations between the nations and contribute to the progress of the countries in various fields. To achieve stability and peace in the region, the negotiation process should be continued to resolve mutual conflicts. The South Asian countries should implement CBMs in its true sense as the nuclear tests in May 1998 by Pakistan and India have augmented the prospects of a nuclear war in the region. On account of this, it is essential to settle rivalries, adopt confidence building measures and develop mutual understanding and collaboration with each other. Moreover, diplomatic and economic ties among South Asian countries should be strengthen to continue the procedure of CBMs smoothly. Previously, Islamabad and Delhi signed many deals and pacts to promote mutual cooperation and settle disputes. They established SAARC, to enhance collaboration among the countries of the region and it proved effective to some extent. To obtain fruitful results of CBMs, sincere efforts are required even if it is replacing the previous CBMs. The experts should evaluate the results of previous and existing CBMs, the effective and ineffective steps, reasons of success and failure, the different procedures followed by the other states and plan CBMs in the light of this evaluation. It is also beneficial for other organizations, private institutions, societal communities and groups, business and commerce, research and technical institutes etc. To figure out the achievements of CBMs and for the implementation of new CBMs, evaluate the previous and recent progress, made by the other countries in this regard (Irshad, n.d).
CBMs are also effective to promote international co-operation and influence and also reduce hostilities between nations. It can contribute to the development of trust which is the essential element before and during this process. It is not easy to streamline CBMs but relinquishment is feasible. The belligerent states should comply by it justly and fairly and do not sabotage the process especially during severe clashes. Reliability and credence is required form both sides. They should work peacefully when the clashes are settled. The situation becomes worse when the bellicose countries do not follow CBMs during conflicts. Compliance with CBMs during peace and agitation is equally significant. India and Pakistan could not implement CBMs effectively due to their reluctant and hostile attitude and lack of trust. In this context, it is easy to sabotage this process instead of abiding by it. The process of confirmation is necessary in CBMs to avoid any misconception or clashes between the parties. Lack of trust and disinformation can harm the process. The government officials utilize CBMs to gain some political goals or to get victory over political rivals but this can prove destructive in the end. Official declarations for CBMs sometimes produce negative impact if they prove to be lip services. If there are flaws in the designing of them, it can also become ineffective as it happened after the Sharm-el-Sheikh conference due to an official assertion. To maintain peace and congenial relations with the rival countries, strict compliance with the CBMs is required especially during clashes, the hostile parties should not give any contradictory statement and exhibit polite and positive attitude. The bilateral relations and negotiation process should be carried out without any interruption. The rival states must realize that the Kashmir dispute cannot be resolved by using military power. Some other CBMs should be drafted regarding Kashmir issue e.g. commencement of inter-state talks to decide the final status of Kashmir valley. The controversial issues as referendum in Kashmir and or liberation procedure should be settled after sensible and careful planning. The procedure to diminish animosity should be escalated and Kashmir issue should not be used to gain political objectives by both sides. The controversial statements and campaigns on mass media and on social media platforms against each other should be abolished. Process of minimizing armed and nuclear weapons should be carried out to reduce hostility. The media persons, delegates of human rights foundations and military representatives should be invited off and on, by the government officials (U.K essays, 2018).
Convergence of interests determines Russia-Pakistan Relations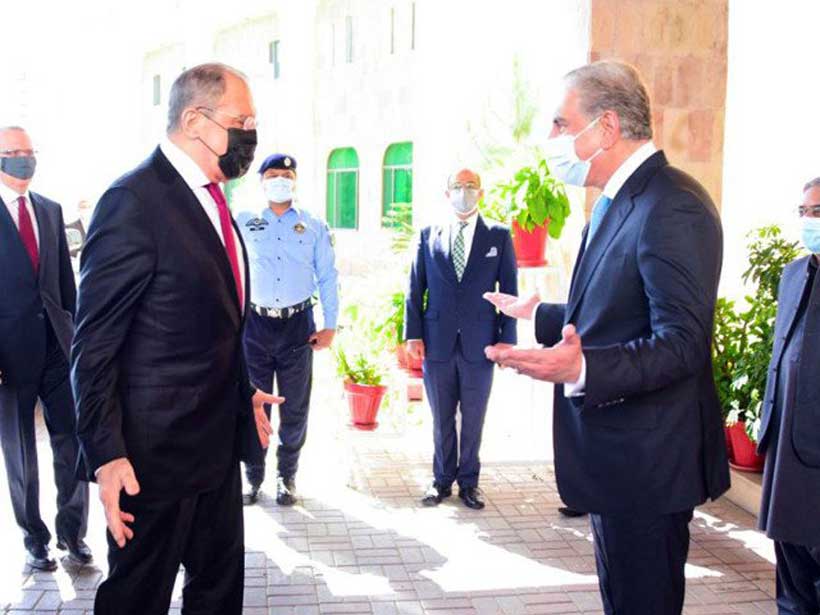 Russian Foreign Minister Sergey Lavrov visited Pakistan on 6-7 April 2021 and held delegation-level meetings with Foreign Minister Shah Mahmood Qureshi, in addition to called on Prime Minister Imran Khan and Army Chief, as well as had interaction with other dignitaries and senior officials during his two-day stay in Islamabad, Pakistan.
It is worth mentioning that Russia and Pakistan face similar challenges and pass through similar difficulties, including sanctions, economic challenges, security threats, etc. Both countries share similar views on the Afghanistan issue, terrorism, regional security, and China's common friend. There exists a comprehensive convergence of interests.
Especially after India signed a series of Defense agreements and acted as a "Major Defense Partner" and American-led Quad or concept of Asian NATO, the geopolitics has emerged so that Russia and Pakistan must cooperate with each other. As a matter of fact, we left with no option except strengthening regional cooperation.
Russian Foreign Minister Sergey Lavrov said that Moscow and Islamabad would boost ties in the fight against terrorism, with his country providing defense equipment to Pakistan and the two holding joint military exercises.
During the meeting, Prime Minister Imran Khan restated Pakistan's determination to expeditiously complete the mandatory legal process for the "Pakistan Stream" (North-South) Gas Pipeline project and begin the work as early as possible.
Pakistan-Russia mutual relations and issues of regional and global importance were discussed in the meeting. The Prime Minister fondly recalled his interaction with President Vladimir Putin during the Shanghai Cooperation Organization (SCO) Summit in Bishkek in June 2019. He had emphasized his desire to take the bilateral relationship to a new level. He repeated that the importance Pakistan attached to its relations with Russia as a critical foreign policy priority. The Prime Minister uttered satisfaction at the steady growth in bilateral ties, including deepening cooperation in trade, energy, security, and defense.
Citing to the situation in Indian Illegally Occupied Jammu and Kashmir (IIOJK), the Prime Minister shared Pakistan's perspective on peace and security issues in South Asia, including the need for sustainable, peaceful resolution of the Jammu and Kashmir dispute.
The Prime Minister repeatedly extended his invitation to President Putin to visit Pakistan at his earliest convenience. It is hoped that President Putin will visit Pakistan soon.
Moreover, disturbing the peace process in Afghanistan, where both countries have long histories of concerns. It was the first time a Russian foreign minister had visited Pakistan in nine years and comes at a delicate time for Afghanistan with peace talks making little progress and a deadline approaching for the United States to withdraw its forces. "(Pakistan and Russia) share convergent positions on several issues … including peace and stability in Afghanistan,"
The visit comes as Moscow seeks to increase its stature in the region, particularly in war-torn Afghanistan, where it has sought to inject itself as a critical player in fast-tracked efforts to find a permanent peaceful end to decades of war.
As Washington appraisals an agreement it signed more than a year ago with the Taliban and rethought a May 1 withdrawal of its troops, Moscow has stepped up its involvement in Afghanistan, emerging as a significant player. Last month it hosted talks between the Taliban and senior government officials, and Lavrov suggested another high-level meeting could again be held in Moscow.
Addressing a joint press conference with Foreign Minister Shah Mahmood Qureshi, Lavrov expressed satisfaction over a 46 percent increase in trade between them. He, however, stressed there is a need to diversify it further. Discussing the energy sector opportunities, he said both the countries are now discussing a new protocol on the Stream Gas Pipeline Project, an ambitious project to transport 1.6 billion cubic feet per day of regasified liquefied natural gas (LNG) from Karachi to Lahore. As soon as it is signed, the construction work will begin. The top Russian diplomat termed the relationship between the two nations mutually beneficial and constructive. He recalled Russia had provided 50,000 doses of its Covid-19 Sputnik-V Vaccine.
Qureshi said Pakistan wanted to build a relationship with Russia that is based on trust. He said Moscow has always advocated the importance of international law and multilateralism. "These are principles that Pakistan adheres to. Our coordination and cooperation at the United Nations level have been excellent." At this, Lavrov reaffirmed the commitment to deepen ties with Pakistan and create win-win cooperation between them.
India's Naxalbari Achilles' heel
On April3, 2021, there was a pitched battle between a Naxalite (or Maoist) group (called "rebels") by Indian government) and government forces of over 1500 "jawan", equipped with state-of-the art weapons and helicopters at the Bijapur-Sukma border. The Naxals armed with machine guns gunned down 22 members of the government forces and injured 31 others, excluding missing personnel. Eight of the dead jawans were from the CRPF, seven from the elite Cobra (Commando Battalion for Resolute Action) while the others were part of the Bastariya Battalion of the Central Reserve Police Force (CRPF) and the District Reserve Guard (DRG). Two of the dead CRPF jawans were from Assam, where assembly polls are on.
The Naxalite decamped with forces' weapons, uniforms and shoes. The government claims that they killed 10 Naxalite, but could only produce the corpse of a dead woman as a "rebel". The government claims that the Naxalites take along their dead and injured.
(Twenty-two jawans killed in Chhattisgarh Maoist gun battle. Officers claimed more than 10 ultras were killed in Saturday's encounter but other sources said the police had found the body of a lone rebel — a woman. Telegraph India April 5, 2021).
Lapses
Media described the "counter-insurgency operation" as an "intelligence failure and poor leadership by the CRPF commanders and drew parallels with the February 2019 Pulwama massacre of 40 personnel in the run-up to the general election". Earlier in April 2017, the Naxal had killed 25 CRPF personnel near Burkapal in Sukma. The media blames home minister and the government of being preoccupied in winning elections in some state assemblies through turn coats. It is alleged that "five teams totaling 2,000-plus security personnel had on Friday night launched a concerted operation in the Maoist-hit Bijapur and Sukma districts after learning that rebels led by the dreaded Madvi Hidma were hiding in the forest. A CRPF officer admitted, `The operation was launched from five places Tarrem, Usoor and Pamed in Bijapur, and Minpa and Narsapuram in Sukma. While a team was advancing through the forests near Jonaguda, around 500km from state capital Raipur, it was ambushed by some 250 Maoists on Saturday afternoon, said. He said the forces were scattered and trapped along a two-km stretch of forest. The patrolling team from Tarrem came under heavy fire, prompting some of them to move to what appeared a deserted village, where the Maoists lay in wait for them. The Maoists fled with the weapons, bullet-proof jackets and the shoes of the dead troops'.
Naxalite clout
The recent encounter belies government claim that it has wiped out Naxalism from their stronghold Bastar. Bastar division of Chhattisgarh has a population of 23, 48,808 persons. It is spread over 40,000 square kilometers (Census 2011). Bastar division has a security-personnel-to-civilian-population ratio of 1:22 with the deployment of 58,772 central paramilitary force personnel and another 50,000 of state armed-police personnel, the. Security forces occasionally conduct "search and destroy" operations in the area killing or arresting innocent people for "Naxal offence". . The jails are overcrowded to the extent of three times the prison capacity, filled with Adivasis (tribals). The report of a High Level Committee headed by Virginius Xaxa, submitted to the government in May 2014, highlighted this fact.
Even expression of sympathy with Naxals is now a heinous offence.
In the Bhim Koregaon planted letters case, several intellectuals and rights activists including Navalakha were declared "traitors" by the government. They were even accused of having links with Kashmiri militants. It was claimed that they were in communication with Ghulam Nabi Fai, a Kashmiri leader who has served two-year imprisonment in the USA for having illegally received funds from the inter-services intelligence of Pakistan.
Despite repression under draconian laws, the Naxalbari uprising has still been alive since May 1967.
According to India's home ministry "more than two-thirds of Maoist related violence is now restricted to only 10 districts of the country. However, media reports reflect Maoists are well entrenched in at least 68 districts. The movement could not be quelled despite tall claims by Indian authorities over the past 53 years. Indian home ministry has a whole division dedicated to dealing with the movement.
No writ of government
In Naxalite-influenced rural areas, there is no trace of India's judicial system. There, the Naxalite organisations act 'virtually like policemen, arresting, meeting out "justice" and in some cases even executing the guilty' ("Internal security situation", India's National Security: Annual Review 2004, New Delhi, India Research Press, 2005, p. 87).
With the merger of pro-Naxalite revolutionary bodies, the Naxalites are the sole arbiters of justice in rural areas.
Concluding remarks
The term "Naxalite" is rooted in Naxalbari village (West Bengal) where Kanhu Sanyal presented the concept of "forcible protest against the social order relating to holding of property and sharing of social benefits". They started the Naxal movement on March 3, 9167 at Naxalbari village, near Siliguri sub-division in West Bengal. It is 30 to 50 miles from Sikkim. Tibet and Bhutan in the, Nepal in the West and from Bangladesh in the east. To him the purpose of the protest was "organizing peasants to bring about land reform through radical means including violence".
Naxalite movement in India is viewed as an internal security problem. However, the populist appeal of the movement's ideology reflects that it could soon assume international dimensions if China supports it. India's Lieutenant General KM Seth laments, 'Unfortunately, the threat to internal security from Naxalites has acquired dangerous proportions and can no longer be wished away. …they are also developing links with Turkish and Philippino terrorist organisations…We have suffered and bled patiently and have taken huge human casualties, which could exceed 13,000, uniformed personnel and 53,000 civilians during the last 25 years… As of today, their overall strength could be put to approximately 20, 000 undergrounds, 50,000 overgrounds and more than a lakh in frontal organisations. Their armoury is reported to comprise approximately 900 AK-47 rifles, 200 light machine guns, 100 grenade firing rifles, 2 inch mortars, thousands of .303 rifles, self-loading rifles and .12-bore guns with a huge quantity of explosives at their disposal'. ("Naxalite Problem", U. S. I. Journal , January-March 2005, New Delhi, p. 19, 23).
India may blame Pakistan for the freedom movement ('insurgency' or 'militancy') in occupied Kashmir. But, who shall she blame for the Naxalite insurgency in Andhra Pradesh and other Indian states? This is a movement against economic deprivation and brutality of the state or central government's law-enforcing agencies.
Indian media has now begun to report that the counter-insurgency forces are fearful of grappling the Naxalite. In Guntur (Andhra Pradesh), the Naxalite announced a cash reward of five lac rupees per policeman ("Reward scheme sends forces into huddle", Indian Express, August 25, 2005). IG (Guntur Range) Rajwant Singh admitted, 'My men are removing the posters and convincing the villagers to inform them about the activities of Naxalites'.
Karl Popper's theory of falsification by refuting the classic positivist theory is not new. It is already applied by rejecting Aristotle's Geocentric model by Copernicus as a Heliocentric model in the 16th century. Newton model of absolute time was refuted by Einstein in the 20th century as Time is relative and flexible. So, humanity has always revised pre-existing knowledge with experience and relation to surrounding in the course of time. Knowledge is an infinite process of getting into more advanced forms. From Aristotle to Copernicus and Popper—everyone is defending Eurocentrism. It is a huge construct that knowledge is only the 'knowledge' generated from the West. For example: 'Feeling & sex' is a biological construct. 'Showing love' is social construct. 'Valentine' is a political construct. Celebrating Valentine in Global South is part of assimilation process. Commenting on it is a part of 'rationality' choice with political cognitive building. Underneath, is a 'realist' model of state's intention to achieve its vested interest via 'cultural colony' building. At the end, who controls, the story(Ideology, Process, Frame, Implementation and outcomes) wins the race. Here, west is leading with no doubt.
Second Example: My personal interest in the US election is a bi-product of constructivist world where ideas, beliefs, identities, interest and social norms are shaped by actions and interactions of agency and structures. This put us; grip of knowledge on the western politics shapes my identities as a cosmopolitan and signals my interest of what I am looking from this continuous follow-up of election update–more data driven epistemology and ontology which is helpful in my running PhD. marathon. Like I said; my 1 OPED related to the US election in New York Times is much more powerful than my 1000 OPEDs in Kathmandu based media. This is not caused by the capacity of these two giant media tycoon(material structures)companies rather meaning given to it; which is a ideational structures meaning constructed world; publishing in western media proves my talent.
Third Example: In the last week of December 2020, the Nepali PM dissolved the parliament and had called for a fresh election in April & May 2021. Although, Supreme Court ruled out the Parliament dissolve decision of government. However, before Supreme Court decision, this event followed several tantrums among Nepal Communist Leaders. Nepali Prime Minister K. P Sharma Oli remarks on several occasions are puerile. His counter words to opponents of his party i.e. Prachanda & Madhav Kumar Nepal is a floccinaucinihilipilification mindset. In one of the accounts, Bhim Rawal's (one of the key leaders of the Communist Party) speech targeting sexuality to PM Oli( degraded mental conditions due to Kidney transplant provided by woman donor) was a repulsive example of puritanical patriarchy. These series of watershed among leaders made the content of the social media walls farrago and users are webaqoof. The is resulting the Nepal into entropy. And, for this Nepali leaders takes a big share for such de-growth. Nepali leaders recklessly bore the public with rodomontade. They are purely a snollygoster in power. For this, political leaders mishandling any political affairs in Nepal with a predetermined attitude of non intervention by Nepali public causing the situation to worst. Non-interventions on lacunae by the public due to public trauma of being mobilized to several revolutions and movements since 1950's is creating a frisson. We are brewed by the agathokakological elements and politicians are not an exception. And we found ourselves in Zugzwang position. Zugzwang politicians are everywhere in Nepal and they are either by a foreign power or cadres pressure not necessarily proving advantageous for Nepal public. Prachanda and KP Sharma Oli had a sesquipedalian marathon via 19 pages and 38 pages document presented by themselves respectively —reproachful Oli of taking a decision without party consultations. Both parties had claimed; it was limpid. Allegations are also on the floor—-PM Oli and President of Nepali had closed 'personal' consultations to dissolve parliament. Rivals to both PM & President claimed the consequences occurred after the parliament dissolves due to muliebrity because the president is a woman and she should be taking responsibility. Opponents use Lalochezia targeted to the sexuality of the president. The overall current scenario in Nepal is the result of kakistocracy rather than democracy.
Way forward
From above Karl Popper to the US election and Nepali politics—All these carries western led constructivist attitude with mansplaining. Rural youth of Nepal are constructed of all urban dwellers are feudal. And, therefore degradation of them is necessary. So, several radical groups are formed in Nepal for past few years. These groups created 'tension' in the national life of Nepal. As a result, government conduct dialogue with them for peace process. The leaders of the groups get benefited with state facilities and followers are left behind with dozens of Nepal changing dream. This has been the reality of Nepal where dynamic youth are lured for the vested political purpose. What I have to say; now "capital" is generated by "Dialectical Silicon Materialism" rather 19th and 20th Century "politicized" concept of labor-Industrialist dichotomy. But, in Nepal we are concentrated in the latter one.