Coronavirus pandemic threatens crises-ravaged communities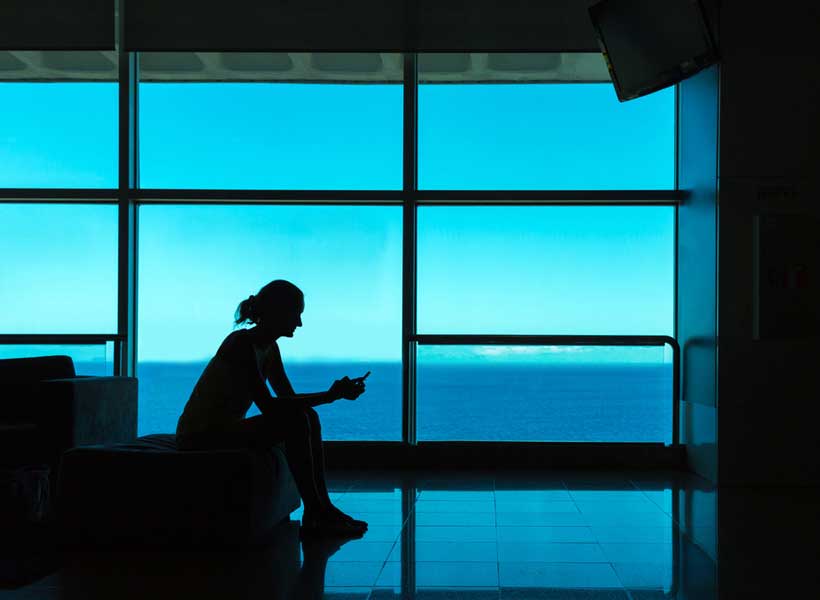 A psychosocial counsellor in Jordan's Azraq refugee camp informed the UN Population Fund (UNFPA) on Thursday that during the first four days of the COVID-19 lockdown she called beneficiaries to let them know that "virtual support" was available.
Orouba Amin has spent 11 years providing psychosocial care to survivors of trauma and violence, from refugees escaping the horrors of war to women and girls escaping sexual abuse and exploitation. Today, her work comes on top of a new threat: the coronavirus pandemic.
Around the world, as governments implement lockdowns and movement restrictions, women's centres and safe spaces are closing their doors – even as evidence mounts that gender-based violence may be increasing.
Countries are also seeing their reproductive health services being curbed as resources are diverted to the pandemic response. Where reproductive health care remains available, movement restrictions and fears of the virus are keeping women from seeking attention.
And communities affected by humanitarian crises are particularly imperiled by these conditions. Many are already struggling with poverty and limited access to health services. Infection-control measures are even harder to implement in densely packed settlements with limited water and sanitation resources.
These challenges are greatly exacerbated for women who are pregnant, require family planning supplies or need protection from violence.
Nowhere to hide
In Jordan, where nearly 400 cases of COVID-19 have been confirmed, a curfew has been imposed to slow transmission of the virus. This has added hardship in Azraq Camp, where an average of seven people are crowded into each prefabricated shelter.
She painted a picture of shop owners struggling to import essential food items, scant livelihood options and families facing difficult choices as they try to put food on their tables.
And as social life increasingly takes place online, so does sexual harassment, one woman told UNFPA.
The camp's safe spaces for women and girls, run by the International Rescue Committee with support from UNFPA, have been closed.
As Ms. Amin and her colleagues race to find new means of providing services to women and girls in need, she is offering counselling via telephone – but many lack the privacy needed to speak on the phone about sensitive issues while others simly do not have their own phones.
Ms. Amin also provides assistance via text message and WhatsApp.
"One of the women texted me on the dedicated WhatsApp number, and when I responded to her, she said, 'I'm fine now, as I know that you are there for me in case I need you.' This meant everything to me," she said.
Resources vital
In humanitarian situations, women's vulnerability to violence and exploitation escalates. And even before the pandemic, hundreds of women and girls in humanitarian and fragile settings died each day from complications of pregnancy and childbirth. Now, as health systems and protection services are stressed by the pandemic, conditions for women are poised to worsen.
UNFPA has urgently called for funding to the COVID-19 Global Humanitarian Response Plan, with a requirement of $120 million for UNFPA to ensure the health and safety of women and girls affected by humanitarian crises. In addition, UNFPA has appealed for $67.5 million to support COVID-19 preparedness efforts through March and April.
This amount – a total of $187.5 million – will go, among other things, towards strengthening health systems and ensuring continuity of services for survivors of gender-based violence. It is separate from the humanitarian funding needed for UNFPA's ongoing support to crisis-affected countries.
For both UNFPA's humanitarian appeal and its COVID-19 response plan, flexible funds are needed to ensure an agile response as conditions on the ground evolve.
UNFPA is already ramping up efforts to address the pandemic in humanitarian settings, including in central-western Syria. Also under curfew, outreach workers are raising awareness of the pandemic, infection-control measures and women's rights.
It is an uphill battle, said Ghadeer Mohammed Ibrahim Qara Bulad, director of the Women's Development Project at the Islamic Charitable Association in Homs. "The majority of the families we visit are awfully poor and cannot even buy sterilizers," she said.
She has also seen widespread gender-based violence and fears it will only intensify.
"During my visits, I saw a woman being beaten by her husband during the curfew," said Ms. Bulad. "I think the percentage of gender-based violence will increase and increase dramatically".
155 million faced acute food insecurity in 2020, conflict the key driver
At least 155 million people faced crisis levels of food insecurity in 2020 because of conflict, extreme weather events and economic shocks linked in part to COVID-19, a UN-partnered flagship report said on Wednesday.
It's been five years since hunger levels were this bad across 55 countries under review, according to the Global Network Against Food Crises (GNAFC), which noted that 20 million more people went hungry last year than in 2019.
Countries in Africa remained "disproportionally affected", it said, adding that conflict pushed almost 100 million people into acute food insecurity, followed by economic shocks (40 million) and weather extremes (16 million).
Vicious cycle: Guterres
"Conflict and hunger are mutually reinforcing. We need to tackle hunger and conflict together to solve either…We must do everything we can to end this vicious cycle. Addressing hunger is a foundation for stability and peace", said UN Secretary-General António Guterres, writing in the report.
Basing its assessments on the IPC scale for Acute Food Insecurity, the GNAFC network – which includes the UN World Food Programme (WFP) – revealed that the worst-affected countries were Burkina Faso, South Sudan and Yemen.
Across these countries, around 133,000 people were at IPC5 – the highest level of need – and they required immediate action "to avert widespread death and a collapse of livelihoods", the Network's report said.
At least another 28 million people were "one step away from starvation" – IPC4 – across 38 countries and territories, where urgent action saved lives and livelihoods, and prevented famine spreading.
Close to 98 million people facing acute food insecurity in 2020 – or two out of three – were on the African continent.
Not only Africa
Other parts of the world were not spared, with countries including Yemen, Afghanistan, Syria and Haiti featuring among the 10 worst food crises last year.
The authors of the report – the United Nations, the European Union as well as government and non-government agencies – also noted that 39 countries and territories had experienced food crises in the last five years.
In these countries and territories, the population affected by high levels of acute food insecurity (IPC3 or worse) increased from 94 to 147 million people, between 2016 and 2020, the global network said.
It added that in the 55 food-crisis countries and territories covered by the report, more than 75 million children under five were stunted and at least 15 million showed signs of wasting in 2020.
While conflict will remain the major driver of food crises in 2021, COVID-19 and related containment measures and weather extremes will continue to exacerbate acute food insecurity in fragile economies.
Coronavirus impact
"The COVID-19 pandemic has revealed the fragility of the global food system and the need for more equitable, sustainable and resilient systems to nutritiously and consistently feed 8.5 billion people by 2030.
"A radical transformation of our agri-food systems is needed to achieve the Sustainable Development Goals", said the European Union (EU), the UN Food and Agriculture Organization of the United Nations (FAO), the UN World Food Programme (WFP) – founding members of the Global Network – together with the US international development agency, USAID, in a statement.
In March 2021, UN chief Mr. Guterres established a famine-prevention task force, led by UN emergency relief chief Mark Lowcock, along with FAO and WFP and with the support of OCHA and other UN agencies as well as NGO partners.
The Task Force aims to bring coordinated, high-level attention to famine prevention and mobilise support to the most affected countries.
Human rights experts demand UAE provide 'meaningful information' on Sheikha Latifa
United Nations independent human rights experts on Tuesday demanded that the United Arab Emirates provide "meaningful information" on the fate of Sheikha Latifa Mohammed Al Maktoum as well as assurances regarding her safety and well-being, "without delay".
Sheikha Latifa, the daughter of the Emir of Dubai, and Prime Minister of the UAE, Mohammed bin Rashid Al Maktoum, was reportedly abducted while attempting to flee the country in 2018. In February, footage was released that reportedly showed her being deprived of her liberty against her will.
Independent rights experts, including the UN Special Rapporteur on violence against women voiced concern that since the February video, and subsequent official request for further information on her situation, "no concrete information has been provided by the authorities".
"The statement issued by the Emirates authorities' merely indicating that she was being 'cared for at home' is not sufficient at this stage", they added.
The rights experts also said they were troubled by the allegations of human rights violations against Sheikha Latifa, and of the possible threat to her life.
Evidence of well-being 'urgently required'
According to the information received, she continues to be deprived of liberty, with no access to the outside world, they added, noting that "her continued incommunicado detention can have harmful physical and psychological consequences and may amount to cruel, inhuman or degrading treatment".
"Evidence of life and assurances regarding her well-being are urgently required", the human rights experts urged, calling for independent verification of the conditions under which Sheikha Latifa is being held, and for her immediate release.
In addition to the Special Rapporteur on violence against women, the call was made by the members of the working groups on enforced or involuntary disappearances; and on discrimination against women and girls; as well as the Special Rapporteurs on torture and other cruel, inhuman or degrading treatment or punishment; and on extrajudicial, summary or arbitrary execution.
The Special Rapporteurs and Working Groups are part of what is known as the Special Procedures of the Human Rights Council. The experts work on a voluntary basis; they are not UN staff and do not receive a salary. They are independent from any government or organization and serve in their individual capacity.
Six reasons why a healthy environment should be a human right
At least 155 states recognize their citizens have the right to live in a healthy environment, either through national legislation or international accords, like the Universal Declaration of Human Rights.
Despite those protections, the World Health Organization estimates that 23 per cent of all deaths are linked to "environmental risks" like air pollution, water contamination and chemical exposure.
Statistics like that are why the United Nations Human Rights Council recently passed a resolution reaffirming states' obligations to protect human rights, including by taking stronger actions on environmental challenges.
Here are some of the ways that a compromised planet is now compromising the human right to health.
1. The destruction of wild spaces facilitates the emergence of zoonotic diseases.
The alteration of land to create space for homes, farms and industries has put humans in increasing contact with wildlife and has created opportunities for pathogens to spill over from wild animals to people.
An estimated 60 per cent of human infections are of animal origin. And there are plenty of other viruses poised to jump from animals to humans. According to the Intergovernmental Science-Policy Platform on Biodiversity and Ecosystem Services, "as many as 1.7 million unidentified viruses of the type known to infect people are believed to still exist in mammals and waterfowl. Any one of these could be the next 'Disease X' – potentially even more disruptive and lethal than COVID-19."
2. Air pollution reduces quality of health and lowers life expectancy.
Across the globe, nine in 10 people are breathing unclean air, harming their health and shortening their life span. Every year, about 7 million people die from diseases and infections related to air pollution, more than five times the number of people who perish in road traffic collisions.
Exposure to pollutants can also affect the brain, causing developmental delays, behavioural problems and even lower IQs in children. In older people, pollutants are associated with Alzheimer's and Parkinson's diseases.
3. Biodiversity loss compromises the nutritional value of food.
In the last 50 years alone, human diets have become 37 per cent more similar, with just 12 crops and five animal species providing 75 per cent of the world's energy intake. Today, nearly one in three people suffer from some form of malnutrition and much of the world's population is affected by diet-related diseases, such as heart disease, diabetes and cancer.
4. Biodiversity loss also reduces the scope and efficacy of medicines.
Natural products comprise a large portion of existing pharmaceuticals and have been particularly important in the area of cancer therapy. But estimates suggest that 15,000 medicinal plant species are at risk of extinction and that the Earth loses at least one potential major drug every two years.
5. Pollution is threatening billions worldwide.
Many health issues spring from pollution and the idea that waste can be thrown "away" when, in fact, much of it remains in ecosystems, affecting both environmental and human health.
Water contaminated by waste, untreated sewage, agricultural runoff and industrial discharge puts 1.8 billion people at risk of contracting cholera, dysentery, typhoid and polio. Methylmercury – a substance found in everyday products that contaminate fish – can have toxic effects on the nervous, digestive and immune systems when consumed by humans. And a growing body of evidence suggests that there is a cause for concern about the impact of microplastics on marine life and the food web.
As well, every year, 25 million people suffer from acute pesticide poisoning. And glyphosate – the world's most widely-used herbicide– is associated with non-Hodgkin lymphoma and other cancers.
Even medicines can have a negative impact as they infiltrate ecosystems. A 2017 UNEP report found that antibiotics have become less effective as medicine because of their widespread use in promoting livestock growth. About 700,000 people die of resistant infections every year.
6. Climate change introduces additional risks to health and safety.
The last decade was the hottest in human history and we are already experiencing the impacts of climate change, with wildfires, floods and hurricanes becoming regular events that threaten lives, livelihoods and food security. Climate change also affects the survival of microbes, facilitating the spread of viruses. According to an article published by the Intergovernmental Science-Policy Platform on Biodiversity and Ecosystem Services, "pandemics are likely to happen more frequently, spread more rapidly, have greater economic impact and kill more people."