Coronavirus pandemic threatens crises-ravaged communities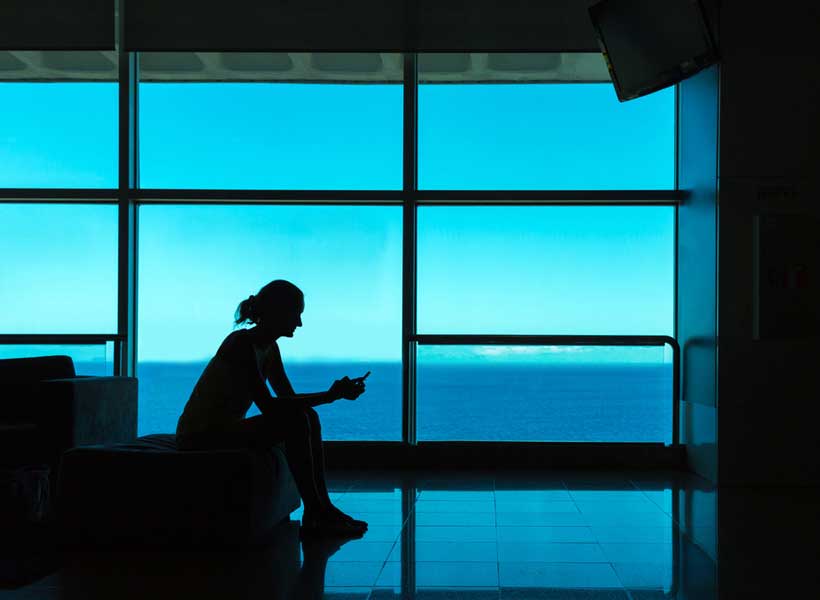 A psychosocial counsellor in Jordan's Azraq refugee camp informed the UN Population Fund (UNFPA) on Thursday that during the first four days of the COVID-19 lockdown she called beneficiaries to let them know that "virtual support" was available.
Orouba Amin has spent 11 years providing psychosocial care to survivors of trauma and violence, from refugees escaping the horrors of war to women and girls escaping sexual abuse and exploitation. Today, her work comes on top of a new threat: the coronavirus pandemic.
Around the world, as governments implement lockdowns and movement restrictions, women's centres and safe spaces are closing their doors – even as evidence mounts that gender-based violence may be increasing.
Countries are also seeing their reproductive health services being curbed as resources are diverted to the pandemic response. Where reproductive health care remains available, movement restrictions and fears of the virus are keeping women from seeking attention.
And communities affected by humanitarian crises are particularly imperiled by these conditions. Many are already struggling with poverty and limited access to health services. Infection-control measures are even harder to implement in densely packed settlements with limited water and sanitation resources.
These challenges are greatly exacerbated for women who are pregnant, require family planning supplies or need protection from violence.
Nowhere to hide
In Jordan, where nearly 400 cases of COVID-19 have been confirmed, a curfew has been imposed to slow transmission of the virus. This has added hardship in Azraq Camp, where an average of seven people are crowded into each prefabricated shelter.
She painted a picture of shop owners struggling to import essential food items, scant livelihood options and families facing difficult choices as they try to put food on their tables.
And as social life increasingly takes place online, so does sexual harassment, one woman told UNFPA.
The camp's safe spaces for women and girls, run by the International Rescue Committee with support from UNFPA, have been closed.
As Ms. Amin and her colleagues race to find new means of providing services to women and girls in need, she is offering counselling via telephone – but many lack the privacy needed to speak on the phone about sensitive issues while others simly do not have their own phones.
Ms. Amin also provides assistance via text message and WhatsApp.
"One of the women texted me on the dedicated WhatsApp number, and when I responded to her, she said, 'I'm fine now, as I know that you are there for me in case I need you.' This meant everything to me," she said.
Resources vital
In humanitarian situations, women's vulnerability to violence and exploitation escalates. And even before the pandemic, hundreds of women and girls in humanitarian and fragile settings died each day from complications of pregnancy and childbirth. Now, as health systems and protection services are stressed by the pandemic, conditions for women are poised to worsen.
UNFPA has urgently called for funding to the COVID-19 Global Humanitarian Response Plan, with a requirement of $120 million for UNFPA to ensure the health and safety of women and girls affected by humanitarian crises. In addition, UNFPA has appealed for $67.5 million to support COVID-19 preparedness efforts through March and April.
This amount – a total of $187.5 million – will go, among other things, towards strengthening health systems and ensuring continuity of services for survivors of gender-based violence. It is separate from the humanitarian funding needed for UNFPA's ongoing support to crisis-affected countries.
For both UNFPA's humanitarian appeal and its COVID-19 response plan, flexible funds are needed to ensure an agile response as conditions on the ground evolve.
UNFPA is already ramping up efforts to address the pandemic in humanitarian settings, including in central-western Syria. Also under curfew, outreach workers are raising awareness of the pandemic, infection-control measures and women's rights.
It is an uphill battle, said Ghadeer Mohammed Ibrahim Qara Bulad, director of the Women's Development Project at the Islamic Charitable Association in Homs. "The majority of the families we visit are awfully poor and cannot even buy sterilizers," she said.
She has also seen widespread gender-based violence and fears it will only intensify.
"During my visits, I saw a woman being beaten by her husband during the curfew," said Ms. Bulad. "I think the percentage of gender-based violence will increase and increase dramatically".
More 'can and must be done' to eradicate caste-based discrimination in Nepal
Shocked over the killing last weekend of five men in Nepal, who had planned to escort home one of their girlfriends from a higher caste, the UN human rights chief on Friday stressed that ending caste-based discrimination is "fundamental" to the overall sustainable development vision of leaving no one behind.
"It is distressing that caste-based prejudices remain deeply entrenched in our world in the 21st century, and I am filled with sadness for these two young people who held high hopes of building a life together despite the obstacles presented by their accident of birth" said High Commissioner for Human Rights Michelle Bachelet, referring to the couple at the centre of the tragedy.
Last Saturday, a 21-year-old man from the 'untouchable' Dalit caste, known as Nawaraj BK, and his friends, traveled some 32 km from Jajarkot district, to Western Rukum district, the home of the man's girlfriend, who belongs to a higher social caste.
They intended to escort the young woman back to their home district, reportedly at her request, but were attacked and chased into a river. Five men, four of whom were also Dalits, were later found dead, while another is still missing.
"Caste-based discrimination remains widespread, not only in Nepal but other countries, and often leads to serious harm and, as in this case, even loss of life", lamented Ms. Bachelet.
Dalits under attack
Nawaraj's case is not an isolated one.
Dalits, formerly known as "untouchables", have suffered for generations of public shaming at the hands of upper-caste Hindus and continue to face widespread atrocities across the country, with any seeming attempts at upward social mobility, violently shut down.
In a similar case, disturbing reports have also emerging about a 12-year-old Dalit girl who was killed in a separate attack in the village of Devdaha, in the Rupandehi district in southern Nepal.
She is said to have been forcibly married to her alleged rapist from a dominant caste. The girl's body was reportedly left hanging from a tree on Saturday.
The High Commissioner called for an independent investigation into the attacks, underscoring that the victims and their families have the right to justice, truth and reparations.
Searching for justice
The killings have triggered outrage in Nepal, prompting the federal Ministry of Home Affairs to establish a five-member "high-level investigation committee" to look into the incident.
On Tuesday, police reportedly filed a complaint against 20 alleged perpetrators.
"Despite constitutional guarantees, impunity for caste-based discrimination and violence remains high in Nepal", according to the UN human rights office (OHCHR).
And while the country has taken "big strides to address this scourge", she maintained that "so much more can and must be done, to eradicate this blight on society".
The Nepali Parliament's Law, Justice and Human Rights Committee has asked authorities to immediately investigate two cases of gang-rape of Dalit women, as well as other caste-based cases involving murder, enforced disappearances and forced abortion.
Although Nepal is party to the Convention on the Elimination of All Forms of Racial Discrimination, the Committee tasked with monitoring the treaty observed that despite the abolition of "untouchability" in Nepal, Dalits continue to face deep-rooted discrimination, including issues surrounding inter-caste marriages.
Discrimination at every turn
And the risks for this vulnerable caste has only increased during the COVID-19 pandemic.
On Monday, the parliamentary committee directed the Government to investigate all incidents of caste-based discrimination and violence during the coronavirus lockdown.
Dalits in Nepal and other countries experience discrimination at every level of their daily lives, limiting their employment and educational opportunities, the places where they can collect water or worship, and their choice of who to marry, says OHCHR.
Structural barriers and discrimination force Dalits to continue low-income and dehumanizing employment, such as manual scavenging, disposing of dead animals, digging graves or making leather products.
COVID-19 crisis putting human trafficking victims at risk of further exploitation
Lockdowns, travel restrictions, resource cutbacks and other measures to curb the spread of the new coronavirus are putting victims of human trafficking at risk of further exploitation, while organized crime networks could further profit from the pandemic, according to the UN Office on Drugs and Crime (UNODC).
New analysis from the agency shows that the crisis is having an impact on the lives of trafficking victims before, during and even after their ordeal.
"With COVID-19 restricting movement, diverting law enforcement resources, and reducing social and public services, human trafficking victims have even less chance of escape and finding help", said Ghada Fathi Waly, the UNODC Executive Director.
As countries have closed their borders due to the pandemic, some victims are unable to return home. Others face delays in legal proceedings, as well as a reduction in the support and protection they rely on. Some are also in danger of further abuse or neglect by their captors.
"Human trafficking is the result of the failure of our societies and economies to protect the most vulnerable", said Ilias Chatzis, chief of the UNODC section that works to combat this crime.
"They should not be additionally 'punished' during times of crisis."
Children in danger of new forms of abuse
UNODC said its partners report that due to the pandemic, more children are being forced onto the streets to search for food and money, thus increasing their risk of exploitation.
School closures have not only blocked access to education but also a source of shelter and food for millions of children. The UN recently reported that some 370 million students worldwide are now missing out on school meals, often their only reliable source of nutrition.
Meanwhile, a UN independent human rights expert has underlined the urgent need for child protection services during the pandemic.
Mama Fatima Singhateh, fears the reported surge in violence against children, coupled with new forms of sexual exploitation and abuse, will have "devastating" lifelong implications for millions of youngsters worldwide.
Even before the crisis, as many as 66 million children were already living in "a precarious socio-economic situation", according to Ms. Singhateh, who is the Special Rapporteur on the sale and sexual exploitation of children, appointed by the UN Human Rights Council in Geneva.
'Drive-thru' services for child sexual exploitation
Ms. Singhateh said travel restrictions have spawned new ways to sexually exploit and abuse children, such as attempts to establish "delivery" or "drive-thru" services. There has also been a spike in people trying to access illegal websites featuring child pornography.
"Producing and accessing child sexual abuse material and live-stream child sexual abuse online has now become an easy alternative to groom and lure children into sexual activities and to trade images in online communities", said Ms. Singhateh. In common with all the UN's independent rights experts, she is not a UN staff member nor does she receive a salary from the Organization.
Organized crime could benefit
UNODC warned that the pandemic has also created new opportunities for organized crime to profit.
"Traffickers may become more active and prey on people who are even more vulnerable than before, because they have lost their source of income due to measures to control the virus", said Mr. Chatzis, chief of the agency's Human Trafficking Section.
Some countries have diverted resources meant for fighting crime to the battle to defeat COVID-19. At the same time, services to assist trafficking victims are being reduced or even shut down.
"We know that people in a vulnerable situation are more exposed to contracting the virus, and they have less access to healthcare if they get sick," said Mr. Chatzis.
"So it's alarming to hear that, in some places, trafficking victims no longer have access to shelters, some refuges have even closed down due to the virus and others lack protective equipment – putting both victims and staff at risk."
UNODC steps up support
As the pandemic deepens, UNODC is constantly monitoring the situation through its network of field offices and global partners.
It is also ramping up support, such as helping anti-trafficking units to get protective equipment, and assisting countries in evaluating the impact of the crisis on resources for victims, law enforcement and justice systems.
"As we work together to overcome the global pandemic, countries need to keep shelters and hotlines open, safeguard access to justice and prevent more vulnerable people from falling into the hands of organized crime", said Ms. Waly, the agency's chief.
UNODC further recommends that governments act to ensure that while current restrictions on travel and freedom of movement are respected, access to essential services for victims of human trafficking is guaranteed without discrimination.
Food insecurity in West Africa could leave 43 million at risk as coronavirus hits
Well over 40 million people across West Africa face desperate food shortages in coming months, with COVID-19 restrictions a new factor adding to people's vulnerability, the World Food Programme (WFP) said on Tuesday.
Appealing for continued support from the international community for the agency's global aid effort, WFP spokesperson Elisabeth Byrs, warned that the new coronavirus risked exposing populations that had fled armed conflict and endured climate change emergencies.
"We must sustain our assistance across the region", Ms. Byrs said. "Especially in places such as Central Sahel, Central African Republic, Nigeria and Cameroon."
An estimated 12 million children under five years old could be acutely malnourished in the lean season from June to August, up from 8.2 million in the same period last year.
The alert follows a similar warning from the UN agency about a potentially massive spike in global food insecurity in East Africa, as a direct result of the pandemic.
During the lean season in June and August, more than 21 million people across West Africa "will struggle to feed themselves", she explained, adding Gambia and Benin to the list of countries in need.
"An additional 20 million people could struggle to feed themselves due to the socio-economic impact of COVID-19 in the next six months, doubling the number of food-insecure to 43 million in this region", the WFP official added.
Highest forced displacement in Africa
Highlighting people's vulnerabilities, Babar Baloch from the UN High Commissioner for Refugees (UNHCR), described West and central Africa as "one of largest displacement situations in Africa…we are talking about 5.6 million internally displaced people, more than 1.3 million refugees and 1.6 million stateless."
The UN refugee agency has repeatedly called for greater support for increasing numbers of people forced to flee for their lives amid renewed conflict in West Africa's turbulent Sahel and Lake Chad region.
Burkina Faso has also witnessed massive displacement – of more than 838,000 people since January 2019 – a figure which keeps climbing with each passing day.
In recent weeks, the agency said that armed groups had targeted thousands of Malian refugees sheltering in camps near the border of Burkina Faso and Mali.
On Monday, the agency condemned attacks on 2 May on Malian refugees in Burkina Faso – "reportedly by the country's security forces", in Mentao refugee camp in which at least 32 people were injured.
The camp is located in Burkina Faso's volatile Sahel region close to the border with Mali and hosts some 6,500 refugees, UNHCR said in a statement.
For WFP the priority continues to be the most vulnerable individuals.
Hand-to-mouth existence
They include "the urban poor – who live hand-to-mouth – (who) are most at risk", Ms. Byrs said, highlighting how COVID-19 travel restrictions had compromised the transport of supplies and the functioning of open-air markets that serve most people, resulting in price increases in some countries.
Movement restrictions could also affect farmers as the planting season approaches, WFP said in a statement, warning that "an inadequate response" to current needs "would put the future well-being of millions of people in the region at stake, particularly women and young children".
It could also lead to civil unrest in parts of a region already challenged by insecurity and violent extremism, the agency said, before adding that it was seeking to overcome challenges in partnership with the authorities.
A significant problem is the halt in school meal distribution, which has affected 18 million pupils supported through Government-led programmes and 2.2 million schoolchildren in WFP-supported schools.
"When Governments have had to close schools and stop (serving) school meals, we have worked with them," said Ms. Byrs. "We are working with them, to organize distribution points for the most vulnerable families who can take food rations so that they aren't penalized, as schools have been forced to shut, in line with confinement measures."
She added: "We have put in place monitoring and evaluation systems to help us to target the most at-risk populations, and we do that with partners, with Governments of course, and the international humanitarian community, in the largest sense of the term."
WFP urgently requires an additional $574 million to provide crucial assistance for the next six months in West Africa. These requirements are likely to increase in the coming weeks as the impact of COVID-19 is fully analysed.