Authors: Muneeb Yousuf and Tariq Ahmad Lone*
In the wake of changing regional dynamics, India-Iran relations have occupied greater significance. The relations between India and Iran can be traced back to 1950 when both signed a Treaty of Friendship and Perpetual Peace. However, Iran's joining of Baghdad pact in 1954 and the Cold War politics separated New Delhi and Tehran in converging their relations until 1990s. The Islamic revolution that swept through Iran in 1979, followed by hostage of U.S. diplomats, Iran-Iraq War and Tehran's support for Hezbollah and Hamas among others increasingly led to a range of political and economic sanctions, thereby isolating Iran at the global level.
After the end of the Cold War which led to the breakdown of erstwhile Soviet Union a 'new world order' began to shape. The end of the Cold-War drastically transformed the bi-polarity of World Politics which had ensued for nearly four decades, setting the ground for a 'new order' that initially looked unipolar in character but with passage of time facilitated the rise of new global powers like China–– a multipolar one. After the end of the Cold War, Liberalization, Globalization and Privatization got momentum. India's internal economic pressures and taking cue from the changing world, India also opened its economy. That does not signify that the new world only ushered benefits and opportunities, also new challenges that were exceedingly new to the modern states.
In the 1990s the interests of both India and Iran converged around energy, Central Asia and security mostly around Pakistan-Afghanistan region. The relations began to shape up in the early 1990s and India and Iran's relations finally began its strides in post-2002 after both entered into a defense cooperation agreement. Those relations continued with fluctuations in between due to the recurrent hostile relations between the U.S. and Iran. Tehran's strategic aim for developing nuclear weapons has come under strong criticism from the Trump regime leading to greater sanctions. Iran is also seen as a major regional threat by many Gulf neighbors including Israel. The larger political and economic sanctions that the Trump regime has imposed on Iran, has led pressure on New Delhi to curb diplomatic ties with Iran. While pressures from India's allies hinder the cultivation of greater relations with Tehran, New Delhi has never completely curtailed engagement with the former. As it could be argued that New Delhi is treading a fine path despite Tehran's strong and persistent criticism from Washington. New Delhi's policy of not parting ways with Tehran is guided in the rationale of geopolitical, geostrategic and geo-economic interests in the region for which Iran is an indispensable player.
Iran: The connecting Link for India's Extended Neighborhood
Iran is not only geo-economically important for India per se but also places a connecting link between India and its extended neighborhood-gulf region and Central Asia. Iran's Chabahar port is vital for India's geopolitical interests not only in West Asia but also in Afghanistan and Central Asia that is part of India's extended neighborhood. The importance of the port has significantly increased due to China's bid to increase its influence in India's immediate and extended neighbourhood through "Belt Road Initiative" and "cheque book" diplomacy and investment on ports like Gwadar. Keeping in view the significance of Chabahar port, New Delhi has invested huge money on the Chabahar port. In December 2018,in a concrete step towards India's role in Chabahar Port expansion, India Ports Global Limited company opened its office in Chabahar and took over operations at the Shaheed Beheshti port at the Iranian city. The port will provide seal and connectivity to Afghanistan and Central Asia.
India and Iran have committed for the "prosperity through greater connectivity." Moreover, the focus of the bilateral relations between Tehran and New Delhi is on bilateral cooperation in the fields of energy, trade, connectivity and promotion of people to people contacts. India and Iran along with Afghanistan have trilateral agreement on the development of Chabahar port. The trilateral agreement is motivated to promote connectivity and economic development of the region particularly Afghanistan. Iran has a critical role in India's emergence as a great power. It is not crucial for securing India's economic interests but also crucial to increase India's influence in its extended neighbourhood in westwards which include gulf region and Central Asia. Iran is critical for India's access to Central Asia and Afghanistan and can help in mitigating China's growing influence among India's neighbors. In an endeavor to consolidate India's presence in Afghanistan and Central Asia, Tehran plays a pivotal role.
Geo-economic Significance of Iran for India
Iran's economy is considered as an economy with a large hydrocarbon sector. Iran's has abundant energy resources with significant oil and natural gas reserves which are second in the world after Russia. India and Iran's economic ties accelerated following the opening of India's economy in the early 1990s. However, due to US sanctions on Iran in 2014, the trade has decreased dramatically to the lowest. As per the Exim Bank India Report, India's imports from Iran are dominated by crude oil, accounting for 85.9 per cent of India's total imports from Iran. In 2014, India was the second-largest market for Iran's exports of crude oil…India has steadily cut imports from Iran as the sanctions from the US and other Western countries blocked payment channels and crippled shipping routes.India's economic interests in Iran are mainly attached to energy and connectivity to Afghanistan and Central Asia.
The bilateral trade between India and Iran during 2017-18 was US Dollars 13.76 billion. The trade was in 2016-17 US dollars 12.89 billion. Bilateral trade has increased by 6.8% as compared to 2016-17. Indian exports increased by 11.4% and were US dollars 2.7 billion. The imports from Iran also increased by 5.8% and reached to US dollars 11.11 billion. As per Ministry of External Affairs Annual report 2019-20, the bilateral trade between the two reached to US dollars 17.3 billion as compared to US dollars 13.76 billion in 2017-18. This shows an increase of 23.8%. Moreover, Indian exports increased by 32.3% and accounted for US dollars 3.5 billion. Imports from Iran also increased by 21.8% and amounted to US dollars 13.5 billion. India is one of the fastest growing economies in the world. There is a tremendous increase in the demand for energy in India. Energy is also vital input across all the sectors of the economy. India's high growth in gross domestic product (GDP) results in a climb in the output of goods and services. As a result, the requirement of energy needs in the country is ever increasing. The energy consumption in India is fourth biggest after China, United States of America and Russia. India's contribution is more than any other country to the estimated rise in worldwide energy demand. In 2040 demographic expansion makes India the world's most populous state. As per the Global Investment & Business Center report 2015, "Oil demand increases by more than in any other country, approaching 10 million barrels per day (Mb/d) by 2040. India steps up its deployment of renewables, led by solar power, for which India becomes the world's second-largest market. Three-quarters of Indian energy demand is met by fossil fuels, a share that has been rising as households gradually move away from the traditional use of solid biomass for cooking…India was the world's third-largest importer of crude oil in 2014 but is also a major exporter of oil products."
As per the India's energy outlook report 2015, natural gas consumption triples to 175 cm (although, at 8% in 2040, it still plays a relatively limited role in the overall energy mix)…This mainstay of the rural energy economy is the primary cooking fuel for some 840 million people in India today; its use in traditional stoves is a major cause of indoor air pollution and premature death. Its gradual (albeit not complete) displacement by alternative fuels in our projections to 2040 is achieved thanks to rising incomes and supportive policies; these include one of the world's largest cash transfer programs, which subsidizes the purchase of LPG cylinders via payments to individual bank accounts, rather than via an intervention affecting end-user prices…India's urbanization is a key driver of energy trends: an additional 315 million people are expected to live in India's cities by 2040. This transition has wide ranging effects on energy use, accelerating the switch to modern fuels, the rise in the appliance and vehicle ownership and pushing up demand for construction materials.
The challenge for India will be to set up long term supplies at reasonable prices as anchor gas customers-fertilizer and power industries- may not be able to pay market determined prices.Iran, the repository of huge gas reserves, can ensure increasing India's LPG demand. To meet the growing demand for energy and sustain the growth rate of economy India needs to plan the sources of the energy supply. Iran is one of the countries that can meet India's increasing demand for energy resources like crude oil and natural gas. Iran is not only in proximity with India, but India has geopolitical and geostrategic significance for India.
Geopolitical and Geostrategic Significance of Iran for India
India and China are emerging simultaneously as great powers. Consequently, their interests are conflicting at various levels in their immediate neighborhood and Indian Ocean region- strategically and geopolitically vital to global powers. Both want their influence in Iran and around the region. Both pursue the connectivity projects to gain a strong foothold in the immediate and extended neighborhood. China is focusing on the revival of the ancient silk route through its belt road initiative. India, on the other hand, is pursuing connectivity projects like Chabahar port and the International North-South Transport Corridor (INSTC). These efforts are motivated to connect Central Asia and Afghanistan. Both these regions are gaining significance since the 1991 development in the international order. The changing world order has led to the emergence of important geographical locations and Central Asia is one among them, that emerged after the collapse of the erstwhile Soviet Union 1991. On the other hand, Afghanistan, geo-strategically very vital, became the important country particularly after the 9/11 attacks in the USA. The region was the part of the "Great Game" between Russia and British empires in the 19th century. The region came into limelight again after the conspicuous withdrawal of the USA from Afghanistan. As it is expected to emerge as a power vacuum in Afghanistan for which already significant movements have begun on the part of great powers like China, Russia, Pakistan. India is more concerned about the post-US withdrawal from Afghanistan due to the larger national security attached to the region. India lacks direct connectivity with Afghanistan and Central Asia. Therefore, Iran becomes vital for India to secure its interests in Afghanistan and Central Asia. Moreover, to reduce Pakistan's influence in Afghanistan, combat extremist groups and contain strategic encirclement by China, Iran can play a vital role. Despite India has all these vital interests attached to Iran, external pressures and internal challenges have constrained India's relations with Tehran. New Delhi faces a challenge of chasing a side with USA or Iran in times of bitter hostility between the two.
Iran-India cooperation is critical for their mutual interests in a transitional world. However, their relations are sometimes shadowed by the Indo-US proximity. US-India proximity is motivated primarily to protect US interests in India and India's neighbourhood. The conspicuous USA withdrawal from Afghanistan after the Doha Deal between USA and Afghanistan Taliban, there is an apprehension of Civil war and instability in Afghanistan. The US wants India's presence in Kabul to fight terrorism and to strengthen the civilian government. However, this is not possible without the proper access of India to Afghanistan. India has access to Afghanistan via Pakistan and Iran. The hostile relations with Pakistan will not allow it to reach Pakistan. But Iran is critical in India's presence and influence in Afghanistan. That is why the USA waive sanctions on India's investment on Chabahar. Moreover, waiver was obtained from the US which enabled the continued imports of Iranian oil and separate mechanisms were evolved for payments and marine insurance."
India seems reluctant to work with Iran after the US withdrawal from the nuclear deal. India not only stopped purchasing Iranian oil in May 2019 but also reduced budget on the investment on Chabahar. Soltaninejad, Assistant professor in, the University of Tehran argues that "Tehran is convinced that India cannot be the partner it needs to counter US sanctions". India owes its rising power status, in part, to its increasingly close relationship with the United States. No matter how valuable Iran is for India, New Delhi would not endanger its relations with Washington for the sake of preserving its friendship with Tehran. Soltaninejad further argued that "although Iranians are well aware that Beijing would not sacrifice its relations with the United States for its partnership with Iran, they still believe that China will support Iran more strongly than India". China's continuing trade with Iran and the purchase of Iranian oil is proof of that. From an Iranian perspective, China's rise is quite different from that of India's. India's economic and military development contributes more to preserving the pro-US international status quo, while China's rise is seen to come at the cost of the United States' global position and points towards a balanced global power distribution. However, Iran is well aware of the risks of its proximity to China and does not want to be over-dependent on China.
Conclusion
Ever since Donald Trump has come to power in Washington, the so-called liberal international order has witnessed divergence from the key path. Some analysts have better called it a 'fuzzy order'. As the New Delhi strives to increase its political influence in its immediate neighborhood and also shape up 'the emerging regional structures', it becomes essential for New Delhi to tread a fine path. A multilateral approach in its foreign policy will remain key for New Delhi's road to major power. India has been caught in a quagmire of balancing the relations between both Washington and Tehran and it cannot afford to embrace one at the cost of others. And here, balancing its relations both with Washington and Tehran with due care for its interests will determine India's political trajectory. In the level of analysis framework, good relations with Tehran will not only enfeeble Pakistan's greater strategic depth in Afghanistan but will also provide leverage to New Delhi in deciding the things in Kabul–– a push for a say in the emerging regional situation. On the other hand, a good relationship with Washington will provide good incentives and a vital push for New Delhi to be an important player of the current order. The end of the "Cold War" has certainly ushered a new political order where states need to engage multilaterally and realizing this situation, New Delhi is sending the political message to both Washington and Tehran of cultivating better relations with both despite a greater tension between the two.
*Tariq Ahmad Lone is a Doctoral Candidate at Academy of International Studies, New Delhi.
United States snubs India for its excessive maritime claim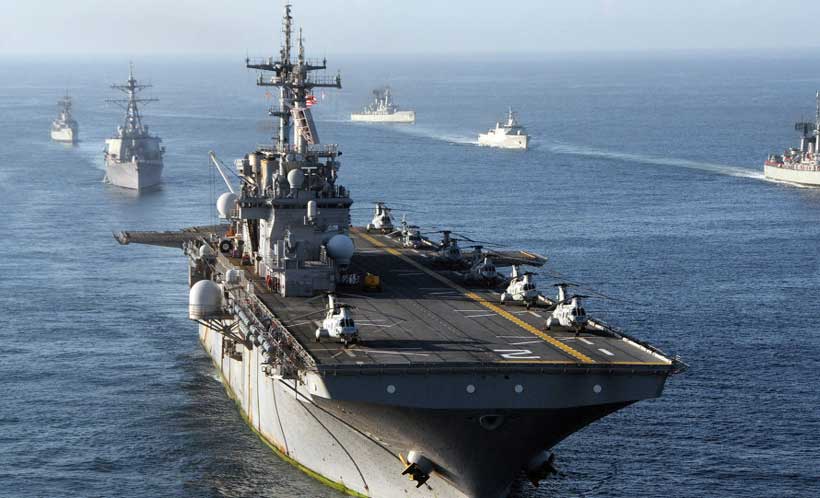 On April7, 2021, a 9,000-ton guided-missile destroyer, USS John Paul Jones (US 7th Fleet), waded (not strayed as it was deliberate) into the vicinity of India's Lakshadweep Islands. The ship was 131 nautical miles away from India's coast (12 nautical miles territory) but well within its exclusive economic zone (200 nautical miles, 370.4 kilometre).
Shockwaves
The trespass by the US destroyer triggered indignation through all walks of life. It conjured up memories of the arrival of the 7th fleet during the Indo-Pak war of 1971. The fleet gave a message, loud and clear, to India that it should not dare finish West Pakistan, its long cherished desire. Even Nehru, an ostensibly liberal leader, regarded the creation of Pakistan a blunder. His rancour against Pakistan reaches a crescendo in his remarks: "I shall not have that carbuncle on my back." (D. H. Bhutani, The Future of Pakistan, page 14). During 1971, Pakistan was a US ally. Now India is in the anti-China US-backed basket.
Yet, the `destroyer' conjured up memory in India's mind of `bitter' American intervention. Congress leaders voiced surprise at the U.S. move. In a tweet, Manish Tewari said, "This never happened in the 10 years of UPA [Congress-led rule] or perhaps even before that as far as I can recall. The last time I remember it being so rather in your face was 1971 – Task Force 74 – 7th Fleet. What then happened is History. Hope the NDA/BJP shows some Oomph?" Echoing the surprise, former Union Minister Jairam Ramesh, said, "And this happened when the former U.S. Secretary of State and Climate Envoy, John Kerry, was meeting Ministers in New Delhi."
The euphoria created by US gung-ho support for Quad, and Pakistan's exclusion from the climate conference petered out.
India's foreign office tried to play down the event by stating that it was not a "military manoeuvre". So, the USA was not bound to inform India about it. But, to India's chagrin, the U.S. The Navy announced that its ship the USS John Paul Jones had carried out Freedom of Navigation Operation (FONOP) in the Indian EEZ, adding that its operations had "challenged" what the U.S. called India's "excessive maritime claims." The U.S. defends its actions saying they were in compliance with international laws. Even Pentagon spokesperson John Kirby justified what India calls "intransigence' by announcing the US Navy's move was in compliance with international law. He told reporters, "I can tell you that the USS John Paul Jones, a Navy destroyer, asserted navigational rights and freedoms in the vicinity of the Republic of the Maldives by conducting innocent passage through its territorial sea in normal operations within its exclusive economic zone without requesting prior permission. We conduct routine and regular FONOPs, as we have done in the past and will continue to in the future. FONOPs are not about one country, nor are they about making political statements'.
India compelled to protest
As a face-saving gesture, India was forced to protest the U.S. decision to conduct a patrol in the Indian Exclusive Economic Zone (EEZ) in the western Indian Ocean, rejecting the U.S.'s claim that its domestic maritime law was in violation of international law. India's external-affairs ministry retorted, 'The Government of India's stated position on the United Nations Convention on the Law of the Sea (UNCLOS) is that the Convention does not authorise other States to carry out in the EEZ and on the continental shelf, military exercises or man oeuvres, in particular those involving the use of weapons or explosives, without the consent of the coastal state.' The ministry insisted that the USS John Paul Jones was "continuously monitored" transiting from the Persian Gulf towards the Malacca Straits.
The incident is a rare falling out between the two partners in the Quadrilateral Grouping that had recently committed to upholding freedom of navigation in the Indo-Pacific together.
Bone of contention
The USA shrugged off India's ennui. According to the annual FONOP reports released by the U.S. Department of Defence for each fiscal year, the U.S. had been regularly conducting FONOPs in Indian EEZ. The FONOPs were carried out in several c continental shelves of several countries including its allies and partners. The USA regarded Indian maritime claim as "excessive" and in violation of International Law. From 2007 onwards till 2017, the U.S. carried out multiple FONOPs every year challenging "excessive" Indian maritime claims. No FONOP was carried out in 2018 and 2020 and one FONOP in 2019.
Difference of opinion is due to the fact that the USA has not ratified the UN Convention on the Law of Seas. India and China have ratified it with some reservations. But, the USA does not care a fig about provisos attached by China and India.
Ashamed of USA's crass rebuttal, India is coining excuses to mitigate its embarrassment. To relieve pressure on Indian government, former Navy Chief Admiral Arun Prakash interpreted the US "trespass" as if it were a message to China that the USA has unfettered "freedom of navigation". Prakash Tweeted
"While India ratified UNCLOS in 1995, the U.S. has failed to do it so far. For the 7th Fleet to carry out FoNOPs missions in Indian EEZ in violation of our domestic law is bad enough. But publicising it? USN please switch on IFF (Identification, friend or foe)! Prakash added FONOPs by U.S. Navy ships, "ineffective as they may be," in South China Sea, are meant to "convey a message to China that the putative EEZ" around the artificial SCS islands is an "excessive maritime claim." "But what is the 7th Fleet message for India?" he asked.
Might is Right
Obviously, the USA is acting upon might-is-right policy. India itself acted upon this policy to devour princely states, and annex Nepalese territory. Junagadh and Kashmir disputes are still unresolved on UN agenda. Indian Union is an artificial sally.
In its entire history India had never been a single nation, or one country, until united at gun point by the British. The artificial nature of modern India created by the British colonialists and adopted by post-colonial India generated insurgencies and separatist movements.
At the time of partition, India was in grip of virulent insurgencies and separatist movements (Dravidian South, Khalistan, Seven Sisters in the North East, so on). Wikipedia lists 68 major organizations as terrorist groups. Of them, nine are in the northeast (seven sisters states), four in the center and the east (Maoist/Naxalites), seventeen in the west (Sikh separatist groups), and thirty eight in the northwest (Kashmir). India kept afloat as a union only at the barrel of gun. The Indian army chief paid a five-day visit to Bangladesh as a prelude to conducting a massive operation against the Naxalbari militants.
UK and USA's Diego Garcia headache
International Court of Justice advisory opinion on Chagos Islands has catapulted Indian Ocean into limelight. The ICJ `advisory' is a blow to UK's forcible occupation of Chagos Islands, including the strategic US airbase of Diego Garcia atoll (leased out to the USA by the UK).
The ICJ President Abdulqawi Ahmed Yusuf observed, `The UK has an obligation to bring to an end its administration of Chagos archipelago as rapidly as possible'. The court ruled that separation of Chagos Islands from Mauritius during decolonisation in the 1960s constituted an "unlawful detachment" and was a "wrongful act".
In 1966, the U.S. signed a secret agreement with Great Britain allowing the Pentagon to use the Indian Ocean territory as an airbase in exchange for a big discount on Polaris nuclear missiles. Three years later, hundreds of Navy Seabees arrived by ship and began pouring out two 12,000-foot runway that would become a bulwark of American Cold War strategy in the region, and a key launching pad for the first and second Gulf wars, the 1998 bombing of Iraq and invasion and carpet-bombing of Afghanistan.
The base can house more than 2,000 troops and 30 warships at a time. It has two bomber runways, a satellite spy station and facilities enabling the use of nuclear-armed submarines. It served as a CIA black site (like Guantanamo Bay) to interrogate and torture terror suspects including those from Afghanistan, Pakistan and Indonesia.
The base holds key to America's Afghan exit plan, by year 2024, to avoid a rout at the hands of Taliban.
Hand aloft
To India's chagrin, the USA wants to exert its authority on Indian Ocean also. Forty seven countries have the Indian Ocean on their shores. The Indian Ocean is the third largest body of water in the world. It occupies 20 percent of the world's ocean surface – it is nearly 10,000 kilometers wide at the southern tips of Africa and Australia and its area is 68.556 million square kilometers, about 5.5 times the size of the United States. India's motto is 'whoever controls the Indian Ocean dominates Asia'. Admiral Alfred T. Mahan (1840-1914) of the United States Navy highlighted the strategic importance of the Indian Ocean in these words: "whoever attains maritime supremacy in the Indian Ocean would be a prominent player on the international scene. The Indian peninsula (i.e. the Deccan and below) juts 1,240 miles into the Indian Ocean. 50 per cent of the Indian Ocean basin lies within a 1,000 mile radius of India, a reality that has strategic implications. Under the law of the sea, it has an exclusive economic zone of 772,000 square miles. Chennai is a mere 3,400 miles away from Perth in Australia, slightly more than the distance between New York and Los Angeles.
To dominate Straits of Malacca (bordering Indonesia and Malaysia), India established its Far Eastern Marine Command at Port Blair in the Andamans. It has developed Port Blair as a strategic international trade center and built an oil terminal and trans-shipment port in Campal Bay in the Nicobar Islands.
Concluding remarks
In diplomacy, there are no permanent friends or foes, only permanent interests. Afghan exit plan requires the USA continues to retain Diego Garcia.
US-China Developing Confrontation: India and QUAD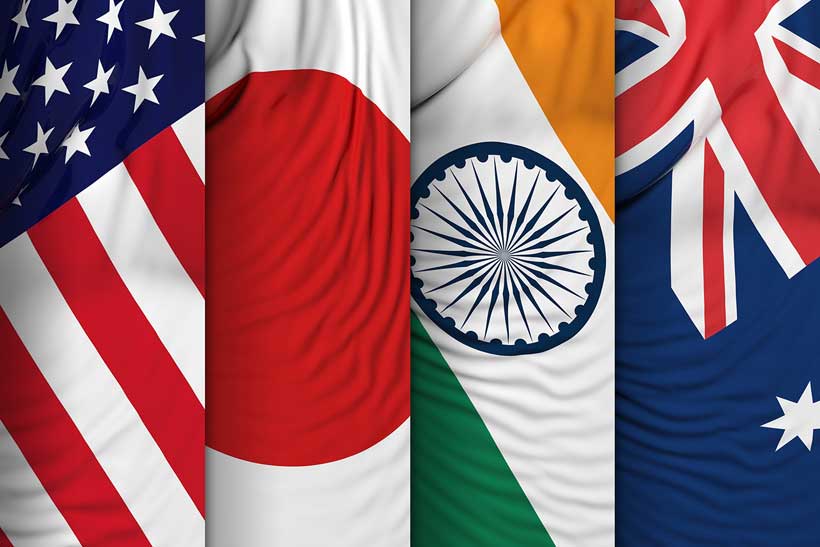 At the request of the editors of International Affairs magazine, the renowned Kanwal Sibal, India's Foreign Secretary and Ambassador to Turkey, Egypt, France and Russia, comments on new US initiatives in Southeast Asia.
Judging by its Interim National Strategic Security Guidance (INSSG) document (March 2021) the Biden Administration intends to be tough towards China on many fronts. Human rights issues in Xinjiang and Tibet, threats to Taiwan, limiting Hong Kong's autonomy, encroachments and territorial pressures in the East and South China Seas, freedom of navigation and overflight issues, preserving a free and open Indo-Pacific, unfair trade practices, technology theft, resilience of critical supply chains, emerging technologies, standard setting for 5G, a new competitive US industrial strategy, and so on.
Whereas Trump had alienated allies and weakened America's hand in dealing with China's challenge, the Biden administration seeks to speak to China from a position of strength. For this it seeks to restore ties of confidence with Japan, South Korea and Australia in priority. In doing this the US is indirectly recognizing its reduced strength and its inability to meet the China challenge alone. In this perspective, It had reached out to Europe for policy coordination towards China even before it took office, but Europe went ahead to sign a Comprehensive Investment Agreement (CAI) to protect its own independent and competitive interests in China. After the fractious US-China Alaska meeting, the US has continued its coordinating efforts with Europe but faces resistance from Germany and France in particular who want to retain their strategic autonomy in dealing with China, believing that US policy under Biden will remain self-centred and that too much water had flown under the bridge for US-Europe ties to simply revert to the pre-Trump era.
The timing of virtual Quad summit before the Alaska meeting was also intended to signal to China that like-minded countries were coming together to deter what they view as China's increasingly aggressive policies. From a telephonic meeting at the Foreign Ministers level in February 2021 the summit was a major step forward in consolidating the Quad politically. India, earlier reticent in moving too far too quickly with the Quad in the light of the need to manage the stresses of its China ties, decided to join. After the stand-off in eastern Ladakh India has realized that deferring to Chinese sensitivities is not reciprocated by China. The visit of the US Defense Secretary Lloyd Austin to India coincided with the US-China meeting in Alaska.
In the INSSG, India is not treated strategically in the same category as US allies like Japan, Republic of Korea and Australia. The China challenge is felt primarily in the western Pacific where the US has bases, deployed military forces and a powerful naval presence. China's challenge in the Indian Ocean is not considered of the same order for the time being, but partnership with India, with its significant naval assets and geographic position, overlooking the critical sea lanes of communication in the region, is important for the future. India is seen as a net security provider, fitting into the template of burden sharing. For this the US has shown its readiness to build India's maritime surveillance capacities by supplying defense platforms, intelligence sharing, increasingly complex military exercises with the inclusion of Japan and Australia, and utilizing the India-US defense-related foundational agreements that provide for inter-operability and sharing of geo-spatial data.
Although the joint statement issued by the Quad summit did not mention China by name, China was of course discussed, with each leader sharing his thinking. According to US NSA Jake Sullivan, China, about whom none of the leaders had any illusions he said, was discussed at the meeting but was not its focus. Coercion of Australia, harassment around the Senkakus, border aggression against India figured in the discussions. According to him, the Quad is now a critical part of the architecture of the Indo-Pacific. Cybersecurity incidents impacting Quad members too figured, including attacks against India's power sector. He dismissed the talk about Quad being a military alliance, though he stated that it has to worked out at the leaders level and that of the working groups how the Quad can move from freedom of navigation to broader regional security questions. Apparently, at Alaska, the Chinese reacted negatively to US mentioning its dialogue with India.
The summit rightly felt that the Quad should have a broader agenda than simply China, a point of view that India has studiously supported. India is conscious of the fact that the US, as well as Japan and Australia, have deep economic ties with China, which can be rolled back selectively to lessen dependence by decoupling in critical areas, restricting Chinese access to advanced critical technologies in which China has external dependence such as semi-conductors, preventing Chinese investments in sensitive areas etc but cannot be dramatically reduced, given China's huge weight in the global economy. The US policy seems to be "extreme competition", cooperation and confrontation, as required. India's investment in the Quad, beyond the maritime security aspect, would be to benefit from a shift away from China of critical supply chains, use India's democratic environment to attract more US investment and technology transfers that would accelerate India's growth for the welfare of its people, besides enabling it to close the developing gaps with China.
It is in this perspective that the decision on building India's capacity for vaccines should be seen. The three expert groups set up by the Quad summit, on vaccines, critical technologies (5G, AI, Quantum Computing, human biology) and climate change broaden the Quad's agenda, opening up bilateral opportunities with the US for India, besides creating the beginnings of a structure. In line with Indian thinking and emphasis on a broader agenda, the Quad leaders pledged "to respond to the economic and health impacts of COVID-19, combat climate change, and address shared challenges, including in cyber space, critical technologies, counterterrorism, quality infrastructure investment, and humanitarian-assistance and disaster-relief as well as maritime domains". The decision to manufacture US vaccine in India with Biological E Ltd to provide one billion doses to the Indo-Pacific region was taken, with Japanese finance and Australia's delivery support. The third group will deal with critical – and emerging-technologies to facilitate cooperation on international standards and innovative technologies of the future. 
China's concerns about the Quad summit and the strengthening of India's strategic ties with the US have no basis. China has benefited enormously from US capital and technology and that of its allies for China's rise. The economic power it acquired, and with that military power, has been used by it to expand territorially in the western Pacific and globally through the BRI, not to mention in the Indian Ocean. Now that defenses are being put up against China's policies and ambitions, China, after the stand-off in Ladakh, has no ground to warn India not to become close to the US. Even now the US is China's biggest economic partner and China is reaching out to the US to ease pressures on it. Its critique of "selective multilateralism" would apply equally to the Russia-India-China group, BRICS as well as the SCO. It has established a Quad in our region- the China-Pakistan-Afghanistan-Nepal group, in which Nepal does not fit at all.
The bristling encounter at Alaska demonstrates that China's expectations that a change of administration in the US could lessen tensions and some accommodation could be worked out have been belied for the time being. China touted the Alaska meeting as a strategic dialogue, which was strongly denied the US. In response to Secretary of State Blinken's severe strictures on China's infringements of a rules based international order on various issues, Politburo member Yang Jiechi hit back brutally, decrying US democracy, castigating America's racism, calling it the champion of cyberattacks, rejecting the notion that western nations represent global public opinion, and, most significantly, stating that the US lacked the qualifications to speak to China from a position of strength, now or even 20 or 30 years earlier. Yang Jiechi may have intended to say all this in private but felt compelled to do so in public to show to the domestic and international audience that China will not be bullied and will deal with the US as an equal. If he had reacted meekly, it would have been a blow to China's prestige and its self-image. It appears that after the public spat the two sides got down to business calmly on the agenda items , with serious differences over Taiwan emerging and raising US concerns that this could become a flash point if Xi Jinping was determined to achieve reunification, by force, if necessary. There was no commitment by the US side to meet again despite persistent probing by Yang Jiechi to elicit a response.
With China and Russia in the cross-hairs of the Biden government, it is not surprising that both countries have closed ranks against the US. Lavrov and Wang Yi rejected US calls for "a rules-based order" and proposed a summit of the UN Security Council's five permanent members to be held "to establish direct dialogue …in the interests of maintaining global stability". With the sharper US divisions with China and Russia it is unclear what the P5 summit could achieve concretely, especially as the representative nature of the UN Security Council as currently constituted is questioned in large parts of the world.
Regrettably, a new version of the Cold War might now be taking shape. In the developing scenario, it is very important that the India-Russia dialogue is strengthened so that the implications of the new developments and the compulsions of the two countries are better understood bilaterally.
From our partner International Affairs
Convergence of interests determines Russia-Pakistan Relations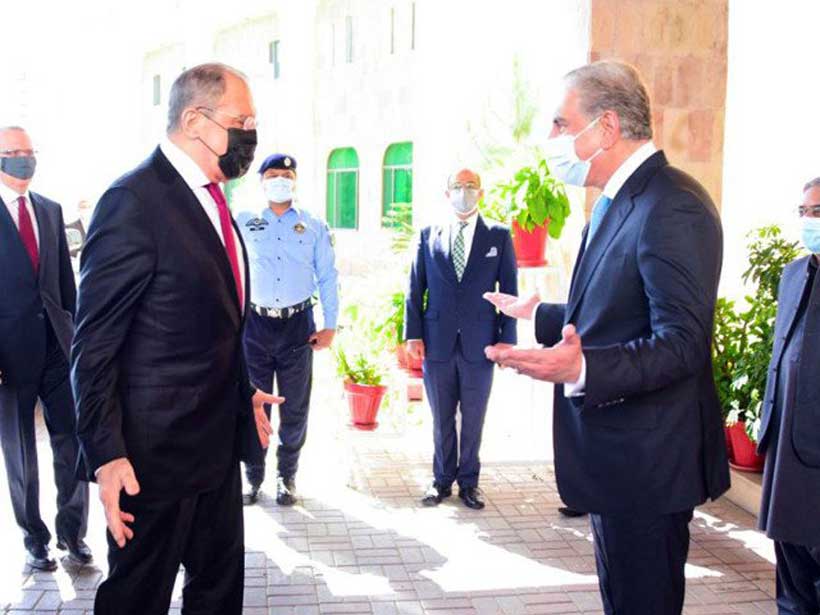 Russian Foreign Minister Sergey Lavrov visited Pakistan on 6-7 April 2021 and held delegation-level meetings with Foreign Minister Shah Mahmood Qureshi, in addition to called on Prime Minister Imran Khan and Army Chief, as well as had interaction with other dignitaries and senior officials during his two-day stay in Islamabad, Pakistan.
It is worth mentioning that Russia and Pakistan face similar challenges and pass through similar difficulties, including sanctions, economic challenges, security threats, etc. Both countries share similar views on the Afghanistan issue, terrorism, regional security, and China's common friend. There exists a comprehensive convergence of interests.
Especially after India signed a series of Defense agreements and acted as a "Major Defense Partner" and American-led Quad or concept of Asian NATO, the geopolitics has emerged so that Russia and Pakistan must cooperate with each other. As a matter of fact, we left with no option except strengthening regional cooperation.
Russian Foreign Minister Sergey Lavrov said that Moscow and Islamabad would boost ties in the fight against terrorism, with his country providing defense equipment to Pakistan and the two holding joint military exercises.
During the meeting, Prime Minister Imran Khan restated Pakistan's determination to expeditiously complete the mandatory legal process for the "Pakistan Stream" (North-South) Gas Pipeline project and begin the work as early as possible.
Pakistan-Russia mutual relations and issues of regional and global importance were discussed in the meeting. The Prime Minister fondly recalled his interaction with President Vladimir Putin during the Shanghai Cooperation Organization (SCO) Summit in Bishkek in June 2019. He had emphasized his desire to take the bilateral relationship to a new level. He repeated that the importance Pakistan attached to its relations with Russia as a critical foreign policy priority. The Prime Minister uttered satisfaction at the steady growth in bilateral ties, including deepening cooperation in trade, energy, security, and defense.
Citing to the situation in Indian Illegally Occupied Jammu and Kashmir (IIOJK), the Prime Minister shared Pakistan's perspective on peace and security issues in South Asia, including the need for sustainable, peaceful resolution of the Jammu and Kashmir dispute.
The Prime Minister repeatedly extended his invitation to President Putin to visit Pakistan at his earliest convenience. It is hoped that President Putin will visit Pakistan soon.
Moreover, disturbing the peace process in Afghanistan, where both countries have long histories of concerns. It was the first time a Russian foreign minister had visited Pakistan in nine years and comes at a delicate time for Afghanistan with peace talks making little progress and a deadline approaching for the United States to withdraw its forces. "(Pakistan and Russia) share convergent positions on several issues … including peace and stability in Afghanistan,"
The visit comes as Moscow seeks to increase its stature in the region, particularly in war-torn Afghanistan, where it has sought to inject itself as a critical player in fast-tracked efforts to find a permanent peaceful end to decades of war.
As Washington appraisals an agreement it signed more than a year ago with the Taliban and rethought a May 1 withdrawal of its troops, Moscow has stepped up its involvement in Afghanistan, emerging as a significant player. Last month it hosted talks between the Taliban and senior government officials, and Lavrov suggested another high-level meeting could again be held in Moscow.
Addressing a joint press conference with Foreign Minister Shah Mahmood Qureshi, Lavrov expressed satisfaction over a 46 percent increase in trade between them. He, however, stressed there is a need to diversify it further. Discussing the energy sector opportunities, he said both the countries are now discussing a new protocol on the Stream Gas Pipeline Project, an ambitious project to transport 1.6 billion cubic feet per day of regasified liquefied natural gas (LNG) from Karachi to Lahore. As soon as it is signed, the construction work will begin. The top Russian diplomat termed the relationship between the two nations mutually beneficial and constructive. He recalled Russia had provided 50,000 doses of its Covid-19 Sputnik-V Vaccine.
Qureshi said Pakistan wanted to build a relationship with Russia that is based on trust. He said Moscow has always advocated the importance of international law and multilateralism. "These are principles that Pakistan adheres to. Our coordination and cooperation at the United Nations level have been excellent." At this, Lavrov reaffirmed the commitment to deepen ties with Pakistan and create win-win cooperation between them.