Timor panicus and Pan-demic. A look at Global Trends 2030: Alternative Worlds
Timor panicus is a Latin expression meaning "fear of panic", it is a "sacred terror" or a "divine panic", a concomitant fear of a real or presumed supernatural event. It must be compared to the influence that the god Pan of Greek mythology has had on nature and men. Pan is, in fact, etymologically at the origin of the word "panic". In the bookThe King of the World René Guénon notes that Saint-Yves d'Alveydre in his description of Agarttha says that "there are moments, during the underground celebration of the 'Cosmic Mysteries', in which travelers who are in the desert stop and the same animals remain silent ", specifying in afootnote the similarity with the Timor panicus of the ancients. The name Πάν derives from the Greek paein, meaning "to graze", and in fact Pan was the shepherd god, the god of the countryside, of the forests and pastures. What is more, the name is similar to πᾶν, which means "everything" and is at the root of the term "pandemic".
GLOBAL TRENDS 2030: ALTERNATIVE WORLDS, published in 2012 by the National Intelligence Council, is one of the sources that Parag Khanna uses in Connectography (2016).
These are the unanswered questions about Pandemics which appear in the box on page 13:
There's also a scenario, that appears on page 112, in which it is expected that, following a pandemic, widely analyzed in the previous pages, the globalized world will come out strongly transformed. Facebook will be the protagonist like other social networks:
As with most ill fortune, troubles tend to come in waves: a deadly virus—which scientists had warned about repeatedly—has erupted in Southeast Asia. Ironically, with the increased security and border controls, the US, some Europeans, and even China are better able to weather the pandemic, which is spreading quickly. Flights have been cancelled and ship transports have been stopped. There are reports of tens of millions of deaths. Twitter tried to operate even at the height of the pandemic, but a number of governments pulled the plug, saying that the use of social media was responsible for the increasing panic. The virulent strain spread quickly outside Southeast Asia to South Asia and along the trade and travel routes to the Middle East and Africa.As a result of the pandemic, there is now a new map of the world in everybody's mind. I can remember when the world map was the British Empire with a quarter of the Earth's surface colored in pink.
Then we had the map of the Free World with Washington as its capital. Now the new mental map shows a devastated Southeast Asia and portions of India, the Horn of Africa, and parts of the Gulf. Many of these areas are still not getting any international assistance. This new mental map, created by what happened to the poor and destitute and their being shunned by the rich countries, including China, is widening the gulf between North and South and East and West. The new map will be what survivors in the developing world carry around in their minds and, consciously or not, will inform thinking for a generation on world affairs. Even in the rich, developed countries, which were spared the worst impact from the pandemic, the death toll reached several million—the youth were particularly susceptible. I can't tell you the psychological impact on the rich survivors. The worldwide pandemic has put globalization even more in disfavor. It was the coup de grace for many, sealing the case against what was seen as the rampant globalization earlier in the 21st century. Western multinationals have seen forced nationalization in Southeast Asia, India, and Africa. Governments there say that those businesses which ceased their operations during the pandemic lost their rights to resume their businesses afterward.Still, I noticed that Facebook is becoming more popular and that young people are also beginning to travel and study abroad. Maybe this augurs a rebound in globalization's fortune.
It is up to the reader to draw the consequences.
Delivering On Our Promise of Universal Education
Our investment in education – especially for children caught in crisis and conflict – is our investment in a better future.
Co-Signed by: Federal Councillor of the Swiss Confederation, Ignazio Cassis; Federal Minister for Economic Cooperation and Development, Germany, Svenja Schulze; Minister of Education, Niger, Ibrahim Natatou; Minister of International Development, Norway, Anne Beathe Tvinnereim; Minister of General Education and Instruction, South Sudan, Awut Deng Acuil; Minister of Education, Colombia, Alejandro Gaviria; Former UK Prime Minister, UN Special Envoy for Global Education and Chair of ECW's High-Level Steering Group The Rt. Hon. Gordon Brown
As we mark the International Day of Education, world leaders must make good on their promise of providing quality education for all by 2030.
Education is our investment in peace where there is war, our investment in equality where there is injustice, our investment in prosperity where there is poverty.
Make no mistake about it, there is a global education crisis that threatens to unravel decades of development gains, spur new conflicts, and upend economic and social progress across the globe.
As UN Secretary-General António Guterres highlighted at last year's Transforming Education Summit: "If we are to transform our world by 2030 as envisaged by the Sustainable Development Goals, then the international community must give this (education) crisis the attention it deserves."
When Education Cannot Wait (ECW), the United Nations global fund for education in emergencies and protracted crises, was founded in 2016, we estimated that 75 million crisis-impacted children required education support. Today, that number has tripled to 222 million.
Of the 222 million children whose right to an education has been ripped from their hands by the multiplying impacts of conflict, climate change and other protracted crises, an estimated 78 million are out of school all together – more than the total populations of France, Italy or the United Kingdom.
Even when they are in school, many are not achieving minimum proficiencies in reading or math. Think about this terrifying statistic: 671 million children and adolescents worldwide cannot read. That's more than 8% of the world's total population. That's an entire generation at risk of being lost
As we have seen from the war in Ukraine, the challenges of the Venezuelan migration to Colombia and South America, the unforgiveable denial of education for girls in Afghanistan, and a devastating climate change-driven drought in the Horn of Africa that has created a severe hunger crisis for 22 million people, we are living in an interconnected world. The problems of Africa, the Middle East, South America, and beyond are the problems of the world that we share together
Every minute of every day, children are fleeing violence and persecution in places like Myanmar, the Sahel, South America and the Middle East. Every minute of every day, boys are being recruited as child soldiers in Somalia, the Central African Republic and beyond. Every minute of every day, the climate crisis brings us closer to the end of times, and children go hungry because they are denied their right to go to school, where they might just have their only meal of the day. And amid conflict, migration and climate change, governments like Colombia are struggling to secure the most basic living and education conditions for children in hard-to-reach borders.
It's an assault on our humanity, a moral affront to the binding promises outlined in the Universal Declaration of Human Rights, and a giant step backwards in our persistent efforts – against all odds – to find peace in our times.
There is hope. By embracing a new way of working and delivering with humanitarian speed and development depth, ECW and its strategic partners have reached 7 million children in just five years, with plans to reach 20 million more over the next four years.
Imagine what an education can mean for a child of war? In the Democratic Republic of the Congo, 13-year-old Nyota lost her father and brothers in a brutal attack on her village. Her family's home was burnt to the ground.
In a country where 3.2 million children are out of school, Nyota's future was bleak. Would she be a child bride, the victim of sexual violence, another tragic statistic in a forgotten crisis?
No. She did not give up. With the support of an innovative programme funded by ECW, Nyota is back in school. "When I have completed my studies, I dream of becoming the President of my country to end the war here. That will allow children to study in peace and not endure the same horrible things that I have."
Nyota is not alone: we have received inspiring letters from girls and boys in over 20 crisis-affected countries across the world that underscore the amazing value of education in transforming lives and creating a better future for generations to come.
On February 16, world leaders are gathering for the Education Cannot Wait High-Level Financing Conference in Geneva. Hosted by ECW and Switzerland – and co-convened by Colombia, Germany, Niger, Norway and South Sudan – the conference provides world leaders, businesses, foundations and high-net-worth individuals with the opportunity to deliver on our promise of education for all. The aim is to raise US$1.5 billion for the next four years.
As the co-conveners of this seminal event, we are calling on the people of the world to invest in the promise of an education. It's the best investment we could make in delivering on the Sustainable Development Goals.
Nyota and millions like her are not giving up on their dream, and we shouldn't give up on them. We have promises to keep.
Education starts early – or it should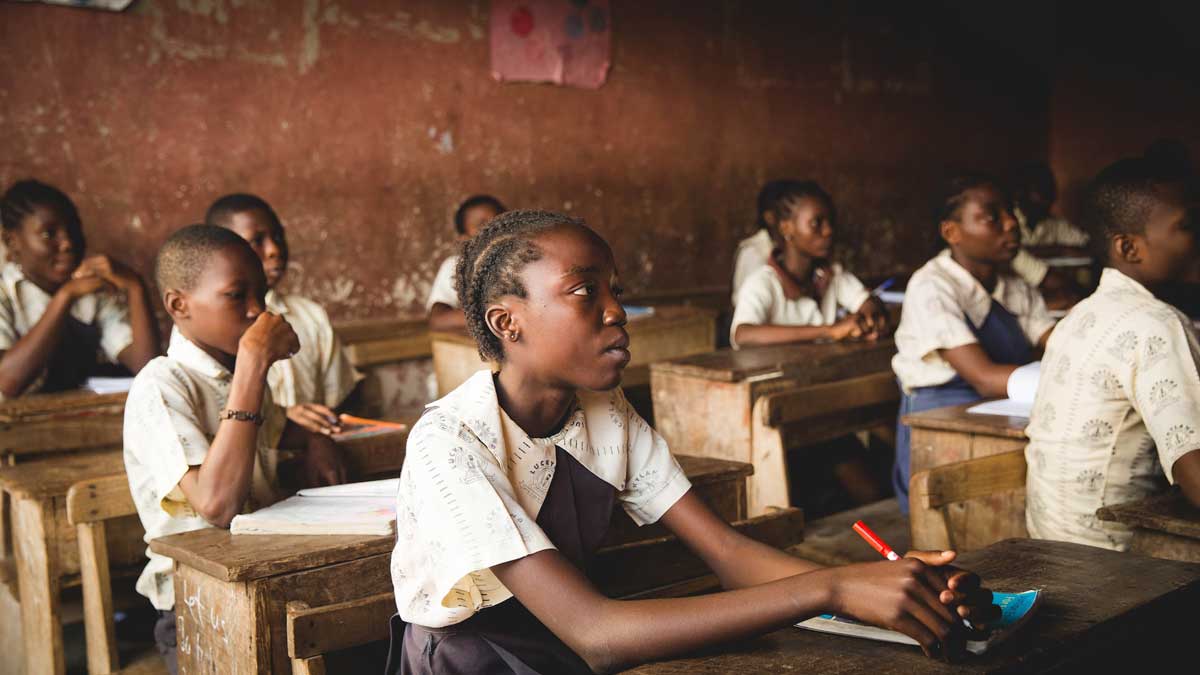 Authors: Manos Antoninis and Silvia Montoya*
When children attend early childhood education, they are not just learning their ABCs and 123s, they are learning how to solve problems, live in harmony with others and communicate effectively. Going to pre-primary education increases the chance to grow and flourish in a nurturing and stimulating environment. It is an opportunity to provide children with the skills they need to succeed in school and in life.
Thankfully, early childhood education is something that more and more children are accessing: over the past two decades, the rates of those attending rose from 65% to 75%. Countries have put pen to paper, committing to taking this up a level. As part of a multi-year exercise, they have set national benchmarks for the progress they feel they can make between now and 2030 on helping more young children start their education in their early years, alongside other objectives. On the occasion of the 2023 International Day of Education, UNESCO published a global report, the 2023 SDG4 Scorecard showing how fast countries are progressing towards their national benchmarks on Sustainable Development Goal 4 (quality education). These benchmarks commit countries to together open school doors to 95% of five-year-olds by the 2030 deadline for the United Nations Sustainable Development Goals.
These ambitions are not messing around. Conversely to what you might expect, countries have actually set their targets far higher than one might expect considering how they've done in the past. Even if they managed to improve at the rate of the historically fastest-improving quarter of countries, they would only manage to reach the stage where 83% of children were going to early childhood education. At present, therefore, barely one in three countries is on track with their self-set targets. How can we help them speed up?
Having monitored education for the past 20 years, a few clear lessons jump out that can help countries break the speed barriers we're keen to impart. While simple education reform is not very common, this first example is at least compact. Our recommendation is for countries to legislate and provide for free and compulsory education, which about a half of countries have done so far. Since 2015, for example, the introduction of three years of free education in Armenia, four years in Uzbekistan and three – and later five – years in Azerbaijan is associated with a large increase in participation rates. While one policy change cannot be assessed out of context, there is a clear jump in children's early education access across these countries post the new legislation.
Where we see these laws lagging is in low income and, more generally, sub-Saharan African countries. For all those who join us in believing in the importance of the foundations that early childhood can bring, Sub-Saharan Africa should be a region where we direct our support over the coming years. Not only are fewer than half of children starting school early, but its population prospects will make the challenge harder over time. It is projected that sub-Saharan Africa will surpass Central and Southern Asia by 2026 as the region with the largest number of 4-5 year olds in the world. This cohort will grow by 1 million on average in the next 20 years. Population growth will slow down but will still reach 100 million in 2069. The region will be the home to a staggering 43% of all five-year-olds on planet earth by the end of the century.
The second recommendation we believe can make a difference is also a governance issue, and relates to the fact that the first education experiences of 40% of children in the world today is with private providers. Much of this trend can be linked to the fact that there was not enough supply related to demand, and private providers grew to fill the gap.
This phenomenon can't be ignored in some areas of the world. In Oceania, for example, some countries have close to 100% of preschool students enrolled in non-state institutions. These can be for-profit and non-profit organizations, such as child-care centers, preschools, and home-based childcare providers, for example. Their presence can bring significant financial implications, and therefore, barriers, to families, and detract from the original reason they exist in the first place: to increase education for all. With the provision part removed from government's control, it means that their ability to regulate the quality and equity of the myriad of alternative early childhood education providers – and monitor them – is vital.
For much of the pandemic, the GEM Report team at UNESCO mapped over 200 country profiles on its PEER website to look further into the regulations countries currently have for private providers in early childhood education. What we found is that those covering equity are in the minority: only 26% of countries support specific vulnerable populations' tuition fee payments and just 15% prohibit non-state providers from operating for profit. On the positive side, however, we also found that turning these numbers on their head could also see a huge surge in participation rates. When governments have regulations in place helping out some of the most marginalized groups with tuition fees, for instance, the percentage of children who participate in organized learning one year before entry to primary school is higher by 13 percentage points, whereas countries with fee-setting regulations have a 7 percentage-point higher participation.
Our third but equally critical recommendation covers the extent to which governments prioritise education in the early years in their spending. We looked at the countries with data from the last two years and found they were spending just 0.43% of GDP on pre-primary education – pittance in comparison to the benefits an early education can bring. There is a clear correlation between how much was spent on public education and the rise of participation rates as a result. Doubling spending from 0.25 to 0.50 of GDP, we found, triples participation rates in public preschools from 20% to 60% on average, and is a clear win for improving progress on this issue.
As any education policy maker will tell you, there is no one easy fix for system reform. Sadly, this is the reason the sector fails to attach the funding it needs to transform and deliver to match our expectations. But, where there are lessons that our past mistakes and successes have taught us, we should take them, and not waste further time. Education can and should start early. If we legislate, regulate and finance appropriately, we can help countries' ambitions to make that happen a reality.
*Silvia Montoya, Director of UNESCO Institute of Statistics
A Cry for Help: Pakistan's Broken Education System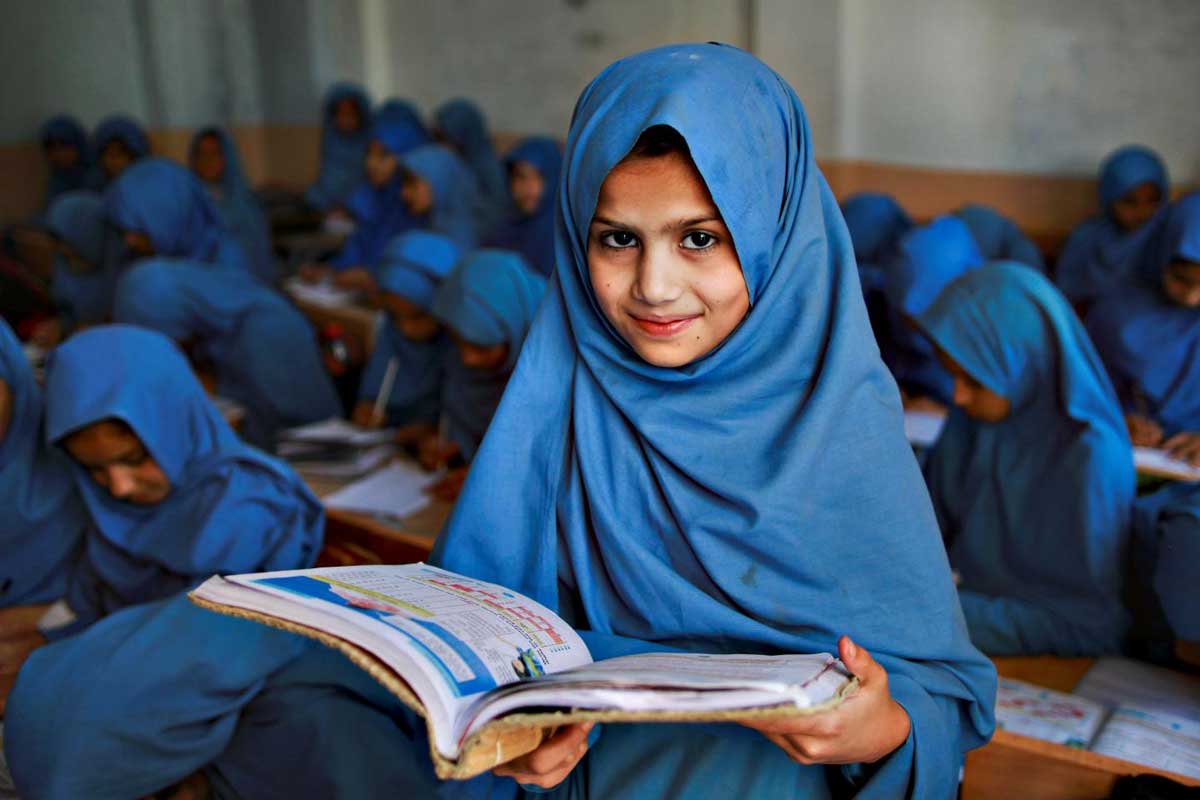 The saying "If you think education is expensive, try ignorance", attributed to Derek Bok – the former president of Harvard University, holds a plethora of resonance for a developing country like Pakistan. Compared to the global standard of spending 4% of GDP on education, Pakistan only spends around 2.3% of its GDP on education, which happens to be the lowest in the South-Asian region. The inadequate spending on schools stems from the government's nonchalant attitude and general disinterest in the education sector. Because of this, Pakistan's budget allocation for education is far less than what is advised by the United Nations Educational, Scientific and Cultural Organization (UNESCO).
The 2019 Annual Status of Education Report shows the overall literacy rate in the country to be 60%, with 71% male literacy rate compared to 49% female literacy. Despite these statistics showing an improvement from the past trends, the Human Development Report of 2019 remained unfazed. According to the findings of the report, Pakistan failed to show significant improvements in key educational indicators concerned with the rate of literacy, overall enrolment ratio, and education related expenditure. In the same year, Pakistan was also ranked 152nd out of 189 countries on the Human Development Index (HDI) under the United Nations Development Program (UNDP).
Comparing Pakistan's Education sector to other developing countries in the region further paints a dismal picture, as Pakistan lingers behind it its quest in providing quality education. Pakistan suffers from the third-highest primary school dropout rates in the region, estimating at 23%, only behind countries such as Bangladesh and Nepal. In a 2016 Global Education Monitoring (GEM) Report titled "Education for People and Planet: Creating Sustainable Futures for All", it was found that Pakistan is 50 years behind in achieving its primary education goals, while adding another 10 years in its path to achieving its secondary education goals.
For the most part, the policy maker's one-stop solution for increasing the level of education in Pakistan has focused on raising the enrollment rates in primary schools. While this approach emphasized more on the quantity of education being provided, it has done little to cater to the quality and expense of the education itself. This is reflected in the learning levels of public schools in Pakistan, which are astonishingly low as student's performance in academics is hugely underwhelming, compared to the acceptable standard. This shortcoming in the public education is mainly attributed to the dearth of incentives for public sector teachers. Which translates into low teaching effort, since any chance at salary increment and promotion is directly related to seniority and experience and not the teacher's actual performance.
In view of these prevalent conditions of the public sector education, Pakistan witnessed a sudden boom in low-fee private education institutions in early 2000's, which outnumbered state-run schools in both quantity and quality. With ample availability of low-cost teachers in rural areas due to lack of other job opportunities, these schools quickly expanded in the region and provided multiple schooling options for the 63% of the population which resides in the rural setting. Despite the private sector teachers being underpaid and under-experienced compared to their public sector counterparts, the learning levels of students in private schools has been much better. This is mostly due to effective teaching pedagogy, curriculum design and proper oversight which gives private schools an edge over public sector ones.
In the Human Rights Watch Report titled "Shall I Feed My Daughter, Or Educate Her?": Barriers to Girls' Education in Pakistan", the Pakistani government's inability to adequately educate the girls also surfaced. Liesl Gerntholtz, the Women's Rights Director at Human Rights Watch commented "The Pakistan government's failure to educate children is having a devastating impact on millions of girls". The report stated that the majority of the 22.5 million children that are out of school are girls, who are simply barred from attaining education.
However, many of the barriers to girl's education lie within the education system of the country itself. The State takes on a lasses-faire approach towards providing education in the country. And instead relies on private sector education and Madrassahs to bridge the gaps in education provision. Thus the girls are deprived of a decent education in the process. The government's inadequate investment in schools is another main culprit for the number of girls that remain out of school. As girls finish primary school, secondary schools are not as widespread and their access to the next grade is hindered. Furthermore, while the Constitution of Pakistan claims that primary schooling be free of charge, it is not actually the case. Hence, most parents with constrained resources opt to educate their sons over their daughters. As a result, once girls are dropped out of schools, there is no compulsion by the state to re-admit the girls into school. Therefore, a chance once lost is lost forever.
Towards the end of 2019, Covid-19, which emerged in the wet markets of Wuhan, quickly took the world by storm. It forced the entire world into lockdown, and resulted in a major humanitarian and economic catastrophe, ultimately affecting the Education Sector as well. This compelled Pakistan to take swift notice of the virus and announce country-wide closure of educational institutes from beginning of February 2020. It wasn't for another six months that educational institutions were reopened with strict SOPs in place, only to be shut down again amidst the second wave of the virus. And so due to these conditions, the education sector in Pakistan faced a devastating loss of learning. The virus not only exposed the cracks in the country's education system, but it also further amplified them.
According to a report published by the World Bank "Learning Losses in Pakistan Due To Covid-19 School Closures: A Technical Note on Simulation Results", it was predicted that a loss of livelihood due to Covid-19 could translate into a severe case of children dropping out of schools. The study estimated an additional 930,000 children that are expected to drop out of the fold of education, and thus increasing out-of-school percentage by 4.2 percent.
Similarly, the report also mentioned that the learning levels in schools could drop to anywhere between 0.3 and 0.8 years of learning. Therefore, an average student now only attains an education level of 5 years due to poor quality of education, despite going to school for 9 years. Furthermore, in wake of covid-19, the share of children who are unable to read basic texts by age 10, represented by "Learning Poverty" are further expected to go up 4 percent from 75 to 79 percent. As schools were shut down across the country, many of them were also unable to transition into online mode of learning. This was because the state failed to provide internet access to remote regions of the country. Hence, Covid-19 proved to be a huge setback for the education sector of Pakistan.
To conclude, while significant steps have been taken to strengthen the education sector of Pakistan, such as the unanimous passing of the Article 25-A of the Constitution of Pakistan and the dedication towards achieving Sustainable Development Goals (SDG) to provide quality and equitable education; there still remains a gap between policy formation and its implementation. Despite the education policies of Pakistan focusing on science and technology, nationalizing private education institutions, increasing the number of student enrollment and improving their access to higher education, it still failed to improve in the education indicator of the HDI in the past decade. In view of this, Pakistan needs to rethink its education policies and fill gaps that currently exist between what is decided and what is implemented.