Authors: Anne Speckhard and Molly Ellenberg*
Is Internet recruitment alone strong enough to recruit an individual into a terrorist group, much less to incite him or her to travel across continents to join, as in the case of the 40,000 or so foreign terrorist fighters and their family members [FTFs] who traveled to ultimately join the ISIS Caliphate in Syria and Iraq? Most experts, until now, would likely answer no, stating that some face-to-face element is necessary to seal the deal.[i]
A new study, however, carried out by the International Center for the Study of Violent Extremism [ICSVE] and based on 236 in-depth interviews carried out by the first author, demonstrates that this is no longer true. Based on these interviews, which queried about recruitment history and experiences with and inside the terrorist group, among many other aspects of the interviewees' paths into and out of terrorism, the data clearly show that Internet recruitment alone is enough to seduce a vulnerable person into the group.
Of the 236 ICSVE interviews that have been translated and coded on 342 variables, 117 reported some element of Internet-based recruitment as part of their process of joining the group. For many, this included watching video footage produced by ISIS, and other rebel groups operating in Syria, and also made by Syrian civilians themselves depicting Assad's tyranny, as well as in the case of ISIS, juxtaposing this to pictures of a victorious and utopian Islamic Caliphate that they claimed all Muslims were obligated to join and support. Others also made contact over the Internet with an ISIS recruiter, or a facilitator who talked them into coming, or at a minimum facilitated their passage into Syria. Others reached out via the Internet, or were contacted by an existing social network of family and friends who had joined before them.
Of the 236 interviewees, 49 percent of men and 52.6 percent of women reported Internet-related recruitment or online facilitation of travel of any type. Among those who were not living in Iraq and Syria at the time that they joined ISIS, the numbers are even higher, whether or not they ultimately traveled to join the group, as some were caught before entering ISIS territory. Of those participants from outside of Syria and Iraq, 78 percent of men and 67.9 percent of women reported Internet-related recruitment influences of any type.
What is most significant, however, is that a good-sized portion of the sample traveled to Syria and Iraq simply from following online recruitment alone: propaganda, recruiters or existing network influencers who motivated them to come. This occurred without any face-to-face recruitment augmenting as thought necessary by many experts up to this point. This portion of the sample, 17.7 percent of men (n=35) and 21.1 percent of women (n=8), reported that they traveled to Syria on this basis of Internet recruitment alone via terrorist propaganda and/or an actual recruiter/facilitator/or existing network friend or family member messaging them online.
The stories they tell include:
24-year-old Abu Walid, a well-educated Dutch ISIS fighter, who recalls embracing Islam at age 19 and then falling heavily under the passive Internet influence of viewing events unfolding amidst the Syrian uprising. "I watched videos on all the social media: Facebook, Twitter." Then, over time, he states, "I started talking to people on social media." He ultimately left the Netherlands to join ISIS in 2016.
24-year-old British born Jack Letts explains, "I came because of what Bashar was doing in 2015. I'd sit for hours on Twitter, [with the] ISIS Twitter guys." Like many who followed ISIS on the Internet, Jack recalls how they instructed him to narrow his focus on what they alone told him, which also made it easier to believe them enough to travel to Syria. "IS guys said what you hear on the news is not true."
Lisa Smith, a 37-year-old Irish woman, became discouraged after converting to Islam when the woman who mentored her became too strict and demanding. Her passion for her religion, however, was reignited when "I met an American guy online, Abu Hassan. He told me the basics of the Quran, what is allowed and not allowed." Lisa traveled twice to Syria, first to help beleaguered Syrians and then again to join ISIS, both times under the tutelage of her online mentor. The second time she recalls questioning Abu Hassan about the ISIS brutality she was also viewing online, "I asked him. He said, 'No! No! This is just propaganda. They don't want people to make hijrah [travel to live under shariah law]. We are going to the square getting pistachio ice cream.'" Lisa queried her online mentor until she became convinced to travel into ISIS territory. "I asked him, 'Is Baghdadi legit or not legit?' 'It's legit. He's from Khorash, meets all the conditions and anyone who doesn't give pledge to the caliph, if they die they will die a death of jahiliya [ignorance].'" Lisa recalls, "For me Abu Hassan was so knowledgeable. I believed everything he said. He was very knowledgeable, very warm, never angry, a gentle, good guy."
Abu Islam, a 40-year-old Pakistani man, was recruited into ISIS in 2014, solely over the Internet. He recalls, "I was not a practicing Muslim till age of 36. I was seeking Islam and someone contacted me on Internet. I was looking why people are doing jihad. [Then,] I contacted Muhammed from ISIS." When Muhammed learned that his Pakistani "brother" was in the petroleum industry, "he became excited. He said, 'You are Muslim, my brother, you should come and help us.' I told him, 'There is war going on. How will you support me?'" Abu Islam's recruiter told him, "We will keep you in a part where there is no war. We need engineers." He then explained that the Caliphate had been established saying, "It's your first duty to come," and, "He gave me Quran and hadiths. We kept talking. It took me 2 months at least. I was afraid, but he framed me into a small circle: 'You are doing a big sin if you don't come.' He was very intelligent. He said he was from Canada and he was there in Syria. He said, 'If I can come from Canada, you are in the third world. You love this world so much? More than the Caliphate? He caught me, so I agreed to come to Turkey at least."
29-year-old Swiss Abu Alia, who was born in Algeria but adopted and grew up Swiss, recalls finding Islam on the Internet in 2011 as well as Anwar Awlaki, who convinced him of the claim by ISIS and other groups that hijrah and jihad were his individual duties. After converting to Islam, Abu Alia recalls watching events of the Syrian uprising on YouTube, Facebook and Twitter. "I was seeing a lot videos, Syrian regime bombings, I saw them calling, 'Where are the Muslims? We are killed by Syrian regime!' I thought I will leave to help these people. I went in 2013." Such was his emotional response to viewing the Syrian suffering, coupled with meeting ISIS contacts over the Internet, to move him into action that Abu Alia traveled alone from Geneva to Istanbul, using a smuggler to enter Syria all based on connections with "someone on the Internet. I had made friends already there." Abu Alia states, "I went for hijrah [to live in a land ruled by shariah] and to support Muslims there. I was working as a nurse or physical therapist [in ISIS]."
28-year-old French Umm Aliah recalls the family conflict that occurred after she converted to Islam. "I wanted to escape [my family]. I was 23. I started chatting on the Internet [and found an ISIS man who told me,] 'This is Paradise here, you have to come.'" Between believing she was on her way into an Islamic utopia to join her French lover and wanting to get away from family conflict she made her way from France into Syria.
Kimberly Pullman, a 46-year-old Canadian, recalls meeting her ISIS husband on Twitter and marrying him online. Kimberly recalls, "After a year of marriage, after he came to Syria, …He asked me, 'You are not really the kind of woman who divorces. Why did you?'" Engulfed with feelings of shame and self-hatred over the sexual assaults and the marriage she had escaped when it turned violent, Kimberly recalls being amazed when he promised to restore her honor. "That is something I haven't had. Giving back a purity that was taken away was something I wanted so badly. That is something that he didn't hold against me and then that pulled me in." She also recalls that her online husband "threatened to divorce me because I wouldn't come." Kimberly, like many of the others, had push factors as well as the online seduction. One of her rapists was put on trial and it was featured in the news, causing her massive post-traumatic flashbacks and suicidal feelings. Instead of committing suicide she decided to believe her online ISIS husband when he told her, "Come where you are loved. Your children don't even see you. You have skills. You shouldn't be alone." She now states that it wasn't just ISIS propaganda that pulled individuals into the group, but real online intimacies that made them abandon them homes and travel across continents. "It was not propaganda that worked on us. Many of us didn't even see the videos."
Terrorists have long used the Internet to push out their virulent ideologies and to recruit vulnerable individuals into their groups. This use of the Internet has now, however, escalated to the point where it is possible to recruit individuals into terrorism by Internet contact alone. How is that possible?
There are many reasons; the first among them is that in the case of militant jihadist groups, al Qaeda and others have spent decades spreading a virulent ideology and convincing many that suicide terrorism is a type of Islamic martyrdom, that building a Caliphate is a goal to be strived after, and that making hijrah – that is, traveling to lands ruled by shariah law – and participating in militant jihad are obligations incumbent on all Muslims. In addition to this, the Internet has evolved to a point where the immediate feedback mechanisms of social media make it possible for terrorists to blanket the Internet with their propaganda and recruiting messages and then sit back and wait to see who responds. They can then pour their energy into honing in on those who show interest – "love bombing" – and swarming in on them.
Likewise, the Internet has created an environment in which the world has become smaller and more interconnected, with the possibility of viewing emotionally evocative video and imagery from far-off parts of the world in real time. This plays into already existing Islamic beliefs about the interconnectedness of the Muslim ummah, something militant jihadist terrorists are quick to capitalize upon. The suffering of other Muslims is the suffering of all, according to their claims, and jihad is the duty to come to their rescue.
Likewise, when an individual shows interest and is contacted by a terrorist recruiter, the possibility of a real and intimate relationship is now possible given video and audio capability, texting, chat and email. Terrorist recruiters can now reach into the bedrooms of vulnerable youth, and spend hours that few parents have time to invest, to groom their young recruits into believing that joining the terrorist group is the best way to find purpose, significance, dignity, prosperity, adventure, answers to problems and to ensure their afterlife.
While showing graphic images of suffering in the Muslim ummah to motivate viewers into action has long been the purview of militant jihadist recruiters, the current ability of Internet recruiters to now move the emotions of their potential recruits by graphically showing them events in real-time occurring across the world while convincing them that they have a part to play in ending this suffering is something new in the terrorist recruitment mix. Likewise, the newfound intimacy in Internet connections alongside the possibility of encrypted communication through apps like WhatsApp and Telegram makes Internet-based terrorist recruitment relationships real and vivid while at the same time hidden.
To fight back, public and private organizations alike are going to need to get better at discrediting terrorist ideologies as well as the groups they represent. At ICSVE, we believe that using insider stories from actual terrorist members is one strong way to do this, as demonstrated in the Breaking the ISIS Brand Counter Narrative Project.[ii] However, we as a society also need to address the push factors of which terrorists take advantage: the perceived and actual grievances of being discriminated against, marginalized, under and un-employed and frustrated aspirations. Likewise, we also need to address the pull factors; most importantly, to make clear that there are much better options than engaging with a terrorist group to put an end to the suffering of Muslims throughout the world. Terrorists have always been one step ahead of us. Now that we know that they can recruit solely via the Internet, we need to get as creative and relational as they are and put a stop to it.
*Molly Ellenberg, M.A. is a research fellow at ICSVE. Molly Ellenberg holds an M.A. in Forensic Psychology from The George Washington University and a B.S. in Psychology with a Specialization in Clinical Psychology from UC San Diego. At ICSVE, she is working on coding and analyzing the data from ICSVE's qualitative research interviews of ISIS and al Shabaab terrorists, running Facebook campaigns to disrupt ISIS's and al Shabaab's online and face-to-face recruitment, and developing and giving trainings for use with the Breaking the ISIS Brand Counter Narrative Project videos. Molly has presented original research at the International Summit on Violence, Abuse, and Trauma and UC San Diego Research Conferences. Her research has also been published in the Journal of Child and Adolescent Trauma. Her previous research experiences include positions at Stanford University, UC San Diego, and the National Consortium for the Study of Terrorism and Responses to Terrorism at the University of Maryland.
[i] Mendelsohn, B. (2011). Foreign fighters—recent trends. Orbis, 55(2), 189-202.; Meleagrou-Hitchens, A., & Kaderbhai, N. (2017). Research perspectives on online radicalisation: A literature review, 2006-2016. International Centre for the Study of Radicalisation, 19.
[ii] Speckhard, A., Shajkovci, A., & Bodo, L. (2018). Fighting ISIS on Facebook—Breaking the ISIS brand counter-narratives project. International Center for the Study of Violent Extremism.
Author's note: first published in Homeland Security Today
Role of Pak-Military in Combating Terrorism: Post-2017 Analysis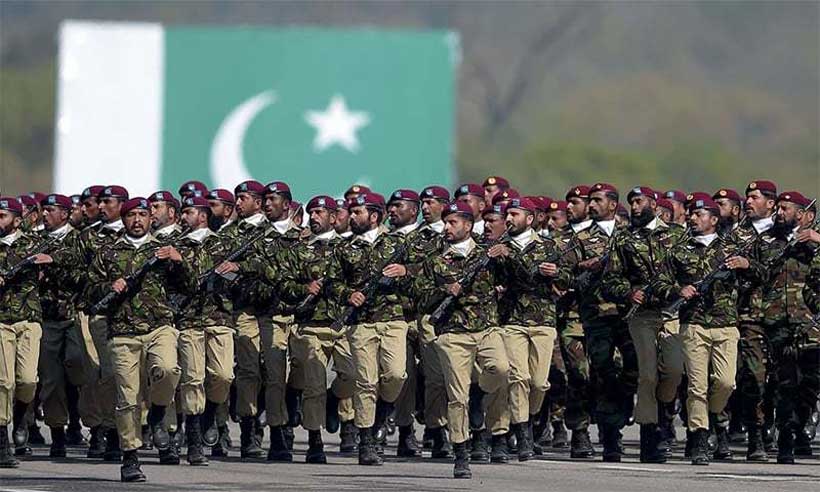 Over the past 20 years, Pakistan has continued to be a target of terrorism. It has endured a great deal of hardship as a frontline nation in the fight against terrorism being led by the United States. In the past 20 years, the bloodstained war against terrorism has claimed thousands of lives, including both civilians and security force members. Pakistan adopted a comprehensive plan and carried various operations to eradicate terrorism from its territory. The importance of Pakistan's military cannot be overstated, especially given how successful that country has been in the last five years in combating terrorism.
In reaction to an increase in "terrorist attacks," The Pakistani government declared a nationwide military operation with the codename Radd-Ul-Fasaad on February 22, 2017. This operation was not restricted to one area, but had been carried out across whole Pakistan and succeeded in driving out terrorist elements from Lahore, Sehwan Sharif, Khyber Pakhtunkhwa, and the former FATA. The operation included the involvement of Pakistan's air force, Pakistan's navy, Pakistan's police and other civil armed forces however, the Rangers performed special tasks 'to operate in Lahore and different parts in the province of Punjab.
Similar to this, the Pakistani army began Operation Khyber-IV in July 2017 to purge the Rajgal Valley of militants in the Khyber tribal district. The primary objective of Khyber-IV was to eliminate the threat of IS in the tribal district of Khyber Pakhtunkhwa. the declared the Operation was concluded On August 21, 2017.
According to sources (PIPS), systematically compile data on militant and anti-state violence in Pakistan claim that 2018 saw an improvement in the overall security situation compared to previous years. The total number of raids and operations carried out against militants in 2018 were 31 as compared to 2017 i.e. 75. In addition to these operational assaults, security forces and militants engaged in 22 armed confrontations in 2018. This represents a 68% drop from 2017 levels.
In accordance with data from the Global Terrorism Index, terrorist attacks have decreased in Pakistan since 2018. The total number of terrorist incidents decreased from 369 in 2018 to 279 in 2019. While the number of terrorist deaths in Pakistan I.e.300, reached its lowest annual total since 2006.
The nature of the violence in 2018 was diverse the figure below presents a breakdown of the nature of violent incidents and the number of casualties' recorded in 2018:
Source: PIPS, Pakistan Security Report 2018, 6 January 2019, p. 20
In comparison to 2018, the security situation was even better in the first half of 2019. Numerous counterterrorism operations captured several top commanders from various militant organisations, including the Tehrik-e Taliban Pakistan (TTP) and the Islamic State Khorasan Province (ISKP). According to the data, the security forces engaged in 23 operations against militants in the first seven months of 2019. In addition to these operational assaults, security forces and militants engaged in 15 armed encounters.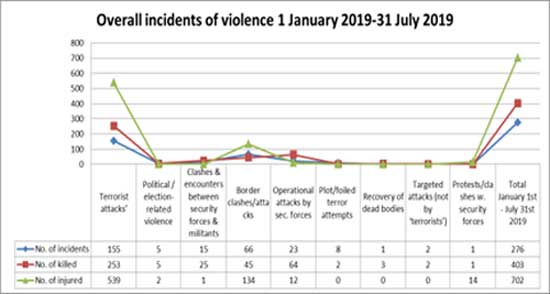 Source: 2019-EASO-Pakistan-Security-Situation-Report.pdf
There were 276 total violent incidents in the first seven months of 2019. As a result, 403 people died and 702 were hurt. A breakdown of the types of violent incidents and the number of fatalities reported in 2019 can be seen in the figure above.
In 2019, the Pakistani government also contributed positively to the US-Taliban negotiations. Moreover, the National Counter Terrorism Authority (NACTA) and the United Nations Office on Drugs and Crime (UNODC) collaborated to develop Pakistan's Action to Counter Terrorism (PACT) with a specific focus on Sindh in order to equip the criminal justice systems with the tools necessary to prevent and combat terrorism in a proactive manner. The goal of PACT Sindh is to improve the capabilities and coordination processes of national and local counterterrorism and criminal justice institutions. PACT Sindh's primary goal is to enhance the criminal justice system's investigation, prosecution, and adjudication procedures. By working with other departments, it will increase the ability of the police, prosecutors, and judiciary. These counter terrorism efforts of the security forces and especially Pakistan Army are significant indeed, considering the ratio that Pakistan faced in the last two decades.
Terrorism intensifying across Africa, exploiting instability and conflict
The growth of terrorism is a major threat to international peace and security, currently felt most keenly in Africa, the deputy UN chief told the Security Council on Thursday. "Terrorists and violent extremists including Da'esh, Al-Qaida and their affiliates have exploited instability and conflict to increase their activities and intensify attacks across the continent", Amina Mohammed said on behalf of Secretary-General António Guterres.
"Their senseless, terror-fuelled violence has killed and wounded thousands and many more continue to suffer from the broader impact of terrorism on their lives and livelihoods".
Spreading terror
With misogyny at the core of many terrorist groups' ideology, women and girls in particular, are bearing the brunt of insecurity and inequality.
And over the last two years, some of the most violent affiliates of Da'esh have expanded, increasing their presence in Mali, Burkina Faso and Niger as well as southward into the Gulf of Guinea.
"Terrorist and violent extremist groups aggravate instability and human suffering. And they can plunge a country emerging from war back into the depths of conflict", reminded the senior UN official.
Threatening States
Meanwhile, terrorists, non-State armed groups and criminal networks often pursue different agendas and strategies, fuelled by smuggling, human trafficking and other methods of illicit financing – sometimes impersonating legitimate armed forces.
And as digital tools spread hate and disinformation, terrorists and other criminal groups are exploiting inter-communal tensions and food insecurity triggered by climate change.
Globalization of terrorism
In today's hyper-connected world, Ms. Mohammed remined that the spread of terrorism in Africa is "not a concern for African Member States alone".
"The challenge belongs to us all. Countering international terrorism requires effective multilateral responses", she flagged.
From the climate emergency to armed conflict and poverty and inequality to lawless cyberspace, and the uneven recovery from COVID-19, she also pointed out that terrorism is converging with other threats.
For a holistic, comprehensive approach, the deputy UN chief cited the New Agenda for Peace – part of the Our Common Agenda report.
Amidst increasing polarization, she maintained that it proposes ways to address risks and revitalize our collective peace and security system.
Pushing back on terror
Outlining five suggestions to advance counter-terrorism efforts in Africa, Ms. Mohammed reminded that "prevention remains our best response".
"We must address the instability and conflict that can lead to terrorism in the first place, as well as the conditions exploited by terrorists in pursuit of their agendas".
Secondly, she called for community-based, gender-sensitive "whole-of-society" approaches.
Noting "complex links between terrorism, patriarchy and gender-based violence", she said counter-terrorism policies needed to be "strengthened by the meaningful participation and leadership of women and girls".
She underscored in her third point that "countering terrorism can never be an excuse for violating human rights or international law" as it would "only set us back".
Fourth, she stressed to importance of regional organisations which can address challenges posed by terrorist and violent extremist groups in the local context.
Finally, Ms. Mohamed called for "sustained and predictable funding" to prevent and counter terrorism.
From economic deprivation to organized crime and governance challenges, "the magnitude of the problem calls for bold investment", she told ambassadors.
In closing, the Deputy Secretary-General welcomed the planned October 2023 Summit on counterterrorism in Africa as an opportunity to consider ways to strengthen the UN's efforts across the continent overall.
She expressed confidence that today's debate would offer insights for the summit, and "help to build peaceful, stable communities and societies across the continent".
Restoring authority: Ghanaian President
Chairing the meeting with his country assuming the presidency of the Council for November, Ghanaian President Nana Addo Dankwa Akufo-Addo, attested to the importance of restoring effective State authority and promoting inclusive governance across the continent. He also urged the Council to support AU-led counter-terror operations, including with predictable funding.
African Union (AU) Commission Chair, Moussa Faki Mahamat, drew attention in his briefing, to the daily physical and psychological damage caused by terrorism and reminded that conventional responses and old models are no longer relevant to counter evolving threats on the ground.
And as terrorism extends to new parts of the continent, Benedikta von Seherr-Thoss, Managing Director for Common Security and Defence Policy and Crisis Response with the European Union's diplomatic wing (European External Action Service) noted the need for security support while underscoring the role of sustainable development for nourishing peace.
Comfort Ero, President and CEO of the International Crisis Group, also briefed the Council, and maintained that technical and military solutions would not end terrorist threats on their own, calling for a new counter-terror toolkit that includes more dialogue with armed groups and can promote local ceasefire arrangements.
Crime and terrorism thriving again in Afghanistan amid economic ruin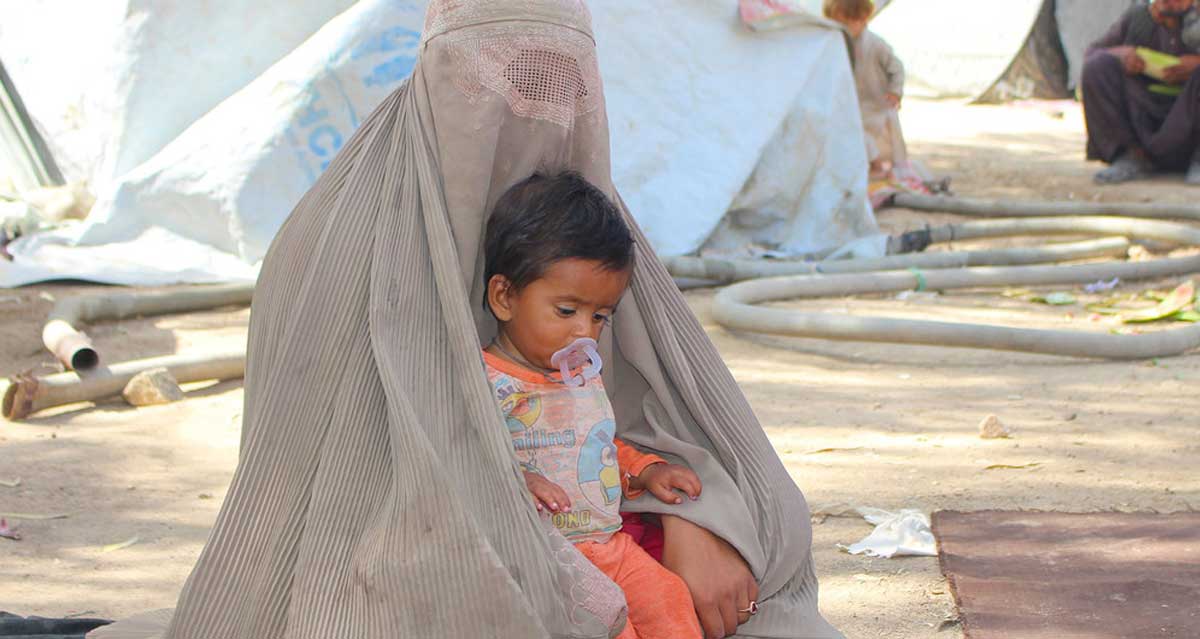 Two-thirds of Afghans are going hungry, with girls' education subject to "random edicts" of the Taliban, while crime and terrorism are thriving once more buoyed by a large spike in opium production, warned the President of the UN General Assembly on Thursday.
Csaba Kőrösi painted a near apocalyptic picture of ordinary life in the Taliban-ruled nation that has endured almost five decades of "relentless conflict", urging the international community to make up the $2.3 billion shortfall in the UN humanitarian appeal for $4.4 billion.
'Moral imperative'
In a powerful speech to ambassadors in New York, during a full session of the UN's most representative body, he said that there was "a moral and also a practical imperative for the international community to support an inclusive and sustainable peace in Afghanistan."
The resolution expressed deep concern over Afghanistan's current trajectory and the volatility there since the Taliban takeover.
It urges Afghanistan to honour and fully respect and implement all treaties, covenants or conventions, bilateral or multilateral, which is has signed up to.
Drugs and terror
Beyond the disastrous humanitarian and human rights situation, he said the country was now "awash with heroin and opium."
"Organized crime and terrorist organizations are thriving once again. Afghanistan is facing complex and interlinked challenges that the Taliban have shown they cannot – or would not – solve."
Now is the time to come up with some concrete solutions that put the Afghan people first, he said, suggesting one concrete way the General Assembly could help right away:
"I encourage the country's reengagement with the international science community. And to allow women who used to be respected members of the country's science community, to resume their research and their studies.
Alone in denial
Afghanistan is now the only State in the world, denying girls the right to a full education, he added, noting that their prospects are totally uncertain, "amid seemingly random edicts from the Taliban."
For even the most powerful women in the country, "dreams of becoming President have been replaced by the reality of child marriage. Arrests if women and girls leave their home without a male chaperone.
Protect all Afghans
"I reiterate my call for the protection of fundamental rights and freedoms of all Afghans, especially women and girls."
Mr. Kőrösi urged the Taliban to ensure the safety of all Afghans – regardless of gender, ethnicity, religion or politics – protection for journalists and civil society members, and the unhindered delivery of aid.
Amid the economic meltdown, he pointed out the shocking fact that narcotics constitute the biggest sector in the country, with the UN Office on Drugs and Crime, revealing a 32 per cent growth in illegal opium cultivation.
"We know where these drugs are sent. And we know who profits from these drugs. The threat from drug trafficking is linked with the threat of terrorism, regional and global security."
Get serious
He said Taliban leaders needed to engage in serious dialogue about counter-terrorism to reverse the flow of foreign extremists into the country – and prevent their own from becoming foreign terrorist fighters elsewhere.
"Afghanistan must never again become a breeding ground and safe haven for terrorists. I call on the Taliban, other Afghans and members of the international community to cooperate with the Special Representative (for UN Assistance Mission, UNAMA) as she implements the Mission's mandate.
After debating the resolution, it was adopted by the General Assembly with 116 votes for, and 10 abstentions – Belarus, Burundi, China, the Democratic People's Republic of Korea, Ethiopia, Guinea, Nicaragua, Pakistan, Russia and Zimbabwe.