Authors: Anne Speckhard and Molly Ellenberg*
Is Internet recruitment alone strong enough to recruit an individual into a terrorist group, much less to incite him or her to travel across continents to join, as in the case of the 40,000 or so foreign terrorist fighters and their family members [FTFs] who traveled to ultimately join the ISIS Caliphate in Syria and Iraq? Most experts, until now, would likely answer no, stating that some face-to-face element is necessary to seal the deal.[i]
A new study, however, carried out by the International Center for the Study of Violent Extremism [ICSVE] and based on 236 in-depth interviews carried out by the first author, demonstrates that this is no longer true. Based on these interviews, which queried about recruitment history and experiences with and inside the terrorist group, among many other aspects of the interviewees' paths into and out of terrorism, the data clearly show that Internet recruitment alone is enough to seduce a vulnerable person into the group.
Of the 236 ICSVE interviews that have been translated and coded on 342 variables, 117 reported some element of Internet-based recruitment as part of their process of joining the group. For many, this included watching video footage produced by ISIS, and other rebel groups operating in Syria, and also made by Syrian civilians themselves depicting Assad's tyranny, as well as in the case of ISIS, juxtaposing this to pictures of a victorious and utopian Islamic Caliphate that they claimed all Muslims were obligated to join and support. Others also made contact over the Internet with an ISIS recruiter, or a facilitator who talked them into coming, or at a minimum facilitated their passage into Syria. Others reached out via the Internet, or were contacted by an existing social network of family and friends who had joined before them.
Of the 236 interviewees, 49 percent of men and 52.6 percent of women reported Internet-related recruitment or online facilitation of travel of any type. Among those who were not living in Iraq and Syria at the time that they joined ISIS, the numbers are even higher, whether or not they ultimately traveled to join the group, as some were caught before entering ISIS territory. Of those participants from outside of Syria and Iraq, 78 percent of men and 67.9 percent of women reported Internet-related recruitment influences of any type.
What is most significant, however, is that a good-sized portion of the sample traveled to Syria and Iraq simply from following online recruitment alone: propaganda, recruiters or existing network influencers who motivated them to come. This occurred without any face-to-face recruitment augmenting as thought necessary by many experts up to this point. This portion of the sample, 17.7 percent of men (n=35) and 21.1 percent of women (n=8), reported that they traveled to Syria on this basis of Internet recruitment alone via terrorist propaganda and/or an actual recruiter/facilitator/or existing network friend or family member messaging them online.
The stories they tell include:
24-year-old Abu Walid, a well-educated Dutch ISIS fighter, who recalls embracing Islam at age 19 and then falling heavily under the passive Internet influence of viewing events unfolding amidst the Syrian uprising. "I watched videos on all the social media: Facebook, Twitter." Then, over time, he states, "I started talking to people on social media." He ultimately left the Netherlands to join ISIS in 2016.
24-year-old British born Jack Letts explains, "I came because of what Bashar was doing in 2015. I'd sit for hours on Twitter, [with the] ISIS Twitter guys." Like many who followed ISIS on the Internet, Jack recalls how they instructed him to narrow his focus on what they alone told him, which also made it easier to believe them enough to travel to Syria. "IS guys said what you hear on the news is not true."
Lisa Smith, a 37-year-old Irish woman, became discouraged after converting to Islam when the woman who mentored her became too strict and demanding. Her passion for her religion, however, was reignited when "I met an American guy online, Abu Hassan. He told me the basics of the Quran, what is allowed and not allowed." Lisa traveled twice to Syria, first to help beleaguered Syrians and then again to join ISIS, both times under the tutelage of her online mentor. The second time she recalls questioning Abu Hassan about the ISIS brutality she was also viewing online, "I asked him. He said, 'No! No! This is just propaganda. They don't want people to make hijrah [travel to live under shariah law]. We are going to the square getting pistachio ice cream.'" Lisa queried her online mentor until she became convinced to travel into ISIS territory. "I asked him, 'Is Baghdadi legit or not legit?' 'It's legit. He's from Khorash, meets all the conditions and anyone who doesn't give pledge to the caliph, if they die they will die a death of jahiliya [ignorance].'" Lisa recalls, "For me Abu Hassan was so knowledgeable. I believed everything he said. He was very knowledgeable, very warm, never angry, a gentle, good guy."
Abu Islam, a 40-year-old Pakistani man, was recruited into ISIS in 2014, solely over the Internet. He recalls, "I was not a practicing Muslim till age of 36. I was seeking Islam and someone contacted me on Internet. I was looking why people are doing jihad. [Then,] I contacted Muhammed from ISIS." When Muhammed learned that his Pakistani "brother" was in the petroleum industry, "he became excited. He said, 'You are Muslim, my brother, you should come and help us.' I told him, 'There is war going on. How will you support me?'" Abu Islam's recruiter told him, "We will keep you in a part where there is no war. We need engineers." He then explained that the Caliphate had been established saying, "It's your first duty to come," and, "He gave me Quran and hadiths. We kept talking. It took me 2 months at least. I was afraid, but he framed me into a small circle: 'You are doing a big sin if you don't come.' He was very intelligent. He said he was from Canada and he was there in Syria. He said, 'If I can come from Canada, you are in the third world. You love this world so much? More than the Caliphate? He caught me, so I agreed to come to Turkey at least."
29-year-old Swiss Abu Alia, who was born in Algeria but adopted and grew up Swiss, recalls finding Islam on the Internet in 2011 as well as Anwar Awlaki, who convinced him of the claim by ISIS and other groups that hijrah and jihad were his individual duties. After converting to Islam, Abu Alia recalls watching events of the Syrian uprising on YouTube, Facebook and Twitter. "I was seeing a lot videos, Syrian regime bombings, I saw them calling, 'Where are the Muslims? We are killed by Syrian regime!' I thought I will leave to help these people. I went in 2013." Such was his emotional response to viewing the Syrian suffering, coupled with meeting ISIS contacts over the Internet, to move him into action that Abu Alia traveled alone from Geneva to Istanbul, using a smuggler to enter Syria all based on connections with "someone on the Internet. I had made friends already there." Abu Alia states, "I went for hijrah [to live in a land ruled by shariah] and to support Muslims there. I was working as a nurse or physical therapist [in ISIS]."
28-year-old French Umm Aliah recalls the family conflict that occurred after she converted to Islam. "I wanted to escape [my family]. I was 23. I started chatting on the Internet [and found an ISIS man who told me,] 'This is Paradise here, you have to come.'" Between believing she was on her way into an Islamic utopia to join her French lover and wanting to get away from family conflict she made her way from France into Syria.
Kimberly Pullman, a 46-year-old Canadian, recalls meeting her ISIS husband on Twitter and marrying him online. Kimberly recalls, "After a year of marriage, after he came to Syria, …He asked me, 'You are not really the kind of woman who divorces. Why did you?'" Engulfed with feelings of shame and self-hatred over the sexual assaults and the marriage she had escaped when it turned violent, Kimberly recalls being amazed when he promised to restore her honor. "That is something I haven't had. Giving back a purity that was taken away was something I wanted so badly. That is something that he didn't hold against me and then that pulled me in." She also recalls that her online husband "threatened to divorce me because I wouldn't come." Kimberly, like many of the others, had push factors as well as the online seduction. One of her rapists was put on trial and it was featured in the news, causing her massive post-traumatic flashbacks and suicidal feelings. Instead of committing suicide she decided to believe her online ISIS husband when he told her, "Come where you are loved. Your children don't even see you. You have skills. You shouldn't be alone." She now states that it wasn't just ISIS propaganda that pulled individuals into the group, but real online intimacies that made them abandon them homes and travel across continents. "It was not propaganda that worked on us. Many of us didn't even see the videos."
Terrorists have long used the Internet to push out their virulent ideologies and to recruit vulnerable individuals into their groups. This use of the Internet has now, however, escalated to the point where it is possible to recruit individuals into terrorism by Internet contact alone. How is that possible?
There are many reasons; the first among them is that in the case of militant jihadist groups, al Qaeda and others have spent decades spreading a virulent ideology and convincing many that suicide terrorism is a type of Islamic martyrdom, that building a Caliphate is a goal to be strived after, and that making hijrah – that is, traveling to lands ruled by shariah law – and participating in militant jihad are obligations incumbent on all Muslims. In addition to this, the Internet has evolved to a point where the immediate feedback mechanisms of social media make it possible for terrorists to blanket the Internet with their propaganda and recruiting messages and then sit back and wait to see who responds. They can then pour their energy into honing in on those who show interest – "love bombing" – and swarming in on them.
Likewise, the Internet has created an environment in which the world has become smaller and more interconnected, with the possibility of viewing emotionally evocative video and imagery from far-off parts of the world in real time. This plays into already existing Islamic beliefs about the interconnectedness of the Muslim ummah, something militant jihadist terrorists are quick to capitalize upon. The suffering of other Muslims is the suffering of all, according to their claims, and jihad is the duty to come to their rescue.
Likewise, when an individual shows interest and is contacted by a terrorist recruiter, the possibility of a real and intimate relationship is now possible given video and audio capability, texting, chat and email. Terrorist recruiters can now reach into the bedrooms of vulnerable youth, and spend hours that few parents have time to invest, to groom their young recruits into believing that joining the terrorist group is the best way to find purpose, significance, dignity, prosperity, adventure, answers to problems and to ensure their afterlife.
While showing graphic images of suffering in the Muslim ummah to motivate viewers into action has long been the purview of militant jihadist recruiters, the current ability of Internet recruiters to now move the emotions of their potential recruits by graphically showing them events in real-time occurring across the world while convincing them that they have a part to play in ending this suffering is something new in the terrorist recruitment mix. Likewise, the newfound intimacy in Internet connections alongside the possibility of encrypted communication through apps like WhatsApp and Telegram makes Internet-based terrorist recruitment relationships real and vivid while at the same time hidden.
To fight back, public and private organizations alike are going to need to get better at discrediting terrorist ideologies as well as the groups they represent. At ICSVE, we believe that using insider stories from actual terrorist members is one strong way to do this, as demonstrated in the Breaking the ISIS Brand Counter Narrative Project.[ii] However, we as a society also need to address the push factors of which terrorists take advantage: the perceived and actual grievances of being discriminated against, marginalized, under and un-employed and frustrated aspirations. Likewise, we also need to address the pull factors; most importantly, to make clear that there are much better options than engaging with a terrorist group to put an end to the suffering of Muslims throughout the world. Terrorists have always been one step ahead of us. Now that we know that they can recruit solely via the Internet, we need to get as creative and relational as they are and put a stop to it.
*Molly Ellenberg, M.A. is a research fellow at ICSVE. Molly Ellenberg holds an M.A. in Forensic Psychology from The George Washington University and a B.S. in Psychology with a Specialization in Clinical Psychology from UC San Diego. At ICSVE, she is working on coding and analyzing the data from ICSVE's qualitative research interviews of ISIS and al Shabaab terrorists, running Facebook campaigns to disrupt ISIS's and al Shabaab's online and face-to-face recruitment, and developing and giving trainings for use with the Breaking the ISIS Brand Counter Narrative Project videos. Molly has presented original research at the International Summit on Violence, Abuse, and Trauma and UC San Diego Research Conferences. Her research has also been published in the Journal of Child and Adolescent Trauma. Her previous research experiences include positions at Stanford University, UC San Diego, and the National Consortium for the Study of Terrorism and Responses to Terrorism at the University of Maryland.
[i] Mendelsohn, B. (2011). Foreign fighters—recent trends. Orbis, 55(2), 189-202.; Meleagrou-Hitchens, A., & Kaderbhai, N. (2017). Research perspectives on online radicalisation: A literature review, 2006-2016. International Centre for the Study of Radicalisation, 19.
[ii] Speckhard, A., Shajkovci, A., & Bodo, L. (2018). Fighting ISIS on Facebook—Breaking the ISIS brand counter-narratives project. International Center for the Study of Violent Extremism.
Author's note: first published in Homeland Security Today
Global War on Terror: Pakistan's Role and Evolving Security Architecture for sustainable peace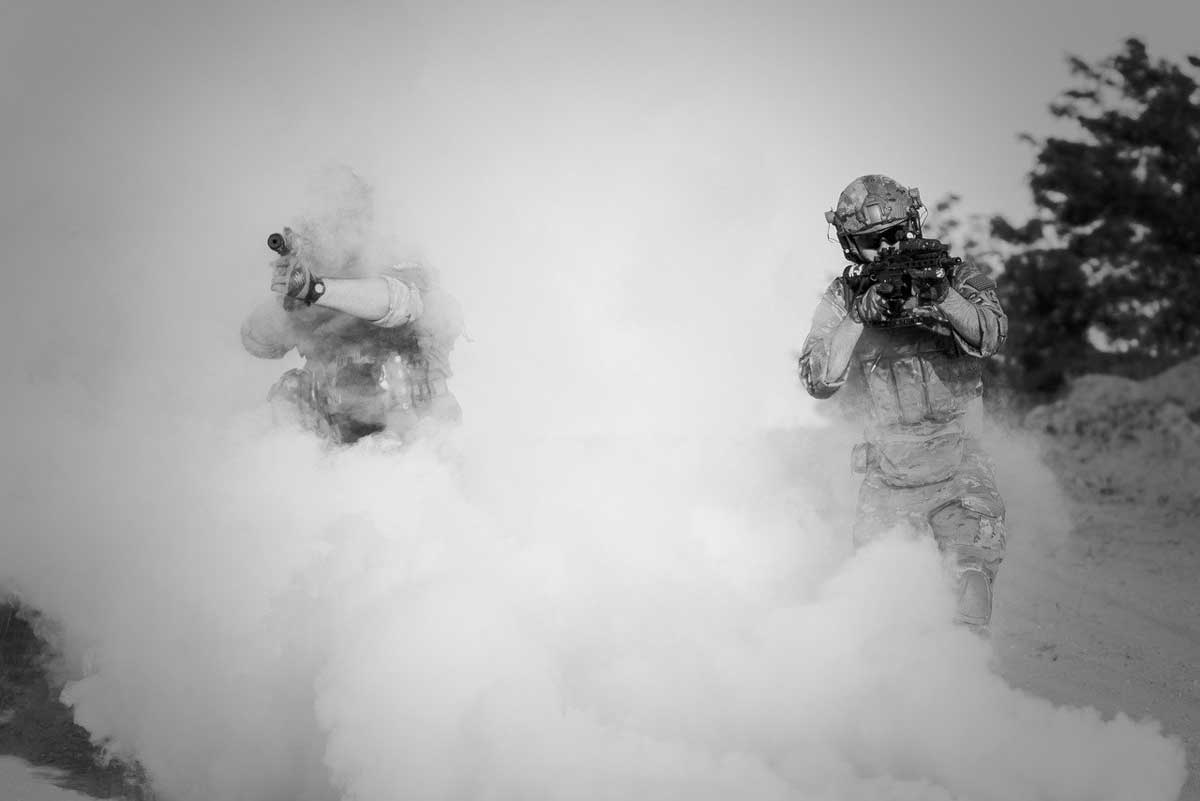 If Afghanistan, according to former president of the United States (US) George W Bush was the center of terror, then Pakistan had been the center of war against it. After the 9/11 attacks, while announcing the Global War On Terror (GWOT), the former Bush administration invited international community including Pakistan for cooperation and adopted the foreign policy approach of "with us or against us" pick. Thus, there was no choice for the Pakistan except joining the US war in Afghanistan aimed terrorism elimination. The US policy of "with us or against us" to fight together against a common enemy could be dubbed as classic realist approach of "enemy of my enemy is my friend".
Pakistan played a "crucial role" to eradicate the threat of terrorism to fulfill its desire for peace and stability at regional as well as global level. Despite playing pivotal role to fight the US-war on terrorism, Pakistan's sacrifices and contributions has not been acknowledged and notion of 'do more' was raised by the US officials. However, terrorism encompasses various tactics to launch violent attacks against military personnel, civilians, and public. The most common tactics include use of Improvised Explosive Devices (IED), suicide bombing, firing, Hand Grenade, Gun and bombs and Rockets. Thus, it is difficult to respond the tactics of terrorism as an act of war through military operations. Realizing the complicated nature of counter-terrorism operations and lack of success of the US forces in Afghanistan to hit the tactics of terrorist, only way forward for the US is negotiations and political settlements. Pakistan performed important role to construct roadmap for US-Taliban talks and provided relentless support in ongoing Afghan peace process. Pakistan's role and efforts to facilitate peace negotiations between the U.S. and Taliban to agree on 'Doha agreement' are widely appreciated by International community and acknowledged by the US. But when it comes to the US war on terror, Pakistan is still denied of its due appreciation in its fight against terrorism and relentless support to coalition forces in Afghanistan. Pakistan's contribution of providing logistic and military support by giving access to its bases and ports to the US, deployment of its forces along its border with Afghanistan to eliminate infiltration of terrorist, intelligence and information sharing to hit and capture extremist leaders is much more than its commitments to Operation Enduring Freedom (2001–2014) or GWOT.
GWOT and Escalating Instability in Pakistan
In the aftermath of its decision to join GWOT, Pakistan became targeted by radical terrorist groups due multiple factors including foreign financial assistance to internal sectarian hostility, religious extremism, emergence of Islam in politics. Significantly the turmoil in Afghanistan had spill over impact in Pakistan. Escalating terrorist attacks and huge influx of Afghan refugees in Pakistan instigate instability and insecurity in the country. Pakistan paid heavy price for its decision to join coalition in terms of relations with Afghanistan, low growth in economic sector including loss of human lives and psychological effects. Pakistan is plagued unprecedented levels of violence since Pakistan joined the GWOT as a front-line state. Independent sources reported that in the post 9/11 period, Pakistan lost 64,000 lives, damaged infrastructure and suffered financial losses of 150 billion USD.
Pakistan undertook a series of military operations to counter the menace of terrorism and extremism. According to the Global Terrorism Database, the sudden explosion of the terrorist attacks occurred in 2005 till 2014. Counter terrorism operations by Pakistan's military contributed in the WOT and played a pivotal role in winning it. Significant decrease in terrorist activities in Pakistan since 2014 highlights achievement of military operations against terrorists and militants.(See figure 01)
Source: Global Terrorism Data Base & Pakistan Institute for Peace Studies (PIPS)
Pakistan's Security Situation in 2020 and Geographic Distribution of terrorist activities
The trends in terrorist attacks indicates that number and lethality of terrorist activities in Pakistan is declining and country is heading towards peace and stability. In 2020, a total of 146 terrorism incidents were reported from across the country in which 220 people lost their lives, while another 547 were wounded. However, in 2019, a total of 230 terrorism incidents were reported from across the country in which 318 people lost their lives, while another 720 were wounded. The statistics for 2020 show a decline in number of terrorist attacks by nearly 38% as compared to 2019 when 230 attacks took place. Geographical distribution of terrorist attacks indicates a notable difference among provinces. Like the previous year, Khyber Pakhtunkhwa (NWFP) and Balochistan had suffered most numbers of incidents; when compared with 2019, all the provinces have witnessed decline in terrorist activities. Meanwhile, Federal Capital Islamabad, Gilgit-Baltistan and Azad Jammu and Kashmir remained the safest places as not even a signal terrorist attack occurred during the year 2020. Statistics mentioned in Pakistan's security report 2020, published by Pakistan Institute for Peace Studies (PIPS) shows that country is making gradual progress to eradicate terrorism.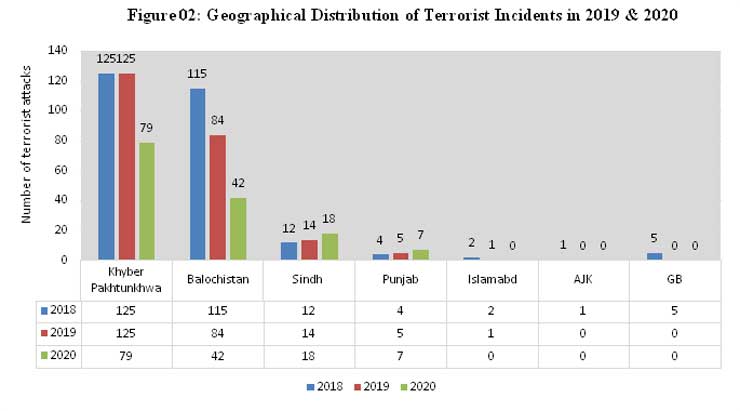 Source: South Asia Terrorism Portal (SATP), National/Local newspapers & Pakistan Institute for Peace Studies (PIPS)
Conclusion
Pakistan's counter terrorism operations have played significant role to fight the violence and establishing peace in the country. Yet, Pakistan's fight against terrorism is facing challenges due to continuing foreign finances and resources supply to terrorists' organizations. Pakistan's Counter-terrorism strategies should formulate mechanism to further strengthen multilateral cooperation among states to prevent, protect and pursue an attack and enhance the capacity to minimize the consequence of terrorist attack. Pakistan has entered in a fruitful phase of combating terrorism and managing its consequences efficaciously. Thus far, the US needed to acknowledge the unconditional contributions and sacrifices made by Pakistan and support the country in fighting this exhaustively expensive war on behalf of world community.
Hidden History – 1977 Terrorist Attacks in Moscow
On January 8, 1977,a series of terrorist attacks struck Moscow city, the capital of the Soviet Union. Three explosions occurred in a row in different places, with an interval of less than 40 minutes. All the employees of the Ministry of Internal Affairs and the KGB were raised on alarm. Leonid Brezhnev, General Secretary of the CPSU Central Committee, who spent Saturday hunting, urgently left for the capital. At that time, the life of Muscovites was not overshadowed by rampant criminality. The concept of "terrorism" was exclusively referred to as a characteristic of capitalist countries by the Soviet people.
OnSunday rush hour, the first bomb exploded at 17.33 in a Moscow metro train,which was on the stretch between the stations "Izmailovskaya" and "Pervomayskaya".The second bomb went off in the grocery storeNo.15 in the formerly named Dzerzhinsky Street (now Bolshaya Lubyanka), not far from the headquarters of the KGB at 18.05.Five minutes later, the third explosion occurred near the grocery store No.5.In total,7 people were killed and 37 got injuries of varying severity.The terrorist incident was kept secret from the public.
The KGB was assigned to lead the operation codenamed "Explosives" ("Взрывники"). The best investigators of the Prosecutor General`s Office, the Ministry of Internal Affairs and the KGB were engaged in the criminal investigation. The progress of the investigation was regularly reported to the then KGB Chairman Yuri Andropov and personally to Leonid Brezhnev. Although more than 500 witnesses were interviewed, not a single clue was found.In the end, the circle of suspected cities was reduced to three – Rostov-on-Don, Kharkov and Yerevan.
However, the terrorists were identified only after they began to prepare a new terrorist attack. On November 2, 1977, they decided to repeat the attack leaving a bag with a bomb, similar to the ones that went off in January in the waiting room of the Kursk railway station. But it stood in a crowded hall almost for a day and did not explode, because the batteries ran out. The ownerless item attracted one of the passengers' attention, who reported the finding to the police on duty. A valuable piece of evidence was obtained: a blue sports jacket with an Olympic patch and a hat with earflaps manufactured in Yerevan.
In the Moscow-Yerevan train near the administrative border of Georgian SSR and Armenia SSR, an unknown young man who was traveling with a friend was detained. The passengers were identified quickly enough. They turned out to be 28-year-old Hakob Stepanyan and 23-year-old Zaven Baghdasaryan. Regardless of the fact that it was sharply opposed by Karen Demirchyan, the First Secretary of the Central Committee of the Armenian SSR Communist Party, their apartments in Yerevan were searched, where additional evidence were found, including elements of explosive devices and a scheme of an explosive device that went off in the Moscow metro. Through Stepanyan, the investigation reached the third member of the criminal group. Stepanyan and Baghdasaryan, realizing that they were fully exposed, testified against the third member of the group, Stepan Zatikyan,who was not in Moscow at the time of the explosion. They confessed that he dragged them into the preparation of the terrorist attack. It was Zatikyan, who was the brain and ideological inspirer of the group. By that time, he was working at the Yerevan Electromechanical Plant. While studying at the Yerevan Polytechnic Institute, he founded the illegal National United Party of Armenia (NUPA) along with other friends in 1966.The group of nationalists developed an active underground activity and advocated for separatism. They published a clandestine periodical named "Paros" (Phare) and distributed leaflets protesting against "Russian chauvinism" and demanding the return of Nagorno-Karabakh and Nakhichevan to Armenia SSR. The group was uncovered in 1968. The founders and active members of the NUPA were convicted of anti-Soviet agitation and propaganda. Zatikyan's verdict was not too harsh, he was released in 1972.In 1975, he sent a statement to the Supreme Soviet in which he renounced Soviet citizenship and asked to be given the opportunity to leave for any non-socialist country. The NUPA operated until 1987, when it was renamed the Union for National Self-Determination.
The investigation into the case of Zatikyan and his accomplices lasted about a year. The trial of the terrorists in the Supreme Court of the USSR took place from January 16 to 20, 1979. It was closed and secret. Even the relatives of the defendants were not allowed into the courtroom. The only information about the trial and the verdict in the news media was a short note in Izvestia (January 31, 1979).Stepanyan and Baghdasaryan pleaded guilty, Zatikyan did not. For him, the court became a political platform.A documentary about this trial was made. On the recording, one can hear Zatikyan saying in Armenian: "Tell people that these were Stepan's last words: Revenge, revenge and revenge again."On the other hand, Stepanyan said: "If one of us survives, there will be explosions again."
On January 24, 1979, all the accused were found guilty by the court and sentenced to capital punishment – execution. On January 30, the Presidium of the Supreme Soviet of the USSR rejected the petition for clemency, and on the same day, the sentence was carried out.
The acts of terrorism carried out by Armenian nationalists have gone beyond the Soviet Union borders. In this respect,Turkish diplomats have become the target of terrorism. "Armenian terrorism, as well as its support in the larger Armenian community, was unique in its visceral hatred of its Turkish enemy" writes Michael M. Gunter in his book titled Armenian History and the Question of Genocide. As a result of the Armenian terror, more than 30 Turkish diplomats and their families have lost their lives since 1970.Most of these assassinations were mainly carried out by terrorist organizations, such as the Armenian Secret Army for the Liberation of Armenia (ASALA) and the Justice Commandos of the Armenian Genocide (JCAG).Both groups were founded in the mid-1970s and by the early 1980s had become extremely active.Despite both groups having disintegrated in the end of 1980s, an Armenian protester was spotted with an ASALA T-shirtin Los Angeles on  July22, 2020.The ideology that feeds those terrorist organizations, which mainly operated in Western countries, is still alive. The main reason for their "success" in the West is that they have not been properly punished until now.
Furthermore,Armenian terrorist organizations systematically and deliberately perpetrated acts of terrorism on Azerbaijani territory, as well. On March 19, 1994, 14 civilians lost their lives and 49 were injured as a result of the bombed attack perpetrated at the "20 January" metro station in Baku.
To put it briefly, the terrorist tradition of the Armenian ultranationalists needs to be deeply and systematically studied. The root causes of violent extremism in Armenian society are complex, multifaceted and intertwined as it has more than 100 years of history. Armenians present their terrorists to future generations as heroes, leaving their statues and encouraging future generations to grow up as terrorists.A clear example of this is the monument erected in memory of members of the ASALA terrorist organization at the Yerablur State Military Cemetery in Yerevan, Armenia.Asidefrom that, the defeat on the front in the 44-day war with Azerbaijan correspondingly pushed Armenian society into a deep sense of collective frustration and humiliation; in turn, it triggered a rise in nationalist sentiments and made them more radicalized, which galvanize terrorist attacks against Azerbaijani people. Considering that, the intelligence services and law enforcement agencies of the countries, where both Azerbaijani and Armenian diaspora live, should expeditiously increase situational awareness.
When shall the UNSC declare RSS a terrorist outfit?
Pakistan has urged the United Nations Security Council to designate India's Rashtriya Swayamsevak Sangh (RSS), the parent organization of the ruling Bharatiya Janata Party (BJP), as a terror group. Pak representative demanded that the RSS should also be included within ambit of the 1267 Sanctions Committee.
It is unfortunate that declaring an individual or entity a terrorist has become a political ploy. The freedom fighters of yester years like the taliban could become terrorists of today. Cuban and Latin American terrorists were displayed as freedom fighters in US gallery of portraits.
That's the crux of the problem. India calls Kashmiri freedom fighters 'terrorists'. It called Bengali insurgents 'mukti bahini', freedom fighters'. Unlike Kashmir, erstwhile East Pakistan was not a disputed state like Jammu and Kashmir. It was an integral part of Pakistan. But, India harboured, nurtured, trained and armed so-called Bengali 'freedom fighters' on Indian soil.
The White House welcomed Jalaluddin Haqqani (founding father of formidable Haqqani Taliban) as a guest.
India has a convenient way to exercise its diplomatic clout to get declared any entity a `terrorist'_ through linking it with `freedom movement' (euphemistically called `terrorism' by India) in the occupied Kashmir.
Why the RSS qualifies as a terrorist organisation
Congress leader Digvijaya Singh, former Madhya Pradesh chief minister, has alleged that "All arrested 'Hindu terrorists' have had RSS link". He claimed, `All Hindu terrorists who have ever been caught have association with RSS in some way or the other. Nathuram Godse, who assassinated Mahatma Gandhi, was also part of RSS. So, this ideology is spreading hatred, hatred breeds violence, and from violence is bred terrorism'.
"All Hindu terrorists who have ever been caught have association with RSS in some way or the other. Nathuram Godse, who assassinated Mahatma Gandhi, was also part of RSS, bomb blasts were executed by people influenced by Sangh ideology" said Digvijaya Singh
Reinforcing his stand on "Sangh terror," he said, "bomb blasts were executed by people influenced by Sangh ideology, be it Malegaon blast, Mecca Masjid blast, blast in Samjhauta express or Dargah Sharif."
Accusing RSS of propagating violence, Singh said, "The outfit which propagates violence and hatred, further propagates terrorism."
Defending Singh's charges, senior Congress leader Salman Khurshid said that his statements needs to be seen in the right context. "Ideologically Digvijay Singh has very strong views. He has opposed minority extremism and said that every kind of extremism is bad. We must contextualise what he said rather than generalise it and think he is saying it against one community or organisation," Khurshid said.
Howdy Modi critic's allegations
Speaking at the Houston City Council against the city's participation in the "Howdy Modi" pep rally, Pieter Friedrich expounded the RSS's nexus with worldwide terrorism'. Transcript of his speech:`
Last month, a white supremacist terrorist murdered 22 people in El Paso, Texas. His evil act was inspired by the murder of 51 people at mosques in Christchurch, New Zealand. That man's evil act was inspired by the murder of 77 people in Norway in 2011.In Norway, terrorist Anders Breivik left a manifesto that describes how he was inspired by other extremist and nationalist groups around the globe.
Breivik pointed to the RSS in India. He praised the "right wing Hindu nationalism" of the RSS and its goal of making India a "Hindu nation." He praised the RSS for how "they dominate the streets… and often riot and attack Muslims." He said the goals of white supremacists and the RSS are "identical" and that they should "learn from each other and cooperate as much as possible."
The RSS is a fascist paramilitary founded in 1925 — the same year that Hitler published Mein Kampf. The RSS developed with inspiration from the Nazis. And it produced Narendra Modi. In 2002, Modi presided as soldiers of the RSS massacred 2,000 Muslims. They gang-raped women, hacked people to death, burned people alive. Leaders of the pogrom later confessed on camera that Modi sanctioned their violence.
For this reason, Modi was banned from entering the USA for over 10 years. Today, under Modi's iron-fisted regime, Christians, Dalits, Muslims, Sikhs, and every Hindu who disagrees with the hate, violence, and supremacy of the RSS lives in fear of their lives.
Modi's hands are stained with blood. Those who shake his hand in welcome cannot wash their hands of complicity in his crimes. Bishop Desmond Tutu once said, "If you are neutral in situations of injustice, you have chosen the side of the oppressor." So what then if you roll out the red carpet for the oppressor? The philosopher Plato said, "Silence is consent." So what then if you raise your voice in support of the oppressor? Rather than "Howdy, Modi," the City of Houston ought to be saying, "Adios, Modi."
RSS fits in US `terror definition
U.S. Department of Defense Definition of Terrorism: terrorism refers to "the calculated use of unlawful violence or threat of unlawful violence to inculcate fear; intended to coerce or to intimidate governments or societies in the pursuit of goals that are generally political, religious, or ideological."
Narendra Modi is the RSS avatar
Narendra Modi, the current Prime Minister, like so many other Bharatiya Janata Party stalwarts, makes no bones about having been a member of the Rashtriya Swayem Sevak Sangh (National Volunteer Corps). The RSS has ubiquitous influence in all states and Union territories. Without its consent, no-one can get a party ticket or contest elections.
The RSS is a conglomerate of disguised terrorists. Indian media dare not focus its violent activities, but it is sometimes exposed by viral images of violence by its workers. Images show the RSS members participating in Delhi riots, lynching suspected beef eaters, or Muslim prayer goers. The RSS militants get identified while chanting religious slogans. Gandhi's assassin, Nathuram Godse, was an RSS member. It was the RSS that had spearheaded the demolition of the Babri mosque on December 6, 1992.
RSS emulates the Nathsi
In a work that expressed admiration for Nazi Germany's purge of Jews, Golwalkar wrote in 1939, "… the foreign races in Hindusthan must either adopt the Hindu culture and language, must learn to respect and hold in reverence Hindu religion, must entertain no idea but those of the glorification of the Hindu race and culture, i.e., of the Hindu nation and must lose their separate existence to merge in the Hindu race, or may stay in the country, wholly subordinated to the Hindu Nation, claiming nothing, deserving no privileges, far less any preferential treatment not even citizen's rights." (MS Golwalkar, We Or Our Nationhood Defined, Bharat Prakashan, 1939, 104-105).
Golwalkar made it clear that in the RSS view, Hindu majoritarian identity politics is the only acceptable nationalism, and any politics of asserting an identity separate from the Hindu identity is 'anti-national' and 'divisive.' He wrote: "Let us remember that this oneness is ingrained in our blood from our very birth because we are all born as Hindus." (Bunch of Thoughts, p. 255).
M.S. Golwalkar, referred to Christians and Muslims as "internal threats". He praised Nazi Germany as an example of "race pride" from which India could learn. Satish Misra, a political analyst at the Observer Research Foundation in New Delhi says, [Indian prime minister] "Modi is the most loved child of the RSS."
Neerja Chowdhury, a political commentator and columnist reported: 'The party advocates that to be a true Indian one has to be a Hindu. It describes other religious minorities, Sikhs, Jains, Buddhists, as part of India, because their faiths originated there. They believe that even India's Muslims are actually Hindu because their Hindu ancestors were forced to convert to Islam'.
The anti-conversion laws in states, ban on cow slaughter, annexation of the disputed Jammu and Kashmir State, and now combined civil code on the anvil are the RSS's demands. The RSS wants to convert non-Hindu to Hinduism under its homecoming (ghar wapsi) policy. C.P. Bhishikar's biography of Hedgewar, Keshav Sanghnirmata tells how tbe RSS founder equated Muslims to "yavana" snakes. RSS spurns Indian Constitution and believes India is a place for Hindu nation (rashtra) to live exclusively in.
The RSS's genocidal role is a caricature of the Indian constitution, visualizing a `sovereign socialist secular democratic republic' and its article prohibiting discrimination on the grounds of religion, race, caste, sex, or place of birth.
Attacks on Muslims
Since 2006, there had been several terror attacks at locations with a majority Muslim population. The deadliest attack was February 2007 bomb explosions on the Samjhauta Express train that runs between Lahore and Delhi, killing 68 people, including 43 Pakistani nationals.
In the same year, there were two more blasts at Muslim places of worship. The investigations had revealed that the terror attacks were carried out by Hindu nationalist organizations. The Indian media has widely covered what is popularly called 'saffron terror'.
For instance, Swami Aseemanand was accused of conspiracy in the 2007 bomb attack on the Lahore-bound Samjhauta Express train, the 2007 Ajmer dargah blast case, and in the 2007 Mecca Masjid blast terror case.
Pragya Singh Thakur, also known as Sadhvi Pragya, is currently a Member of Parliament from the BJP. She was an accused in the 2008 Malegaon blast. Six people were killed and over 100 others injured when an explosive device strapped on a motorcycle went off near a mosque in Maharashtra's Malegaon. No cour in India could dare punish theRSS terrorist.
It was the RSS which had founded the Jan Sangh, the BJP's ancestor in 1951. It has acted as an umpire in times of crisis within the BJP and provides its indispensable cadres during election campaigns.
Induction of the RSS cadres into Indian civil service
On April 27, 1948, Vallabhbhai Patel wrote a letter to Jawaharlal Nehru: "I need hardly emphasise that an efficient, disciplined and contented service … is a sine qua non of sound administration under a democratic regime even more than under an authoritarian rule. The service must be above party and we should ensure that political consider­ations either in its recruitment or in its discipline and control, are reduced to the minimum, if not eliminated altogether."
An RSS-ridden civil service cannot work a secular constitution. For, "it is perfectly possible to pervert the constitution, without changing its form, by merely changing the form of the administration and to [sic] make it inconsistent and opposed to the spirit of the constitution".
The parliamentary system is based on a professional, politically neutral civil service. Put political favourites in crucial positions and the entire system is perverted. Yet, hordes of the RSS members were recruited into civil service.
Political influence
Former UP chief minister Kalyan Singh said in 2000: "I have spent a greater part of my life in [the RSS] and I can say that right from the distribution of election tickets … in BJP to selecting cabinet ministers, it is only the RSS which calls the shots. What else is political activity?' "
Rakesh Sinha, BJP's Rajya Sabha MP and Hedgewar's biographer, said, "Hedgewar formed RSS in order to consolidate the Hindus. He wanted to liberate them from restrictions imposed by the protracted Mughal-British rule.
Driving force for Hedgewar to form RSS was Vinayak Damodar (Veer) Savarkar's ideas on Hindutva and motherland. Savarkar had spelled out that only those who considered India as their fatherland and a holy land could be considered patriots. He ruled out Muslims, suggesting that their patriotism should always be suspected.
The ruling BJP has a symbiotic relationship with RSS as is obvious from Babri Masjid demolition.
Shashi Throor's view
Dr. Tharoor was the Congress nominee for the post of UN secretary-general. during the Jaipur literature festival he said, `We are living in a country where on the one hand the Prime Minister says the Constitution is his holy book and on the other hand, he extols as a hero and instructs his Ministers to study the works, writings, and teachings of Deen Dayal Upadhyaya, who explicitly rejects the Constitution. "
The only thing that had stood in its [BJP's] way is a two-third majority in the Rajya Sabha". BJP's official ideology is "Integral humanism", coined by Deendayal Upadhyaya in 1965. The RSS stands committed to Hindutva, a term coined by VD Savarkar. Upadhyaya sugar-coated the term Hindutva as Bharteeyata. Upadhyaya presented his `theory of Muslim purification' at the BJP National Council meeting in Kozhikode in 2015.
Conclusion
When shall the world wake to recognise the hydra-headed monster that the RSS is?