When Azerbaijan became the elected member of the United Nations Security Council in 2012-2013 for the first time in its independent history the achievement may have seemed surreal for this small country in the South Caucasus region. However, it was a long road for Azerbaijan to having overcome many imponderables along its way to make it to the top. Today Azerbaijan has managed to establish itself as an energy state, but not only the mere exporter of the crude, but also as the exporter of energy security. Azerbaijan is active on many international fronts and its trust on multilateralism, balanced and pragmatist foreign policy has earned it many friends and strengthened its partnerships.This piece aims to explore some important aspects of Azerbaijan's current development, focusing first and foremost on energy and navigating from there to touching upon the reforms, then covering the country's battle with COVID-19, alongside offering optimism from the bleak picture created by the pandemics.
Energy
Since the inception of its independence Azerbaijan has built reliable partnerships not only within its neighbourhood, but also with the EU, the U.S. and other countries in the West as well as East. Azerbaijan's multi-vectored and pragmatic foreign policy, which is also very well aligned with its national (including economic) interests enabled it to build equally strong, well-thought and balanced relations with all partners. The only exception from this list is the neighboring Armenia, with whom Azerbaijan has no relations due to the existence of unresolved conflict over Azerbaijan's Nagorno-Karabakh region. Azerbaijan' s successful model of collaboration with its western partners has begot its ever-evolving energy cooperation with Europe. Together with some large multinational corporations that are its international partners in the West, Azerbaijan has established a successful model of energy cooperation through the construction of the Baku-Tbilisi-Ceyhan and the Baku-Tbilisi-Erzurum oil and gas pipelines—both of which transport hydrocarbons extracted from the Caspian Sea to international markets. It is on the cusp of commencement of the multimillion megaproject – the Southern Gas Corridor that stands as a valuable contribution to Europe's energy security by not only being a mere provider of crude energy, but also by ensuring diversification of sources and routes. Azerbaijan's energy strategy thus, during the last 25 years aimed at contributing to stability, cooperation and mutually beneficial partnerships in its neighborhood and beyond.The revenues acquired from Azerbaijan's hydrocarbon resources have been channeled to the socio-economic development of the country; as a result, every aspect of Azerbaijan's statehood has flourished.
Azerbaijan's trajectory of becoming an "energy state" could be considered to be rather natural and therefore linear. The country became the motherland of the first industrially drilled oil well in the world in 1846. In 1899Azerbaijanwas the world frontrunner in oil production and refining and provided the half of oil production volume. It provided 75% of all fuel for the tanks, aircrafts and all sorts of artillery of the Soviet Army during the World War II in the fight against fascism. Azerbaijan has managed to become self-sufficient and economically independent state by virtue of its oil and gas projects upon the signature of the "Contract of Century" in 1994, despite the fact that it also had to deal with the occupation of its territories and bear the socio-economic burden of large army of refugee and IDP population created in the consequence of Armenia-Azerbaijan conflict. Its reliance on oil should therefore come as natural escape to deal with variety of challenges to its statehood.
Beyond oil, the weight of natural gas, which is a low carbon energy source is lately increasing, including in Azerbaijan, in the overall global energy balance. The growing role of natural gas in the 21st century has increased the importance of issues related to diversification of sources and routes as well as energy security. Azerbaijan, which has made its name largely as an oil country, has been working intensively to build international partnerships towards exploration of the country's gas resources.
The estimated gas reserves of the country are 2,6 trillion cubic meters. The existing Baku-Tbilisi-Erzurum gas pipeline did not suffice for the exploration of these fields and transportation of large production volumes. The necessity to explore these reserves and turn them into a strategic commodity for energy security of a broader region begot the strategic project such as the Southern Gas Corridor.
Thus, the Southern Gas Corridor project, initiated in 2013 and inaugurated in May, 2018, has become an important chain of energy security, economic development and global partnership. This Corridor of 3500 km length consists of four integral parts – "Shah Deniz-2" project, Southern Caucasus Pipeline Extension (SCPX), Trans Anatolian Pipeline (TANAP), Trans Adriatic Pipeline (TAP). The significance of this project is also enhanced due to fact that it is the first tangible megaproject existing in Europe that unites all components of energy security. It involves close cooperation of seven nations – Azerbaijan, Georgia, Turkey, Greece, Bulgaria, Albania and Italy, participation of numbers of international oil and gas companies as well as the support of major financial institutions, like the European Bank for Reconstruction and Development (EBRD), the European Investment Bank (EIB) and Asian Development Bank (ADB).Together with its partners and through the Southern Gas Corridor, Azerbaijan is working towards the creation of European gas market that envisages competitiveness and diversification of sources and routes. This project requires solid partnership, continuous political and donor support.
In the spirit of this cooperation and respect for its commitments, Azerbaijan's priority is to deliver first gas to Europe in 2020. Strategic importance of the Southern Gas Corridor is not only confined to Azerbaijan and the countries involved. This megaproject has the potential to expand to Balkans, Central and Western Europe as well, to attract new supplier, transit and consumer countries. BRUA project (Bulgaria-Romania-Hungary-Austria gas pipeline), IGB (Interconnector Greece Bulgaria) and IAP pipeline (Ionian Adriatic Pipeline) are the potential interconnecting pipelines that could deliver Shah Deniz gas to other destinations through the Southern Gas Corridor. The completion of the TAP as expected in 2020, will enable the import of about 8,8 billion cubic meters of Azerbaijani gas to Italy, with potential growth capacity of more than 10 billion cubic meters per year.
The works on all four segments of the Southern Gas Corridor project are successfully implemented. The inauguration of TANAP became the bedrock of the Southern Gas Corridor. Turkey is already receiving volumes of gas since the formal inauguration of the Southern Gas Corridor and as the completion of the project as this fall as expected, Europe will also start receiving 10 billion cubic meters of Azerbaijani gas per year. As of June 2020 Turkey is set to receive 6 billion cubic meters of gas. With the onset of the final implementation stage of the Southern Gas Corridor, successful completion of works on TAP become ever more important, since it is an essential element to deliver gas to Europe. With the completion of TAP, Azerbaijan will contribute to the energy security of Italy as well as of the countries in South Eastern Europe and will ensure the diversification of routes and sources and contribute to the de-carbonization efforts of the continent.
The Corridor was built with the real vision so that the future opportunities can also be explored. This is an expandable diversification network with the capacity to expand up to 31 billion cubic meters in SCPX and TANAP and doubling up to 20 billion cubic meters for TAP. It is stated that market demand tests for the Corridor's possible extension are already being carried out and if conditions are suitable additional gas volumes could reach the EU and South-East Europe already within this decade. Such plans could though be challenged by virtue of the fact that the EU's energy policies maybe changing in a long-term future with the adoption of the "Green Deal" which sets the stage for Europe's becoming carbon-neutral by 2050. With EBRD becoming a "climate bank" and mostly focusing on public and private "green" investments, it will therefore not invest in any future fossil fuel projects, including gas, starting from 2022. However, it is stated that the situation with already functional projects like the Southern Gas Corridor could be assessed differently. As was voiced by the EU officials themselves, becoming carbon-neutral in fact does not mean that the EU will no longer need natural gas. Natural gas is also said to be a significant back up commodity for the renewables for some time.
The Southern Gas Corridor project also brings social benefits, such as new employment opportunities in the countries through which the Corridor passes, which doubtlessly, has positive impact on the economy of these countries.
The latest, 6th meeting of the Advisory Council on the Southern Gas Corridor that took place on 28 February, 2020 in Baku, offered another valuable opportunity to review the achievements in this field. It was reported that works were progressing at a steady pace and TAP is almost complete (93,5%as of March 2020). Growing number of countries joining the Advisory Council each year also testifies to the increasing interest to the project. Azerbaijan is about to complete this megaproject, which is a great stride towards strengthening Azerbaijan's regional and global stance as an energy exporter. However, Azerbaijan acts not only as a mere exporter of crude energy, but also as an exporter of energy security by providing alternatives and diversification of routes and sources of energy.As President Ilham Aliyev said during the opening ceremony of the Southern Gas Corridor on May 29, 2018: "We are implementing such giant projects together with our partners and redrawing the energy map of the world".
Looking beyond oil and Reforms unleashed
Beyond energy, Azerbaijan's economy has also been witnessing major transformations since 2014. They say global trends are called "global" because of their global ramifications. Azerbaijan had to suffer two currency devaluations in 2015, nevertheless, it was not something that happened only to Azerbaijan. It was the period of economic perturbations in many countries brought by fluctuating oil prices in global oil markets since 2014. However, the country adapted fast by undertaking necessary measures to adjust to the associated challenges. Putting more premium on the development of non-oil sector of the economy and embarking on the development of its renewable energy sector in order to increase the share of renewable energy in overall energy balance of the country are some, however very direct examples of how Azerbaijan manages the challenges associated with fluctuating oil prices.
Before the onset of COVID-19 pandemics and the worldwide lockdowns that negatively affected everyday and economic life, including in Azerbaijan, forecasts on Azerbaijan's economy was very optimistic and positive. For instance, in October 2019 the then Minister of Economy Shahin Mustafayev declared that "In 2020, real growth in Azerbaijan's GDP will be three percent, including 1.6. percent for the oil sector and 3.8 percent for the non-oil sector. The growth of the non-oil industry is projected at 8.8. percent, and agriculture – at 4.8 percent". His successor, a young and western educated former Minister of Taxes Michael Jabbarov later also reiterated this objective with a new and steady commitment to achieve more. Azerbaijan's unemployment rate has dwindled from 5,02 percent in 2018 to 4,99 percent in 2019 and was projected to further decrease in the years to come. On another front, Azerbaijan aims to increase the share of renewable energy resources in the overall energy consumption balance of the country by 30% till 2030, while currently this number is 18-19%, including hydropower stations. It aims to hold auctions in 2020 in order to attract the best business partners for the development of renewable energy projects (mostly solar and wind) at specifically allocated sites of the country. In January 2020 it has signed implementation agreements of pilot projects on renewable energy with two leading companies of Saudi Arabia and United Arab Amirates – "ACWA Power" and "Masdar", respectively, and more such undertakings could come in future.
Azerbaijan's relations with the European Union – one of the biggest economic actors – is also developing dynamically. EU-Azerbaijan Strategic Partnership Agreement, unlike the Association Agreements and Deep and Comprehensive Free Trade Agreements envisaged by the Eastern Partnership (EaP) is based on more equal conditions for partnerships that capitalizes on mutually beneficial partnership for both sides, having thus, eliminated the need for Azerbaijan to one-sidedly comply with EU standards and expectations. The successful conduct of the second round of EU-Azerbaijan Security Dialogue in Baku on 19 December 2019 once again underscored common positions on political, economic, security and energy related issues, while also stressing the importance of continuing to work towards the finalization of EU-Azerbaijan Strategic Partnership Agreement. The open chapters within the Agreement are currently being negotiated and there is a genuine interest on both sides to find a common denominator soon.
Moreover, the country is undergoing a comprehensive reform process in all areas of its statehood and the very nature of the current reforms in all political, economic, administrative strata of Azerbaijan implies the peaceful transition of state management to younger generation that carry more zest and energy alongside also being competent for such a leadership. This does not, however, obviate the fact that older generation are also given their due respect and recognition for their service and their experience are valued and kept at hand's reach if needed. This evolutionary example of "rejuvenation" of state management while maintaining the synergy of "institutional memory and experience" with "youthfulness and energy" is thought to deliver the needed results in the overall scheme of things.
The reforms have brought number of palpable changes in the state administration, the results of which are already showing in terms of concrete achievements and progress attained in various areas. The leadership of the country has chosen the path of "evolution" in its efforts to adapt the country to ever changing nature of international relations and boost the country's resilience in the face of evolving global political, socio-economic and other challenges. The snap parliamentary elections held on 9 February was therefore also an important achievement that reshaped the composition of the Parliament and attracted many young parliamentarians. 1314 candidates (independents and representatives of 19 parties) were registered in the race for 125 seats in the Azerbaijani Milli Maclis and 50 per cent of the candidates were under 40 years old. For the first time in the history of independent Azerbaijan a female speaker of the Parliament, Sahiba Gafarova was elected.
COVID-19 and Azerbaijan's response
Despite the positive picture above, when the scales of global pandemics acquired bigger proportions, Azerbaijan did not also remain immune to the contagion. The news about the first infection case broke on 28 February and the government was swift to close down country's borders, restrict international and domestic transportation, schools in early March, and all the shopping malls restaurants, etc. gradually. The entire country was put into the lockdown and quarantine was enhanced incrementally as the situation so demanded. From 5 April onwards, people are only allowed to leave their houses for basic needs, like grocery shopping, pharmacy needs, attending the funeral of the closest family member via the SMS permission system. As of this writing there were 1197 coronavirus patients in the country with 351 cured, 13 dead and 833 active patients.
The special Coronavirus Support Fund was established with 19 March 2020 Presidential Decree and the government, and other type of organizations, entrepreneurs were very swift to extend financial support to the Fund. Moreover, the government prepared 9 programs worth 2,5 billion manats – 3 % of the GDP to support the economy and the entrepreneurship as well as social benefits containing compensations for unemployed population as well as educational fee rescue package for socially vulnerable parts of the population in the aftermath of the total lockdown of the economy. The idea is to put the economy back on track as soon as possible and weather the COVID-19 storm with minimum losses.
Obviously, pandemics has affected not only global health but also global economy. Some even compare its magnitude and potential effects to those of the Second World War, while others predict severe economic crisis unseen since 1929-1930. Azerbaijan obviously is not immune to the consequences of the pandemic. Granted, the acute slump in oil prices as a consequence of worldwide lockdowns and therefore suppressed demand for crude, and the failed OPEC+ endeavor to find a common denominator on 6 March, put further strain on the economy, which otherwise was on an upswing before the COVID-19. Azerbaijan's 2020 budget has envisaged 55 USD per barrel of oil. However, with oil prices in the first two months of the year being above 60 USD and budget proceeds surpassing the expenditures for about 400 million manats in January alone, plus the proceeds from tax and customs services testifies to the increasing income to the state budget. Azerbaijan's strategic currency reserves are estimated to be over 50 billion USD, which provides extra fiscal security. The overview of the extra financial reserves acquired since beginning of the year in fact enables to compensate for the losses incurred due to the coronavirus induced decline in oil prices.
This is more so, in the light of the recent OPEC+ deal, which pledged to reduce oil production by 9,7 million barrels per day (bpd) in May and June of 2020 (plus 300 thousand barrels the US will cut instead of Mexico's proposed share), plus voluntary reductions up of 2,7 million bpd by Saudi Arabia, Kuwait and United Arab Amirates planned for April. The US, Canada, Indonesia, Norway and Brazil are thought to also cut their output by 4-5 million bpd, while oil production in Iran, Venezuela and Libya is expected to drop by 2,8 million bpd. as well. In total, 20 million bpd. oil is expected to be withdrawn from the markets, which should help to stabilize the market and maintain balance between supply and demand. Further cuts will be 7,7, million bpd. from July till end 2020 and 5,8 million bpd from January 2021 till April 2022.It is yet to be seen how the deal will operate under the current conditions and in future, but early market reactions have been rather positive.
The ramifications of COVID-19 and its impact on world economy and everyday lives of citizens are yet to be seen as the debate is still ongoing. However, one thing is clear that there will be no winners and losers of this global calamity as everyone is affected. So is Azerbaijan. However, Azerbaijan's strong standing before the outbreak as an energy and reformer state and swift measures to contain the virus as well as operationalization of state support mechanisms can offer the cause for optimism that the country could quickly return back to normal and continue the works interrupted with greater rigor. There definitely is a political will and hopefully the way will be unhindered soon too.
What awaits Ukraine after US presidential elections?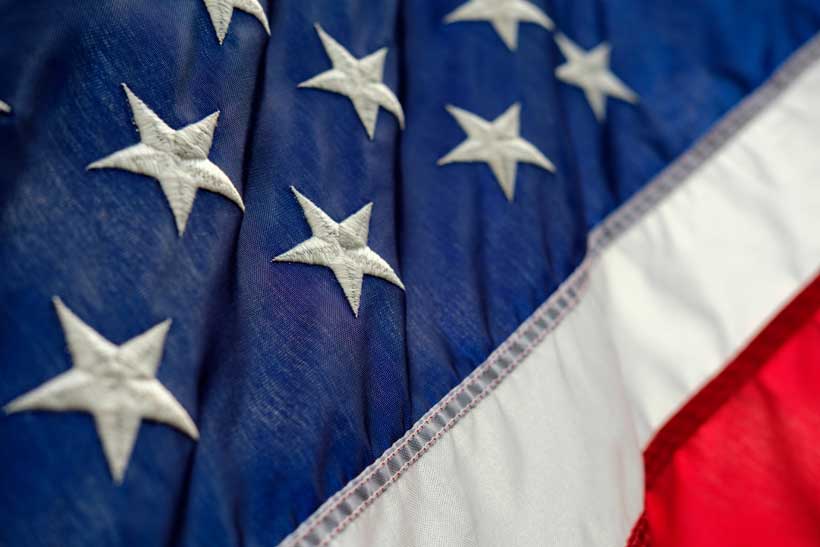 Who is the man that Kiev wants in the White House – Republican Donald Trump or Democrat Joe Biden? For a country like Ukraine, so sensitive to external influences, this is an overarching issue.
Joe Biden's election in November would bring Ukraine into Washington's sharper focus. However, important as this may seem to Kiev, this attention may prove excessive. During Biden's vice presidency this attention was so intense that it bordered on personal interest, and, ultimately, even interference in Ukraine's internal affairs.
On the outside, the love affair between Ukraine and a possible Democratic president will most likely express itself in US support for Kiev's confrontational actions and statements. With Biden at the helm, Washington could even try to influence the Minsk process. Kiev has on many occasions declared its desire to bring Washington and London into the Minsk talks. Neither the British nor the Americans have so far responded to this call, but the US Democrats are sure to ramp up their activity on this track. One should not expect too much here though, and a mere statement by Washington that the Minsk accords need to be revised will already come as a breakthough for Kiev. As for President Trump, he just couldn't care less about the negotiations on Donbass, which he views as having nothing to do with America's interests.
On Biden's watch, Washington could resume the previous format of interaction between the US State Department and Kiev and bring back the post of the State Department's special representative in Ukraine, which until the fall of 2019 was held by Kurt Volker – a semi-official channel of interaction that formally demonstrated Ukraine's importance to the United States. The resignation of Volker, who failed to fully implement what he had been tasked by Trump in a country he did not care much about, could lead to the elimination of the position of the State Department's special representative for Ukraine, as an unnecessary catalyst for US-Ukrainian relations. This means that the usual diplomatic channels (embassy) between countries are quite enough, that the interests of the president can be taken care of by trusted people (Giuliani), and issues of international politics should be resolved with Putin and Europe (Merkel and Macron), which is not doing enough to uphold Ukraine's interests. To demonstrate the importance of the Ukrainian track, however, Biden may bring back the position of the State Department's official representative in Ukraine.
With regard to Crimea, Ukraine is already urging NATO to build up its presence in the Black Sea to counter Russia's alleged "aggression" and its "militarization of the occupied Crimea." Ukraine's First Deputy Foreign Minister Emine Dzhepparova [representative of the Mejlis of the Crimean Tatar people, banned in Russia – D.B.) has called on NATO to expand its foothold in the Black Sea region.
"The security of Ukraine and NATO are inseparable, and strengthening cooperation in the Black Sea is our common priority," Dzhepparova wrote on her Twitter account. Under Biden, the United States can intensify its efforts in this direction.
The issue of NATO's presence in the Black Sea region is always on the agenda, regularly escalating in connection with various events – in 2014 in Crimea, the war in Syria, etc. Last autumn, the RAND Corporation think tank published a report on how best to counter Russia's influence in the Black Sea region. Its main conclusion is that due to the West's shortsighted policy towards the two regional powerhouses – Russia and Turkey, as well as its underestimation of the political power wielded by their leaders, who subordinate their domestic and foreign policies to their countries' interests, and not those of the "new world order" and "democratization," it has lost this region and something needs to be done about it.
For Biden, the need "to do something" could become a source of confrontation with Russia. Biden could be all too happy to do this "something" through NATO, seeing this as a sign of support for Ukraine and Georgia, an opportunity to rein in Turkey's growing assertiveness and bring Bulgaria and Romania closer into the game by stoking confrontation and militarization of the region with a possible supply to them of coastal missile systems. In general, one can expect an uptick in military-political interaction in the form of active cooperation between Ukraine and NATO, as well as arms deliveries.
The arrival of a Democrat to the White House may also ratchet up the internal political struggle in Ukraine, where the nationalist opposition, conditionally led by the "friend of the Democrats," ex-president Petro Poroshenko, may try to regain power. Poroshenko, meanwhile, is being charged with high treason, corroborated, among other things, by his recorded conversations with Biden – both politicians have cases that they would very much like to hush up. Besides, the nationalists' activity will inevitably impact the Minsk process, and, possibly, the situation along the disengagement line in Donbass.
What can Kiev expect from President Donald Trump? Less interference in its domestic affairs – once reelected, Trump will most likely lose interest in the active search for compromising evidence on Biden, although he is unlikely to give up this matter altogether. It will all depend on further confrontation between him and his opponents. The main danger for Trump after his re-election will be not so much the Democrats as such, but the political and social processes unfolding in the country, above all the Black Lives Matter campaign. The only thing that may get Trump interested in Ukraine is his ongoing confrontation with China. The United States is enthusiastically blocking the sale of Ukraine's Motor Sich engine building corporation to the Chinese company Beijing Skyrizon Aviation.
The Americans see the deal as a security threat, since it would provide the Chinese with new aviation technologies. As for Motor Sich, the company has been forced to make a deal with the Chinese because of the loss of the market for its products and the breakdown of supply chains with Russia after 2014.
Blocking Russian gas supplies to Ukraine and attempts to disrupt energy cooperation between Russia and Europe (Nord Stream-2 ") is another factor that Trump and Kiev look eye to eye on, even though Kiev says that the continued transit of Russian gas across its territory is a guarantee of Ukraine's European integration. Trump's interest in Ukraine will depend on his pragmatic view of geopolitics and economics, as well as the political threats he may see coming from Kiev.
In an hours-long interview, President Zelensky's former chief of staff, Andriy Bohdan, thus described the system of relations existing between the United States and Ukraine: "In general, there are three tracks, three points of negotiations with the United States. The first is intelligence and security services. We are blind kittens here, really, and all our military capabilities, the capabilities of our special services are information that the international community shares with us. And besides the war, these are drugs, crimes, security. These are plans in general, analytics – we have no analytics. The second negotiating track is diplomatic service. [On this track, according to Bohdan, conversations begin and end with the fact that NABU (National Security Agency of Ukraine, headed by Artyom Sytnik) created on Washington's orders, is an important and untouchable organization – D.B.] And our third negotiation track is financial organizations. 'Give me the money.'"
Democrats and Republicans alike perceive Ukraine as a buffer zone between Russia and Europe, Russia and NATO. Ukraine will remain a platform for creating reasons for sanctions, justifying sanctions, an active participant in and an accomplice to sanctions processes. Obviously, the sanctions confrontation over Nord Stream-2 is just beginning, and Ukraine, as a party fearing the loss of transit, has long been calling for sanctions against this Russian-European project.
Any of the two contenders for the White House will talk about providing financial assistance to Ukraine, with Trump being more pragmatic, and Biden – more "rhetorical." With Biden in power, the Ukrainian economy could be reduced to handouts.
The US will not go overboard with its interference in Ukraine's internal affairs though, because this is a costly affair (Ukrainian oligarchs have enough money to conduct any political campaign of any scale. Why would Washington spend money if it can exert influence or clinch an agreement?) Lobbying the interests of private individuals or politicians that are to Washington's liking is no problem – suffice it to recall the story of the Burisma Company that tarnished the reputation of the Biden family. Influencing the political landscape by persecuting politicians and oligarchs is also an option (recall the recent cases of tycoons like Dmytro Firtash and Ihor Kolomoyskyi).
President Zelenskiy and many other Ukrainian politicians, dependent on Washington, now face the daunting and, at the same time, important task of choosing the right course of action before the US elections. According to some Ukrainian observers, Zelensky made his choice after long hours of brainstorming with his trusted confidants. It looks like this: "No sudden movements [until November 2020 – D.B.], no progress in the investigation of the criminal case against Biden and his son Hunter, no Burisma and no Derkach tapes. We imitate a "stormy discourse" in the Minsk format, pretend to support the "Belarusian Maidan," but we lie low and carefully compare the ratings of Trump and Biden."
In a nutshell, Ukraine is seen by Washington as just a platform for serving America's geopolitical interests, which is also being used for party-political and private interests. Will anything change for Ukraine depending on who wins the November 2020 US elections? My answer is no.
From our partner International Affairs
Azerbaijan-Russia Ties Face Increasing Challenges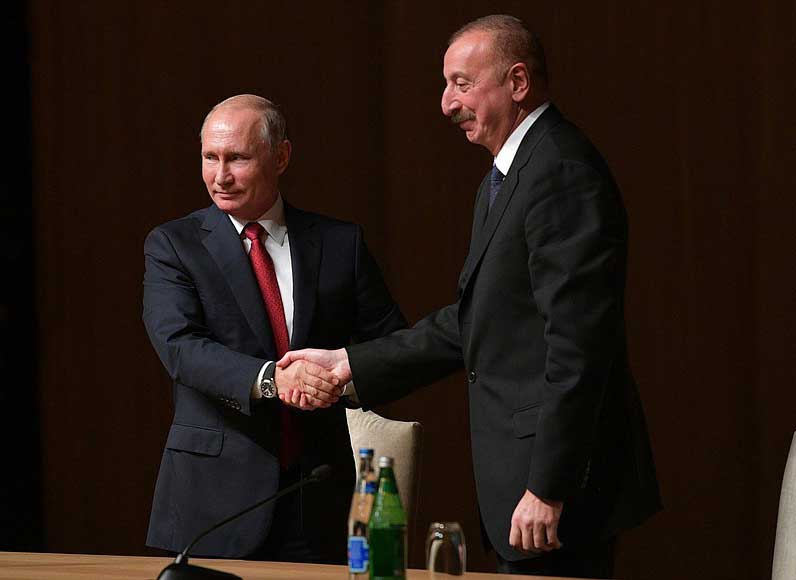 Russia-Azerbaijan ties face increased challenges as Baku accused Moscow of purposefully stoking the conflict by providing arms to Armenia. It is notable that this rhetoric develops when Turkey is particularly vocal in its military support for Azerbaijan. Though it still remains to be seen whether these signs evolve into a concrete policy shift in Azerbaijan, hopes for diplomatic solution of Nagorno Karabakh conflict recede, and Turkey and Russia up their military support for Baku and Yerevan.
Azerbaijan-Russia relations face increasing challenges as the geopolitical situation in the South Caucasus evolves. A series of events tested the bilateral ties and there is an increasing amount of evidence that some reconsideration of foreign policy on Azerbaijan's part could be taking place.
The first challenge was the July fighting on Armenia-Azerbaijan frontier, far from the actual source of conflict – Nagorno Karabakh. What could have been a relatively unnoticed confrontation, it drew international attention due to the geostrategic infrastructure which runs near the fighting zone in Azerbaijan's Tovuz region. Those are:
Baku-Supsa and Baku-Tbilisi-Ceyhan pipelines, which deliver Caspian oil to the Black and the Mediterranean Seas;
South Caucasus natural gas pipeline, which will send Azerbaijani gas to the EU and plays a key component in Turkey's emerging strategy of positioning itself as regional energy hub.
In addition, the region also has the Baku-Tbilisi-Akhalkalaki-Kars (BTAK) railroad (unveiled in 2017) and rarely mentioned the fiber-optic cables linking Europe with Central Asia. The Tovuz corridor also has a crucial Azerbaijan-Georgia highway, which allows Azerbaijan to connect to the Black Sea.
Thus in July Azerbaijan faced a threat to its major income. Damage to the infrastructure would also diminish the country's geopolitical weight as a safe source of oil and gas. While fighting in or around Nagorno Karabakh takes place occasionally and at times reaches a serious level, such as in 2016, it nevertheless fits into the overall narrative of more or less predictable military scenarios which military and political leaders in Baku would expect. The Tovuz fighting, on the other hand, goes against most military narratives and required Baku's tougher reaction. This is how the ties with Russia, Armenia's major economic and military ally, come under intense scrutiny in Baku.
It is has always been a long-term challenge for Azerbaijan. Baku occasionally expresses its concerns on Russia's military support for Armenia, but the criticism has usually been aired though newspapers and media rather than by high-level political figures. This changed following the July fighting.
Reasons are multiple. First, Russia (using its 102rd military base in Gyumri) and Armenia launched snap combat drills on July 17-20, just as the fighting in Tovuz region was still unfolding. Second, a series of flights of Russian military cargo planes to Armenia took place right after the July fighting.
In a notable change of tone the Azerbaijani president Ilham Aliyev surprisingly publicly complained to his Russian counterpart Vladimir Putin, stating that the recent reports on allegedly increasing Russian military support (400 tons of military hardware) for Armenia raise concerns and questions in Azerbaijani society. Perhaps as a reaction to growing bilateral differences, the Russian defense minister Sergey Shoigu visited Baku to assure the Azerbaijani public that the flights were not of a military nature, but rather transported materials for the 102nd military base.
However, the affair did not end there as a senior adviser to Aliyev, Hikmet Hajiyev, on August 29, following Shoigu's visit, claimed that "the explanation by the Russian side is not entirely satisfactory." This effectively meant publicly refuting the Russian defense minister's statements, further aggravating differences between the two states.
A September 1 article by Nezavisimaya Gazeta claimed that Azerbaijan had readied 500 Syrian militants in preparation for a "blitzkrieg against Armenia" and that Turkey has its troops on Azerbaijani soil. Baku vehemently criticized the report calling it "slander and [a] dirty campaign against our country."
Yet another sign of troubled ties is the September 6th decision by Azerbaijan's Defense Ministry opting out the Russia-led "Caucasus-2020" military drills (planned to be held in the southwest of Russia). Only two servicemen will be sent as observers. Though officially no concrete reasons for the withdrawal were given, it is possible to link the decision to Azerbaijan's recent grievances at Russia.
Some larger reasons too might be at play motivating a change in Azerbaijan's rhetoric. The Minsk Group, the body that aims to facilitate the negotiations between Armenia and Azerbaijan is faltering. No concrete way to resolve the stand-off is present and the July fighting has just showed that diplomatic tools are receding. A vacuum is being created for regional powers to fill in. This is how Turkey comes to play an increasingly larger role in Baku's strategic calculus.
Indeed, as the July fighting unfolded Turkey has been especially supportive of Azerbaijan. For instance, Turkish President Recep Tayyip Erdoğan noted "Turkey will never hesitate to stand against any attack on the rights and lands of Azerbaijan, with which it has deep-rooted friendly ties and brotherly relations." Turkey's Defense Minister Hulusi Akar even warned that Armenia will be "brought to account" for its "attack" on Azerbaijan. Then large Turkish-Azerbaijani military exercises followed.
Turkey's calculus here is clear as the country needs to defend the vital oil, gas and railway infrastructure coming from Azerbaijan. And considering how far has diplomacy receded around Nagorno Karabakh issue, Turkey and Russia are set to play an even larger military and economic role in the South Caucasus. For the moment open rivalry will be avoided, but for Moscow and Ankara the region represents yet another area of covert competition along with Syria and Libya.
However, casting Azerbaijan-Russia relations as deteriorating is not entirely correct. Intensive cooperation still exists between the states. Azerbaijan's Minister of Foreign Affairs, Jeyhun Bayramov, paid an official visit to Russia on August 26 at the invitation of Russian Foreign Minister, Sergey Lavrov.
In late August-early September Azerbaijani servicemen participated in the "Tank Biathlon" and also won the Sea Cup competition – both held as part of the "International Army Games – 2020" organized by the Russian Ministry of Defense.
It is still hard to see whether Azerbaijan's changing rhetoric towards Russia is more than just a temporary, tactical maneuver. It could be a clever diplomatic game Azerbaijan has always pursued since 1990s – namely, facing its larger neighbors against one another. Nevertheless, the rhetoric and recent political decision signal a search for reconsideration of some basic elements in Baku's strategic vision. Turkey's bigger role is likely to be sought more intensively, while hopes for a diplomatic solution to the Nagorno Karabakh conflict would further recede.
Author's note: first published in caucasuswatch
Putting People in Control of Their Land to Realize Ukraine's Potential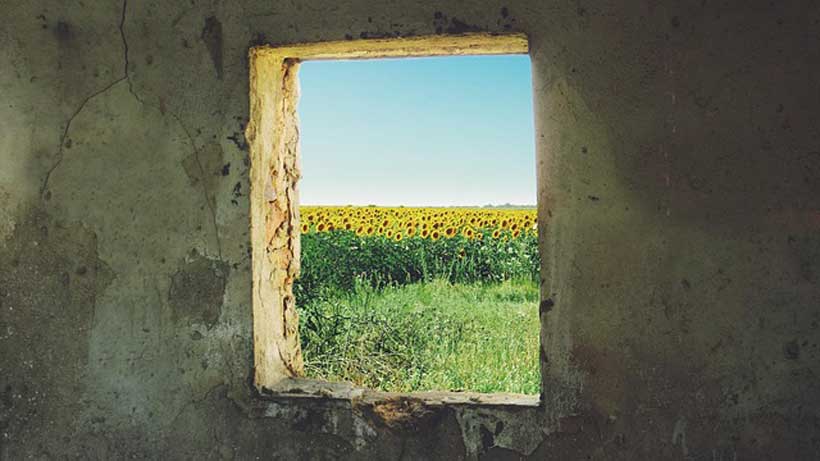 Land reform will allow Ukraine to capitalize on its economic potential and improve the lives of Ukrainian people – but a lot still needs to be done before a successful land market opening.
I have now had the privilege of being the World Bank's Regional Director for Eastern Europe for a little over two months. Returning to Ukraine after almost twenty years, I have been impressed by many recent achievements on Ukraine's reform path. Many of these are complex, and consequential – creating an independent gas transmission system operator that is already helping safeguard Ukraine's gas transit revenue; continuing, in the face of opposition and setbacks, to strengthen anti-corruption institutions; undertaking the difficult process of resolving non-performing loans in state-owned banks; and moving, amidst the unprecedented global pandemic, to protect pensioners and other poor and vulnerable Ukrainians.
Today, the immediate challenge Ukraine faces is the COVID-19 pandemic – first to immediately reduce both the mounting toll on health and lives, and then to rebuild livelihoods and incomes. But what reforms are most needed to restore and even improve incomes for the average Ukrainian in the aftermath of the epidemic?
There are many that are required. But for me, the greatest promise is offered by the set of measures around agricultural land reform. Here again, much has been accomplished, most notably when, this past March , the Rada voted to end the nearly two-decade old moratorium on the sale of farm-land. This was a critical first step to unlocking Ukraine's greatest source of growth. But it is not enough. The next and necessary step is to advance fundamental measures around the governance of land – to allow ordinary people and local governments to benefit from their land without intimidation, bureaucratic interference or corruption.
Land reform that truly allows owners and users to take control of their land can be transformative. By World Bank calculations, for Ukraine as a whole, this can permanently add almost one percentage point a year to economic growth. For landowners currently leasing out their land, this could provide up to $3 billion every year. For rural residents and small farmers, this can create some $24 billion of collateralizable assets that allow them to invest in irrigation, horticulture or non-agricultural small enterprises. And for local communities and local governments, this can provide an income stream of up to $2 billion annually to better the lives of Ukrainians.
The Ukrainian authorities have already made enormous strides in this direction by passing a package of legislation that reduces raider attacks and land-related schemes, makes land data publicly accessible, and allows local communities to plan land use.
But there is much more legislation around land governance that is needed to ensure all the benefits of land reform for every Ukrainian. And just passing the laws is not enough – once that is done, there is the need to draft implementing regulations, to set up institutions to administer these regulations, and to actually implement measures.
Moreover, for improved land governance to lead to more investment, and thus income, it is especially important that Ukrainian landowners or land users be aware of their rights and how to exercise them, and have these rights protected. This is particularly true for small and medium farmers. They must be able to have any actual or attempted violations of their rights redressed quickly. Farmers and other private participants must know how to use land as collateral to access credit. Banks and other financial institutions must be able to professionally assess the value of the collateral and have the incentives to lend to smaller borrowers. Once relevant laws and regulations are in place, there is thus a need for a broad-based legal awareness and a financial literacy campaign.
All of this takes time – and time is running out.
By the most conservative estimates, the needed regulations, institutions and implementation could take at least nine months. The land market opens on 1 July 2021. So, it is essential to pass the appropriate laws by the end of September, at the very latest.
If this deadline is missed because of entirely avoidable delays, there is a real risk that on the date the land market opens, Ukraine will miss this golden chance. Even more, there is the danger that opening the land market in the absence of these strong legal and regulatory safeguards will result in an echo of the 1990s privatization – leaving the market vulnerable to the powerful and well connected and actually worsening land-related corruption and inequality.
Together with our partners, the World Bank has long advocated land reform as a key for Ukraine to develop the productive potential of its abundant land resources. We see this as central to revitalizing the incomes of average Ukrainians, especially in rural areas.
This is a once-in-a-generation opportunity to unlock the sector's growth potential through investment in high value-added crops and agri-processing and, most important, to transform the welfare of millions of Ukrainians. Ukrainian parliamentarians and policymakers have to ensure that we do not miss it.
World Bank The article was first published in Ukrainska Pravda