They say that freedom is better than no freedom. Human nature stubbornly resists external constraints, no matter where they come from and how they may be justified. Yet in times of war, natural disasters and epidemics, weak and vulnerable individuals turn to the state for protection and support. Still, even in times such as these, most of us are extremely uncomfortable with the excessive encroachments of the state upon our personal freedom. Freedom in the broadest sense of the word – freedom of speech, freedom of the press, the freedom to organize a street demonstration, freedom of faith or simply the freedom to relax and chat with your friends in your favourite trattoria on Piazza Navona in Rome.
This is a universal human trait, whether you come from China, the United States, Russia or Europe. While it is true that people in liberal democracies place greater value on personal freedom than those who live in authoritarian societies, the fact of the matter is that we all demonstrate a reluctance to follow the rules imposes upon us. In good times and in bad, we instinctively reject attempts from above or from the outside to exert excessive control over our private lives. This is only natural and, I would thus argue, justified.
Even now, at a time when the deadly coronavirus is taking lives left, right and centre, no calls, admonishments or threats can suppress our inherent desire to be free and to make our own, independent decisions. For we are not slaves! But reality dictates our laws. The virus is causing our personal freedoms to be gradually stripped away. And this is happening in democratic countries as well as those with authoritarian regimes.
Let's be honest with each other for a second – we are far less free today than we were a month ago. And I have a sinking feeling that our freedoms will be restricted even further in the coming weeks and months. In fact, I am becoming increasingly convinced of this.
It is clear that in emergency situations – and I think the current pandemic counts as an emergency situation – the social contract between government and individual has to be rewritten. Or at least edited heavily. The government has a right to expect demonstrations of civic responsibility, solidarity and self-discipline from its citizens. That means no barbecues in city parks, no panic buying in pharmacies and shopping centres, no drinking benders at home, or indeed any other excesses that senseless and unrelenting freedom may otherwise permit. It is only natural – and therefore justified to the same extent that the individual strives to maintain as much of his or her personal freedom as possible – that governments should expect such behaviour.
However, not only are we by our very nature rather fond of freedom, but we are also inherently distrustful and suspicious. We invariably believe that the government is determined to squeeze more out of us than it is prepared to give in return. And it is not even as if we can say these suspicions are completely unfounded! The question is: How can we get someone to accept, however reluctantly, the unfamiliar and even burdensome situation of limitations being placed on their freedom? Now would be a good time for us to formulate some principles of the "responsible restriction of freedom" that the authorities of all countries should think about when such restrictions are inevitable. I believe that these principles can be used to form the basis of a new social contract for as long as the coronavirus persists.
First, people like life to proceed according to a certain set of rules. Accordingly, as restrictions on personal freedom should be imposed in accordance with established legislative procedures. A pandemic is certainly not a basis, much less a reason, for abandoning the rule of law or procedures that are carried out in accordance with the law, even if for a short time only. If an Italian mayor, Russian governor or the President of the United States himself puts expediency above the law and, "for the good of the cause," decides to go beyond the legal framework, then society should retain the right and responsibility to hold them accountable. Even if we are in the midst of an epidemiological crisis.
Second, people like things to be understandable. Even minor restrictions on personal freedom must be as transparent, clearly defined and unambiguous as possible. Any uncertainty or ambiguity inevitably creates fertile ground for subjective interpretations, abuses and, of course, end up being a source of corruption. No one who is responsible for enforcing the law should have a broad "grey area" for the arbitrary interpretation of the rules.
Third, people like to see justice in this world. In order for society to see the restrictions as being fair, they need to be free of loopholes and double standards. There should be no "exceptions" in the self-isolation regime for politicians, oligarchs and celebrities or their families and friends! Special passes and permits will inevitably be issued, but the reasons for such a decision must be clearly stated. There should be absolutely no discrimination towards any population group. There is nothing more infuriating than an endless cavalcade of limousines roaring past you with their special sirens blaring out any their blatant disregard for the traffic rules. The coronavirus does not discriminate, so any restrictions on personal freedom should apply equally to everyone.
Fourth, people in desperate situations need a carrot as well as a stick. It is important that restrictions of all shapes and sizes and the prospect of heavy fines for ignoring these restrictions are not the only, or even the main way of ensuring that society abides by the rules. Restrictions on personal freedom in one area should be met with increased freedom in another. You want to impose restrictions on our freedom of movement? Fine! But would you be so kind as to give us all access to the internet, remove administrative barriers and bureaucratic sticking points that complicate doing business from home, and make it easier for people to study, work and socialize from home in return?
Fifth, a date on which the restrictions end needs to be set at the very beginning, even if the changing situation with the pandemic forces this date to be moved. After all, not only are we by our very nature rather fond of freedom and inherently suspicious, but we are also vindictive, as experience has taught us that those who borrow a part of our personal freedom are often in no hurry to give it back.
From our partner RIAC
Honorouble Justice Petric: Opening the Vienna Process conference on Int Women's Day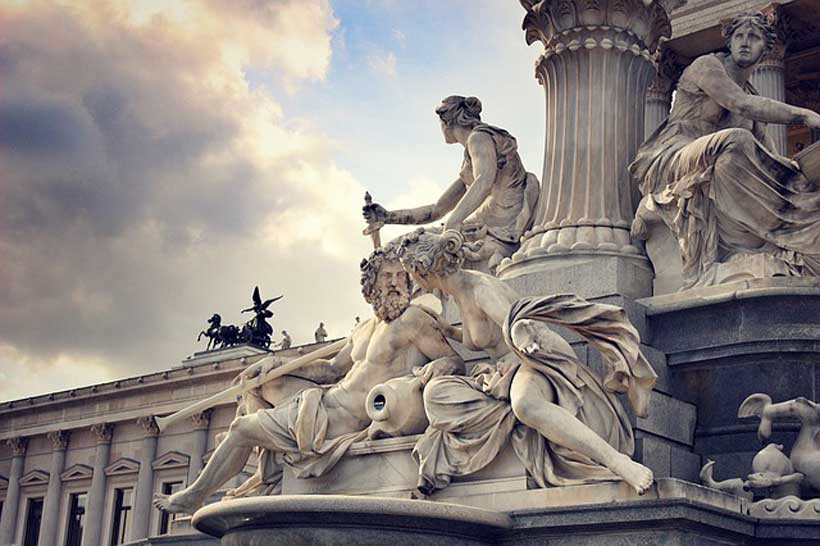 It is a great honour for me to have the opportunity to address you today at an International conference on behalf of the organizers – International Institute for Middle East and Balkan Studies (IFIMES), fastest developing European media platform – Modern Diplomacy and other two co-organisers, not present today. I convey to you their all-hearted greetings with the wish that the conference be fruitful and successful.
I also take this opportunity to thank Ambassador Emil Brix, Director of the Vienna School of International Studies for collaboration.
I wish wisdom and foresightedness to today's conference entitled "Europe – Future Neighbourhood: Disruptions, Recalibration, Continuity". The topic of today's event – second in the newly established Vienna Process – is important, not only for Europe but for the whole world. Given that our institute has a Special consultative status with ECOSOC in the UN, and that my country is soon to take up the EU Presidency, our obligation is even greater to deal with such topics.
Excellences and friends,
Today we mark an important historic date; International Women's Day. I am truly delighted and honoured that we have so many ladies among the moderators, panellists, partners and viewers. Our daughters, sister and mothers are not only nicer, but are the brighter half of the mankind, too. Happy and organically healthy International Women's Day to each and everyone of you!
And now, before closing, let me express our appreciation that our four partners are again with us: Diplomatic Academy Vienna, Modern Diplomacy, Culture of Peace and European Perspectives. Among the academia, media and other associated partners from 4 continents, we are indeed honoured to partner with the important Specialised Agency of the United Nations – UNIDO, as well as with the world's second largest multilateral system after the UN, that of the OIC on this event.
This, second consecutive, gathering of the Vienna Process in its birth place – capital of Austria, is the best basis for our next step: conferences in Geneva in May and in Barcelona in September this year.
Special thanks to our key-notes; Commissioner Várhelyi, State Presidents Vella of Malta and Meta of Albania, as well as Excellency Zannier – our newly apointed Director for Euro-Med for chairing the important, first Panel, on cross-Med cooperation, Miss Mazlic of Al Jazeera and Ms. Harvey of Ban Ki-moon Center for charing other two highly topical panels.
Due appreciation goes to our fellows in Brussels, London, New York, Ottawa, Athens, Geneva, Paris and in Vienna for making this event and our Process possible.
Finally, a sincere thanks to all our panellists today. There valuable exchanges will be mutually beneficial to all of us gathering today for the battement of our common future and security in Europe and beyond.
Thank you.
New constructivism needed towards Europe's East
Authors: Eugene Matos de Lara and Audrey Beaulieu
On the historic date of 0March 08th – International Women's Day, a large number of international affairs specialists gathered for the second consecutive summit in Vienna, Austria. This leg of the Vienna Process event titled: "Europe – Future – Neighbourhood at 75: Disruptions Recalibration Continuity". The conference, jointly organized by four different entities (the International Institute for Middle East and Balkan Studies IFIMES, Media Platform Modern Diplomacy, Scientific Journal European Perspectives, and Action Platform Culture for Peace) with the support of the Diplomatic Academy of Vienna, was aimed at discussing the future of Europe and its neighbourhood in the wake of its old and new challenges.
This highly anticipated conference gathered over twenty high ranking speakers from three continents, and the viewers from Australia to Canada and from Chile to Far East. The day was filled by three panels focusing on the rethinking and revisiting Europe and its three equally important neighbourhoods: Euro-Med, Eastern and trans-Atlantic (or as the Romano Prodi's EU Commission coined it back in 2000s – "from Morocco to Russia – everything but the institutions"); the socio-political and economic greening; as well as the legacy of WWII, Nuremberg Trials, the European Human Rights Charter and their relevance in the 21st century,
The event was probably the largest gathering since the beginning of 2021 for this part of Europe.
Along with the two acting State Presidents, the event was endorsed by the keynote of the EU Commissioner for European Neighbourhood and Enlargement, Excellency Olivér Várhelyi. The following lines are short transcript of what he has said opening the Vienna Process event:
The COVID-19 (C-19) has brought numerous challenges to the table in terms of cooperation, adaptation but, mostly, resilience. As the crisis may be considered as a breaking point by some, European Commissioner for Neighborhood and Enlargement, Excellency Várhelyi, insisted on the opportunity emerging from it for the European Union (EU) and Eastern Europe to reinforce their collaboration to build a more stable area of "shared democracy, prosperity, stability and peace".
Throughout the crisis, the European Union has been a key actor for Eastern Europe and its response to the virus, providing the region efficient economic and physical support, which have allowed thousands of lives to be saved. However, despite the necessity of this help, the European Union has more significant projects and ambitions regarding its relation with Eastern Europe states.
In 2020, the EU issued a proposal on the Eastern partnership mostly focused on resilience which unfolds in five pillars. The first pillar is addressed to the reinforcement of investments in the economy and connectivity. It, notably, aims to "further enhance support to small and medium enterprises". These are EU's backbone, accounting for over 90% of the business activities; the EU hosts 24 million small businesses. This economic machine together generates more than half of the EU's GDP. The EU has great interest to keep them afloat during the C-19 crisis.
The EU parliament in December 2020 reported on the need for the Commission to reevaluate their support to these medium and small enterprises. They need more resources to overcome bureaucratic requirements that will exponentially burden their ability to thrive during and past C-19. Small businesses are recognized as indispensable to achieve innovative and sustainable goals. An example of this are initiatives to incentivize companies to take up e-commerce, yet only 17% of the small businesses in the EU have digitized commerce.
The second pillar is related to investments in the green transition. While Western Europe has demonstrated a positive approachregarding Paris Agreement goals, Eastern Europe seemed more reluctant. This attitude couldbeexplained by theirstaple-basedeconomy and by more significant matters on their plate, such as corruption and the reinforcement of the rule of law. Thus, the second pillar bridges with the first pillar since environmental issues should influence the investments and the development of small and medium enterprises and the development of the economic sphere.
The third pillar is about investing in digital transformation. The digital world iscontinuallyevolving, and states need to adapt to this reality, especially considering it could be a pivotal instrument to get the economy back on track. The pandemic has been a great opportunity for countries to develop their digital sector. Enterprises have had to beingenious and proactive in adapting their activities to this new reality, which could be a game-changer for the future. Countries will have to grasp this opportunity and make the best out of it. Investing in technologies could also be profitable to other goals that have been set, such as investments that need to be done in the reinforcement of the rule of law, credible justice reforms and efficient public administration (fourth pillar). Indeed, digitization of information combined with robust cybersecurity platforms is the key to more opened and more transparent administrations. In parallel, other strategie swill need to beelaborated in order to enhance respect of the rule of law and reachdemocratic standards, in fact, a key point to the enlargement of the EU.
Finally, the fifth pillar is about investing in fair and inclusive societies. Eastern Europe countries are real mosaics in terms of ethnicities, religions and languages. Inequalities and social cleavages between these groups are still omnipresent in most Eastern Europe societies, and they need to be addressed to build a more united Europe. Several Eastern European states have elevated policiesthat bridge social ethical and cultural differences in the first place both in their national and EU integration political agenda. Indeed, bridging social gaps isa fundamental action in managing differences and for the upbringing of a healthy democracy.
The next reunion regarding the partnership will take place next fall and focus on three critical matters: recovery, resilience and reform. Although the COVID-19 crisis cannot forever guide interstates initiatives, its consequences have forced the world to adapt to several new realities. Consequently, European countries will need strong measures to recover, and those should be translated by measures addressing the creation of employment and economic growth to stay competitive in international markets. As the EU Commissioner Várhely imentioned, "socio-economic recovery is the absolute priority", so we should also be expecting opportunities to reform social and political norms to face not only new issues but also trends that were very present in the past that are now simply accelerating.
What to Do with Extraterritorial Sanctions? EU Responses
One of the important decisions of the new US administration was its revision of the sanctions policy inherited from President Donald Trump. The "toxic" assets of the departed team include deterioriated relations with the European Union. The divisions between Washington and Brussels have existed since long before Trump's arrival in the White House. The EU categorically does not accept US extraterritorial sanctions. Back in 1996, the EU Council approved the so-called "Blocking Statute", designed to protect European businesses from restrictive US measures targeting Cuba, Iran and Libya. For a long time, Washington avoided aggravating relations with the EU, although European companies were subject to hefty fines for violating US sanctions regimes.
The situation deteriorated significantly during the Trump presidency. At least three events served as a cold shower for the EU with respect to the bloc's relationship with the US. The first was the unilateral withdrawal of the United States from the JCPOA—the "Iranian nuclear deal". Trump renewed American restrictions on Iran in full, and then significantly expanded them. His demarche forced dozens of large companies from the EU to leave Iran; they were threated by the American authorities with fines and other coercive measures. Brussels was powerless to convince Washington to return to the JCPOA. The EU authorities were also unable to offer their businesses guarantees of reliable protection against punitive measures being taken by the US Treasury and other departments. The second event was Washington's powerful attack on the Nord Stream 2 pipeline project. Trump has openly opposed the pipeline, although the Obama administration was also against the pipeline. Congress has passed two sanctions laws targeting Russian pipeline projects. The US Congress and the State Department directly warned European business about the threat of sanctions for participating in the project. In addition to Iran and Russia, concern in the EU was also caused by the aggravation of US-Chinese tensions. Brussels distanced itself from Trump's cavalry attack on China. So far, US restrictions against "Chinese communist military companies", telecoms and officials have minimally affected the EU. However, Washington aggressively pushed its allies to oust Chinese technology companies. It cannot be ruled out that in the future, US foreign policy towards China will become a problem for Brussels.
For the EU, all these events have become a reason to think about protection from extraterritorial US sanctions. The work on them was carried out by both European expert centres and the European Commission. Currently, we can talk about the formation of a number of strategic goals, the achievement of which should allow the European Union to increase its stability in relation to extraterritorial sanctions of the United States and other countries.
Such goals include the following:
Strengthening the role of the euro in international settlements. Already today, the euro ranks second after the dollar in international payments and reserves. However, unlike the United States, the EU does not use this advantage for political purposes. Many transactions between European businesses and their foreign partners are carried out in US dollars, which makes them more vulnerable to subsequent coercive measures. Calculations in euros could reduce the risk of transactions with those partners against whom the sanctions of the United States or other countries are in effect, but the sanctions of the UN Security Council or the EU itself do not apply. Here the EU authorities have laid serious groundwork and have a good chance of achieving their goal.
1.Creation of payment mechanisms, which cannot be stopped from the outside. INSTEX, a payment channel for humanitarian deals with Iran, is often cited as an example of such mechanisms. In 2020, the first transactions were made. However, success in this area raises questions. INSTEX has been widely advertised by EU politicians, but initial expectations were too high. The mechanism has not yet justified itself, even for humanitarian purposes. The Treasury Department can impose blocking sanctions against INSTEX at any time if it considers that the mechanism is being used to deliberately circumvent US restrictions against Iran. Switzerland's SHTA mechanism, which is used for humanitarian deals with Iran, looks much better. It was created jointly with the Americans and it should not have any problems with functionality. However, regarding payment mechanisms in the EU, there are not only humanitarian transactions. There's also the matter of plans to create secure transaction mechanisms in the trade of energy or raw materials; the question of what prospects these have for implementation remains.
2.Ensuring the possibility of unhindered settlements and access to other services for individuals and legal entities in the EU that have come under extraterritorial sanctions. In other words, we are talking about the fact that a citizen or a company from the EU, which fell, for example, under the blocking sanctions of the US Treasury, could make payments within the EU. Now European banks will simply refuse such transactions, and the courts are likely to side with them. In fact, the European Union wants to create infrastructure that has already been created, for example, in Russia. Moscow was considering the establishment of a national payment system even before the large-scale sanctions of 2014. Despite the limited weight of Russia in the global financial system, the country has its own sovereign payment system, which allows its own citizens to carry out transactions on its own territory.
3.Updating the 1996 Blocking Statute. In particular, we are talking about the development of an instrument of compensation for companies that have suffered from extraterritorial sanctions.
4.Creation of information databases in the interests of European companies under the risks of extraterritorial sanctions, as well as the provision of systematic legal assistance to companies that have come under foreign restrictions. In particular, we are talking about assisting European companies and citizens of the EU countries in defending their interests in US courts, as well as using other legal mechanisms, for example, within the WTO.
If necessary—balancing the extraterritorial measures of the United States or other countries with restrictive counter-measures.
However, the EU sanctions agenda is far from limited to the threat of extraterritorial sanctions. Ultimately, the United States is an ally and partner of the EU, which means that the opportunities for smoothing out crisis situations remain broad. Collaboration at the agency level is also highlighted as a recommendation. Moreover, after Trump's departure, the United States may be more attentive to the concerns of the European Union.
The main priority remains the development of the EU's own sanctions policy. Here many problems and tasks arise. The main ones include the low speed of decision-making and poor coordination in the implementation of sanctions. The centralisation of sanctions mechanisms in the hands of Brussels is becoming an important task for the European Commission.
The article is published as part of the Valdai Club's Think Tank project, continuing the collaboration between Valdai and Observer Research Foundation (New Delhi).
From our partner RIAC