"And what rough beast, its hour come round at last, Slouches towards Bethlehem to be born?"-William Butler Yeats, The Second Coming
For Americans, the incumbent Trump[1] presidency has become existentially worrisome. To be sure, it remains conspicuously inept and dysfunctional, but by now it has also become intensely foreboding. Today, rife with willfully corrosive behaviors, Donald Trump is very literally pushing the margins of national survival.
At its core, the existential Trump problem must be faced holistically. It is not purposeful to continue blithely with business as usual, with the delusion that this president's analytic and moral shortcomings are in any way remediable. As corollary, it's no longer defensible to suggest that Donald Trump could somehow be rendered "manageable" if only he would stop tweeting or substitute science-based threat assessments for his narrowly gratuitous rancor. Unmistakably, the "Trump Problem" is much bigger than any superficial crisis of genteel manners or refined policy protocols.
Truth is exculpatory. Donald Trump is who he is, period. His darkly pernicious condition is not subject to any feasible mitigation or improvement. Not at all.
"The mass-man," as we were warned earlier by Spanish philosopher Jose Ortega y' Gasset in The Revolt of the Masses (1930) "has no attention to spare for reasoning; he learns only in his own flesh."
This is how Trump "learns." When asked on April 10 2020 how he would create metrics for determining when the country could be safely "opened up again," he pointed to his head, and said: "This is my only metric." Always, his crudely primal method of understanding represents a seat-of-the-pants reasoning, worthless calculations produced by raw instinct and revealed with demeaning frivolity.
When meeting in Singapore with Kim Jung Un in 2018, Trump dismissed all of the usual leadership obligations to study and prepare. Instead, he emphasized, again and again, offhandedly: "I don't think I have to prepare very much. It's all about attitude."[2]
There is more. At authentically formal levels, this president is not really a proper example of Ortega's "mass man." How could he be? He is, after all, the president. And by definition, the American president is always exceptional.
Nonetheless, though president, Donald Trump remains the dissembling puppeteer of an historically recurrent "plague," not a biological pestilence, as we are experiencing at the present moment, but one similarly catastrophic. Basically, this insidious plague is an orchestrated Goebbels-style campaign of anti-reason and deliberate falsehood, a cowardly effort supported and sustained by legions of utterly shameless administration sycophants.[3] Although most Americans might resist any too-candid comparisons of Trump leadership characteristics with examples from the Third Reich, there are still (regrettably, of course) certain plausible and incontestable points of commonality.
Tangible consequences appear. The overwhelmingly nefarious implications of this monstrous overlap ought not be swept under the rug. Instead, they warrant very careful and correspondingly serious examination.
"Intellect rots the brain," shrieked Propaganda Minister Joseph Goebbels at a Nuremberg rally in 1935. "I love the poorly educated" intoned Donald Trump during his 2016 campaign for the presidency. Inter alia, what these assertions have in common is an utterly inexcusable disdain for science and serious education. Derivatively, they also point to a mutually deformed and twisted national ideal, one that favors viscerally mindless public obedience to allegedly democratic governance.
In world politics, both near and far, none of this is entirely unprecedented. Obviously, we have seen monstrous "puppet masters" before. But in the United States, we are presently witnessing an especially virulent rebirth of historically lethal bewitchments. Moreover, we are observing and suffering in real time.
Most ominously, no matter how compelling and expansive the evidence of Trump's myriad derelictions should become, millions of his dedicated adherents will remain steadfastly loyal to the master. In essence, faith, not facts, are what matter most to these casually self-destructive Trump adherents. For them, without any apology or obeisance to Jeffersonian democracy (because these adherents are generally unacquainted with any verifiable history), the phrase "I believe" is all that counts.
For them, the phrase "I think" is unknown or distinctly subordinate.
For the self-parodying Trump faithful caught up in endlessly empty or contrived antimonies, the Cartesian "cogito" might just as well have never been uttered.[4]
Back in the eighteenth century, Thomas Jefferson, chief architect of the Declaration of Independence and a future American president, exclaimed with unhesitating erudition: "I have sworn upon the altar of god eternal hostility against every form of tyranny over the mind of man." US President Donald Trump, "learning only in his own flesh," has effectively sworn an oath of "eternal support" for such insufferable tyranny. Earlier, he had returned from his Singapore summit with Kim Jung Un, declaring that the calculable risks of a bilateral nuclear war had been removed because he and Kim "fell in love." Today, he offers daily independent assessments (grievously inexpert, by definition) of assorted drug efficacies against the Corona virus.
Simultaneously, he responds to authoritative science-based prescriptions with either capricious doubt or an open indifference.
For the United States, these loudly incoherent stream-of-consciousness excursions into gibberish are more than merely humiliating. At a time of palpable biological "plague," such presidential declensions are starkly and immediately life-threatening. Jurisprudentially, they come very close to being genocide-like crimes.[5]
How pitifully inadequate are America's political processes and institutions in dealing with this president's willfully chaotic instincts.[6] Still, almost an entire country now displays a near infinite forbearance for Trump's hugely inane and perilous commentaries. The resultant withering of a declining nation's heart and mind point unerringly to once-unimaginable existential threats. While various mega-death scenarios of relentless pandemic are currently the most far reaching and credible, the more "normal" dangers of nuclear war and terrorism have not magically disappeared. Indeed, in the expected worst case narratives, war, terror and pandemic could occur more-or-less simultaneously, and with harshly interactive results that are not simply intersectional, but also multi-layered and synergistic.
There is more. In any scenario of overwhelmingly destructive synergy, the whole of any potential catastrophe would necessarily be greater than the sum of its constituent parts.
In this sobering connection, we may usefully recall Swiss playwright Friedrich Durrenmatt's seemingly obvious but enduringly insightful remark: "The worst does sometimes happen."
At best, there is nothing expressly murderous or genocidal in Donald Trump's policies, whether foreign and domestic, but, unambiguously, there is always a far-reaching indifference to basic human welfare and well-being. Spawned by a very evident absence of ordinary compassion, this president gives new and portentous meaning to the core idea that pain is ultimately incommunicable from any one human being to another. "All men have my blood and I have all men's," wrote American Transcendentalist Ralph Waldo Emerson in "Self-Reliance,"[7] but this cosmopolitan sentiment is altogether alien and incomprehensible to Donald Trump. As with other challenging matters of intellectual judgment, this president's near-total lack of empathic feelings reveals a stunningly frightful level of personal emptiness.
That is, they reveal a grotesque American leader of breathtaking vapidity.
Where do we go from this unbearable point? Whatever else we might conclude, Donald Trump displays numerous and incontrovertible clinical derangements. Nonetheless, rather than continue to approach them as if they were somehow singularly meaningful and correspondingly remediable, Americans must finally understand that (1) there exists no feasible "fix" for any such complex concatenations of monstrous behavior, and (2) the danger posed by this president is substantively overwhelming and "imminent in point of time."[8]
Though Trump believes that all that he does is undertaken with absolute purity of heart, similarly felt convictions were easily detectable among the 1930s managers of Third Reich propagandist Joseph Goebbels.
Let us be candid. In America today, there is too much "noise." Among those many citizens who so strenuously loathe refined intellect and serious thought, it is primarily a rancorous noise made on behalf of a destructive political impresario.[9] Moreover, these bewitched proselytes make their unreasoning noise with enthusiasm because they see themselves welcomed as privileged members of a plainly valued "crowd." Reciprocally and consistently, their disjointed leader makes a complementary set of dissembling noises because he has been allowed to direct this unthinking crowd.
There are urgent lessons to be learned. For all Americans , the most ruinous evasion of all will be to seek comfort and succor in this most primordial form of political coming-together; that is, to seek to escape moral judgment as private citizens. This search won't work. "In eternity," reminds the 19th century Danish philosopher Soren Kierkegaard, "each shall render account as an individual."[10]
At least there will be this residual sort of "last judgment."
The poet Yeats' "rough beast" portends a monster, and monster is the only correct term of judgment for an American president who encourages manifold egregious crimes against the United States and other nations.[11] Even without mens rea, or what the jurists would call "criminal intent,"[12] Trump's vaguely casual unconcern for science-based judgments on disease, law[13] and war could result in the death of millions. In effect, such presidential unconcern exhibits a uniquely hideous species of "vice," a species so inherently riveting that it defies any more "measured," "balanced," or "objective" sorts of description.
Summing up our declining circumstances, an overriding general obligation arises. We must insistently inquire as follows: What precisely has been happening? For a meaningful answer, we may consult Alexander Pope's "Essay on Man:" "Vice is a monster of so frightful mien, As to be hated needs but to be seen; Yet, seen too often, familiar with her face, We first endure, then pity, then embrace."
Had he lived in the first quarter of the 21st century, the classical poet might have added "…then decline irretrievably."
What then? Exeunt Omnes? Hopefully, it's a question that will never actually have to be raised. Still, any hope that is unsupported by both intellect and virtue is never a viable rescue strategy.
Never.
One culminating imperative. Now is our final opportunity to identify this defiling president by his correct name. He is a monster.
---
[1] Although decidedly unacademic and uncommonly harsh, the term "monster" here is appropriate and necessary. "The beginning of wisdom," counseled Confucius, "is to call things by their correct name."
[2] See President Donald Trump's quoted statement on June 11, 2018.
[3] Today this campaign is most nefarious (and quite literally murderous) with regard to endless presidential lies on corona virus matters. With his persistently disingenuous claims about US progress against the spreading disease and corresponding testing, Trump has underscored that for the tyrant, truth is whatever seems convenient and self-serving. For this presidential monster, truth is always anathema, never exculpatory. For Trump, it is the "truth" of Joseph Goebbels, one which values presumed propagandistic benefit over the flesh-and-blood lives of citizens.
[4] Cogito ergo sum, "I think therefore I am." The exact reference here is to the "universal doubt" encouraged by René Descartes, Discourse on Method (1637).
[5] Professor Beres is the author of several major books and many law journal articles on genocide-like crimes. See, for example, Louis René Beres, "Genocide and Genocide-Like Crimes," in M. Cherif Bassiouni., ed., International Criminal Law: Crimes (New York, Transnational Publishers, 1986), pp. 271-279.
[6] Most egregious here are recent federal government (FEMA) seizures of medical ventilators for preferable shipment to pro-Trump governors.
[7] We may think also of the corresponding Talmudic observation: "The earth from which the first man was made was gathered in all the four corners of the world."
[8] In jurisprudence, this phrase appears as the solitary permissible justification for national acts of "anticipatory self-defense." This principle of customary jurisprudence has its modern origins in the so-called Caroline Case, which concerned the unsuccessful rebellion of 1837 in Upper Canada against British rule. Following this landmark case, even the serious threat of an armed attack can sometimes be taken as sufficient justification for defensive military action. In more narrowly technical jurisprudence, the criterion of permissibility revolves around a danger presumed to be "instant, overwhelming, leaving no choice of means, and no moment or deliberation." Of course, during the first third of the nineteenth century, there could have been no conceivable thought of forestalling a nuclear aggression.
[9] In a wholly negative assessment, Twentieth century German writer Thomas Mann would have called Trump a "magician." See for example, his classic novella on the rise of Nazism, "Mario and the Magician."
[10] The Kierkegaardian concept of "crowd" is roughly analogous to philosopher Friedrich Nietzsche's "herd," psychologist Car G. Jung's "mass," or Sigmund Freud's "horde."
[11] Regarding US legal obligations toward other nations, see for example, by Louis René Beres: https://yaleglobal.yale.edu/content/jurist-us-abandons-legal-obligations-syria; and https://www.jurist.org/commentary/2018/11/louis-beres-khashoggi-murder/
[12] Professor Louis René Beres is the author of many law journal articles at Harvard National Security Journal; Yale Global Online, Oxford University Yearbook of International Law (Oxford University Press); World Politics (Princeton) and Jurist.
[13] One must remember here that pertinent obligations of international law are also generally obligations of US law. In the precise words of Mr. Justice Gray, delivering the judgment of the US Supreme Court in Paquete Habana (1900): "International law is part of our law, and must be ascertained and administered by the courts of justice of appropriate jurisdiction…." (175 U.S. 677(1900)) See also: Opinion in Tel-Oren vs. Libyan Arab Republic (726 F. 2d 774 (1984)).Moreover, the specific incorporation of treaty law into US municipal law is expressly codified at Art. 6 of the US Constitution, the so-called "Supremacy Clause."
Blinken's visit to China and Moscow's announcement of the visit of Xi Jinping to Russia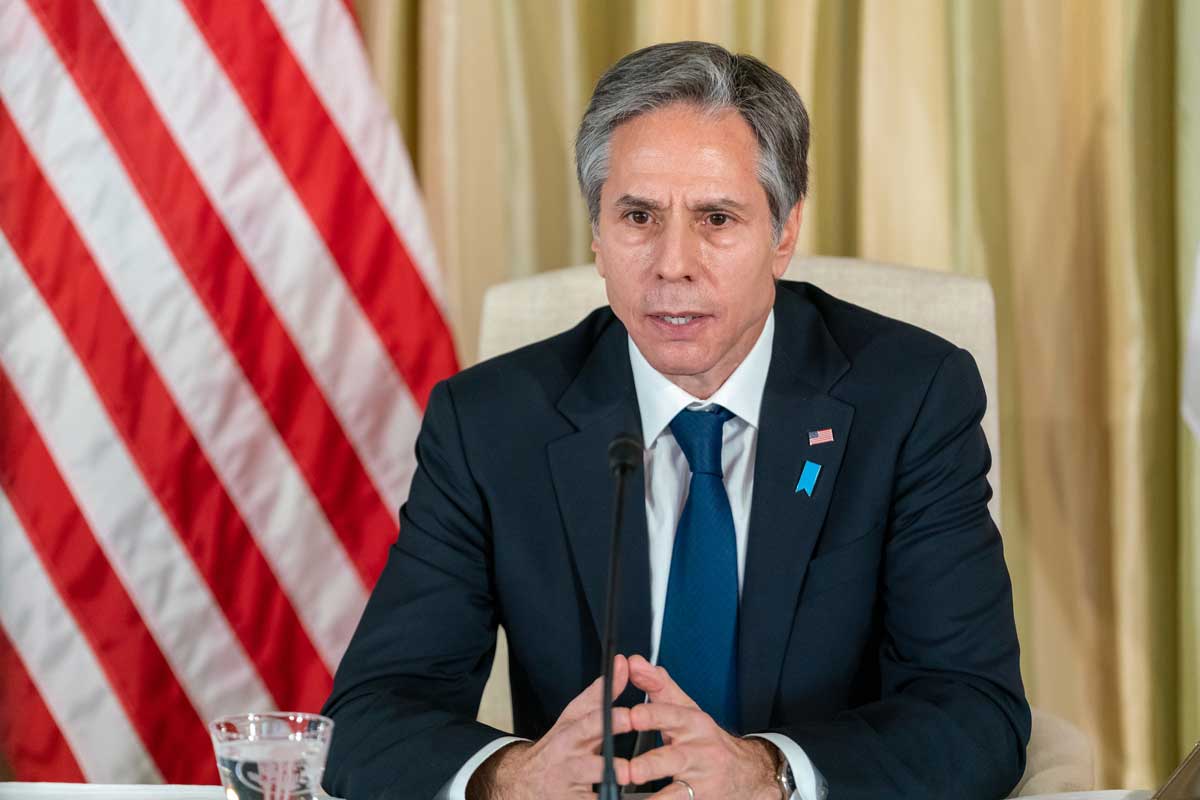 The visit of Anthony Blinken US Secretary of State to China comes after the official Chinese announcement of the visit of Chinese President Xi Jinping to Russia within the framework of the US administration's continuation during the current year of its strategy to confront Chinese military and economic influence in the Indo-Pacific region in the American sense or Asia Pacific in the concept. The Chinese, and to curtail Russian moves with China in the aftermath of the ongoing Russian-Ukrainian war. In addition to the Americans' attempt during that visit to mobilize more allied countries with it, to line up with the United States of America and its European allies to isolate Moscow internationally, and to build on the American commitments towards the military allies in NATO, to surround and curtail Chinese support provided to Moscow, and to wave a card, regarding the economic sanctions and other restrictions in the event of providing any Chinese support to Moscow and President Putin, especially after the Russian presidential establishment, the Kremlin, officially announced a Chinese visit by President Xi Jinping to Moscow to discuss more ways of joint cooperation between the two sides, which of course raises eyebrows, anger and fears of the Americans towards Beijing and its rapprochement with the Russians.
Hence, Anthony Blinken's visit to China comes within the framework of the American approach to adopting hard-line American policies towards the Russian bear by trying to surround and restrain it through China, especially after Moscow's invasion of Ukraine, with the focus of the Biden administration's national security strategy, which was issued at the end of 2022. However, Beijing represents the greatest geopolitical challenge to the United States of America with its Russian ally. This was preceded by confirmation by US Secretary of State Anthony Blinken in a speech to define the US administration's strategy towards China, considering it as:
"the only country that can reshape the current international system, and it is increasingly resorting to economic, diplomatic, military and technological power to do so"
Hence the visit of US Secretary of State Anthony Blinken to China in the context of the strict US policy towards Beijing. In addition, there is agreement and near-unanimity at the present time between the Democratic and Republican parties about the threat posed by the Chinese rise economically, militarily, and ideologically to the United States of America, and therefore they support a hard-line approach towards Beijing. In addition to the US administration's adoption of a set of new economic and military measures to compete with China, which are measures that would undermine US-Chinese bilateral relations, as happened recently with Washington's imposition of tight restrictions on semiconductor sales to Beijing, to impede Chinese efforts to compete in the field of advanced technologies.
Hence the launch of official US calls by a number of lawmakers in the US Senate and House of Representatives, and US national security officials, to ban a number of Chinese applications, led by the "WeChat" program for social communication between China and the world, and the "Tik Tok" program, due to their danger from Their point of view on US national security, along with America's attempt to provoke the Chinese side through Washington's approval plan for an additional arms deal to Taiwan.
This coincided with Washington's efforts to deepen economic cooperation and military, defense and security partnerships with Washington's partners in the Indo-Pacific region in the American sense or Asia-Pacific in the Chinese concept, which happened with Washington's signing of the "Quad agreement" with Australia, India and Japan to undermine Beijing economically, and the "Quad Quadruple agreement", and the internationally controversial AUKUS of a nuclear defense and security nature between the United States of America, Britain and Australia.
The timing of US Secretary of State Anthony Blinken's visit to China at the present time comes within the framework of American fears that Beijing will throw its diplomatic weight during the year 2023, after abandoning the relative isolation imposed by the "Zero Covid" policy, and the victory of Chinese President "Xi Jinping" for a third term. At the head of the ruling Communist Party in China, which gave him domestic political influence, America is afraid of turning it into aggressive policies abroad, which Beijing will turn into moves in the American spheres of influence to strike its network of interests regionally and globally.
Here, the importance of the visit of US Secretary of State Anthony Blinken to China as an American attempt to neutralize China mainly towards two issues that concern Washington at the present time, the most important of which is neutralizing China in the face of the support of Russian President "Putin" in his war against Ukraine, in addition to the Americans' attempt to neutralize China towards Iran and its file. The nuclear deal, especially in the absence of an alternative strategy for the current US administration to contain Iran after the failure of US diplomatic efforts to return to the nuclear agreement again or to impose real pressure on Tehran. Hence, the current US administration is in need to follow a comprehensive strategy to contain the Iranian threat, and reduce Tehran's support for the (Houthi militia) to enhance regional stability to ensure the security of Israel and the Hebrew state in the first place. This requires American pressure towards China to put pressure on Tehran within the framework of the American deterrence strategy to undermine and confront Iranian activities that destabilize stability in the Middle East region, and not to allow regional or external powers to threaten the movement of freedom of navigation in the waterways in the region and the Arabian Gulf, especially through the Straits of (Hormuz and Bab Al-Mandab), with the American emphasis on not tolerating Iran's threats against American citizens and soldiers present in the region. This was evident from the conduct of joint naval military exercises and maneuvers between the American and Israeli sides in the Red Sea region near the movement of the straits and sea lanes in that region, in addition to what we previously witnessed of Israeli military naval maneuvers in the Red Sea, in cooperation with the UAE and Bahrain after concluding agreements. Israeli peace with them. In addition to the recent Israeli-American agreement between Washington and Tel Aviv with several Gulf countries to strike Iran to ensure the security of the Arab Gulf region and Israel, which divides the region now and divides the efforts of the international community regarding the issue of striking Tehran, especially by the Chinese-Russian camps and their allies in the face of the American camp. Western and the Hebrew state.
On the other hand, the visit of US Secretary of State Anthony Blinken to China comes within the framework of US-South Korean fears about the issue of the North Korean nuclear challenge, coinciding with those warnings launched by the capital "Pyongyang" through its official media at the beginning of 2023, By increasing its nuclear arsenal, and highlighting the expanded meeting that took place between the North Korean leader "Kim Jong Un" with leaders and members of the ruling Workers' Party, and the North Korean leader's assertion of the need to increase North Korea's military strength, to enhance the deterrence and defense capabilities of his country, by increasing the tactical nuclear weapons production in large quantities, a massive increase in the country's nuclear arsenal, as well as an increase in North Korea's arsenal of intercontinental ballistic missiles. Therefore, there is a US-South Korean fear of North Korea conducting a series of nuclear tests near the spheres of influence of Washington and its regional allies in the Indo-Pacific region, led by South Korea and Japan This is what Washington translated militarily in agreement with the capital, "Seoul", to conduct more joint military exercises between the United States of America and South Korea during the year 2023. With the US administration leading the efforts of the entire international community to condemn North Korea's nuclear weapons program at the United Nations. Hence, the visit of "Anthony Beijing" to China comes within the framework of the Americans' attempt to curtail North Korea's nuclear, military and ballistic program through Beijing.
Hence, we conclude with the attempts of US President Joe Biden and his administration to focus more on US foreign policy issues related mainly to China and Russia, by dealing with the most complex global security challenges faced by President Biden with the beginning of the middle of his first term in 2023 to enhance his chances of winning against his opponent, the Republican candidate, in November 2023.
President "Biden" has already begun to implement the strategy of containing the countries of China and Russia since the moment of his election and assumption of power, even without officially issuing his new strategy for national security, which was evident with his strong statements attacking China and Moscow, which were translated by those successive visits that he made. These were carried out by the current US administration poles, in addition to the meetings that President "Biden" himself held with pivotal countries in the Indo-Pacific region in the American sense or Asia Pacific in the Chinese concept.
Therefore, the visits of US officials to China and the Indo-Pacific region come as a pivotal goal of President "Biden's foreign policy" in the next stage, represented in containing China, and then the rest of Washington's foreign policies will be determined, all of which will seek to serve that central and fundamental goal of Washington, and to achieve America's position of preference. towards China by moving to four main entrances for Washington, which are: the competitiveness of the US economy in the face of Beijing, the strength of American democracy itself and its political system according to the view of US President "Joe Biden", and the most important thing for the current US administration is the strengthening and vitality of the network of US alliances and partnerships, and confirming own American values ​​with its regional allies and other international partners to undermine the power of Moscow and Beijing.
Tanks Or Talks for Peace in Ukraine
There is something quite unsettling about Joe Biden, the US president: in a long political career, there has never been a war he didn't like.
He voted for Bush's Iraq war, and extended the Afghan war by multiplying US force levels. When Vice-President, he supported Obama's bombings in Yemen (at the behest of Saudi Arabia), airstrikes in Syria, even the bombings in Libya that included the unnecessary destruction of the hugely expensive system conveying water from the south to the capital, Tripoli. Exactly how that helped the Libyan people — the US supposed cause there — is not clear.
No surprise then if Biden has been pushing the reluctant Germans and others to supply Ukraine with Leopard 2 tanks. Newsweek published a full list of countries on the 'pleasing Biden' list. A rueful Vladimir Putin reminds his people they will be facing German tanks again as they did in World War II some 80 years ago; except this time he opined Russians will be countering them not with their own tanks but by other means — rockets one supposes. He was speaking at a ceremony marking the end of the WW2 siege of Stalingrad, now called Volgograd but renamed Stalingrad for a day to honor the defenders and the dead.
Russia lost a colossal 25 million people during the war through its effects in disrupting food production and supply, and of course in the actual fighting. In comparison, US casualties ran to about 400,000.
Exactly what the tanks will do remains to be seen — there are only a little more than 400 after all. Perhaps, they could spearhead a thrust at the Russian line of defense that protects the Russian-speaking East. But the Russians won't be sitting ducks. Putin has hinted at an asymmetric response — heavy bombing of cities perhaps or tank annihilating rockets?
On a geostrategic level, the war can hardly be claimed a political success for the Biden administration. It has weakened Europe's effort for a tighter economic embrace of Russia — a source of cheap energy for them. That has already seen a decline in Germany's projected growth rate. Putin, too, wanted closer European ties but all that is in the past now.
Instead, the war has thrown Russia and China together, now forming an axis with Iran. In fact, Russia has recently bought 1700 Iranian drones — unmanned aerial vehicles (UAVs) to conduct attacks against Ukrainian special forces and other military units, as well as targets like munitions and oil storage depots.
Needless to say, escalation in arms seldom brings peace. It is de-escalation and talks, not tanks, that is the logical path to ending the conflict. Always the unimaginable looms in the background. In this case, the nightmare of a miscalculation leading to a nuclear exchange.
When he ran for president in 1988, Biden was dogged with charges of plagiarism. He had been caught using phrases and text from British Labor Party leader Neil Kinnock's speeches. There was even an attempt to mimic Kinnock's life story. He was the son of a miner and the first to go to college in his family. Bided began to claim his roots in mining also through a grandfather, who turned out to be a mining engineer, not someone digging at a coal face deep underground.
Far fetched? No. Just a momentary lapse of common sense. Let's hope he doesn't lose it in Ukraine.
A Chinese balloon floating in American airspace has finally persuaded US Secretary of State Anthony Blinken to postpone his much awaited visit to Beijing.
The Incident
The balloon was first spotted on February 1, 2023 by the Canadian defence authorities which stated that its movement was being monitored by NORAD in alliance with American partners. The balloon, currently floating in the stratosphere, was spotted days later in Billings, Montana where it reached after flying over Alaska's Aleutian Islands, through Canada. The Secretary of Defense Lloyd Austin, visiting the Philippines at the time, convened a meeting of senior military officials where it was decided that the balloon should not be shot down owing to possible security concerns regarding the debris falling over civilian regions. The balloon, suspected to move further eastwards, is found as not posing any tangible security threat.
The People's Republic of China admitted to the balloon being of Chinese origin. Beijing's Foreign Ministry on February 3 clarified that the balloon is of "civilian" nature (民用性质) used for meteorological purposes and got blown off coast owing to the Westerlies. China expressed regret on the incident, noted as an "error of force majeure" (不可抗力误入), intending to negotiate with the US to mitigate the "unforeseen situation" (意外情况). On the evening of February 3, Chinese Foreign Minister and State Councillor Wang Yi also held a telephonic conversation with Blinken stressing that China is a "responsible country which has consistently observed international law". He noted that China "does not accept any baseless summarisations and sensationalisation of the issue" (中国是负责任国家,一贯严格遵守国际法,我们不接受任何无端的臆测和炒作。)
The Aftermath
The incident has incited contrasting reactions from both sides. While many experts admit to the possibility of the balloon being blown off coast owing to the powerful Westerlies that blow in the region, the balloon's ability to linger for days creates suspicions over its benign nature. Balloons, argues an article published in the BBC, unlike aircrafts or drones are not only cheaper, easier to use but are also difficult to track which is the reason why the exact route of the balloon cannot be determined. It is claimed that such high altitude balloons can also loiter for days over target areas owing to their slow speed unlike drones which remain confined to their orbital pass. The move is claimed to be a sleight of Beijing to spy over the sensitive American military region.
Many reports have also claimed that being spotted was the whole point behind sending the balloon. Some experts are reading it as a way for China to highlight its technological prowess to the United States without escalating the situation while at the same time recording American response to it.
The incident has also ruffled some feathers within the US political corridors; with many, particularly Republicans, pushing President Biden to tersely respond to the situation while also making the incident a pretext for banning Chinese technology and apps such as Tiktok over privacy and security concerns. The most severe consequence however has been Blinken's decision to postpone his two-day visit to Beijing.
A stern editorial published in the Global edition of China Today (中国日报) on February 3, dubbed the reactions as a way of tarnishing China's image. While the links to China which the editorial denies have been confirmed by Beijing's Foreign Ministry, the article notes:
"We can be sure about the ignorance of the fabricator. Surveillance balloons being used as military technology dates back to the early 20th century, the technology is outdated one can hardly imagine any nation like China still resorting to it today; at the same time, the shortest route between Beijing and Montana is over 9,000km, which makes it impossible to precisely control the flight of this or any balloon."
Turning the tables on the US, the article further notes:
"What really deserves attention during the whole "balloon incident" is that some US media outlets and "experts" have claimed Montana is a highly sensitive place due to the fact there are about 150 intercontinental missile launching sites there, with confidential military information. While the real question is why are the US hoarding such a large stockpile of weapons of mass destruction?".
A Chinese article in the Sina News similarly rebuffed all claims of the spy balloon as "sheer nonsense" ("纯属无稽之谈") by citing several military experts. Another article on the news website refuted such claims by noting several previous "China threat theories" including the case of "spy refrigerators". The article justifies the argument by pointing out how the US had been planning to produce such high altitude inflatables for surveillance purposes. Citing a Pentagon report, an article in the Time claimed that such balloons are common surveillance instruments used by several nations including the United States. Moreover, Taiwan's Ministry of National Defense spokesperson Shih Shun-wen noted that such weather balloons used by the PLA, several of which entered Taiwan's airspace, are innocuous and do not pose any security threat.
What does it mean?
While American threat perceptions cannot be entirely denied, postponing Blinken's visit could have been avoided. In an article for The Diplomat, Prof. Hemant Adlakha highlights the ambivalent attitude of the Chinese official discourse and academia towards Blinken's visit. The news of the visit did not just remain unconfirmed till the last moment but conspicuously lacked any enthusiasm. Prof. Adlakha notes that such an attitude stems from Beijing's reservations over hosting Blinken, a figure seen as furthering an unfavourable stance towards China. Another article by the Quincy Institute claimed the situation to be "inflated" beyond requirement and emphasised on the need for diplomatic efforts to be made during times of crises like the present scenario by citing several past examples including the 2001 Hainan Island incident.
Be as it may, the whole episode clearly highlights the deteriorating trust between Washington and Beijing. The bilateral relations, which have remained downhill for more than three years, are in an urgent need of rejuvenation. China and the United States must realise the importance of their stable bilateral relationship for the maintenance of world peace. Incidents like such are a test of diplomatic efforts and both sides must put in active efforts to mitigate the situation.