Guidelines on health, travel arrangements and repatriation of persons on board ships
From cruise ship passengers to cargo vessel crew, many have found themselves stranded at sea or quarantined in ports since the coronavirus pandemic first took hold. The guidelines issued by the European Commission today support these individuals, providing recommendations on health, repatriation and travel arrangements. They also announce the establishment of a network of designated ports for crew changes.
How many people (crews and passengers) have been stranded on cruise ships because of coronavirus?
All commercial cruises have been suspended until further notice. However, we have been informed by the European Maritime Safety Agency that between 8 and 11 April, 11 cruise ships will approach Europe, carrying around 8 000 people. More EU citizens, passengers and crew, are still onboard ships elsewhere, and are waiting to return home.
What sorts of goods are cargo ships carrying?
Cargo ships carry everything, from bulk raw materials, gas and oil to containers full of electronics and active pharmaceutical ingredients needed to produce medicines. Maritime transport plays an essential role in the international trade of EU goods, and 75% of goods traded by the EU are transported by sea. To keep our economy running in these difficult times, it is of utmost importance to keep ships sailing and ports operational.
What are designated ports for crew changes? Why should Member States agree to create a network of such ports?
The Guidelines recommend that Member States and the Commission lead a coordinated effort to designate several ports in the Union for fast-track crew changes. These specifically 'designated ports should geographically cover the Union and should be connected to operational airports and rail stations. Dedicated or regular flight and rail operations could ensure the transport connections for in- and outgoing crew, allowing seafarers to be repatriated quickly.
'Designated ports' should have nearby accommodation where seafarers can wait for the ship they should board, or for their flight, train or ship home. This accommodation should have adequate facilities to allow them self-isolate for 14 days before embarking and after disembarking if the Member State in question requires this, and if testing is not available.
It is in the Member States' interests to create a network of such ports, and we ask Member States to come forward with nominations.
How will crew members and passengers travel on to their home countries if hardly any flights/international trains are running?
The guidelines suggest that Member States require ship operators to communicate certain details about a ship's occupants, including intended destination, before the ship reaches the port. This will give the national authorities more time to contact consulates and embassies in order to support the repatriation for the individuals involved.
Whose responsibility is it to take care of non-EU crew members disembarking within the EU?
Responsibility for repatriating seafarers lies first with the ship-owner; failing action to this effect by the ship-owner, the ship's flag State is responsible. If the seafarer is in good health, and there are no COVID-19 cases on board his or her ship, the ship-owner is obliged under the Maritime Labour Convention to repatriate the seafarers and to cover the cost of the repatriation. If the seafarer has COVID-19 symptoms and is unable to travel back home, the ship-owner must cover the expenses for medical care, food and accommodation until the seafarer recovers.
Where should cruise ships dock?
For ships flagged in an EU Member State, the flag State should allow passengers and crew to disembark in one of its ports and help to make the necessary arrangements for repatriation and access to medical care as appropriate.
If it is not possible or practical for the flag State to accommodate a ship, it should help the cruise ship operators to make appropriate arrangements with other EU Member States or elsewhere. The arrangements should minimise the time the vessel stays at sea while providing good medical infrastructure and transport connections for repatriations.
If the ship is flying a non-EU flag, Member States should accommodate it for humanitarian reasons, but it is recommended that they ask the cruise ship operator to make appropriate financial and logistical arrangements (e.g. required personal protective equipment, facilities for quarantine, hiring of buses, charter flights) before docking. If such arrangements are not found, Member States should in any case consider disembarking any passengers and crew safely and swiftly, before facilitating their transit home.
Should crews/passengers be automatically quarantined when disembarking?
Quarantine requirements are a matter for every individual EU Member State.
Throughout the course of docking, if anyone on board presents symptoms compatible with COVID-19 (including sudden onset of at least one of the following: cough, fever, or shortness of breath), this should be reported to the competent authority immediately.
Those suspected of having the virus should either disembark and be isolated and treated ashore, or be isolated on board (according to procedures described in the EU HEALTHY GATEWAYS advice) until asymptomatic, unless their condition worsens and requires hospitalisation ashore. Decisions on individual cases will be taken by the port state's competent authority, based on a risk assessment and the situation within the community (containment or mitigation phase).
All individuals leaving the ship should be asked to complete a Passenger/Crew Locator Form before leaving the ship, and the captain should keep this document on board for at least one month. The competent authority should give approval before any individual disembarks, based on an assessment of that person's health.
Is it not safer for people to stay on a ship until the pandemic passes, rather than disembark?
In some cases, crew and/or passengers may indeed be better off staying on board the ship, provided that the appropriate sanitary measures are in place. This needs to be assessed by the ship's master and the port state competent authorities on a case-by-case basis. For cruise ships, for example, it should be assessed if the air used by the air-conditioning system can be taken exclusively from the outside (with less chance of virus spread), or whether it is being re-circulated inside the ship, which could in certain cases lead to the infection of passengers healthy to date.
Do any Member States or ports have robust procedures in place, which other countries and ports could learn from?
In order to ensure the docking of the cruise ships Zaandam and Rotterdam in Florida on 2 April, the cruise operator took responsibility for organising repatriations / medical treatment while the flag State (the Netherlands) assisted diplomatically. An agreement between the cruise line and local and federal US authorities foresaw that all passengers first received health screenings and then healthy passengers were allowed to fly home.
What about fishermen?
The fishing industry employs a considerable number of international crew members, both EU and non-EU citizens; an estimated 8% of crew members are from outside EU/EEA countries. Travel to and from the fishing vessels and border crossings should be facilitated for these essential workers. The guidelines therefore recall the importance of applying the recently adopted Guidelines for border management measures in this sector, to protect health and ensure the availability of goods and essential services. Member States should facilitate the transit of EU and third-country fishermen who are EU residents so that they may return home.
Riyadh joins Shanghai Cooperation Organization
Saudi Arabia's cabinet approved on Wednesday a decision to join the Shanghai Cooperation Organization (SCO), as Riyadh builds a long-term partnership with China despite U.S. security concerns.
Saudi Arabia has approved a memorandum on granting the Kingdom the status of a dialogue partner in the Shanghai Cooperation Organization, state news agency SPA said.
The SCO is a political and security union of countries spanning much of Eurasia, including China, India and Russia.
Formed in 2001 by Russia, China and former Soviet states in Central Asia, the body has been expanded to include India and Pakistan, with a view to playing a bigger role as counterweight to Western influence in the region.
Iran also signed documents for full membership last year.
Dialogue partner status will be a first step within the Organisation before granting the Kingdom full membership in the mid-term.
The decision followed an announcement by Saudi Aramco, which raised its multi-billion dollar investment in China, by finalising a planned joint venture in northeast China and acquiring a stake in a privately controlled petrochemical group.
Russia will deploy nuclear weapons in Belarus – EU and NATO went ballistic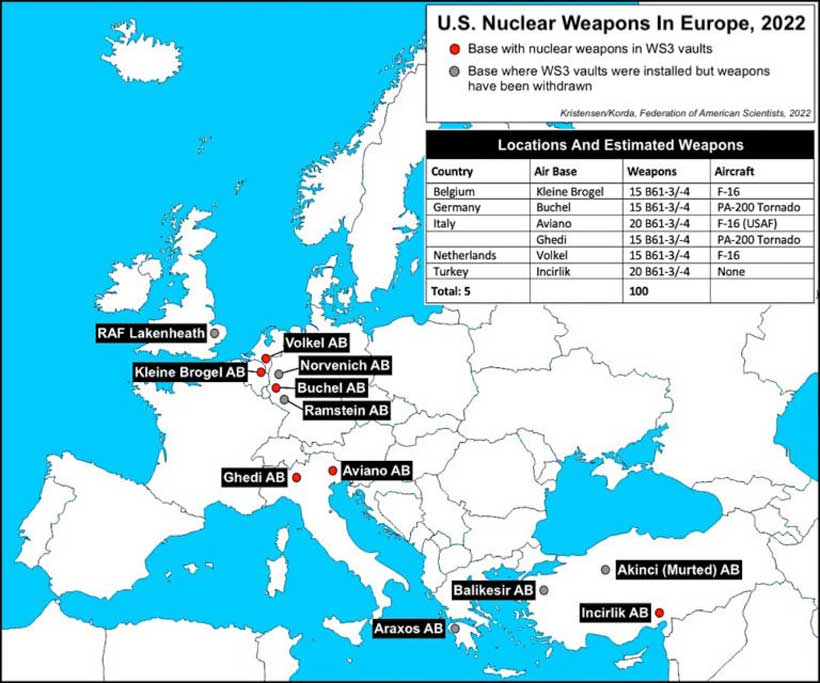 Baroness Goldie, who is an experienced Scottish politician and life peer who served as Leader of the Scottish Conservative Party from 2005 to 2011 and as the UK's Minister of State for Defence since 2019, said to the Parliament: "Alongside our granting of a squadron of Challenger 2 main battle tanks to Ukraine, we will be providing ammunition including armour piercing rounds which contain depleted uranium. Such rounds are highly effective in defeating modern tanks and armoured vehicles."
The Anglo-Saxon clique's core objective is a calculated escalation of the proxy war that is certain to draw forth a robust reaction from Moscow, as predictable as night follows day, writes M.K. Bhadrakumar, Indian Ambassador and prominent international observer.
Indeed, that is precisely what happened when Russian President Vladimir Putin announced that Russia will deploy its tactical nuclear weapons in Belarus. Putin linked this to a request from Belarus in reaction to Baroness Goldie's statement in London a week ago.
More importantly, Putin also drew the analogy of the US placing its nuclear weapons on the territories of the allied NATO countries for decades.
The EU and NATO went ballistic after Putin's disclosure. EU's chief diplomat Josep Borrell said Moscow's decision was "an irresponsible escalation and threat to European security." He promised to impose "further sanctions" against Belarus!
A NATO spokeswoman called Moscow's decision "dangerous and irresponsible." Interestingly, though, the Biden administration neatly side-stepped the issue, focusing instead that the US has not seen any signs that Russia has moved nuclear weapons to Belarus or anywhere else!
What is the game plan? First, the Anglo-Saxon clique would hope that the issue will create further disquiet and insecurity in Europe vis-a-vis Russia and would rally European countries behind the Biden administration at a time when fault lines were appearing within the transatlantic alliance over a protracted war in Ukraine that might be catastrophic for European economies.
However, Washington is hard-pressed to respond to Putin's remark that Russia is only doing something that the US has been doing for decades.
The crux of the matter is, as with the Cuban missile crisis of 1962, the Russian decision on tactical nuclear weapons in Belarus is retaliatory, drawing attention to the US missiles stationed close to its borders. (An estimated 100 nuclear weapons are stored in vaults in five European countries — Belgium, Germany, Italy, Netherlands and Turkey.)
Worse still, the US practices a controversial arrangement known as "nuclear sharing", under which it installs nuclear equipment on fighter jets of select non-nuclear NATO countries and train their pilots to carry out nuclear strike with US nuclear bombs. This is happening when the US, being a party to the nuclear Non-Proliferation Treaty (NPT), has promised not to hand over nuclear weapons to other countries, and the non-nuclear countries in the NATO's sharing arrangement have themselves promised not to receive nuclear weapons from the nuclear weapon states!
The NATO declared last year that seven NATO countries contributed dual-capable aircraft to the nuclear sharing mission. These countries are believed to be the US, Belgium, Germany, Italy, Netherlands, Turkey and Greece. And all are signatories to the NPT!
There is no question that depleted uranium munitions are radioactive and toxic and their heavy use in the Yugoslavia and Iraq wars has been linked to birth defects and cancers. It has been tied to "the highest rate of genetic damage in any population ever studied" in Fallujah, the city subjected to two brutal US sieges during the invasion of Iraq.
Britain appears to be creating conditions in Europe to justify the basing of nuclear-armed US bombers at Lakenheath in Suffolk, which were removed in 1991 in line with the Intermediate Nuclear Forces treaty, stresses M.K. Bhadrakumar.
Free will trumps determinism in Gulf politics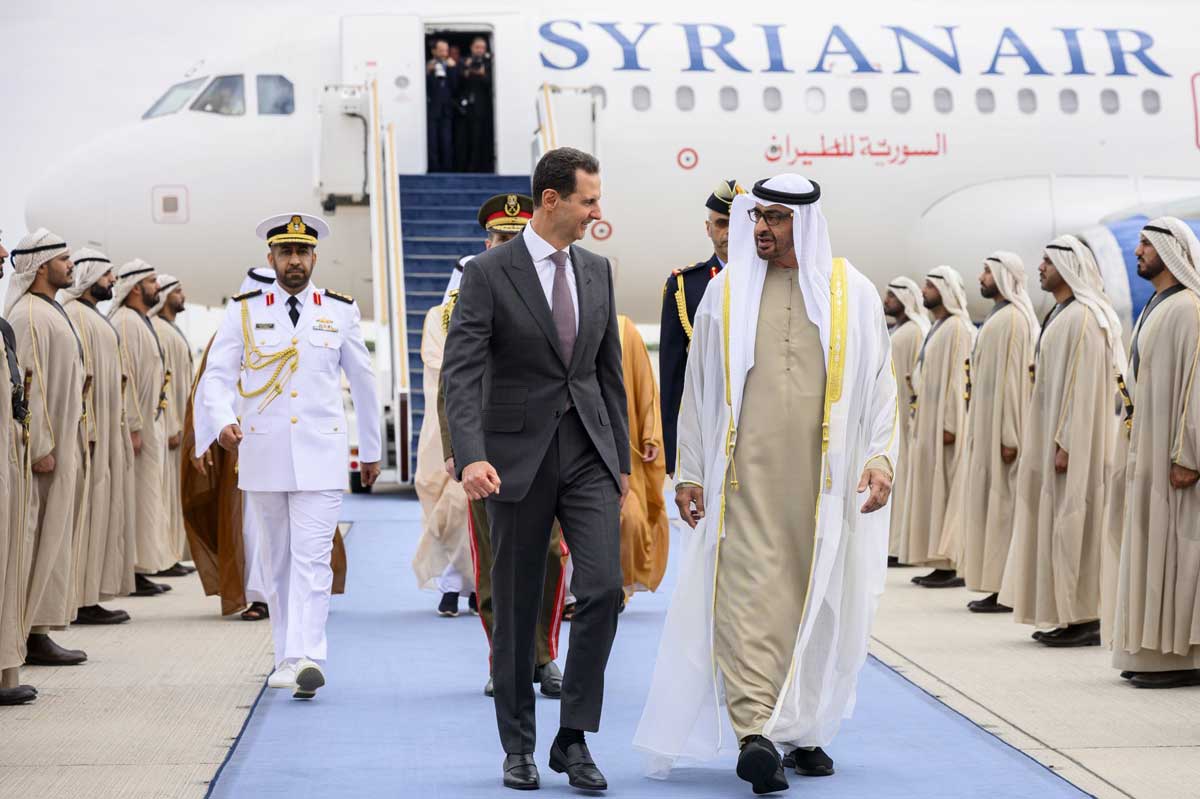 China's mediation to normalise Saudi-Iranian diplomatic ties has been widely welcomed internationally, especially in the West Asian region. A clutch of unhappy states that do not want to see China stealing a march on any front, even if it advances the cause of world peace, mutely watched, notes M.K. Bhadrakumar, Indian Ambassador and prominent international observer.
The US led this pack of dead souls. But the US is also on the horns of a dilemma. Can it afford to be a spoiler?
Saudi Arabia is not only the fountainhead of petrodollar recycling — and, therefore, a pillar of the western banking system — but also America's number one market for arms exports. Europe is facing energy crisis and the stability of the oil market is an overriding concern.
Saudi Arabia has shown remarkable maturity to maintain that its "Look East" policy and the strategic partnership with China do not mean it is dumping the Americans. Saudis are treading softly.
Yet, the fact remains that the Saudi-Iranian deal drives a knife into the heart of the US' West Asian strategy. The deal leaves the US and Israel badly isolated. The Jewish lobby may show its unhappiness during President Biden's bid for another term. China has stolen a march on the US with far-reaching consequences, which signifies a foreign policy disaster for Biden.
Washington has not spoken the last word and may be plotting to push back the peace process from becoming mainstream politics of the West Asian region. The American commentators are visualising that the Saudi-Iranian normalisation will be a long haul and the odds are heavily stacked against it.
The Saudi official said China's role makes it more likely that the terms of the deal will hold. "It (China) is a major stakeholder in the security and stability of the Gulf," he noted. The official also revealed that the talks in Beijing involved "five very extensive" sessions on thorny issues. The most difficult topics were related to Yemen, the media, and China's role, the official said.
Meanwhile, there are positive tidings in the air too — the likelihood of a foreign minister level meeting between Iran and Saudi Arabia in the near future and, more importantly, the reported letter of invitation from King Salman of Saudi Arabia to Iranian President Ebrahim Raeisi to visit Riyadh.
Iranian Foreign Minister Hossein Amirabdollahian remarked on Sunday with reference to the Yemeni crisis that "We [Iran] are working with Saudi Arabia on ensuring the stability of the region. We will not accept any threat against us from neighbouring countries."
To be sure, the regional environment is improving. Signs of an overall easing of tensions have appeared. For the first visit of its kind in over a decade, the Turkish Foreign Minister was in Cairo and the Egyptian FM has been to Turkey and Syria.
Last week, on return from Beijing, Admiral Ali Shamkhani, secretary of Iran's Supreme National Security Council headed for the UAE where President Sheikh Mohammed received him.
Soon after that Syrian President Bashar al-Assad arrived in the UAE on an official visit. "Syria has been absent from its brothers for too long, and the time has come for it to return to them and to its Arab surroundings," Sheikh Mohamed told Assad during their historic meeting at the presidential palace.
Evidently, the regional states are tapping the "feel-good" generated by the Saudi-Iranian understanding. Contrary to the western propaganda of an estrangement lately between Saudi Arabia and the UAE, Sheikh Mohammed is identifying closely with the positive trends in the regional environment.
This is where China's overarching role fostering dialogue and amity becomes decisive. The regional countries regard China as a benign interlocutor and the concerted attempts by the US and its junior partners to run down China make no impact on the regional states.
Fundamentally, both Saudi Arabia and Iran have compulsions to shift the locus of their national strategies to development and economic growth. This has received scant attention. The Western media has deliberately ignored this and instead demonised the Saudi Crown Prince and created a doomsday scenario for Iran's Islamic regime.
That said, the known unknown is the tension building up over Iran's nuclear programme… A Russian-Chinese coordinated effort is needed to forestall the US from raking up the nuclear issue in tandem with Israel and ratchet up tensions, including military tensions, in such a way that a pretext becomes available to destabilise the region and marginalise the Saudi-Iran agreement as the leitmotif of regional politics.
On balance, the regional states are acting on free will, increasingly and eschewing their determinism that was wedded to decisions and actions that were thought to be causally inevitable.
The realisation has dawned now that it is within the capacity of sovereign states to make decisions or perform actions independently of any prior event or state of the universe, stresses M.K. Bhadrakumar.