Who is to blame for violence in Lithuania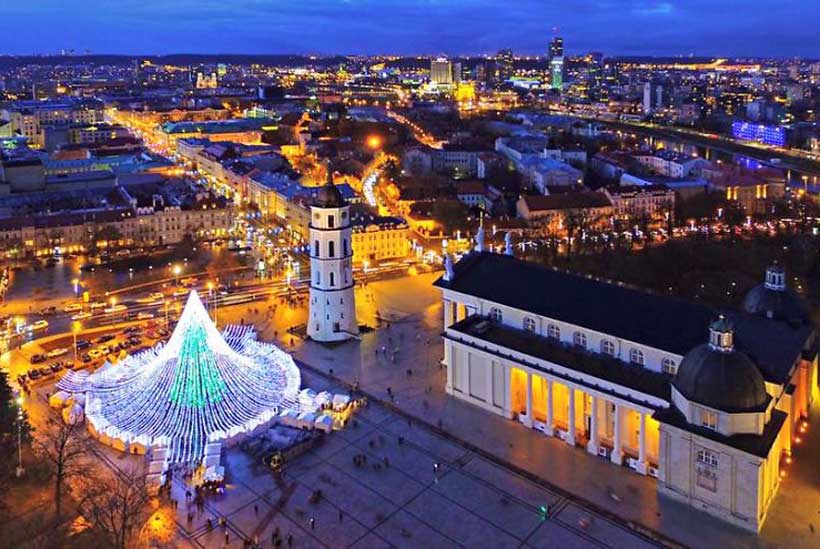 Lithuania is used to maintain national security and defence relying on NATO allies in many ways. Such approach helps to save money and receive political preferences within the Alliance.

Thus, the NATO enhanced Forward Presence Battlegroup, as well as U.S. soldiers from the 1st Battalion, 9th Cavalry Regiment, 2nd Armored Brigade Combat Team, 1st Cavalry Division are the main contributors to the Lithuanian defence today.

U.S. soldiers from the 1st Battalion, 9th Cavalry Regiment, 2nd Armored Brigade Combat Team, 1st Cavalry Division based out of Fort Hood, Texas, is currently in Lithuania in support of Atlantic Resolve.

According to Lithuanian officials, this mission is a useful addition to the NATO enhanced Forward Presence Battlegroup also deployed in Lithuania.

The NATO battalion battle group trains together with Lithuanian forces and U.S. soldiers. Troops participate in live fire exercises, some combined trench training in order to maintain combat readiness and perform complex training.

Today foreign troops on Lithuanian territory are quite common, though population is not always happy with their presence. Their inappropriate behavior in public places causes protest.

For many local authorities foreign soldiers have become a major headache. Today, for example, the number of infected with COVID 19 foreign soldiers are higher than the number of Lithuanian military. They are often involved in drunken brawls which cause dissatisfaction and disappointment among locals.

Their criminal behavior is not only due to their bad personal qualities or poor parenting. There is a logical explanation that cannot be ignored.

Lithuanian authorities appealed to NATO to enhance foreign troop presence without taking into consideration the past of those units who would be deployed in Lithuania.

Thus, the history of the the 1st Battalion, 9th Cavalry Regiment, 2nd Armored Brigade Combat Team is very long and includes combat operations in Iraq where it suffered casualties while conducting the mission.

It is well known that the number of soldiers with posttraumatic stress disorder (PTSD) and violent behaviour among military personnel following deployment to Iraq and Afghanistan is very high.

Violence towards others outside military facilities is a significant problem because, for instance, the U.S.-Lithuanian agreement on the status of US troops on Lithuanian territory gives the US jurisdiction over crimes committed by its military personnel. In other words Lithuanian police and authorities could do nothing with foreign soldiers who are responsible for heinous crimes.

The more so, Lithuanian soldiers training together with foreign troops could adopt a pattern of such behavior.

So, there are some questions to the Lithuanian authorities:
Are you sure that foreign soldiers in Lithuania do not have posttraumatic stress disorder?
Who and how will defend Lithuania?
Are the locals fully protected from foreign troops aggressiveness and violence?
And if they do something illegal, who is to blame?
The Destruction of Nagorno-Karabakh's Cultural Heritage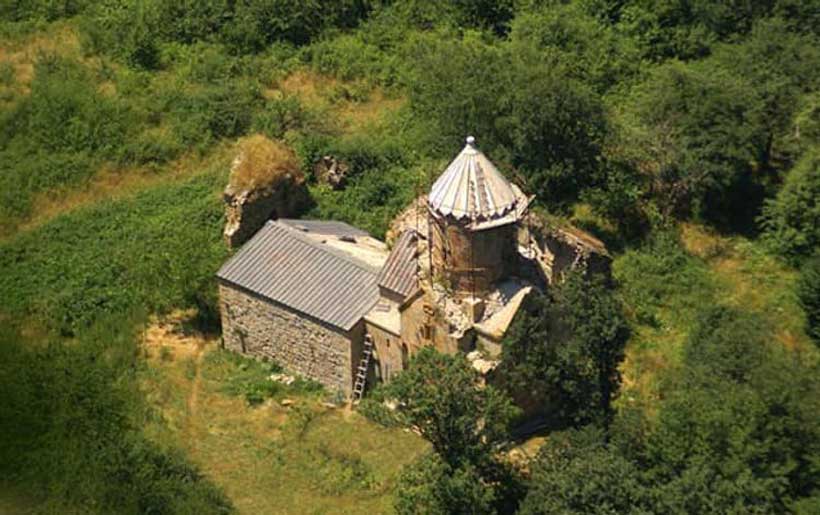 Nagorno-Karabakh has been in the news for the renewed hostilities between Armenia and Azerbaijan. This enclave in the Caucasus has a distinctive culture, with a rich heritage in music, poetry and architecture. It is internationally recognised as part of Azerbaijan, but the territory has been occupied by Armenia for the past 30 years, along with seven adjoining provinces of Azerbaijan.
Concerns have been raised that Nagorno-Karabakh's heritage has been systematically destroyed under Armenia's occupation, as part of its attempt to strengthen its control by wiping out traces of the existing culture.
In Zangilan, for instance, when the district was retaken by Azerbaijan on October 20th, they could not recognise it after 30 years of Armenian occupation. The historical mosque of Zangilan had been turned into a swine shelter and the 13th century Gtich church, belonging to the ancient Christian state of Caucasian Albania, was found vandalised and smeared with graffiti.
The destruction of cultural and religious monuments in the occupied territory is regarded as a war crime under international law. The Hague Convention of 1954 obliges occupying forces not only to respect and preserve cultural property, but to prevent the theft of property in the event of armed conflict.
With Armenia occupying 20% of Azerbaijan, the onus is on Armenia to protect the cultural heritage of this region, particularly Nagorno-Karabakh. But after nearly one million Azerbaijanis were forced to flee their homes during the conflict in the 1990s, Armenia has systematically removed traces of Azerbaijani culture from the land they left behind.
George Mitchell, a British travel writer who visited the occupied territories in November 2014, found Aghdam "a ghost town" and the "Hiroshima of the Caucasus", and reported on the devastation he witnessed.
Azerbaijan has called for a comprehensive international fact-finding mission for the preservation of cultural heritage in the occupied territories. But Armenia has declined to allow this mission to carry out its work.
In 2001, the Council of Europe listed "500 historical architectural and more than 100 archaeological monuments, 22 museums, 4 art galleries, 927 libraries, 85 musical schools, 4 state theatres" in the Azerbaijani territory occupied by Armenia, and raised serious concerns about their destruction by Armenian forces.
The report called for the protection of several castles, cloisters, temples, tombs, caravanserais, mosques and bridges, which are all part of the world's cultural heritage, including Sardar and Naji Novurazili Bey Mosques, as well as the Amir Saad Tomb in Yerevan, Armenia's capital.
A more recent report of 2019 used satellite imagery to highlight Armenia's "purposeful destruction and looting of the cultural heritage in the occupied territories" with the aim of "removing any signs of their Azerbaijani cultural and historical roots". The images revealed the ruins of the Juma Mosque in Aghdam and Saatly, and the Mardinly and Ashaghy Govhar Agha mosques in Shusha.
The cultural city of Shusha was an important centre of Azerbaijani poetry and traditional mugham music, which was added to the UNESCO's Intangible Cultural Heritage List in 2008. Thanks to its centuries-old mugham school, also known as one of the first conservatories of the Caucasus, Shusha was home to famous Azerbaijani mugham masters, suchas Haji Husi, Abdulbagi Zulalov and Jabbar Garyagdi. Uzeyir Hajibeyov, who wrote the national anthem of Azerbaijan as well as countless opera plays, including the first Azerbaijani mugham opera 'Layla and Majnun', also came from Shusha.
In contrast to Armenia's attempt to "Armenianise" the Azerbaijani territory that it occupies, Azerbaijan is seen as a secular and multicultural state. It has restored dozens of churches, including Caucasian Albanian churches and the Armenian church in Baku, and numerous synagogues within Azerbaijan, while also providing support for the restoration of churches in France, the Vatican, and elsewhere.
This template is the need of the hour to preserve the cultural heritage of the Caucasus. The International Council of Museums has strongly condemned the targeting of cultural heritage as a weapon of war in Nagorno-Karabakh.
Armenia should therefore stop the cultural destruction in Nagorno-Karabakh and its surrounding districts, in line with international law. Otherwise, the damage already inflicted on the different religions and cultures in the occupied territories would soon be irreversible.
Armenia: Lies and realities
The OSCE Minsk Group was established to resolve the Nagorno-Karabakh conflict, which arose as a result of Armenia's brutal interference in Azerbaijan's internal affairs and military aggression. However, the activities of the OSCE Minsk Group co-chairs have been fruitless for almost 30 years. Armenia did not comply with the UN Security Council Resolutions No. 822, 853, 874 and 884 on the unconditional, prompt and complete withdrawal of the Armenian occupying forces from the territories of Azerbaijan. Armenian was trying to impose occupation fact and to bring it to a "fait accompli." At the same time, Armenia was preparing to occupy new territories of Azerbaijan and commit provocations. Armenian Defense Minister David Tonoyan confessed: "We will not return an inch of land to Azerbaijan and will occupy new territories."
In July 2020, the Armenian leadership committed another provocation in the direction of the Tovuz region of the Azerbaijani state border. There were several purposes in this provocation. First, to occupy the territories, where the Baku-Tbilisi-Ceyhan main export oil pipeline, which plays a vital role in Europe's energy supply, the Baku-Tbilisi-Erzurum gas pipeline, TAP and TANAP lines pass, and the Baku-Tbilisi-Kars railway connects Europe and Asia. Furthermore, as a result, to obstruct the access of the Republic of Azerbaijan to Europe. Second, to divert attention from the Nagorno-Karabakh conflict and involve the CSTO, especially Russia, in the war. However, the Armenian occupying forces were repulsed and failed to achieve any of the above purposes. Armenia's intentions against European countries and peoples have failed.
Later, Armenia committed provocations again, in response, when Azerbaijan took action, the Armenian leadership began to spread slander and false news in order to deceive European public opinion. Let us look at just two of them. First, the Armenian side tried to cover up their aggression policy and abuse the religious feelings of Christians around the world by spreading false information about the alleged attack of the Azerbaijani army on the church in Shusha. Even those unfamiliar with military science know that if the church had been hit by a rocket, it would have collapsed. However, the church was in place. On the other hand, mosques, churches and synagogues have coexisted in Azerbaijan for many centuries. Even the Armenian church, which is located in the centre of Baku, including its library, is protected by the Azerbaijani state and its guard also is Armenian. It can be questioned that what did Armenia do in return for Azerbaijan's care for the church, the house of God? Armenians intentionally kept pigs in mosques in the occupied Aghdam and Zangilan regions of Azerbaijan. Their photos and videos are available on the Internet. The church, the mosque and the synagogue are the houses of God. By treating mosques as an object for insults, Armenia is tarnishing Christians, and Christianity, which is a religion of peace and coexistence. Russians, Jews, Georgians, Ukrainians and others, who are Azerbaijani citizens in the ranks of the Azerbaijani army, are fighting for the liberation of Azerbaijani lands from occupiers. Prayers for the Azerbaijani soldier are being held in all churches and synagogues in Azerbaijan. His Holiness Pope Francis, who visited Baku a few years ago, praised the policy of Azerbaijan in terms of inter-religious and inter-civilizational dialogue as an example.
Secondly, Armenia is lying about Azerbaijan's alleged "genocide" of Armenians, which is nonsense. Because currently, more than 30000 Armenians live in Azerbaijan peacefully. If there was any discrimination policy against Armenians, how could so many Armenians live in Azerbaijan? However, the situation is different in Armenia. Since 1988, over 250000 Azerbaijanis have been savagely expelled from Armenia. Today there is no single Azerbaijani in Armenia and Armenia is a mono-ethnic state. At the same time, more than 750000 Azerbaijanis were expelled from the occupied Nagorno-Karabakh and surrounding territories of Azerbaijan and became internally displaced persons.
Thus, on the one hand, the Armenian leaders pose a direct threat to Europe's energy supply, and on the other hand, they try to use the religious feelings of the European people for their own interests by spreading false news and figments. However, they forget that the world is very small now, and everyone sees everything well. So, the question is: what is the name of Armenia's policy? The answer is clear!
Ceasefire Violated, Civilians of Ganja, Azerbaijan Hit –Again
Authors: Julia Jakus and Anar Imanzade
Intensifying rocket and artillery fire exchanges between Armenia and Azerbaijan have driven military overtures from both sides as well as mutual accusations that civilians are being unlawfully targeted. The disputed region Nagorno-Karabakh has long been the catalyst of periodic clashes, but the situation dramatically deteriorated over the last several weeks. Why is Nagorno-Karabakh so ardently contested, and what are the implications of recent escalations in this conflict?
The Nagorno-Karabakh and seven surrounding districts were occupied by Armenian forces between 1988-1993 (Council on Foreign Relations, 2020). One year prior to the end of this occupation, Armenian forces massacred over 600 Azerbaijani civilians in Khojaly on February 26, 1992. Following the military occupation of the region as well as its seven surrounding districts, over 1.000.000 people were displaced – most of whom had immediate family members and relatives who were killed during the 5-year occupation.
Since 1992, the Armenian military has occupied upper Karabakh laying claim to the territory on the basis that the region harbors an ethnic majority of Armenians. However, no less than four UN Security Council resolutions (822,853, 874, and 884) recognize the Nagorno-Karabakh region as being a part of Azerbaijan and actively call for the immediate withdrawal of the Armed Forces of Armenia from occupied territories within Azerbaijan. Although a ceasefire was signed in 1994, the region has remained under Armenian occupation (Jeyhun Aliyev and Ruslan Rehimov, 2020).
From Border Clashes to Bombings
In July,the border clashes near Tavush of Armenia (Tovuz of Azerbaijan)resulted not only in 16 deaths (12 Azerbaijani, 4 Armenians) but also spiked these long-simmering tensions between the two countries. Azerbaijan responded by shelling military objects in Stepanakert (the capital of Nagorno-Karabakh). The most recent operations recommenced on the 27th of September when Azerbaijan took the city of Hadrut (which is geostrategically important because of its proximity to the heart of Karabakh). Since then, the Armed Forces of Azerbaijan have liberated some of its territories namely via targeting military components such as artillery batteries and other facilities. While Azerbaijan proclaims that they are liberating the region, Armenian officials decry that Azerbaijan and Turkey are conspiring to commit another genocide against the Armenian people.
Although memories of 1915 still burn painfully in the hearts and minds of Armenians, many might argue that mobilizing memories of the 1915 Genocide with reference to the Nagorno-Karabakh actively ignores the fact that geopolitical conditions have markedly changed over the last 100+ years. Because Armenia is a member of the CSTO, if Armenia is attacked, then Russia and other members of this organization bear an obligation for military interference on their behalf. Likewise, more than 100,000 ethnic Armenians live in Azerbaijan in relative peace while veryfew Azerbaijani live in Armenia which means that very little threat should emanate from within Armenia's borders. From this angle, it certainly appears that the main aim of Azerbaijan remains exclusively the liberation of its occupied territories.
The last week of September and the first week of October were marked by particular ambiguity as both sides ardently claimed to have succeeded in gaining the upper hand. However, the dynamic changed significantly on the 9th of October when both the Azerbaijani and Armenian Foreign Minister were invited to Moscow. There, they each agreed to a humanitarian ceasefire and promised to exchange the bodies of fallen soldiers beginning on October 10th. However, on the 11th of October between 2:00 and 3:00 am, Armenian Forces launched another missile attack on Azerbaijan's second-largest city Ganja (the first occurred on the 5th of October). In the second attack, a missile struck a civilian residential building and resulted in the deaths of 10 people, more than 35 injured. Children were among both the fatalities and casualties. By targeting residential areas in the city of Ganja immediately following a ceasefire agreement, this military overture not only violated the Geneva Conventions but also upended over 30 years of negotiations presided over by the Minsk Co-Chair Group of the OSCE.
The city of Ganja lies in the West of Azerbaijan, just North of the contested Nagorno-Karabakh region. It is seen as an energy corridor from the Caspian Sea to global markets, and for this reason, bears a strong geostrategic value. On the heels of 3-decades of diplomatic stagnancy, the Armenian Prime Minister NikolPashinyan has made provocative remarks that steer away from rather than toward conflict resolution such as, "Karabakh is Armenia…full stop" (Eurasia.net, 2019). The deaths of Azerbaijani civilians in recent attacks appear to have had the greatest unifying effect on the Republic of Azerbaijan since its independence from the Soviet Union in 1991. The Azerbaijani demand to end Armenian occupation has even garnered the support of opposition leaders for Ilham Aliyev, the president of the Republic of Azerbaijan.
Global Implications
As Armenian-Azerbaijani tensions escalate, both Russia and Iran have offered to broker peace talks. Macron and Trump have also publicly advocated for a ceasefire, in spite of powerful Armenian lobbies residing in both states. Azerbaijan has indicated that it is not willing to wait another 30 years without action. The ceasefire, to Azerbaijan, is tantamount to the permanent withdrawal of Armenian troops from the Nagorno-Karabakh region. To Armenia, stepping away is associated with abandoning ethnic Armenians living in the Azerbaijani territory—in spite of the international resolutions demanding them to.
External actors have also played a complicating role. For example, while Moscow publicly advocates for a ceasefire, Russia maintains a military pact with Armenia to the extent that they have continued to send military equipment to Armenia… while simultaneously bearing otherwise good politico-economic ties with Azerbaijan. This, in turn, raises Russia-Turkey tensions. Erdoğan recently pledged his allegiance with Baku on the basis both of historic alliances and existing economic ones. This is not surprising given the historic animosity between Yerevan and Ankara as well as the fact that vital oil and gas pipelines run from Baku to Turkey. Global responses have been mixed. All foreign powers watching the violence escalate have kept a keen eye on the pipelines, but some surmise that –until oil and gas are impacted – those same powers are likely to try to dismiss the issue as an internal clash. Still, other world leaders to UN Secretary-General António Guterres have been calling for a true ceasefire.
The dispute presents a situation riddled with competing narratives, but one thing is certain: as military overtures bleed beyond the traditionally contested region and into civilian cities of Azerbaijan, the prospects of fruitful diplomatic relations between Azerbaijan and Armenia over the disputed region of Nagorno-Karabakh recede.