With COVID-19 we are dealing with an invisible stressor and the potentially traumatic threat of death to ourselves and our loved ones. Both of these are creating widespread feelings of anxiety and depression, and may in the long run, if we get the hundreds of thousands of deaths as potentially predicted, cause a new kind of post-traumatic stress in some, and complicated grieving in others. I've been involved in two similar-type traumatic stressors: one, the Chernobyl power plant explosion, a technological disaster spewing radioactive particles over a vast area of land, and the other involving nonstate terrorist actors killing some, while threatening to kill all, that may have lessons to teach us about how to psychologically cope better on an individual and national level with COVID-19. What can we learn from other similar stressors to brace and get through this one?
Terrorists – We Can Kill You Anywhere, at Any Time. The global COVID-19 threat is completely different, yet not totally unlike, than terrorists who, after successfully carrying out one spectacular attack or a campaign of attacks that are widely nationally or internationally broadcast, spread fear and anxiety throughout entire societies. It's not rational, really; terrorists who in reality only killed dozens somehow manage to convince entire populations that they can be killed at anytime, anywhere, and thus make us all fear.
What we learned with the terrorist threat is that the news media, particularly during and right after an attack, is deeply important – that it's crucial to have broadcasters who don't sensationalize and whip up the fear any more than is necessary to take wise precautions and leaders and spokespersons who instill trust and calm throughout the nation. We need to be able to turn to credible leaders to pass true and trustworthy information so that the population follows their instructions and doesn't begin to doubt and look for their own, often misguided, sources of information. We already have seen this with the couple who recently ingested a substance that President Trump touted as a potential cure for COVID-19, yet the form they took killed one of them.
Likewise, it's important for parents to realize that children are also viewing the news as well and are too young to make sense of it and are frightened by it. For instance, after 9/11, even children in Italy were reporting nightmares of planes crashing into their apartment buildings after viewing the planes of 9/11 hitting the twin towers in New York too many times, with too many heightened emotions. Similarly, I recently heard about one 3-year-old child who, after hearing too much scary COVID-19 news, began to ask his mother, "Are there viruses here in our home too?" Sometimes it's good to shut off the news when small children are around. These days, with Twitter also giving adults endless and frightening news, adults too may need to exercise self-discipline and not overload their emotional capacities.
Chernobyl: The Invisible Stressor of Radiation Poisoning
The Chernobyl disaster also gives us lessons about facing an invisible stressor, much like the COVID-19 virus that can't be seen by the naked eye, but can be lethal nonetheless. While many are frustrated by the lack of COVID-19 testing, all of us are inundated with the news of its highly contagious nature leading many to speculate about what may be in their futures if they too become infected. For instance, a mother in Europe told me her son had bronchitis and due to the restrictions had to have the doctor come to them. She relayed how the healthcare workers arrived fully suited to test her young toddler. While he tested negative, she could only imagine what might have happened if he tested positive. Would they have separated him from his mother and taken him to the hospital alone?
How many deaths will occur with family members unable to be at their loved ones' bedsides, unable to say goodbye? It haunts all of us when a loved one begins to cough or complain of any symptoms resembling those of COVID-19.
This is not unlike our experiences in 1997, when my husband was posted as U.S. Ambassador in Belarus, the former Soviet Union country hit hardest by the Chernobyl disaster, with most of the radioactive fallout landing on Belarusian territory. We had three young children with us and were naturally concerned about their being exposed. I wasn't the only one worried. It was 11 years after the disaster but the "Chernobyl necklaces" – scars crossing the throats of children who had developed thyroid cancer – were sobering reminders of the dangers that may still lurk in the food, soil and air. Mothers were terrified when their children sneezed or fell ill, fearing the worst – that they had been radiated and now had cancer. It's not unlike COVID-19 today with everyone wondering what they might touch, walk upon, or breathe that could bring the toxic death virus inside their bodies and homes. It's not irrational to have fears as we watch the fatality numbers growing and the predictions that hundreds of thousands may die.
In Belarus, the Chernobyl liquidators, brave men and women who had gone to shut down the nuclear reactor, some even working on the rooftop to build a giant sarcophagus to contain it, asked me to study their post-traumatic responses years after having been exposed to radiation, as some of their comrades had died of radiation poisoning afterwards. They all feared early deaths, cancers and some even had partners who didn't want to risk having children for fear of potential birth defects due to radiation mutations.
Studying their responses, I and others learned that the Chernobyl liquidators had all the classic symptoms of post-traumatic stress disorder [PTSD]. They had faced an event that threatened all of their lives, had learned of others dying horrific deaths in wards shuttered from public visits, and they as a result suffered extreme fear, anxiety and depression, and a sense of heightened arousal in their bodies. They suffered nightmares and found it difficult to sleep. They tried hard to avoid thinking or talking about the disaster, but often felt they could not and then resorted to drinking and other maladaptive methods of trying to calm themselves.
But the one thing they didn't suffer were flashbacks of the event. That was because they had faced an invisible stressor, something unlike other traumas, where the threat to life involves a painfully and overwhelmingly visible traumatic stressor, which is remembered over and over again after the event. Many PTSD survivors refer to these post-traumatic flashbacks, which repeatedly intrude into their everyday thoughts, as being like full-sensory films, in which they painfully relive the traumatic event with the sights, smells, sounds, tastes and sensations of the traumatic event still all intact – to be relived again in every gory detail.
There were no such traumatic flashbacks for the Chernobyl liquidators because their trauma was informational, and the stressor was invisible. Most had only learned later of the grave dangers they had undergone while being exposed to this invisible stressor of radiation. It is the same now for COVID-19 exposure. While as a collective society we are all exposed to the COVID-19 crisis, none of us know as individuals, until we fall ill, if we have been exposed and may die of it. But that doesn't stop our minds from conjuring up ill-fated futures with which to torture us. In the case of the Chernobyl liquidators, they experienced what I began to refer to as flash-forwards – traumatic images that played in their minds of falling ill with cancer, of dying early, or of being rejected by others, and these robbed them of their joy and caused them the same deep distress often seen in PTSD. In fact, I believe they had PTSD from the Chernobyl event, but with this one feature specifically different – the horror playing in their minds was not of a past event, but of a poisoned future.
So how can we as a collective society, and individually, deal with the stress and anxiety and potential trauma of COVID-19? First is to realize the stress and traumas may raise cortisol levels in our bodies and that we can do things to antagonize that. One is engaging in attachment behaviors that release oxytocin in our brains and bodies, a hormone that naturally antagonizes cortisol and lowers it. That's why you see toddlers who are exploring their worlds, when frightened, turning back to their parents for a reassuring gaze or vocalization, or even running back for a hug, to let them know the fear is not overwhelming and that they can carry on. It's a natural stress inhibitor to engage in attachment behaviors. Okay, so we can't hug and touch anymore, except in our immediate families, but a phone call, reaching out to others and knowing you are not facing this alone, and some laughter can be very strong medicine to keep stress levels in check, as can diverting your attention from the stressor by absorbing yourself in things that bring joy or take your thoughts elsewhere. Likewise, exercise is good.
While we don't want to dwell on the negative, we also need to face that some of us will lose loved ones, which is why we all must take social distancing seriously and try to minimize the number of losses. For those who do suffer losses, we can expect to see complicated grieving. We may not be able to be at the bedside or even enter the hospitals where our loved ones are treated, or be able to hold funerals and burials for some. This will inhibit grieving and we will have to find other ways to hold delayed memorials and to grieve with rituals that differ from those relied upon in the past.
But we also need to put our fears into perspective. When 9/11 happened, I was in Brussels and held stress debriefings for expats who feared for family members back home, about flights and about the next attack, which al-Qaeda had announced would be at NATO headquarters in Brussels in October. Government officials suddenly went to militarized workplaces, passing armed guards and tanks on their way into their offices and heard about real and fake anthrax arriving into many of the U.S. embassies around the world. They became terrified and started ruminating about their fears.
I told them to put it into perspective and asked how many had driven to the meeting we were holding? How many had partaken of the snacks served? Who dared to sit under the chandelier that might fall down and kill them if it dislodged from its hook in the ceiling? There are many ways to die and we generally block them all out. COVID-19 is making us acutely aware in these uncertain times of our own, and our loved ones', mortality. Aside from giving us a terrifying glimpse of our potential grim futures, it might also be a good thing.
Realizing that those around you, those you work with, those you interact with on a daily basis, your family members and even the strangers you pass never to see again are all mortal has the potential to instill deep terror inside. It also has the potential to make you a better human being, one filled with compassion and love for your fellow human traveler. We are all here only for a short time and this can be a time when we take the extra steps to be kind to one another and show love for all. COVID-19 is a pandemic of epic proportions but if we all refuse to give into fear and choose to respond with love and care it can also be a blessing in disguise.
Author's note: first published in Homeland Security Today
Terrorism and FATF's Sword of Damocles
Pakistan is struggling hard to wriggle out of the Financial-Action –Task-Force grey. Pakistan needs 15 out of 39 votes to get rid of being listed. But, it may remain on grey list if it gets only three votes.
The whole listing procedure looks biased as it does not accommodate Pakistan's perception. The main allegation is that Pakistan harborus UN-designated terrorists. But, the yardstick with which the US measures its allegation is lopsided. The UN views ongoing freedom movement in the Jammu and Kashmir State, a dispute d territory under UN resolutions, `terrorism', aided by Pakistan.
In the historical context, the term meant different things to different individuals and communities. The oldest 'terrorists' were holy warriors who killed civilians. Recent examples of religious terrorists are Aum Shinrikyo (Japanese), Rabbi Meir Kahane and Baruch Goldstein and Yigal Amir (Jews).The Jewish-controlled media describes Hezbollah and Hamas as 'religious terrorists'. In the first century A.D Palestine, the Jews publicly slit the Romans' throats, in the seventh century India, the thugs strangulated gullible passersby to please the Hindu Devi Kali, and the 19th century adherents of Narodnaya Volya (People's Will) mercilessly killed their pro-Tsar rivals.
`Terrorist' and `freedom fighter' had been interchangeable labels subject to expediency. Not long ago the US treated the taliban as freedom fighters. Ronald Reagan accorded red carpeted welcome to Jalluddin Haqqani. Cuban terrorists were decorated in US gallery as freedom fighters.
The term 'terrorism' received international publicity during the French reign of terror in 1793-94. It is now common to dub one's adversary a 'terrorist'. Doing so forecloses possibility of political negotiation, and gives the powerful definer the right to eliminate the 'terrorist', an individual or a country. FATF is employed as a Sword of Damoclese in case of Pakistan.
Doval doctrine: In line with India's security Czar Ajit Doval's Doctrine, RAW aims at fomenting insurgency in Pakistan's sensitive provinces. Doval is inspired by India's nefarious efforts which resulted in the secession of East Pakistan. Naila Baloch's `free Balochistan' office has been working in New Delhi since 23 June 2018. BJP MLAs and RAW officers attended its inauguration.
B Raman in his books admitted that not only India's then prime minister Indra Gandhi but also the heads of RAW and IB created and trained Mukti Bahini. Doval publicly claims that he acted as a spy under a pseudonym in Pakistan for 11 years.
`Free Balochistan': It sponsored offensive posters on taxi cabs and buses in Switzerland and Britain. The USA has recently outlawed Balochistan Liberation Army. However, earlier, in 2012, a handful of Republican had moved a pro-separatist bill in US Congress. It demanded `the right to self-determination'.
Aid to Afghan insurgents: India's ambassador Bharath Raj Muthu Kumar, with the consent of then foreign minister Jaswant Singh, `coordinated military and medical assistance that India was secretly giving to Massoud and his forces'… `helicopters, uniforms, ordnance, mortars, small armaments, refurbished Kalashnikovs seized in Kashmir, combat and winter clothes, packaged food, medicines, and funds through his brother in London, Wali Massoud', delivered circuitously with the help of other countries who helped this outreach'. When New Delhi queried about the benefit of costly support to Northern Alliance chief Massoud, Kumar explained, "He is battling someone we should be battling. When Massoud fights the Taliban, he fights Pakistan."
Pushtun Tahafuz Movement: Pushtun Tahafuz Movement is apparently being backed byA India. In their over-ebullient speeches, PTM's leaders openly scold Pakistan's national security institutions. For instance, Manzoor Pashteen, in an interview, berates Pak army operations and extols drone strikes. He says, 'The army did not eliminate even a single Taliban leader. All the 87 Taliban commanders killed in the last 18 years were eliminated in drone strikes'. At a PTM meeting in Britain, even Malala Yusafzai's father (Ziauddin), like His Master's Voice, echoed anti-Army sentiments. He said, "Pakistan army and intelligence agencies knew that Fazalullah was a terrorist who continued to operate a radio station in Swat."
RAW officers Raman's and RK Yadav's self-incriminating disclosures: In a published letter, Yadav made startling revelation that India's prime minister Indira Gandhi, parliament, RAW and armed forces acted in tandem to dismember Pakistan. The confessions in his letter are corroborated by B. Raman's book The Kaoboys of R&AW. He reminds `Indian parliament passed resolution on March 31, 1971 to support insurgency. Indira Gandhi had then confided with Kao that in case Mujib was prevented , from ruling Pakistan, she would liberate East Pakistan from the clutches of the military junta. Kao, through one RAW agent, got hijacked a Fokker Friendship, the Ganga, of Indian Airlines hijacked from Srinagar to Lahore.
Kulbushan Jadhav unmasked: Jadhav was an Indian Navy officer, attached to RAW. His mission was to covertly carry out espionage and terrorism in Pakistan. Pakistan also alleged there were Indian markings on arms deliveries to Baloch rebels pushed by Jadhav. To India's chagrin, India's investigative journalists confirmed from Gazettes of India that he was commissioned in the Indian Navy in 1987 with the service ID of 41558Z Kulbhushan Sudhir. A later edition of the Gazette showed his promotion to the rank of commander after 13 years of service in 2000. His passport, E6934766, indicated he traveled to Iran from Pune as Hussein Mubarak Patel in December 2003. Another of his Passports, No. L9630722 (issued from Thane in 2014), inadvertently exposed his correct address: Jasdanwala Complex, old Mumbai-Pune Road, cutting through Navi Mumbai. The municipal records confirmed that the flat he lived in was owned by his mother, Avanti Jadhav. Furthermore, in his testimony before a Karachi magistrate, Karachi underworld figure Uzair Baloch confessed he had links with Jadhav. India's prestigious Frontline surmised that Jadhav still served with the Indian Navy. Gazette of India files bore no record of Jadhav's retirement. India told the International Court of Justice (ICJ) that Jadhav was a retired naval officer. But, it refrained from stating exactly when he retired. The spy initially worked for Naval Intelligence, but later moved on to the Intelligence Bureau. He came in contact with RAW in 2010.
Unexplained contradiction: It is not understood why freedom movement in disputed Kashmir is terrorism while India-sponsored insurgency, followed by armed intervention, in erstwhile East Pakistan isn't. B. Raman, in his book The Kaoboys of R&AW: Down Memory Lane makes no bones about India's involvement up to the level of prime minister in Bangladesh's insurgency. One is shocked to read accounts of former diplomats and RAW officers about executing insurgencies in some other neighbouring countries also.
Conclusion: India portrays the freedom movement in Kashmir as `terrorism'. What about India's terrorism in neighbouring countries? Will the world take notice of confessions by India's former intelligence officers and diplomats? Pakistani outfits sdympathising with kashmiri freedom fighters are dubbed as terrorists. But, Indians abetting terrorism in Sri Lanka, or supplying IED components to ISIS go scot free.
B Raman 's book, and RK Yadav's letter of 14 August 2015 published in Indian and Nepalese media confirms India's involvement in terrorism against Pakistan. Kalbushan Jhadav wanted to replay the Mukti Bahini experience in Balochistan and Khyber Pakhtunkhwa.
The conduct of Indian diplomats amounts to state-sponsored terrorism. For one thing, India should close the `Free Balochistan' office on her soil, and stop resuscitating propaganda skeletons of pre-Bangladesh days.
Why FATF treats India as a protégé and Pakistan as a bête noire?
Indian media is never tired of describing Pakistan as hub of money laundering and terror financing in the world. Indian representatives echoed their babble in recent United Nations' meeting also.
India makes no bones in declaring its intention to link Pulwama blasts with money trail to Pakistan. By doing so India hopes to get Pakistan blacklisted by Financial Action Task Force.
Little focus on money laundering and terror financing by India: Nowadays, Major powers' geo-political and economic interests have forced them to ignore suspicious financial transactions by India. However, not long ago, the world was more concerned about money laundering in India than in Pakistan.
Even the USA called upon India to do more to prevent financing of terror networks. USA's Assistant Secretary of State for Economic and Business Affairs Anthony Wayne told the Senate Banking Committee, 'In India, two accounts belonging to terrorist individuals/entities have been identified, but the Government of India has not frozen any assets to date. It is aware of the UN 1267 Committee List, however', Wayne noted that India's Prevention of Money Laundering Act `criminalises money laundering and requires banks and other financial institutions and intermediaries to report individual transactions valued over US$ 23,000 to the financial-investigation unit'. Wayne added, 'India has also indicated it wants to join the Financial Action Task on Money Laundering. However, at a recent FATF plenary meeting in Paris, concerns were raised regarding its ability to provide effective international cooperation in a timely manner and to extend mutual legal assistance'.
Here is a glimpse of corrupt India. World Bank estimated that capital flight of Rs 50 to 100 crore took place in four fertilizer plants projects via Italian firm Snam Projetti. Minimum commission of seven percent was charged on imports of the public sector. Indian government paid no regard to the recommendations adopted by the Financial Action Task Force on money laundering, set up in July 1989 by the Paris summit of the seven most-developed countries. The conventional money-laundering techniques (smurfing, cover companies, etc.) are used to the hilt in India. The average amount stashed away from India during 2002-06 is US$27.3 billion (about 136,466 crore). It means that during the 2007-2018 period, the amount stashed away is 27.3×15=US$ 4, 095 billion. Just imagine the volume of money stashed abroad since 1947, including Nehruvian era when Birlas and Tatas gave blank cheque to Congress.
Lid on laundered money lifted: To what end, the laundered money is put is anyone's guess. However, a recent document-based report by the International Consortium of Investigative Journalists has blown the lid off the suspicious financial transactions by Indian banks, public and private sector companies.
The ICIJ report based on Financial Crimes Enforcement Network (FinCEN) files "represent less than 0.02% of the more than 12 million suspicious activity reports that financial institutions filed with FinCEN between 2011 and 2017."
Earlier a study, conducted by Conflict Armament Research, had confirmed that seven Indian companies were involved in the supply chain of over 700 components including fuses or detonating cords used by the Islamic State to construct improvised explosive devices .Even the Sri Lanka blasts were linked to terrorists hiding in Indian Southern States. As an eye wash, India arrested Islamic State moles. To bypass banking channels, even gold and diamond are `legal tender' for money laundering.
How the FATF favoured India: In both India and Pakistan, money laundering is popularly known as hawala, or hand –to-hand-transaction. The Financial Action Task Force was scheduled to review India's money laundering and terrorist financing regime, a ten year cycle, in September-October 2020. But, it has been tentatively postponed to January February 2021 ostensibly `in view of COVID19 pandemic in India. The year-long review evaluates `Indian legal system against financial crimes at its plenary meeting in February 2022 and subsequently issue a statement and recommendation about the country.
The FATF happily agreed with India that `it is impossible for assessed jurisdictions and asssessories alike to conduct on-site visits and in-person meetings' (no relaxation for Pakistan).
How India hoodwinked the 2013 FATF team: In the 2013 review, India managed to hoodwink the FATF by pleading that `it has set up a joint working group comprising 22 central investigation, intelligence-gathering and regulatory agencies to check illegal financial transactions. The agencies include the Central Bureau of Investigation. Enforcement Directorate, Income Tax Department, Directorate of Revenue Intelligence, Financial Intelligence Unit, Customs, Market regulator, Securities and Exchange Board of India, banking regulator and insurance regulator TRDAL.
The 2013 review team was much impressed by Rahul Navin, a 1993-batch Indian Revenue Service Officer of the Income Tax Department deputed with the Enforcement Directorate. Navin who had earlier worked with the Organisation for Economic Cooperation and Development had authored a book Information Exchange and Tax Transparency: Tackling Global Tax Evasion and Avoidance.
How the ICIJ blew lid off India's US$ 2 trillion money laundering and terror financing: The International Consortium of Investigative Journalists based its report on two million Suspicious Activity Reports filed by prestigious banks with Financial and Crime Enforcement Network (FinCEN). The ICIJ report is just tip of the iceberg. Its revelations are based on `only 0.02% of the more than 12 million suspicious activity reports that financial institutions filed with FinCEN between 2011 and 2017'. The US banks who filed reports include Deutsche Bank Trust Company Americas, BNY Mellello, Citibank, Standard-Chartered and JP Morgan. The reasons mentioned in the reports include `high-risk jurisdiction for money laundering or other financial crimes, adverse media or public information on the client', unidentified parties, and the fact that source of funds and purpose of transaction could not be ascertained'. Not only the banks but also the public and private sector companies were the culprits. They include Hindustan Aeronautics Limited, Bhushan Steel Limited, Bharti Airtel and Essar. Heretofore is a bird's-eye view of the findings.
Indian banks figure in over 2000 transactions, linked to Indian entities, valued at over US$ 1 billion (Rs. 7, 369 crore) between 2011 to 2017. These banks include State Bank of India, Punjab National Bank, Canara Bank, HDFC Bank, Kotak Mahindra Bank, Axis Bank, and Indus Ind Bank.
Open Question: While the ICIJ has shared the information with Buzzword and 108 other media outfits, India's `Special Investigation Team on Black Money' stays mum. The SIT was formed on the directions of India's Supreme Court.
Inference: The FATF should undertake an even handed investigation to India's multi-facetred money laundering and terror financing.
Stateless and Leftover ISIS Brides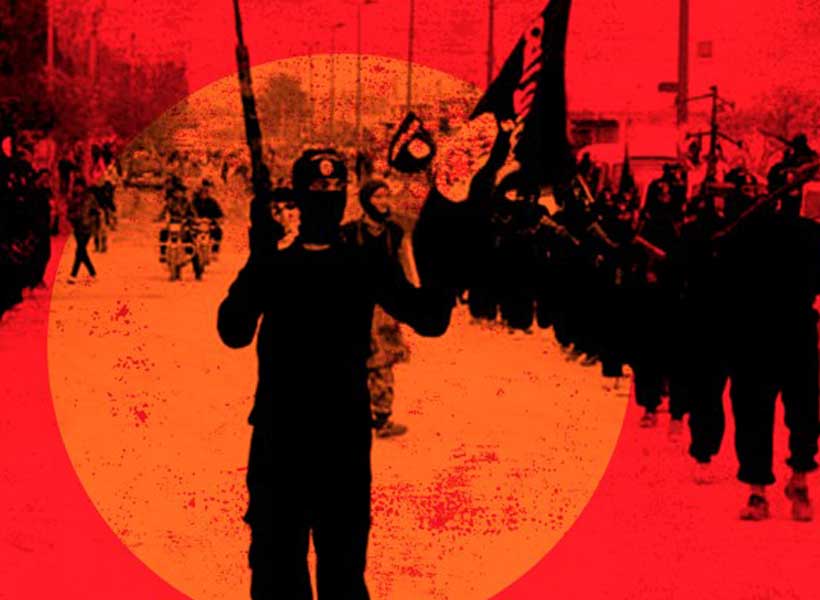 While the World is busy fighting the pandemic and the economic devastation caused by it, one of the important problem that has been pushed to dormancy, is the status of the ISIS(Islamic State of Iraq and Syria) brides. The Pandemic has crippled the capacity of the law enforcement and exploiting this the ISIS executed attacks in Maldives, Iraq, and the Philippines. The United Nations Secretary-General Antonio Guterres has warned that terrorists are exploiting the COVID-19 Pandemic. Albeit the ISIS has been defeated, approximately ten thousand of them are in ISIS detention centres in Northern Syria under Kurds. Most of these detention centres are filled by women and children, who are relatives or widows of the ISIS fighters. With their native states denouncing them, the status of the stateless women and children is unclear.
As it stands today states' counter-terrorism approach has been primarily targeting male militants but women also have played a role in strengthening these terrorist organizations. Women involvement in militant organizations has increased as they perform several activities like birthing next-generation militants/jihadists, managing the logistics and recruiting the new members to the organizations. The world did not recognize women as key players in terrorist organizations until the 1980s when females held major roles in guerilla wars of southern America. Women have either willingly or unwillingly held a variety of roles in these extremist organizations and Islamist terrorist organizations like Hamas and al-Qaeda women do simply provide moral support.
According to the media reports since the US withdrawal from Iraq in 2006 female suicide attacks have been increased and they have been extensively part of ISIS. The ISIS had a female brigade which they called as Al-Khansaa which was established to perform search activities in the state. Both foreign and domestic recruits in the Islamic state have participated in brutal torture. A recently acquired logbook from a guesthouse in Syria provides important information about 1100 females who joined the organization, the western women who are called as 'the muhajirat'.
When the people from rest of the world joined organizations such as ISIS, they burnt their passports and rejected their national identity. Especially women from western countries who were radicalized online based on their phenomenon 'ISIS brides/Jihadi brides' to marry terrorists. Since Islamic State isnot recognized by the world these marriages are not legally valid, apart from this a number of these brides have experienced sexual torture and extreme violence.
While the erstwhile members of the extremist organizations like ISIS and others are left adrift the one challenging question remaining is should states and their societies keep them and reengage or rehabilitate or prosecute them. How firmly the idea of their erstwhile organization is stuck in their minds and especially the followers who crossed the world to join remains a concern to many. The U.S backed Kurdish forces across turkey border hold thousands of these left-behind women and children in their centre. Hundreds of foreign women and children who were once part of an aspirant state, The caliphate are now floating around the concentration camps in Syria, Turkey and Kurdish detention centres and prisons. Many are waiting to return to their origin countries. They pose a unique challenge to their native states like whether to include them or not and even if they include how to integrate adults who at least for a time part of these terrorist organizations and what to do with children who are too young to understand the politics and obstacles keeping them in camps and detention centres where resources are scarce. Women present a problem because its hard to know what kind of crimes they have committed beyond the membership of the terrorist organization.
It is no secret that women also have been part of insurgency across the world, like in ISIS,LTTE,PIRA and PFLP. The responsibility of women in ISIS includes wife to ISIS soldiers, birthing the next generation of jihad and advancing ISIS' global reach through online recruiting. The International Center for Study of Radicalization (ICAR) estimates that out of 40000 people joined ISIS from 80 different countries nearly 8000 are women and children. After the defeat of ISIS and such extreme organization those who are left behind possess the ideological commitment and practical skills which again a threat upon return to home countries.
The states across the world are either revoking the citizenship or ignore their responsibility. The most famous case of Shamima Begum a UK citizen married to an ISIS fighter whose citizenship was revoked by the UK government. In other cases like HodaMuthana of the USA and Iman Osman of Tunisia have been the same case. As recently as Tooba Gondal an ISIS bride who now in a detention camp in northern Syria begged to go home in the UK in a public apology.
The American president Donald Trump issued a statement saying women who joined ISIS cannot return. The NATO deputy head said "…returning ISIS fighters and brides must face full rigours of the law". Revoking the citizenship and making someone stateless is illegal under international law and it is also important to know how gendered these cases are because the UK have successfully prosecuted Mohammad Uddin and the USA has also done it so. Stripping off their citizenship itself a punishment before proper trail and the only good out of it would state can take their hands off in dealing with cases. Samantha Elhassani the only American who repatriated from Iraq so far and pleaded guilty for supporting ISIS. Meanwhile, France is trying to route its citizens who joined the ISIS and extradited few who are under trial in Bagdad.
As experts and political analysts say "countries should take responsibility for their own citizens" because failure to do so will also make the long term situation more dangerous as jihadists will try to a hideout and turn into militant groups for their protection. The children, the second-generation ISIS need cultural centres and rehabilitation centres and this is an international problem. These women known as jihadists brides suffer from a post-traumatic stress disorder and many are pregnant or multiple children born in ISIS territory.
In some countries travelling abroad to join the insurgencies in North Africa and Syria was not always a criminal act, Sweden criminalized such act recently but to prosecute them proof of offences committed in the conflict zone is difficult to collect and most countries in the world do not allow the pre-trial detention for more than 14 days. With problems of different national Lawson extradition and capital punishment and to prosecute them in conflict countries is also a challenge for states. Since Kurdish forces have signalled that they cannot bring all the prisoners into justice the home countries will have to act or else it might create a long term dangerous situation. With the civil war in Syria is about to end it is time to address these issues because since there are more ISIS fighters in Kurdish prisons and detention centres they could be influenced to join rebels who are fighting the regime of Assad in last standing province of Idlib.
If the governments reject the repatriation applications then they will be signalling that their action is essential for national security and thus asserting that failed or poorly resourced states are better equipped to handle potential extremists. The criminal system in Iraq is corrupt and human rights violations have been reported and which creates the risk of further radicalization. One should not forget that even citizenship of Osama bin laden was also stripped but which did not stop him from forming al-Qaeda in Afghanistan. If the citizens commit crimes and forget their responsibility then the states must bring them to justice instead of stripping citizenship. The states must come with a solution for this problem before its too late, setting up an international tribunal to deal with these cases would be a great start but these tribunals are time-consuming and expensive.
States must act as a responsible actor in the international system. Jihadist terrorism is a global problem and states must act together to deal with it because with nearly 40000 fighters joining caliphate from across the world it only shows how global and deeply rooted the phenomenon is. Instead of stripping their citizens' citizenship, states must find a way to act together for the peace and security of the international community.