COVID19: Religio-scientific theories galore?
Devil must have laughed boisterously at the post-COVID19 `world disorder'. COVID origin is shrouded in mystery, natural transmutation from Pangolin, bats, snakes, and what not. Or, genetic engineering, prophecy, and alien nemesis as reflected in a host of novels/books/films. American author Dean Koontz predicted the coronavirus outbreak in 1981. His novel The Eyes of Darkness made reference to a killer virus called "Wuhan-400" – eerily predicting the Chinese city where Covid-19 would emerge. Film Contagion 2011 predicts a global pandemic that jumps from animals to humans and spreads arbitrarily around the globe.
The devil must have laughed boisterously at `scientific' and religious theories about its origin, foretold predictions and treatment. In Homer's Iliad, the Greeks disrespect one of Apollo's priests. The god manifests his displeasure by firing his arrows of contagion into their camp. The plague lasts nine days, brief by modern epidemiological standards. When the Greeks make amends and sacrifice sheep and goats to Apollo, the plague is cured. Thucydides, the Athenian historian, has a simple explanation for the epidemic: wrath of Apollo. The Spartans had cannily supplicated the god and he in return had promised victory. Soon afterwards, Sparta's enemies started dying of the plague. But, probably it was not divine wrath but unhygienic conditions that caused contagious diseases. Athens was under siege, its population swollen with refugees, everyone living in unsanitary conditions – was at risk of contagion in a way the Spartan army, free to roam the countryside outside, clearly wasn't. But this thought doesn't occur to Thucydides.
Book of Chronicles, a Hebrew prose of text featured in the Old Testament, hints about COVID19. It contains a story from Adam, some teachings from Jesus and a narrative of the history of ancient Judah and Israel until the proclamation of King Cyrus the Great.
The passage being shared online reads: "Whenever I hold back the rain or send locusts to eat up the crops or send an epidemic on my people, if they pray to me and repent and turn away from the evil they have been doing, then I will hear them in heaven, forgive their sins, and make their land prosperous again.
"I will watch over this temple and be ready to hear all the prayers that are offered here." This extract is interpreted to refer to the coronavirus, the current locust plague and the Australian wildfires which are still being contained in some areas. Nostradamus 2020 predicted three prophecies of plague that surprisingly sound like coronavirus. Novelist Dean Koontz eerily predicted the outbreak in his 1981 book The Eyes of Darkness.
How to deal with idleness: No-one imagined he would suddenly have so much idle time. But, Bertrand Russell, as far back as 1932, thought about it. He says, 'Science is what we know, and philosophy is what we don't know' (Chapter 2: Philosophy for Laymen, p. 24). Russell visualized a situation where media and channels would be swayed by pseudo-scientists, as today. He observes. `But so long as men are not trained to withhold judgment in the absence of evidence, they will be led astray by cocksure prophets, and it is likely that their leaders will be either ignorant fanatics or dishonest charlatans (ibid. p. 27).
Nietzsche went a step further. He pointed out although science makes claims to knowledge; these claims are as deluded as those of religious dogmatists.
Analysis of work: Russell says that work is of two kinds. One is altering the position of matter at or near the earth's surface relatively to other such matter. And, the second is telling other people to do so. The first kind is unpleasant and ill paid; the second is pleasant and highly paid. He analyses how work evolved historically.
Throughout the essay, he generally discusses the evolution of work for subsistence living, economic justice, so on. His views offer food for thought: "From the beginning of civilization until the industrial revolution a man could, as a rule, produce by hard work little more than was required for the subsistence of himself and his family, although his wife worked at least as hard and his children added their labor as soon as they were old enough to do so. The small surplus above bare necessaries was not left to those who produced it, but was appropriated by priests and warriors."
"In the West we have various ways of dealing with this problem. We have no attempt at economic justice, so that a large proportion of the total produce goes to a small minority of the population, many of whom do no work at all. Owing to the absence of any central control over production, we produce hosts of things that are not wanted. We keep a large percentage of the working population idle because we can dispense with their labor by making others overwork. When all these methods prove inadequate we have a war: we cause a number of people to manufacture high explosives, and a number of others to explode them, as if we were children who had just discovered fireworks. By a combination of all these devices we manage, though with difficulty, to keep alive the notion that a great deal of manual work must be the lot of the average man."
"Much that we take for granted about the desirability of work is derived from this system and, being pre-industrial, is not adapted to the modern world. Modern technic has made it possible for leisure, within limits, to be not the prerogative of small privileged classes, but a right evenly distributed throughout the community. The morality of work is the morality of slaves, and the modern world has no need of slavery."
Russell's themes from "In Praise of Idleness":
Work not virtuous: He believes that notion that work is virtuous does more harm than good
"The fact is that moving matter about, while a certain amount of it is necessary to our existence, is emphatically not one of the ends of human life."
A four-hour workday: It should be enough for everybody. "If the ordinary wage-earner worked four hours a day there would be enough for everybody, and no unemployment — assuming a certain very moderate amount of sensible organization."
"When I suggest that working hours should be reduced to four, I am not meaning to imply that all the remaining time should necessarily be spent in pure frivolity. I mean that four hours' work a day should entitle a man to the necessities and elementary comforts of life, and that the rest of his time should be his to use as he might see fit. It is an essential part of any such social system that education should be carried farther than it usually is at present, and should aim, in part, at providing tastes which would enable a man to use leisure intelligently."
The wise use of leisure leads to the best things in life: "A man who has worked long hours all his life will be bored if he becomes suddenly idle. But without a considerable amount of leisure a man is cut off from many of the best things." "The wise use of leisure, it must be conceded, is a product of civilization and education." He pointed out: "In a world where no one is compelled to work more than four hours a day every person possessed of scientific curiosity will be able to indulge it, and every painter will be able to paint without starving, however excellent his pictures may be. Young writers will not be obliged to draw attention to themselves by sensational pot-boilers, with a view to acquiring the economic independence needed for monumental works, for which, when the time at last comes, they will have lost the taste and the capacity."
Happiness: Without workaholic, the future would be full of good nature, originality, happiness, and joy of life. "Above all, there will be happiness and joy of life, instead of frayed nerves, weariness, and dyspepsia. The work exacted will be enough to make leisure delightful, but not enough to produce exhaustion. Since men will not be tired in their spare time, they will not demand only such amusements as are passive and vapid. At least one per cent will probably devote the time not spent in professional work to pursuits of some public importance, and, since they will not depend upon these pursuits for their livelihood, their originality will be unhampered, and there will be no need to conform to the standards set by elderly pundits. But it is not only in these exceptional cases that the advantages of leisure will appear. Ordinary men and women, having the opportunity of a happy life, will become more kindly and less persecuting and less inclined to view others with suspicion. The taste for war will die out, partly for this reason, and partly because it will involve long and severe work for all. Good nature is, of all moral qualities, the one that the world needs most, and good nature is the result of ease and security, not of a life of arduous struggle. Modern methods of production have given us the possibility of ease and security for all; we have chosen instead to have overwork for some and starvation for others. Hitherto we have continued to be as energetic as we were before there were machines. In this we have been foolish, but there is no reason to go on being foolish forever."
Advice to laymen: "The first principle of all action is leisure" (Aristotle). Dogmatism and skepticism are both, in a sense, absolute philosophies; one is certain of knowing, the other of not knowing. What philosophy should dissipate is certainty, whether of knowledge or ignorance (Chapter 2: Philosophy for Laymen, p. 27). But so long as men are not trained to withhold judgment in the absence of evidence, they will be led astray by cocksure prophets, and it is likely that their leaders will be either ignorant fanatics or dishonest charlatans.
Inference: We are upset as in a hyperactive work we lost sense of identity with nature. We regard our artificial lifestyle as natural.
Aurat March 2023 & Agenda Setting
In history, women are portrayed in default of men. The women in primitive societies were freer and more emancipated than those in advanced societies. Advanced societies continuously extend male domination through psychological, religious, biological, and economic conditions to justify women's inferiority. From 1960 onwards, women have built the consciousness to combat and march against the social ferment. Aurat March in Pakistan is the manifestation of turning the tide to some extent. It has always been rendered as an immeasurable opportunity to raise the voices of women in society which otherwise would still languish. But the Aurat March is the half march that only elevates the challenges of the urbanized and privileged class. Technically Aurat March is the feminist struggle for few. The platform provides an open sphere to voice against the political and social rights of women in Pakistan but it must check some new windows to surface the cool breeze for all rather than a few.
The women in Gilgit Baltistan or Baluchistan face different kinds of challenges and circumstances in their daily lives. It is an injustice to place the Aurat March by considering the issues of Women in Islamabad, Lahore, and Karachi. The issues of women in the periphery and other parts of countries are different. The platform to raise voices for historically marginalized human beings must navigate what is urgent needs and demands to address so that we can integrate all women across the country to flourish linearly. The concern about the relative deprivation of women's progress should be at the agenda setting. It is time to turn this Aurat March into an inclusive force for all women in the country.
Moreover, any movement in history got momentum for a clear vision and demands but unfortunately, the Pakistani version of feminism lacks clarity and vision in this regard. In 2023 the global economy is the digital economy. Only 21% of women in Pakistan have access to the Internet while living in the 21st Century. Aurat March must highlight this issue as the most vulnerable disparity for women. This century is the century of the internet, connectivity, and digitization. If women want to emancipate and exercise their freedom with the awareness of their rights; it is time to integrate the right to the internet and access to the digital world for women as an urgent imperative.
Aging is real. When women lost reproductive function in our society she suddenly becomes irrelevant to the household. Her value and grace were lost with the age. The rural areas are full of the old woman who live a very tough life once they get old. Aurat March is a platform to surface voices, through this platform the awareness, and response system for the miseries and social woes of old women must be heightened. They must challenge the traditional acceptance of the norms for aged women. Aurat March can normalize that aging is a natural process and the acceptance of the aged community shouldn't be a burden.
Populism is on the rise in Pakistan. Every populist from Donald Trump to Xi Jinping tried to subvert the frontline women's struggle for their political causes. Historically a populist demagogue and backsliding of democracy halt women's empowerment. Aurat March must disseminate awareness that how women's woes exacerbate the democratic depression in any nation. The provision of women's rights depends on institutional democracy. Aurat March should do justice to build the political consciousness of women through their different platforms for sustainable rights development in the 21st Century.
Role construction plays a huge role in Patriarchal societies. The manufacturing of different roles and associations of venerated feelings functions to develop the system of obedience, passiveness, and immanence. Aurat March should also educate women through their platform that "over association" with the role is proportional to submission to authority and renunciation of the true spirit of freedom. Patriarchal society creates different roles to subjugate women. The agenda-setting of Aurat March must consider building rational choices and rational roles for women in the 21st Century so that the exploitation and injustice to women as human beings must be curtailed.
Finally, Aurat March is at the inception of its evolution as a movement. With time, they must evolve from the narratives of white feminism to South Asian feministic realities. The provision of basic rights, opportunities, and political freedom for all women in all parts of countries irrespective of the geography, region, and provinces should be at the core of the movement in coming years.
Luxury Predecessors become the Necessity of Successors
It appears that many people's lives today are increasingly focused on the pursuit of luxury. There is no denying the allure of luxury, whether it be in the form of designer goods, expensive automobiles, or lavish travel. Less frequently discussed, though, is the fact that many people now view the pursuit of luxury as essential to their success rather than just a matter of personal taste.
We need to look at the historical context to comprehend why luxury has evolved into a necessity. Luxury used to be a privilege enjoyed only by the wealthy elite who could afford to splurge on pricey items and experiences. The rise of consumer culture in the 20th century has made it simpler for the middle class to access luxury. More and more people started aspiring to the lifestyle that luxury represented as businesses started marketing luxury goods to a wider audience.
This desire for luxury has evolved to be closely related to our ideas of success. Owning expensive goods is often seen as a sign of success and status. It's a way for them to demonstrate to the world that they've succeeded and are deserving of respect. The pursuit of luxury has consequently evolved into a central theme in the cultural narrative surrounding success.
But why has luxury become such an important part of this narrative? Our society's escalating competitiveness is one factor. Being unique in a world where everyone is vying for success and attention has become more crucial than ever. And displaying wealth and luxury in a prominent manner is one way to accomplish this. People can advance in their careers and social circles by showing off their wealth and status by purchasing expensive goods.
Luxury is often viewed as a way to reward oneself for effort and success, which is another reason why it has become necessary. In a society where achievement and productivity are prized above all else, the pursuit of luxury can give one a sense of satisfaction and validation. People can get the feeling that their efforts have paid off and that they are entitled to indulge in luxury goods and experiences by doing so.
A prime example of how the success of opulent predecessors can turn into a requirement for successors is the tale of King Bruce and the spider. He, who was in exile and feeling discouraged, saw a spider repeatedly trying to spin a web. The spider kept trying despite repeatedly failing and kept going until it eventually succeeded.
King Bruce was motivated to keep going in his own pursuit of success by the spider's tenacity. He came to the conclusion that persistence and determination are just as important to success as talent and aptitude. Then, after successfully leading a rebellion against his adversaries, he was able to retake his throne and enjoy the opulent lifestyle that came with it.
In this way, predecessors' luxuries turn into successors' needs. They serve as role models for future generations, motivating them to pursue success by showing what is possible with effort and tenacity. Many successors might lack the inspiration and drive to pursue their own ambitious goals if these luxurious predecessors' examples are not followed.
Similarly, the life of Bill Gates, one of the richest people in the world and a co-founder of Microsoft, illustrates how once-luxury predecessors eventually become necessities for successors. Despite coming from a low-income family, Gates was able to achieve great success through his own perseverance, hard work, and inspiration from other successful people.
The achievements of his well-off forebears, including entrepreneurs and inventors Thomas Edison and Alexander Graham Bell, served as inspiration for Gates. He understood that the secret to success wasn't just talent or intelligence, but also the capacity to keep going in the face of obstacles and setbacks.
Furthermore, through his philanthropic endeavors, Gates has persisted in inspiring and motivating others. His commitment to enhancing people's lives all over the world has resulted in billions of dollars being donated to charitable organizations. His accomplishments and generosity serve as a motivating example of the value of volunteering and using one's resources to improve society.
In the end, anyone who aspires to greatness can find inspiration from a successful person who serves as a role model. Successors can demonstrate extravagance in their own lives and have a positive impact on their communities and the world by realizing and putting into practice the lessons learned from luxury predecessors. In fact, successors can learn about the qualities and traits that helped their wealthy predecessors succeed, like hard work, dedication, and perseverance, by looking at their lives and careers. They can learn how to overcome the difficulties and obstacles they might encounter on their own path to success.
Dance and games offer glimpses of life – and death – in ancient Italy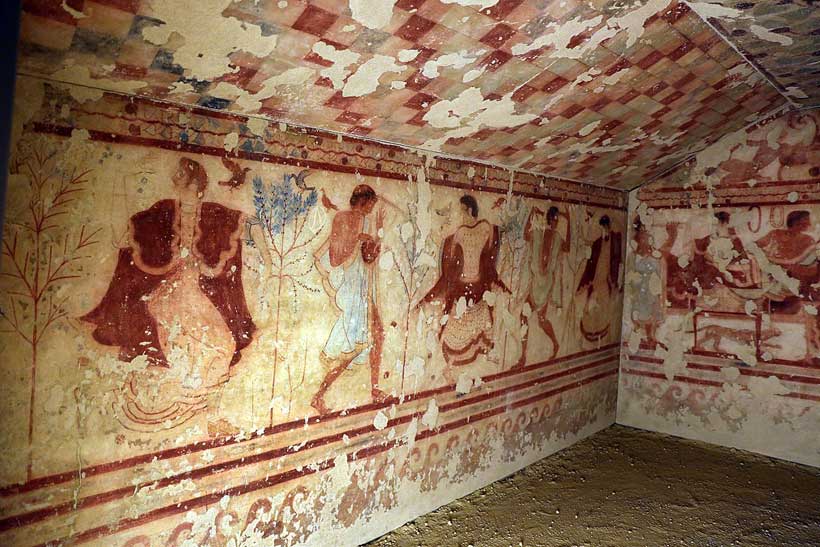 Tomb and urn images shed light on the intricacies of Etruscan and Roman civilisation at least 2 000 years ago, reviving it for modern times.
By ALEX WHITING
A 2 500-year-old Etruscan tomb in the Italian city of Tarquinia has walls covered in paintings of brightly coloured dancers and musicians. A 1st-century funerary urn of a woman who died in nearby Rome depicts a couple playing a board game.
While tombs and urns might seem to be unlikely places to find scenes of people dancing or playing board games, in classical antiquity they conveyed important messages about personal relationships and society.
Game of seduction
The Roman marble urn, for example, bears an inscription identifying the deceased woman as Margaris, a slave of Marcus Allius Herma. The couple is playing "Little Soldiers", a game of strategy symbolising seduction, and Margaris is winning.
'The image of the board game shows intimacy between the couple,' said Véronique Dasen, professor of classical archaeology at the University of Fribourg in Switzerland. 'It is a very beautiful thing because she is a slave, but she's also the beloved one and the leader. The game is also a message to say they will be together forever.'
Although games were an important part of ancient life – even the gods played them – for a long time they went unstudied. The only major work on the topic was published in 1869.
Dasen is leading an EU-funded research project called Locus Ludi to address this gap. It is carrying out the first comprehensive study of the written, archaeological and iconographic records of games, which have been largely forgotten in museums and libraries.
Beastly boys, good girls
Some Roman sarcophagi of children are carved with scenes of boys playing. These are no simple illustrations of childhood amusement – they have a twist.
The beautiful carvings show the boys fighting over their game and pulling each other's hair. One boy is even biting his playmate.
This reflects the extent to which violence was allowed in games and was culturally part of the fun, according to Dasen. Romans valued this behaviour.
Roman girls, on the other hand, were never depicted fighting over games. Instead, they are always shown playing nicely and quietly.
Such pastimes were a way for children to experience winning and losing and to learn to master their emotions.
Play it again
In addition to studying the hidden messages in the images of games in ancient Roman as well as Greek art, the Locus Ludi team has recreated some and made them available to play online.
The "Little Soldiers" amusement played by the slave and her lover is the only Roman strategic board game described in detail in Roman literature.
The researchers used these descriptions and archaeological finds to recreate the rules of the game so that it can be played again today, along with several other ancient pastimes that have been made accessible to modern-day players.
The aim is to help integrate ancient games as cultural material in school and university programmes today, according to Dasen.
Knowing more about the educational and societal role of play in the past is important to understand the present and widen the debate about high-tech toys and new forms of sociability. Locus Ludi, whose funding is through the European Research Council, started in 2017 and runs through September this year.
Female authority
Unlike the ancient Romans and Greeks, women in Etruscan society had equal status to men. The Etruscans controlled central Italy before the region became part of the Roman empire. Many of their rituals were adopted by the Romans.
'The Greeks were shocked by the status that Etruscan women had and described them as women of ill repute,' said Dr Audrey Gouy, an archaeologist specialising in pre-Roman Italy at the University of Lille in France.
Scenes painted in underground tombs in Tarquinia not only show women and men dancing together as equals, they also depict the females as leaders in their community.
The dancers are performing an ancient funeral ritual. A woman playing castanets leads them. Bands of sacred cloth are draped over her arms – a symbol of her religious authority.
'This woman controlled the ritual,' said Gouy, who was the first person to study Etruscan dance.
The castanet player led people through the ritual's different stages. She opened up a connection between the world of the living and the world of the dead, helping the deceased pass through.
Dance at a funeral also served people coping with grief, according to Gouy.
'Dance has a psychological effect on the body that helps to heal after a death,' she said.
Gouy studied textiles in Etruscan art as part of an EU-funded project called TEXDANCE, which ended in 2021, and published a book on the subject last year.
Costume signals
She said researching the dancers' clothes in paintings and carvings reveals a lot about their movements and the sounds they made.
'Through the clothes we can see the different phases of the dance,' Gouy said.
The garments in the tombs show that the dancers move slowly at first, then spin and leap faster and faster. Gouy – herself a dancer – is planning to recreate these clothes and make a video of their movements to show how the ritual might have been performed.
In addition to clothes, male and female dancers wore bracelets and belts, which would have jangled as they moved.
The women's accessories may have given light, high-pitched sounds. The men's belts bore larger objects that may have sounded like a low-pitched rattle.
The possible differences of sound between young men and women in dance led Gouy to think that there may have been a sort of gender soundscape in Etruscan dance.
'The Tarquinian tombs fascinate me because the Etruscans created an envelope of paintings around their dead to protect them for all eternity,' she said. 'They are full of representations of joy, of life, and they tell us so much about Etruscan society.'
Research in this article was funded via the EU's European Research Council and the Marie Skłodowska-Curie Actions (MSCA). The article was originally published in Horizon, the EU Research and Innovation Magazine.