How Your Resume Should Look Like During COVID-19
The COVID-19 pandemic has undoubtedly introduced a great number of new challenges to society all over the world. Clearly, the most critical of them are the ones that appear as threats to human health and even life, but they are not the only ones. The entire global economy is now going through major complications and transformations that involve not just big corporations and national economic systems but also local businesses.
As follows, most of us who have jobs or own some kind of business may face critical complications and lose our economic stability or even the main source of income. That's why some of us may need to search for new jobs, and a well-developed resume is a key element of success in such case. In order to ensure that your CV will reach its target, you may get familiar with services like CraftResumes that have professional and qualified resume writers and you should definitely learn modern market's demands and trends.
What is a Successful Resume during COVID-19
Even though the concept of resume is well familiar to pretty much everyone, the preparation of a successful and up-to-date one during the pandemic notably differs from any other cases. While imposing great challenges, COVID-19 makes us learn new ways of surviving and succeeding, and it also involves a new approach to CVs. First of all, due to the social distancing and quarantine, the technological aspect of the resume is extremely important, together with the visual element. That's why the design of the resume should be on point in order to attract attention of the employers and help you stand out of the great number of other job seekers. What is more, the main emphasis should be made on those skills that can be used distantly or online. In addition, it is critical to concentrate your CV on the spheres related to the jobs that are present in the current market.
Altogether, the characteristics of a successful resume during the COVID-19 pandemic are:
a design that's both functional and outstanding;
focus on the skills that can be effectively applied in the current situation of the limited opportunities for the offline outside work;
aiming at the jobs that are of the employers' interest.
Resume Design
We've already mentioned that the resume that can succeed in today's situation of the COVID-19 pandemic should have a well-thought-out design. It's not enough for the efficient resume design to be simply appealing as it should also be functional. In other words, it should present the information about your skills in the most convincing way.
Notably, there are numerous ways to reach this aim, including minimalistic layouts, good writing, and an unusual approach to the CV. You may think that the last aspect relates to inserting memes or jokes from popular TV-shows in the resume, but that's not the case even though it can work. What we mean here is the type of CV that will be able to effectively introduce you to the employers even now, when live interviews can barely be conducted. A video resume is definitely the kind of CV that will do that. What is a video resume? It's your professional and personal presentation in a video format that can be used for making a bright first impression on a potential employer. Consider it to avoid getting lost in a great number of job seekers that, similarly to yourself, aim at getting a position.
Entering New Markets
An effective resume in the age of pandemic not only has to be attractive and appealing but also should be focused on the relevant areas and emphasize those skills and qualities of yours that are needed the most. Apart from the health care related professions that, without any doubt, are the most necessary today, there are numerous other spheres that would use new people. One of them is education that faces significant struggles due to the lack of live communication and a high level of stress. That's why it may be a good decision for you to take a look at the gaming education sphere.
It makes education more engaging and less stressful and needs new people who are professionals in various fields and can share their skills and knowledge with others. You can also join the educational sphere and try to develop the best assistive technology to improve the educational process for those who are among the least protected groups – individuals with disabilities.
Sarah Frier wins the Financial Times and McKinsey & Company Business Book of the Year Award 2020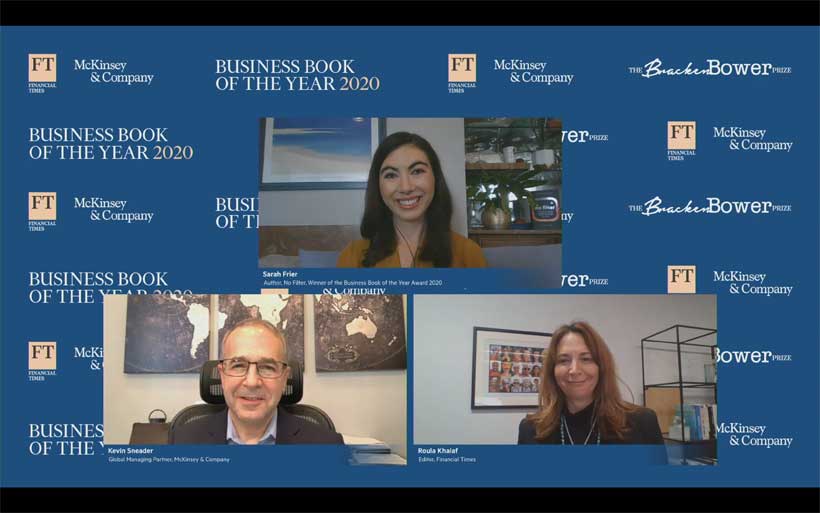 Stephen Boyle wins the Bracken Bower Prize 2020
The Financial Times and McKinsey & Company today announce that Sarah Frier is the winner of the 2020 Business Book of the Year Award for No Filter: The Inside Story of How Instagram Transformed Business, Celebrity and Our Culture, published by UK Random House Business in the UK, and Simon & Schuster in the US.

The Award recognises a work which provides the 'most compelling and enjoyable insight into modern business issues'. It was awarded today to Sarah Frier at a virtual event, co-hosted by Roula Khalaf, Editor of the Financial Times and chair of the panel of judges, and Kevin Sneader, Global Managing Partner, McKinsey & Company. The keynote speaker at the event was Laxman Narasimhan, Chief Executive of Reckitt Benckiser.

No Filter saw off strong competition from a shortlist of titles with a focus on subjects ranging from the future of work, corporate culture, technology and the US economy, to win the £30,000 prize. Each of the five runners-up will receive £10,000.

Roula Khalaf, Editor, Financial Times said, "No Filter is a topical and well-reported account of the rise of Instagram and its takeover by Facebook. But it also tackles two vital issues of our age: how Big Tech treats smaller rivals and how social media companies are shaping the lives of a new generation."

Kevin Sneader, Global Managing Partner, McKinsey & Company, said: "Sarah Frier has written a compelling saga about how this start-up phenomenon deeply embedded itself into the global cultural Zeitgeist of this digital era, in just one decade after its creation."

The distinguished judging panel for the 2020 Financial Times and McKinsey Business Book of the Year Award, chaired by Roula Khalaf, comprised:
Mitchell Baker, Chief Executive Officer, Mozilla Corporation; Chairwoman, Mozilla Foundation

Mohamed El-Erian, President of Queens' College, Cambridge, and Chief Economic Advisor, Allianz (BBYA Winner, 2008, When Markets Collide)

Herminia Ibarra, Charles Handy Professor of Organisational Behaviour, London Business School

Randall Kroszner, Professor of Economics and Deputy Dean for Executive Programs, University of Chicago Booth School of Business

Dambisa Moyo, Global Economist and Author, Non-Executive Director, 3M Company, Chevron & Conde Nast

Raju Narisetti, Global Publishing Director, McKinsey & Company

Shriti Vadera, Chair-elect of Prudential

The Financial Times and McKinsey & Company also announced Stephen Boyle as the winner of the 2020 Bracken Bower Prize. The Prize is designed to encourage young authors to tackle emerging business themes in a proposal for a book that is not yet published. Its aim is to unearth new talent and encourage writers to research ideas that could fill future business books of the year.

Stephen Boyle was awarded £15,000 for his book proposal, New Money, about how central bank digital currencies could transform the economy – and why you might not want them to.

The distinguished judging panel for the Bracken Bower Prize comprised:
Lorella Belli, Founder and Director, Lorella Belli Literary Agency Limited

Isabel Fernandez-Mateo, Adecco Professor of Strategy and Entrepreneurship, London Business School

Jorma Ollila, former Chairman, Royal Dutch Shell and Nokia

Saadia Zahidi, Managing Director and Head of the Centre for the New Economy and Society, World Economic Forum. (BBP Winner, 2014, Fifty Million Rising)
Sri Lanka Can Build Back Better from COVID-19 and Realize Inclusive Growth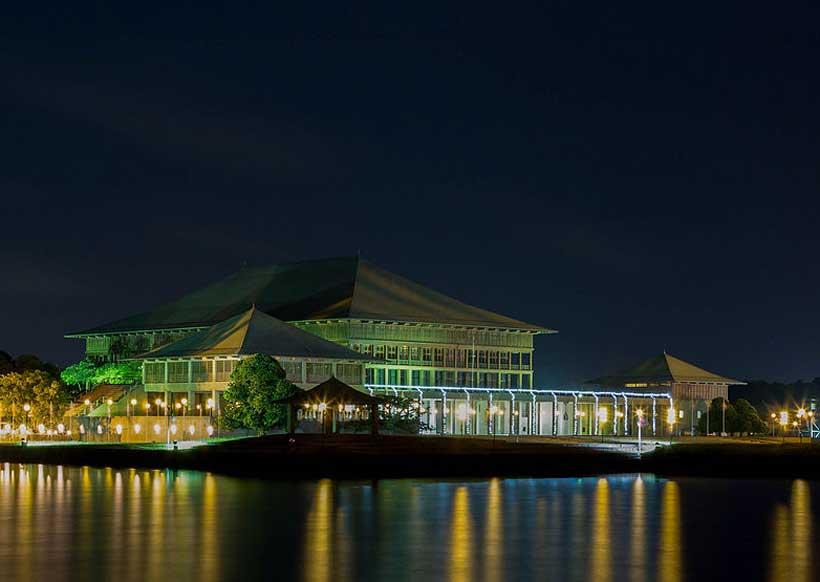 The World Bank's new Country Director for Maldives, Nepal and Sri Lanka, Faris Hadad-Zervos, completed his first visit to Sri Lanka today. The purpose of this visit was to meet key policymakers and understand the country's development priorities. Based in Kathmandu, Nepal, this was the Country Director's first visit to Sri Lanka in his new role. Hadad-Zervos was joined by Chiyo Kanda, the new Country Manager for Maldives and Sri Lanka, based in Colombo.
"We appreciate the frank and productive conversations we had with government officials, members of the private sector and civil society and all those whom we met during our visits in Colombo and the Provinces. These gave us a growing understanding of the Sri Lankan sustainable development storyline and aspirations," said Faris Hadad-Zervos, World Bank Country Director for Maldives, Nepal and Sri Lanka. "The World Bank is a long-term partner for the people of Sri Lanka and is committed to help the country reach its full potential for the benefit of all its people."
The new World Bank management team paid courtesy calls to His Excellency the President Gotabaya Rajapaksa, Hon. Prime Minister Mahinda Rajapaksa, Cabinet and State Ministers, Governor of the Central Bank of Sri Lanka, and Secretaries and senior officials associated with the current World Bank program in Sri Lanka.
They also met with members of civil society from across the spectrum, private sector representatives, development partners as well as thought leaders to better understand Sri Lanka's vast potential for sustainable growth.
The visits included the port and other facilities in the Hambantota district to observe infrastructure development in the south. At the government hospital-Halthota in Kalutara district, they learned about the government effort to improve primary health care, integrating screening and management of non-communicable diseases, and strengthen promotive and outreach services.
"The World Bank is mindful of the challenges the country is facing in this COVID19 era but will also keep our eye on the opportunities for sustainable recovery. We will leverage our knowledge, technical and financial resources to support Sri Lanka to build back better in the post-COVID era for inclusive and resilient growth," said Chiyo Kanda, World Bank Country Manager for Maldives and Sri Lanka "We are in the process of updating our Systematic Country Diagnostic to deepen our understanding and inform our next Country Partnership Framework that will define the World Bank Group's engagements with Sri Lanka for the next 4-5 years."
The Systematic Country Diagnostic is a thorough analysis, informed by consultations with a broad range of stakeholders, of the key challenges and opportunities in reducing poverty and boosting shared prosperity in a sustainable manner.
In response to the COVID pandemic, the World Bank leveraged the existing portfolio and repurposed a significant portion to support the Government's effort to reduce the impact of the pandemic. Providing urgently needed personal protective equipment (PPE), supporting vulnerable groups with temporary cash support, improving COVID-19 protection measures on public transport, facilitating tele-education for school children, and providing digital solutions to improve delivery of public services are among the emergency response activities already completed or ongoing. Discussions are under way to further adjust the program to adapt to government's priorities and emerging development needs.
The current World Bank portfolio in Sri Lanka consists of 19 ongoing projects, with a total commitment value of US$3.65 billion in a variety of sectors including transport, urban, agriculture, water, education and health.
ADB $300 Million Loan to Promote Macroeconomic Stability in Pakistan
The Asian Development Bank (ADB) has approved a $300 million policy-based loan to help promote macroeconomic stability in Pakistan by facilitating improved trade competitiveness and export diversification.
"While COVID-19 hit Pakistan at a critical point in its macroeconomic recovery, the government's ongoing efforts to ensure stability have started showing encouraging results this fiscal year," said ADB Principal Public Management Specialist Hiranya Mukhopadhyay. "ADB's program will support these efforts and help Pakistan to improve its export competitiveness—now more important than ever given the impacts of the pandemic."
ADB's program will help Pakistan recover its current account deficit in a sustained manner and continue to facilitate export diversification. It will introduce important tariff- and tax-related policy reforms to help improve Pakistan's international competitiveness and further strengthen key institutions, including accreditation bodies, the Export–Import Bank of Pakistan, and the Pakistan Single Window.
The new financing falls under Subprogram 2 of the Trade and Competitiveness Program. Under the first phase, ADB helped the government usher in key reforms, including reducing or abolishing tariffs and ad hoc duties on a large number of raw materials and intermediate goods. Several steps were also taken to introduce e-commerce, strengthen key institutions involved in facilitating trade, and enhance the export certification process.
Since fiscal year 2004, Pakistan has registered a rise-and-fall pattern of export growth reflecting underperformance in its export industry and long-term decline in export competitiveness. This is compounded by lost export growth momentum from COVID-19, which has reduced high-income countries' demand for manufacturing goods and disrupted the supply of raw materials.
ADB is coordinating its efforts with other development partners and donors while the program complements International Monetary Fund-led reform initiatives by helping to improve competitiveness, which will help build robust foreign exchange reserves.