The last few weeks have turned our world upside down. It seems like a lifetime ago that we were going about our everyday business. But by now, some of you reading will have had symptoms, many of you will know someone who is sick and every single one of us are worried about our loved ones.
But what is unique about the situation we are in is that all of us are part of the solution: all of us as citizens, but also companies, cities, regions, nations and the whole world over. Yes, it is true: Europe was initially partly blindsided by an unknown enemy and a crisis of unprecedented scale and speed. This false start is still hurting us today.
But Europe is now standing tall together. And that is being driven by a surge of compassion across our Union. In the last weeks, we have seen retired doctors and nurses answer the call of duty and millions more volunteer to do anything they can to help. We have seen restaurants deliver food to exhausted medical staff, designer labels make hospital gowns and car makers turn into ventilator producers.
That solidarity is infectious – and it is at the heart of our Union. Thanks to that impulse the real Europe is back. The one that works together to do what none of us could do alone. The EU is now delivering and is working flat out every day to save every life we can, to protect livelihoods and kickstart our economies.
In the last weeks, we have taken measures which would have been unthinkable only recently. We have made our state aid rules more flexible than ever before so that businesses big and small can get the support they need. We have relaxed our budgetary rules more than ever before to allow national and EU spending to go quickly to those that need it. This has helped EU institutions and Member States put up €2.8 trillion to fight the crisis – the strongest response anywhere in the world.
And this week the European Union went one step further. We have proposed a new scheme called SURE to make sure that people can keep their jobs and their incomes, as well as ensure that businesses can stay afloat while we hibernate. The scheme will provide €100 billion to help governments make up the difference if your company has had to reduce your hours – and it can support the self-employed too. This will help those in need to pay their rent, bills or food and keep other businesses alive in the process.
And to step up the fight to save lives, we have also decided to put every cent of the remaining money in this year's budget into an emergency instrument to help secure vital medical equipment and scale up testing.
This reflects the fact that in this crisis there can be no half-measures. And that will be the case for years to come as we seek to lift our economy out of the crisis valley. To do this, we will need massive investment in the form of a Marshall Plan for Europe. And at the heart of it should lie a powerful new EU budget. The advantages of this are obvious: the EU budget is a proven instrument of solidarity and modernisation. And with its seven-year term, it creates certainty for investors and reliability for all parties involved.
But just as the world looks very different from the way it did just a few weeks ago – so must our budget. It must be there for the time when economies weakened by the current crisis will need to spark their engines and get our unique internal market going again.
The billions and trillions being spent today to avert a greater disaster are an investment in our future protection and they will bind generations. This is why the money in our next budget must be invested in a smart and sustainable manner. It must help preserve what is dear to us and renew the sense of belonging amongst Europe's nations.
And crucially we need to invest strategically in our future, for example for innovative research, for digital infrastructure, for clean energy, for a smart circular economy, for transport systems of the future. A Marshall Plan of this nature will help build a more modern, sustainable and resilient Europe. This is the Union that I believe can emerge from this – just as it did after we every crisis in our history.
And this enormous effort, this new Europe, will need one thing more than any else: The people of Europe must want a common future where we stand up for each other.
What I see around Europe today shows the way and it fills me with pride. The future of Europe is the Polish doctors going to Italy. It is Czechs sending 10,000 masks to Spain and elsewhere. It is the airplanes that fly sick people from northern Italy to eastern Germany or the trains that bring people across borders to be treated in free intensive care beds. It is the Bulgarians who send protective equipment to Austrians, and Austrians who send masks to Italy. It is the first common European stock of medical equipment, or the respirators and test kits purchased together by almost every country, from Romania to Portugal, to be sent to Spain, Italy and elsewhere. The power and solidarity of this Union was also felt by thousands of Europeans who were stranded in Vietnam, South Africa or Argentina and were flown back home on a European ticket.
With each one of these acts of solidarity, Europe rises back up that little bit more. And I am in no doubt that before long Europe will be back up on its feet. Together.

This article was also published in several European media.
The Present Battle over Greece's Past is Seeding New Battles in its Future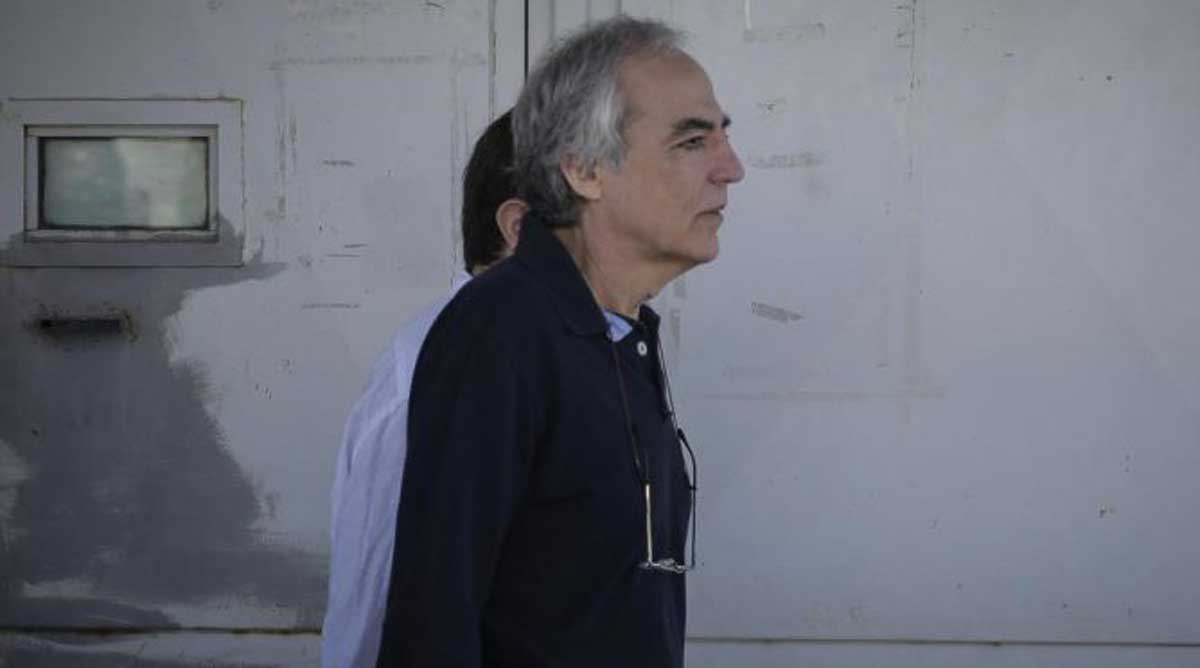 The streets of Greece have been raging with marches, violent clashes between police and protesters, and clandestine violence since the right-wing New Democracy party (ND)was again given its electoral mandate in the summer of 2019. In 2020, angry and often violent street demonstrations hit a pitch not seen since 2012, as COVID-19 lockdown measures were used to justify a series of repressive government "law and order" policies aimed at Greece's robust far- and post-left movements, coming down especially hard on anarchists and the several buildings across the country that they have squatted for nearly two-decades. The violent state evictions of the squats (often housing refugees), as well as the police harassment of people gathering in public, began a slow boil among the youth movements and urban guerrillas, which rolled over the pot once Parliament presented a bill to reintroduce police units to university campuses.
Hellenic Police have been constitutionally forbidden from entering college campuses in Greece since 1975, without rare and express consent from the university rectors. Their expulsion from campus spaces coincided with the same state massacre that gave rise to Greece's first generation of 20th century revolutionary urban guerrilla groups, who created a legacy of youth "terrorist subculture" spanning subsequent generations, and contributed significantly to the European Union's most prolific theatre of left-versus-right political violence. One cannot discuss the events of the 1973 massacre, nor today's generation of urban guerrillas, without mentioning the Revolutionary Organization-17 November (17N), and its chief of operations, Dimitris Koufodinas. At the time of writing this, Koufodinas is near death, on hunger strike since January 8th, 2021. There have been over a dozen covert bombings and arson attacks in solidarity with Koufodinas's recent hunger strike in Greece alone, with further arsons and banner-drops being claimed throughout Europe in solidarity with the leader of 17N.The current response of the New Democracy-led government is dredging up old grievances, and creating new ones that will surely be fought over for years to come.
Dimitris Koufodinas: Terrorist or Revolutionary Icon?
In 1967 a group of right-wing Hellenic Army officers overthrew the elected government in Greece and established an authoritarian junta, later called the "Regime of the Colonels". The morning of the coup d'état, on the 21st of April, Athenians woke up to tanks and infantry fighting vehicles in the streets and in Syntagma Square surrounding Parliament. Any trace of democratic values would disappear for the next seven years, as dissident Greeks and suspected enemies of the state were snatched from their homes, tortured and wrongfully imprisoned. Greece would eventually return to a constitutional democracy after the junta's collapse, following a disastrous pan-Hellenic foreign policy that ended in the Turkish invasion of Cyprus and the political bifurcation of the island. However, many argue that the junta lost whatever legitimacy it had after the three days of student uprisings in November 1973, culminating in the night of the 17th, in which an AMX-30 main battle tank plowed through the gates of the Polytechnic University, and the ensuing state violence killed dozens of protesters. Naturally, the far- and extra-parliamentary left-wing movements that had been oppressed under the junta were suspicious of the power-sharing structure embedded within the new constitution after the junta's collapse, and for the latter, any return to democracy that was guided by the "foreign finger" of the US, the UK, and NATO was more or less a controlled return to the unacceptable pre-junta status quo.
Greek youths that had struggled against the regime and witnessed the arrests, injury and deaths of their comrades, who were not satisfied with the Metapolitefsi ("regime change"), decided to take their struggle against the state underground. In 1975, the American CIA's new Athens chief of station was shot and killed in front of his wife and driver after returning home from a Christmas party. A communique sent to a radical French newspaper claimed the attack in the name of Europe's newest red urban guerrilla outfit: The Revolutionary Organization—17 November, or simply "17N," taking their very name from the final night of the junta's 1973 massacre. This new group then cemented their credibility as a serious threat to the state in 1976 by gunning down high-ranking police officer, Evangelos Mallios, who had been linked to acts of torture under the junta. Contemporaries to 17N also emerged, such as the Revolutionary Peoples' Struggle (ELA), another militant underground Marxist organization (though despite their lethality, they were criticized by 17N as being unsophisticated in their means and choice of targets). A decent portion of Greek society saw the anti-imperialist, anti-capitalist actions of Greece's left-wing guerillas as understandable, if not fully supportable.17N was popular with some elements of Greek society due to the significance of the targets they hit–ranging from foreign diplomats, to journalists, powerful industrialists and meaningful symbols of the state—as well as their ability to elude authorities for 27 years without a single member being revealed by Greek security forces or their foreign intelligence partners.
17N went dormant after the 1976 Mallios assassination, and then reappeared in 1980 with another high-profile assassination: this time murdering the Deputy Director of Greece's MAT ("public order," or riot) police unit, Pantelis Petrou. This hit was followed up with the assassination of an American Navy captain assigned to the Joint US Military Aid Group in Greece (JUSMAAG) that same year. 17N's campaign of bombings and assassinations continued into the 1980s and early 1990s.In 1996, they launched a mortar attack on the US Embassy in Athens, exacerbating the humiliation felt by the Greek state in their failure to secure the centennial Olympic games that summer amidst fears of domestic terrorism.
The group's incredible resume, coupled with the fact that none of its members had yet to be captured, gave rise to conspiracy theories in Greece that 17N was controlled by the deep-state (parakratos), or even by the American CIA. But on a June evening in 2002, around the time Greeks would be finishing their Saturday night meals out on the town, then repairing to café patios for drinks and perhaps some live music, a powerful blast shook Greece's largest international port of Piraeus, just south of Athens. Police found a severely injured man at the scene, whom they had rushed to the hospital. Bombings in Greece are not unusual, and neither was this injured man at the time of his discovery, given the proliferation of urban guerrillas in Athens. However, the contents of his backpack were unique: a .38 caliber revolver and two hand grenades. The man injured in the bungled bombing was Savvas Xiros–the first member of 17N to be revealed by authorities. George Kassimeris best describes the revelations around the arrest in his 2013 article:
Three days later, the chief of police announced that the .38 Smith and Wesson had been identified as the gun stolen from a police officer killed by 17N on Christmas Eve 1984 and was the same weapon subsequently used in the assassination of a ship owner and a prosecutor as well as a number of other incidents involving the group. [George Kassimeris, "Greece: The Persistence of Political Terrorism," 2013]
Suddenly the group was unmasked. Xiros gave up several members of 17N and a series of arrests followed. In September of 2002, 17N's operational chief, Dimitris Koufodinas, turned himself into Greek police in Athens. He was handed eleven life-sentences plus 25 years in prison.
The founder of 17N is the lesser-known Alexandros Giotopoulos (his father was Dimitris Giotopoulos, the well-known Greek Trotskyist, who fought on the Republican side in the Spanish Civil War). But the group's effective leader is the photogenic and strategically skilled Dimitris Koufodinas. Allegedly tasked with not only planning and target-selection, Koufodinas is himself accused of carrying out prominent assassinations, most notably that of current Prime Minister Kyriakos Mitsotakis's brother-in-law and ND politician, Pavlos Bakoyannis, in 1989. (Kostas Bakoyannis, the son of Pavlos, is the current Mayor of Athens.) To this day, Koufodinas has a heroic reputation among segments of Greek society, and among others he is hated as a terrorist.
In many ways Greece suffers from a spoils-system democracy, where it is common for new administrations to sack civil servants, dissolve and create new agencies, appoint friends and benefactors to meaningless positions, rename long-standing agencies, and redistribute the wealth of the state among their political allies. Another feature of this system is the punishment of the opposition's street-level allies and those accused of political violence, while exonerating those within its own camp charged by the previous administration with comparable offences. The 2015-2019 administration under the Coalition of the Radical Left (SYRIZA), led by former PM Alexis Tsipras, granted Koufodinas six furloughs (or temporary leaves) from Korydallos Prison, from 2017 until 2019, much to the outrage of right-wing Greeks. His current denial of a transfer back to Korydallos is considered a retaliation by ND for his "favorable" treatment under the SYRIZA administration.
For the majority of his eternal sentence, Koufodinas has been locked away in the bowels of Korydallos, but in 2018 he was transferred to one of the Greek justice system's agricultural prisons outside of Athens. The fresh ND administration under Kyriakos Mitsotakis then transferred Koufodinas to maximum-security Domokos Prison—a facility that is becoming a quarantined island for Greeks accused of far- and post-left terrorism. He immediately requested to be transferred back to his original cell in Korydallos. Denied this request, Koufodinas began the running 51-day (as of 28 February) hunger strike that has brought people across Europe out into the streets, engaging in direct action and banner drops, showing solidarity with the continent's most infamous living "red terrorist," or most famous "revolutionary icon," depending on who you ask.
This is not Koufodinas's first hunger strike, though it will very likely be his last revolutionary act. On the 22nd of February, he demanded to have his IV removed, extending his current struggle to include a "thirst strike". The doctors caring for Koufodinas have been ordered by the state to begin force-feeding him. Should he die, he would be the first person to die of a hunger strike in Europe since the Provisional Irish Republican Army (IRA) member, Bobby Sands, in May 1981. (Though in neighboring Anatolian Turkey, bassist of the outlawed revolutionary communist folk band, Grup Yorum, died in intensive care while on hunger strike in solidarity with his imprisoned wife, following the death of another hunger-striking band mate in April 2020. A female human rights lawyer, Ebru Timtik, also died in 2020 during a hunger strike in an Istanbul prison.)
"Solidarity with Dimitris Koufontinas"
When Koufodinas began his hunger strike on the 8th of January, groups claiming direct action in solidarity with him appeared on social media from Germany to Chile. A group of anarchists displayed a banner in front of the Greek consulate in Berlin, reading, "SOLIDARITY WITH THE FIGHTING HUNGER STRIKER DIMITRIS KOUFONTINAS (17N)—BURN ALL PRISONS."There have been dozens of Molotov cocktail and incendiary IED attacks carried out in Greece against state and private targets in solidarity with Koufodinas since the beginning of February—one month into his hunger strike.
On the 5th of February, a group calling itself the "Nucleus of Anarchist Attack" set off an incendiary explosive device at one of the entrances to the Evelpidon Court Complex in Athens. This was not the first time that a next-generation outfit ideologically located outside of Marxist-Leninism would attack the court complex in solidarity with the older Koufodinas. Directly after 17N's dismantling, an emergent group calling themselves Revolutionary Struggle (RS) set off two bombs around the 17N trials in 2003, "timed to explode 15 minutes apart with no advanced notice, designed to kill police responding to the second explosion at the courthouse."(In 2007 RS answered 17N's 1996 attack on the US Embassy in Athens by firing a rocket-propelled grenade at the building from a nearby construction site.) On February 10th, 2021, thousands took to the streets of Athens and Thessaloniki in solidarity with Koufodinas, and were met with water cannons and crowd control munitions. Later that evening, incendiary IEDs were detonated outside of a building housing three separate newspapers. In addition to heavy-handed levels of violence used against already-detained demonstrators on the 10th, officers of the MAT unit were filmed sucker punching bystanders, as the crackdown on the protests were married to COVID-19 restrictions imposed by the ND government. Students contiguously protesting the new bill restructuring university admissions and allowing the Hellenic Police to patrol campuses for the first time since 1975 were met with severe violence, and there were over dozens of arrests. On February 12th, ND-aligned newspaper Kathimerini reported, "Greek lawmakers passed legislation on Thursday that allows special police on university campuses as part of education reforms that opponents say threaten academic freedom established after the end of military rule in the 1970s." Ahead of the parliamentary vote on the university bill, two members of a group calling themselves "Masovka Anarchist Collective" were arrested after entering the office of the Deputy Minister of Foreign Affairs and dropping flyers in solidarity with Koufodinas.
On the morning of February 18th, over 60 people were arrested after entering the Health Ministry, dropping flyers and unfurling banners in solidarity with Koufodinas. That same day another gas canister bomb was placed outside of a bank in Thessaloniki, which did not detonate, and a truck was firebombed earlier that morning. A group calling themselves the "Anarchist Cell of Response to Violence" claimed the arson attacks earlier that month targeting the homes of two retired police generals, Christos Kontaridis and Michalis Ladomenou. On the night of the 18th there were arson attacks and an ATM bombing across three boroughs of Athens. Throughout the 19th and the 20thof February, police were photographed beating and arresting people peacefully demonstrating in solidarity with Koufodinas. Early in the morning on February 22nd, assailants used sledgehammers to smash the front of a tax office in the Athens suburb of Psychiko, which authorities suspect was an act of solidarity with Koufodinas.
In Germany, a group calling themselves the "Autonomous Group 'Sigurd Debus'" claimed an incendiary attack on a Hertz truck in an email to an anarchist blog. They were inspired by a similar December 2020 attack in Greece against Hertz, and ended the claim with: "Hold out, Dimitris! Our struggle is not finished until all prisoners are free!"
A group of anarchists claimed the firebombing of a French diplomatic vehicle in Thessaloniki and demanded the "IMMEDIATE SATISFACTION OF THE REQUESTS OF DIMITRIS KOUFODINAS". Around 1:00PM on Monday, February 23rd, approximately 50 people shouting slogans threw flyers expressing solidarity with Koufodinas outside the home of Greek President, Katerina Sakellaropoulou, in central Athens. That same day, dozens of students protesting the new campus security law were arrested during clashes with police. Later that evening, the offices of Action 24 TV were attacked with stones and Molotov cocktails; the assailants spray-painted slogans in solidarity with Koufodinas. On the following Tuesday, the Greek Embassy in Berlin was occupied and a banner expressing solidarity with Koufodinas was hung from a fourth-story window, and there was another demonstration in front of President Sakellaropoulou's home as a Greek prosecutor made the call to begin force-feeding Koufodinas. Police violently dispersed a demonstration against the force-feeding of Koufodinas that afternoon. Forty-two people were also arrested during a symbolic occupation of the Ministry of Culture in solidarity with Koufodinas.
Friday, February 26th was a day of extraordinary violence at the hands of the state–even for Greece–and videos began to emerge on social media of police in riot gear beating and stomping people down the staircases and escalators of the Athens Metro system. Members of the press covering the pro-Koufodinas demonstrations were also filmed being beaten by the riot units. That evening, two gas canister bombs were detonated outside of the Konstantinos Mitsotakis (father of the current Prime Mister) Foundation in Thiseio, Athens. A yet-unknown group also vandalized ND offices on the island of Crete, and painted large pro-Koufodinas slogans on the outer walls of a Mitsotakis family home nearby. Saturday February 27th, supporters of Koufodinas broke into the offices of Sports Minister Lefteris Avgenakis and did some property damage, as well as spray-painted pro-Koufodinas slogans. Earlier Saturday morning, a town hall in the southwestern Athens district of Moschato was attacked with petrol bombs.
New Democracy's Folly?
As common as these kinds of events are in Greece, the country has seen nothing on the current scale since the early and agonizing days of the global financial crisis, and the crippling impacts of austerity measures imposed upon Greek citizens. This campaign of attacks in solidarity with Koufodinas across Europe is extraordinary, and the response of the Greek state is only throwing fuel on a growing fire.
Scenes of police beating and arresting students protesting the new "university protection laws" will surely harm perceptions of the Mitsotakis administration among centrist Greeks, regardless of their feelings towards Koufodinas. As for Koufodinas himself, the state's calculation over whether it is less harmful to its own image if they force-feed him or hasten his death has ensured his status as a martyr and pulled ND into a game it is unlikely to win. The Mitsotakis administration seems intent on the impossible combination of taking personal vengeance against Koufodinas, without losing face. It is clear that granting the simple demands of returning him to the cell in Korydallos where he spent over a decade is not an option the administration will consider. If Koufodinas dies during his current hunger strike, the consequences for the state will be felt for years to come, regardless of the ruling party. His death will be commemorated as another of Greece's "insurgent holidays".
A young country defined as much by its outward struggles against external powers as it is those inward struggles against itself, the history of modern Greece is naturally one populated by many revolutionary icons. 17N is a group whose mention still evokes strong feelings among Greek society today. This current and perhaps final revolutionary act of its leader, Dimitris Koufodinas, has brought back a storm of past traumas for the victims of 17N, and traumas for the victims of the state violence that inspired 17N to form their organization. The state's response to the demands of Koufodinas, as well as its response to those demonstrating in solidarity with him, is creating new traumas, and it is ensuring the rootedness of political violence in Greece for yet another generation.
Russia-EU break possible but unwanted
Pressures in relations between Russia and the West have recently become so strained that Foreign Minister Sergey Lavrov warned of the possibility of a complete break in ties.
In an interview with Anadolu Agency, Andrey Kortunov, head of the Russian International Affairs Council, a Moscow-based academic and diplomatic think tank established upon a presidential decree, assessed how real the threat is and what consequences it could lead to.
It is necessary to make it clear what "a possible break with the EU" means – whether cutting relations with individual European countries or with European Union structures, said Kortunov.
"If we talk about EU countries, we shouldn't forget that they now account for more than 40% of Russia's trade turnover, they are the main source of investments and technologies that go to Russia. No one is ready to give up on this, and no one will," he said.
As for structures of the EU bloc, in general, a break would be possible, but it would be both unwanted and unwelcomed, he said.
Kortunov noted that cooperation between Russia and the EU shrank in recent years, and a great many of the structures established to build bilateral ties have been closed.
"For example, in the past, we regularly held EU-Russia summits twice a year – in the first half of the year in Russia, in the second half in the EU presiding country or in Brussels," he explained.
"Now such summits do not take place. The number of working groups that work in specific areas has decreased."
Following this logic, breaking or freezing the remaining ties is possible but it is an extremely unwanted scenario because it is impossible to have good relations with European countries – EU members – and not have any relations with the EU itself, Kortunov said.
"A number of important issues lay within the competency of the European Union, including but not limited to trade and scientific and technical cooperation," he said.
He warned: "Sooner or later, our projects with individual countries will run into unresolved issues at the level of the EU bureaucracy. Therefore, in principle – I repeat once again – a break is possible, but it is extremely unwanted because it is fraught with many negative consequences."
Cooperation in 'non-toxic' areas
The EU is interested in cooperation with Russia as well, as it is a big market and important partner, he added.
Russia also plays an important role in the Middle East, and the situation in the region directly affects life in the EU, so cooperation on regional conflicts is another important part of Russian-EU interaction, said Kortunov.
To defuse the situation, he said, both sides have to exercise caution in their rhetoric.
"It's one thing for members of parliament to say something critical, and quite another for the decision-makers in the executive branch to do that. The latter should exercise as much restraint as possible," said Kortunov.
Cooperation in "non-toxic" areas, where Russia and the EU can work together despite political differences without making any difficult concessions, would also contribute to building trust, he said.
"And we need an open discussion with the EU about how we see ourselves in the world in five, 10, maybe more years," he said.
"We need a strategic dialogue, which is not currently being conducted, at least I do not know that it is being conducted. And then we can gradually correct the relationship."
Foreign Minister Lavrov said last week that the EU had been breaking bilateral mechanisms established under agreements on partnership and cooperation.
Asked if Russia is heading for a breach with the EU, Lavrov said he believed Moscow would be ready for it, and the country has to become fully economically self-sufficient in case sanctions are imposed in a sphere where they could risk the Russian economy.
From our partner RIAC
The region that we now call Western Balkans does not remember that the realization of a movie caused many reactions and comments as " Dara of Jasenovac". The movie deals with the most painful topic in Serbian history – the genocide that Croats and Bosnian Muslims committed against the Serbian people in the so-called Independent State of Croatia, in the Jasenovac concentration camp during World War II.
All Nazi concentration camps after the end of the World War II were preserved to this day, so that the memory of the crimes would not fade. Millions of visitors come to Auschwitz, Dachau and other death camps, and pay their respects to the innocent victims. When in December 2009 from a museum in Auschwitz the "Arbeit macht frei" (work sets you free) sign was stolen, it was a planetary news. The sign was found after less than a month, although broken into three parts, which was again world news.
But few, outside of the Balkans, have heard about the Jasenovac extermination camp in Croatia, which was never liberated, but instead saw roughly 1,000 inmates escape in the hope that at least one of them would live to tell the world about the horrors of being imprisoned by the Croat Nazi-aligned puppet government that was appointed to rule a part of Axis-occupied Yugoslavia.
Israeli professor Gideon Greif, an expert on Auschwitz, researched the history of Jasenovac, which resulted in his book Jasenovac: Auschwitz of the Balkans. The Croat-run Jasenovac extermination camp was the size of about 150 football pitches and was established on April 10, 1941, four days after Nazi Germany invaded the Kingdom of Yugoslavia.
The wartime Independent State of Croatia, or NDH, was a Fascist satellite that was created by Nazi Germany and Hitler's closest ally, Mussolini's Italy. Under its leader, Ante Pavelic, the NDH set out to exterminate the Serbs, Jews and Roma who lived in the areas that were under their control – the Jasenovac camp was built to serve this purpose.
What made Jasenovac particularly cruel was the existence of a special camp for children where more than 20,000 Serbian children were brutally murdered. The methods used by the Croat guards to kill and torture the inmates were reportedly so barbaric that even SS chief Heinrich Himmler is believed to have suggested to the Croats that industrial killing, i.e. gas chambers, was a "cleaner way" to liquidate victims so that the guards wouldn't need to use knives, axes, and other handheld weapons against those that they were sending to their deaths. Menachem Shelah, a historian with the Yad Vashem, the Holocaust museum in Jerusalem, wrote in 1990 that "the crimes committed in Jasenovac are among the most terrible in the entire history of humanity."
Historians have estimated that between 700,000 to 1,000,000 people were killed at Jasenovac. The Nazis, themselves, recorded up to 750,000 deaths. Since the breakup of Yugoslavia in 1991, the Croatian government has continually insisted that only 83,000 people were killed at Jasenovac. Croatia's first post-Yugoslav president, Franjo Tudjman, an unabashed nationalist and the man responsible for restoring the Ustase-era flag as the national symbol of Croatia, insisted until his death in December 1999 that a mere 30,000-40,000 people died while imprisoned at Jasenovac.
The total number of deaths that occurred at Jasenovac may never be known as concerted attempts to suppress the extent of the horrors of the camp continue to this day. This, however, is not a new process. Immediately after World War II, Yugoslavia's Communist leader, Josip Broz Tito, played down the crimes that were committed at Jasenovac as they were seen as a potential threat to the "brotherhood and unity" doctrine of Tito's Yugoslavia.
"Dara of Jasenovac" is the first film dedicated to the Nazi Croat camp Jasenovac for mass extermination of Serbs. The decision of the authorities to show the movie "Dara of Jasenovac" simultaneously on the public services of Serbia and Republic of Srpska, as well as on commercial television in Montenegro, was the right decision in the public interest.
It should be noted that the film Dara from Jasenovac has not only a historical role, but also a geopolitical one. Republic of Srpska has been under pressure since its inception in 1995, with the ultimate goal of abolishing it. There is a whole list of Hollywood films in which Serbs and their struggle in the wars of the 1990s were shown in a negative context. The aim was to show the Serbs as evil and Republic of Srpska as a criminal creation. The ideologues of this theory were the Bosnian Muslim political leaders and the financiers were predominantly Saudi Arabia and Kuwait. That is why "Dara of Jasenovac" has not only historical and artistic value, but also has a geopolitical one.
`We should continue to make films that will show the suffering of the Serbian people throughout history. I think that we will adopt it, not only as a program act, but also as a program of the Government of Republic of Srpska, to treat Serbian victims in the Independent State of Croatia in the right way", said Serbian member and chairman of the BiH Presidency Milorad Dodik, after the premiere of "Dara of Jasenovac".  This statement shows that the leading Serbian politician in Bosnia and Herzegovina has strategic thinking, and that is to be commended. All that remains is, that Milorad Dodik should be supported in this plan by other Serbian institutions and especially by the state of Serbia.