'Everyone at risk' as coronavirus cases tick up among migrants and refugees sheltering in Greece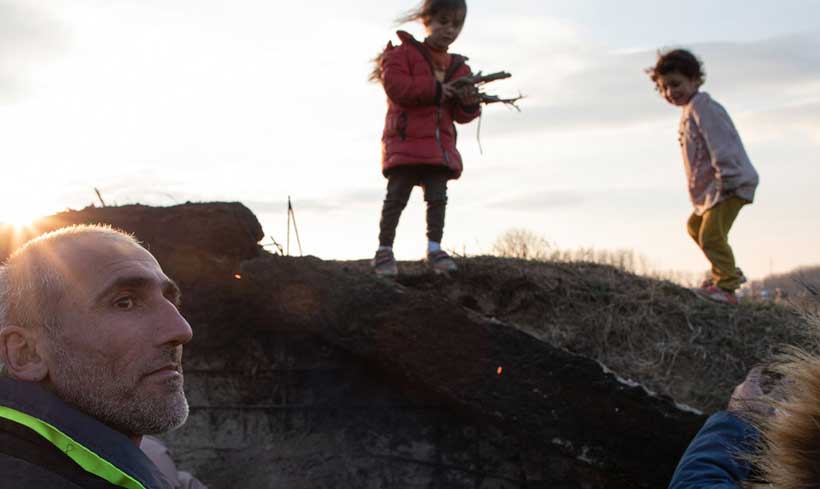 With 23 migrants at an open accommodation site in central Greece testing positive for COVID-19, the International Organization for Migration (IOM) sounded the alarm on Thursday over conditions in crowded reception centres on five Greek islands where the virus risks taking hold.
The Ritsona site – a one-hour drive from Athens – about 75 kilometres away – is one of 30 facilities on the Greek mainland that accommodate a total of more than 25,000 people.
The authorities have put it under quarantine for the next 14 days after the first confirmed COVID-19 case emerged on Tuesday. Its residents, including 252 unaccompanied children, have been advised to remain in their accommodation as contract tracing and further testing continues.
Equal access to services is critical
"Everyone is at risk. Migrants and refugees in Greece are susceptible to the virus as much as the Greek community," said Gianluca Rocco, Chief of IOM's Mission in Greece.
"It is critical that everyone, including migrant and refugees on the mainland and the islands, are ensured equal access to health services, including prevention, testing and treatment, especially in times like these," Mr. Rocco said.
"Immediate inclusion of all migrants in the national response to COVID-19 is not only a humanitarian measure, but essential to public health policy in Greece."
The outbreak of the novel coronavirus on the Greek maintain is meanwhile raising concern for migrants in reception and identification centres on five Greek islands in the Aegean Sea, IOM said in a statement.
In those locations, overpopulation makes it extremely difficult to take necessary precautions, such as social distancing and vigilant hygiene, IOM said, adding that it stands ready to help relocate residents to the mainland.
Camps on Greek islands must be decongested
"The threat of COVID-19 makes it even more urgent to decongest the camps on the islands," Mr. Rocco said. "IOM is contributing to these efforts with the creation of new accommodation arrangements on the mainland."
IOM is also establishing a temporary voluntary return mechanism on the five islands for those who decide to return to their home countries, in collaboration with the European Commission and Greek authorities. The implementation and duration of that programme will be adjusted in line with virus-related measures taken by States, such as the closure of airports or other travel restrictions.
"This is, however, not an easy task and needs further measures and support from European Union member States," Mr. Rocco said, renewing IOM's call for European solidarity with Greece for the urgent relocation of unaccompanied children and other migrants to European countries willing to share responsibility.
With funding from the European Union, the IOM is present in all 30 open accommodation facilities on the Greek mainland, distributing cleansers and soaps to all residents. It is also translating and handing out guidance on how refugees and migrants can best guard against infection.
Better Targeting of Social Protection Programs can Significantly Reduce Poverty in Bangladesh
Social Protection Programs remain central to Bangladesh's sustainable development policy and are progressively benefitting the poorer households. By improving targeting of the social protection programs, the country can further reduce poverty. Reallocating existing transfers to the poorest could reduce poverty from 36 percent to 12 percent, says a new World Bank report launched today.
The report titled 'Bangladesh Social Protection Public Expenditure Review' reflects on Bangladesh's continued investment towards social protection and how it can improve on its existing framework including planning, designing, programming, and delivery of the various social protection programs and projects.
The report finds that the social protection programs are mostly focused in rural areas. But, with almost 1 in 5 of the urban population living in poverty, and half of the households at the risk of falling into poverty, there is a need for rebalancing geographic allocations between rural and urban areas. About 11 percent of people in urban areas are covered by social protection whereas 19 percent of urban population is poor. The coverage in rural areas is higher than the poverty rate, with programs reaching 36 percent of people, while 26 percent live in poverty. Using a social registry, such as the National Household Database can improve targeting of both programs and households at a reduced cost.
"Over the last decades, Bangladesh expanded its coverage of social protection programs that now reach three in every 10 households in the country," said Dandan Chen, World Bank Operations Manager for Bangladesh and Bhutan. "The COVID-19 pandemic has accentuated the need for a more robust, efficient, and adaptive social protection system. Going forward, well-targeted and less fragmented social protection programs that consider the demographic change, unplanned urbanization, labor market vulnerability, and frequent shocks will help the country continue with its success of poverty reduction."
In FY 20, Bangladesh spent about 2.6 percent of GDP in social protection, which is in line with countries with similar income levels. However, some risk groups remain underserved, in particular there are gaps in programing for early years and for the economic inclusion of poor and vulnerable youth and adults. For example, in every eight poor persons, one is a young child. Yet, the poor young children receive only 1.6 percent of social protection expenditures. Spending will be more effective if the allocations are aligned with the share of the poor in different categories, and with the different functions played by programs.
"Investing in early childhood helps a child grow healthier and be more productive in adult life and thus break the cycle of poverty across generations," said Aline Coudouel, World Bank Lead Economist and a co-author of the report. "The country has taken innovative programs, reflecting the life-cycle approach. As patterns of risk change in different phases of life, the life-cycle approach needs to encompass support from pregnant mothers to old age, persons with disabilities, as well as from households facing shocks to those in chronic poverty."
To boost the quality and efficiency of service delivery, Government to Person (G2P) and mobile financial services should be scaled up. It takes about two months to transfer the funds from treasury to the beneficiary. The G2P scheme can cut processing time to 10 days.
This also needs to be paired with increased allocations for staffing, capacity-building training including digital literacy, and improved equipment, which will facilitate enhanced implementation of programs at the local level.
Eritrea: Release journalists and politicians arrested 20 years ago
The Eritrean authorities must immediately and unconditionally release 21 journalists and politicians who were arrested in a sweeping crackdown on dissent 20 years ago, said Amnesty International as it launched a new campaign #WhereAreEritreasDissidents
The arrests of the journalists between 21 and 23 September 2001 followed the arrest on 18 September 2001 of politicians popularly known as G-15 and the banning of independent media after they had published an open letter urging reforms.
"It is unconscionable that these brave prisoners of conscience are still languishing in jail 20 years since they were arrested for exercising their human rights, with no word from the authorities on their current circumstances, and that the ban on independent media remains in place," said Deprose Muchena, Amnesty International's Regional Director for East and Southern Africa.
"Days have turned into months, months into years and now years have turned into decades of unending anguish for these detainees, their families and loved ones. We call on President Isaias Afewerki to take meaningful steps to bring an end to this travesty of justice."
The journalists arrested between 21 and 23 September 2001 are Dawit Isaak, Seyoum Tsehaye, Dawit Habtemichael, Mattewos Habteab, Fesseaye "Joshua" Yohannes, Amanuel Asrat and Temesegn Gebreyesus, Said Abdelkader, Yosuf Muhamed Ali and Medhanie Haile. The politicians – all members of Isaias' ruling People's Front for Democracy and Justice (PFDJ) – include former Vice-President Mahmoud Ahmed Sheriffo and his wife and independence war heroine Aster Fissehatsion, and former foreign ministers Haile Woldetensae and Petros Solomon. Nine of the politicians and journalists have previously been reported to have died in detention, a claim the Eritrean authorities refuse to confirm.
"There are also many other politicians, journalists and activists that were arrested and detained without charge before September 2001 and since then and they must be released too," said Deprose Muchena
Some of the high-profile detainees in Eritrea include former Finance Minister Berhane Abraha, who was arrested in September 2018 following his publication of a book considered critical of President Isaias, and Ciham Ali, the daughter of the defected former Minister of Information Ali Abdu, who was arrested in 2012 aged 15, as she tried to flee the country.
Amnesty International has documented extremely poor prison conditions in Eritrea, in some cases amounting to cruel, inhuman or degrading treatment. Prisons in Eritrea are generally overcrowded, with inadequate water and sanitation facilities and providing poor-quality food and drinking water.
Torture, killings, lawlessness, still blight Burundi's rights record
The people of Burundi continue to endure serious human rights violations including possible crimes against humanity, the majority committed by those with links to the ruling party, UN-appointed independent investigators said on Thursday.
Despite a pledge by President Evariste Ndayishimiye to address the situation in the country after years of violent repression, crimes including arbitrary detention and execution, torture and intimidation, have not stopped, according to the UN Commission of Inquiry on Burundi.
"Not only have grave human rights violations continued to occur, but in some respects the situation has deteriorated", since President Ndayishimiye's took office in June last year, Commission chair Doudou Diene told journalists in Geneva.
These abuses happened against a backdrop of "multiple armed attacks" by opponents of the Government since August 2020, Mr. Diene explained.
"While seeking persons allegedly involved in the armed attacks or collaborating with rebel groups, the security forces targeted mainly members from the main opposition party, the National Congress for Liberty (CNL), former members of the Tutsi-dominated Burundian Armed Forces (ex-FAB), returnees and some of their family members. Some were executed, others disappeared or were tortured while detained arbitrarily."
Dire situation
The Commission noted that although the level of political violence in the Great Lakes nation decreased immediately after the 2020 elections – and with the country appearing to be "on the road to normalization" – the human rights situation remains "dire".
The national poll was held after the death of President Pierre Nkurunziza, whose decision to stand for a controversial third term in 2015 sparked major protests and mass displacement, and ultimately the establishment of the Commission of Inquiry by the Human Rights Council, in 2016.
The political climate today is "highly intolerant of dissent", the Commissioners maintained in their fifth and final report to the Human Rights Council, highlighting how members of opposition parties – notably the CNL – have been targeted, in particular since June 2021.
Imbonerakure impunity
Many security officers and others linked to the ruling party, the CNDD-FDD, continued to go unpunished for their crimes, they added, pointing to agents of the National Intelligence Service (SNR), police officers – including from the Mobile Rapid Intervention Groups (GMIR) – and the Imbonerakure youth-league, whose brutality has been documented in previous Commission of Inquiry reports.
Individuals belonging to these groups are "the main perpetrators of those violations, some of which could amount to crimes against humanity", the Commission of Inquiry report said. "They continue to enjoy widespread impunity for their actions, as has been the case since 2015."
Justice reforms lacking
Highlighting the lack of promised structural reforms to promote accountability in the country, Commissioner Françoise Hampson said that the "rule of law in Burundi continues to erode, despite the stated intention of President Ndayishimiye to restore it".
In common with the Commission's previous findings, Ms. Hampson noted how testimonies gathered for its latest report pointed to an organized campaign "against those elements of the civilian population that were seen as or thought to be hostile to the government in power" – a potential crime against humanity. "Some of the violations that this year's report detail, seem to be a continuation of that policy," she added.
In Burundi, the judicial system could not be relied upon "to curb or remedy human rights violations", Ms. Hampson continued, warning that the newly elected Government "has only been strengthening its control over the judiciary".
For the past five years, the Commission of Inquiry on Burundi has documented, monitored and reported alleged human rights violations in Burundi.
It has conducted more than 1,770 interviews, including remotely, in the Democratic Republic of the Congo (DRC), Rwanda, Tanzania, Uganda, as well as Burundi.
The Commission is scheduled to present its report to the Human Rights Council on 23 September, 2021.