Pakistan's Strategic Preparedness and Critical Decision-Making One Year after Balakot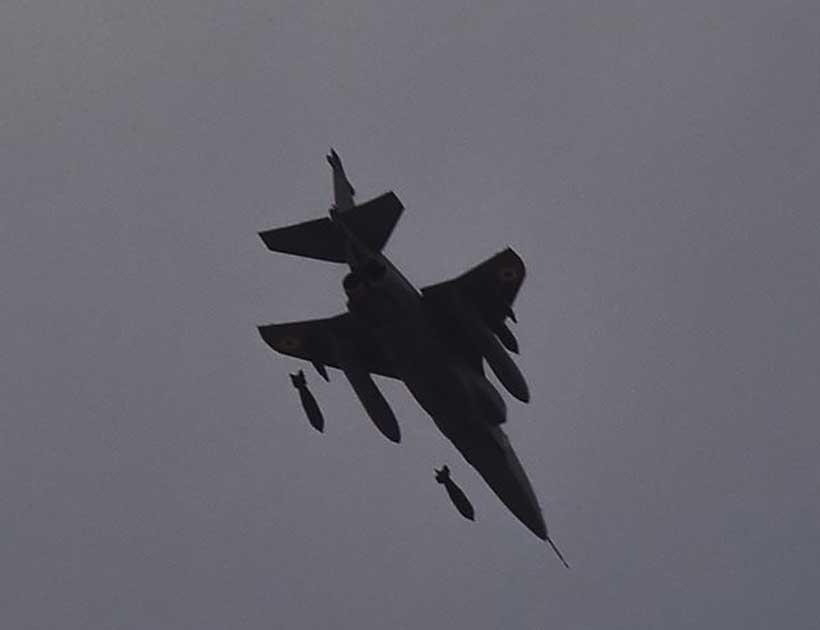 With numerous heads of state gradually coming to terms with the realities of an entire world under lockdown, India's new domicile laws for the disputed territories of Jammu and Kashmir mark a return to business as usual for India-Pakistan tensions. Particularly following Pakistan's official condemnation of what has been termed as the 'Jammu and Kashmir Reorganization Order 2020', the threats which this seven decades old dispute still pose to regional peace and stability remain ever-present even amidst a prevailing global pandemic. Especially considering how just a year ago, both countries were brought dangerously close to the brink of total and perhaps even nuclear war, it is worth highlighting how India's sustained and single-minded approach to altering the status-quo across the LoC, by any means necessary, risks yet another global catastrophe. The kind of catastrophe which may render the ongoing COVID-19 crisis as wholly insignificant compared to the near irreversible effects of a devastating nuclear war between both countries.
These dangers are clearly evident in how with even more than a year having passed since the Balakot air strikes, there has not yet been a clear acknowledgment of how India's new-found penchant for nuclear brinkmanship and reckless flirtation with the escalation ladder has affected Pakistan's strategic preparedness and crisis decision making. For instance, Prime Minister Modi's now infamous reference to his planned qatal ki raat (Night of Murder)and Prime Minister Khan's purported warning of responding to any such provocation 'three times over' presented startling insights into how both countries' politico-military leaders envisioned the escalation ladder. Whereas, the above references are reported to have alluded to ballistic missiles armed with conventional payloads, the irreversible step towards a nuclear strike – be it a tactical demonstration or a pre-emptive decapitation – remained unnervingly close. The risks of which are likely to have then weighed heavily on decision makers on both sides of the border.
Considering how both sides' missile delivery systems are inherently designed for dual-use purposes, this comingling of strategic and conventional assets presents a disquieting reaffirmation of the immense difficulties faced when accurately ascertaining the other's intentions and risk assessments with reference to a 'mutually acceptable' escalation ladder. Whereas many analysts on both sides of the border have evinced confidence that both India and Pakistan understand each other's strategic signals and postures, the deliberate change being brought about within India's strategic doctrine and military thinking is aimed at radically altering this understanding. A development that is further adding to the difficulty of ensuring deterrence stability within an increasingly complex and technologically advanced world.
This impact of comingling strategic and conventional capabilities on critical decision-making and overall situational awareness has been discussed at length in a recent report released by the Center for Strategic and International Studies in Washington D.C.Titled 'Under the Nuclear Shadow' the nearly two year study is aimed at assessing the impact of some of the latest ISR capabilities on the strategic calculus and situational awareness of nuclear weapons states. It identifies a broad range of developments which key policymakers in charge of today's nuclear arsenals need to take into account whilst recognizing 'the complex interplay between technology, escalation, and decision making.' Within this framework, the risks of what the report identifies as 'Entanglement' or decision makers' inability to delineate between nuclear and conventional risks, represents a highly significant potential pathway for escalation.
The simple truth that these risks were in full play during last year's confrontation between nuclear armed India and Pakistan throughout the post-Pulwama environment has since been grossly underrated by Indian policymakers. In fact, this has been evident throughout India's search for a limited engagement with Pakistan, just below its nuclear thresholds as enshrined in its now institutionalized concepts of 'Cold Start' and 'Surgical Strikes'.
As a result, the onus has been placed solely on Pakistan to disentangle such risks. What's more, Pakistan has to now base its risk assessments of India's intentions mostly from the missions being conducted against it, as opposed to the fast expanding, dual-use capabilities of the Indian military. These include India's Brahmos cruise missiles and its S-400 missile defense batteries both of which can respectively deploy and detect both conventional and nuclear assets. Thus, making it extremely difficult for Pakistani decision makers to distinguish a potential conventional mission from a nuclear one.
Taking into account Pakistan's self-avowed doctrine of Full Spectrum Deterrence, what such provocations may and have probably already led to is a significantly reduced nuclear threshold. While much has already been written on how Pakistan's Tactical Nuclear Weapons (TNWs) such as its Nasr missile batteries have significantly reduced this threshold, a perhaps highly understudied aspect is how India's aggressive posturing and increasing ambiguity with regards to its NFU (No First Use)policy has since played psychologically on the minds of Pakistani strategists and decision makers.
As pointed out in the above referenced report, the prevalence of cognitive biases in the form of confirmation bias and availability heuristics within an increasingly complex nuclear environment in themselves present a dangerous path towards escalation. Amidst the deliberate jingoism and incessant allusions to nuclear war-fighting from key leaders within India's national security apparatus, there is a genuine risk that India's institutionalized brinkmanship -by willfully bringing about first-strike instability – may lead to all-out disaster under the reckless garb of calling Pakistan's nuclear bluff. This holds especially true when considering that the dominant discourse surrounding an irrational Indian security junta, imbibed in the RSS's fanaticism, may be directly driving certain aspects of confirmation bias and availability heuristics within Pakistani decision-making circles. A factor that has already perhaps multiplied exponentially since India's decision to engage in a cross-border air-strike against Pakistan just 14 months ago.
Hence, with the entire world reeling from an unseen pandemic that has already changed day to day life as we know it, the risks of something even graver still loom large when considering the precarious strategic balance in South Asia. Risks that are all seriously worth re-considering as both countries simultaneously attempt to secure the well-being and future of their respective populations as part of a joint global effort. Ironically pointing towards yet another common goal which both countries can find some common ground over to help de-escalate such prevailing tensions.
America Produces Biological Weapons; Does Russia? Does China?
On November 26th, Russia's RT News bannered "US 'military biological activities' a threat to the world – Russia", and reported that the U.S. Threat Reduction Agency (an Orwellian name for an American threat-increasing agency) has issued its "DEFENSE THREAT REDUCTION AGENCY STRATEGY FISCAL YEAR 2022 – 2027", and says that the DTRA document
openly identifies expanding the US' ability to "identify, characterize and exploit adversary WMD vulnerabilities" as one of its goals. Another of its aims is to recognize "potential WMD warfighting obstacles" and find "solutions" to help the US and its allies "win during the conflict."
Washington's stated intention of strengthening the implementation of the Biological Weapons Convention (BWC) has been met with doubt from Moscow. Russia has repeatedly raised the issue of the real goal of the Pentagon's research programs at various international sites, [but] … these questions remain unanswered to date.
In late October, Russia filed an official complaint claiming that US-backed biological activities are taking place in Ukraine and requested a UN probe into the matter. The UN Security Council rejected Moscow's proposal, with the US, UK, and France voting against it.
The DTRA's document itself opens:
In his Interim National Security Strategic Guidance, published in March of 2021, President Biden focused the Nation's instruments of power on China and Russia as "pacing threats," in a frankly acknowledged shift to strategic competition. Secretary of Defense Austin's published priorities for the DoD have done the same. These developing strategies have revectored the Nation's national security interest in partnerships and international leadership; on securing the homeland; and in mounting an effective, integrated deterrent to adversary use of weapons of mass destruction (WMD) and emerging threats.
The document goes on to say:
The United States faces a complex and volatile security landscape. As identified by Secretary Austin's 2021 Defense Planning Guidance, China remains the pacing threat and seeks to replace the current international rules-based order [America's proposed replacements of U.N.-based international laws] with one centered on [against] Beijing. While Russia does not pose the same long-term military, economic, or diplomatic challenges as China, it too is highly capable, and seeks near- to medium-term hegemony within its region. [America demands continued and increased U.S. "hegemony" throughout the world.]
In other words: under President Biden, the production of epidemic-producing pathogens will be increased, as part of "a frankly acknowledged shift to strategic competition" against China and Russia.
Page 10 of the document says:
AGENCY GOALS:
3. ENABLE THE JOINT FORCE AND ALLIES/PARTNERS TO COMPETE AND WIN AGAINST ADVERSARIES
The Agency enhances the Joint Force, allied, and partner ability to compete and, when necessary, win against potential WMD-armed adversaries. Today, potential adversaries believe that WMD are critical to shape the battlespace, exert coercive influence, and achieve military aims. The impact of conflicts with WMD-armed adversaries are mitigated by developing counter-WMD technical solutions, highlighting WMD warfighting challenges and adversary vulnerabilities through strategic and operational analysis, and supporting DoD plans and exercises focused on CWMD threats. The Agency provides the Joint Force, allies, and partners with unique insight into adversary WMD force posture, doctrine, and systems. In particular, DTRA examines how potential adversaries plan to employ and integrate WMD during conflict. This better prepares U.S. and allied forces for overmatch within a WMD battlespace. To this end, the Agency will:
Expand our ability to identify, characterize, and exploit adversary WMD vulnerabilities; Strengthen target characterization and servicing requirements for WMD hard targets;
Develop non-traditional planning solutions to emerging WMD problems, to include preventing further WMD employment following adversary first use; and
Recognize potential WMD warfighting obstacles as well as potential solutions to enable the Joint Warfighter to win during conflict.
But is China, and is Russia, actually developing and producing biological weapons — or is America itself instead actually leading the way toward a pandemic-plagued global future?
On 28 May 2020, I headlined "The Stupid Insanity of Biological-Warfare R&D" and argued:
——
There is much speculation that the coronavirus-19 or Covid-19 was invented in a research-and-development (R&D) biological-warfare (B-W) lab, which might have been one in China, the U.S., or perhaps some other country; but, if that is the case, then that country's entire military top brass and Commander-in-Chief (C-i-C) are not merely stupid but insane, for the following very simple reason: NO weapon is usable in war if it cannot be effectively and controllably targeted, and B-W weapons cannot be effectively and controllably targeted — they are contagious and respect no national boundaries and therefore endanger instead of protect the people who live in the country that has such a stupid and insane government, a government that is doing B-W R&D. Any such government (any country that is doing B-W R&D) is so bad that it needs to be immediately overthrown by its own population, because its own population is being mortally and severely threatened by that government's stupidity and its insanity: its entire military top brass including its C-i-C must therefore be placed on trial for possible treason, at least in order to more-accurately define the very meaning of "treason," a term whose meaning is not yet sufficiently clearly defined. (Is there no due-diligence requirement for public servants? Is there no accountability at all for any public servant who harms the public, no matter how badly? Public office entails enormous power, which is why it is so sought; but, along with that power needs to come full accountability. Does that exist? If not, is the nation effectively, then, a dictatorship?)
Ever since at least 1952 (and that 764-page document takes about ten to 30 minutes to load, but here are some excerpts), the U.S. Government has actually been doing R&D (research and development) into the use of bacteria and viruses as weapons to conquer countries that it wants to add to its empire ("allies," or vassal-nations — not merely friendly nations but instead governments, including some barbaric dictatorships, that would prejudicially favor the products of U.S.-based international corporations; this is the U.S. international-corporate empire that became the U.S. Government's supreme international-relations policy-objective to expand globally starting on 26 July 1945 … . That biological-warfare (B-W) R&D tactic was part of America's 'anti-communist' campaign, and it started in this American imperial invasion mainly against North Korea but also against China. The U.S. Government lied and denied that it was true, but subsequently an international scientific team investigated exhaustively into the matter and published the evidence which showed that it had, in fact, happened. Mainly the North Korean population had been bombed with contagious bacteria, but (as is common with R&D) the hoped-for results from this experiment (in this case an uncontainable spread of a deadly infection only in the bombed area) failed. Unfortunately, that failure (of an insanely stupid program) did not terminate the U.S. Government's B-W R&D, and the same U.S. regime remains in place and continues to this day.
For example, the great investigative journalist Dilyana Gaytandzhieva headlined on 20 September 2018, "'Diplomatic Immunity' Used to Traffick Human Blood and Pathogens for Secret Military Program" and opened:
The US Embassy to Tbilisi transports frozen human blood and pathogens as diplomatic cargo for a secret US military program. Internal documents, implicating US diplomats in the transportation of and experimenting on pathogens under diplomatic cover were leaked to me by Georgian insiders. According to these documents, Pentagon scientists have been deployed to the Republic of Georgia and have been given diplomatic immunity to research deadly diseases and biting insects at the Lugar Center – the Pentagon biolaboratory in Georgia's capital Tbilisi.
This military facility is just one of the many Pentagon biolaboratories in 25 countries across the world. They are funded by the Defense Threat Reduction Agency (DTRA) under a $ 2.1 billion military program – Cooperative Biological Engagement Program (CBEP), and are located in former Soviet Union countries such as Georgia and Ukraine, the Middle East, South East Asia and Africa.
Instead of investing in the health of its own citizens the US government has spent $161 million of US taxpayer money on the Lugar Center in Tbilisi for research on deadly diseases and biting insects abroad. (©Al Mayadeen TV)
The secret facility is located just 17 km from the US Vaziani military airbase in Georgia's capital Tbilisi.
The Pentagon biolaboratory is heavily guarded. All passers-by within a radius of 100 m are filmed although the military biolaboratory is located within a residential area.
I am being filmed while talking to local residents on the street near the Pentagon biolaboratory and I want to know why the security guards are filming me. (©Al Mayadeen TV)
The security guards warn me that if I do not comply, show my passport and leave this place, I will be arrested. My official request to the Lugar Center for access to the facility and for interviews has also been rejected.
Secret experiments at night
However, I go back at night when the laboratory is seemingly still working. No matter how far the distance the air is laden with the smell of chemicals. This smell coming from the Lugar Center at night is blown by the wind to the residential area. Local residents from the Alexeevka neighbourhood, where the laboratory is located, complain that dangerous chemicals are being secretly burnt at night and that hazardous waste is being emptied into the nearby river through the laboratory's pipes.
Gaytandzhieva there was reporting on what is clearly a U.S. B-W R&D facility, and so there can be little reasonable doubt that the U.S. Government is so insatiably voracious as to be placing the entire world's safety at risk in order to advance its imperialistic objective.
What use can there actually be for this R&D? Whom does it actually benefit? Has any U.S. President, or any member of the U.S. Congress, pressed to defund all such taxpayer-financed operations and to prosecute the persons who created them? Is there no accountability? The United States has a higher percentage of its population in prison than does any other country on this planet, and so why are not perhaps half of them released and maybe just a thousand of the key individuals who did this immense harm placed there instead? Why is this not being investigated by the same U.S. Government that created the problem? Is there no accountability except against the poorest (such as in America)?
There are allegations that the Government of China likewise engages in this stupid and insane R&D. Consequently, the Editor-in-Chief of China's Global Times newspaper, Hu Xijn, headlined on May 18th, "If coronavirus did not originate in China, Trump team's campaign strategy will collapse" and he said via a youtube:
"The European Union is proposing an investigation into the origin of the coronavirus. As long as the investigation is scientific and fair, Beijing has no cause for concern. I think that Washington is the one that should be worried. Beijing has maintained that the coronavirus is an enemy of humankind no matter where in our global society it came from. Beijing has always taken this stance, which is shared by the majority of the world's countries. Only Washington has politicized the coronavirus's origins as a way to divert responsibility toward China for the US federal government's ineffective handling of the pandemic. Now that early COVID-19 cases in the US are still being discovered, I believe the Trump administration has become very nervous. If the investigation finds that the coronavirus did not originate in China, or even finds that it originated in the US, the Trump team's campaign strategy will collapse. As long as the WHO leads the investigation, and investigates China, the US and the whole world, it will be a good thing. If it finds that the virus originated in China, the US political offensive has already spent most of its energy. If it finds the opposite, which might be the case, it will be a heavy blow to the Trump administration."
If the virus did originate in a Chinese B-W R&D lab, then the next question is: Who actually benefits from that R&D? All such individuals should be tried at the International Criminal Court (like America's never were) for violating the existing international laws against such 'weapons'; but, also, the question would be essential to pursue, of why such stupid and insane 'weapons' are being pursued — who benefits from ANY such R&D. Is it not blatantly clear "that the coronavirus is an enemy of humankind no matter where in our global society it came from"? That's the point here. The United States Government is this stupid and insane, but is China's also?
As regards the penalties that ought to be imposed against any such perpetrators, there is something else that is clear, and it is that a distinction must always be made between institutional criminality that is unintentional but the result only of failure to carry out due diligence — in other words, purely a result of incompetence — versus institutional criminality that entails the CEO's actual intention to achieve some criminal goal.
——
Russia says: "In late October, Russia filed an official complaint claiming that US-backed biological activities are taking place in Ukraine and requested a UN probe into the matter. The UN Security Council rejected Moscow's proposal, with the US, UK, and France voting against it." In other words: the U.N. Security Council voted politically on this — voted only on a partisan basis. RT's article (as is unfortunately normal there and in all 'news'-media) provided no link to the alleged sources, the U.N.S.C. debate, and to the vote there on it; but, if Russia's proposal was phrased in a partisan, instead of neutral, way, then that vote-outcome was inevitable and Russia itself was largely to blame for its failure. However: if it was not, then why is Russia hiding from the public what their precise proposal was? That wouldn't be very bright of them. But was it the case? ('News'-reporting that hides its sources is no better than gossip.)
Are OTHER Governments, and not ONLY America's, producing biological-warfare 'weapons' — such UNTARGETABLE mass-murdering 'weapons' as these pathogens? Why are Russia and China doing nothing to force that issue to the public's attention? Any U.N.S.C. proposal on the matter needs to be clearly nonpartisan. Otherwise, failure on it will be inevitable, and the entire matter will continue to be ONLY an international political football — as it is.
Contemporary Atlantic Alliance: An "Existential" Expansion that Obviates the Evil of Fighting
The behavior that characterized the reactions of US President Joe Biden and Secretary General of the North Atlantic Treaty Organization (NATO) Jens Stoltenberg, about the identity of the missile that fell on Polish territory, is not critical. The two men were keen to deny Moscow's responsibility for its launch, and content themselves with a simple and simplistic narrative saying that it was a Ukrainian air defense missile that deviated from its course in the face of Russian attacks. The origin is the sufficiency of the evil of the clash with Moscow, on the part of the Atlantic involvement in particular, because whether the narrative that is is correct or fabricated, no one on both sides of the ocean, the Black Sea, and the Baltic Sea is ignorant of the dangers of a spark like this, which represents an escalation capable of igniting a confrontation like that. The funniest thing in the context is that the White House and NATO contacts with the Polish government did not aim at consolation or tightening the bonds and solidarity, as much as they exercised a series of pressures so that Polish President Andrzej Duda would not request the activation of Article 4 of the NATO Charter, which obliges allies to consult if a member state feels that its territorial integrity or its political independence or security is under threat.
The principle of the clash, or the sufficiency of its evil either, brings one back to the fact that NATO is not the only military alliance in our contemporary world; And it is not the only reminder, almost, that mankind lived the Cold War throughout an entire and integrated era, just as well; Rather, it is also an alliance of intersecting, converging or opposing interests, often subject to give and take according to the principles of bargaining, settlement, and quota. This does not mean that NATO is not a geographical-civilian-cultural quota, according to what humanity understood from the words of former Czech President Vaclav Havel, two decades ago when his country hosted a NATO summit unlike any other, simply because it was considered a "transformation summit". At that time, Havel said, in an unmistakable tone of warning, that "the alliance should not expand outside a very specific arena of civilizations that are generally known as Euro-Atlantic or Euro-American civilizations, or simply the West." Was it Turkey that was meant by that implicit definition that does not completely succeed in purifying all the racist odors? Or were the countries in which Muslim communities still live? What is the motive for issuing this warning when the summit is discussing the expansion of the alliance in eastern and southern Europe, and the inclusion of seven new countries in the club? And which of these countries (which received their membership documents in the alliance at that time: Estonia, Bulgaria, Slovenia, Slovakia, Romania, Latvia, and Lithuania) did not meet the criteria of the Euro-Atlantic civilization track?
Some argue, as these lines do, that such questions remain superfluous, whoever asked them, as long as the alliance's military-political structure is, and as long as the United States is at the forefront of its leadership and direction on various levels, from which considerations of America's geo-political interests are not absent in the first place. Indeed, the French and Germans do not stop harassing the Pentagon, and the right in Spain lost the battle of the sacred alliance with Washington, and the legacy of the alliance in Libya, Iraq, and Syria is not at all a significant harvest … On the other hand, all members of the alliance know that the shock of 9/11 granted the United States more than a military license; Washington also spared the embarrassment of consulting with Atlantic allies whenever the bell rang in a church. And if the Prague meeting deserved to be called the "Transformation Summit," this was not primarily for military reasons, but rather because NATO penetrated all the former Warsaw Pact sites, and reached Russia's back, belly, and flank, north, south, east, and west!
It is also true that the balance within the alliance is not only imbalanced in favor of the United States but rather lacks a set of elements that allow the use of the term "balance" in any tangible sense. The correspondent of the British newspaper "The Independent" chose a funny way to express this imbalance, so he recorded the fact that the American delegation to that summit of transformation occupied seven floors of the Hilton Hotel that hosted the delegations, compared to one floor for the Dutch delegation, for example! In other, more indicative terms, the United States alone spends one billion US dollars daily on defense affairs, while the total of the 15 European members of the alliance spends nearly 500 million dollars. The world needed the tactlessness of former US President Donald Trump to read tweets like this one: "Without success, for years Presidents have tried to get Germany and other rich Atlantic nations to pay more for protection from Russia. They pay a small portion of their alimony. The United States pays tens of billions of dollars more than it should subsidize Europe and loses a lot in trade. Or this: "Above all, Germany has begun to pay Russia, the country from which it seeks protection, billions of dollars for its energy needs through a pipeline from Russia. this is unacceptable! All NATO nations must implement the 2% commitment, and this must rise to 4%.
And the situation is that the Atlantic began as an American military arm in practice, where the European units affiliated with it are nothing more than a completion of the external decoration; And so the alliance remains today, even after it has grown in number, in equipment, and the area of deployment. It has expanded from 12 founding countries to 15 in the fifties of the last century, until it has reached 32 countries today, including Sweden and Finland; Among them are three former Soviet republics (Estonia, Latvia, Lithuania), and seven former members of the now-extinct Warsaw Pact (Bulgaria, Romania, Slovakia, Slovenia, Albania, Croatia, Poland), and there is a discordant mix in the record of those aspiring to the membership that includes Bosnia and Herzegovina, Georgia and …Ukraine!
As for the level of ideological preaching, military doctrine, and tactical cover, the justifications for the existence of the alliance can begin with the assertion that it is "the largest and most successful alliance in history," according to former US Secretary of State and retired General Colin Powell; It will not end with the certainty of former French President Nicolas Sarkozy (who apostatized from the Gaullist philosophy and restored France to the military leadership of the alliance) that NATO is the only guarantor of European security, which has come and has not come for decades; In addition to the certainty of a country like the Czech Republic, that the difference between its reliance on European defense, versus the American defense, is like the difference between earth and sky!
Whatever these "existential" questions, or others, the matter is the same in terms of the immortality of the alliance's essence, militarily and politically. As long as the United States is the most important country in ensuring its survival, and in strengthening its technological fork in particular, both in defense and attack. The French and Germans indeed tried to harass Washington before the invasion of Iraq in 2003; And Afghanistan, under Obama, turned from a secondary front to a central one… But it is also true that Western Europe (capitalism, free, relatively healthy because of the grace of the United States in protecting the free world and capitalism…), is not allowed to flourish more than the prosperity of the United States itself, and to unify its ranks by detracting from the principle of American hegemony over the international system. That is why the United States pours whatever oils it wants on wars here and there, and it does not find embarrassment when it avoids the evil of fighting, and there are no big differences here between Trump and Biden in terms of the lack of diplomacy or the excessive use of it.
Leaving the legacy behind: Analyzing Gen. Bajwa's six years of Command
The military is a country's most potent institution. The army has been the most important and responsible institution in Pakistan during the 75 years since its independence and the country's founding. Assuming what is considered the most powerful position in the country Pak Army chief is expected to ensure a secure and stable environment in the country and Gen. Qamar Javed Bajwa proved him a person having great real leadership qualities. Currently, Gen. Bajwa will be retiring by the end of November 2022 after commanding the Army for six years. Due to the significance of the title, the army chief plays a crucial role in leading the armed forces and maintaining the nation's peace and stability, and Gen. Bajwa has performed his duties admirably. He truly left a noteworthy legacy. His philosophy has received high praise and served as the foundation for his vision of Pakistan.
Owing to the complex and volatile geo-strategic environment of the region it is quite challenging to balance the risks of conflict with India, a nuclear-armed rival, and instability and tension that may arise with Afghanistan on its western border. During the Bajwa administration, the Pakistan Army launched Operation Radd-ul-Fasaad in February 2017 and Operation Khayber IV to flush out terrorist sleeper cells throughout the nation as well as purge the tribal regions of militant strongholds. This led to extraordinary accomplishments in the fight against terrorism and the refurbishment of peace in Afghanistan for the region's long-term development. One of the major achievements of Gen. Bajwa's tenure was the fencing of the Afghan border. The 2,600 km long fence along the Afghan border has almost been finished by the Pakistani Army.
Goals and objectives are always attained through consistency and adherence to the plan. Gen. Bajwa has consistently spoken out in favor of the Kashmir cause, stating that "peace and stability will remain elusive" in the absence of a peaceful resolution to the Kashmir dispute. His well-founded actions led to promoting Islamabad's diplomacy and mediation with the surrounding nations. A prime example of his statesmanship is his choice to reinstate the cease-fire along the line of control separating Pakistan and India.
Under Bajwa, Pakistan's internal security significantly increased. The "Bajwa Doctrine," which envisioned a stable Pakistan at peace with its neighbors, was his pitch for a peaceful nation. The Royal United Services Institute coined the phrase "Bajwa Doctrine" after his speech at the 54th Munich Security Conference in 2018. In addition to emphasizing democracy and ensuring proper respect for the state's institutions, the doctrine placed a strong check and balance on putting an end to terrorism and also urged Paki-citizens, particularly the young, to combat extremism, claiming that it is a major catalyst for terrorism.
Similarly, under the leadership of General Ba­jwa, Pak-ar­my's efforts contributed to the completion of the socio-eco­nomic development projects in Balochistan. Due to COAS' ef­forts (bringing allpar­ties under one table) for a national consensus, Pakistan was saved from an $11 billion penalty in the Reko Diq case. The project was reconstituted and aimed at excavating huge gold and copper reserves from the site in Balochistan.
Subsequently, Pakistan made unexpected progress with its FATF action plans, as well during last 6 years. The frantic efforts of both the civilian and military leadership enabled Pakistan to project sustainable and irre¬versible progress by enacting laws that addressed various legal, financial, and terrorism-related issues. As a result, Pakistan was taken off the Financial Action Task Force (FATF"grey) list."
Another feather in the cap of Gen. Bajwa is reducing the friction in civil-military relations. He had the vision that an institution like the military could develop into a mediator and supporter of democracy. Gen. Bajwa will always be appreciated as a pro-democracy general, who not only stabilized civilian governments and provided space for democratic forces but also limit the military's role to that mandated by the constitution. This proves that he has demonstrated his responsible attitude toward democracy and politics by maintaining this neutral stance.
Gen. Bajwa improved Pakistan's international diplomacy. His covert efforts prevented Pakistan from going into economic default and made it possible for the governments to get much-needed financial support from foreign lenders in exchange for rollovers from China and Saudi Arabia. Additionally, under Bajwa's tenure, Pakistan's initiatives like the China-Pakistan Economic Corridor (CPEC) and relations with nations like the United States have improved significantly. Gen. Bajwa's unceasing efforts for Pakistan earned him the Nishan-e-Imtiaz, Hilal-e-Imtiaz (Pak-Military), and many other international awards. The country is honored to have courageous soldiers like him.