World Bank to Help Improve Business Environment and Justice Service Standards in Croatia
The World Bank Board of Executive Directors today approved a loan to the Republic of Croatia for the Justice for Business Project in the amount of EUR 100 million (US$110.3 million equivalent) aimed at improving business regulatory procedures and justice service standards for businesses and citizens.
The project will support the implementation of reforms that will improve the country's business environment and justice sector services under the leadership of the Ministry of Justice, in coordination with the Ministry of Economy, Entrepreneurship and Crafts and the Ministry of Construction and Physical Planning. A first set of activities will focus on reducing the administrative burden for companies to interact with government, focusing on removing regulatory barriers for firms to enter the market and operate and by simplifying dealing with construction permits and improving market functioning in the construction sector.
The project will also improve justice services. For example, the use of electronic services will be expanded to speed up response times and integrate case management systems across different courts. The Zagreb, Vinkovci, Kutina and Varazdin courthouses will be rehabilitated and upgraded for better court performance and user experience, and these transformational investments will help develop standard investment designs to be replicated across the country.
"Increasing the capacity of the state to swiftly respond to the needs of citizens and firms, particularly during these times of crisis, is especially important. Improved justice sector infrastructure and services will benefit both citizens and businesses. Businesses will benefit from having a simpler and more transparent way to interact with government agencies and faster and more responsive mechanisms to interact with the courts, and all citizens will benefit from more effective, efficient and reliable administration of justice and rule of law," said Elisabetta Capannelli, World Bank Country Manager for Croatia and Slovenia. "In such a difficult time for Croatian citizens, caused by the multiple emergencies to the health system, the city of Zagreb and the economy, this project can also contribute to providing an economic and confidence boost to the country."
In the past years, Croatia has made significant efforts to improve the country's public sector performance, which is falling behind European Union (EU) averages across most governance, business environment and human capital indicators. While key government institutions, most notably the public administration and the judiciary, are still underperforming according to both EU and global benchmarks, the Government of Croatia is committed in its effort to modernization its administration.
Since joining the World Bank Group in 1993, Croatia has benefited from the World Bank's financial and technical assistance, policy advice, and analytical services. To date, the World Bank has supported more than 50 operations amounting to around US$3.5 billion. The Bank's current engagement focuses on transport, health, innovation, business environment, land administration, agriculture, economic development of the Slavonia regions and support for the preparation of the National Development Strategy.
Countries urged to act against COVID-19 'infodemic'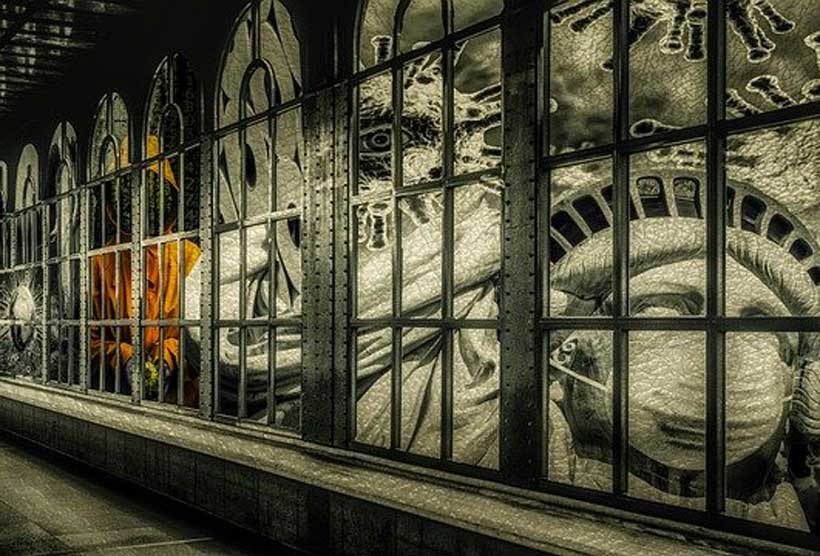 The UN and partners have urged countries to take urgent action to address what they have described as the "infodemic" that has surfaced in tandem with the COVID-19 pandemic, both in the real world and online.
The pandemic is the first in history in which technology and social media are being used to both inform people and keep them connected, but also to undermine global response to the crisis and jeopardize measures to contain the disease, they explained.
"Misinformation costs lives. Without the appropriate trust and correct information, diagnostic tests go unused, immunization campaigns (or campaigns to promote effective vaccines) will not meet their targets, and the virus will continue to thrive", the partners said in a statement issued on Wednesday.
"We call on Member States to develop and implement action plans to manage the infodemic by promoting the timely dissemination of accurate information, based on science and evidence, to all communities, and in particular high-risk groups; and preventing the spread, and combating, mis- and disinformation while respecting freedom of expression."
Authorities also were urged to empower communities to develop solutions and resilience against the infodemic.
Stakeholders such as the media and social media platforms were called on to collaborate with the UN system, and each other, "to further strengthen their actions to disseminate accurate information and prevent the spread of mis- and disinformation."
Communications emergency
The statement signed by the United Nations, eight of its entities, and the International Federation of the Red Cross (IFRC), followed a virtual meeting organized by the World Health Organization (WHO) on the sidelines of the UN General Assembly.
In a video message for the event, UN Secretary-General António Guterres underlined how the COVID-19 pandemic is also a communications emergency.
"As soon as the virus spread across the globe, inaccurate and even dangerous messages proliferated wildly over social media, leaving people confused, misled and ill-advised", he recalled.
"The antidote lies in making sure that science-backed facts and health guidance circulate even faster, and reach people wherever they access information."
Science, solutions, solidarity
Throughout the pandemic, the UN chief has highlighted the need to fight the tide of harmful health advice, hate speech and wild conspiracy theories that has surfaced alongside COVID-19.
In May, the UN launched the Verified initiative, encouraging people everywhere to serve as "digital first responders", who share trusted, accurate information on their social media platforms.
"Working with media partners, individuals, influencers and social media platforms, the content we spread promotes science, offers solutions and inspires solidarity," he said.
As Mr. Guterres told the meeting, fighting misinformation will be critical as the UN and partners work to build public confidence in the safety and efficacy of any COVID-19 vaccines being developed.
Catching up on routine vaccinations
That message was echoed later on Wednesday at another WHO virtual meeting to galvanize governments and humanitarians to safeguard immunization campaigns during the pandemic, and to ensure infrastructure is in place for the future equitable distribution of COVID-19 vaccines.
Although the UN estimates some 80 million children worldwide have not received routine immunizations due to the pandemic, services are resuming with the goal of "catching up to build better", according to Kate O'Brien, Director of WHO's Department of Immunization, Vaccines and Biologicals.
She said partners are also working "closer than ever", and with greater integration; principles that will be applicable for the future delivery of any COVID-19 vaccines.
"Our goal is to ensure fair and equitable access to vaccines against COVID-19 for all countries, harnessing the partnerships to work together to bring safe and effective and affordable vaccines…and do it because nobody is safe until everybody is safe", said Ms. O'Brien.
A 'global insurance policy'
WHO along with Gavi, the Vaccine Alliance, and the Coalition for Epidemic Preparedness Innovations (CEPI) spearhead a global initiative that has pledged to put COVID-19 vaccines in the hands of anyone, anywhere who needs them.
GAVI chief Dr. Seth Berkley described the COVAX Global Vaccines Facility as a "global insurance policy", committed to ensuring no one is left behind. The goal is to produce two billion vaccine doses by the end of 2021.
Dr. Berkley reported that more than 160 countries either have committed to the Facility, or are eligible to receive vaccines, with others expected to join this week.
"Gavi right now helps vaccinate half the world's children. But the global delivery of COVID vaccines will be the single largest and most rapid deployment the world has ever seen", he said.
"Also, with the levels of rumours and false information, we will need to work with communities everywhere to provide accurate information."
The COVAX Facility is part of the Access to COVID-19 Tools (ACT) Accelerator which aims to speed up the development and production of tests, medicines and vaccines that will be available to all countries.
The ACT Accelerator was launched in April and has so far received around $2.7 billion. The UN Secretary-General recently appealed for a "quantum leap in funding" to meet the $35 billion still needed.  
Climate Heat Maps Show How Hot It Could Get for Today's Tweens
Climate-related impacts such as the wildfires in the western United States will only become more severe if we allow the worst-case scenario to unfold by 2100. A new EarthTime visualization shows just how hot the world may become in 2100, within the life expectancy of today's tween, 10-12-year olds.
The findings, announced at the fourth World Economic Forum Sustainable Development Impact Summit, place even more urgency on business and government leaders to fast-track solutions and act now to prevent such a scenario unfolding.
Experts attempting to rank the severity of climate change scenarios likely to play out by the year 2100 refer to the worst of them as "RCP 8.5." This entails more than 4°C in warming above pre-industrial levels, rising emissions, hundreds of millions of people being forced to migrate, and a big increase in forested area prone to the type of fires that have raged this summer (due to a phenomenon dubbed the "moisture deficit").
The World Economic Forum has used data from the Climate Impact Lab, Climate Central, the Washington Post, and NASA satellites to create a visualization of this worst-case scenario.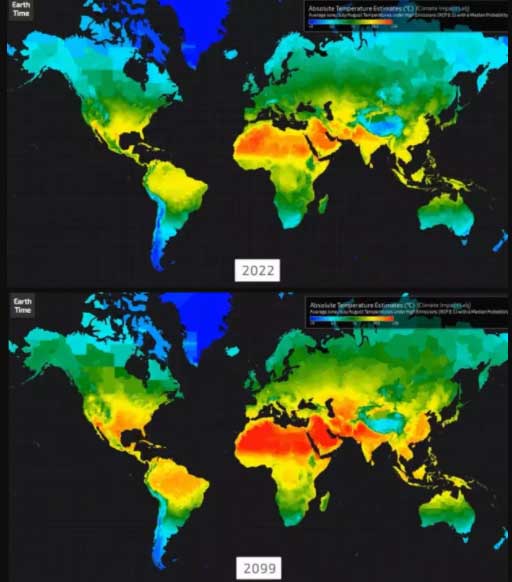 The data model shows that by 2100:
Average June-August temperatures reach 38°C (100.4°F) for many parts of the world
New Delhi, India, has eight months a year with temperatures averaging 32ºC (89.6°F) up from six
Phoenix, Arizona, has nearly 200 days a year of temperatures hitting at least 32ºC (89.6°F)
Regions of southern Europe average June-August temperatures of 30°C (86°F)
Viet Nam, Cambodia, Malaysia and Indonesia's June-August temperatures average more than 30°C (86°F)
Miami and Fort Lauderdale, Florida, disappear under water due to rising sea levels
"Longer-term trends can often seem abstract and intangible," said Stephan Mergenthaler, Head of Strategic Intelligence at the World Economic Forum. "Visualizing the effects of these trends, based on the latest scientific data, can help people take action and work towards shared goals."
Experts agree that the worst impacts of climate change can be avoided if we limit global warming to below 2ºC above pre-industrial levels. Effective climate policies, fighting efforts to discredit legitimate science, removing carbon dioxide from the atmosphere or offsetting it by planting new forests, and upgrading transportation and energy systems can all be part of the equation.
"To speed up the delivery of the Sustainable Development Goals and create change, we need to get as many people involved as possible," said John Dutton, Head of UpLink at the World Economic Forum. "Anyone can make an impact. We have seen the next generation of change-markers and social entrepreneurs stand up and create action plans on the UpLink platform to make sure we don't see this visualization come true. Connecting these ideas to funding sources, scaling up impact and creating a community of support will help us address the critical opportunities ahead for this generation."
Innovative projects on the UpLink platform include how to reduce emissions by buying and selling unused shipping container space, how to use waste management and data analytics to reduce plastic in the ocean, and how to create packaging made from sustainably farmed seaweed. Projects allow start-ups to flag what they need to succeed and connect them with software developers, funders, or resources to deliver impact.
80 EarthTime Stories
The climate visualization is one of nearly 80 EarthTime stories that have so far been published alongside hundreds of related topics on the Forum's Strategic Intelligence platform. They cover a broad range of issues including environmental protection, technology development, intellectual property trends and systemic racism. These visualizations are intended to help illustrate important global trends and dynamics in an easy-to-understand, readily accessible way.
Climate tech investment grows at five times the venture capital market rate over seven years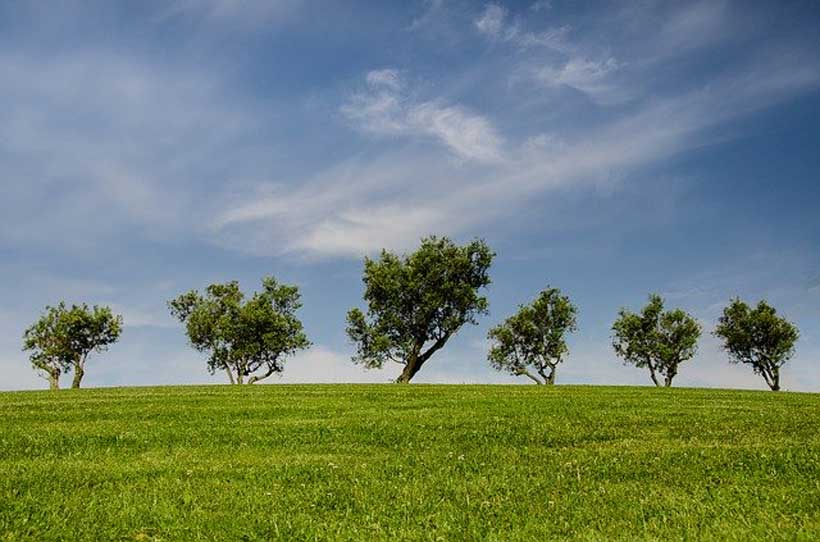 VC and corporate investment in startups developing technology enabled solutions to climate change, and the transformation to net zero emissions, grew at a faster rate than VC investment as a whole between 2013 – 2019. In that time, US$60 billion of early stage capital was invested globally into startups contributing to tackling the net zero challenge.
As Climate Week in New York focuses attention on transforming business and economies to net zero emissions, the new research by PwC examines the global startup ecosystem critical to commercialising the innovation needed to make a net zero future a reality. The first-of-its-kind analysis defines the climate tech investment landscape, and examines global early-stage climate tech deals, volumes, trends, sectors and investors. Climate tech is defined as a broad umbrella of solutions to reduce greenhouse gas (GHG) emissions across energy, transport, the built environment, industrial processes, and food and land use; in addition to shifts towards less resource-incentive business models, or carbon removal technologies.
While climate tech is a nascent sector overall in the VC market (approx 6% of total capital invested in 2019), climate tech VC investment increased from US$418 million per annum in 2013 to US$16.3 billion in 2019. That is approximately three times the growth rate of VC investment into Artificial Intelligence (AI) over the same period.
Key factors influencing investment include capital efficiency to prove and scale solutions; and the potential for the solutions to provide cost effective carbon reduction or removal.
Nearly half of all venture dollars ($60bn) went to US and Canadian climate tech startups (US$29 billion); China is second at US$20 billion. The European market attracted US$7 billion. Mobility and Transport solutions dominate US and China investment.
"The analysis shows the urgency of the opportunity, and gap to close, to support and scale innovative technologies and business models to address the climate crisis," comments Celine Herweijer, global leader, Innovation & Sustainability, PwC UK. "Climate tech is a new frontier in venture investing for the 2020s."
"Some of the technologies and solutions critical to enabling this transformation are proven and need rapid commercialisation, which is why venture capital is key. It will not need trillions invested in startups to make a difference. But for the trickier technologies and markets it will need targeted support, including from governments, to make it through research and development, and the early stages beyond which capital increasingly is lining up."
Drivers for growth
Climate tech related to mobility & transport, heavy industry, and GHG capture and storage are the fastest growing segments in the analysis, followed by food, agriculture, land use, built environment, energy, and climate and Earth data generation.
Investment in micro-mobility such as e-scooter and bike platforms and wider transport innovation has grown dramatically, recording a compound annual growth rate (CAGR) of 151%, and representing 63% (US$37.4 billion) of all climate tech funding over the past seven years. The scale of transport innovation has also driven bigger deals.
"The climate tech market is maturing. As a society we are seeing more entrepreneurs launch startups, more investors back them, and an increasing number of larger funding rounds for later-stage high-potential deals.", said Azeem Azhar, Senior Advisor to PwC UK, founder of Exponential View, and co-author of the report. "But PwC's analysis shows the ecosystem is still nascent, with key gaps in the depth and nature of funding available to founders and tricky structural hurdles for them to navigate as they scale their businesses."
Investors
Climate tech venture funding is coming from every corner of the market. Investors range from more traditional VC firms and venture funds specialising in sustainability, to corporate investors including energy majors, global consumer goods companies and big tech, government backed investment firms, and private equity players getting exposure to deals earlier.
The strategic role of corporate venture capital (CVC) in particular, is key to many climate tech startups. Particularly those typified by high capital costs, targeted at disrupting asset-heavy incumbent industries with high barriers to entry, such as in energy, heavy industry and transport. For Mobility & Transport, 30% of the climate tech deals include a CVC firm, and in Energy, 32% of capital deployed came from CVCs. Overall, nearly a quarter of climate tech deals (24%) included a corporate investor.
"The involvement of corporates will be key to the continued success of climate tech – both in terms of their net zero commitments driving demand for new solutions, and their investments into commercialising innovation. It's not just the financial means they bring, but the commercial know-how, and industry knowledge to help startups navigate how to rapidly deploy and scale new innovations into the market," comments Celine Herweijer.
Investment Hubs
Analysis of the top investment centres in Europe, Asia and the Americas shows climate tech startup investment in the San Francisco Bay area (US$11.7 billion) is 56% higher than its nearest rival, Shanghai (US$7.5 billion). Compared with the other regions, Europe is more invested in energy, particularly developing the core technologies for renewable energy generation (predominantly photovoltaics (PV) cells) and energy storage (batteries), demonstrating the potential for regional specialist capabilities to develop in a second wave of development of the climate tech sector, following mobility and transport.
Outside of mobility and the dominant US and China markets, Berlin, London, Labege (France) and Bengaluru, India were amongst the top ten cities for climate tech startup investment, attracting US$1.3 billion mainly across energy, agriculture and food and land use.
The COVID-19 pandemic reinforces climate tech need and opportunity
In the short term, while COVID-19 is likely to have caused a lull in VC market activity during 2020, long term investment and potential in the market appears resilient. Over the past year, close to 300 global companies have commited to achieve net zero emissions before 2050. Many of these commitments include substantial pledges to fund innovation.
"Every commitment represents a demand signal—a new customer—in the market for a solution that helps them achieve net zero," comments Celine Herweijer. "More broadly the increased profile of Environmental, Social, and Corporate Governance (ESG), increasing government commitments to a 'green recovery', and continued rising consumer pressure to respond to the climate crisis is cementing demand for climate tech."
"Despite significant and promising levels of growth, with just ten years to reduce by half global greenhouse gas emissions to limit global warming to 1.5C, climate tech needs a rapid injection of capital, talent and public-private support to match its potential to build and accelerate faster, bolder innovation," adds Celine Herweijer.