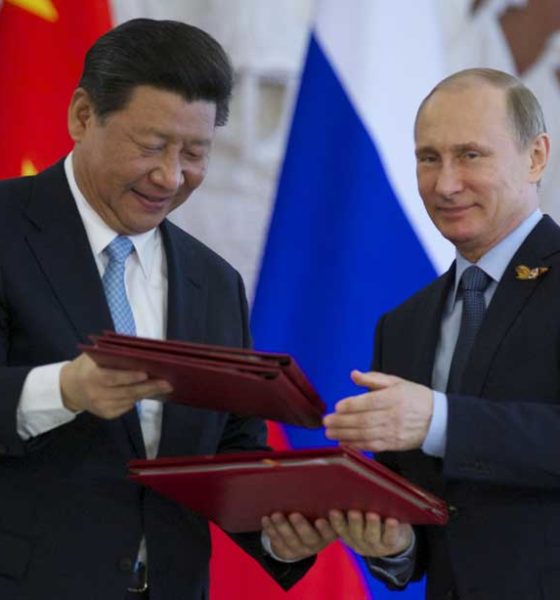 Russia-China relations: Engagement abilities in managing their differences in Central Asia
Ever since the collapse of the Soviet Union, Moscow and Beijing have converted their relationship from being Cold War rivals to become realistic partners with a common goal of pushing back at a Western-dominated international system. Their relationship is strategic and opportunist but noticeable by progressively well-matched economic, political, and security interests. Sharing a geopolitical worldview of multipolarity, they mutually have firm desires to contain Western power and seek to accelerate what they see as the weakening of the United States. With a collective desire to shift the focus of global power from the Euro-Atlantic space to the East, they aim to redraft at least some of the rules of global governance, signifying that their partnership is becoming progressively strategic. Yet the Chinese-Russian relationship is complex, with lasting uncertainty on both sides which is the common phenomenon in world politics. Despite the grand drives for cooperation uttered by the two countries' leaders, attaining applicable results often escapes them, predominantly in the Russian Far East and the Arctic, where understanding the overabundance of trade, investment, and infrastructure deals announced since 2014 has been challenging. Regardless of the difficulties faced by both countries the level of engagement in these stages has tested Russia's and China's abilities to manage their differences and interpret the rhetoric of corporation into solid gains.
Russia China Bilateral Ties
China Russia relations, also known as Sino-Russian relations and this refers to international relations between the people's Republic of China and the Russian Federation. Diplomatic relations between China and Russia dramatically improved after the dissolution of the Soviet Union and the establishment of the Russian Federation in 1991. American scholar Joseph Nye argues: With the collapse of the Soviet Union, that de facto US-China alliance ended, and a China-Russia rapprochement began. In 1992, the two countries declared that they were pursuing a "constructive partnership"; in 1996, they progressed toward a "strategic partnership"; and in 2001, they signed a treaty of "friendship and cooperation.
All through at the end of the Cold War, few would have foreseen a full-bodied Russian-Chinese relationship in the twenty-first century, the two countries have had a long, complex, and touchy history dating back to the 1800s when Russia's eastward expansion across Siberia and the Russian Far East led to China conceding over 1.5 million square kilometers of territory to imperial Russia. Shocked by war and uprising in the twentieth century, both countries became brief allies after the Communist Party takeover in Beijing in 1949, as Moscow dispatched technical aid, financial assistance, and political advisers to China. At the time, Moscow was firmly the leader of the global socialist movement and saw itself as by far the stronger partner in the Sino-Soviet relationship. However, the two countries divided ideologically during the Nikita Khrushchev era, becoming Cold War opponents by the 1960s with a highly armed and disputed border that pushed4,380 kilometers. A series of border clashes in 1969 left scores of mostly Chinese soldiers dead.
Russia and China on a multilateral basis
On a multilateral basis, China and Russia began harmonizing their positions in the United Nations (UN) and other international bodies in the 1990s. In 1997, for example, they presented to the United Nations General Assembly a "Joint Declaration on a Multipolar World and the Establishment of a New World Order," and the was an early signal of their shared antipathy of Western dominance in the international system and their desire to rebuild it to their benefit. They both promote the United Nations as a key pillar of the international system, because of the authority and influence that their status as permanent Security Council members provides. They similarly have worked together in the Asia-Pacific Economic Cooperation (APEC) forum, the East Asia Summit, G20 group of prominent economies, and the BRICS group (Brazil, Russia, India, China, and South Africa) to support their interests. In 2003, they both pushed back at the UN against the Iraq war, and they criticized (although neither vetoed) the West's military intervention in Libya. Today, both frequently highlight the instability that Muammar Qaddafi's overthrow brought to the region.
Conversely, since then, Moscow and Beijing have worked together to challenge principles of the U.S. led international system to which they share an aversion. They have collaborated to protect fellow authoritarian states from human rights criticisms and outside efforts to change their political trajectories. They branded Western democracy promotion as an example of destructive, unhelpful, and intolerable interference by strong powers in the internal affairs of sovereign states. They also look to each other for models for ensuring regime stability and domestic governance. Beijing, for example, has passed legislation similar to Russia to limit the activities of non-governmental organizations and limit their ability to accept foreign funding. Moscow similarly is trying to join aspects of China's internet firewall to gain greater control over information flows on the Russian-language internet. Moscow's new laws banning virtual private networks (VPNs) appear to be following the Chinese model of fastening down on VPNs and other internet proxy services that allow users access to websites that are restricted by the state. They likewise have collaborated in numerous international settings to increase the power of states over the internet, challenging the free flow and access of information, and seek to reduce the power of the West over decisions concerning global governance. However the Russian Chinese political, economic, and international ties Developments have led Beijing and Moscow to promote their "strategic partnership," claims that have only strengthened since Putin's "pivot to Asia" in 2013 and Russia's break with the West after the Ukraine crisis the following year. Both countries see the other as a useful counterbalance to U.S. influence. Besides, with its traditional sources of capital now restricted due to sanctions, Russia sees China as a provider of funds to support its struggling economy. China, meanwhile, benefits from Moscow's efforts to prevent Western military and economic power internationally, conceding leadership to Russia in opposing Western policies abroad, while benefiting by receiving minimal blame. Yet when Russia and China have come together in Central Asia, the Russian Far East, and the Arctic, their interests and realities on the ground have tested their ability to manage differences and sustain this strategic alignment.
Central Asia race
Central Asia is witnessing a key rebalancing of power with Russia declining and China emerging as one of the region's most influential players. China's rise in Central Asia is due to its wide-ranging vision for regional connectivity, an appetite for Central Asian energy resources, and generous reserves, which it distributes to Central Asia through commercial investments, loans, the Asian Infrastructure Investment Bank, and several other entities. Unlike the West, China makes no demands for political reform from Central Asian governments. Unlike Russia, Beijing does not use political pressure to keep the region in its general orientation. The lack of an obvious political agenda other than regional stability, which Beijing believes can be guaranteed through economic development, makes China particularly attractive to local governments.
Although China's presence is mounting across all of post-Soviet Eurasia, its increasing geopolitical and geo-economics influence is most outstanding in Central Asia, which is where China has learned how to manage Russian concerns over its growing regional influence. Through the BRI predictable to increase Chinese influence throughout Eurasia, including Russia, sustaining positive dynamics with Moscow in Central Asia will remain one of the most important tests of Chinese political and economic diplomacy; so far, Beijing appears up to that test. China is smart in managing Russia because Beijing engages with Central Asia primarily on economic issues; it has made no explicit push into political or military concerns. While Beijing's soft power is growing in Central Asia, it still cannot compete with Russia's media presence in the region or the fact that Russian universities, particularly those in Siberia, remain more widespread than Chinese ones, although the number of Central Asian students studying in Chinese universities often with heavy earnings from the Chinese government is on the rise. From 2005 to 2015, the number of Kazakhs studying in China increased from 781 to 13,198, while the Chinese government now offers twenty-three academic scholarships to Kyrgyz citizens wishing to study at Chinese higher education institutions.
Conclusion
in conclusion ,Russia and China have become increasingly close partners on the global scene, motivated to work together both to pushback at what they consider the United States' pursuit of repression and to change a Western-dominated international system that they observe as disadvantageous to them. They have resented Western efforts to promote human rights and good governance, seeing the West's push to create more open political or economic systems as part of a comprehensive and corresponding attempt by the United States and Europe to promote regime change for geopolitical advantage. These collective views have pushed the strengthening of their bilateral relations, efforts that have only enhanced since the start of the Ukraine conflict in 2014. The utmost hazard to Western interests from the increasing strategic partnership between Russia and China does not come from any of any country in the region. But it instead emanates from the two countries' common efforts to adjust the international system to their advantage. Furthermore, in this regard, Washington should support economic cooperation. On the other hand, the degree to which the Sino-Russian alliance may become anti-American and anti-Western in the future depends on how deeply the two Eurasian powers feel that the United States threatens their interests. While it values friendly relations with both countries.
Discourses and Reality of New Great Game: Particularly focus on Kazakhstan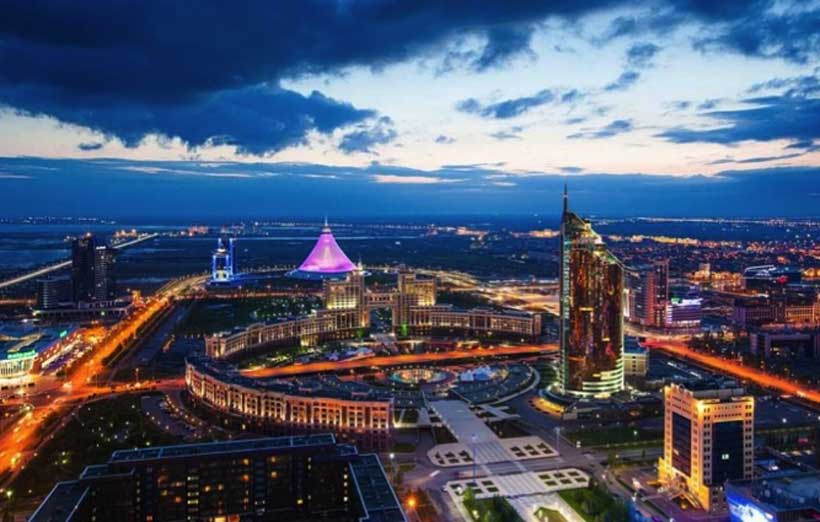 The "New Great Game" became a much-debated term of current events in the region. Currently, the analogy of "great powers" transformed into hegemony, powers, regional security. It is basically focused on the importance of the geopolitical security, financial control, global supremacy and energy. This renewed game brought more competition, more rivalry among the players. After the disintegration of the Soviet Union in 1991, it strengthened the regional security and decreased the tendency for the ruling of only one power over the regions. It is very obvious that "New Great Game" is dynamic in nature. . The renewed geopolitical interest determines the actions, behaviour and the role of the players in this game. It is mainly maintaining the balancing game internationally. Almost for a decade, the major external, as well as Regional players struggled for hegemony, power, global supremacy, natural gas resources, energy, and towards the control of oil resources of the region of Caspian Sea were described as the 'New Great Game'. The major four combatants are China, Russia, U.S.A and EU.
Lately, in the 19th century, few experts used the term, "The New Great Game" and analyses that "it is an international competition between foreign rivalry and within the Central Asian region". The term New Great Game has been used both as an opportunity and a constraint for major players in global politics. There is competition for control, power, dominate, own motives and interest. The new sources of hydrocarbon resources, natural gases and extracting oil were probably available for major external actors. The growing use of this analytical value could be described as politico-religious goals, maximization of profit, and promotion of religious security and revival of geopolitical interests. These two ideas have perceived the political, social, economic security. The contemporary use of the geopolitical approach in this region is self-evident, which has increased their roles in the foreign policy of global powers. Some Western observers suggest that the Caspian Sea countries contain the largest amount of energy resources. 'The Caspian region' has become a significant source of global energy production as well as a centre of extending geopolitical and economic interest. The aim of the renewed game is more focused on independent sovereignty, attaining control over the oil, energy assets and secure transportation routes to global markets than balancing their neighbours.
The Caspian region possesses the rich amount of energy resources, "which is playing a significant role politically and economically in order to dominate the region over the Caspian region countries and the world". After Kazakhstan proclaimed its independence in 1991, it found itself landlocked and located between two major powers China and Russia. Kazakhstan has enormous energy resources of oil and natural gas, but Kazakhstan lies far from the world's energy markets. For Kazakhstan, the route of pipelines exporting oil and gas is a major interest, and both a source of prosperity and potential political dependence. For both the United States (US) and China, Kazakhstan and Central Asia represent an alternative source of stable oil and gas supply and help to limit China's oil dependence on the Middle East and organisation of petroleum exporting countries (OPEC). Several commentators, authors and scholars have described the competition for energy resources in Central Asia between the world's major powers as a "New Great Game." "This policy is based on Kazakhstan's need to build relations and partnerships in multiple directions". Kazakhstan's location in Central Asia with powerful neighbours and a landlocked position, demands Kazakhstan to cooperate with others to secure export routes for its resources and protect its interests more broadly. "The country's large reserves, growing production and export of oil and gas give Kazakhstan an opportunity to use energy resources as a tool, to promote and achieve foreign policy interests and objectives". Energy resources can potentially help Kazakhstan to overcome its difficult foreign policy position, and avoid too much dependence on any one state, especially Russia.
Dynamics of New Great Game and Kazakhstan
Kazakhstan is a young sovereign state. The economy of Kazakhstan depends densely on oil sector. After Russia, Kazakhstan places second in terms of mineral production among the CIS countries. It is also a landlocked country and a transit country. In 1911, Kazakhstan became an oil producer. In the decade of 1960s and 1970s, the production became expanded to a relevant level. The rich resources, oil and natural gas, in the region has attracted the international community. Recently, the oil production of Kazakhstan is influenced by two giant onshore fields, namely, Tengiz and Karachaganak. Kazakhstan makes an effort to perform strategy among other countries of the world community that makes it an equivalent partner.
Energy has become the focus of Kazakhstan's foreign policy after the disintegration of the Soviet Union. Since its independence the leadership in Kazakhstan has followed multi-vector and balanced principles in its relationship with all the countries in the international arena. The geography of Central Asia is such that due to its natural resources and its proximity to the Caspian Sea, they attract the focus of the developed and developing countries for their growth. Hydrocarbon reserves have been the greatest boon for Kazakhstan and since independence it has greatly utilized this capacity.
"New Great Game" as the utmost generally used analogy for the geopolitical change of Central Asia. For Kazakhstan, this game approach is mainly for three reasons: territorial integrity, regime legitimacy and universal recognition in regional as well as international affairs. The countries of Central Asia have been the focus of this great game since the disintegration of former Soviet Union: "Central Asia, for good or for ill, is back once more in the thick of the news, and looks like staying there for a long time to come." This approach reflects awareness among central Asian states. Central Asian states play a central role in interactions between European Union (EU), America, Russia and China. Kazakhstan is an independent state, who have been changed its ideology and focused on both a constraint and an opportunity of game approach. On the one hand, original great game was fought between Britain and Russia for dominance in Central Asia.
In 2013, as Laruelle and Peyrouse says "a realistic interpretation of the interaction between Central Asian countries and external actors is therefore not of a 'Great Game,' but rather of many 'little games' that are modular, evolving, negotiable, complementary, and not exclusive of one another". The "great powers" discourse has transformed and now focuses on the importance of the region principally as suppliers of energy resources to the global market; increasing competition has led to increasing conflicts in the region. In the "New Great Game" the fight for control over territory has now been shifted to the control of oil and gas reserves and pipeline routes.
The new players to join this great game are USA, China and the EU. As Cooley (2012) has stated, the game is not the sole preserve of the global players: "the Central Asian states, even the weaker ones, are not passive pawns in the strategic manoeuvrings of the great powers, but important actors in their own right. Thus, the new game is being played at a number of levels. The rules of the game are not dictated solely by the big players. The Central Asian states themselves have drawn up the 'local rules' that guide many of these geopolitical interactions, learning to leverage this interest and even fuel perceptions of regional competition to guard their domestic political power and extract economic benefits".
Kazakhstan is a predominant actor among Central Asian countries. It is a key player in terms of supplying natural resources to the outside world. As Khidirbekughli (2003) puts it, "Kazakhstan has become the focal point of strategic rivalries in twenty-first century". However, in the power rivalry between Russia and China, Kazakhstan becomes very vulnerable. The key observer of the game for the Kazakhstan government is both internal and external. As a newly independent nation Kazakhstan has a need to establish its legitimacy domestically and internationally. Its multi-ethnic political entities that have emerging from its colonial and imperial past have also contributed to this great game. The President of Kazakhstan has also promoted "economy first" principle and has also associated himself and his government with set targets. These targets give importance to economic development ahead of democratic ambition. In the past decade Kazakhstan has been among the top five fastest developing countries. Territorial integrity and regime survival have been the aim of the elite in Kazakhstan. Moreover, personal wealth and status have also been important. Kazakhstan has asserted its independence by developing diplomatic relations with 139 countries, diplomatic missions in 74 and accredits diplomats from 107 states. Kazakhstan is also an enthusiastic participant in regional and international organisations. These include the WTO, the OSCE, the Shanghai Cooperation Organisation (SCO), and the World Economic Forum in 2013.
Localism in Tajikistan: How would it affect Power Shift?
Localism has been a common characteristic of all post-Soviet Central Asian Republics. However, this trait emerged in different ways; the result has been almost similar. The phenomenon is stemmed in unbalanced developing process and deliberate unequal share of power between regional ethnic groups of Communist leadership.
In Tajikistan, the localism emerged with more complexity and has had more important consequences. In some opinions, a main root of Tajik Civil war of 1990s, had been localism which followed by religious and ethnic gaps. In essence, the war was between privileged and unprivileged areas[i]. Akbar Turjanzoda, prominent cleric and former deputy Prime Minister of Tajikistan, who is also known as an influential figure of peace process, in his book "Between water and Fire" emphasizes on a "balanced localism" and suggests the balance between representatives of different regions is the only solution for a peaceful country[ii]. After the Peace Accord, everyone expected to do so, however the balance never achieved.
In Soviet era, the Khujandis were the most influential group that enjoyed the power and wealth. Moscow-based leadership made this due to dual Uzbek-Tajik identity of the Khujandis, who were under influence of regional focal point, Tashkent. On the other hand, any possibility for anti-Russian integration in North was less than any other region in Tajikistan. Moreover, contemporary history of revolutionary groups, such as Basmachis, shaped basically in other regions. Furthermore, in separation of Tajikistan from Uzbek Soviet Socialist Republic in 1920s, the Khujandi elites made the most important role[iii]. These factors made the Khujandto become the prominent region in the Soviet Republic.
If we consider the identity based division of regions as Shavkat Kasymov did in his paper "Regional fragmentation in Tajikistan: The shift of powers between different identity groups[iv]", we can categorize the Tajik regions into Khujandis, Kulobis, Gharmis and Pamiris. The geographical position of these 4 group is shown in Map-1.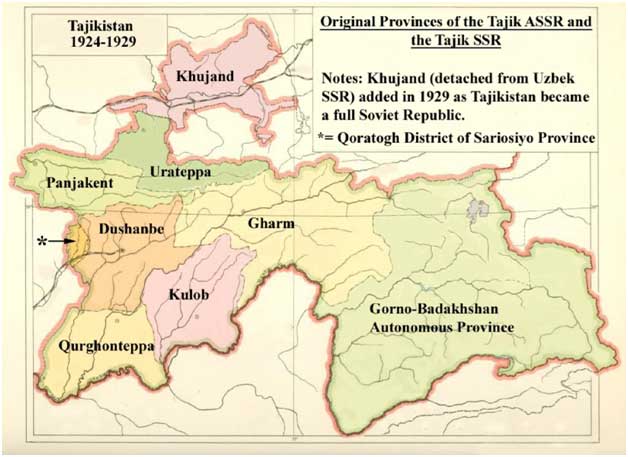 Map-1: Geographical position of identity-based division of localism in Tajikistan[v]
However, after about 3 decades of geopolitical changes, more geographical features should be considered on Tajik localism. As you can see in Map-1, the identity based divisions do not cover all provinces of 1920s in Tajikistan. North, South, East and Center are the 4 contemporary key regions of the country which represent a political clan. Map-2shows the political map of independent Tajikistan.
Migration process is a factor that should be considered in second division, especially about capital, Dushanbe. The city is geographically included in Centre, but the political view is unknown due to migration flow[vi]. It is also true about those who were displaced from Gharm to Qurghonteppa for agricultural purposes during Soviet era.
Map-2: the political map of independent Tajikistan[vii]
The Southerners leading by Emomali Rahmonhave enjoyed the power in post-peace era. In all political arrangements, the localism has been affected roguishly. Danghara, Kulob and Farkhor from Khatlon province are the main power spots in South. The major powerful and influential structures within the state such as President, Defense, Internal and external affairs ministries and State committee for National Security are all occupied by elites from these regions. Interestingly, opposition believes that according to peace accord, the power-based ministries such as defense and internal affairs should have been allocated to opposition, but never done[viii]. Even the potential president of the country, the Chairman of National Assembly is from south. According to the country's constitution, in case of death, resignation and incapability of the President, his duties prior to the beginning of assignment by the new President, shall be taken over by the Chairman of National Assembly[ix].
Although the Northerners' share of power has been marginalized dramatically after the Soviet dissolution, they have still a better situation comprising to Center and East. According to the political traditions rooted in contemporary coalition during the civil war, the Prime Minister belongs to North. However, his power has been limited, and the authority shared with 3 deputies from south. The position is personally under the control of the President.
The Eastern Pamirs have even the smallest share of power, due to their different culture, language and especially religion. It seems that the Eastern elites trend to have more control to their homeland as an autonomous region, rather having national power positions. After 2018 conflicts, as a sign of appeasement, Rahmon appointed a figure close to Aga Khan, the religious leader of the Pamiris as provincial chief. But in National share of power, nothing considerable.
Understanding the share of Center is a bit more complicated. Today, the Islamist opposition is mainly from this part of the country. This clan is known to its religious identity. Sayid Abdulloh Nuri, the former leader and founder of Islamic Renaissance Party of Tajikistan (IRPT) and former United Tajik Opposition (UTO) is a well-known politician of this share. Other prominent political Islamist figures such as former deputy PM, Akbar Turjanzoda, and Muhiddin Kabiri also belong to this clan. While the first circles of IRPT had a Gharmi identity,a senior member of the party believes that they have moved beyond localism and as an example, the party introduced Muhammadalihayit, deputy chairman of the party, who was from South.
On the other hand, there are also small shares within the State. Chairman of the Assembly of Representatives belong to Center. There are also some ministries from cities like Hisor and Vahdat.
Muhammadjon Kabirov, a Tajik expert and senior member of IRPT believes that the current power sharing system in the country is even deceptive. First, there are always parallel state institutions which belong to Southerners such as Energy and electricity institutions. On the other hand, while the head of these structures have been granted to non-Southerners, the deputies and bodies of the ministries are mainly from South. Thirdly, these elites cannot and not let to apply their local identity in their share of power. And eventually, these points are while the state positions are not sold by money or allocated by political affiliations.
Region
Position
Name
Birth place
South
President
Emomali Rahmon
Danghara
Chairman of National Assembly
Rustam Emomali
Danghara
Prosecutor General
Yusuf Rahmon
Vose
Min. of Defense
SheraliMirzo
Hamadoni
Min. of Internal Affairs
Ramazon Rahimzoda
Kulob
Min. of Foreign Affairs
Sirojiddin Muhriddin
Temurmalik
Chmn., State Committee for National Security
Saymumin Yatimov
Farkhor
Mayor of Capital
RustamEmomali
Danghara
Min. of Education & Science
Muhammadyusuf Imamzoda
Temurmalik
Min. of Finance
Fayziddin Qahhorzoda
Vose
Min. of Industry & New Technologies
Zarobiddin Fayzullozoda
Danghara
Min. of Health & Social Protection
Jamoliddin Abdullozoda
Danghara
Min. of Agriculture
Amonullo Solimzoda
Danghara
Min. of Economic Development & Trade
Zavghi Zavghizoda
Hamadoni
North
Prime Minister
Qohir Rasulzoda
Ghafurov
Min. of Justice
Rustam Shohmurad
Konibodom
Min. of Labor, Migration, & Public Employment
Golru Jabbarzoda
Isfara
East
Min. of Culture
Zulfia Davlatzoda
Khorog
Min. of Transport
Khudoyor Khudoyorzoda
Rushon
Center
Chairman of the Assembly of Representatives
Muhammadtoer Zokirzoda
Rasht
Min. of Energy & Water Resources
Usmonali Usmonzoda
Vahdat
Table1: Distribution of power in Tajikistan based on localism[x]
Localism and Shift in power
At the first shift in power in Tajikistan, the localism played a prominent role. In the post-Soviet era, th power was in hands of Northern pro-communists. At the same time that the central Gharmis and Easters were seeking a share in the country's politics, the Southerners made a clever coalition with weakened North and simply came into power. At that time, when the opposition groups were mainly in unstable and disconnected regions of the country as well asAfghanistan, the political competition defined between North and South. In 1994, the Northern candidate, Abdumalik Abdullajanov lost the election to the Southern Emomali Rahmon (with 58%)[xi]. Then the war started, the peace achieved and due to the peace accord, 30 percent of the state's power should have been allocated to opposition. However, step by step it tends to less than 5 percent.
There are evidences that the country is moving toward another shift in power. The amendments applied to the constitution in 2016 and paved the way for Rustam's (Rahmon's elder son) presidency. In the meanwhile, Rustam is experiencing different positions and rising up for a hard inter-family competition (maybe with his more experienced sister Ozoda) and a wider confrontation with potential and indeed opposition (Internal power groups and exiled opposition).
There is still a possibility that due to recent security issues and Corona Virus pandemic, Rahmon run for another term and keep the power by himself. Maybe he will learn from Nazarboyev's experience. After achieving the leadership of country's National Assembly by Rustam, it is more likely to happen. The situation allows Rahmon to leave the power anytime he wants and does surprise everyone.
Any of the mentioned scenarios happen to the shift in power, the localism's affect is inevitable. As Rahmon raises his effective/ineffective authoritarianism with less legitimacy, he will try to change the regional balance in power in a kleptocratic space of the country's politics. The change in Badakhshon and other changes of more politicians from Danghara were the first spark. But still no one guarantee that the unrests won't happen again. We should also expect consolidating the ties with North by various means.Recent change in the Minstry of Labor, Migration and Public Employment, that a politician from North (GolruJabbarzoda) replaced a Southern Minister (Sumangul Taghoyzoda from Kulob) is a sign. Also Rahmon's granddaughter married to a Northern family (grandson of the governor of the Sughd region)which was unprecedented in large presidential family[xii].
How the exiled opposition will play their role in a country increasingly closing, is a vague question at the moment. Forming the coalition such as "National Alliance" is unlikely to affect dramatically. However, the restricted figures inside the country, has a potential to fire the spark. That's the reason that Rahmon will strictly keep control over these two potentials.
Endnotes
---
[i]For example HoonanPeimani in his book "Regional Security and the Future of Central Asia: The Competition of Iran, Turkey, and Russia" believes that; P. 28.
[ii]АкбарТӯрадчонзода, Миёниобуоташ, Саҳифа 5-6.
[iii]Talking to a Tajik expert, MuhammadaliBurhanov.
[iv]Kasymov, Shavkat, (2012), Regional fragmentation in Tajikistan: The shift of powers between different identity groups, Asian Geographer, 30:1, 1-20.
[v]The map is obtained from "Tajikistan: A Political and Social History" written by Kirill Nourzhanov and Christian Bleuer, published by ANU E Press, P. 93.
[vi] Three Tajik experts suggested that Dushanbe does not represent any political clan.
[vii] The map is obtained from: https://geology.com/world/tajikistan-satellite-image.shtml.
[viii]Interview with MuhammadjonKabirov, Tajik expert and senior IRPT member.
[ix]Article 71.
[x] The data in table mainly obtained by official websites and in some cases by talking to Tajik experts.
[xi]Freedom in the World 1999 – Tajikistan, https://www.refworld.org/docid/5278c6d58.html.
[xii]Tajikistan: Marriage Folds Northern Elite Into Presidential Family, https://eurasianet.org/tajikistan-marriage-folds-northern-elite-into-presidential-family.
COVID-19 Pandemic May Result in a Long-term Human Development Crisis in Central Asia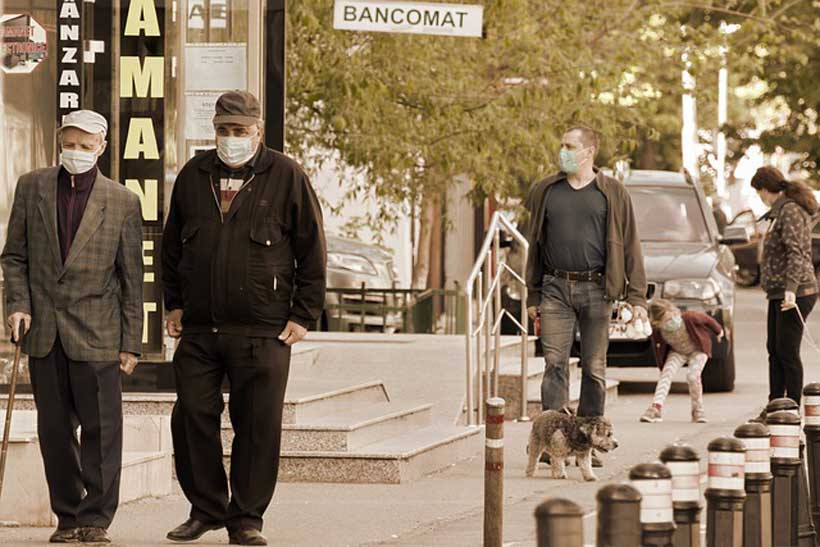 The COVID-19 pandemic can have a detrimental and long-lasting impact on education and human capital, economic and social development in Central Asian countries, where schoolchildren and students make up nearly half of the overall population, warned World Bank experts at an online briefing held today for regional media, experts, academia, and development community in the region. The crisis threatens to deprive this generation of future earnings, as it pushes a large share of Central Asian students into functional illiteracy – inability to read, write, and do math at a level necessary to be productive, World Bank estimates.
Before the pandemic, education across Central Asia was already suffering from low learning levels, as the countries struggled to eliminate learning poverty, distribute equal opportunities to poor learners, and promote inclusion. Students across the region performed 1.5 years below the average of Europe, i.e. an average student in Central Asia was a year and a half behind their peer in Europe. Many students in the region also performed significantly below functional literacy, according to the OECD Programme for International Student Assessment (PISA).
Learning inequality is of particular concern, with the gap between students from various income levels widening due to a number of factors, including differential access to distance learning for teachers and students, teaching support, access to teaching and learning materials at home, and household contribution to home schooling. According to PISA, in Kazakhstan, children from the poorest families were one year behind their peers, while in the Kyrgyz Republic poor students were 2.5 years behind.
The COVID-19 pandemic has further exacerbated the learning deficiencies, with school closures impacting already marginalized groups, including students from socio-economically disadvantaged backgrounds, learners with disabilities and minorities.
"The COVID-19 pandemic is dealing a blow to education and learning so destructive we will feel its negative effects for decades to come, including $44 billion in economic loss in Central Asia alone, and this is not our most pessimistic scenario," said Ayesha Vawda, Lead Education Specialist at the World Bank in Central Asia during the event. "Central Asian countries took swift action to deliver emergency learning via multiple channels and modes. Now is the time for governments to respond in a way that lays the foundation of the new education system – one that is high quality, resilient and equitable".
During the briefing, the World Bank stressed that education needs to be at the forefront of the national recovery plans in Central Asia. The countries need to protect education budgets, improve the quality of distance learning, allow flexibility in the curricula to focus on competencies and skills instead of knowledge, empower teachers with effective remediation strategies and with diagnostic and formative assessments and increased instruction time to allow recovery of learning losses.
As teachers become more aware of the learning, and learning loss of each child, remedial education plans will need to be developed. Special attention will need to be given to those students who have suffered the most during the school closures. The countries also need to develop digital skills amongst students, youth and teachers and increase teacher-student interaction on different distance learning platforms to better respond to the needs of the continuing crises.
"The World Bank in Central Asia and globally has always put special focus on education and building human capital, understanding too well that these investments bring the highest dividends," said Lilia Burunciuc, World Bank Regional Director for Central Asia. "Currently, we have adapted three education projects in the region to respond to COVID: in Kazakhstan, the Kyrgyz Republic, and Uzbekistan. Through these projects, we were able to mobilize some support for emergency and remote learning. For instance, in Kazakhstan this includes monitoring distance learning and provision of digital equipment for rural teachers".