New guidelines to help employers support families during COVID-19
New guidelines for businesses, to help them support working families during the COVID-19 pandemic , have been issued by the International Labour Organization (ILO) and the United Nations Children's Fund (UNICEF) .

The preliminary guidance urges employers to consider the impact of business decisions on workers' families, and to support greater social protection wherever possible. They say that extra support, particularly for those on low incomes, is essential to minimize the negative consequences of the outbreak for workers, employers, their families and children.

Finding safe childcare, juggling work and care responsibilities at home, and coping with a loss of income, are among the challenges facing families.

Women are also disproportionately affected by the pandemic. They make up the majority of health and care workers and are more likely to lack social protection. Before the COVID-19 outbreak women were already performing more than three-quarters of unpaid care work globally and that is likely to have increased.

ILO and UNICEF are also calling on governments to support employers and strengthen social protection, especially for vulnerable families. Family-friendly policies and practices, including employment and income protection, flexible working arrangements, paid leave to care for family members and access to quality, emergency childcare can make a critical difference and help stabilize labour markets, families and societies.

"Social dialogue – consultation and collaboration among governments, workers and employers and their representatives – is essential. If responses are to be effective and sustainable, they have to be built on trust and a wide range of experiences," said Manuela Tomei, Director of the ILO's Conditions of Work and Equality Department.

International labour standards provide a strong foundation for the policy responses needed for sustained and equitable recovery. They encapsulate the idea of a human-centred approach to economics and development, and balance the requirements of stimulating demand, supporting businesses and protecting workers.

"The secondary impacts of the pandemic – job losses, prolonged stress and a deterioration of mental health – will be felt by families for years to come," said UNICEF Chief of Early Childhood Development Dr. Pia Rebello Britto. "For the most vulnerable children, the absence of adequate social protection systems exacerbates their exposure to the crisis."

The preliminary guidelines for employers include:
Monitor and follow national advice from local and national authorities and communicate it to the workforce.
Review existing workplace policies to ensure they provide sufficient support to workers and their families.
Follow good practices when implementing policies based on social dialogue, national labour laws and international labour standards. Ensure that workplace support measures are available to all, without discrimination, and that all workers know, understand, and are comfortable with them.
Combat discrimination and social stigma at work by supporting training, and confidential and safe reporting mechanisms.
Adopt family-friendly working arrangements to give workers greater freedom and flexibility to carry out their work. If flexible working is not possible, consider other forms of support for working parents, such as childcare.
Support working parents with appropriate childcare options and ensure that childcare jobs are quality jobs.
Strengthen occupational safety and health measures, including with guidance and training on occupational safety and health and hygiene.
Encourage workers to seek appropriate medical care and support employees coping with stress.
Support government social protection measures in line with the ILO Social Security (Minimum Standards) Convention, 1952 (No. 102) and ILO Social Protection Floors Recommendation No. 202 . This can include subsidies for workers to access health, unemployment and inability to work insurance, maternity protection, and should extend to workers in the informal economy.
More Global Approach Needed to Control Monkeypox
With increasing numbers of monkeypox virus among 1.3 billion people, African health experts have expressed worriness over lack of appropriate vaccines to contain the outbreak in Africa. That however in mid-August, the acting director of the Africa Centers for Disease Control and Prevention, Ahmed Ogwell, said there two partners "largely multilateral institutions and non-African governments" have shown some interest in helping out with manufacturing of vaccines without offering detailed information.
"Let us get vaccines onto the continent," Ogwell, said in a weekly media briefing pointing to another instance of 1.3 billion people on the continent without access to a vaccine, as it has been with the Covid-19 pandemic. Africa remains the only part of the world with no doses of the vaccine, according to the Africa Centers for Disease Control and Prevention.
More monkeypox deaths have been reported on the African continent this year than anywhere in the world. Since May, nearly 90 countries have reported more than 31,000 cases. At least 2,947 monkeypox cases have been reported in 11 African countries this year, including 104 deaths, but most of the cases reported are suspect ones because the African continent also lacks enough diagnostic resources for thorough testing, the Africa CDC director Ogwell said.
The lack of vaccine doses and shortage of diagnostics is an echo of the challenges that Africa's 54 countries faced for months during the Covid-19 pandemic as richer countries elsewhere raced to secure supplies. Given the continuous spread of the monkeypox virus especially in central and west African regions, raises the question of exploring the accesibility of vaccine supply. It relates closely plans to provide educational materials and educating the public about the virus spread, the risk of contracting it (means of transmission) – there has to be a stark acknowledgment of a preventive approach.
Although the current explosion of cases has occurred in men, experts say there is no biological reason the virus will remain largely within the community of men who have sex with men. "We certainly know it's going to spread to family members and to other non-male partners that people have," said Dr. Jay Varma, director of the Cornell Center for Pandemic Prevention and Response. The real question, he said, is whether it spreads as efficiently in those groups as it does among close sexual networks of men who have sex with men.
The World Health Organization classified the escalating outbreak of the once-rare monkeypox disease as an international emergency in July. Outside of Africa, 98% of cases are among men who have sex with men. With a limited global supply of vaccines, authorities are racing to stop monkeypox before it becomes entrenched. WHO has, however, warned against supply discrimination.
Early August, Wendy Orent, the author of "Plague: The Mysterious Past and Terrifying Future of the World's Most Dangerous Disease" and "Ticked: The Battle Over Lyme Disease in the South" wrote in Los Angeles Times Op-Ed: Monkeypox is not the next Covid. But it's spreading from the same failures.
The expert explained that monkeypox a well-studied disease: In the past, it has been concentrated primarily in rural West or Central Africa and transmitted from a bush animal to a person, who then would spread it to limited family members in close contact. During the 2003 outbreak in the U.S., people caught it directly from pet prairie dogs that got infected by small mammals imported from West Africa. None of the U.S. cases that year spread to another person.
In contrast, the recent outbreak is spreading more widely person-to-person. But if governments take the right steps and help block transmission by giving key resources to those most at risk – currently gay and queer men – monkeypox can be contained. The global alarm sounded on this virus should be a warning to intervene now while the disease is manageable and take steps to limit future outbreaks, two goals well within reach.
Monkeypox was first detected among monkeys kept in a Denmark laboratory in 1958. Only in 1970 did doctors record a human case, indicating that monkeypox could also infect people. The disease, which closely resembles smallpox, wasn't distinguished as a separate infection until smallpox was nearly eliminated. Smallpox vaccination campaigns kept both diseases at bay until 1980, when the World Health Organization declared smallpox eradicated and vaccination campaigns ended.
Smallpox spread only through humans, with no animal population keeping it alive. It evolved over millennia to become a true human specialist, effective at transmission and overcoming immunity. Centuries of an arms race in Africa, Asia and Europe allowed the smallpox virus to fine-tune its attacks on the human immune system. When it burst into the previously unexposed populations of the Western hemisphere via European invaders, the sharpened teeth of smallpox met no resistance. Some scholars estimate that 90% of native Americans died of it.
That monkeypox is spreading rapidly is undeniable. While monkeypox isn't at this point a truly sexually transmitted disease like gonorrhea or syphilis, sexual contact has driven this outbreak. Monkeypox spreads through intimate physical contact, including direct contact with monkeypox pustules loaded with virus. People may not realize that their malaise is monkeypox in its early phase. Although anyone touching an infected person or their sheets, clothing and towels could theoretically catch monkeypox, the highest risk remains in concentrated networks of friends, companions and lovers.
The scandal of monkeypox is that this worldwide outbreak has happened at all. An epidemic has persisted in Nigeria since 2017. A more deadly strain has caused thousands of suspected cases and likely killed hundreds in the Democratic Republic of Congo (DRC). We have for years had the capacity to vaccinate those most at risk via two doses of Jynneos, the safer, updated version of the old smallpox vaccine. But we haven't done so, and now the virus has reached the Western world. Now millions of doses have been ordered for the U.S. alone – and none yet for Africa.
Why do we in the West only pay attention when a disease outbreak directly threatens us? That's the real outrage, the real question. The only answer is a more global approach to health, a recognition that when disease breaks out in one part of the world, it often will – as Covid and now monkeypox have shown us – affect us all.
`Medicine from the Sky` Drone Delivery Programme Set for Take-off in Pradesh
Medicine from the Sky, a flagship initiative by the World Economic Forum, is to be launched in Arunachal Pradesh, north-east India, on Independence Day, 15 August.
The aim is to document how health systems in remote parts of the state respond to the integration of drone-based supply chains. After numerous confidence-building pilot schemes across the country, the Arunachal Pradesh initiative focuses on a more elaborate agenda involving deeper operational planning and observations.
The six-month programme will be centred around four pillars:
Basic healthcare needs – regular services for vaccines; iron, folic acid, nutrition supplements; prophylactic and mass drug administration; diagnostic sample collection; emergency medications; blood and blood products
Ecosystem skill levels, terrain, weather considerations – identification of local stakeholders, including engineering, medical, paramedical, humanities and management colleges; technical and skill development institutes; find continuous source for weather data and real-time prediction
Survivability, scalability and sustainability – resource estimation, impact assessment and economics
Stress testing of drone platforms – ascertaining ability of available technologies to handle undulating terrain
"In mid-2021, we undertook a field study in Arunachal Pradesh, along with the Public Health Foundation of India, to learn more about the local health distribution system, disease profile and the nature of the terrain. Traversing the Seppa-Bameng belt by road, in particular, made it evident that drones were an absolute necessity," said Vignesh Santhanam, Lead, Aerospace and Drones, World Economic Forum.
"Through our learnings in Telangana, we are looking to stress-test our systems in Arunachal Pradesh under the liberalized drone regime while factoring in economic principles from the point of initiation. For this purpose, we will work on two bell-weather districts – East Kameng and Lower Subansiri – over an extended time frame and supplement ongoing central initiatives with data and examples while empowering local governments with drone-based solutions. We are also planning awareness campaigns for local youth and students," he added.
In a first of its kind approach to raise awareness among rural youth, the District Collector of East Kameng has called on all heads of participating villages to nominate "drone ambassadors" in parallel with an essay-writing competition on drones for village school students.
In the context of celebrations for India's 75 years of independence, the initiative will be formally launched at East Kameng district in the presence of key state officials, care workers, local youth and key partners – the Public Health Foundation of India, Redwing Labs, Tech Eagle, Apollo Hospitals HealthNet Global (clinical partner) and USAID which will contribute to the drone programme. The initiative will be launched by Pema Khandu, Chief Minister of Arunachal Pradesh in the presence of key decision makers including Mama Natung, Minister for Environment & Forest, Sports & Youth Affairs and Water Resources, Arunachal Pradesh; Sharat Chauhan, Health Secretary, Arunachal Pradesh; Pravimal Abhishek Polumatla, East Kameng Deputy Commissioner; Nabam Peter, CEO, State Health Authority; and Vignesh Santhanam, World Economic Forum.
The East Kameng leg of the initiative is supported by SAMRIDH Healthcare Blended Financing Facility and the United States Agency for International Development (USAID).
Medicine from the Sky
In June 2020, the World Economic Forum in partnership with the state of Arunachal Pradesh hosted a session to discuss the use of drones in medical logistics and delivery in remote tribal areas. Floods and landslides have often impacted the last mile delivery of medicine, isolating populations. The session was quickly followed by a field visit in north-eastern India by the World Economic Forum and the Public Health Foundation of India. Discussions with local healthcare workers and visits to remote health establishments clearly established the urgent need for drone corridors across the state.
"East Kameng district has a hilly terrain which makes it difficult to access interior areas, particularly during the monsoon season. I am sure drone-based drug delivery will be a game-changer in strengthening access to healthcare in such remote areas. I hope the project will give us the answers and clarity for large-scale implementation," said Pravimal Abhishek Polumatla, district magistrate.
"By delivering medical supplies much faster than road-based logistics, the drone network would serve the remote areas by offering access to diagnostics, essential medicines and vaccines. We are hoping this will reduce out-of-pocket expenditure for patients," he added.
New WEF ESG initiative looks to improve socioeconomic conditions in Northern Central America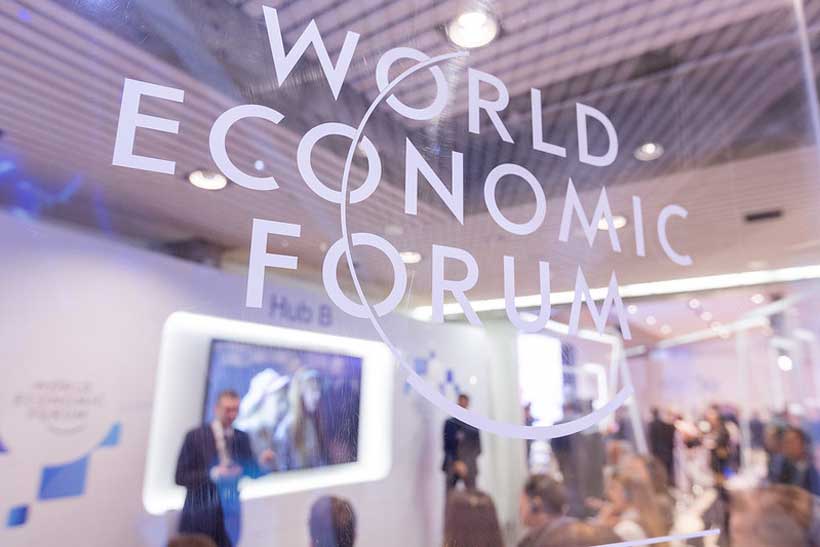 The World Economic Forum announced a new initiative in three Central American countries that will support the private sector apply Stakeholder Capitalism Metrics and better environmental, social and governance (ESG) reporting to improve local socioeconomic conditions and environmental resilience.
The announcement was made at events convened by the Forum with CentraRSE in Guatemala, COHEP in Honduras and Fundemas in El Salvador. These were attended by leaders from the public and private sector, civil society and international organizations who discussed the benefits and opportunities of implementing structured ESG reporting metrics, practices and global corporate trends. National and regional efforts and best practices were also showcased.
The Measuring Stakeholder Capitalism initiative has identified a set of 21 core and 34 expanded universal metrics and disclosures drawn from existing standards. The metrics and disclosure seek to improve how companies measure and demonstrate their performance against environmental, social and governance indicators and consistently track their positive contributions towards achieving the UN Sustainable Development Goals (SDGs).
Strengthening sustainability credentials and building the capacity to report this information will represent a significant advantage for businesses and the economy as a whole, particularly to attract foreign investment and integrate into regional and global value chains.
"Amid an increasingly challenging context confronted with overlapping global crises, public-private collaboration and the decisive action of local leadership are even more necessary to improve economic, social, environmental and governance conditions. All sectors must work together to build a prosperous and resilient ecosystem, offering hope and real opportunities for people in the region to develop their potential at home," said Marisol Argueta, Head of Latin America at the World Economic Forum.
The initiative is a response The initiative is a response to US Vice President Kamala Harris's Call to Action, which calls on businesses and social enterprises to promote economic opportunities for people in the region as part of a comprehensive strategy to address the root causes of migration. Vice President Harris has announced a total of more than $3.2 billion in new commitments to the region in coordination with the Partnership for Central America since the effort was launched in May 2022.
"As we look to multi-sector approaches to solve the social challenges facing our communities globally, the World Economic Forum's ESG framework provides a structure for businesses to drive greater economic development. Working with public and private sector partners, this can translate into quality jobs, environmental protections and better lives for families," said Jonathan Fantini-Porter, Executive Director of the Partnership for Central America.
The areas of focus, led by the Partnership for Central America (PCA), intend to support the region's long-term development through digital and financial inclusion, food security and climate-smart agriculture; climate adaptation and clean energy; education and workforce development; and public health access. The planned ESG metrics and corporate reporting activities also aim to motivate local leaders to take measurable action on their contributions to enhancing socioeconomic conditions and environmental resilience in the region.
Based on existing standards, this framework provides a set of metrics that can be reported by all companies, regardless of industry or region. These metrics also offer comparability, which is particularly important for creating a systemic and globally accepted set of common standards for reporting corporate sustainability performance.
As part of the activities carried out in Central America, the Guatemalan company, Grupo Mariposa announced the adoption of the global metrics framework promoted by the World Economic Forum (Stakeholder Capitalism Metrics) and declared its commitment to include them in future reporting cycles. Grupo Mariposa is the first company in Central America to incorporate the metrics in its reports.