Authors: Dr. Arshad M. Khan and Meena Miriam Yust
If the coronavirus is life-threatening, and almost all of the USA is in varying levels of lockdown, the speed of its arrival and impact should at least remind us of the fragility of life — not just for our own species but on the planet itself. Of course, Donald Trump disbanded the White House's National Security Council Directorate for Global Health Security and Biodefense. Set up after the Ebola scare, its job was to deal exactly with the type of threat we are facing; that is, to prepare for, lead and coordinate resources to deal quickly and effectively with the emergency — its absence is yet another reason for the White House's lackluster response.
Then there is man-induced climate change. The Antarctic hit a record 64.9F (18.3C) last month surpassing the previous high of 63.5F (17.5C) set in 2015. Three days later on February 9th, the same measuring research station experienced an astounding 69.35F (20.75C) (livescience.com). Perhaps it is to be expected when we are pumping CO2 to record levels in the atmosphere. Current measurements are 413 ppm (Feb., 2020), a rise of 100ppm over 1950 figures (climate.nasa.gov/evidence/).
Global warming is also blamed for hot Australian summers and the deadly forest fires in South Australia fueled by drought and extreme heat. Most distressingly, these destroyed the entire habitats of several animal species and cost the lives of an estimated billion animals.
One bright note is a stand of conifers (the Wollemi Pine) dating back to the dinosaurs has been saved through the extraordinary efforts of firefighters who dropped water and flame retardant from airplanes into the single canyon where they exist. Millions of years ago, they were common across the ancient Gondwana supercontinent.
Greenland and Antarctica are now losing ice at a six-times faster rate than in the 1990s raising sea levels and threatening coastal areas. The rise of 17.8 mm since 1992 has been 60 percent due to Greenland and the rest to Antarctica (Nature, Dec 10, 2019). Scientists now expect an extra 17mm (6.7 inch) rise in sea levels above current projections by 2100, and massive flooding of coastal areas, already experiencing very early signs (Greenland and Antarctica Ice Melt — BBC). But that is small potatoes in comparison with the Denman Glacier in East Antarctica.
This massive glacier has retreated 5 km (about 3 miles) in the last 22 years reports a new study appearing in Geophysical Research Letters (Science Daily, March 23, 2020). From 1979 to 2017, it has lost a cumulative 268 billion tons. Of particular concern to researchers is the ground surface underneath which renders the glacier more susceptible to global-warming collapse. This vast ice sheet has the potential by itself to raise sea levels by 1.5 meters (5 feet).
While global warming is causing a speedup of many ocean currents, an anomaly is the consequence of Greenland ice melt reaching the Atlantic at the origins of the Gulf Stream current. Reducing salinity, it impacts its driver, namely, the sinking salt water (Science, Feb. 7, 2020, p.612) weakening the current — its beneficence accounting for the relatively benign winters in Britain and Ireland and extending as far north as Iceland, Norway and southern Sweden
At the same time, an analysis of data from the Argo array, some 4000 floats deployed across the globe to collect data, indicates an acceleration in currents, particularly in the tropics and the Southern Ocean (Science Advances, Feb 5, 2020). Global warming is the likely cause spurring ocean winds to speed currents, although proof awaits more data collection. A speed-up of currents and rising sea levels paints a picture of a rising, raging sea threatening coastal communities (National Geographic, Oct, 15, 2019) that have been popularized by developers in living memory.
The ecosystem is also threatened in other ways, particularly through the demise of pollinator species — on whom we, too, depend for our necessary crops. A recent paper (Science February 7, 2020, p.626) reports widespread decline in bumble bee populations in North America and Europe. Warming temperature is the likely culprit. A temperature rise beyond the tolerable limits for bumble bees necessitates migration, often to areas that had been too cold for them before but have warmed up now to be tolerable.
Unfortunately, the rate of extirpation has exceeded that of colonization causing widespread decline. The resulting consequences to plant species deprived of the ecosystem services of this pollinator are clearly unfavorable — if not disastrous — but have yet to be surveyed.
Meanwhile, wild bee species are in decline worldwide. A halving from an estimated 6700 species in the 1950s to a shocking 3400 in the 2010s was reported in Science News (January 22, 2020). While previous bee studies have addressed declining populations, the evidence collected had been limited to industrially developed Europe and North America. The significance of the new research is its global scope.
In Thailand, for example, the ground nesting bee, Megachili bicolor, is fast losing habitat to expanding urbanization and agriculture.
With more scientists entering the field, the total number of bees observed by them has increased as one would expect. But sadly, the number of species recorded keep plummeting on most continents. The exception has been Australia where bee species first rose from 300 to 500 in the 2000s. Then in the 2010s they fell back to 300. What was once seen as a trend only in advanced countries is now global, and thousands of species have become either very rare or extinct.
Bees and other insects like butterflies are vital in that they pollinate 75 percent of our most important crops. Now butterflies are also under threat. The monarchs in the US are the victims of herbicides like glyphosate, and global warming upsets their seasonal migration patterns. They are also losing habitat, the loss estimated at 165 million acres in the US reports the Center for Biological Diversity.
Of the two migratory populations of monarchs, the western population numbered 1.2 million in the 1990s and the eastern about a billion. These numbers have dropped drastically to a critical 30,000 in the west and 225 million in the east. Since 2018 when these winter counts were taken, the numbers in the west have declined further this year to a little over 29,000.
Now we have the coronavirus giving modern humans an intimate foretaste of their ecological vulnerability. As it is easily transmissible, the situation can turn quickly into an out-of-control pandemic. If it affects 70 percent, as an expert recently predicted (CBS News), of the world's population of about 8 billion, it will infect 5.6 billion people. Assuming a 1 percent death rate, which is on the low side of recent estimates, it results in 56 million fatalities — not unlike WW2. The same figures applied to the US yield 2.3 million deaths.
One might be forgiven for wondering if it is not Mother Earth's Gaian response to destructive human activity. Could it even be just the initial onslaught? Now that is a frightening thought.
Authors' Note: An earlier version of this article appeared on Counterpunch.org
Global Warming And The Future Of Food
While there may be uncertainty as to the level of global warming, there is little to none about its reality and its anthropological basis. Even if the warming ceased today, the accumulated energy in the system will continue to raise the average global temperature 0.2C per annum or 2C in a decade.
Add this inexorable rise to another, that is the continued increase in population, and scientists have been exploring foods that may fare better in the new environment. The six below were the focus of a recent article in Science News (May 21, 2022).
For animal protein, mussels and other bivalves could comprise about 40 percent of our seafood by 2050. Super-nutritious, they are also easier to scale up in production for the simple reason they do need to be watered or fertilized, or even require land, a scarce resource. And unlike land-based aquaculture, it is not handicapped by environmental issues.
All in all, edible food from the sea has the potential for an estimated 36-74 percent increase to help feed the 9.8 billion people expected to be living on earth by 2050.
The United Nations has declared 2023 the International Year of Millets following a proposal by India. A staple in parts of Asia and Africa, it is a hardy crop that is more resilient than wheat to climate change and can grow in poor soil. It does not require as much water and thrives in a warmer, drier environment. It can also be turned into beer. The UN hopes the focus on it in 2023 will raise awareness, encourage global production and increase research investment and extension services.
The Bambara groundnut is native to sub-Saharan Africa. A drought tolerant legume, it grows well in poor soil without the need for fertilizers. Bacteria on the plant convert atmospheric nitrogen into ammonia making it self-sufficient in crucial nitrogen. Like all legumes, it is rich in protein and is also a source of fiber and the minerals, iron, magnesium and potassium. It is more drought tolerant than soybeans but has less yield per acre. However in a warming, harsher climate, it could, unlike soybeans, continue to yield a decent legume crop.
Enset is native to Ethiopia. Dubbed the false banana because it resembles a banana tree, its starchy stems can be harvested at any time of the year making it a reliable buffer food between crops. Its processing though is complex and an indigenous art, so any expansion would necessarily have to be led by communities possessing that knowledge.
Cassava is a starchy root vegetable from South America noted for its tolerance to drought and salt. An added plus is that higher atmospheric CO2 enhances its ability to withstand stress and can result in greater yields.
Kelp grows in water and is rich in vitamins and minerals, particularly iodine, calcium and iron. Also, by taking in CO2 it of course aids the environment, but it also lowers the acidity of the water which helps bivalves. Thus farmers in Maine tend to grow them together. Kelp is eaten widely in Asia and dried sheets are common in sushi rolls even in the US.
The above has been a brief summary of what some scientists foresee as food staples of the future. It is also something to ponder for the rest of us.
Healthy planet needs 'ocean action' from Asian and Pacific countries
As the Second Global Ocean Conference opens today in Lisbon, governments in Asia and the Pacific must seize the opportunity to enhance cooperation and solidarity to address a host of challenges that endanger what is a lifeline for millions of people in the region.
If done right ocean action will also be climate action but this will require working in concert on a few fronts.
First, we must invest in and support science and technology to produce key solutions. Strengthening science-policy interfaces to bridge practitioners and policymakers contributes to a sound understanding of ocean-climate synergies, thereby enabling better policy design, an important priority of the Indonesian Presidency of the G20 process. Additionally policy support tools can assist governments in identifying and prioritizing actions through policy and SDG tracking and scenarios development.
We must also make the invisible visible through ocean data: just three of ten targets for the goal on life below water are measurable in Asia and the Pacific. Better data is the foundation of better policies and collective action. The Global Ocean Accounts Partnership (GOAP) is an innovative multi-stakeholder collective established to enable countries and other stakeholders to go beyond GDP and to measure and manage progress towards ocean sustainable development.
Solutions for low-carbon maritime transport are also a key part of the transition to decarbonization by the middle of the century. Countries in Asia and the Pacific recognized this when adopting a new Regional Action Programme last December, putting more emphasis on such concrete steps as innovative shipping technologies, cooperation on green shipping corridors and more efficient use of existing port infrastructure and facilities to make this ambition a reality.
Finally, aligning finance with our ocean, climate and broader SDG aspirations provides a crucial foundation for all of our action. Blue bonds are an attractive instrument both for governments interested in raising funds for ocean conservation and for investors interested in contributing to sustainable development in addition to obtaining a return for their investment.
These actions and others are steps towards ensuring the viability of several of the region's key ocean-based economic sectors, such as seaborne trade, tourism and fisheries. An estimated 50 to 80 per cent of all life on Earth is found under the ocean surface. Seven of every 10 fish caught around the globe comes from Pacific waters. And we know that the oceans and coasts are also vital allies in the fight against climate change, with coastal systems such as mangroves, salt marshes and seagrass meadows at the frontline of climate change, absorbing carbon at rates of up to 50 times those of the same area of tropical forest.
But the health of the oceans in Asia and the Pacific is in serious decline: rampant pollution, destructive and illegal fishing practices, inadequate marine governance and continued urbanization along coastlines have destroyed 40 per cent of the coral reefs and approximately 60 per cent of the coastal mangroves, while fish stocks continue to decline and consumption patterns remain unsustainable.
These and other pressures exacerbate climate-induced ocean acidification and warming and weaken the capacity of oceans to mitigate the impacts of climate change. Global climate change is also contributing to sea-level rise, which affects coastal and island communities severely, resulting in greater disaster risk , internal displacement and international migration.
To promote concerted action, ESCAP, in collaboration with partner UN agencies, provides a regional platform in support of SDG14, aligned within the framework of the UN Decade of Ocean Science for Sustainable Development (2021-2030). Through four editions so far of the Asia-Pacific Day for the Ocean, we also support countries in identifying and putting in place solutions and accelerated actions through regional dialogue and cooperation.
It is abundantly clear there can be no healthy planet without a healthy ocean. Our leaders meeting in Lisbon must step up efforts to protect the ocean and its precious resources and to build sustainable blue economies.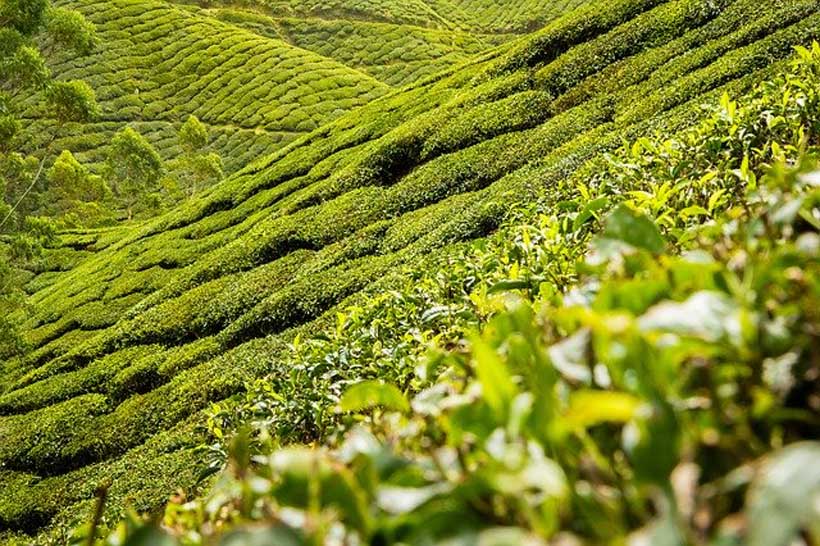 There is nothing quite like that first cup of tea (or coffee) in the morning. The aroma swirls about in the nostrils and a sip of the hot brew, then another, quickly readies body and mind for the day that awaits.
Whoever gives a thought to the long journey of the tea leaf from its birthplace to a kitchen in the West. The tea bush is unusual in that it requires an abundance of water but not in its roots. So it is grown on the windward side on foothills as in Darjeeling and Assam.
The workers picking tea are mostly women because men prefer the harder work in the fields for it pays more. The wages paid to the tea pickers can be illegally low, that is below the minimum wage requirements, and the workers dare not file any complaints because the wealthy landowners and tea merchants are too powerful.
Since they are not earning a living wage, workers usually forage to supplement their diet relying on mushrooms and other edibles. So it was (BBC report, May 20, 2022) that Anjali Kharia sat down with her daughter to a meal of mushrooms — a special treat thanks to her father-in-law Rajesh Kharia, who had found a good-sized lot in a nearby forest. They were enough for his family plus friends and neighbors to share with, as is their custom.
Unfortunately growing among their batch was a particularly tasty — and poisonous — variety indistinguishable from the rest. And Anjali's daughter Sushmita and others soon began to feel sick. Many went to hospital including Anjali's son and father-in-law. Sushmita seemed to improve so everyone assumed she was over the worst.
It was only a temporary respite for she soon started vomiting again, grew steadily worse and died. They have been eating mushrooms for years; it is a treat and fairly regular part of their diet, and no one suspected the cause.
Local officials say warnings are not heeded for they do not reach the illiterate workers. In 2008, more than 20 people died from poisonous mushrooms, the highest numbers recorded. Most were tea workers or their family members. The government set up a panel to study the problem. And there have been campaigns to teach people to distinguish the poisonous types.
As long as Ms. Kharia is paid 130 rupees ($1.67) a day, far below the unenforced minimum wage, it is unlikely such problems will recede. She has to feed a family of six. There are public welfare schemes for the poor but Ms. Kharia says she has never received any free food grain rations. Meanwhile, prices of vegetables and essential commodities continue to rise.
It is not just tea. From the 1906 Upton Sinclair book, "The Jungle," an expose of the meatpacking industry to Eric Schlosser's "Fast Food Nation" published just two decades ago, the problem may be revisited but U.S. meatpacking continues to remain a dangerous place to be. A 2018 Guardian article's headline "Two Amputations a Week" illustrates the point.
And tea pickers will have to forage as long as their government does not enforce minimum wage laws. Fighting against entrenched economic interests is not just India's problem.