AIIB To Scale Up Public Health Infrastructure in Wake of COVID-19
Recognizing that countries with fragile infrastructure have less capacity to handle health crises, the Asian Infrastructure Investment Bank (AIIB) is working to scale up infrastructure investment—including in public health, healthcare and information and communications technology (ICT)—to better serve members impacted by COVID-19.
AIIB President and Chair of the Board, Jin Liqun, said: "There has never been a greater need for a multilateral and truly global coordinated effort to ease the economic burden experienced by all."
He continued, "We have a responsibility to our members who face tremendous pressure to maintain the health and safety of their citizens while managing the impact of an economic downturn. It is our duty to be flexible and responsive in a time of crisis so our members can continue investing in sanitation, healthcare and technology-enabled infrastructure."
Recent analysis by AIIB1 highlights a direct correlation between quality of overall infrastructure and health security, indicating that infrastructure development is a key part of health security and epidemic preparedness. The COVID-19 virus has exposed the critical need for countries to also ensure preparedness for the needs of an aging population.
Lower income countries are particularly vulnerable as they are already struggling to keep up with their infrastructure needs. Layering an economic downturn and additional fiscal stresses from COVID-19 on top, many of them will fall short of the 6 percent to 10 percent GDP investment needed to maintain economic growth.
Continues President Jin, "We will work with our Board of Directors, members and partners to adjust to this new reality, providing scaled up and targeted investment in critical sustainable infrastructure to protect the people we serve and the generations that follow."
AIIB will announce a number of public health infrastructure financing options for its members in the coming days and weeks, to help build up economic resilience and mitigate the impact of future health crises.
Comments Dr. Ngozi Okonjo-Iweala, Chairperson of the Board of GAVI: "Multilateral banks like AIIB will play a critical role in supporting countries, helping them address challenges presented by COVID-19 as they build towards sustainable long-term infrastructure development."
"The support that a bank such as AIIB can provide its members is invaluable, reducing risks, absorbing longer-term exposures and cushioning the impact from increases in borrowing costs."
Moscow is in the Top7 Intelligent Communities in the world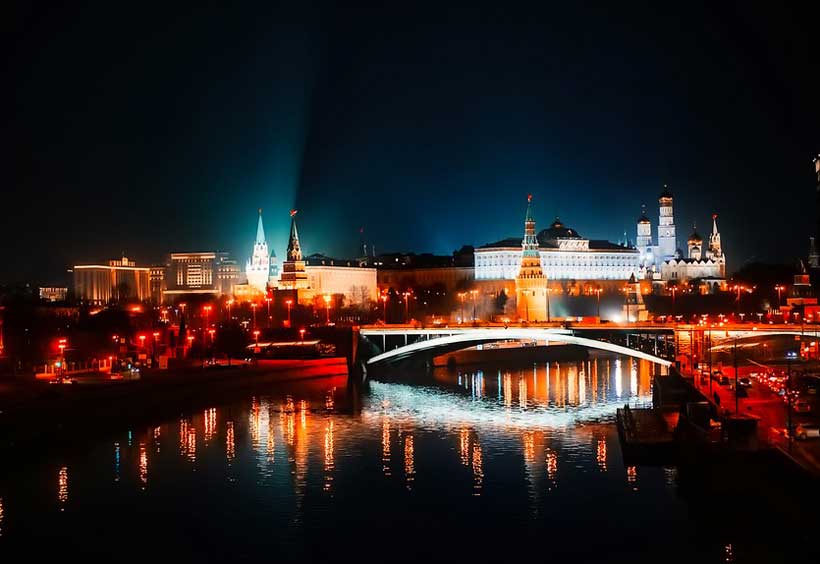 For the second time since 2017, Moscow made it to the final stage of the Intelligent Community Awards rating. It involves the cities that show best practices in the development of communications, experts training, the use of innovation, digital inclusion, the involvement of residents in city management, and the maintenance of sustainability principles. The prestigious international rating is issued annually by the Intelligent Community Forum.
The first stage, which took place in February this year, 21 cities from eight countries were selected. At the second stage, an international group of independent experts selected seven finalists. Alongside with to Moscow, there are cities from Canada, Australia, Vietnam and Brazil.
The experts noted the capital's achievements in the development and use of communications, the residents' involvement in the city government, the training of IT-specialists, enhancing digital literacy, as well as the support and implementation of innovations.
"To participate in the prestigious international rating, our team in cooperation with the specialists of the Moscow Innovation Agency prepared a detailed description of the most significant implemented digital projects in the field of communication development and use, resident participation in the city management, training IT-specialists, improving digital literacy, supporting and implementing innovations, as well as responsible consumption and protection of natural resources. Due to continuous development of the city's digital technologies over the past four years, Moscow is among the Smart21 cities for the third time and for the second time is among top seven Smart Communities, which certainly shows that our work is highly appreciated by foreign specialists," said Eduard Lysenko, the head of the Moscow Department of Information Technologies.
The jury assessed not only how developed the urban infrastructure is, but also how effectively it is adapted to new economic challenges. In the field of broadband Internet access development, Moscow presented the project of the city Wi-Fi network. It includes more than 21 thousand points of access to free Internet, as well as 5G pilot zones launched jointly with telecom operators to estimate the use of fifth-generation communication technologies.
In the field of highly qualified personnel training in Moscow, the educational projects of the Moscow Government were noted. These projects are devoted to pre-vocational education, namely arranging industry specific training in Moscow schools, as well as to the voluntary qualification examination. It is organized jointly with the corporate partners to assess and select students according to employers' requirements.
The project "My Career" by Moscow employment center was also presented among the important initiatives. Residents can get assistance in finding suitable vacancies, a professional career counselling, psychological support, as well as take part in employment-related trainings and webinars. The center focuses on the most vulnerable categories in the labor market: mothers of young children, youth, applicants of pre-retirement specialists, people with disabilities, low-income families.
The "Innovation" section presented "Moscow Accelerator" – the flagship project of the Moscow Department of Entrepreneurship and Innovation Development, aimed at scaling innovative solutions in promising industries in partnership with major corporations – market leaders. Another project in this area is the Moscow Innovation Cluster. It was created for the development of innovative organizations, projects and cooperation between the city and large companies, industry, small and medium-sized businesses, educational and scientific organizations. The online platform "i.moscow" provides opportunities for interaction between cluster participants.
"The Moscow innovation ecosystem" is also in the rating. The program allows the developers to test their technologies at urban and commercial sites before they are released on the market, and the authorities and potential customers can evaluate their effectiveness.
The project "Moscow Longevity" represents the field of inclusion development, creation of intellectual communities and improvement of people's access to digital technologies. The project is aimed at creating a network of free leisure for the older generation of Muscovites and expanding the opportunities for their participation in cultural, educational, physical fitness, health and other activities was noted.
The Smart City hall offers a visual demonstration of new technologies for residents of all ages. This is a permanent exhibition of Smart City technologies located on the territory of VDNKh. You can visit the hall for free, and guided tours are offered several times a day.
In the hall there is a 5G democenter, which is part of the capital's pilot innovation testing program. Several technological projects involving the fifth-generation communication networks are already being tested at this site. This is wireless optical communication in 5G standard, VR and AR in architecture and construction, virtual reality training via 5G, computer vision for drones and access control with remote temperature measurement.
The involvement of citizens in improving the quality of life is achieved through the digital ecosystem of interaction between the city and residents. The Active Citizen project allows every resident to take part in voting on topical issues of city development, the Our City portal allows you to report a problem in housing services and amenities, and the City of Ideas enables you to offer your ideas for crowdsourcing.
The city also presented social projects. Among them are the charity service on the mos.ru portal, which helps residents make donations to verified Moscow non-profit organizations and foundations, and the "Search for Lost and Found Animals" service which helps find a lost pet. A number of projects are aimed at environmental sustainability. Namely a set of services aimed at reducing water consumption in Moscow (a service for transmitting readings of water meters, an interactive test and the project "The Price of Water" based on AR-technology), as well as the portal "MosEcoMonitoring". It allows residents to monitor the condition and quality of air in their city or district online in real time.
Intelligent Community Forum is a non-governmental organization headquartered in New York. ICF rating has been issued since 2005. The current leader of the Intelligent Community Awards is Tallinn. The new leader will be announced in autumn.
DNA to rediscover a forgotten immigration
The project "Le Vie Aleramiche, Normanno-Sveve", with the support of the Euro-Mediterranean Federation, after having deepened the linguistic, toponymic and cultural aspects, will make use of the important demo-genetic research, already expressed in a pioneering form in 2016, which has the declared purpose of uncovering traces, more less hidden, of an almost forgotten migration, which started, starting from the 11th century AD, from districts not better circumscribed in northern Italy towards what will later be understood as "Lombard of Sicily".
This is a survey that involves, on different but strictly interdependent fronts, the three universities of Palermo, Messina, and Bologna, with the coordination of Prof. Luca Sineo, the Professor of Anthropology at the University of Palermo and current President of the 'AAI (Italian Anthropological Association), and the action on the field by dr. Marco Nania, responsible for the sampling phase. This research, which fascinates the communities involved so much, acts by a comparative analysis of specific DNA segments deriving from biological samples taken from a group of selected subjects from the population currently residing in the Sicilian localities of interest, so qualified as possible receptacles of traces, even significant ones, of the passage and rooting of the "Lombard" colonizers.
With the method of "active" sampling, we will deliberately and hopefully proceed towards a close collaboration and widespread participation of local communities. They will feel as promoters of the survey themselves and, even more, creators of the re-determination, on a genetic basis, of their own history. A fundamental aspect of the pre-sample anthropological analysis is then based on the onomastic study of surnames, first names and nicknames, which say so much about culture and family and social relationships within a given community. The identification of endemic surnames and others of the suspicious and ancient high-Italic matrix, in combination with the reconstruction, up to the third parental generation (that of the great-grandparents), of genealogies purely embodied in the socio-demographic context of reference, will be the guides discriminating factors that will lead to establishing the perimeter within which to include the subjects of greatest interest.
It will be a question of demonstrating, in a definitive way, an indisputable ancestral link between the people of some strips of Sicily, where the progeny of Nordic migrants would be stationed, and the descendants of the sedentary stocks of the Ligurian, Piedmonts, and more generally "Lombard" ancestors. This should consolidate, with real scientific data, the narrative of that "reverse immigration", now almost forgotten, which saw families and perhaps entire communities of Northern Italy follow the Aleramici, linked to the Norman-Swabian dynasty, in their transfer to the South and, in particular, towards Sicily.
An aspect of the research that before the pandemic had already seen the interest of the University of Bologna and of the Anthropologist Prof. Davide Pettener, interviewed by Fabrizio Di Salvo.
Sampling will take place, in stages and in successive periods, in the localities of San Fratello, Aidone, Piazza Armerina, Corleone, and Fondachelli Fantina. Thanks to the intermediation of Calogero Ridulfo, Filadelfio Crivillaro, Lavinia Garsia, Marco Incalcaterra, Franca Ciantia, Serena Raffiotta, Rosa Maria Restivo and Tiziana Laversa and coordinated by Anna Maria Di Rosa Placa, and Fabrizio Di Salvo of the Euro-Mediterranean Federation on the ancient Medieval Migrations, following the instructions already communicated by the experts in a videoconference.
In the case of Fondachelli-Fantina, however, it was the entire municipal administration, led by the mayor Dr. Marco Pettinato, to have raised awareness and to have promoted and supported, thanks also to the active collaboration of the councillor Gioconda Grasso and the cultural center "Le Miniere", all the phases that will lead to the imminent sampling.
This is an opportunity to break down, through the science and study of DNA, prejudices and parochialisms that are firmly rooted and that do not allow us to look, with a broad breath, at the numerous pages of the history of mankind that speak of peoples in constant migration and relocation.
4 Crucial Factors That Helps in Selecting the Ideal FX Expert Advisor
The forex market is increasingly expanding at a rapid pace with millions of active traders executing trades daily. The use of advanced technology is also preferred among traders who are involved in active trading. As automation is slowly taking over most industries and businesses, the forex market is also noticing a rise in the use of FX expert advisors to execute a trade on behalf of an investor.
But even with the tons of perks that these FX EAs are capable of, you must consider certain factors before investing in one.
But before we jump into discussing the factors that indicate an EA's reliability, let us get a clear understanding of what forex EAs are and how they work.
Explaining FX Expert Advisors
An EA is a software program that offers the benefit of automated trading to investors worldwide. A forex EA is responsible for identifying the best possible timings for opening a position with the help of certain in-built algorithms and indicators. As the market is active for 24-hours straight, using an EA will certainly be useful; it is immune to any emotional factors and can facilitate you to make high-profitable trades by identifying the ideal entry points.
Developed in MQL, an EA can operate on MetaTrader 4 or 5 and comes up with complex strategies of trading based on a certain mathematical pattern. The ways expert advisors tend to outperform manual trading practices involve their high-accuracy results along with faster data-processing technology which aids in better analysis.
Although being quite similar and often mistaken as the same, a forex EA slightly differs from a forex robot in terms of its functions. While forex robots can take care of executing a trade on behalf of you, and EA will simply advise you when to initiate a trade allowing you to have full control over initiating a trade.
Points to consider before investing in an EA
Investing in an expert advisor requires certain factors to keep in mind that will help you to maximize your success rate with the benefit of automation.
Performing a thorough background check
The security factor should be on your priority list while opting for an expert advisor. Thorough research along with a complete background assessment is necessary to determine the authenticity of the EA. You can rely on reviews and testimonials of other users as well as checking the credentials of the vendor. Some factors that decide the genuineness of the EA include secure payment options, refund guarantees in case of false claims, transparent business practices, and development by trustworthy programmers.
Conduct satisfactory research
It is common to come across many catchy claims of instant and guaranteed profit while opting for an EA. But these commercials fail to mention that expertise is the most critical asset you will need to succeed in this industry. You can immediately notice risk factors when anyone makes exaggerated and unreasonable statements if you have a good understanding of how the foreign exchange market works. While many appropriate automated trading systems are useful in leveraging your trading career, you may also come across many fraudulent scenarios in this industry. Thus only proper learning will provide you with the information you need to prevent being a target of these frauds.
Get familiar with basic EA stats
Reliable expert advisors are generally introduced to the market after a long process of backtesting performed by the developers. While selecting an EA you will most likely come on certain statistics including the profit factor, drawdown and expected payoff that demonstrate its performance. As an investor, you need to be knowledgeable about these stats, what they mean and how they can impact your trading style before finalizing an EA.
Perform independent testing
The final step will always be to verify the capabilities of an expert advisor along with checking the backtested results. You can rely on a demo account or a trial version of that EA easily before making the final call.
Selecting the ideal forex EA can be challenging irrespective of the level of experience you have in this. However, following these tips as well as your experience can make this process easier and worthwhile.