WHO and world football launch 'kick out coronavirus' campaign
A new awareness-raising campaign, led by the world's top football stars, called 'Pass the message to kick out coronavirus', was launched on Monday by the UN health agency, WHO, and international football's governing body, FIFA.
The campaign involves a video featuring many of the biggest names in football (soccer to those in the US), including Barcelona's Lionel Messi, Liverpool goalkeeper Alisson, and former England team captain, and World Cup semi-finalist, Gary Lineker.
FIFA President Gianni Infanti, said that the organization is calling on everyone to follow the WHO's five key steps to stop the spread of the disease, focusing on hand washing, coughing etiquette, not touching your face, social distancing, and staying home if you feel unwell.
10 million users for WHO Whatsapp helpline
During his Monday press briefing, WHO chief Tedros Adhanom Ghebreyesus announced that, since its launch just four days ago, the agency's WhatsApp Health Alert messaging service, has already attracted some 10 million users. The service delivers reliable, accurate health information directly to users' mobile phones.
Anyone who has Whatsapp on their mobile phone can subscribe by texting "hi", to +41 22 501 76 55.
They will then receive a message from the UN health agency, inviting them to request further information on a range of coronavirus-related topics, including how to protect yourself from infection, travel advice, and latest news.
The service can send out replies to questions about coronavirus, 24 hours a day, and is designed to service government decision-makers by providing the latest WHO numbers and situation reports.
Currently sending out information in English, the free service will be launched in Arabic, French and Spanish-language versions later this week. Chinese and Russian versions are also being planned. To find out how to sign up, go to whatsapp.com/coronavirus/who.
COVID treatments: avoid raising false hope
On the subject of treatments for COVID-19, Tedros reminded reporters that no treatment has so far been proven to be effective. The WHO chief noted that using untested medicines, without the right evidence, could raise false hopes, and even do more harm than good, in the short term.
"Small, observational and non-randomized studies will not give us the answers we need", he said, adding that the use of untested treatments could also cause a shortage of essential medicines that are needed to treat other diseases.
We're not 'prisoners to statistics'
Updating the press on the latest COVID-19 case figures, Tedros said that the pandemic is accelerating: whilst it took 67 days from the first reported case to the first 100,000 cases, it took 11 days to reach 200,000, and just four days for 300,000 cases to be reported.
However, the WHO chief insisted that "we are not prisoners to statistics", and that it is still possible to change the trajectory of the pandemic – by flattening the curve – adhering more closely to the agency's guidance, particularly by testing every suspected case, isolating and caring for every confirmed case, and tracing and quarantining every close contact.
Recognizing that some countries are finding it hard to carry out such measures, Tedros expressed his gratitude for the efforts that several nations have made, to send Emergency Medical Teams to care for patients and train health workers in countries that need support. "This is an incredible example of international solidarity", he said.
COVID-19: The global food supply chain is holding up, for now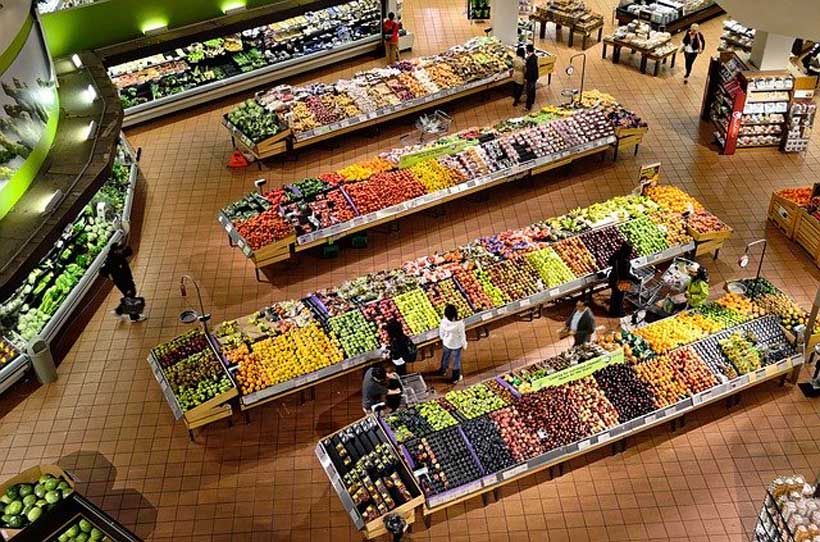 The unfolding COVID-19 pandemic is so far having little impact on the global food supply chain, but that could change for the worse – and soon – if anxiety-driven panic by major food importers takes hold, the World Food Programme (WFP) warned on Friday.
In a new report, "COVID-19: Potential impact on the world's poorest people: A WFP analysis of the economic and food security implications of the pandemic", the UN agency said that global markets for basic cereals are well-supplied and prices generally low.
However, it said, given the highly globalized nature of food production and supply, commodities need to move from the world's 'breadbaskets' to where they are consumed – and COVID-19-related containment measures are starting to make this more challenging.
"Disruptions are so far minimal; food supply is adequate, and markets are relatively stable," said WFP Senior Spokesperson, Elizabeth Byrs, noting that global cereal stocks are at comfortable levels and the outlook for wheat and other staple crops is positive for the rest of this year.
"But we may soon expect to see disruptions in food supply chains", she said, explaining that if big importers lose confidence in the reliable flow of basic food commodities, panic buying could ensue, driving prices up.
'Behavioural change' could rock markets
Elaborating, a seasoned grain market analyst at the Food and Agriculture Organization (FAO), quoted anonymously in the report, said the problem is not supply, but "a behavioral change over food security".
"What if bulk buyers think they can't get wheat or rice shipments in May or June? That is what could lead to a global food supply crisis," the analyst said.
For low-income countries, the consequences could be devastating, with long-term repercussions, with coping strategies coming at the expense of such essential services as health and education.
It recalled that when a food price crisis struck in 2008, the world's poorest households – which typically spend the largest share of income on food – suffered disproportionately.
Using the economic pillar of the Proteus food security index – and taking into account dependency on primary commodities such as fuel, ores and metals for export earnings – the report said that countries in Africa and the Middle East are most vulnerable.
Africa most vulnerable
Africa accounts for the majority of the almost 212 million people in the world who are chronically food insecure and the 95 million who live amidst acute food insecurity, the report noted.
Ms. Byrs added that labour shortages could disrupt the production and processing of labour-intensive crops in particularly, especially in vulnerable countries in sub-Saharan Africa.
Other potential sources of disruption include blockages along transport routes – a particular concern for fresh produce – and quarantine measures that could impede farmers' access to markets, he explained.
Going forward, the WFP report said that it is essential to monitor food prices and markets, and to transparently disseminate information – thus helping to strengthen government policies while also averting public panic, and social unrest.
It added that in places where food insecurity is caused by restricted access, rather than lack of availability, cash-based transfers – which can often be made through contactless solutions – should be considered as a standard response.
"Planning in-kind food assistance is essential", the report continued, noting that supply chain disruptions are likely to affect higher-value items first. Such items involve more tiers of suppliers, human interaction and dependency on few suppliers – putting specialized nutritious food more at risk than staples.
Refugees in Greece: MEPs demand solidarity, warn about impact of health crisis
The EU and its member states must help Greece manage its borders, according to Civil Liberties MEPs, who warn about the risk of COVID-19 spreading in refugee camps.
MEPs stressed that the current pandemic is yet more evidence that no country can deal with certain challenges alone. They praised the commitment to relocate 1,600 unaccompanied minors from the Greek islands to other EU countries, but requested clarification about when precisely this will happen and about which member states will participate. Some requested that relocation should also apply to other vulnerable asylum-seekers and to families.
Critical situation in refugee camps
Many MEPs are worried about a possible outbreak of COVID-19 in the overcrowded hotspots on the Greek islands, given the already dire conditions in which people are living. Some suggested transferring people to the Greek mainland or using empty hotel rooms to ensure social distancing, while others opposed any additional relocation, to avoid creating problems of public order.
The discussion also touched upon the crisis that followed Turkey's announcement one month ago that it would let people cross into EU territory. MEPs underlined that solidarity with frontline countries is key and that migration should not be used for political purposes. Several speakers also questioned the Greek authorities' decision not to accept any asylum requests for a month and reiterated that, as signatories to the Geneva Convention, all member states must respect the right to seek international protection.
In a debate that you can watch again online, the Civil Liberties Committee assessed on Thursday the situation at Greece's external borders with Greek Ministers for Migration and Asylum, Notis Mitarachi, and for Citizen Protection, Michalis Chrisochoidis. Commission Vice-President Margaritis Schinas, Commissioner for Home Affairs Ylva Johansson, and the Croatian State Secretary for European and International Affairs, Terezija Gras, presented their views to MEPs, as did Frontex Executive Director, Fabrice Leggeri, and the Director of the EU's Fundamental Rights Agency (FRA), Michael O'Flaherty.
MEPs call for solidarity and measures to prevent Covid19 crisis in refugee camps
The situation of refugees in Greece calls for a concerted EU response to avoid a Covid-19 outbreak, according to MEPs on the civil liberties committee.
As Europe grapples with the challenges of the coronavirus crisis, concern is also growing over the living conditions of asylum-seekers in camps on the Greek islands.
The situation at the Greek-Turkish border escalated at the beginning of March when Turkey opened its borders to asylum seekers and refugees by breaking the 2016 migration pact with the EU.
In a virtual meeting, the civil liberties committee discussed the current border situation and the need to avoid this humanitarian crisis turning into a public health issue with the Greek government. Representatives from the European Commission, Frontex and the EU's Fundamental Rights Agency joined MEPs in stressing the importance of solidarity and the unity of the European Union to help mitigate the growing crisis.
Measures in place
Together with member states and EU agencies, the Commission has set up an emergency contingency plan, regularly monitors the situation and has adopted new measures.
Two rapid border interventions were launched, additional border guards have been deployed and Greece activated the Civil Protection Mechanism, resulting in more than 90,000 items of assistance to the camps being giving to Greece by EU countries.
All migrants arriving in the hotspots undergo a mandatory health check. Newly arrived and rescued people are kept in separate areas until their medical screening has been completed.
The Commission has allocated a budget of €350 million in continued support for Greece, where most of the refugees and migrants arrive, €50 million of which will be for medical care.
After receiving a health check, 1,600 unaccompanied minors currently staying in the hotspots on the islands will be relocated to other EU countries:, namelyGermany, France, Portugal, Finland, Lithuania, Croatia, Ireland and Luxembourg. Some will be travelling to Luxembourg next week.
With the support of the International Organization for Migration and Frontex, a voluntary scheme has been set up to encourage people to go back to their home countries.
More support needed
Notis Mitarachi, the Greek Minister for Migration and Asylum, said that many special measures had been taken to prevent a Covid-19 outbreak in the camps on the islands, but that more support was needed.
MEPs called for more support, accommodation facilities and medical equipment, extending relocations to families, extending existing asylum deadlines and considering doing interviews virtually.
The Commission has proposed an additional budget of €350 million for the construction of new camps on the mainland in Greece and new apartments, which will require approval from Parliament.
Margaritis Schinas, Commission Vice-President for Promoting the European way of life, said it was imortant to stick to our values and respect fundamental human rights and EU law. He added that the EU should also continue its work on the New Pact on Migration and Asylum, set to be presented in the coming months.
World Bank's $350M Grant for Bangladesh Will Help Rohingya and Local Communities
The World Bank today approved $350 million in grant financing for three projects to help Bangladesh cope with one of the world's largest forced exodus. These grants will help Bangladesh address the needs of the host communities and the displaced Rohingya in Cox's Bazar district for health services, response to gender-based violence, social protection, basic services and infrastructure.
"Bangladesh has shown great leadership by providing shelter to around 1.1 million Rohingya, which is about three times of the local population in Teknaf and Ukhia upazilas. Naturally, this has placed immense strain on existing infrastructure and social service delivery, and increased health and disaster risks," said Mercy Tembon, World Bank Country Director for Bangladesh and Bhutan. "The three grants will cater to the needs of both the host and Rohingya communities. At the same time, they will strengthen the country's service delivery capacity and increase resilience to natural disaster and climate change."
The $150 million Health and Gender Support Project for Cox's Bazar District will enable 3.6 million people in Cox's Bazar including the Rohingya to have access to health, nutrition and family planning services as well as address gender-based violence through preventive and response services.
The infant mortality rate and prevalence of stunting in Cox's Bazar is higher than national average. The project will renovate and upgrade health facilities in Cox's Bazar, including District Sadar Hospital and the Mother and Child Welfare Center in the localities; and the Women Friendly Spaces inside the Rohingya camps. The project will also help fill in vacant positions of health professionals and ensure adequate medical supplies. Within the Rohingya camps, the project will also provide psychosocial counseling, immunization, Tuberculosis screening and treatment and nutrition services.
The $100 million additional financing to the Emergency Multi-Sector Rohingya Crisis Response Project will scale up access to energy, water, sanitation and disaster-resilient infrastructures for the Rohingya and the surrounding host communities.
The project will benefit about 780,800 people, including 140,800 local people with better public infrastructure. This includes access to improved water sources for 365,800 people and better sanitation for 171,800 people. It will help build 40 multi-purpose disaster shelters, accessible to 81,000 people. The project will also support renewable energy systems using solar photovoltaic nano-grid schemes to increase access to clean electricity and install around 4,000 solar street lights, 975 lightning protection systems and build 250 km of climate resilient roads. It will also help government agencies to strengthen institutional systems and capacities to plan, coordinate and respond to crisis and emergencies.
The $100 million additional financing to the Safety Net Systems for the Poorest Project will help provide livelihoods and income support to poor and vulnerable households in the host communities using an existing national safety net program – Employment Generation Program for the Poorest; and scale-up social assistance coverage to the Rohingya under the Emergency Multi-Sector Rohingya Crisis Response Project. The additional financing will benefit 40,000 host community households and 85,000 Rohingya households.
With these three grants, the World Bank has provided a total of $480 million in grants to enable Bangladesh to deal with the displaced population inflow. Bangladesh currently has one of the largest IDA programs totaling $11.8 billion. Since Independence, the World Bank has committed more than $30 billion in grants, interest-free, and concessional credits to the country.