Waste management an essential public service in the fight to beat COVID-19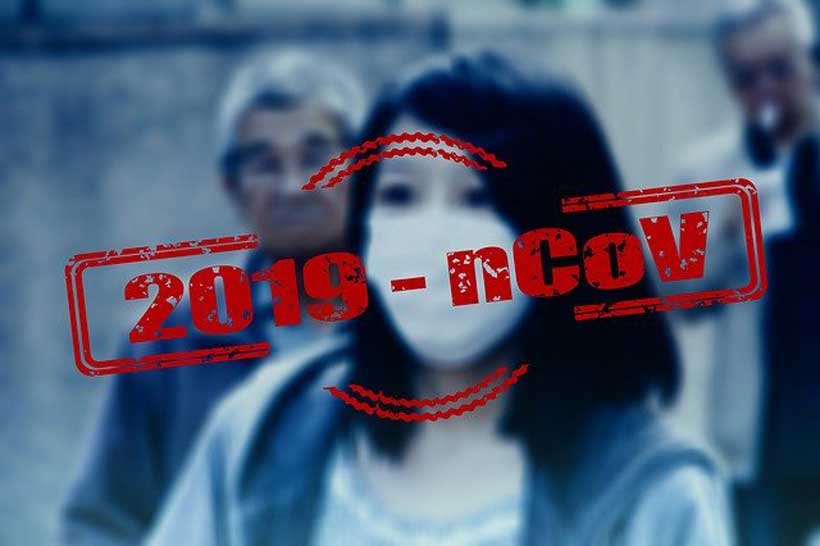 With the coronavirus disease (COVID-19) pandemic continuing to spread and its impacts upon human health and the economy intensifying day-by-day, governments are urged to treat waste management, including of medical, household and other hazardous waste, as an urgent and essential public service in order to minimise possible secondary impacts upon health and the environment.
During such an outbreak, many types of additional medical and hazardous waste are generated, including infected masks, gloves and other protective equipment, together with a higher volume of non-infected items of the same nature. Unsound management of this waste could cause unforeseen "knock-on" effects on human health and the environment. The safe handling, and final disposal of this waste is therefore a vital element in an effective emergency response.
Effective management of biomedical and health-care waste requires appropriate identification, collection, separation, storage, transportation, treatment and disposal, as well as important associated aspects including disinfection, personnel protection and training. The UN Basel Convention's Technical Guidelines on the Environmentally Sound Management of Biomedical and Healthcare Wastes, includes information and practical aspects of waste management useful for authorities seeking to minimise hazards to human health and the environment.
Further resources on the safe handling and final disposal of medical wastes can be found on the website of the Basel Convention's Regional Centre for Asia and the Pacific, in Beijing, which lists a series of guidance documents and best practices.
The safe management of household waste is also likely to be critical during the COVID-19 emergency. Medical waste such as contaminated masks, gloves, used or expired medicines, and other items can easily become mixed with domestic garbage, but should be treated as hazardous waste and disposed of separately. These should be separately stored from other household waste streams and collected by specialist municipality or waste management operators. Guidelines on the specificities of recycling or disposing of such waste is given in detail in the Basel Convention's Factsheet on Healthcare or Medical Waste.
Parties to the Basel Convention are currently working on a guidance document for soundly managing household waste and whilst not yet finalized, an initial draft may be consulted for provisional guidance.
The BRS Executive Secretary, Rolph Payet, stated that "All branches of society are coming together to collectively beat the virus and to minimize the human and economic impact of COVID-19 across the world. In tackling this enormous and unprecedented challenge, I urge decision-makers at every level: international, nationally, and at municipal, city and district levels, to make every effort to ensure that waste management, including that from medical and household sources, is given the attention – indeed priority – it requires in order to ensure the minimization of impacts upon human health and the environment from these potentially hazardous waste streams."
World Bank Supports Croatia's Firms Hit by COVID-19 Pandemic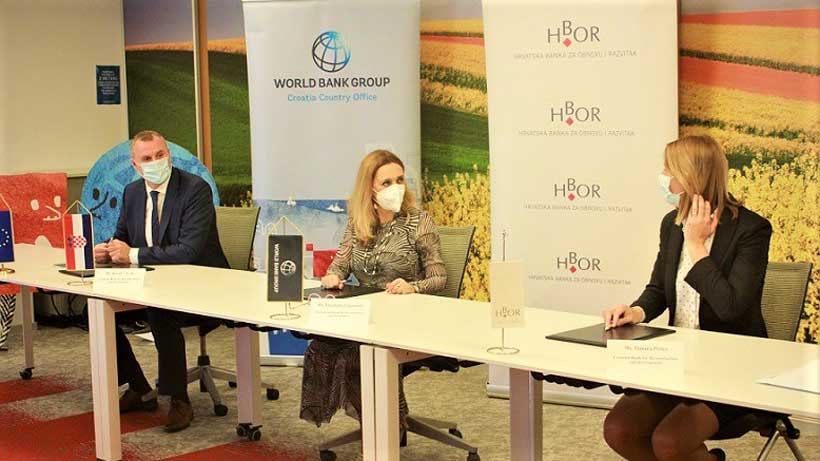 Tamara Perko, President of the Management Board of the Croatian Bank for Reconstruction and Development (HBOR) and Elisabetta Capannelli, World Bank Country Manager for Croatia, signed a Loan Agreement for the HEAL Croatia Project (Helping Enterprises Access Liquidity) in the amount of EUR 200 million (US$242 million equivalent). The Croatian Deputy Prime Minister and Minister of Finance, Zdravko Marić also signed a Guarantee Agreement with the Bank for the Loan. The HEAL Croatia Project will provide liquidity and financial restructuring to firms that have been hit by the COVID-19 pandemic and by the two devastating earthquakes of 2020 and will support an inclusive and resilient recovery.
The COVID-19 crisis has caused a sharp decline in the economic activity of Croatian businesses and has had a profound effect on jobs and livelihoods. The pandemic disrupted firms' production and reduced the demand for their goods and services, while the financial sector tightened lending to companies, due to rising credit risk. The crisis also exacerbated Croatia's regional disparities and reduced credit access for young firms and for firms owned and managed by women.
To mitigate such negative effects, the HEAL Project will increase access to finance to firms focused on export, both small and medium enterprises (firms employing fewer than 250 people) and mid-caps firms (employing from 250 to 3000 people), as well as for firms from less developed regions of Croatia, and firms owned or managed by women. It will also increase access for young enterprises (operating less than five years). The Project will support HBOR's continued development through improved business processes, strengthened sustainability and climate change resilience, and use of EU funds.
"The loan being signed today represents a continuation of the significant support provided by the World Bank to the Republic of Croatia since the beginning of the crisis in 2020, which is reflected in operations worth a total of EUR 760 million (including HEAL). With this project, we are contributing to the further recovery of Croatia's private sector, following the existing measures of the Government of the Republic of Croatia adopted in the context of the COVID-19 pandemic, post-earthquake reconstruction and creating foundations for future sustainability and resilience," said Zdravko Marić, Deputy Prime Minister and Minister of Finance of the Republic of Croatia.
"Terms and conditions granted by the World Bank will provide us an additional source of finance for granting further favorable loans to our entrepreneurs. We are pleased that the World Bank has recognized the significance of financing entrepreneur groups whose importance has also been recognized in HBOR's five-year strategy. Exporters and entrepreneurs in underdeveloped areas are among them. In addition to granting favorable financing terms, the World Bank will support us in improving our Environmental and Social Management System. This will be important as HBOR's activities in the coming period will be particularly committed to building more capacity for supporting sustainable projects and inclusive growth," stated Tamara Perko, President of the Management Board of HBOR.
"We look forward to a smooth and quick implementation of the HEAL Croatia project which will help preserve jobs and support household livelihoods through direct support to approximately 150 firms employing around 25,000 people. The Project will contribute to a resilient, inclusive and sustainable recovery of Croatia, which has been hard hit by the global pandemic, the economic recession, and the devastating earthquakes of March and December 2020," said Elisabetta Capannelli, the World Bank Country Manager for Croatia.
The HEAL Croatia project complements two other World Bank crisis operations approved last year, the Croatia Crisis Response and Recovery Program and Earthquake Recovery and Public Health Preparedness Project – worth together US$ 500 million, to help mitigate the effects of the economic shock, advance recovery, facilitate earthquake reconstruction and strengthen national systems for public health preparedness for pandemic outbreaks. The Justice for Business Project focused on improving the business regulatory procedures and justice service standards for businesses and citizens was also approved in March 2020, bringing the World Bank support to the country to EUR 760 million under the ongoing Country Partnership Framework.
The World Bank has been a partner to Croatia for over 27 years. During this period, the Bank has supported more than 50 projects, worth almost US$5 billion, produced numerous studies, and provided technical assistance to help strengthen institutions and support the design of policies and strategies. The Bank's current program focuses on mitigating the economic and social impact of COVID-19, post-earthquake reconstruction, transport, justice, innovation, business environment, land administration, science and technology, and economic development of the Pannonian region.
New Financing to Help Indonesia Achieve a Deeper and More Resilient Financial Sector
The World Bank's Board of Executive Directors today approved a loan of US$400 million to support reforms that will help the Government of Indonesia increase the depth, improve the efficiency, and strengthen the resilience of the financial sector.
The COVID-19 pandemic has caused recession in Indonesia, with potentially long-lasting financial, fiscal, and social implications. While the banking system is well-capitalized and profitability is high, the lack of depth in the Indonesian financial markets increases the country's vulnerability to external shocks. The new financing is designed to help the country address financial sector vulnerabilities heightened by the pandemic. It does so through support to measures such as extending financial services to previously underserved groups, reducing the costs of such services for individuals and businesses alike, and strengthening the capacity of the financial sector to withstand financial and non-financial shocks.
"The COVID-19 outbreak has made structural reforms to address financial sector vulnerabilities urgent. The Government of Indonesia is committed to strengthening the financial sector given its critical role in sustaining Indonesia's growth and in reducing poverty, especially during the COVID-19 recovery phase. " said Minister of Finance of the Republic of Indonesia, Sri Mulyani Indrawati.
The new development policy loan will support Indonesia's financial sector reforms through three key approaches. First, it aims to increase the depth of the financial sector by expanding the access to financial services – including by youth and women – broadening the range of financial products, and incentivizing long-term savings. These efforts would reduce Indonesia's vulnerability to foreign portfolio outflows.
Second, it aims to improve the efficiency and lower the cost of the financial sector by strengthening the insolvency and creditor rights framework, protect consumers and personal data, and make payment systems more efficient and faster by utilizing digital technology. The latter will help large-scale social assistance payments to vulnerable people during the crisis.
Third, it aims to boost the capacity of the financial sector to withstand shocks by strengthening the resolution framework to avoid financial activities disruptions in the event of a bank failure, advancing the effectiveness of financial sector oversight and implementing sustainable finance practices.
"This financing complements the government's efforts to cushion the financial sector and the overall economy from the impacts of the COVID-19 crisis. By making financial services more transparent, reliable and technology-oriented, savings can be channeled into the most productive investments in a less costly, faster and safer way, thus opening opportunities for people to invest in their future and to protect themselves from unexpected shocks," said Satu Kahkonen, World Bank Country Director for Indonesia and Timor-Leste.
The World Bank's support to financial sector reforms in Indonesia is an important component of the World Bank Group's Country Partnership Framework for Indonesia, whose engagement area on strengthening economic resilience and competitiveness contains a specific objective focused on increasing the depth, improving the efficiency and strengthening the resilience of the financial sector. The new financing is also based on the World Bank Group's GRID (green, resilient, inclusive development) principles.
2021 Geneva Summit for Human Rights and Democracy
Each year, the Geneva Summit for Human Rights and Democracy assembles hundreds of courageous dissidents and human rights activists, diplomats, journalists and student leaders to shine a spotlight on urgent human rights issues.
The Geneva Summit is sponsored by 25 human rights NGOs from around the world. The Geneva Summit has been featured in media around the globe, including CNN, Agence France Presse, AP, The Australian, Radio Free Europe and ANSA.
This year, the 13th Geneva Summit for Human Rights and Democracy was held on June 7 and 8. The event was free to all the people who made online registration. This year the summit hosted different voices from different parts of the world.
In this year's summit, the leading Turkish journalist Can Dündar who was arrested, jailed and forced into exile for his reporting on Erdogan's government was one of the speakers addressing Human Rights and Democracy on the Fragility of Freedom and Democracy panel.
For the full text of the Fragility of Freedom and Democracy panel, click here.
The list of the other speakers is as follows:
Waad Al-Kateab, Syrian refugee and award-winning documentary filmmaker on the conflict in Syria
Rayhan Asat, Uyghur activist, sister of Ekpar Asat who was abducted by Chinese authorities
Nathan Law, Former member of Hong Kong Legislative Council who fled arrest & sudden leader of 2014 Umbrella Movement
András Simonyi, Academic & former Hungarian Ambassador to the U.S.
Prof. Irwin Cotler, Chair of Raoul Wallenberg Centre for Human Rights, former Minister of Justice & Attorney General of Canada.
Gulalai Ismail, Pakistani women's rights activist, former political prisoner who escaped the country
Tania Bruguera, Cuban political performance artist repeatedly arrested for her work
Sviatlana Tsikhanouskaya, Belarusian opposition presidential candidate forced to flee after rigged elections
Jihyun Park, Escapee and survivor of a North Korean forced labor camp
Daria Navalnaya, Daughter of poisoned and jailed Russian opposition leader Alexei Navalny
Kylie Moore-Gilbert, Australian-British academic just freed after two years in Iranian prison as a victim of hostage diplomacy
Evan Mawarire, Zimbabwean protest leader, arrested six times and tortured for his human rights work
Yang Jianli, Chinese dissident, former political prisoner, survivor of Tiananmen Square and President of Initiatives for China
Vladimir Kara-Murza, Leading dissident against Putin regime, Chairman of Boris Nemtsov Foundation, survivor of two poisoning attempts
For links to other speakers' quotes, videos, livestream, and more, click here.