UN expert raises alarm over migrant, asylum seeker 'pushbacks' at Turkey-Greece border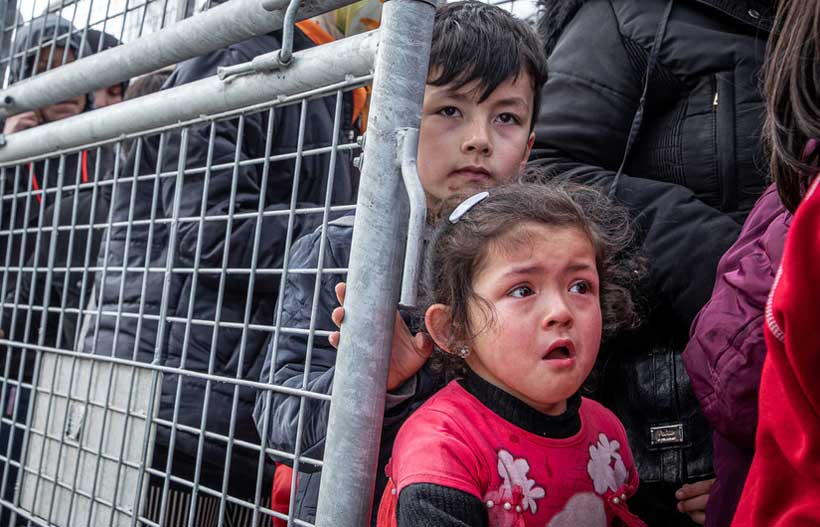 Greece must take immediate action to end the violence against migrants and asylum seekers at the border between Turkey and Greece, an independent UN human rights expert said on Monday, expressing alarm at reports of violence at the hands of some Greek security officers and unidentified armed men.
"I am very concerned about the reported pushbacks of asylum seekers and migrants, which constitutes a violation of the prohibition of collective expulsions and the principle of non-refoulement," said Felipe González Morales, Special Rapporteur on the human rights of migrants.
On 1 March, Greece suspended for 30 days, asylum applications for anyone who crossed the border irregularly, which prompted the Special Rapporteur to urge the country to "immediately reverse its decision", saying it "has no legal basis in international human rights law".
Migrants who managed to cross into Greece were allegedly intercepted by Greek border guards, detained, stripped, looted and pushed back to Turkey.
And alleged excessive use of force seems to have led to deaths and injuries, including the death of a Syrian asylum seeker.
"The right to individual assessment is the cornerstone of human rights and refugee protection", warned Mr. González Morales. "It cannot be put on hold".
He pointed out that returning people without due process "will inevitably result in cases of refoulement to situations where they may face the risk of death, torture, ill-treatment, persecution or other irreparable harm".
Humanitarians in crosshairs
The Special Rapporteur also raised the alarm over an increase in hostility and violence against humanitarian workers, human rights defenders and journalists working at the border and in the Greek Aegean Sea.
"Greece has the responsibility to ensure that migrants and those assisting them are protected from threats and attacks", he said. "The authorities should condemn promptly and ensure accountability for any such acts."
The independent UN expert has shared his concerns with the Greek Government along with the relevant European Union institutions and the Government of Turkey.
The Special Rapporteurs are part of the Special Procedures of the Human Rights Council. Special Procedures, the largest body of independent experts in the UN Human Rights system. They are independent from any government or organization and serve in their individual capacity.
COVID-19 stoking xenophobia, hate and exclusion, minority rights expert warns
Combatting the COVID-19 pandemic must also include stamping out what one independent human rights expert has called the "darker sides" of the disease: verbal and physical attacks against Chinese and other minority communities, and excluding them from access to healthcare.
"COVID-19 is not just a health issue; it can also be a virus that exacerbates xenophobia, hate and exclusion," said Fernand de Varennes, the UN Special Rapporteur on minority issues, in a statement issued on Monday.
He reported that politicians and groups are exploiting fears surrounding the disease to scapegoat certain communities, leading to a rise in violence against them.
This has included physical attacks against Chinese and other Asians, hate speech blaming Roma and Hispanics for the spread of the virus, and calls by some political leaders for migrants to be denied access to medical services.
Safeguard human rights
Mr. de Varennes said countries need to show that the human rights of all people must be protected, particularly the most vulnerable and marginalized.
"Combatting the epidemic requires tackling its darker sides. Firm actions by States and all of us to safeguard the human rights of the most vulnerable and marginalised, including minorities, indigenous communities and migrants, are urgent and necessary", he stressed.
More than 200 countries have reported cases of the new coronavirus disease, which first emerged in Wuhan, China, last December.
There were 638,146 cases globally as of Sunday, and more than 30,000 deaths, according to data from the World Health Organization (WHO).
"The coronavirus outbreak endangers the health of all of us, with no distinction as to language, religion or ethnicity. But some are more vulnerable than others", said Mr. de Varennes.
He urged people everywhere to resist the rise in discriminatory and hate speech against Asian and other minorities by using the hashtag #IAmNotAVirus on social media.
Protect people in prisons, detention centres
Meanwhile, authorities are being urged to consider measures to mitigate COVID-19 risk in places such as prisons, immigration detention facilities, closed refugee camps and psychiatric institutions.
The UN Subcommittee on Prevention of Torture issued the advice on Monday, in a call to protect people deprived of their liberty during the pandemic.
"Governments have to take precautionary measures necessary to prevent the spread of infection, and to implement emergency measures to ensure detainees have access to appropriate levels of health care and to maintain contact with families and the outside world", said Sir Malcolm Evans, the Committee Chairperson.
Measures include reducing prison populations by allowing early or temporary release of low-risk offenders, and extending the use of bail for all but the most serious cases.
Coronavirus pandemic threatens to plunge millions in Arab region into poverty and food insecurity
COVID-19 will be responsible for pushing a further 8.3 million people in the Arab region into poverty, according to a new policy brief issued on Wednesday by the United Nations Economic and Social Commission for Western Asia (ESCWA).
And the pandemic could also bump up the number of undernourished people there by some two million.
Current estimates show that there are some 101.4 million in the region who already live in poverty, according to official criteria, and around 52 million undernourished.
"The consequences of this crisis will be particularly severe on vulnerable groups", said ESCWA Executive Secretary, Rola Dashti, pointing especially to "women and young adults, and those working in the informal sector who have no access to social protection and unemployment insurance".
Because of a high dependence on food imports within the Arab world, a disruption in global medical supplies to deal with the pandemic, will also have a severe impact on food security there, says ESCWA.
Meanwhile, in addition to food loss and waste, worth around $60 billion annually across the region, the brief highlighted other likely economic losses, due to knock-on effects of the virus.
What action can be taken to lessen the impact?
According to ESCWA, reducing food loss and waste by 50 per cent would not only increase household income by some $20 billion, but also significantly improve food availability, reduce food imports and improve the balance of trade throughout the region.
Ms. Dashti encouraged Arab Governments to ensure "a swift emergency response to protect their people from falling into poverty and food insecurity owing to the impact of COVID-19".
Last week, she called for the establishment of a regional social solidarity fund to care for vulnerable countries.
"The regional emergency response must support national efforts and mobilize resources and expertise to protect the poor and vulnerable", concluded the Executive Secretary.
At the same time, Khalid Abu-Ismail, Senior Economist at ESCWA, highlighted four measures that can be taken to mitigate the crisis, beginning with extending credit to small businesses and enterprises.
He also stressed the importance of building on social networks and expanding on cash and other transfers to the poor and vulnerable and encouraged countries to give "more access to the food insecure population" through the existing voucher system.
Mr. Abu-Ismail also highlighted the importance of other initiatives such as Arab Food Security Emergency Funds.
As one of five UN regional commissions, ESCWA supports inclusive and sustainable economic and social development in Arab States and works on enhancing regional integration.
Economic sanctions should be lifted to prevent hunger crises in countries hit by COVID-19
As the world exhibits new bonds of solidarity in response to the coronavirus pandemic, it is a matter of "humanitarian and practical urgency to lift unilateral economic sanctions immediately," to prevent hunger crises in pandemic-hit countries, a UN human rights expert, said on Tuesday.
The continued imposition of such measures on Syria, Venezuela, Iran, Cuba and Zimbabwe in particular, severely undermines the fundamental right to sufficient and adequate food,Hilal Elver, the UN Special Rapporteur on the Right to Food, stressed.
History has shown that unilateral economic sanctions generally have dramatic and detrimental impacts on economic, social and cultural rights, she recalled. "As a result, the wellbeing of the civilian populations becomes severely compromised."
The Special Rapporteur also urged the international community to pay particular attention to the situation of civilians trapped in conflict settings, and notably those already experiencing acute violations of their rights to food, such as in Yemen, South Sudan, Gaza, Syria and in refugee camps worldwide.
"If the international community is serious about the fight against COVID-19 and the eradication of food and nutrition insecurity, States need to refrain at all times from direct and indirect interference with access to food," she assured.
The Special Rapporteurs are appointed by the Geneva-based UN Human Rights Council to examine and report back on a specific human rights theme or a country situation. Their positions are honorary, and they are not paid for their work.