The wonder trees that nurture marine biodiversity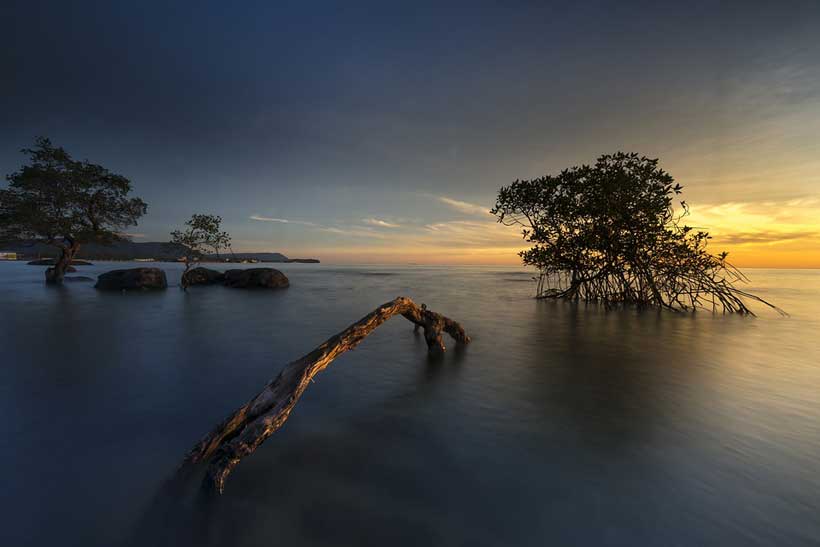 This 2020 theme for the International Day of Forests on 21 March is Forests and Biodiversity. It's an often-quoted fact that forests are home to 80 per cent of terrestrial biodiversity, but did you know that one type of tree also supports marine biodiversity—the mangrove tree?
Awareness is growing among governments and coastal communities in tropical countries of the incredible value of mangroves to nature and humans.
Mangrove trees store more carbon in their rich soils than most other trees, which makes them valuable assets in the fight against global heating. They also buffer storm surges, provide breeding grounds for fish and a host of other marine animals, and serve as effective filtration systems that prevent the influx of saline water which renders soil unfit for agriculture.
Biodiversity is an important ecosystem benefit that mangrove forests provide. Community and biodiversity-based ecotourism in mangroves can help generate incentives for conservation and sustainable management. Tourists have a wide range of options to experience the wonderful biodiversity of mangrove forests, including through boat tours, kayaking, snorkeling, bird watching and nighttime crab fishing. In Madagascar, mangroves are home to lemurs which are among the most threatened group of mammals on Earth. These "swamp lemurs" were documented for the first time just a few years ago.
"Mangrove forests are highly productive ecosystems and their conservation should be the first priority, but where mangroves have disappeared restoration has also proved possible," says United Nations Environment Programme (UNEP) coastal and marine ecosystems expert Gabriel Grimsditch.
In 2019, the United Nations issued a massive global call to action to mobilize the political and financial support necessary to restore the world's deforested and degraded ecosystems. The United Nations Decade on Ecosystem Restoration will run from 2021 to 2030 and emphasize scaling-up of restoration work to address the severe degradation of landscapes and forests, including mangroves, our marine blue forests.
Blue forests restoration initiatives
UNEP and partners have recently been involved in successful "mangrove carbon" finance projects in Kenya, and Madagascar under the Blue Forests Project.
These projects link mangrove forests to the global carbon market, with payments for mangrove carbon supporting the planting and conservation of mangrove trees and other benefits to the local communities. UNEP is currently supporting an exploration of how to similarly link seagrass ecosystems to the carbon market in Kenya.
As the world's only examples of successful community-based mangrove carbon finance projects, the Kenya and Madagascar experiences were profiled last month at the Indian Ocean Blue Carbon Hub Inaugural Think Tank workshop in Mauritius. Results of the workshop included recognition that biodiversity and other ecosystem benefits, including carbon sequestration, are vital for advancing a nature-based healthy blue economy.
In Ecuador, the Blue Forests Project has supported Conservation International's engagement with the government and local communities in setting up mangrove conservation agreements. Under the "socio manglar" programme, indigenous communities are given economic incentives—based on the rich biodiversity that mangrove's support—to commit to the conservation and protection of mangrove forests. In this case, the communities gain exclusive use of the red mangrove crab and black cockle, both lucrative national fisheries.
"Restoration is not a quick win. Considerable financial resources and sustained buy-in from local communities over many years are needed for successful restoration projects," says Isabelle Vanderbeck, a UNEP marine ecosystems expert working closely with the Global Environment Facility on mangrove restoration projects.
A Resolution adopted by the United Nations Environment Assembly on 15 March 2019 "encourages Member States to improve research, education and public awareness, build capacity for the sustainable management and restoration of mangroves and related ecosystems, and, to that end, consider ways in which to mobilize the necessary resources for developing countries."
Indian CEOs' Alliance to Supercharge Race to Net Zero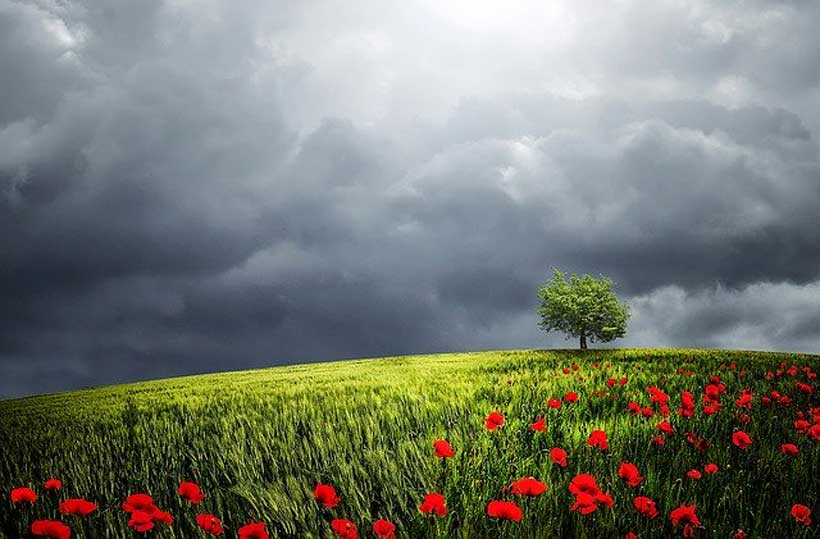 The World Economic Forum today launched the India chapter of the Alliance of CEO Climate Action Leaders to supercharge India's climate action and decarbonization efforts.
Part of the World Economic Forum's Climate Action Platform, the Alliance will continue efforts to achieve the vision outlined in the white paper released last year, Mission 2070: A Green New Deal for a Net Zero India, on India's low-carbon transition by 2070. It will bring together the government, businesses and other key stakeholders to achieve the Indian Prime Minister's ambitious, five-part "Panchamrit" pledge, which includes the country's net-zero by 2070 target.
"As a major global economy, India's role in mitigating climate change is critical and India Inc. must add its full weight to the country's efforts, as well to the global endeavour, against global warming," said Sumant Sinha, Co-Chair, Alliance of CEO Climate Action Leaders India, and Chairman and Chief Executive Officer, ReNew Power.
A collaboration between the management consultancy Kearney and the Indian think-tank Observer Research Foundation, the Alliance will serve as a high-level platform to support business leaders in planning and implementing plans and programmes to achieve climate targets, including net-zero economic growth. It will leverage learnings and experiences from global projects such as the Alliance of CEO Climate Leaders and the First Movers Coalition.
"The Alliance becomes part of our comprehensive nature and climate action agenda in India which includes collaborative initiatives such as Trillion Trees, Moving India for rapid electric vehicle deployment, clean energy financing, Food Innovation Hubs, Stakeholder Capitalism metrices and Clean Skies for Tomorrow," said Børge Brende, President, World Economic Forum.
"The signs of climate change with varying temperature & weather patterns impacting human lives are clearly visible to all of us. Hence, the global initiative and commitment towards climate change, is indeed a positive sign of hope. We believe that it is absolutely possible for us to achieve 1.5℃ target from the Paris agreement. We at Mahindra, have launched a number of major initiatives – Greening ourselves, decarbonising our industry and Rejuvenating our planet – and believe that we are making strong progress to be Carbon neutral by 2040. WEF's Alliance of CEO Climate Action Leaders India is a decisive, collaborative step to scale up our efforts this decade in the race to net-zero. Every step we take together, matters to Mother Earth", said Anish Shah, Co-Chair, Alliance of CEO Climate Action Leaders India and Managing Director and Chief Executive Officer, Mahindra Group.
A just transition could generate annual business opportunities worth over $10 trillion and create 395 million jobs by 2030 worldwide. India alone could create more than 50 million net new jobs and generate over $15 trillion in economic value.
Maharashtra Joins the World Economic Forum in the Fight Against Plastic Pollution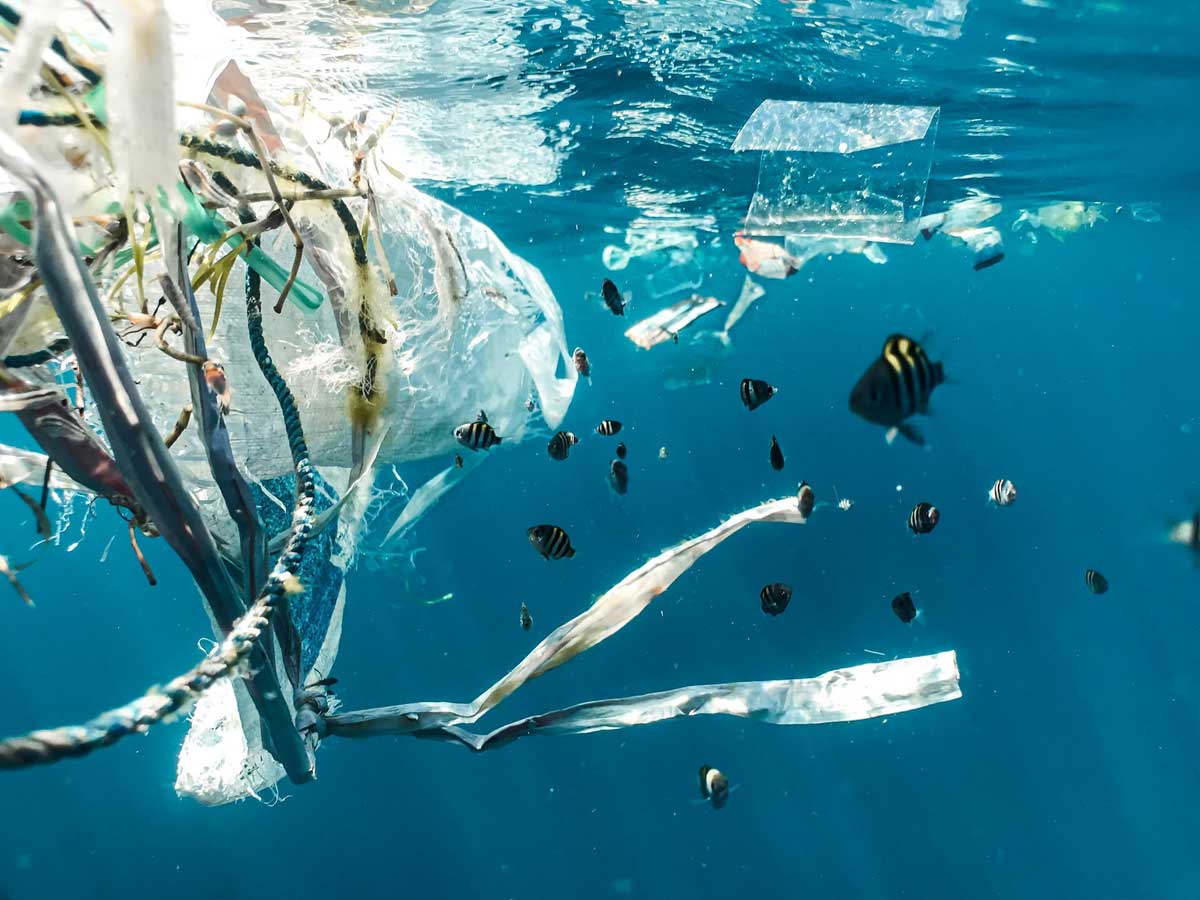 Maharashtra state, through its Ministry of Environment and Climate Change, has joined the World Economic Forum's Global Plastic Action Partnership (GPAP).
The announcement follows the fifth United Nations Environment Assembly (UNEA 5), where a resolution was adopted in March 2022 that will hold member nations legally accountable for their contributions to the global plastic pollution crisis. By joining the Global Plastic Action Partnership, Maharashtra aims to enhance its commitment to curbing plastic pollution, raise its ambition, and ensure accountability and inclusivity throughout the value chain.
The Ministry of Environment and Climate Change of Maharashtra will work with GPAP to launch a National Plastic Action Partnership (NPAP) in Maharashtra as a platform to tackle plastic waste pollution. The GPAP-Maharashtra partnership is the first in India. Maharashtra, whose capital city is Mumbai, has an estimated population of 124 million people, larger than countries such as Ethiopia and the Philippines, making this a significant partnership in per capita terms. Nations currently implementing such partnerships include Indonesia, Ghana, Pakistan, Viet Nam and Nigeria.
"This agreement with the World Economic Forum's Global Plastic Action Partnership marks a critical juncture in our state's battle against the plastic pollution endemic," said Aaditya Thackeray, Minister of Environment and Climate Change for Maharashtra. "Covid proved a hurdle towards our single use plastic ban, where health priorities in PPP took precedent. Now as we refocus on our climate and sustainability objectives, we are laying the foundation to deliver the systems-wide change needed across sectors. This partnership is the building block as we transition towards a more resource circular approach to tackle climate change while strengthening our economy."
The NPAP model creates a circular economy framework for plastics through a locally-led, locally-driven platform. In Maharashtra, it will bring together the state's most influential policy-makers, business leaders and civil society advocates. This group will deliver a state-level action plan to radically reduce plastic pollution and connect high-potential solutions with strategic financing opportunities.
"GPAP is thrilled to partner with Maharashtra to continue their efforts to tackle the plastic pollution problem," said Kristin Hughes, Director of the Global Plastic Action Partnership. "This partnership with Maharashtra signifies the Ministry of Environment and Climate Change's acknowledgement that solutions extend beyond plastic bag bans and that collective action is required. Multiple interventions need to be implemented in a coordinated manner, with strong collaboration between all stakeholders. Inclusivity will be a core pillar of our collaboration to ensure that informal sector workers are not disadvantaged and, as such, form an integral part of each roadmap's implementation plan."
Maharashtra is positioning itself as a leader nationally in India in the fight against plastic waste pollution. In March 2018, the Government of Maharashtra banned the manufacturing, sale and use of single-use plastic bags. It also banned an array of single-use plastic products, including cutlery, straws and containers.
'Lifeline' of renewable energy can steer world out of climate crisis
Greenhouse gas concentrations, sea level rises, ocean heat levels and acidification, all set new records during 2021, while some glaciers reached the point of no return, according to the latest flagship report from the World Meteorological Organization (WMO), published on Wednesday.
The State of the Climate 2021 indicates that extreme weather – the day-to-day face of climate change – wreaked a heavy toll of human lives, triggered shocks for food and water security, and led to hundreds of billions of dollars in economic losses last year.
The report, which describes yet more clear signs that human activity is causing harm on a planetary scale – to our land, ocean and atmosphere – also confirms that the past seven years have been the warmest on record, with global temperature in 2021 reaching about 1.1°C above pre-industrial levels.
"It is just a matter of time before we see another warmest year on record. Our climate is changing before our eyes. The heat trapped by human-induced greenhouse gases will warm the planet for many generations to come", warned WMO chief Petteri Taalas. "Sea level rise, ocean heat and acidification will continue for hundreds of years unless means to remove carbon from the atmosphere are invented".
A plan for renewables
Calling the report, a "dismal litany of humanity's failure to tackle climate disruption", UN Secretary-General António Guterres said that while time is running out to prevent the worst impacts of the climate crisis, there is a 'lifeline' right in front of us.
"We must end fossil fuel pollution and accelerate the renewable energy transition before we incinerate our only home… Transforming energy systems is low-hanging fruit", he emphasized in a video message.
Highlighting that renewable energy technologies such as wind and solar are readily available and in most cases, cheaper than coal and other fossil fuels, the UN chief proposed five critical actions to jump-start the energy transition, which he called the "peace project of the 21st century".
1. Treating renewable energy technologies as essential global public goods
This means removing obstacles to knowledge sharing and technological transfer, including intellectual property constraints.
Mr. Guterres called for a new global coalition on battery storage led by governments and bringing together tech companies, manufacturers and financiers to fast-track innovation and deployment.
2. Secure, scale up and diversify the supply components and raw materials for renewable energy technologies
Supply chains for renewable energy technology and raw materials are concentrated in a handful of countries, and more international coordination is needed to overcome this obstacle.
3. Build frameworks and reform fossil fuel bureaucracies
The UN chief is calling for governments to fast-track and streamline approvals of solar and wind projects, modernize grids and set ambitious renewable energy targets that provide certainty to investors, developers, consumers and producers.
4. Shift subsidies away from fossil fuels
Each year, governments around the world pour around half a trillion dollars into artificially lowering the price of fossil fuels – more than triple the subsidies given to renewables.
"While people suffer from high prices at the pump, the oil and gas industry is raking in billions from a distorted market. This scandal must stop", Guterres highlights.
5. Private and public investments in renewable energy must triple
The UN chief is calling for and adjustment to risk frameworks and more flexibility to scale up renewable finance.
"it's time to jump-start the renewable energy transition before it's too late", the Secretary-General urged.
Climate emergency
The UN chief's plan is long overdue, at a time when extreme weather continues to impact the lives of millions in recent weeks, as seen with the drought emergency in the Horn of Africa, the deadly floods in South Africa, and the extreme heat in India and Pakistan.
The WMO State of the Global Climate report complements the latest assessment of the Intergovernmental Panel on Climate Change (IPCC) which only included data up to 2019, and it will be used as a negotiation document during the upcoming UN Climate Conference in Egypt (COP 27) later this year.
Here are some of its key findings:
· Greenhouse gas concentrations
Levels reached a new global high in 2020 and continued to increase in 2021, with the concentration of carbon dioxide reaching 413.2 parts per million globally, a 149% increase on pre-industrial levels.
"We have broken records in main greenhouse gases, carbon dioxide, methane and nitrous oxide and especially the record in carbon dioxide is striking; we haven't seen any improvement despite of the lockdowns caused by COVID in 2020, so the concentrations continue growing", explains WMO chief Petteri Taalas.
· Ocean heat
Another record high. The upper 2,000m depth of ocean water continued to warm in 2021 and it is expected that it will continue to warm in the future – a change which is irreversible on centennial to millennial time scales, and affects deeply marine ecosystems such as coral reefs.
· Ocean acidification
Because of the excess carbon dioxide (CO2) the ocean is absorbing (some 23% of annual emissions), its waters are increasingly acidifying.
This has consequences for organisms and ecosystems, and also threatens human food security and tourism.
The decreasing PH level also means the ocean's capacity to absorb CO2 from the atmosphere also decreases.
"90 per cent of the excess heat that we have produced to the planet, they are stored in ocean", informs Prof. Taalas.
Sea-level rise
Sea level increased a record of 4.5 mm per year over the period 2013-2021, mainly due to the accelerated loss of ice mass from the ice sheets.
This has major implications for hundreds of millions of coastal dwellers and increases vulnerability to tropical cyclones.
· Cryosphere
The world's glaciers that scientists use as a reference have thinned by 33.5 meters since 1950, with 76% happening since 1980.
In 2021, glaciers in Canada and the US Northwest had a record ice mass loss because of heatwaves and fires in June and July.
Greenland also experienced an exceptional mid-August melt and the first-ever recorded rainfall at its highest point.
· Heatwaves
The heat broke records across western North America and the Mediterranean in 2021. Death Valley, California reached 54.4 °C on 9 July, equalling a similar 2020 value as the highest recorded in the world since at least the 1930s, and Syracuse in Sicily reached 48.8 °C.
A heatwave in British Columbia, Canada caused more than 500 deaths and fuelled devastating wildfires.
Flooding and Droughts
Flooding caused economic losses of US$17.7 billion in Henan province of China, as well as 20 billion in Germany. It was also a factor leading to heavy loss of life.
Droughts affected many parts of the world, including the Horn of Africa, South America, Canada, the western United States, Iran, Afghanistan, Pakistan and Turkey.
The drought in the Horn of Africa has intensified through 2022. Eastern Africa is facing the very real prospect that the rains will fail for a fourth consecutive season, placing Ethiopia, Kenya and Somalia into a drought of a length not experienced in the last 40 years.
"These [climate] impacts are unevenly distributed. If you're living in Central America, South America, Central, East or West Africa, South Asia or in a Small Island Developing State, you're 15 times more likely to die from climate-related impact or a climate-related weather extreme", explains Special Adviser to the Secretary-General on Climate Action, Selwin Hart.
· Food security
The compounded effects of conflict, extreme weather events and economic shocks, further exacerbated by the COVID-19 pandemic, undermined decades of progress towards improving food security globally.
Worsening humanitarian crises in 2021 have also led to a growing number of countries at risk of famine. Of the total number of undernourished people in 2020, more than half live in Asia (418 million) and a third in Africa (282 million).
"There's a component coming from this COVID crisis, and there's a high risk now because of the war in Ukraine that we will see major hunger problems", adds Prof. Taalas.
· Displacement:
Hazards related to water events continued to contribute to internal displacement. The countries with the highest numbers of displacements recorded as of October 2021 were China (more than 1.4 million), the Philippines (more than 386,000) and Viet Nam (more than 664,000).