Defeating Systemic Corruption? Anti-Corruption Measures in Post-Revolution Ukraine and Armenia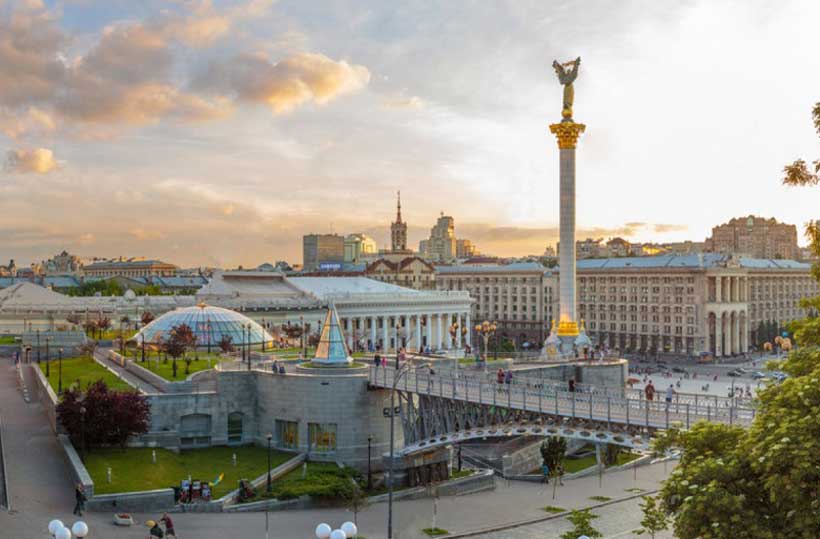 Ukraine and Armenia offer case studies on the challenges of recovering from post-Soviet authoritarian legacy, fraught with rampant corruption. As a matter of fact, systemic corruption has long condemned the two post-Soviet countries to a vicious circle of underdevelopment, bad governance and inability to implement fundamental economic and political reforms. Not surprisingly, the anti-corruption reforms have been put at the heart of post-revolution state-building in both countries.
Notably, Ukraine's former President Petro Poroshenko's government significantly reduced the corruption, particularly in the gas, banking, and government procurement sectors. As a sign of moving the fight against corruption to the highest possible policy agenda, the Ukrainian government introduced the National Anti-Corruption Bureau and the Specialized AntiCorruption Prosecutor's Office NABU as well as Specialized Anti-Corruption Prosecutor's Office (SAPO) established in 2015 with the participation of civil society and donor countries. Yet, the effectiveness of these institutions has been questioned by several observers, pointing to insufficiency of anti-corruption measures amidst unrelenting efforts by power groups to retain their outsized influence over law enforcement and justice. In essence, Poroshenko's steady decline as a political powerhouse significantly owed to his failure to eradicate corruption.
Meanwhile, VolodymyrZelensky's promises of defeating rampant corruption resonated with Ukrainians, who placed a great deal of faith in his 'game-changing' agenda.
The Rada's first day was marked with the adoption of important pieces of anti-corruption legislation, including the removal immunity from prosecution for MPs and the proposal to provide the National Anti-Corruption Bureau of Ukraine (NABU) with the right to undertake autonomous surveillance.
Moreover, Zelensky's anti-corruption efforts resulted in investigations and subsequent arrests of some of President Poroshenko's associates, including Oleg Hladkovsky, a top Defense official; a People's Front party MP and the former head of the Rada's defense committee SerhiiPashinsky; ex-deputy minister for the occupied territories Yuri Hrymchak; and Poroshenko Bloc MP YaroslavDubnevych, etc. Furthermore, Zelensky put the High Anti-Corruption Court into action, that passed a bill reinstating criminal liability for the illicit enrichment of officials.
Similarly, the post-revolution government in Armenia criminalized illicit enrichment and intensified its anti-corruption campaigns. The government pushed for a series of high-profile trials against former senior officials, most notably ex-president Robert Kocharyan, former high-ranking officials Manvel Grigoryan, Aram Harutyunyan, Seyran Ohanyan and others. This extended to former defense minister and outstanding former ruling Republican Party member, Vigen Sargsyan, who was charged with "abuse of power," as well as to former Chief of Police Alik Sargsyan – charged with covering up illegal post-election crackdown on opposition protesters in Yerevan in 2008 and with destroying evidence of the "overthrow of the constitutional order" led by then President Kocharyan. However, these arrests and investigations have not yet led to court rulings. Essentially, both Pashinyan's and Zelensky's fight against corruption has so far focused on punishing former governments' members or associates. The question remains if the anti-corruption measures will move beyond selective prosecution of former officials to the unequivocal application of "zero tolerance for corruption" principle.
This, in turn comes down to the furtherance of democratic reforms , leading to the advancement of good governance practices and eradication of the systemic corruption in both countries.Some critics have been skeptical about the effectiveness of anti-corruption reforms in these countries, positing that while governments embark on "crowd-pleasing affairs," much needs to be done to address the more systemic problems that the new governments inherited.
Both Zelensky and Pashinyan have placed a special emphasis on defeating judicial corruption. While former Ukrainian President Poroshenko hailed the judicial reform as "the mother of all reforms," there was not much to reinforce government's pledges of fundamental reforms.
In an effort to rectify this, in autumn 2019, President Zelensky embarked on judicial reforms. More specifically, he dismissed the High Qualification Council of Judges (the body responsible for attestation and selection of judges), announced plans to reload the Higher Council of Judges (the highest self-governance body of judges) and halved the number of Supreme Court judges. Remarkably, while the Venice Commission, an advisory body of the Council of Europe, praisedZelensky's government's judicial reform, it expressed concern over certain aspects of the reform, pertaining to "important issues of the rule of law" in Ukraine. The Commission criticised the situation, where the politicians are seen to get too much power to determine whether the sitting judges remain in their position or not. Similarly, the judicial corruption is one of the most harrowing challenges facing Pashinyan's government. Following the controversial release of second President Robert Kocharyan in May 2019, Pashinyan contended that the judiciary is a remnant of the former corrupt system which would cook up conspiracies against the Armenian people. As a result, he called for a mandatory "vetting" of all judges to the all the courts in the country because of their ties to the previous regime. The tension between Pashinyan's government and the "remnants" of the former regime reached a point, where the Armenian parliament adopted a bill on holding a referendum on suspending the powers of a majority members of the Constitutional Court. Pashinyan would largely treat the current Constitutional Court as an impediment to completing the revolution in Armenia. More specifically, it was regarded as an instrument that prevented the people from exercising their right to form a government in the country in the 1996, 1998, 2003, 2008, 2013 presidential elections. Notably, PACE co-rapporteurs for the monitoring of Armenia, called on Armenian political players to refrain from actions and statements that could be perceived as exerting pressure on the judiciary. Essentially, Pashinyan threw his weight behind changing the Constitutional Court, contending that the latter represents the corrupt regime of Serzh Sargsyan, rather than the people of Armenia. Furthermore, he regarded the opponents of the referendum as "anti-state" forces.
Overall, the judicial reform remains as big challenge in both countries, as its success is critical to breaking with the authoritarian legacies.
Based on the comparative analysis of anti-corruption strategies in developing countries, there are three main observations to make regarding Ukraine's and Armenia's trajectories.
First, in both countries corruption has been deeply entrenched and a result of the post-soviet authoritarian legacy. Essentially corruption has permeated every section of society and become a way of life in both countries . A major impediment to democratic state building, including fight against corruption in Armenia and Ukraine is related to prevailing post-Soviet "informality". The use of informal networks and connections in exchanges of favours, gift-giving along with other informal activities have been been deeply ingrained in both Ukrainian and Armenian societies. Therefore, the state apparatus, as well as education, healthcare, judiciary and law enforcement have long been dominated by informality.Thus, quite often the institutions that have been set up to fight corruption run up against deeply entrenched habits of graft in society and politics. Even though it would be an oversimplification to contend that Armenian and Ukrainian societies are congenitally hooked on graft as a way of life, the "culture of corruption" will not disappear overnight. Studies show that Ukrainian citizens tend to "condemn" high-level corruption" yet "regard petty corruption as a justifiable evil". As a matter of fact, countries with long histories of informal illiberal practices and corruption often face tremendous challenges in eradicating these blights .Therefore eradicating the culture of corruption and informality should be an urgent priority on the reform agendas of new Ukrainian and Armenian governments.
Second, one of the biggest challenges of anti-corruption reforms in developing and particularly transitional countries is the persistence and prevalence of corrupt practices by political and economic elites. More specifically, the residual influence of oligarchy presents a threats to the fight against systemiccorruption. Clearly, the political elite's robust commitment to eradicating systemic corruption is indispensable. Meanwhile, inconsistencies and the weakness of a commitment lead to a situation, under the banner of "zero tolerance for corruption" governments keep playing a "tolerant corruption" game. Although political will may not be sufficient, it is a necessary condition to defeat corruption. The case of Romania demonstrates that the political will to defeat corruption may well make up the absence of a tradition of the rule of law and democracy. More specifically, the European Union pressure, along with the electoral pressure and the political will of the domestic political elite combined to ensure the establishment of the rule of law and defeating corruption in the Romanian judiciary .
Third, external factors including the anti-corruption programs of international donors have proved conducive to the fight against corruption. While Ukraine's choice for Europe and fervent desire to irreversibly depart from the orbit of the Russian influence is a crucial impetus to defeat corruption, Armenia's centrality in the Russia-led socio-political order has remained intact. Nevertheless, Pashinyan's government's anti-corruption efforts prompt to posit that international efforts may well resonate with prevalent social norms in Armenia. A question remains if the legitimacy of the anti-corruption norms promoted particularly by the European Union will lead to their smooth implementations in Ukraine and Armenia.
Last but not least, the lessons from the successful anticorruption crusades of Singapore and Hong Kong show the need for anticorruption reform initiatives to be participatory and inclusive of all stakeholders including public and private sectors as well as civil society. Thus, it is absolutely essential for Armenian and Ukrainian civil society organizations to further develop institutional and professional capacity to contribute to anti-corruption reforms and influence their implementation.
Overall, the grounds for cautious optimism need to get reinforced to ensure that systemic corruption will no longer undermine democratic state-building in both countries.
Ukraine's EU-integration plan is not good for Europe
Late this summer, Estonia, in the person of its president, Kersti Kaljulaid, became the first EU country to declare that Ukraine remains as far away from EU membership as it was after the "Revolution of Dignity" – the events of 2013-14 in Kiev, which toppled Ukraine's vacillating pro-Russian president, Viktor Yanukovych. Shortly after, the ambassador of Estonia's neighbor, Latvia, in Ukraine, echoed Kaljulaid's statement, although in a slightly softer form. This came as unpleasant news for the current authorities of Kiev, especially amid the celebration of Ukraine's 30th independence anniversary and the "Crimean Forum," which, according to President Zelensky's plan, was supposed to rally international support for the country in its confrontation with Russia. However, during the past seven years, Ukraine has been a serious problem for the EU, which is becoming increasingly hard to solve.
Back in 2014, the Kremlin's response to the overthrow of its ally, Yanukovych, was just as harsh as to the coming to power in Kiev of pro-Western elites. Without firing a single shot, Russia annexed Crimea, a major base for the Russian Black Fleet, and populated by a Russian-speaking majority, many of whom sincerely welcomed the region's reunification with Russia. Meanwhile, a civil war broke out in Ukraine's also Russian-speaking southeast where the local separatists were actively supported by Moscow. Europe then realized that it was now necessary to ramp up pressure on Russia and support the budding democratic transformations in Ukraine. However, the country's successive pro-Western presidents, Petro Poroshenko and Volodymyr Zelensky, who shared European values, have since failed to achieve any significant results in European integration. Moreover, they became enmeshed in US electoral scandals and the war of compromising evidence, and they do not create the impression of being independent figures. Moreover, they were consistently making one mistake after another. In two major battles with separatists near Debaltsevo and Ilovaisk in 2014-15, the Ukrainian Armed Forces suffered a crushing defeat, despite the upsurge of patriotism backed by US and European support. The closure of the borders with Russia has divided families and left tens of thousands of people without jobs. An inept language policy and rabid nationalism split the Ukrainian nation, which had just begun to shape up, with wholesale corruption plunging the country into poverty.
In their clumsy effort to prove their adherence to European values, Petro Poroshenko, and after him Volodymyr Zelensky, both made clumsy attempts to prove their adherence to Western values, starting to prioritize the interests of the country's LGBT community. As a result, gay people were given prominent positions in the country's leadership, and the square outside the presidential palace became the venue of almost weekly gay pride parades. This open disregard for the conservative values ​​of the overwhelming majority of Ukrainians led to an even greater split between the ruling elites and the nationalists, who are now at loggerheads with the Zelensky administration on many issues – another gigantic problem hindering Ukraine's European integration.
The fact is that Ukrainian nationalism has old and very controversial roots. Starting out as fighters for independence, the Ukrainian right-wingers quickly joined the camp of Hitler's admirers and committed a number of serious war crimes not only in Ukraine proper, but on the territory of neighboring Poland as well. Their heirs now honor Hitler and Ukrainian collaborationists, deny many crimes of Nazism and espouse anti-Semitic views that are unacceptable for Europe. Moreover, they do not see Russia as their only enemy, actively provoking conflicts with the Poles and accusing them of the "genocide of the Ukrainians" during the 1930s in the territories that until 1939 were part of the Polish state.
In the course of the seven years of Ukraine's "pro-Western turn" the local right-wingers, who already represented an organized force, were reinforced by veterans of the Donbass war, members of the country's military and security forces. They were long regarded by the Washington as important allies in the fight against Russia, failing to see real neo-Nazis hiding under patriotic slogans. Now it is exactly these people, who are breaking up gay parades in Kiev and crippling LGBT activists. They feel no need for European values because they take much closer to heart the legacy of the Third Reich. Thanks to visa-free travel to Europe, they have become regulars, and often the striking force of neo-Nazi gatherings from Germany to Spain. They are ready to kill refugees from the Middle East and burn synagogues. Moreover, some of them have retained ties with their Russian neo-Nazi brethren, who, although in deep opposition to Vladimir Putin, continue to propagate the idea of superiority of the Slavic race.
President Zelensky and his administration are smart enough to distance themselves from the local right-wingers. Moreover, they are detained, and sometimes their rallies are broken up by police (albeit without any consequences for the leaders). Even though the ultra-nationalist Right Sector lost their seats in parliament in the last elections, they retained their hard-core base and influence. De facto neo-Nazi leaders maintain good contacts with the outwardly liberal presidential administration and are thus immune from prosecution. They also go to Europe, where right-wing sentiments are very popular.
Meanwhile, President Zelensky continues to pointlessly lose soldiers along the "contact line" with separatists, unable to "be strong with his weakness" and establish a full-fledged truce in a war he does not yet want to win. As a result, more and more illegal arms are seeping into the country's central regions from the frontlines and many soldiers, fed up with the war, are now joining the ranks of right-wing militants! These are by no means pro-European activists. They will be just as happy to beat up LGBT members and destroy a refugee camp as the Russian embassy. The authorities simply cannot fight them in earnest because the ultranationalists have too many supporters in the state apparatus and too many activists capable of plunging Kiev into chaos in a matter of hours. Small wonder that such post-Soviet countries as Estonia and Latvia, which themselves had problems with both nationalism and the justification of local collaborationists, were the first to raise their voices criticizing Kiev.
Well, Ukraine could and should be viewed as a potential new EU member. However, it must be forced to root out Nazism, instead of holding staged gay prides in downtown Kiev just for show to demonstrate the elites' adherence to European values! Otherwise, we would have a faction of real neo-Nazis in the European Parliament, compared to whom any members of the European Far Right would look like moderate conservatives. In addition to stamping out corruption, President Zelensky needs to eradicate neo-fascism, which threatens Europe just as it does his own country. Only then can we talk about European integration. Meanwhile, we have to admit that, just as the Estonian president said, seven years of "European democracy" have not brought Ukraine one step closer to the United Europe…
Prospects of Armenia-Turkey Rapprochement
Potential Armenia-Turkey rapprochement could have a major influence on South Caucasus geopolitics. The opening of the border would allow Turkey to have a better connection with Azerbaijan beyond the link it already has with the Nakhchivan exclave. Moscow will not be entirely happy with the development as it would allow Yerevan to diversify its foreign policy and decrease dependence on Russia in economy. The process nevertheless is fraught with troubles as mutual distrust and the influence of the third parties could complicate the nascent rapprochement.
Over the past month Armenian and Turkish officials exchanged positive statements which signaled potential rapprochement between the two historical foes. For instance, the Armenian PM Nikol Pashinyan said that he was ready for reconciliation with Turkey "without preconditions." "Getting back to the agenda of establishing peace in the region, I must say that we have received some positive public signals from Turkey. We will assess these signals, and we will respond to positive signals with positive signals," the PM stated. Turkey's President Recep Tayyip Erdogan said Ankara could work towards gradual normalization if Yerevan "declared its readiness to move in this direction."
On a more concrete level Armenia has recently allowed Turkish Airlines to fly to Baku directly over Armenia. More significantly, Armenia's recently unveiled five-year government action plan, approved by Armenia's legislature, states that "Armenia is ready to make efforts to normalize relations with Turkey." Normalization, if implemented in full, would probably take the form of establishing full-scale diplomatic relations. More importantly, the five-year plan stresses that Armenia will approach the normalization process "without preconditions" and says that establishing relations with Turkey is in "the interests of stability, security, and the economic development of the region."
So far it has been just an exchange of positive statements, but the frequency nevertheless indicates that a certain trend is emerging. This could lead to intensive talks and possibly to improvement of bilateral ties. The timing is interesting. The results of the second Nagorno-Karabakh war served as a catalyzer. Though heavily defeated by Azerbaijan, Armenia sees the need to act beyond the historical grievances it holds against Turkey and be generally more pragmatic in foreign ties. In Yerevan's calculation, the improvement of relations with Ankara could deprive Baku of some advantages. Surely, Azerbaijan-Turkey alliance will remain untouched, but the momentum behind it could decrease if Armenia establishes better relations with Turkey. The latter might not be as strongly inclined to push against Armenia as it has done so far, and specifically during the second Nagorno-Karabakh war. The willingness to improve the bilateral relations has been persistently expressed by Ankara over the past years. Perhaps the biggest effort was made in 2009 when the Zurich Protocols were signed leading to a brief thaw in bilateral relations. Though eventually unsuccessful (on March 1, 2018, Armenia announced the cancellation of the protocols), Ankara has often stressed the need of improvement of ties with Yerevan without demanding preconditions.
Beyond the potential establishment of diplomatic relations, the reopening of the two countries' border, closed from early 1990s because of the Nagorno-Karabakh conflict and Turkey's solidarity with and military and economic support for Azerbaijan, could also be a part of the arrangement. The opening of the 300 km border running along the Armenian regions of Shirak, Aragatsotn, Armavir, and Ararat could be a game-changer. The opening up of the border is essentially an opening of the entire South Caucasus region. The move would provide Armenia with a new market for its products and businesses. In the longer term it would allow the country to diversify its economy, lessen dependence on Russia and the fragile route which goes through Georgia. The reliance on the Georgian territory could be partially substituted by Azerbaijan-Armenia-Turkey route, though it should be also stressed that the Armenia transit would need considerable time to become fully operational.
Economic and connectivity diversification equals the diminution of Russian influence in the South Caucasus. In other words, the closed borders have always constituted the basis of Russian power in the region as most roads and railways have a northward direction. For Turkey an open border with Armenia is also beneficial as it would allow a freer connection with Azerbaijan. Improving the regional links is a cornerstone of Turkey's position in the South Caucasus. In a way, the country has acted as a major disruptor. Through its military and active economic presence Turkey opens new railways and roads, thus steadily decreasing Russian geopolitical leverage over the South Caucasus.
As mentioned, both Ankara and Yerevan will benefit from potential rapprochement. It is natural to suggest that the potential improvement between Turkey and Armenia, Russia's trustful ally, would not be possible without Moscow's blessing. Russia expressed readiness to help Armenia and Turkey normalize their relations, saying that would boost peace and stability in the region. "Now too we are ready to assist in a rapprochement between the two neighboring states based on mutual respect and consideration of each other's interests," the Russian Foreign Ministry spokeswoman, Maria Zakharova, said. Yet, it is not entirely clear how the normalization would suit Russia's interests. One possibility is that the Armenia-Turkey connection would allow Russia to have a direct land link with Turkey via Azerbaijan and Armenia. However, here too the benefits are doubtful. The route is long and will likely remain unreliable. For Russia trade with Turkey via the Black Sea will remain a primary route.
Presenting a positive picture in the South Caucasus could however be a misrepresentation of real developments on the ground. The Armenian-Turkish rapprochement is far from being guaranteed because of ingrained distrust between the two sides. Moreover, there is also the Azerbaijani factor. Baku will try to influence Ankara's thinking lest the rapprochement goes against Azerbaijan's interests. Moreover, as argued above, Russia too might not be entirely interested in the border opening. This makes the potential process of normalization fraught with numerous problems which could continuously undermine rapport improvement.
Thus, realism drives Turkish policy toward Armenia. Ankara needs better connections to the South Caucasus. Reliance on the Georgian transit route is critical, but diversification is no less important. The results of the Second Nagorno-Karabakh war present Turkey and Armenia with an opportunity to pursue the improvement of bilateral ties. Yet, the normalization could be under pressure from external players and deep running mutual distrust. Moreover, the two sides will need to walk a tightrope as a potential blowback from nationalist forces in Turkey and Armenia can complicate the process.
Author's note: first published in caucasuswatch
Tighter Ties with China Signal Ukraine's Multi-Vector Foreign Policy
Ukraine is eager to cut deals with China as it confronts the West's moves to allay Russian concerns. Whether Kyiv's moves are a sign of a larger foreign policy adjustment or just a bluff aimed to mitigate faltering ties with the EU and the US, they could beget big consequences.
'Chinese Card'
On June 30, Ukraine touted an agreement with China, which proposes revamping the country's decrepit infrastructure. The decision comes following a US-German resolution to finish the Nord Stream 2 pipeline, despite longstanding concerns of Kyiv and other CEE nations. Yet, perhaps the biggest motivation was the growing unwillingness in the West to advance Ukraine's NATO/EU aspirations.
The current state of affairs pushes Ukraine to find alternatives in foreign policy. China, with plenty of cash and political clout, comes as an obvious choice resulting in the signing of the bilateral agreement in June. The document outlines China's willingness to invest in railways, airports, and ports, as well as telecommunications infrastructure across Ukraine. But otherwise, the agreement details few specifics.
The available details from the deal fit comfortably into the pattern China has been following across Eurasia. For example, China signed similar deals with Iran, Egypt and Saudi Arabia among others, demonstrating its willingness to penetrate those states' vital infrastructure. Still, the documents can be also characterized as an umbrella agreement that serves as a roadmap rather than an accord listing concrete details and commitments.
The China-Ukraine agreement is all the more surprising as Kyiv rebuffed earlier this year a Chinese proposal to buy a Ukrainian aerospace company, Motor Sich.
Nevertheless, there are several reasons behind the rapprochement. First and foremost, it is about Ukraine adjusting its foreign policy stance to the state of economic relations. China is now Ukraine's biggest single-country trade partner outstripping Russia and having a 14.4 percent share of the country's imports and 15.3 percent of its exports. Perhaps fearful of possible Chinese countermeasures over the Motor Sich decision, Kyiv has been open to mending ties with Beijing with the June agreement.
Secondly, it paves the way for a more active role in China's near-trillion-dollar Belt and Road Initiative (BRI), which aims at connecting China with the European market across the heart of Eurasia. Ukraine was among the first to endorse the initiative but has avoided signing memorandums on cooperation similar to what China has done with many others.
More immediately, the tilt toward China follows Kyiv's decision to remove its name from an international statement about human rights abuses in China's Xinjiang. While Ukraine initially joined the initiative, together with 40 other states, Kyiv abruptly changed its mind on June 24. It has been confirmed that the withdrawal followed Chinese threats to limit trade and deny access to COVID-19 vaccines for which Ukraine had already paid.
Multi-Vector Policy
Some larger geopolitical dynamics are also at play, such as Kyiv's attempt to acclimate to the changing world order and the growing global competition between Beijing and Washington. In this environment, Ukraine might want to carve out an equidistant place between the two powers so as to avoid possible backlash from siding clearly with either of them.
As such, Ukraine appears to be embarking on a multi-vector foreign policy. It would allow Kyiv to alleviate its dependence on the West and seek lucrative economic and political ties with large Eurasian states. Put simply, relations with the West did not deliver on the expected benefits. The country was not offered NATO or EU accession, while the collective West's consistent concessions to Russia undermine Ukraine's interests. Ukraine has also often tended to look at China and other Eurasian powers from the 'Western perspective', which limited its options.
In Kyiv's understanding, elimination of this obstructive dependence would enable it to find new partners able to bring in investments and ideally political support in multilateral organizations. China undoubtedly can be such a partner.
Kyiv's calculations are more understandable when taken in view of its larger diplomatic readjustment in the region. For example, Ukraine recently began building closer relations with another Eurasian power in Turkey. When Ukrainian president Volodymyr Zelensky visited Istanbul in April 2021, nascent bilateral military ties were seen as a new chapter in the countries' relations. Most indicative of this shift, a memorandum was signed on the creation of joint defense-industrial projects, which includes joint development of unmanned aerial vehicles in Ukraine.
The story of Turkey could serve as a microcosm, whereby Kyiv displayed that it is more interested in balancing the pressure from Russia and mitigating the failures in its pro-Western foreign policy course. Ukraine thus foreshadowed its increasingly multi-vector foreign policy as a solution to its geopolitical problems. In Kyiv's understanding, rapprochement with China and Turkey could mitigate threats emanating from Russia as both Beijing and Ankara enjoy closer ties with Moscow, but nonetheless consider it a competitor.
The multi-vector foreign policy for Ukraine however does not mean abandoning its pro-Western cause. It rather involves seeing its NATO/EU aspirations as complementary with the closer economic ties with China and others. It will require an agile foreign policy and leveraging the country's geopolitical assets.
New Type of Bilateral Relations
Ukraine's behavior might herald the birth of what could be characterized as a Eurasian model of bilateral relations. Across the continent, the notion of traditional alliances is being gradually replaced by partnerships. Devoid of formal obligations, China, Iran, Turkey and Russia find more space for interaction and see a larger pool of opportunities across the vastness of the supercontinent. Bigger maneuverability makes their foreign policy more agile in finding a common ground for cooperation.
The Eurasian model is a byproduct of an evolving global order in which each state with geopolitical influence recalibrates its foreign ties to fit into the post-unipolar world. Russia and China officially refuse to have an alliance – indeed, they claim an alliance would undermine their purportedly benevolent intentions toward one another. More specifically, the concept relates to how China sees the future world order. It opposes alliances – the 'relic' from the Cold War era.
Thus, the shift in Kyiv's foreign policy could be part of this Eurasian trend where Ukraine seeks to construct its Asia policy which would better correspond to the unfolding China-US competition, Asia's economic rise, and most of all, the failure to become a NATO or EU member state.
Reality Check
However, closer ties with China and most of all the dependence on Beijing's investments also involves risks. China's infrastructure projects are mostly financed through loans, which poorer and weaker countries are unable to repay. Often, ownership of the sites ends up in Chinese hands.
Chinese involvement in Ukraine's critical infrastructure could also risk giving control over strategic technologies to Beijing, which would be channeled to China and successfully used to advance Chinese interests.
For Kyiv, dependence on Beijing also involves risks because of China's close partnership with Russia. Dangers could be manifested in a concerted pressure on Ukraine in international organizations, or even China heeding Russian fears and abandoning infrastructure projects which would harm Russian interests.
The June agreement is an umbrella deal that lays out the foundation for deeper cooperation, but in no way guarantees its fulfillment. This could mean that Ukraine only sought to restore worsening bilateral relations with China following the Motor Sich saga. Alternatively, Kyiv might merely be trying to raise stakes in its stagnated relations with the West and hold Washington to account, signaling that it can successfully navigate between geopolitical poles if need be.
Author's note: first published at chinaobservers