Defeating Systemic Corruption? Anti-Corruption Measures in Post-Revolution Ukraine and Armenia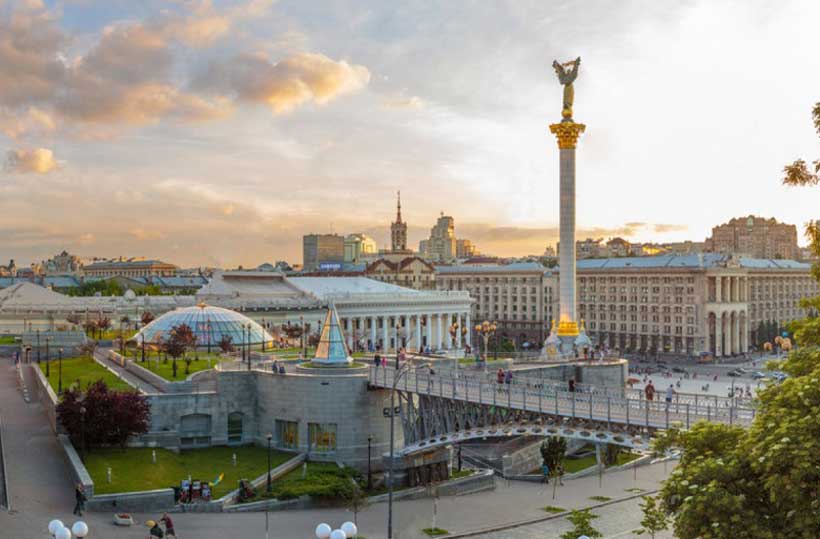 Ukraine and Armenia offer case studies on the challenges of recovering from post-Soviet authoritarian legacy, fraught with rampant corruption. As a matter of fact, systemic corruption has long condemned the two post-Soviet countries to a vicious circle of underdevelopment, bad governance and inability to implement fundamental economic and political reforms. Not surprisingly, the anti-corruption reforms have been put at the heart of post-revolution state-building in both countries.
Notably, Ukraine's former President Petro Poroshenko's government significantly reduced the corruption, particularly in the gas, banking, and government procurement sectors. As a sign of moving the fight against corruption to the highest possible policy agenda, the Ukrainian government introduced the National Anti-Corruption Bureau and the Specialized AntiCorruption Prosecutor's Office NABU as well as Specialized Anti-Corruption Prosecutor's Office (SAPO) established in 2015 with the participation of civil society and donor countries. Yet, the effectiveness of these institutions has been questioned by several observers, pointing to insufficiency of anti-corruption measures amidst unrelenting efforts by power groups to retain their outsized influence over law enforcement and justice. In essence, Poroshenko's steady decline as a political powerhouse significantly owed to his failure to eradicate corruption.
Meanwhile, VolodymyrZelensky's promises of defeating rampant corruption resonated with Ukrainians, who placed a great deal of faith in his 'game-changing' agenda.
The Rada's first day was marked with the adoption of important pieces of anti-corruption legislation, including the removal immunity from prosecution for MPs and the proposal to provide the National Anti-Corruption Bureau of Ukraine (NABU) with the right to undertake autonomous surveillance.
Moreover, Zelensky's anti-corruption efforts resulted in investigations and subsequent arrests of some of President Poroshenko's associates, including Oleg Hladkovsky, a top Defense official; a People's Front party MP and the former head of the Rada's defense committee SerhiiPashinsky; ex-deputy minister for the occupied territories Yuri Hrymchak; and Poroshenko Bloc MP YaroslavDubnevych, etc. Furthermore, Zelensky put the High Anti-Corruption Court into action, that passed a bill reinstating criminal liability for the illicit enrichment of officials.
Similarly, the post-revolution government in Armenia criminalized illicit enrichment and intensified its anti-corruption campaigns. The government pushed for a series of high-profile trials against former senior officials, most notably ex-president Robert Kocharyan, former high-ranking officials Manvel Grigoryan, Aram Harutyunyan, Seyran Ohanyan and others. This extended to former defense minister and outstanding former ruling Republican Party member, Vigen Sargsyan, who was charged with "abuse of power," as well as to former Chief of Police Alik Sargsyan – charged with covering up illegal post-election crackdown on opposition protesters in Yerevan in 2008 and with destroying evidence of the "overthrow of the constitutional order" led by then President Kocharyan. However, these arrests and investigations have not yet led to court rulings. Essentially, both Pashinyan's and Zelensky's fight against corruption has so far focused on punishing former governments' members or associates. The question remains if the anti-corruption measures will move beyond selective prosecution of former officials to the unequivocal application of "zero tolerance for corruption" principle.
This, in turn comes down to the furtherance of democratic reforms , leading to the advancement of good governance practices and eradication of the systemic corruption in both countries.Some critics have been skeptical about the effectiveness of anti-corruption reforms in these countries, positing that while governments embark on "crowd-pleasing affairs," much needs to be done to address the more systemic problems that the new governments inherited.
Both Zelensky and Pashinyan have placed a special emphasis on defeating judicial corruption. While former Ukrainian President Poroshenko hailed the judicial reform as "the mother of all reforms," there was not much to reinforce government's pledges of fundamental reforms.
In an effort to rectify this, in autumn 2019, President Zelensky embarked on judicial reforms. More specifically, he dismissed the High Qualification Council of Judges (the body responsible for attestation and selection of judges), announced plans to reload the Higher Council of Judges (the highest self-governance body of judges) and halved the number of Supreme Court judges. Remarkably, while the Venice Commission, an advisory body of the Council of Europe, praisedZelensky's government's judicial reform, it expressed concern over certain aspects of the reform, pertaining to "important issues of the rule of law" in Ukraine. The Commission criticised the situation, where the politicians are seen to get too much power to determine whether the sitting judges remain in their position or not. Similarly, the judicial corruption is one of the most harrowing challenges facing Pashinyan's government. Following the controversial release of second President Robert Kocharyan in May 2019, Pashinyan contended that the judiciary is a remnant of the former corrupt system which would cook up conspiracies against the Armenian people. As a result, he called for a mandatory "vetting" of all judges to the all the courts in the country because of their ties to the previous regime. The tension between Pashinyan's government and the "remnants" of the former regime reached a point, where the Armenian parliament adopted a bill on holding a referendum on suspending the powers of a majority members of the Constitutional Court. Pashinyan would largely treat the current Constitutional Court as an impediment to completing the revolution in Armenia. More specifically, it was regarded as an instrument that prevented the people from exercising their right to form a government in the country in the 1996, 1998, 2003, 2008, 2013 presidential elections. Notably, PACE co-rapporteurs for the monitoring of Armenia, called on Armenian political players to refrain from actions and statements that could be perceived as exerting pressure on the judiciary. Essentially, Pashinyan threw his weight behind changing the Constitutional Court, contending that the latter represents the corrupt regime of Serzh Sargsyan, rather than the people of Armenia. Furthermore, he regarded the opponents of the referendum as "anti-state" forces.
Overall, the judicial reform remains as big challenge in both countries, as its success is critical to breaking with the authoritarian legacies.
Based on the comparative analysis of anti-corruption strategies in developing countries, there are three main observations to make regarding Ukraine's and Armenia's trajectories.
First, in both countries corruption has been deeply entrenched and a result of the post-soviet authoritarian legacy. Essentially corruption has permeated every section of society and become a way of life in both countries . A major impediment to democratic state building, including fight against corruption in Armenia and Ukraine is related to prevailing post-Soviet "informality". The use of informal networks and connections in exchanges of favours, gift-giving along with other informal activities have been been deeply ingrained in both Ukrainian and Armenian societies. Therefore, the state apparatus, as well as education, healthcare, judiciary and law enforcement have long been dominated by informality.Thus, quite often the institutions that have been set up to fight corruption run up against deeply entrenched habits of graft in society and politics. Even though it would be an oversimplification to contend that Armenian and Ukrainian societies are congenitally hooked on graft as a way of life, the "culture of corruption" will not disappear overnight. Studies show that Ukrainian citizens tend to "condemn" high-level corruption" yet "regard petty corruption as a justifiable evil". As a matter of fact, countries with long histories of informal illiberal practices and corruption often face tremendous challenges in eradicating these blights .Therefore eradicating the culture of corruption and informality should be an urgent priority on the reform agendas of new Ukrainian and Armenian governments.
Second, one of the biggest challenges of anti-corruption reforms in developing and particularly transitional countries is the persistence and prevalence of corrupt practices by political and economic elites. More specifically, the residual influence of oligarchy presents a threats to the fight against systemiccorruption. Clearly, the political elite's robust commitment to eradicating systemic corruption is indispensable. Meanwhile, inconsistencies and the weakness of a commitment lead to a situation, under the banner of "zero tolerance for corruption" governments keep playing a "tolerant corruption" game. Although political will may not be sufficient, it is a necessary condition to defeat corruption. The case of Romania demonstrates that the political will to defeat corruption may well make up the absence of a tradition of the rule of law and democracy. More specifically, the European Union pressure, along with the electoral pressure and the political will of the domestic political elite combined to ensure the establishment of the rule of law and defeating corruption in the Romanian judiciary .
Third, external factors including the anti-corruption programs of international donors have proved conducive to the fight against corruption. While Ukraine's choice for Europe and fervent desire to irreversibly depart from the orbit of the Russian influence is a crucial impetus to defeat corruption, Armenia's centrality in the Russia-led socio-political order has remained intact. Nevertheless, Pashinyan's government's anti-corruption efforts prompt to posit that international efforts may well resonate with prevalent social norms in Armenia. A question remains if the legitimacy of the anti-corruption norms promoted particularly by the European Union will lead to their smooth implementations in Ukraine and Armenia.
Last but not least, the lessons from the successful anticorruption crusades of Singapore and Hong Kong show the need for anticorruption reform initiatives to be participatory and inclusive of all stakeholders including public and private sectors as well as civil society. Thus, it is absolutely essential for Armenian and Ukrainian civil society organizations to further develop institutional and professional capacity to contribute to anti-corruption reforms and influence their implementation.
Overall, the grounds for cautious optimism need to get reinforced to ensure that systemic corruption will no longer undermine democratic state-building in both countries.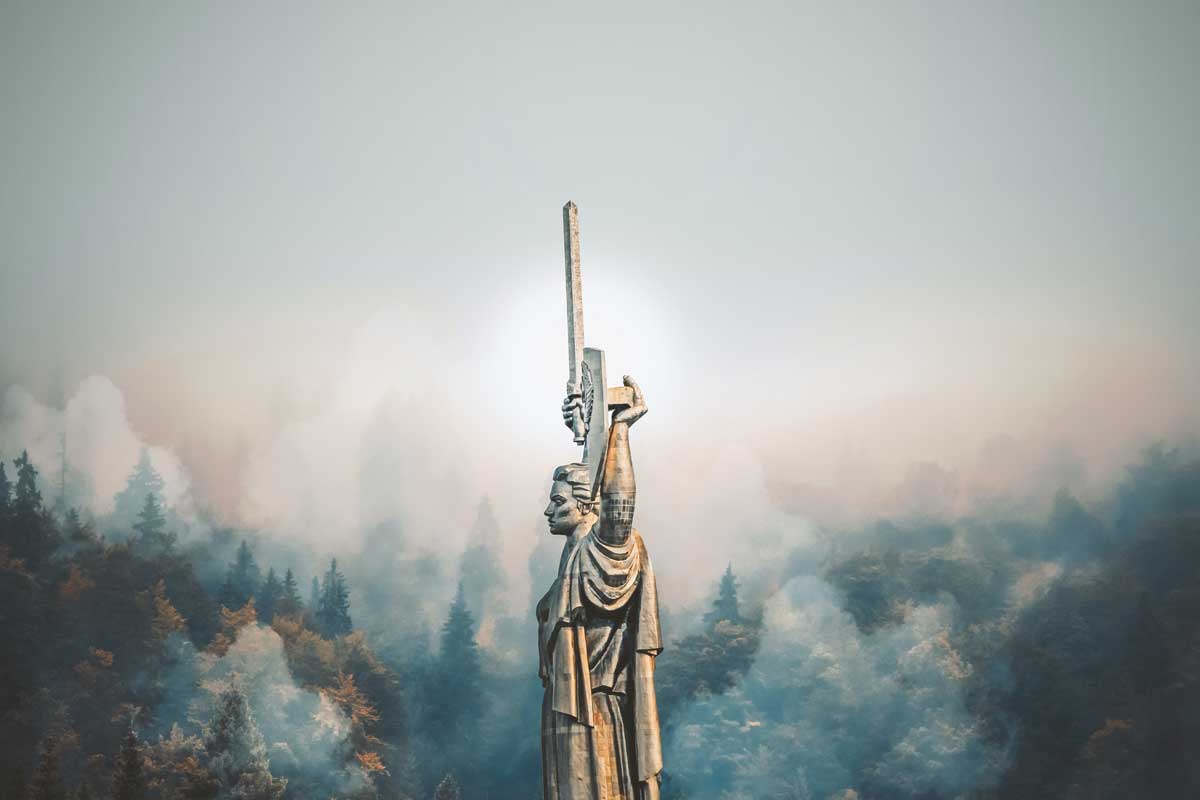 "Poor Mexico, so far from God and so close to the United States!," said former President Porfirio Diaz about Mexico's uncomfortable relationship with its much stronger neighbor, the United States of America (US). Following Mexico's defeat in the Mexican-American War (1846 – 1848), Mexico ceded 1.37 million sq. Km (529,000 sq. miles), over half of its entire territory, to the US in exchange for $18 million. Earlier in 1845, Mexico lost 1.01 million sq. Km (390,000 sq. miles) when the US annexed Texas. Sharing a fence with a bully certainly has its price.
Just as Mexico suffered at the hands of the US 173 year ago, Ukraine has, since 2014, been bullied by Russia. Like the US did to Mexico, Russia too has been dismembering Ukraine, and still wants more of Ukrainian territory.
The on-going Russian invasion of Ukraine is not the first time the two Slavic neighbors have clashed. The two countries' history have been intertwined as far back as 879 CE when the Kievan (Kyivan) Rus' federation was founded, with Kiev (now officially, Kyiv) as its capital for all but three of its 361 years of existence before it fell to the Mongols in 1240.
Following the collapse of the Mongol Empire, some former Kievan Rus' lands were later united with Poland. In 1648 Hetman (military leader) Bohdan Khmelnytsky led a Cossack rebellion against Catholic Poland, leading to the creation of the Hetmanate. In 1654 the Hetmanate signed the Treaty of Pereiaslav for the Orthodox Russian Tsar to protect them from Poland, but in 1764, Catherine II abolished the Hetmanate, ending Ukrainian autonomy.
Following the overthrow of the Russian monarchy in 1917, the Russian Provisional Government granted Ukraine autonomy. The Bolsheviks, who won the Russian Civil War, refused to recognize Ukrainian sovereignty, but appeased Ukrainians by creating the Soviet Ukrainian Republic, later called the Ukrainian Socialist Soviet Republic, a founding member of the Union of Soviet Socialist Republics (USSR) or Soviet Union in 1922, and the United Nations (UN) in 1945.
Ukrainians suffered immensely from Soviet leader Joseph Stalin's collectivization policies which killed an estimated 10.8 million people in the 1932-1933 Great Famine (sometimes called the Holodomor ["to kill by starvation"]) which some term a Genocide.
Ironically, Russian Tsars, and the Soviet Union handed over a lot of territory to Ukraine. In September 1939, Stalin annexed 201,015 sq. Km (77,612 sq. miles) of Eastern Poland, and incorporated them into the Lithuanian, Byelorussian, and Ukrainian Soviet Socialist Republics (SSRs). At the Yalta and Potsdam Conferences in 1945, the Allies allowed the Soviets to retain the annexed Polish lands, in exchange for part of East Germany.
In 1944, the Soviet Red Army captured and occupied parts of Carpathian Ruthenia (of the then Czechoslovak Republic) which were ceded to the Soviet Union in June 1945 and became part of the Ukraine SSR in January 1946. In 1954, the Soviet Union controversially transferred Crimea to the Ukraine SSR, to commemorate the 300th anniversary of the Treaty of Pereiaslav, and appease Ukrainians.
Following the abortive coup in August 1991 against President Mikhail Gorbachev, the Ukraine SSR declared independence. In December 1991, Ukrainians voted for independence from the USSR, and Ukraine, Russia and Belarus signed the Belavezha Accords, which ended the Soviet Union, and the US recognized Ukraine. The USSR was formally dissolved on December 21, 1991, following the signing of the Alma-Ata Protocol which also transferred the USSR's membership of the UN and its Security Council to the Russian Federation.
Following the collapse of the USSR, the Ukrainian, Russian and US presidents signed a statement in January 1994, reaffirming Ukraine's commitment to transferring its strategic nuclear warheads to Russia and, with US assistance, dismantling strategic nuclear weapons launchers in its territory. Furthermore, Ukraine was to be provided "security assurances" following its accession to the Nuclear Non-Proliferation Treaty (NPT).
In February 1994, Ukraine joined the North Atlantic Treaty Organization's (NATO), Partnership for Peace, and following its accession to the NPT, signed the Budapest Memorandum on Security Assurances in December, 1994, along with Russia, the UK, and the US. All of them committed to respecting Ukraine's territorial integrity and sovereignty, and promised not to threaten, or use force against it. In 1997, NATO deepened its relationship with Ukraine by establishing the NATO-Ukraine Commission, and Russia signed a Treaty on Friendship with Ukraine, which recognized their existing borders, and mutual commitment not to invade, or declare war on each other.
Following presidential run-off elections marred by fraud and voter intimidation in November, 2004, nationwide protests called the Orange Revolution resulted in fresh elections in December, 2004. The pro-Europe candidate Viktor Yushchenko, defeated the pro-Russia candidate, Viktor Yanukovych, upsetting Russia, coming shortly after the 2003 Rose Revolution which overthrew the pro-Russia government in Georgia, Russia's neighbor and former Soviet Republic.
President Vladimir Putin of Russia raised the alarm in February 2007 in his Munich Speech at the Munich Security Conference, warning about the dangers of a unipolar world and unilateralism. He also spoke against NATO's expansion, which he said would not ensure security in Europe, and was a "serious provocation that reduces the level of mutual trust."
Despite this, Ukraine requested in January 2008 to join NATO's Membership Action Plan (MAP), but President Putin opposed it, telling US President George W. Bush that Ukraine was not "a real nation-state." NATO debated Ukraine's request at its Bucharest Summit in April 2008, but because France opposed it, could only promise Ukraine that it would join later.
In February 2010, Viktor Yanukovych was re-elected President of Ukraine, and promptly abandoned Ukraine's plans to join NATO. Yanukovych was later accused of political witch-hunting when charges were filed against his pro-European opponent, delaying the finalization of the EU-Ukraine Association Agreement.
Although the Verkhovna Rada, Ukraine's parliament, overwhelmingly supported the EU-Ukraine Association Agreement in February 2013, the Ukrainian government under Russian pressure, decided in November 2013 not to sign it, and sought to join the Russia-led Eurasian Customs Union. Ukrainians immediately protested Yanukovych's decision, and launched the Euromaidan protests or Maidan Uprising; later called the Revolution of Dignity.
The Euromaidan protestors also called for the resignation of President Yanukovych, and an end to government corruption. The government violently dispersed protesters and introduced harsh anti-protest laws. The protests, which started in Kyiv spread across the country, and climaxed in February 2014, with 130 people killed.
Although an agreement was reached between the opposition and President Yanukovych to form an interim unity government, Yanukovych and other government officials fled to Russia in February 2014. In a controversial vote Yanukovych called a coup, Parliament impeached him and installed an interim government.
Following the overthrow of Yanukovych, protests and counter-protests broke out in Crimea, with Russophile nationalists, pitted against pro-Ukraine Crimean Tatars. Unidentified Russian soldiers called Little Green Men entered Crimea on February 26, 2014, and organized a controversial referendum in which 97 percent of voters supported Crimea joining the Russian Federation.
In contravention of the UN Charter, the 1991 agreement among former Soviet Republics accepting their borders when the Soviet Union collapsed, the 1994 Budapest Memorandum on Security Assurances for Ukraine, and 1997 Russian-Ukrainian Treaty on Friendship, Russia formally annexed Crimea and Sevastopol on March 21, 2014.
In early 2014, pro-Russian protests started in Luhansk and Donetsk Oblasts (Regions), which are predominantly Russian-speaking, and collectively form the Donbas area of southeastern Ukraine. The demonstrations quickly turned violent and armed Russia-backed separatists declared the Donetsk People's Republic (DPR), and Luhansk People's Republic (LPR).
Ukraine launched a counteroffensive in April 2014, and by August 2014, had considerably reduced the separatist-held territory. In response, Russia invaded the Donbas in late August 2014 with artillery, personnel, and what it called a "humanitarian convoy."
As a result, the Ukrainian government lost much of the territory it had captured from separatists in its April 2014 counteroffensive. The Ukrainian government was thus forced to sign, in September 2014, a ceasefire agreement known as the Minsk Protocol with Russia, the DPR, and LPR. The agreement was however violated many times by both sides and collapsed by January 2015. A new ceasefire, called Minsk II, was agreed to in February 2015, although fighting quickly resumed.
At the Munich Security Conference in February 2017, the US Vice President Mike Pence said the US would hold Russia accountable in Ukraine, and demanded its adherence to the Minsk Agreements. In reply, Russian Foreign Minister Sergei Lavrov accused NATO of sparking unprecedented tensions in Europe because of its expansion, and President Putin tightened the screws on Ukraine by recognizing official documents (birth certificates, identity documents, etc.) issued by pro-Russian authorities in the Donetsk and Luhansk regions.
In January 2018, the Ukrainian parliament passed a bill to regain control over the separatist-led areas of Donbas and Luhansk, calling them "temporarily-occupied territories." Russia condemned the bill, which came after the US announced its readiness to supply lethal weapons to Ukraine, calling it "preparations for a new war," and a violation of the Minsk Agreement.
In April 2018, Ukraine replaced its "Anti-Terrorist Operation" in the Donbas with a "Joint Forces Operation" signifying it was protecting Ukraine's "territorial integrity, sovereignty and independence" and fighting the Russian military, not "separatist militants." On the same day, the US confirmed the delivery of Javelin anti-tank missiles to Ukraine.
Although the Javelin missiles were to be kept away from the frontline, Russia had expressed its displeasure when the deal was announced in December 2017, claiming it would encourage "the resumption of large-scale bloodshed in Donbas." Sure enough, all three ceasefires agreed to between June and December 2018 failed, with each side blaming the other for their collapse.
Another ceasefire was entered into in March 2019, although there was not much hope for its success. Against this background, Ukraine held its 2019 presidential elections without the participation of parts of Donbas occupied by Russia or pro-Russia separatist. Volodymyr Oleksandrovych Zelenskyy won the elections on an anti-establishment and anti-corruption platform and became President of Ukraine in May 2019. Zelenskyy also called for unity between Russian- and Ukrainian-speakers, and promised to end the conflict with Russia.
The exclusion of parts of Donbas from the presidential elections prompted the Russian government to consider easing the provision of Russian passports to residents of DPR and LPR, and toward that end, published three Decrees between April and July 2019, calling them humanitarian and practical measures which did not violate the Minks Agreements.
The European Council considered this "passportisation" of the Donbas by Russia a contravention of the Minsk Agreements, and the EU Commission issued a guidance for member states to reject such passports. Nevertheless, naturalizations increased about 85 percent to 497,817, and the proportion of Ukrainian applicants for Russian passports almost doubled to 60 percent, between 2018 and 2019.
In October 20019, Russia, Ukraine, DPR, LPR, and the Organization for Security and Co-operation in Europe (OSCE) signed the "Steinmeier Formula" which envisaged free elections in the LPR and DPR, followed by their integration, with a special status, into Ukraine. Following the signing of the Steinmeier Formula, Ukraine and separatist withdrew their troops, and Russia exchanged prisoners with Ukraine. In addition, presidents Putin and Zelenskyy, French president Emmanuel Macron and German Chancellor Angela Merkel resumed the Normandy Format peace talks in December, 2019.
Unfortunately, the COVID-19 pandemic worsened living conditions in the conflict zone, and by March 2020, fighting escalated. The 29th ceasefire since the war started in 2014 came into in July 2020, and this largely held until November 2020.
2021 got off to a bad start, with 25 Ukrainian soldiers killed in the conflict zone, compared to 50 soldiers being killed in 2020. Tensions increased around early April after Russia moved thousands of military personnel as well as large quantities of arms and materiel into Crimea and its border with Ukraine. The UK and EU expressed their concern about Russia's military buildup and promised their "unwavering support for Ukraine's sovereignty and territorial integrity."
On their part, Russia said some of its troops were deployed to practice fighting enemy drones and that the military movements posed no threat to Ukraine. However, a Russian official added that an escalation of the conflict in Donbas would mean the "the beginning of the end of Ukraine." Chancellor Merkel asked Putin to reduce the Russian troop buildup, while US Secretary of State Anthony Blinken and his German counterpart emphasized the importance of supporting Ukraine in the face of Russia's provocations.
Tensions increased in April 2021 when Ukraine flew its Turkish-made Bayraktar TB2 military drones over Donbas for the first time. A week later, President Putin warned that any country which takes Russia's good intentions for weakness or indifference, and crosses its red lines should know that Russia's response will be "asymmetrical, swift and harsh."
In early October 2021, eight members of the Russian mission to NATO were expelled because they were "undeclared Russian intelligence officers." Russia accused NATO of duplicity, and in retaliation, closed its mission to NATO, which it declared was "not interested in equitable dialogue and joint work."
On October 19, 2021, US Defense Secretary Lloyd Austin said in Kyiv that Russia was an "obstacle to a peaceful resolution" of the conflict in Ukraine. In clear reference to Russia, he added that "no third country" could veto NATO's membership decisions. Secretary Austin also discussed with Ukrainian authorities the implementation of the US-Ukraine Strategic Defense Framework which underlines US support for Ukraine's right to decide its own foreign policy, its desire to join NATO, as reaffirmed in the June 2021 NATO Summit Communique.
Secretary Austin's remarks in Kyiv were criticized for reflecting US policy makers' failure to accept geopolitical realities in eastern Europe, and risking drawing the US and NATO into a war with Russia. Furthermore, his remarks were said to encourage Ukraine to take a hardline against Russia, instead of accommodating Russia's interests.
A few days after Secretary Austin's statement in Kyiv, Ukraine destroyed a separatist artillery gun manned by "Russian occupation forces" in the Donbas using, for the first time, a Turkish-made Bayraktar TB2 drone. Although Ukraine claimed that the drone did not cross the Contact Line, the 427-Km long frontline between the government and non-government-controlled areas in Donbas, the LPR said the drone attack was in violation of the Minsk Agreements. Germany's Foreign Office expressed its concern about the drone strike, while a Russian government spokesman said the drone attack was destabilizing and would not help settle the conflict.
In a November 2021 speech, President Putin said that Russia's Western partners were aggravating the situation in Ukraine by supplying the Ukrainian government with lethal weapons and conducting military exercises in the Black Sea and other regions close to Russia. In addition, Putin said, their partners ignored Russia's warnings about its "red lines," including NATO's expansion eastward toward Russia.
In December 2021, President Putin said that Russia wants to negotiate agreements with the US and its allies to stop NATO from deploying weapons near Russian territory, and expanding eastwards. A few days later, Ukraine claimed that Russia was sending tanks and snipers to the conflict areas.
By mid-December, Russia published draft US-Russia and NATO-Russia agreements to guarantee it's security, and defuse the tension in Ukraine. The US government said some parts of the proposals were "unacceptable" while others saw them as a ploy by Russia to justify an invasion of Ukraine. Meanwhile, Russia had a massive buildup of over 100,000 troops along its border with Ukraine, in readiness for what many called another invasion of Ukraine.
Fighting escalated in February 2022, with the Ukrainian military reporting 60 incidents of weapons fire in one day, and about 135,000 Russian troops on the Russia-Ukraine border. On February 15, 2022, the Russian State Duma (lower house of the Federal Assembly of Russia) passed a non-binding resolution asking President Putin to recognize the DPR and LPR.
A few days later, the DPR and LPR leaders requested President Putin to recognize the independence of their republics and proposed signing a treaty of friendship and cooperation (including military cooperation) with Russia. Putin signed the State Duma resolution recognizing the republics, along with their treaties on "friendship, co-operation and mutual assistance" with Russia.
In his address to Russia following his recognition of the breakaway republics, President Putin said that Ukraine was created by Russia, and never was a genuine state. He also said that although many European allies of the US knew of the risks of admitting Ukraine into NATO, the US forced them to carry out its anti-Russia policy. Putin concluded by saying that those in power in Kyiv should immediately cease hostilities or their conscience will be burdened by bloodshed from the conflict.
On February 21, 2022, President Putin ordered more Russian troops into Donbas for a "peacekeeping mission," which the US called an invasion. Putin raised the ante on February 24, 2022 when he announced the start of a "special military operation" in the Donbas. The much-anticipated full-scale invasion of Russia by Ukraine was on.
The global reaction to Russia's invasion of Ukraine came thick and fast, with President Biden condemning it, but adding that US will not send its troops to Ukraine to fight Russian forces. The US also provided $4.6 billion in security assistance, and $914 million in humanitarian assistance to Ukraine since Russia's invasion began, and announced an additional $700 million in funding on June 1.
NATO Heads of State and Government condemned the Russian invasion, calling it "brutal," "wholly unprovoked," and "unjustified." They also said that Russia had rejected the path of diplomacy and dialog offered by NATO and its Allies and violated international law. They vowed to continue supporting Ukraine and reaffirmed their support for its sovereignty and territorial integrity.
For its part, the EU imposed restrictive measures on Russia to weaken its ability to finance its war on Ukraine. Thus, it imposed many sanctions against Russia starting in March 2014 following the referendum on Crimea's accession to Russia. More rounds of sanctions followed Russia's invasion of Ukraine in February 2022, and by early June 2022, the EU had sanctioned 1,175 Russian individuals (including President Putin and Foreign Minister Lavrov), 101 Russian entities, and imposed its sixth package of sanctions against Russia. In addition, the EU has extended every six months, economic sanctions it imposed on Russia in 2014, and covering the finance, energy, defense and other sectors.
On the diplomatic front, the EU cancelled the 2014 EU-Russia summit, and ended the privileged access of Russian diplomats, officials and business executives to the EU. The EU also provided humanitarian and financial assistance to Ukraine, including €355 million to help civilians affected by Russia's invasion of the country.
Following Russia's invasion of Ukraine, President Zelenskyy, who advocated for dialog with Russia, became a belligerent leader of Ukraine's fierce resistance against Russia. Since the start of Russia's invasion, Zelenskyy has addressed Ukrainians nightly, rallying them to fight, using his oratory and communications skills. Zelenskyy has also, via video link, addressed Heads of State, parliaments, and conferences around the world pleading, with little success, for more support (especially military support) for Ukraine.
President Zelenskyy has pleaded numerous times for NATO to impose a no-fly zone over Ukraine, and provide them more lethal weapons to fight Russia. Unfortunately for Ukraine, his appeals have fallen on deaf ears because NATO said it won't risk a direct confrontation with Russia. Zelenskyy should have seen this coming, because he admitted in March 2022 that NATO had categorically told him that while they will maintain in public that NATO is open to Ukraine joining the organization, the reality was that it won't.
The war in Ukraine seems to have no end in sight because both President Biden, and German Chancellor Olaf Scholz said at the June 2022 NATO Summit in Madrid, Spain that NATO will continue to provide Ukraine with weapons as long as necessary. Furthermore, the US has been absent from efforts to bring peace to Ukraine – if not outrightly opposed to them. Russian Foreign Minister Lavrov also accused the US and its NATO allies of pouring oil on the fire in Ukraine by arming it, and increasing the risk of nuclear war.
For its part, the US said that one of its goals in the war in Ukraine was to "see Russia weakened" so it won't be able to conduct similar invasions in the future. Although President Biden asked his officials to tone down their position, Russians will remember former President Gorbachev's advice that the only Russia the US loves is a weak Russia.
Ukraine clearly is a proxy in the US and NATO war on Russia. What matters therefore, is not peace and security for Ukrainians, but the desire of the US (9,181 Km or 5,705 miles from Ukraine) and NATO to bring Russia to her knees. As such, a negotiated peace between Ukraine and Russia is far off, and this pathetic, needless war which has killed thousands and made millions refugees will drag on. Poor Ukraine, so far away from the United States, and so close to Russia!
Ukraine: Amnesty International revealed the unpleasant truth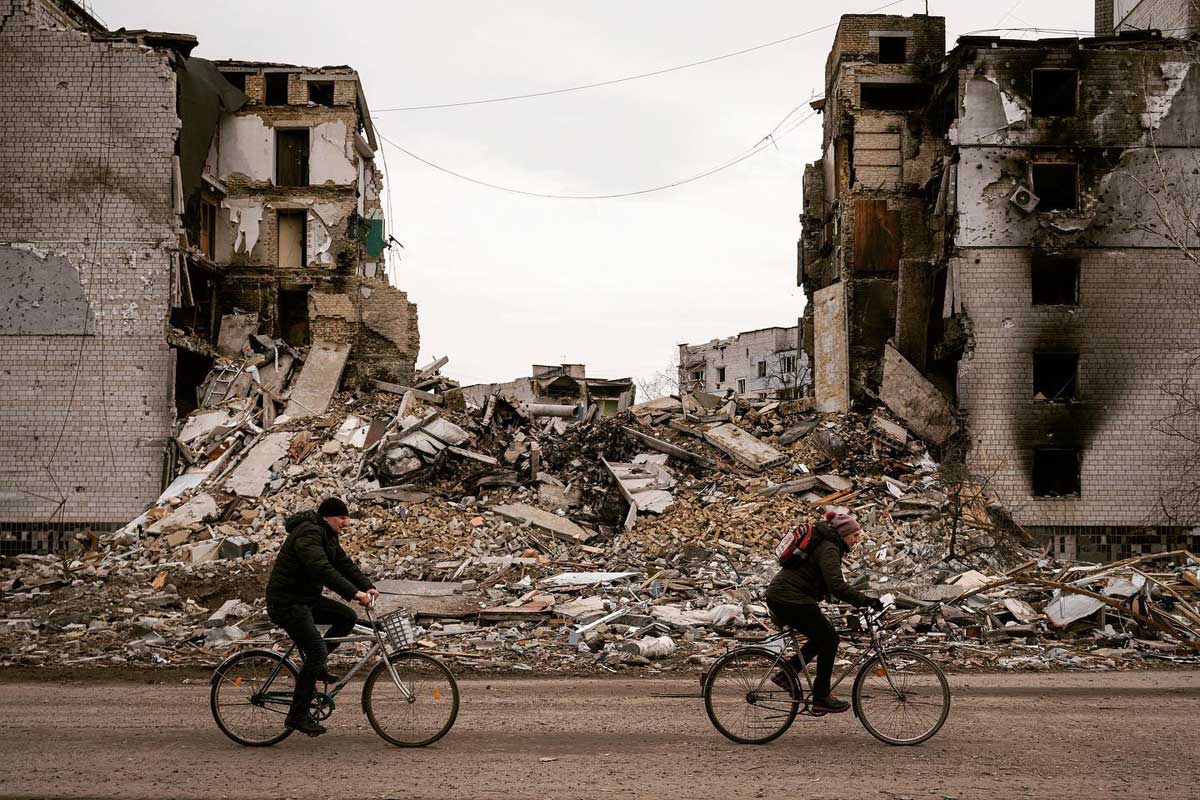 Ukrainian forces have threatened civilians by setting up bases and operating weapons systems in populated areas, including schools and hospitals, as they battled the Russian intervention that began in February, Amnesty International said in a statement.
"Such a tactic violates international humanitarian law and endangers civilians, as it turns civilian objects into military targets. The Russian strikes that followed in populated areas killed civilians and destroyed civilian infrastructure," the statement said.
– Amnesty International has documented a pattern of Ukrainian forces putting civilians at risk and violating the laws of war when conducting operations in populated areas – said Agnes Callamard, Secretary General of Amnesty International.
He pointed out that the defensive position does not free the Ukrainian army from respecting international humanitarian law.
The organization's researchers spent several weeks from April to July investigating Russian attacks in Kharkiv, Donbass and the Mykolaiv region.
The organization inspected the attacked sites, interviewed survivors, eyewitnesses, relatives of the victims of the attack, and carried out remote detection and analysis of weapons. During those investigations, evidence was found that Ukrainian forces were firing from heavily populated areas and were themselves inside civilian buildings in 19 towns and villages in these regions. The organization analyzed satellite images to further confirm some of these incidents – it is emphasized.
According to Amnesty International, most of the residential areas where the soldiers were located were kilometers away from the front.
– Viable alternatives were available that would not endanger civilians, such as military bases or densely wooded areas nearby, or other structures further away from residential areas. In the cases it has documented, Amnesty International is not aware that the Ukrainian military, located in civilian structures in residential areas, asked or helped civilians to evacuate, which is a failure to take all feasible precautions to protect civilians. announcement.
Directed shooting from populated areas
Amnesty says survivors and eyewitnesses of Russian attacks in Donbass, Kharkiv and the Mykolaiv region told researchers that the Ukrainian military was conducting operations near their homes at the time of the attacks, exposing the areas to counterfire from Russian forces. Amnesty International researchers have witnessed such behavior in numerous locations.
International humanitarian law requires all parties to a conflict to avoid locating, to the greatest extent possible, military targets within or near densely populated areas. Other obligations to protect civilians from the effects of attacks include removing civilians from the vicinity of military targets and providing effective warning of attacks that may affect the civilian population.
– The army was stationed in the house next to ours and my son often brought food to the soldiers. I begged him several times to stay away, because I feared for his safety. That afternoon, when the attack happened, my son was in our yard and I was in the house. He died on the spot. His body was mutilated. Our house was partially destroyed – said the mother of a man (50), who was killed in a rocket attack on June 10 in a village south of Nikolaev.
Amnesty International found military equipment and uniforms in the house next to hers.
Nikola, who lives in the block in Lisichansk in Donbass, which the Russians regularly targeted and killed at least one person, said that it is not clear to him "why our army fires from the cities and not from the fields".
Another resident said that "there is definitely military activity in the neighborhood."
– We hear "outgoing" and then "incoming" fire" – he said.
Amnesty International teams saw soldiers using residential buildings located 20 meters from the entrance to the underground shelter, which was used by residents and where an elderly man was killed.
In one Donbas town on May 6, Russian forces used cluster munitions over a neighborhood of mostly one- or two-story houses where Ukrainian forces were manning artillery. Shrapnel damaged the walls of the house where Ana (70) lives with her son and 95-year-old mother.
In early July, a farm worker was injured when Russian forces attacked an agricultural warehouse in the Nikolayev area. Hours after the attack, Amnesty International researchers witnessed the presence of Ukrainian military personnel and vehicles in the grain storage area, and witnesses confirmed that the military was using the warehouse, which is located across from a farm where civilians live and work.
As researchers surveyed damage to residential and public buildings in Kharkiv and villages in the Donbass and east of Mykolaiv, they heard gunfire from nearby Ukrainian military positions.
In Bakhmut, several residents said the Ukrainian military was using a building barely 20 meters across the street from the high-rise. On May 18, a Russian rocket hit the front of the building, partially destroying five apartments and damaging nearby buildings.
Military bases in hospitals
Amnesty International researchers witnessed Ukrainian forces using hospitals as de facto military bases in five locations. In the two cities, dozens of soldiers rested and ate in hospitals. In another town, soldiers fired from near a hospital.
A Russian airstrike on April 28 injured two workers at a medical laboratory in the suburbs of Kharkiv after Ukrainian forces set up a base in the compound.Using hospitals for military purposes is a clear violation of international humanitarian law.
Military bases in schools
The Ukrainian army routinely set up bases in schools in the cities and villages of the Donbass and in the Mykolaiv region. Schools have been temporarily closed to students since the beginning of the conflict, but in most cases the buildings were located near civilian settlements.
In 22 of the 29 schools visited, researchers either found soldiers using the premises or found evidence of current or previous military activity – including the presence of military equipment, ammunition, military ration packs and military vehicles.
Russian forces attacked many schools used by Ukrainian forces. In at least three cities, after Russian bombing of schools, Ukrainian soldiers moved to other schools nearby, putting surrounding neighborhoods at risk of similar attacks.
In a city east of Odessa, Amnesty witnessed Ukrainian soldiers using civilian areas for accommodation and staging areas, including basing armored vehicles under trees in residential areas and using two schools located in densely populated residential areas.
Conclusion
Amnesty International's report was not a surprise to me as an analyst. Since the beginning of the conflict, all of us who follow the behavior and tactics of the Ukrainian army have witnessed such tactics of the Ukrainian army, which are strictly prohibited by international law. Also, the Russian Ministry of Foreign Affairs warned about the behavior of the Ukrainian army that threatens innocent civilians. However, the fact that the respected Amnesty International writes about it in its report represents a strategic turn. Bearing in mind that this is an extremely respected Western non-governmental organization, we can safely say that even in the West, the opinion is slowly growing that the criminal behavior of the Ukrainian army will no longer be tolerated.
Both Zelensky and Poroshenko Acknowledged They Came to Power Illegally
A coup is an illegal way to come to power, and both of Ukraine's Presidents after the February 2014 overthrow of the democratically elected President Viktor Yanukovych acknowledged that the overthrow of him violated the law, and that the government which became installed after Yanukovych's overthrow has no legitimacy whatsoever — that the "Maidan of dignity" and "democratic revolution" was actually a hoax.
On 22 June 2015, I headlined "Ukraine's President Poroshenko Admits Overthrow Of Yanukovych Was A Coup" and I provided full online documentation both of his allegation and of its being entirely true. I even documented that on 26 February 2014 (the final day of the actual coup) he had informed the EU that this was the case, and that they were surprised to hear it but ignored it. The U.S. allegations that Yanukovych had been overthrown by a spontaneous and mass-supported revolution against him — and which were clearly a lie even as early as 4 February 2014 but a lie that was pumped ceaselessly in the 'news'-media regardless of that evidence — those U.S. allegations were thoroughly documented, in a 12 March 2014 video-compilation that was posted to youtube, to be false, a hoax, and yet nonetheless, this fact continued to be ignored in U.S.-&-allied 'news'-media, as-if truth had nothing whatsoever to do with news-reporting and analysis — as-if evidence doesn't matter, regardless of how extensive and reliable and conclusive it is. As-if The West is floating on lies, and its public won't ever much care about that fact. (That's the assumption; and, if by "the public" is meant the nation's press, then that assumption is unquestionably true, because the press don't care about it, at all — they instead support it; they support this status-quo, of lies-based 'history'.)
Then, on 11 February 2020, Ukraine's own Interfax News Agency issued the following news-report (as auto-translated into English):
—
https://web.archive.org/web/20220801215625/https://interfax-com-ua.translate.goog/news/political/640586.html?_x_tr_sl=uk&_x_tr_tl=en&_x_tr_hl=en
"Zelensky: the Maidan case is the most complicated in Ukraine"
11 February 2020
The President of Ukraine, Volodymyr Zelenskyi, believes that the investigation and completion of the tragic events on Independence Square during the Revolution of Dignity is the most difficult matter [to discuss] in the country.
"Lost evidence, documents. There are no people, there are no witnesses. Some say that in general, in places after this tragedy, all these events have been removed by many. The most difficult case that we have in our country is the Maidan," he said in an exclusive interview with "Interfax-Ukraine" agency.
Zelensky pointed out that "everyone is engaged in these matters".
"I know for sure that they are working faster than it was a few years ago. When they will find customers, because it is more understandable with murderers, I cannot say. All forces are involved in these cases, and we are doing everything possible," he said.
—
Actually, there were plenty of witnesses, and even some of the participants subsequently came forth to admit publicly that they had participated in the coup, but the 'news'-media in U.S.&-and-allied countries weren't interested (even if the public there might have been, if only they had known about it).
On 24 February 2020, Putin ordered an invasion of Ukraine so that the coup-installed regime in Ukraine and its U.S.-NATO-EU sponsors won't be able to install U.S. nuclear missiles within 5-minute flying-distance from Moscow on Ukraine's border with Russia.
This is the result of the ideology that now controls The West, called "neoliberalism" in domestic or intranational policymaking, and "neoconservatism" in international policymaking; and it is that every dollar is equal, and that every person isn't only different from every other person but is unequal, that all rights should therefore depend upon how rich a person is — investors therefore should control the government: they have a right to use their wealth to hire whomever they must in order to deceive the voters, so that wealth will control the government, and the public won't. A microcosmic documentary about this U.S.-epitomized-and-championed ideology, in action, showing how it actually works, is the film "DOWNFALL: The Case Against Boeing". It's about the most deadly passenger plane that was ever designed and built by any company anywhere, Boeing's model 737 Max. It's about the U.S. Government being controlled by the nation's super-rich, who are overwhelmingly psychopaths; and, since they control the Government, the most psychopathic individuals keep getting richer and richer ('better and better') and never get life in prison or the death penalty, no matter how much they ought to. It's about the worst people controlling the Government, while the elected Government officials are s'elected' by the super-rich and merely pretending to care about the public that they are supposed to be (and claim to be) representing (but know they actually don't).
Ukraine's Government is merely a client-state of our own. It is a subsidiary of America Incorporated. It's like Boeing. It's the way that Boeing is, and the way that its Government has been set up for Boeing (and all successful corporations) to be. But in international affairs, which is the realm of neoconservatism, power comes as much from weapons as it comes from deceiving voters. It's about the system that empowers the most-evil individuals and that traps the public and encourages the public to fight against each other instead of against the few individuals (the successful investors) who profit from this system: the system that is called neoliberalism-neoconservatism, and that profits the predators, at the expense of the public. Mussolini called it "fascism," and also called it "corporationism", and he got that ideology from his teacher Vilfredo Pareto, who was its inventor. In it, the order both of rights and of power is: (1) investors; (2) executives; (3) consumers; (4) employees. (Anyone who isn't in any of those 4 categories is considered to be worthless. The dollar rules; they don't count, at all.)
The documentary's creator remained, at the end, a confused, non-comprehending liberal, only slightly less of a neoliberal-neoconservative than she was before it. But at least she seems sincere. She is simply deceived by the liberal 'news'-media that she is subjected to — still a believing Democrat, obviously against Republicans: her "us" (CNN, NYT, etc.) against "them" (FNC, WSJ, etc.). But the viewers of her documentary might see in her documentary what she does not — something which goes beyond her narrow sphere of concern.
She is Rory Kennedy — a daughter of RFK, sister of RFK Jr., and niece of JFK.
Anyway: Ukraine, at least ever since February 2014, is being run in accord with the same ideology that guides Boeing Corporation. The U.S. Government calls this "the rules-based international order," and those "rules" come from the U.S. Government, and NOT from the U.N. and its international laws. It's the world in which the most-successful gangsters rule, not merely nationally, but internationally. That's called "hegemony," and the rulers of America like it just fine, because it's theirs — they own it, and they want to keep it. They certainly don't want it to end.