Authors: Anne Speckhard and Molly Ellenberg*
ICSVE is proud to announce our newest publication in the Journal of Strategic Security
ISIS in Their Own Words: Recruitment History, Motivations for Joining, Travel, Experiences in ISIS, and Disillusionment over Time – Analysis of 220 In-depth Interviews of ISIS Returnees, Defectors and Prisoners
From 2015 to 2019, Dr. Anne Speckhard interviewed 220 Islamic State of Iraq and Syria [ISIS] defectors, returnees and imprisoned cadres in Turkey, Iraq, Syria, the Balkans, Europe and Central Asia. During these in-depth interviews, Dr. Speckhard examined the demographics, psycho-social vulnerabilities and motivations for joining ISIS, in addition to the influences and recruitment patterns that drew them to the group. Moreover, Dr. Speckhard inquired as to the interviewees' roles, experiences and relationships within ISIS, variance in their will to fight and support violence, disillusionment and attempts to leave.
This study's sample of the first 220 (out of 239 to date) consisted of 182 men of 41 ethnicities, representing 35 different countries, and 38 females of 22 ethnicities, representing 18 countries. 51.1% of the men and 76.3% of the women were foreign members of ISIS, some who traveled to live under ISIS, and a few who engaged in ISIS recruitment or other activities, including planning attacks, in their home countries. The participants were primarily young and middle class. Most were raised Sunni Muslim, whereas others reverted or converted before joining ISIS. The participants had vast variation in their educational levels and socioeconomic statuses, thus representing the broad range of people from all over the world who have joined ISIS.
The most common vulnerabilities to ISIS recruitment for the entire sample were poverty, unemployment and underemployment. Breaking it out by gender, the most common vulnerabilities were a criminal history for men and poverty, family conflict, and prior trauma for women. Poverty and unemployment tended to be much more influential for Iraqi and Syrian ISIS members, who joined the group after it took over their villages, whereas foreign participants had more complex vulnerabilities, such as the combination between a criminal history and substance abuse, and viewing un-and under-employment as a consequence of discrimination over being Muslim and/or from an immigrant background.
For men, the most common influences to joining ISIS were friends, face-to-face recruiters, and passive viewing of videos on the Internet and social media. The majority of participants were influenced in some way online, and a significant minority reported that all of their recruitment occurred online. For women, the most common influences were spouses, Internet recruiters, and parents. This can be expected due to the greater tendency for women to make decisions based on the preservation of relationships, particularly with their parents and spouses. While many women followed their husbands to ISIS out of fear of emotional or financial abandonment, only three women credibly claimed that they did not know where they were going when they left their home countries for ISIS territory—although many men and women had no idea it would be as bad as it was.
Motivations for joining ISIS differed drastically by location. Foreign males tended to be motivated by a "helping" purpose to provide humanitarian and defensive militant aid to the Syrian people, whereas foreign women tended to be motivated by the desire to pursue an Islamic identity, which many felt was not possible in their home countries due to harassment and discrimination. European women were also motivated by family ties, meaning that they followed their parents or husbands. Local men and women were motivated less by ideology and higher goals and more by employment, fulfilling basic needs and personal and familial safety.
Men's roles in ISIS were extremely varied. 51.6% of the men admitted to serving as fighters, ribat (border patrol), or both, during their time in ISIS. It is likely that many more of the men were fighters but did not want to incriminate themselves by admitting it. Other commonly reported jobs were engineers, mechanics, and medical personnel. 97.4% of the women claimed to have acted as wives and mothers. The roles of suicide terrorist, face-to-face recruiter, and medical personnel were endorsed by one woman each in the sample. Additionally, two women reported being members of the hisbah, ISIS's brutal morality police.
The most commonly endorsed sources of disillusionment among men were mistreatment of civilians, lack of food, and mistreatment of women, although ISIS's mistreatment of women was not reported to be as powerful as a disillusioning influence as mistreatment of ISIS members. For women, the most common sources of disillusionment were mistreatment of women, lack of food, and the acts of ISIS attacking outside their territory—particularly back home.
The participants reported experiencing, witnessing, and committing atrocities during their time in ISIS. Men most commonly reported experiencing bombings, being imprisoned by ISIS and being tortured, while women most commonly reported experiencing bombings, being widowed by ISIS-related violence, and being forced into marriage. The men most commonly reported witnessing executions, executed corpses, and torture, and hearing about the killing of a family member, while women most commonly reported witnessing executed corpses, torture and the death of a family member, as well as hearing about a family member being killed in battle or in bombings. Despite Dr. Speckhard's warning not to self-incriminate, some men admitted to killing on the battlefield, performing beheadings, other executions, and torture. One man admitted to owning a slave. One woman admitted beating, flogging, and biting as a member of the ISIS hisbah.
The will to fight describes the motivation cited by ISIS fighters for why they went to battle for ISIS, oftentimes after they were already disillusioned. Commonly reported wills to fight included fighting the Syrian regime, being a "true believer" in ISIS's ideology and hope to build the Caliphate, and fear of the brutal punishments meted out by ISIS if they refused to fight.
The results of this study demonstrate the utility and validity of qualitative interview-based research with terrorists. From the stories of the participants' experiences in ISIS, it is clear that most FTFs living far from ISIS territory are motivated more so by a desire to solidify their identities and help the greater Muslim community than for economic purposes, although some were attracted by the ISIS promises of free housing, jobs, marriage, etc. FTFs were also responding to push factors at home including marginalization and discrimination. In contrast, these existential motivations are less important for those living in conflict, who felt pressure to join ISIS in order to secure food and some semblance of safety for themselves and their families. Thus, the risk of former ISIS members rejoining the group if they are released or escape from SDF detention where many are held, even if they have been disillusioned with much of ISIS's ideology and methodology, should be a serious concern for military and intelligence personnel. Moreover, the threat of FTFs returning to their home countries should be countered through deradicalization and rehabilitation programs that address the vulnerabilities, influences, and motivations that drove them toward ISIS in the first place, as well as the traumas that they experienced while living under ISIS.
The complete report of ISIS in their Own Words is published in the Journal of Strategic Security and can be viewed here.
*Molly Ellenberg is a Research Fellow at ICSVE, working on coding data from qualitative interviews, developing trainings for use with the Breaking the ISIS Brand Counter Narrative Project videos, and assisting with the creation and analysis of the Facebook campaigns
India's view of "terrorism: at the UNGA?
At the recent United Nations' general Assembly session, India was furious at mention of Kashmir by Pakistan's prime minister Imran Khan. India's ennui is understandable. It considers the freedom movement in the occupied Kashmir as "terrorism".
There are unanswered questions why India shrugs off terrorist acts sponsored by it in its neighbourhood. Several books by Indian diplomats and its intelligence officers have confirmed that India has been involved in sabotage, subversion and terrorism in neighbouring countries.
Terror in Islamabad
The book Terror in Islamabad has been published by an officer Amar Bhushan who happened to have served as a diplomat at the Indian High Commission Islamabad. Before being posted to Islamabad, Bhutan had served an officer of India's premier intelligence agency Research and Analysis Wing, Border Security Force Intelligence, and State Special Branch for quarter of a century. His book mentions another RAW officer, Amit Munshi (real name Veer Singh) posted as Cultural Attache.
Bhushan's book reveals that Singh's assignment was to "identify potential Pakistanis for subversion". The familiar elements of intelligence craft are espionage, sabotage and subversion.
Insurgencies in neighborhoods
India added one more element "insurgency" to the intelligence craft if we go through another RAW officer's book The Kaoboys of R&AW: Down Memory Lane. B. Raman makes no bones about India's involvement up to the level of prime minister in Bangladesh's insurgency. India's army hief, in a video interview, acknowledges that Indira again and again directed him to attack Bangladesh.
RAW officers Raman's and RK Yadav's disclosures
In a published letter, Yadav made startling revelation that India's prime minister Indira Gandhi, parliament, RAW and armed forces acted in tandem to dismember Pakistan's eastern wing. The confessions in his letter are corroborated by B. Raman's book The Kaoboys of R&AW. He reminds `Indian parliament passed resolution on March 31, 1971 to support insurgency. Indira Gandhi had then confided with Kao that in case Mujib was prevented, from ruling Pakistan, she would liberate East Pakistan from the clutches of the military junta.
Kao, through one RAW agent, got a Fokker Friendship, the Ganga, of Indian Airlines hijacked from Srinagar to Lahore. Indian army chief Manekshaw initially refused to carry out Indira Gandhi's order because of the impending monsoon when rivers flooded in East Pakistan and troops' movement became difficult. Not only intelligence officers but also officers of armed forces were employed to carry out subversion and sabotage inside Pakistan.
Doval's revelations
Doval is fomenting insurgency in Pakistan's sensitive provinces. He is inspired by India's nefarious efforts which resulted in the secession of East Pakistan. Naila Baloch's `free Balochistan' office has been working in New Delhi since 23 June 2018. BJP Indian legislators and RAW officers attended its inauguration.
Doval publicly claims that he acted as a spy under a pseudonym in Pakistan for 11 years, seven years in Lahore. Doval is a retired director of Indian Intelligence Bureau. He boastfully dons the title of "Indian James Bond". He lived in Pakistan's Lahore, disguised as a Muslim for seven years. During his years in the country, he befriended the locals visiting mosques and lived among the predominantly Muslim population. "
Acknowledged as a master of psychological welfare" in India, Doval, as a part of his job also spied on Pakistan's intelligence agency, Inter Services Intelligence. Doval, credits himself with brainwashing a group of freedom fighters led Kukkay Parey who detected Kashmiri freedom fighters and killed them.
Sharing an incident from his time in Pakistan, he said that he was once identified as a Hindu by a local from his pierced ears. Doval then underwent plastic surgery to prevent his cover from blowing. Narrating his account, Doval shared, "I was coming back from a Masjid. A man sitting in the corner, who had an intriguing personality and a white beard, called me. He asked, are you a Hindu? I replied saying no. He asked me to come with him, and took me to a small room and shut the door. He told me, 'See you are a Hindu. Your ears are pierced.' The place I come from, as a child there is a tradition to pierce the ear. I told him it was pierced when I was born. He told me, get plastic surgery for this, it's not safe to walk like that. Then I got it (plastic surgery) done."
India's ambassador Bharath Raj Muthu Kumar's role in Afghan insurgency
With the consent of then foreign minister Jaswant Singh, he `coordinated military and medical assistance that India was secretly giving to Massoud and his forces'… `helicopters, uniforms, ordnance, mortars, small armaments, refurbished Kalashnikovs seized in Kashmir, combat and winter clothes, packaged food, medicines, and funds through his brother in London, Wali Massoud', delivered circuitously with the help of other countries who helped this outreach'. When New Delhi queried about the benefit of costly support to Northern Alliance chief Massoud, Kumar explained, "He is battling someone we should be battling. When Massoud fights the Taliban, he fights Pakistan."
Kulbushan Jadhav unmasked
Jadhav was an Indian Navy officer, attached to RAW. His mission was to covertly carry out espionage and terrorism in Pakistan. Pakistan alleged there were Indian markings on arms deliveries to Baloch rebels pushed by Jadhav. To India's chagrin, India's investigative journalist Praveen Swami ferreted out the truth from Services Gazettes of India that he was commissioned in the Indian Navy in 1987 with the service ID of 41558Z Kulbhushan Sudhir. A later edition of the Gazette showed his promotion to the rank of commander after 13 years of service in 2000. His passport, E6934766, indicated he traveled to Iran from Pune as Hussein Mubarak Patel in December 2003. Another of his Passports, No. L9630722 (issued from Thane in 2014), inadvertently exposed his correct address: Jasdanwala Complex, old Mumbai-Pune Road, cutting through Navi Mumbai. The municipal records confirmed that the flat he lived in was owned by his mother, Avanti Jadhav. Furthermore, in his testimony before a Karachi magistrate, Karachi underworld figure Uzair Baloch confessed he had links with Jadhav.
India's prestigious magazine Frontline surmised that Jadhav still served with the Indian Navy. Gazette of India files bore no record of Jadhav's retirement. India told the International Court of Justice (ICJ) that Jadhav was a retired naval officer. But, it refrained from stating exactly when he retired. The spy initially worked for Naval Intelligence, but later moved on to the Intelligence Bureau. He came in contact with RAW in 2010.
Concluding remarks
India portrays the freedom movement in Kashmir as `terrorism'. What about India's terrorism in neighbouring countries? The conduct of Indian diplomats amounts to state-sponsored terrorism. For one thing, India should close the `Free Balochistan' office on her soil, and stop resuscitating propaganda skeletons of pre-Bangladesh days. Will the world take notice of confessions by India's former intelligence officers and diplomats?
A shift in militants' strategy could shine a more positive light on failed US policy
A paradigm shift in jihadist thinking suggests that the US invasion of Afghanistan may prove to have achieved more than many counterterrorism experts would want policymakers and military strategists to believe.
Similarly, the paradigm shift also hints at the possibility that the presence in a Taliban-governed Afghanistan of various militant Islamist and jihadist groups could turn out to be an advantage in efforts to prevent and contain political violence.
The evolution of tensions and unfolding of differences in the world of Afghan militancy will constitute a litmus test of the shift and how history will ultimately judge the United States' 20-year forever war in Afghanistan in terms of counterterrorism.
The shift involves a move away from cross-border and transnational acts of violence towards local militancy and the garnering of popular support through good governance based on an ultra-conservative interpretation of Islam. It is a difference in strategy that constitutes one of the ideological and strategic differences between Al-Qaeda and the Islamic State.
"This is not because (the jihadists') ideology has softened: It is because they have learned that inviting overwhelming reprisals from modern militaries is the fastest way to forfeit their conquests, squander their influence and be forced to start all over again," said scholar and journalist, Hassan Hassan, in a lengthy piece of rare up-close reporting on jihadist militancy.
"Contrary to how some understand the US withdrawal in Afghanistan, the lesson extremists are taking from the Taliban's success is not simply that jihad works but that diplomacy and engagement are a necessary part of the process, which includes reassuring the West about external threats emerging from their areas. What can be gained from parlays in Doha is more significant and lasting than any terror attack," Mr. Hassan went on to say.
The shift amounts to a return to the pattern of Islamic militancy that historically is rooted in local grievances and conflicts. Mr. Hassan also describes the Islamic State's transnational jihadism that targets the West, long embraced by Al-Qaeda, as an aberration of that history.
Mr. Hassan's analysis is supported by research published by The Soufan Group, a research organization established by Ali Soufan, a former FBI agent who played an important role in the interrogation of captured Al-Qaeda officials and was involved in related cases in the United States and elsewhere.
Analyst Abdul Sayed noted that Al Qaeda, in an effort to prevent the United States from driving it out of Afghanistan and Pakistan, has "shifted focus from global terrorist attacks and external operations to supporting local jihadist groups throughout South Asia, and fuelling the narratives that underpin their objectives. This shift helped build resilience, allowing Al-Qaeda to survive despite the massive blows inflicted by the United States and its allies."
The Islamic State's loss of its proto-state in Syria and Iraq, and the Taliban victory in Afghanistan appear to vindicate this paradigm shift.
CNN correspondent Clarissa Ward said she walked away from an interview in August with Abdu Munir, the name used by a commander of the Islamic State-Khorasan, two days before it attacked Kabul airport, with the impression that "ISIS-Khorasan is very different from ISIS… in Syria and Iraq. Ms. Ward was referring to the Afghan affiliate as well as the Islamic State itself using common Western abbreviations for them.
Ms. Ward said that "the conversation that I had with this commander did not lead me to believe that they had the same level of transnational ambitions… They're much more focussed on the Taliban, honestly, than they are on trying to blow up a plane…and they're much more simple, less sophisticated."
The jihadist strategy shift would be further vindicated if the Taliban victory also reinforces ultraconservative religious trends in neighbouring Pakistan.
Ultraconservatives and jihadists may take heart from recent opposition by Muslim clerics, including Tahir Mehmood Ashrafi, Pakistani Prime Minister Imran Khan's special representative for religious harmony, to draft legislation that would ban forced conversions.
As a result, the shift could become one more argument to justify a possible future decision by President Joe Biden to pull US troops out of Iraq and Syria originally dispatched to fight the Islamic State, as part of the emerging contours of a Biden doctrine.
"There is no question that the GWOT has not gone as planned… Yet it would still be wrong – and rash – simply to discard the GWOT as a strategic failure. The fact that consecutive presidents have found it so difficult to extricate the United States from ongoing operations in the greater Middle East reflects the reality of a persistent threat from extremist organisations and their allies… GWOT has been considerably more fruitful than it might first appear," said analysts Hal Brand and Michael O'Hanlon, referring to President George W. Bush's global war on terror launched in 2001 in the wake of the 9/11 attacks.
Messrs. Brand and O'Hanlon may be painting an overly optimistic picture. In the best of cases, Taliban-ruled Afghanistan will only partially live up to their criteria of success laid out in a recent journal article. The Taliban's policing of jihadists may prevent them from targeting the United States and others but will continue to offer them a safe haven, allowing them to recruit.
"Being a safe haven for global jihadists and acting as a launchpad for attacks against the West are not the same thing. Under the Doha Agreement, the Taliban have committed to preventing attacks being launched from Afghanistan, but they have not pledged to cut off relations with foreign jihadist groups altogether, nor to expel them from Afghanistan," said Afghanistan scholar Antonio Giustozzi.
Even so, on balance that could turn out to be less of a problem provided the Taliban can keep in check the Islamic State, the one jihadist group that refuses to accept its takeover of Afghanistan or make Tehrik-i-Taliban Pakistan (TTP), the Pakistani Taliban, adopt the shift in strategy. The fata morgana of a Taliban 2.0 could be shattered if large numbers of Taliban fighters defect to the Islamic State in protest against the group's policing of militants on Afghan soil and/or embracing degrees of social liberalization, particularly regarding women's rights.
That could prove to be a big if. Question marks about the Taliban's ability to police those groups that have welcomed its victory and/or pledged allegiance to it have already begun to emerge. Mr. Giustozzi reports that in contrast to Pakistani militants Lashkar-e Taiba and Lashkar-e Jhangvi, and the Islamic Movement of Uzbekistan; the TTP and Al-Qaeda have refused to negotiate agreements that would tighten Taliban control by moving them to different parts of the country. Lashkar-e Taiba and Lashkar-e Janghvi are groups seen as having close ties to Pakistani intelligence.
The proposed agreements reportedly stroked with demands put forward by China that the Taliban ensure that militants on Afghan soil are prevented from training, raising funds and recruiting.
Suhail Shaheen, a Taliban spokesperson in Qatar, appeared to acknowledge the demands in an interview with the Global Times, a Chinese Communist Party newspaper. "First, we will not allow any training on our territory. Second, we will not allow any fundraising for those who intend to carry out a foreign agenda. Third, we will not allow the establishment of any recruitment centre in Afghanistan. These are the main things," Mr. Shaheen said.
Zabihullah Mujahid, the Taliban's chief spokesperson in Kabul, however, last month left the door open on the Taliban's relationship with the TTP.
"The issue of the TTP is one that Pakistan will have to deal with, not Afghanistan. It is up to Pakistan, and Pakistani Islamic scholars and religious figures, not the Taliban, to decide on the legitimacy or illegitimacy of their war and to formulate a strategy in response," Mr. Mujahid told a Pakistani television program. The spokesman stopped short of saying whether the Taliban would abide by a decision of the scholars.
The TTP is believed to be responsible for a recent spike in attacks on Pakistani security forces, including a suicide attack in Pakistan that killed three paramilitary soldiers and wounded 20 other people. The stepped-up attacks prompted the New Zealand cricket team to last week abandon its first tour of Pakistan in 18 years and abruptly leave the country while England cancelled its visit that had been scheduled for next month.
Similarly, behind the facades, cracks had already emerged between the Taliban and Al-Qaeda before the US withdrawal from Afghanistan, prompting the group, like the TTP, according to Mr. Giustozzi, to refuse to negotiate a deal with the Afghans and build support among factions of the Taliban that are more sympathetic to the jihadists.
Al-Qaeda was wary of what the Taliban's agreement with the United States would mean for the group and suspected the Afghans of having a hand in the killing of several of its senior members in recent years. Al-Qaeda worries, moreover, that Taliban understandings with China and Russia could put its freedom of movement and/or existence into further jeopardy.
Apparently anticipating a Taliban failure to control all jihadists on Afghan soil and/or adoption of the paradigm strategy shift by some major jihadist groups, US intelligence officials predicted that Al-Qaeda would be able to reconstitute itself in Afghanistan and be capable of orchestrating attacks inside the U.S. in one to two years.
Their predictions were bolstered by the return to Afghanistan of Anwar ul Haq Mujahid, a leader of Osama bin Laden's former "Black Guard," who allegedly helped plan and orchestrate the jihadist leader's escape in 2001 as the United States bombed his Tora Bora hideout. Mr. Mujahid, no family of the Taliban spokesman, reportedly returned to Jalalabad to command Taliban forces and foreign fighters in eastern Afghanistan. Several of his associates are said to also be back.
However, Mr. Mujahid's return does not by definition deny the potential shift in Al-Qaeda strategy that is supported by the Taliban. It could be the Taliban's way of placating the group as well as the more militant within its own ranks.
"Despite the persistence of the relationship…the Taliban have a strong interest in holding Al-Qaeda in check… It is not hard to imagine a scenario in which the Taliban provide space and financial support for Al-Qaeda to operate while also restricting the activities of the group to plot and stage attacks," said scholar Cole Bunzel.
Islamic State threat moves online, expands across Africa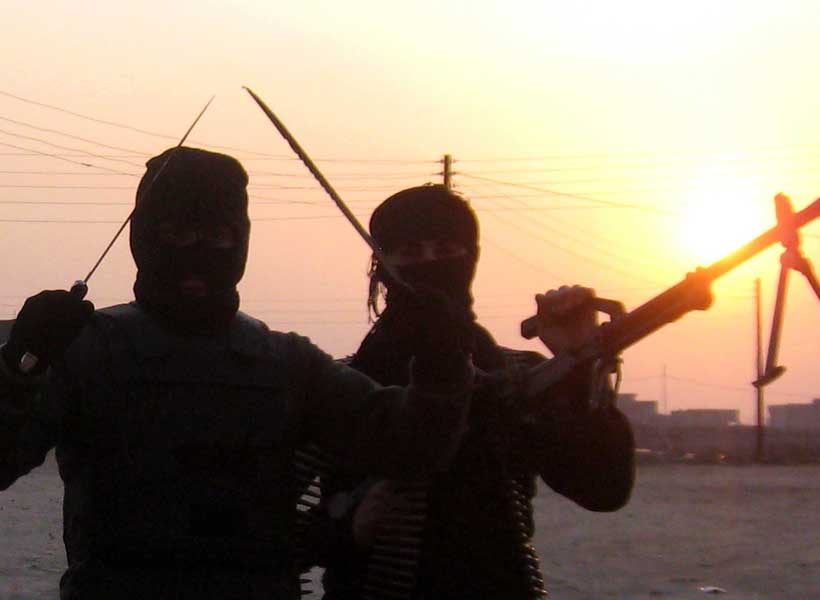 Two decades after the 11 September terrorist attacks in New York, terror networks Al-Qaida and Islamic State – also known as Da'esh – continue to pose a grave threat to peace and security, adapting to new technologies and moving into some of the world's most fragile regions, the top UN counter-terrorism official told the Security Council on Thursday.
UN counter-terrorism chief Vladimir Voronkov presented the Secretary-General's latest report on the threats posed by terrorist groups, saying that Da'esh continues to exploit the disruption, grievances and development setbacks caused by the pandemic to regroup, recruit new followers and intensify its activities – both online and on the ground.
Ever-evolving threat
"Today, we face transnational terrorist threats like Da'esh and Al-Qaida that are enduring and able to adapt to new technologies, but also expanding to include individuals and groups that commit terrorist attacks connected to xenophobia, racism and other forms of intolerance", said Mr. Voronkov.
The UN counter-terrorism architecture, largely set up in the wake of the 9/11 attack, helps Member States implement effective frameworks to prevent, address, investigate and prosecute acts of terrorism.
It is also ramping up efforts to help countries adapt to the rapidly changing nature of the threat, which has become more digital and de-centralized in recent years.
Noting that the world is currently witnessing a rapidly evolving situation in Afghanistan "which could have far-reaching implications" around the globe, he cited Da'esh's expanded presence in that country and pointed out that several members of the Taliban have been designated as terrorists by the Security Council.
"We will need to ensure that Afghanistan is never again used as launching pad for global terrorism", stressed the UN official.
He briefed the Council on the eve of the fourth commemoration of the International Day of Remembrance of and Tribute to the Victims of Terrorism, observed annually on 21 August.
Islamic State in Africa
While Da'esh remains focused on reconstituting its capabilities in Iraq and Syria, Mr. Vornkov said the most alarming development in recent months is the group's relentless spread across the African continent.
The so-called "Islamic State in the Greater Sahara" has killed several hundred civilians since the start of 2021 in Mali, Burkina Faso and Niger, while the group's "West Africa Province" will likely gain from the weakening of Boko Haram, with additional spillover of terrorists and foreign fighters from Libya.
Meanwhile, the expansion of Da'esh in Central Africa – and especially in northern Mozambique – could have far-reaching implications for peace and security in the region.
"A global response is urgently needed to support the efforts of African countries and regional organizations to counter terrorism and address its interplay with conflict, organized crime, governance and development gaps", said Mr. Voronkov.
Repatriating women and children
Alongside Da'esh's expansion in Africa and its rapid shift online, Mr. Voronkov also cited the continued detention of thousands of individuals with alleged links to terrorist groups as another factor exacerbating the threat.
Deteriorating conditions in detention facilities and displacement camps in northeast Syria, in particular, are serving as a rallying cry for terrorist activities. They have already fuelled instances of terrorist radicalization, fund-raising, arms smuggling, training and incitement to terror.
Against that backdrop, he echoed calls from officials across the UN for Member States to voluntarily repatriate all concerned individuals, with a particular focus on children.
In September, the Office of Counter-Terrorism (UNOCT) and the UN Children's Fund (UNICEF) will jointly launch a global framework to support countries requesting assistance with protection, voluntary repatriation, prosecution, rehabilitation and reintegration of individuals with suspected links to designated terrorist groups returning from Iraq and Syria.
The framework has already been deployed in Kazakhstan, Kyrgyzstan, Tajikistan and Uzbekistan.