Playing for Higher Stakes: Saudi Arabia Gambles on Oil War with Russia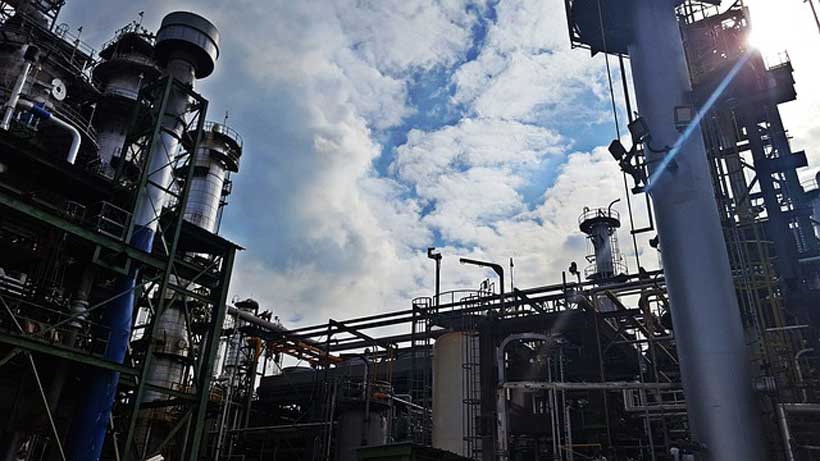 Saudi Arabia's oil spat with Russia throws a spanner into the works of the Kingdom's long-standing effort to hedge its bets, a strategy that has taken on added significance as the Gulf comes to grips with the likelihood that the region's security architecture will fundamentally change.
Saudi Arabia, despite a primary focus on close ties to the United States, has increasingly sought to put its eggs in multiple baskets by initially forging closer military and economic relations with Britain, France, and Germany, and more recently with Russia and China.
The Saudi strategy, stemming from mounting doubts about the reliability of the United States as an ally and protector of last resort, was showcased when China opened its first overseas defense production facility in Saudi Arabia for the manufacturing of the CH-4 Caihong, or Rainbow drone, as well as associated equipment.
The CH-4 is comparable to the US armed MQ-9 Reaper drone that Washington has refused to sell to the Kingdom.
Saudi Arabia's willingness to undermine its hedging strategy by challenging Russia's refusal to continue to align its production levels with that of the Organization of Oil Exporting Countries (OPEC) follows the Kingdom's bowing to US pressure to acquire Lockheed Martin's Terminal High Altitude Area Defense (THAAD) system rather than Russia's S-400 anti-aircraft and anti-missile weapon.
Mr. Putin made a last-ditch sales pitch last September after the Kingdom's six battalions of US-made Patriot batteries failed to detect drone and missile attacks on two of the country's key oil facilities that knocked out half of its production capacity.
The decision by Mohammed bin Salman, known by his initials MbS, to confront Russia stemmed from a stark choice confronting the Crown Prince: endanger relations with the only power to have put forward a regional security plan that would have allowed the Kingdom to hedge its bets while maintaining close ties to the United States, or drive oil prices down in a bid to force Russia to coordinate production levels that would ensure a higher price.
Ultimately, the Crown Prince's choice was driven by economics rather than longer-term security.
Low oil prices have already forced the Kingdom to borrow from international financial markets. $80 USD per barrel is the price it needs to balance its budget. It is also the price MbS needs for his ambitious plans to diversify and streamline the Saudi economy and turn it into a cutting edge 21st century knowledge hub.
MbS may in some respects have shot himself in the foot even if his assumption proves correct that the Kingdom could win a price and production war and that Russian President Vladimir Putin would see a longer term move from a unipolar to a multilateral security arrangement in the Gulf as too big a prize to lose.
Last year's limited initial public offering (IPO) on the Saudi stock exchange by Aramco, the Kingdom's national oil company, that constituted a crown jewel in MbS' economic reform plans, failed to convincingly address fears that it was subject to the whims of the Kingdom's ruling elite.
The war with Russia may have convinced investors' worst fears with Aramco raising capacity and production to help MbS with his gamble.
"This has proved to investors that their worst fears about Aramco were a reality. The company's plans and its output decisions are based on MbS' erratic behavior," said a Saudi official familiar with Aramco's offering.
MbS may not be the only one to suffer consequences of the oil war but his may be a tougher struggle because it involves restoration of trust.
The setback for US shale oil companies that need a relatively high oil price to break even, the reason Russia was willing to go to war with Saudi Arabia, is likely to be temporary as was evident in 2014 when Saudi Arabia gunned for market share rather than price to drive American producers out of business.
"A protracted crude oil price war on the supply side, combined with the simultaneous demand shock caused by Covid-19's impact on economic activity, will hurt oil producers everywhere," said Tilak K. Doshi, an energy scholar at the National University of Singapore's Middle East Institute.
If the Crown Prince's decision was driven by domestic considerations, so was Mr. Putin's.
Yet, despite believing that OPEC had outlived its utility, Mr. Putin was taken aback by the ferocity of Saudi Arabia's response to the Russian cancellation of its earlier production level agreement with OPEC, prompting Moscow to call for a return to the agreed levels for the first quarter of this year.
"OPEC is finished, so is any attempt to 'manage' the oil market. US shale (as a fully privately owned industry) operates on aggressive free market principals. The Russians understand that and so does Saudi. The energy game (including alternatives) is now a survival of the fittest," tweeted Ali Shihabi, a banker-turned-pro-Saudi-political commentator.
In Russia, MbS is up against an opponent that could prove to have a longer breath.
Author's note: This article was first published on Inside Arabia
Qatar World Cup offers lessons for human rights struggles
It's a good time, almost 12 years after the world soccer body, FIFA, awarded Qatar the 2022 World Cup hosting rights and five months before the tournament, to evaluate the campaign to reform the country's erstwhile onerous labor system and accommodate fans whose lifestyles violate restrictive laws and/or go against deeply rooted cultural attitudes.
Ultimately the balance sheet shows a mixed bag even if one takes into account that Qatari autocracy has proven to be more responsive and flexible in responding to pressure by human rights and labour groups than its Gulf brothers in the United Arab Emirates and Saudi Arabia.
On the plus side, the initial wave of condemnation of the country's repressive kafala labour system that put employees at the mercy of their employers persuaded Qatar to become the first Gulf state, if not the first Arab state, to engage with its critics.
Engagement meant giving human rights groups and trade unions access to the country, allowing them to operate and hold news conferences in Qatar, and involving them in drafting reforms and World Cup-related model labour contracts. This was unprecedented in a region where local activists are behind bars or worse and foreign critics don't even make it onto an inbound flight.
The reforms were imperfect and not far-reaching enough, even if Qatar introduced significant improvements in the conditions for unskilled and semi-skilled workers.
Furthermore, on the plus side, the hosting rights sparked limited but nonetheless taboo-breaking discussions that touched on sensitive subjects such as LGBT rights and the granting of citizenship to non-nationals.
Qataris openly questioned the granting of citizenship to foreign athletes so they could be included in the Qatar national team for the 2016 Olympics rather than medical personnel and other professionals who had contributed to national welfare and development.
Hosting the World Cup has further forced Qatar, albeit in a limited fashion, to come to grips with issues like LGBT rights that do not simply violate the country's laws but go against its social grain to produce an inclusive tournament.
In some ways, that may have been more difficult than reforming the labour regime if one considers the difference between standing up for democratic freedoms that may have broad public support and the recognition of LGBT rights. In contrast to democratic rights, opposition to LGBT rights is deeply engrained in Qatar and other Muslim societies. It would likely be socially rejected, even if they were enshrined in law.
The difference means that the defense of LGBT and other socially controversial rights forces activists and human and LGBT rights groups to rethink their strategies and adopt alternative, more long-term approaches.
It also means that they will have to embrace less Western-centric attitudes frequently prevalent in the campaign to reform Qatar's labour system. Those attitudes were evident in debates that were also often skewed by bias, prejudice, bigotry, and sour grapes.
Moreover, the criticism often failed to consider the context. As a result, achieving results and pushing for reform was, to a degree, undermined by what appeared to be a ganging up on Qatar and a singling out of the Gulf state.
Labour is an example. Human rights groups and trade unions treated onerous labour conditions in Qatar, even if the World Cup turned it into a prime target, as uniquely Qatari rather than a global problem that manifests itself in other parts of the world such as Southeast Asia and even Western democracies like Britain. Recent reporting by The Guardian showed that expatriate medical and caregiver personnel face similar curtailing of rights and abuse in Britain.
By the same token, Qatar was taken to task for being slow in implementing its reforms and ensuring that they were applied not only to World Cup projects but nationwide.
The fact is that lagging enforcement of policies and legal changes is a problem across the broad spectrum of Qatari policies and reform efforts, including the Gulf state's high-profile, fast-paced, mediation-driven foreign policy.
Qatar's handling of illegal recruitment fees paid by workers is a case in point.
The Supreme Committee for Delivery & Legacy, the Qatari organizer of the World Cup, has obliged companies it contracts to repay the fees without workers having to provide proof of payment. Companies have so far pledged to repay roughly USD$28.5 million to some 49,000 workers, $22 million of which have already been paid out.
It is a step the government could apply nationally with relative ease to demonstrate sincerity and, more fundamentally, counter the criticism.
Similarly, in response to complaints raised by human rights groups and others, the government could also offer to compensate families of workers who die on construction sites. Again, none of these measures would dent Qatari budgets but would earn the Gulf state immeasurable goodwill.
'Effort and patience' required to restore Iran nuclear agreement
Despite diplomatic engagements, restoring the so-called Iran nuclear agreement continues to be hindered by political and technical differences, the UN political and peacebuilding chief told the Security Council on Thursday.

In the landmark accord, formally known as the Joint Comprehensive Plan of Action (JCPOA) – reached in 2015 between Iran, the United States, China, France, Russia, and the United Kingdom – Iran agreed to dismantle much of its nuclear programme and open its facilities to international inspections in exchange for sanctions relief.
In 2018, then-President Trump withdrew the US from the agreement and reinstated the sanctions.
"Achieving the landmark JCPOA took determined diplomacy. Restoring it will require additional effort and patience," said UN political affairs chief, Rosemary DiCarlo.
Although the landmark Joint Commission to restore the Plan resumed in November 2021, she acknowledged that despite their determination to resolve the issues, the US and other participants are yet to return to "full and effective implementation of the Plan, and [Security Council] resolution 2231".
Appealing to both
Together with the Secretary-General, she urged Iran and the US to "quickly mobilize" in "spirit and commitment" to resume cooperation under the JCPOA.
They welcomed the reinstatement by the US in February of waivers on nuclear non-proliferation projects and appealed to the country to lift its sanctions, as outlined in the Plan, and extend oil trade waivers.
Together they also called on on Iran to reverse the steps it has taken that are inconsistent with its nuclear-related commitments under the Plan.
Monitoring enrichment
While the International Atomic Energy Agency (IAEA) has been unable to verify the stockpile of enriched uranium in Iran, it estimates that there is currently more than 15 times the allowable amount under the JCPOA, including uranium enriched to 20 and 60 per cent, which Ms. DiCarlo called "extremely worrying".
Moreover, on 8 and 20 June, IAEA reported that Iran had started to install additional advanced centrifuges at the Fuel Enrichment Plant at Natanz and began feeding uranium into advanced centrifuges at the Fuel Enrichment Plant at Fordow.
In his latest report, IAEA Director General Rafael Grossi, informed the Council that the UN agency's ability to verify and confirm the peaceful nature of Iran's nuclear activities are key to the JCPOA's full and effective implementation.
Iran's decision to remove site cameras and place them and the data they collected under Agency seals, "could have detrimental implications".
Improved relationships 'key'
Bilateral and regional initiatives to improve relationships with Iran remain "key" and should be encouraged and built upon, according to Ms. DiCarlo.
Additionally, Member States and the private sector are urged to use available trade instruments to engage with Iran and Tehran is requested to address their concerns in relation to resolution 2231 (2015) on its nuclear issues.
The senior UN official also drew attention to annex B of the resolution, updating ambassadors in the Council on nuclear-related provisions, ballistic missiles and asset freezing.
We hope that diplomacy will prevail – UN political chief
Triumph for multilateralism
"The JCPOA was a triumph for non-proliferation and multilateralism," said the UN political affairs head.
However, after many years of uncertainty, she warned that the Plan is now at "a critical juncture" and encouraged Iran and the US to build on recent momentum to resolve remaining issues.
"The Secretary-General is convinced there is only one path to lasting peace and security for all Member States, and that is the one based on dialogue and cooperation," she said. "We hope that diplomacy will prevail".
In Iran's best interest
Olof Skoog, Head of the European Union Delegation to the UN, speaking in his capacity as the Coordinator of the Joint Commission established by the JCPOA, to the Security Council, recognized the negative economic consequences that the US' withdrawal from the JCPOA has had on Iran but affirmed that restoring the agreement is "the only way" for the country to reap its full benefits.
He reminded that the Plan would comprehensively lift sanctions, encourage greater international cooperation, and allow Iran to reach its "full economic potential".
"It is, therefore, important to show the necessary political will and pragmatism to restore the JCPOA," said Ambassador Skoog who, while acknowledging the sense of urgency, counselled against "escalatory steps" and to preserve sufficient space for the diplomatic efforts to succeed.
Dynamic diplomacy: From SCO to BRICS
The tree of Iran's balanced foreign policy approach is on the verge of being a one-year-old child. Stronger than before, Iran is pursuing dynamic diplomacy in a variety of cities such as Doha, Ashgabat, and other capitals. Baghdad will also join the list soon.
While Iran's top negotiator Ali Bagheri Kani is engaged in intensive negotiations in Qatar with the United States through the European Union delegation, Iran's President Ebrahim Raisi and his oil and foreign ministers are in Ashgabat pursuing transit diplomacy as well as the legal regime of the Caspian Sea with the littoral states.
Prior to his departure for Ashgabat on Wednesday, Raisi spoke to reporters about the purpose of his visit to Turkmenistan.
"This visit is taking place at the invitation of the esteemed president of the brotherly and friendly country of Turkmenistan in order to attend the Caspian Sea littoral states summit," he remarked.
The President called the Caspian Sea a common heritage and capital for the littoral states with more than 270 million people.
"We have good relations with the littoral states of the Caspian Sea, but in addition to reviewing the legal regime of the Caspian Sea and peaceful use of the sea for the purpose of improving security at the sea, what will be discussed at the sixth summit of the Caspian Sea littoral states is cooperation between countries in the fields of transport, transit, trade, management of marine living resources, environment, as well as preventing the presence of outsiders in the sea, which is also agreed upon by all coastal countries."
Prior to the beginning of the summit, Raisi met Serdar Berdimuhamedow, Turkmenistan's President, as well as Chairman of the People's Council of Turkmenistan, Gurbanguly Berdimuhamedow.
During the meeting with the President of Turkmenistan, Raisi pointed out that the implementation of the memoranda of understanding and cooperation documents signed by the two countries during Berdimuhamedow's recent visit to Tehran will accelerate promotion of cooperation between the two countries.
Later, Raisi met with the Azerbaijani President, Ilham Aliyev.
During the meeting, Raisi reminded Aliyev that the presence of the Israeli regime in any part of the world undermines security there.
The president also had a brief meeting with his Russian counterpart Vladimir Putin on the sidelines of the summit.
There's little doubt that Tehran has not put all its eggs into the basket of the JCPOA revival, as it actively seeks to establish trade relations with the neighbors. It's short-sighted thinking to assume that Iran has to wait for the United States to return to the JCPOA, while it can enjoy the benefits of regional alliances such as the Shanghai Cooperation Organization (SCO), or BRICS (Brazil, Russia, India, China, and South Africa).
On Monday, Iran's former Foreign Ministry spokesman Saeed Khatibzadeh, who was holding his last presser, told the Tehran Times correspondent that Tehran has submitted a membership request to the BRICS secretariat via Foreign Minister Hossein Amir Abdollahian. While dynamically trailing balanced and active diplomacy with the neighbors, Tehran is awaiting Washington's serious political decisions to return to the Joint Comprehensive Plan of Action (JCPOA).
Source: Tehran Times